Resume Examples & Samples

You Can Use for Free

Browse our sample resumes for over 280 jobs from various industries and get inspired to create your own job-winning resume.

make a resume now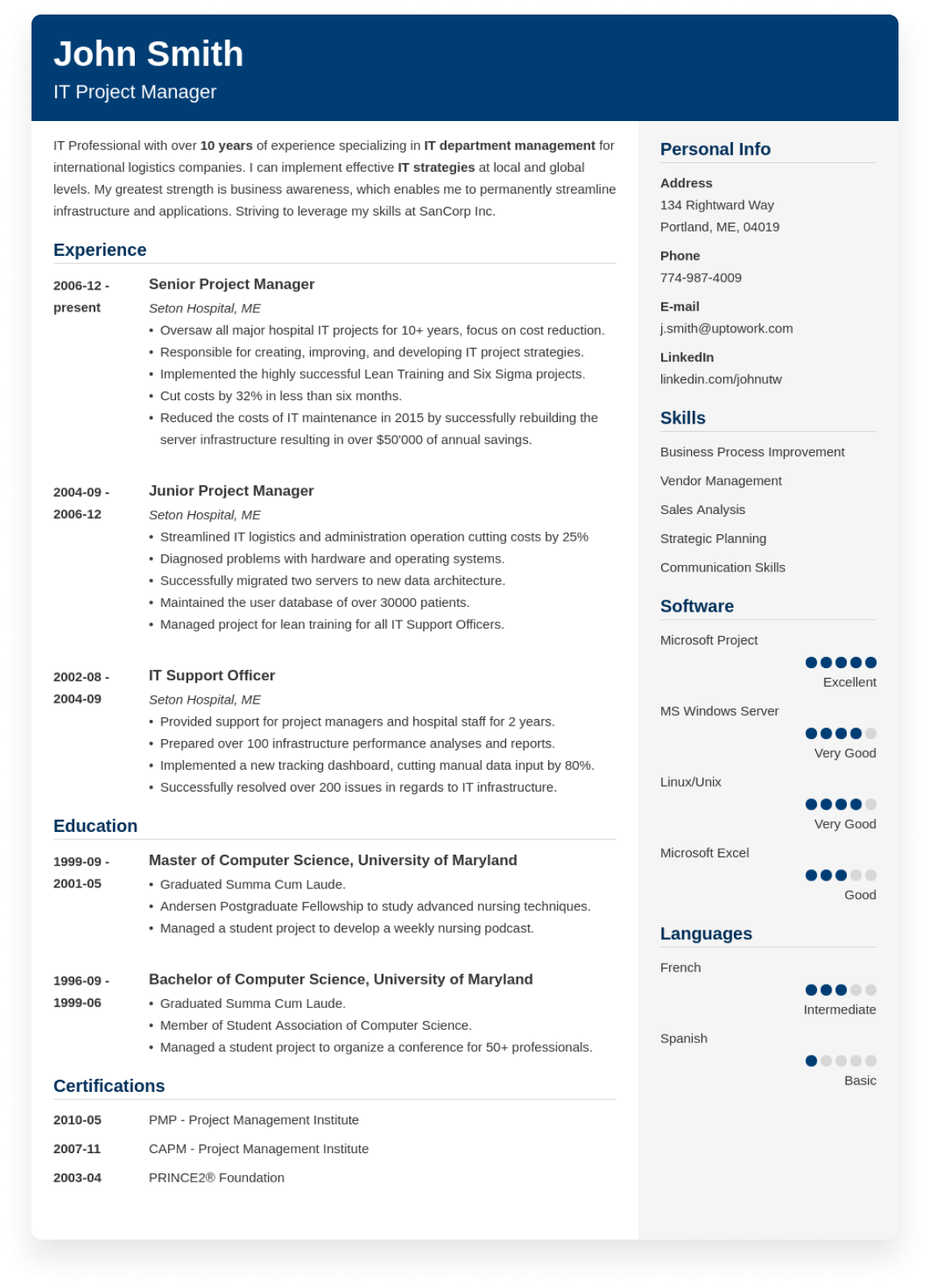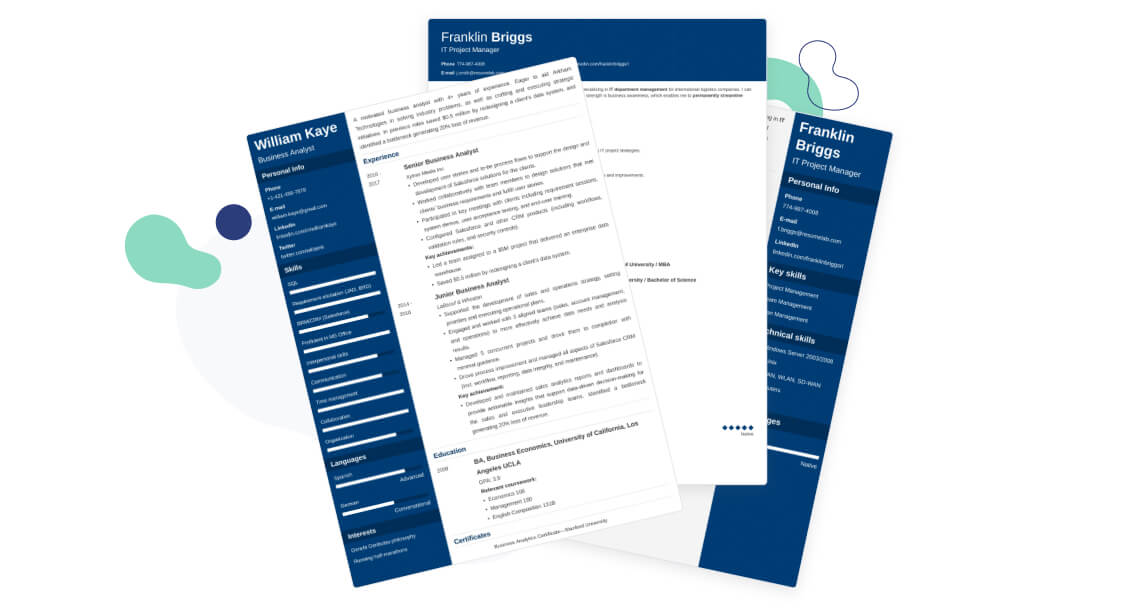 Make a resume
Resume Examples by Industry and Job Title
Categories:
Accounting & Finance

Creative Fields, Design & Arts

Education

Engineering, Tech & Science

Food Service

Healthcare & Wellbeing

Information Technology (IT)

Law Enforcement & Security Services

Legal Services

Maintenance & Repair

Management

Marketing, Media & Public Relations

Office & Administrative

Real Estate

Sales and Customer Service

Students

Travel & Hospitality

Other
The Best Resume Examples. And More.
Making a resume is not rocket science. You just need to know what to put in your document, where to put it, and how to use it to highlight your strengths and achievements. We're here to help you get it right with our resume samples and step-by-step guides:
Examples of Resume Templates That Will Land You a Job
These resume samples were all created in our builder. Try it out and see how quickly you can make a professional resume for yourself.
See more templates
Frequently Asked Questions about Resume Templates
What is a sample resume?
An example resume represents how the perfect resume should look when applying for a specific position. It's targeted precisely to a given job and includes all the vital information you should put on your resume. Resume samples also show how you should describe yourself—show accomplishments backed by the numbers, not a list of duties and responsibilities. They offer a great dose of inspiration and can help you understand what recruiters look for when evaluating a resume.
Is it a good idea to use a resume example?
It's definitely a good idea. Using a sample resume written by career professionals can ensure that it meets the current recruitment standards. That means you don't need to worry about using appropriate resume sections, resume margins, and all other technicalities. On the other hand, if you decide not to use a resume example, you are risking wasting a lot of time and making mistakes on your resume that can hurt your chances of getting the dream job.
Are ResumeLab examples the best resume examples for 2023?
Every single resume example on our site is 2023-ready and crafted by a Certified Professional Resume Writer (CPRW), so you know you're getting a high-quality sample. What's more, each guide provides a resume sample for a specific job and a set of practical resume tips and advice, so making your resume will be a piece of cake. We've also prepared a list of professional resume templates to help you make sure your resume will stand out from the crowd.
Should I use the same resume example for every job application?
Sending a general resume for every job application will most likely kill your chances of getting the job you want. Having a personalized resume will show that you care about getting the job. A resume should have adequate resume keywords to match the job ad and a professional resume summary (or resume objective) that proves you've got what it takes to succeed in the role. It should also list your skills to back it up. Our resume maker allows you to duplicate and edit your resume in minutes to make the whole process much quicker and easier for you.
What is the best resume format for my resume?
Nowadays, most hiring managers want to see the reverse-chronological resume format. It highlights your work experience and professional accomplishments and conveniently displays them so hiring managers can see all necessary information at first glance. The other two main resume formats are the functional resume format and the combination resume format. The first focuses on your skills rather than experience, while the second is a mix of the other two and works well for very experienced job seekers.
Is there anything I should avoid when using a resume example?
When working with a resume example, you should avoid blindly copying everything from the sample. After all, this is your resume. It should highlight your professional experience as well as personal accomplishments tailored to the job posting. You may use the resume samples we provide to guide you in the right direction, but remember to personalize them.
How should my resume look?
Nowadays, hiring managers prefer resumes that are simple and professional. You no longer need to stuff your resume with unnecessary images and fancy frames. The content, which means your skills, work history, and other sections, should be relevant to the job you're applying to. When applying for a graphic designer job, it's not necessary to mention that you like to juggle. Be sure to read our guides on how a resume should look and what hobbies to put on your resume.
Does my resume example need to match my cover letter?
Your resume and cover letter need to match and be coherent. That means they should look alike, and the content should be complementary. While on a resume, you list your skills and accomplishments, on a cover letter, you can explain why you will be a great addition to the team because of those skills. We prepared a list of cover letter templates that match resumes made in our builder to keep visual consistency—you can apply for your dream job with a matching set of documents that looks incredibly professional and highlights your personal brand.
How to write a resume if I don't have any experience?
Starting on a job market when you don't have any experience might sound scary, but the fact is that, most likely, you already have some experience—even if you were never employed before. You can focus on transferable skills and achievements from your school, personal project, or volunteer work. We've prepared a few sample resumes for those with no experience and entry-level positions to make it easier for you.
What is the right length for a resume?
In most cases, one page is the best resume length, although you can have two or more in some situations. When you have more than seven years of experience or many skills and achievements, you can go with a two-page resume. If you have less experience, stick to one page and focus only on things that are directly relevant to the job.
Are these resume examples free?
Yes, all resume examples listed on our page are free to use, edit, and copy without limitations. You may use as many resume samples as you want until you are happy with the result. They go very well with our builder, where you can simply copy and paste the entire content, customize it to your needs and circumstances, and have a resume ready in a few minutes.