CV Examples
Check our professional CV examples for different jobs and industries. Find the best CV sample and make a CV that will land you your dream job.
Make your cv now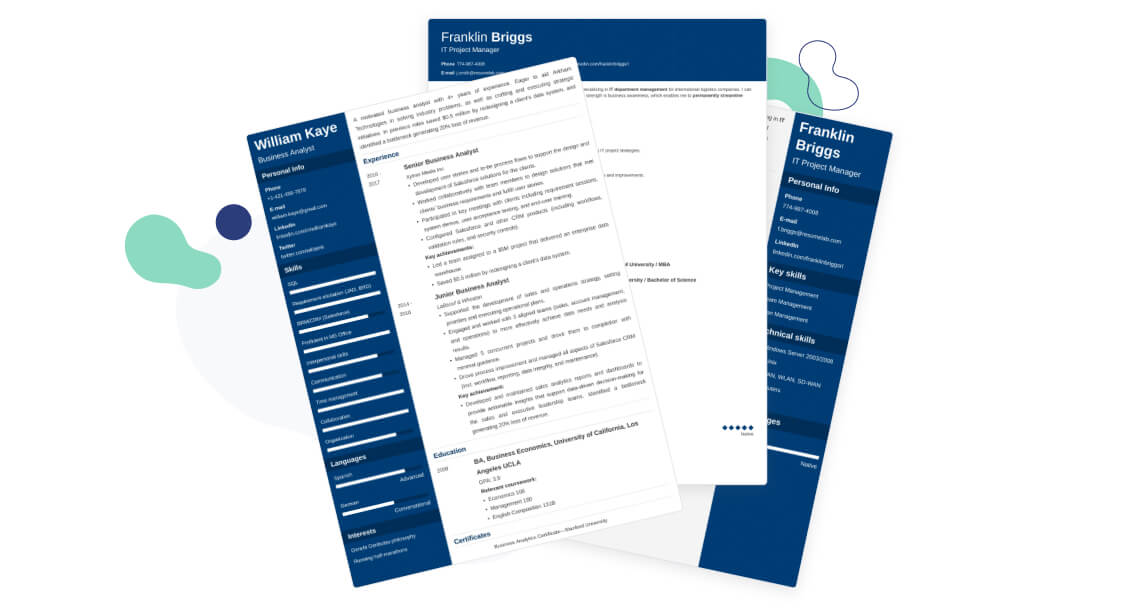 Make your cv
CV Examples by Industry and Job Title
Categories:
Accounting & Finance

Creative Fields, Design, & Arts

Education

Engineering, Tech, & Science

Food Service

Healthcare & Wellbeing

IT (Information Technology)

Law Enforcement

Legal

Management

Marketing, Media, & Public Relations

Office & Administrative

Real Estate

Sales and Customer Service

Students (Academic Admissions, Internships, & Entry-Level Jobs)

Travel & Hospitality

Other
You Get Much More Than Just CV Examples
To find your dream job, you need to have an impressive CV. The one that will catch the eye and highlight your strengths and achievements. This is why you'll find more than just a simple CV example here.
Examples of CV Templates That Attract Job Offers
All the CV examples you see here were created in our builder. Try it yourself and see how easy and stress-free it can be.
See more cv templates
Frequently Asked Questions About CV Examples
What is a CV example?
A CV example shows an ideal way a CV should look when applying for a position, how to target your CV for a job, and all the necessary information you should put on your CV. CV examples also explain the best way to present professional accomplishments instead of a dull list of responsibilities. They can be a great inspiration and help you see what hiring managers are looking for when evaluating a CV.
Why don't you see for yourself? We have over 280 CV samples ready to copy, adjust, and use. Make a CV that will awe the hiring manager.
Should I be using a CV example?
You can significantly increase your chance of getting a job using a proven CV example written by a career professional. ResumeLab's CV examples meet all modern recruitment standards and have all required CV sections with properly formatted details. Write your CV on a professional CV template to double the impact.
If you choose not to use the sample CV, you risk making mistakes on your CV that could jeopardize your job hunt.
Are ResumeLab examples the best CV examples for 2023?
We created over 280 professional CV examples, and every single one is 2023-ready. Our CV samples have been made by certified career professionals, so you can be sure you're getting the crème de la crème. But that's not all. Each CV sample comes with actionable CV tips and tricks to make your curriculum vitae stand out. Those two combined will help you to land the job of your dreams.
Is it a good idea to use the same CV example for every job application?
No, you definitely shouldn't send the same CV sample for every job application. A general CV will most likely hurt your chances of getting the job. You should target your CV for every position you apply to. This way, you'll show you care about the application and that you actually read the job ad. A proper CV should have personalized CV keywords that match the posting, a CV summary that shows you are the best for the job, and a list of skills that proves you're qualified. When working with our CV maker, you can duplicate your CV easily and personalize it in a matter of minutes, so having a targeted CV won't be a problem.
Do you have any curriculum vitae examples for inexperienced candidates?
Yes, we do have CV samples for those who are just starting on the job market:
Those are only a few examples of CVs from our list. We also have job-specific samples, such as entry-level accountant or entry-level IT. Go back to the top of the page to browse our list of over 280 CV samples for different jobs and levels of experience.
What is the difference between a resume and a CV?
In North America, a resume is a brief document that highlights your work experience and relevant qualifications above all else. It's targeted at a specific job offer, and you can use it to apply for any regular job. A CV is different. You use a CV to apply for an academic position, which requires a much more detailed professional and academic history of achievements.
These two can be used as synonyms, though, in various parts of the world. If you'd like to learn more about it, check our comprehensive guide on the differences between a CV and a resume.
If you think you should be making a resume instead, check our gallery of professional resume templates.
What should I avoid when using an example of a CV?
A professional CV example only represents how the ideal CV should look and its contents may differ from your achievements. That is why you should avoid blindly copying everything from the sample. You should personalize it and make the CV sample truly yours by highlighting your strengths and adding your work experience and skills. The curriculum vitae example we provide should be treated as the guide and only point you in the right direction.
What's the best format for my CV?
Today, the best CV format to use is a reverse-chronological format. It shows your work experience and skills in a way that most HR professionals want to see, and it works best for all kinds of jobs and industries.
There are two other formats you could use, although they may not work well for every job and life situation. The first one is a functional format that focuses on your skills rather than experience, which is great for career-changer CVs as it presents your versatility. The second one is the combination format, which is a mix of the two. It can be your go-to for hiding gaps in your employment history.
What should I include on my CV?
To be sure your curriculum vitae meets the highest recruitment standards, it should have the following sections:
Don't forget to always personalize your CV and put only relevant information there. Not all sections are mandatory, and you shouldn't stuff your CV just for the sake of it.
How to write a CV?
When writing a curriculum vitae, you need to remember about following steps:
Choose a proper CV format.
Divide all details into proper CV sections.
Start with a career summary or objective statement.
Highlight work history using the right CV keywords.
Add the education section with your latest degree.
Include a key skill list.
Tailor your CV with additional sections.
Write a cover letter to double the impact.
To delve deeper into each point, see our guide on writing a CV.
Do you also have cover letter examples?
We provide almost 100 professional cover letter examples for different jobs and industries. Similar to our CV samples, you may use, copy, and edit them as you wish. Remember that sending a cover letter can significantly increase your chances of getting an interview. If you don't know how to write one, check our guide on how to write a cover letter.
Should my cover letter match my CV example?
Yes, it's best practice to have a matching CV and a cover letter. What's important is that they should look similar and the content should be complementary. To help you accomplish that, our CV builder comes with a cover letter generator with matching cover letter templates to keep visual consistency. And to achieve the same level of consistency in the content, find out what a cover letter should include.