Teacher Resume Example—Samples and 25+ Writing Tips
A teacher resume template that will land you more interviews. Create your teacher resume fast with the help of Expert Hints and good vs. bad examples.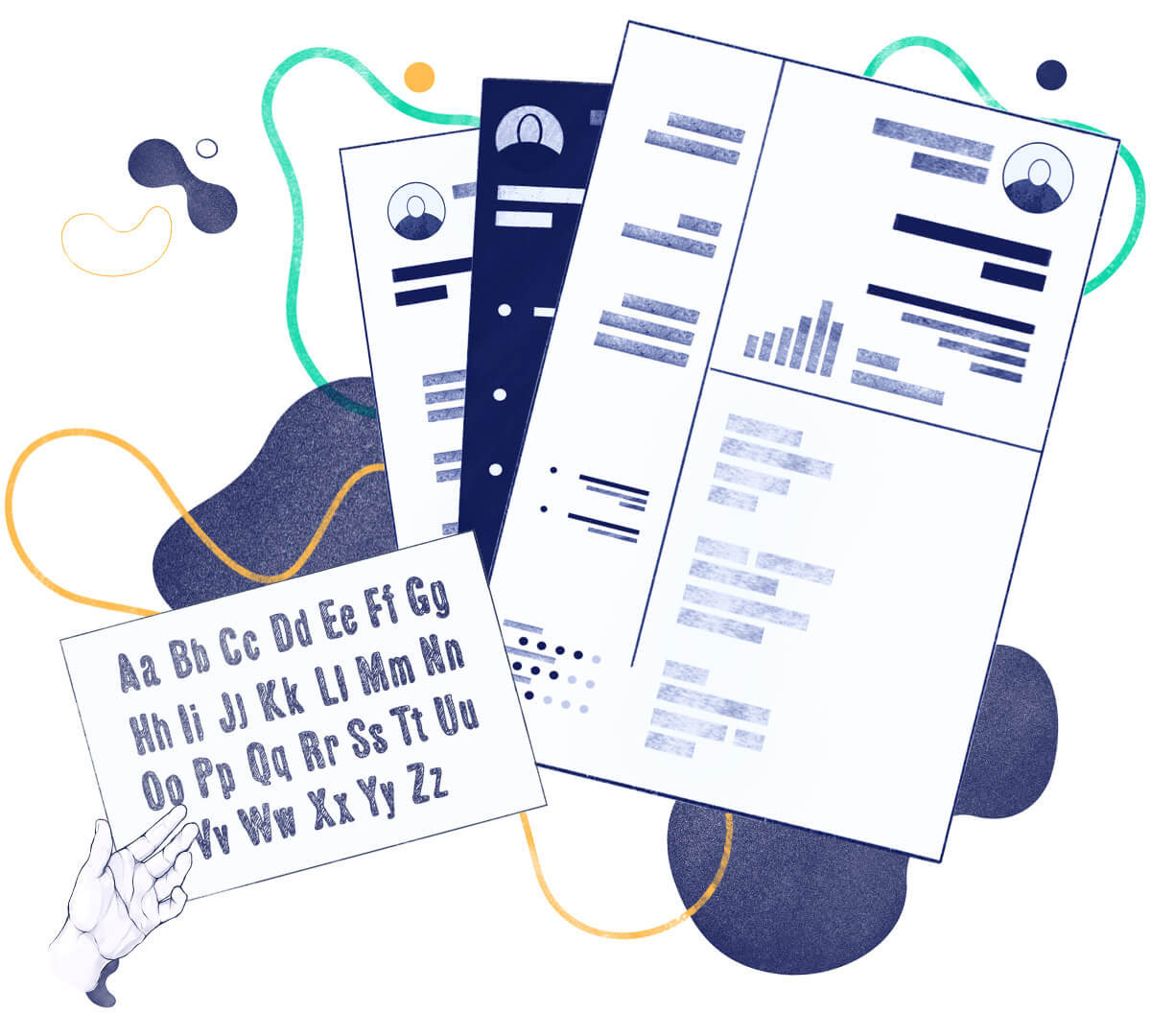 O Captain! my Captain...
You're about to learn how to seize your dream job by making your teacher resume just as extraordinary as you.
This works for a new teacher resume as well as experienced teacher resume.
It all comes down to what you show and how.
This guide will show you:
Good teaching resume examples that get jobs.
How to ace your teacher job description on a resume.
How to write resumes for teachers that get the interview.
Expert Hints and examples to boost your chances of landing teaching jobs.
Save hours of work and get a resume like this. Pick a template, fill it in. Quick and easy. Choose from 18+ resume templates and download your resume now.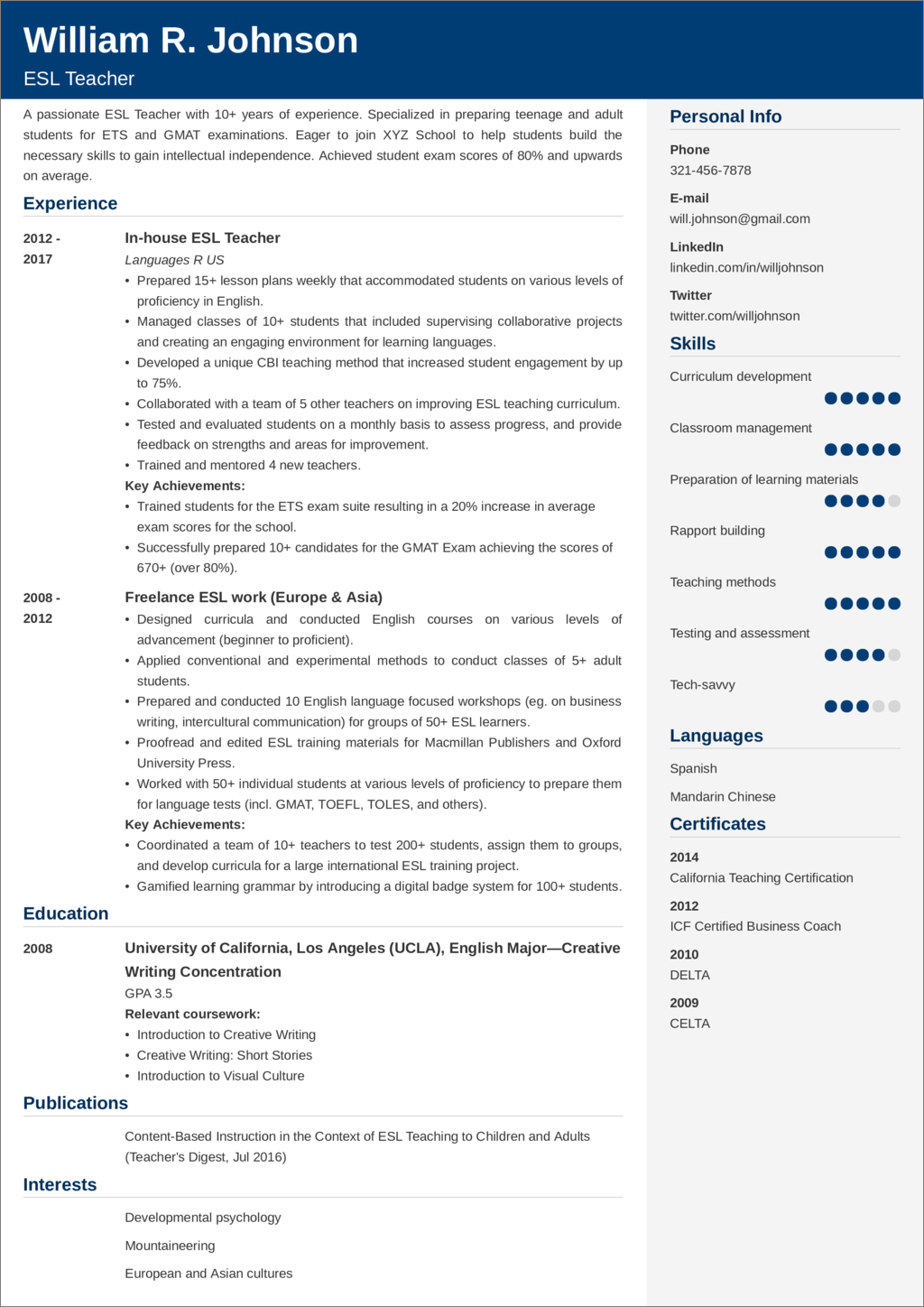 What users say about ResumeLab:
I had an interview yesterday and the first thing they said on the phone was: "Wow! I love your resume."
Patrick

I love the variety of templates. Good job guys, keep up the good work!
Dylan

My previous resume was really weak and I used to spend hours adjusting it in Word. Now, I can introduce any changes within minutes. Absolutely wonderful!
George
Teacher Resume Sample—Experienced Teacher Resume
William R. Johnson
ESL Teacher
Phone: 321-456-7878
Email: will.johnson@gmail.com
LinkedIn: linkedin.com/in/willjohnson
Twitter: twitter.com/willjohnson
Summary
A passionate ESL Teacher with 10+ years of experience. Specialized in preparing teenage and adult students for ETS and GMAT examinations. Eager to join XYZ School to help students build the necessary skills to gain intellectual independence. Achieved student exam scores of 80% and upwards on average.
Experience
2012–2017
In-house ESL Teacher
Languages R US
Prepared 15+ lesson plans weekly that accommodated students on various levels of proficiency in English.
Managed classes of 10+ students that included supervising collaborative projects and creating an engaging environment for learning languages.
Developed a unique CBI teaching method that increased student engagement by up to 75%.
Collaborated with a team of 5 other teachers on improving ESL teaching curriculum.
Tested and evaluated students on a monthly basis to assess progress, and provide feedback on strengths and areas for improvement.
Trained and mentored 4 new teachers.
Key Achievements:
Trained students for the ETS exam suite resulting in a 20% increase in average exam scores for the school.
Successfully prepared 10+ candidates for the GMAT Exam achieving the scores of 670+ (over 80%).
2008–2012
Freelance ESL work (Europe & Asia)
Designed curricula and conducted English courses on various levels of advancement (beginner to proficient).
Applied conventional and experimental methods to conduct classes of 5+ adult students.
Prepared and conducted 10 English language focused workshops (eg. on business writing, intercultural communication) for groups of 50+ ESL learners.
Proofread and edited ESL training materials for Macmillan Publishers and Oxford University Press.
Worked with 50+ individual students at various levels of proficiency to prepare them for language tests (incl. GMAT, TOEFL, TOLES, and others).
Key Achievements:
Coordinated a team of 10+ teachers to test 200+ students, assign them to groups, and develop curricula for a large international ESL training project.
Gamified learning grammar by introducing a digital badge system for 100+ students.
Education
2008
University of California, Los Angeles (UCLA), English Major—Creative Writing Concentration
GPA 3.5
Relevant coursework:
Introduction to Creative Writing
Creative Writing: Short Stories
Introduction to Visual Culture
Certifications
2014—California Teaching Certification
2012—ICF Certified Business Coach
2010—DELTA
2009—CELTA
Publications
Content-Based Instruction in the Context of ESL Teaching to Children and Adults (Teacher's Digest, Jul 2016)
Interests
Developmental psychology
Mountaineering
European and Asian cultures
Key Skills
Curriculum development
Classroom management
Preparation of learning materials
Rapport building
Teaching methods
Testing and assessment
Tech-savvy
Languages
Check out our selection of guides dedicated to teaching jobs:
Haven't found what you're looking for? Check all our professional resume examples.
1. Choose the Best Teacher Resume Format
First off—
You must cope with the recruiter's low attention span. They'll only spend about 7 seconds looking at your resume.
So, make sure your teacher's resume is easily scannable and reader-friendly.
Go for the reverse-chronological teacher resume format. This way you'll bring your experience and key achievements to the front.
Choose simple and readable resume fonts. Aim at anything between 10–14pt. Write simple headings. Embrace white space.
Stick to a one page resume unless you have a lot of experience.
Make sure you begin with a teacher resume summary or career objective. Move on to experience, and then to education.
Add a teacher resume skills section, list all your certifications, mention your additional activitiesand hobbies.
Expert Hint: Save your teacher resume as a PDF file. It will be readable to ATSs (Applicant Tracking Systems) and its formatting will stay intact.
2. Start Your Teacher Resume with a Career Objective or Summary
This section of your teacher resume is as important as the first impression with your students.
It sets the tone for everything that follows.
You need to come across as a personable expert from the start.
The question is—
How to do that in a summary for a teacher resume?
This simple formula will help you nail the resume summary every time:
An adjective
Job title
Years of experience
What you can offer and how it will help
Your biggest achievement
Here's what it looks like in practice:
English Teacher Resume—Summary
What if You've Got No Experience?
If you can't put much experience on your resume, go for a teacher resume objective. Those focus on your achievements and explain why you're a great fit.
Teacher Resumes—Objective Examples
Look at the below examples of resume objectives for various teaching positions:
Career Objective—Substitute Teacher Resume
Career Objective—Teaching Assistant Resume
Expert Hint: Your objective or summary should come first on your teacher resume. BUT you can write it at the very end—when the rest of your educator resume is ready. Just pick the juiciest bits and write a snappy intro.
3. Write the Perfect Teacher Resume Skills and Job Description
Your teaching skills and experience are the single most important reason why you will (or won't) get hired.
So—
Make sure you give the recruiter everything they need by scattering the relevant skills throughout your entire resume.
Here's how to do it right:
Go through the job posting.
Identify the sought-after teacher resume skills and duties.
Make sure your teacher resume bullets cover them.
Teacher Job Description—Sample of Resume
Expert Hint: Double check your teacher job description for action words. Use strong verbs, avoid repeating the hackneyed responsible for formula.
The ResumeLab builder is more than looks. Get specific content to boost your chances of getting the job. Add job descriptions, bullet points, and skills. Easy. Improve your resume in our resume builder now.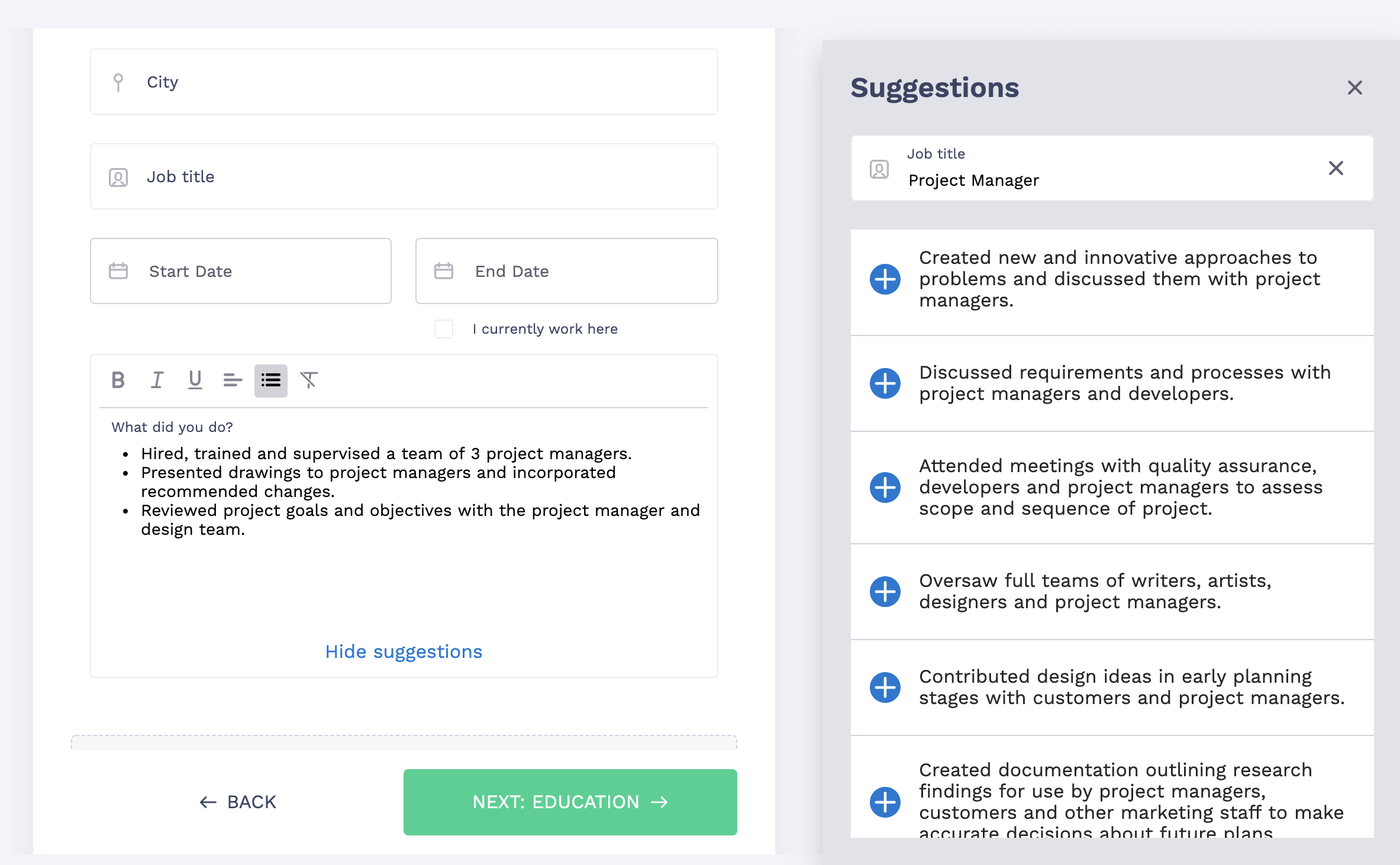 Nail it all with a splash of color, choose a clean font, highlight your skills in just a few clicks. You're the perfect candidate and we'll prove it. Use the ResumeLab builder now.
One important thing—
Your teacher resume job description must be more than a laundry list of responsibilities.
It should list your achievements. In other words, it must show how good you are at performing your duties.
And remember—
In the 21st century, a number is worth a thousand words.
So, quantify your experience and achievements. Use percentages, hours, or numbers of students taught.
Now, take another look at the highlights in the teacher resume bullets above. Find your skills there.
Prune them, and leave the essence. What you're left with should look something like this:
Teacher Resume—Skills
Lesson planning
Curriculum development
Classroom management
Preparation of learning materials
Learning project supervision
Rapport building
Teaching methods
Teamwork
Testing and assessment skills
Mentoring
Knowledge of industry-specific exams
Tech-savvy
The list is long and impressive, so it's easy to go overboard. To avoid this, limit yourself to 5–7 key skills relevant to the position.
Put them in a separate teaching resume skills section.
In an interview, you'll be able to go through each item on your teacher resume skills and back it up with examples from your experience section.
Pick different skills for an English teacher resume than a music teacher resume.
Preschool Teacher Resume—Skills
Early childhood learning methods
Age-appropriate activities
Safety and sanitation policies
Creativity
Interpersonal skills
Elementary School Teacher Resume—Skills
Adaptability
Imagination
Communication
Mentoring
Leadership
Art Teacher Resume—Skills
Knowledge of art history
Knowledge of different art genres
Ability to communicate abstract concepts
Painting and drawing techniques
Creativity and open-mindedness
4. Turn Boring Education into a Reason to Hire You
As a teacher, you know the value of education.
So, don't take this section for granted. List your coursework and relevant activities.
Make the education section on your resume work for you.
High School Teacher Resume Example—Education
Expert Hint: Take full advantage of your educational background. Especially if you're a new teacher or preparing a first-year teacher resume and your experience is limited.
5. Add Relevant Certifications to Your Teacher Resume
Learning is a lifelong journey.
So is teaching.
Prove you're keen on self-improvement with teacher certifications on your resume.
Create a separate certifications section, like so:
Teacher Resume Examples—Certifications
Certifications
2014—California Teaching Certification
2012—ICF Certified Business Coach
2010—DELTA
2009—CELTA
Expert Hint: Your teacher resume will be twice as effective if you write a cover letter. More than 50% of recruiters expect you to submit one, but less than half of applicants do. Outsmart the lazy ones.
Double your impact with a matching resume and cover letter combo. Use our cover letter builder and this teacher cover letter example to make your application documents pop out.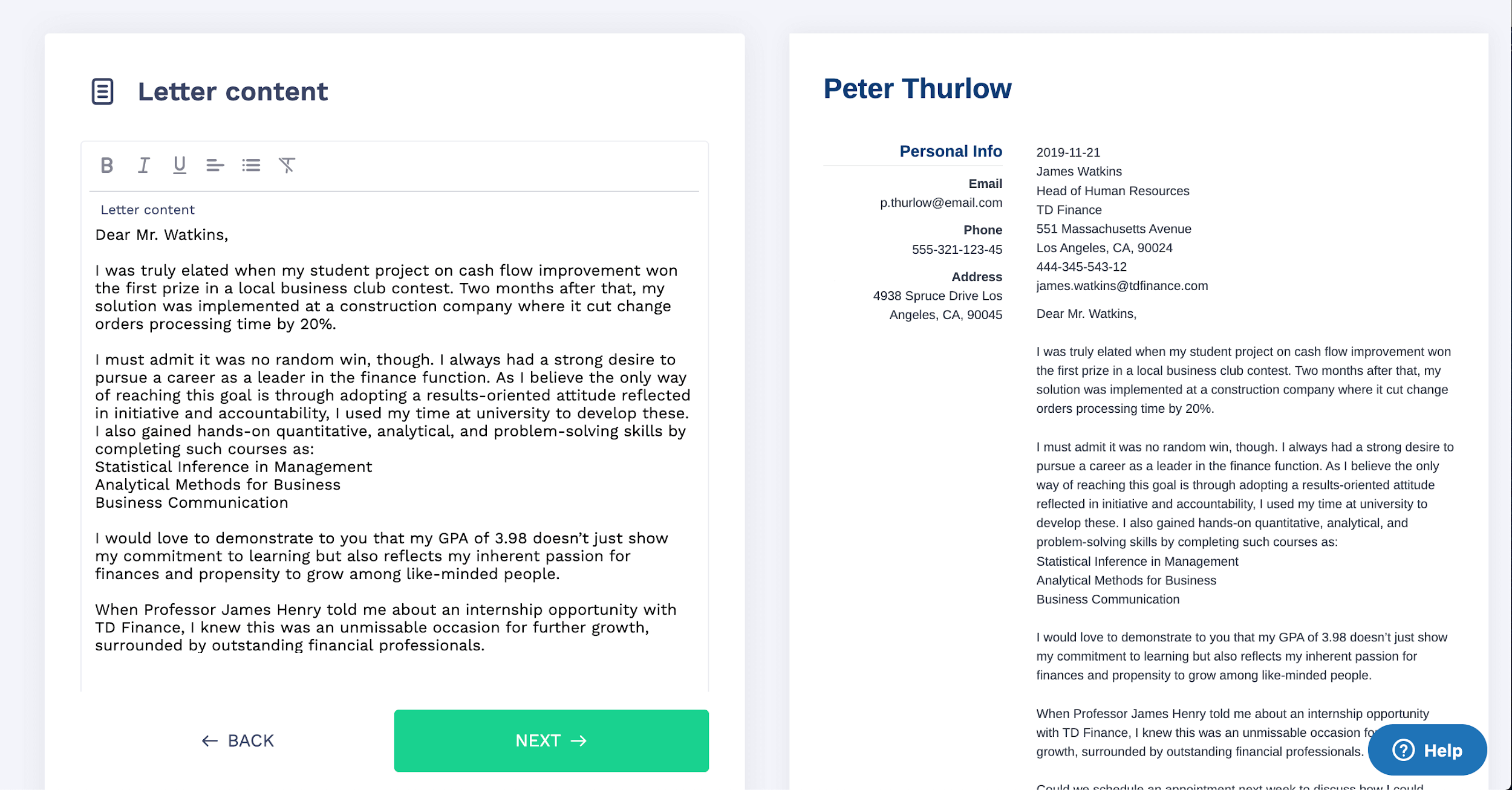 Want to try a different look? There's 18 more. A single click will give your document a total makeover. Pick a cover letter template here.
Key Points
Writing a good teacher resume is pretty easy once you know how to do it right.
Start with choosing a teacher resume template that's right for you. An experienced teacher resume needs a larger experience section than a new teacher resume.
Tailor your resume to a specific job offer. Make sure your teacher resume skills and experience bullets reflect the requirements from the job ad. If there's no job ad, check out the school's teacher requirements.
Don't waste space. But don't clutter it either. Make as much as possible of the one page you have. Use white space to your advantage.
List your certifications. They show your teacher qualifications and your willingness to develop professionally.
Add some extra info. Your interests do matter. Make sure they fit the position and make you an interesting candidate.

Write a teacher cover letter. Or if you are looking for something more specific, check out the substitute teacher cover letter example and the elementary teacher cover letter example.
Any questions on how to write a great educator resume? Do you have useful advice on writing different teacher resumes (math teacher resume or middle school teacher resume)? We'd love to hear from you. Leave your comment below.