Marketing Resume Sample—Examples and 25+ Writing Tips
A marketing resume sample that will land you an interview. Prepare your marketing resume quickly. Follow expert advice. Learn from good vs. bad examples.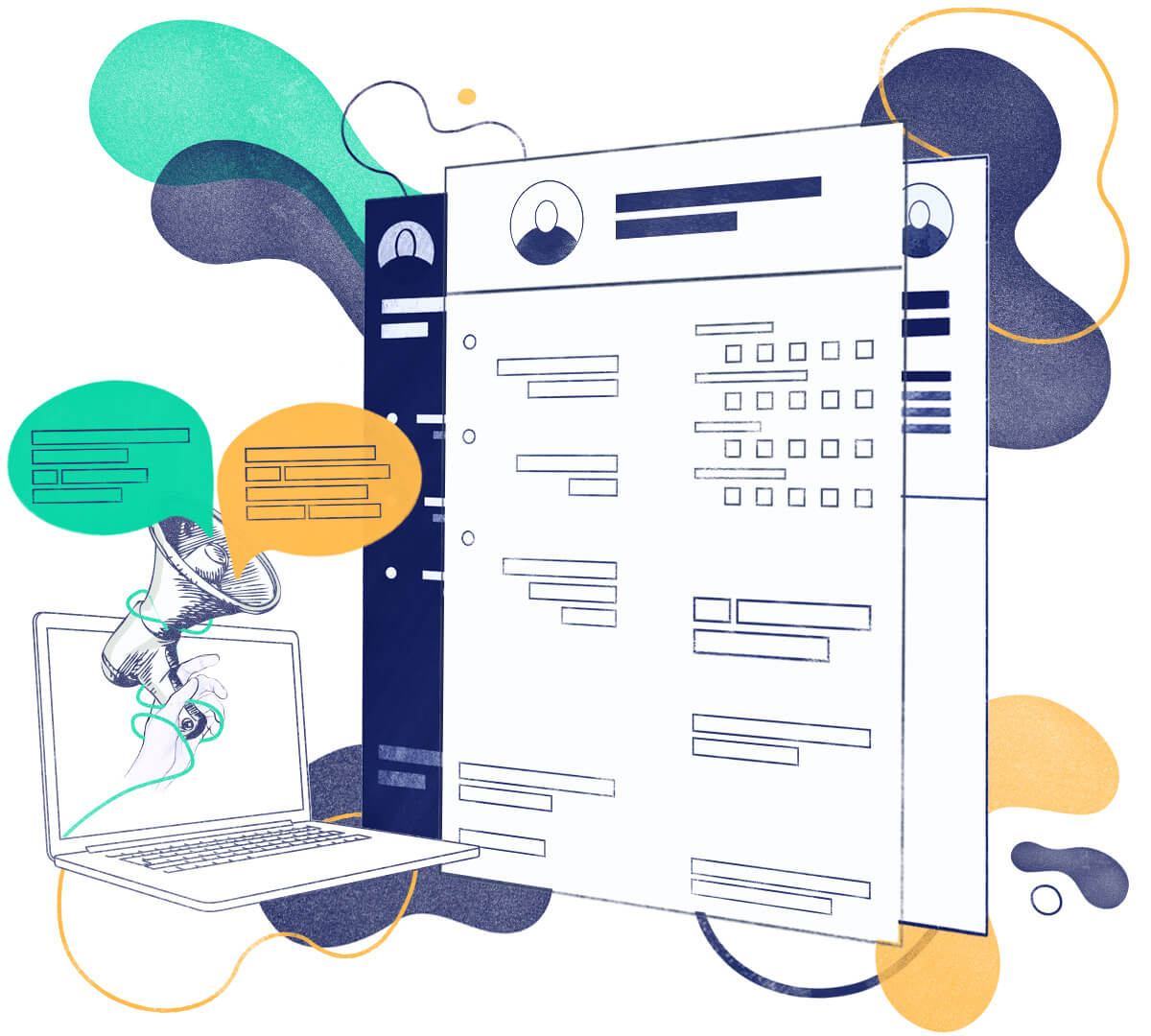 You may be the next Garyvee.
But will your marketing resume convince the recruiter?
Not sure?
So—
Let's make you come across as the next marketing genius.
This guide will show you:
Online marketing resume examples that get jobs.
How to ace your marketing job description for a resume.
How to write the best marketing resumes that get the interview.
Expert Hints and examples to boost your chances of landing marketing jobs.
Save hours of work and get a resume like this. Pick a template, fill it in. Quick and easy. Choose from 18+ resume templates and download your resume now.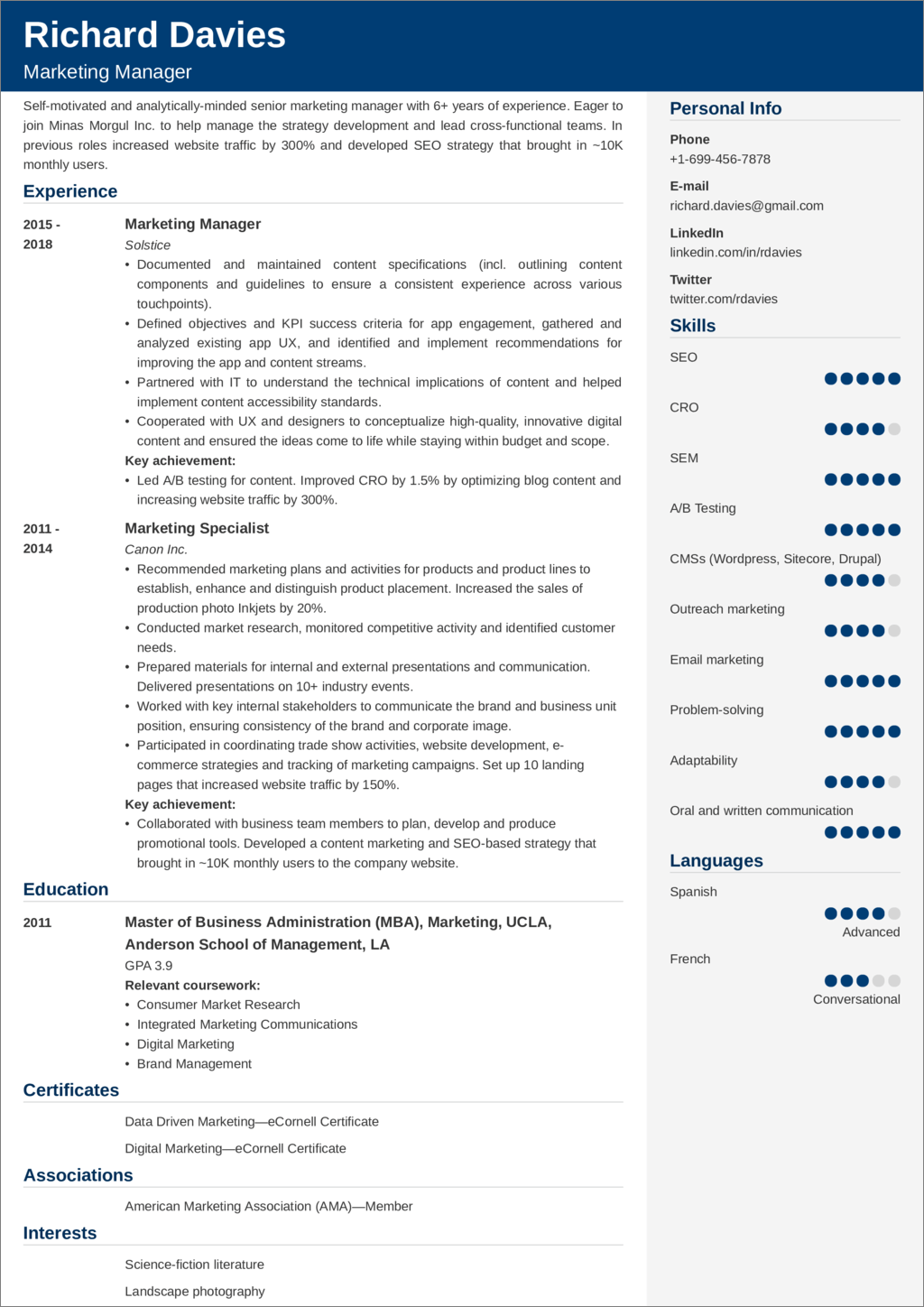 What users say about ResumeLab:
I had an interview yesterday and the first thing they said on the phone was: "Wow! I love your resume."
Patrick

I love the variety of templates. Good job guys, keep up the good work!
Dylan

My previous resume was really weak and I used to spend hours adjusting it in Word. Now, I can introduce any changes within minutes. Absolutely wonderful!
George
Marketing Resume—Sample
Richard Davies
Marketing Manager
Phone: +1-699-456-7878
Email: richard.davies@gmail.com
LinkedIn: linkedin.com/in/rqdavies
Twitter: twitter.com/rqdavies
Summary
Self-motivated and analytically-minded senior marketing manager with 6+ years of experience. Eager to join Minas Morgul Inc. to help manage the strategy development and lead cross-functional teams. In previous roles increased website traffic by 300% and developed SEO strategy that brought in ~10K monthly users.
Experience
2015–2018
Solstice
Marketing Manager
Documented and maintained content specifications (incl. outlining content components and guidelines to ensure a consistent experience across various touchpoints).
Defined objectives and KPI success criteria for app engagement, gathered and analyzed existing app UX, and identified and implement recommendations for improving the app and content streams.
Partnered with IT to understand the technical implications of content and helped implement content accessibility standards.
Cooperated with UX and designers to conceptualize high-quality, innovative digital content and ensured the ideas come to life while staying within budget and scope.
Key achievement:
Led A/B testing for content. Improved CRO by 1.5% by optimizing blog content and increasing website traffic by 300%.
2011–2014
Canon Inc.
Marketing Specialist
Recommended marketing plans and activities for products and product lines to establish, enhance and distinguish product placement. Increased the sales of production photo Inkjets by 20%.
Conducted market research, monitored competitive activity and identified customer needs.
Prepared materials for internal and external presentations and communication. Delivered presentations on 10+ industry events.
Worked with key internal stakeholders to communicate the brand and business unit position, ensuring consistency of the brand and corporate image.
Participated in coordinating trade show activities, website development, e-commerce strategies and tracking of marketing campaigns. Set up 10 landing pages that increased website traffic by 150%.
Key achievement:
Collaborated with business team members to plan, develop and produce promotional tools. Developed a content marketing and SEO-based strategy that brought in ~10K monthly users to the company website.
Education
2011
UCLA, Anderson School of Management, LA
Master of Business Administration (MBA), Marketing
GPA 3.9
Relevant coursework:
Consumer Market Research
Integrated Marketing Communications
Digital Marketing
Brand Management
Certifications
Data Driven Marketing—eCornell Certificate
Digital Marketing—eCornell Certificate
Associations
American Marketing Association (AMA)—Member
Interests
Science-fiction literature
Landscape photography
Key Skills
SEO
CRO
SEM
A/B Testing
CMSs (Wordpress, Sitecore, Drupal)
Outreach marketing
Email marketing
Problem-solving
Adaptability
Oral and written communication
Languages
Spanish (Advanced)
French (Conversational)
Targeting a more specialized position in marketing? Go to:
1. Choose the Best Marketing Resume Format
Here's the thing—
Modern marketing is as much art as a science.
That's why your marketing resume must both please the eye and prove your worth.
Here's a quick checklist for a good start:
Use the reverse-chronological resume format for your digital marketing resume. Your experience and key achievements will become more prominent.
Go for simple and readable resume fonts. Aim for the range between 10 and 14pt. Write simple headings. Make good use of white space.
Go for the best resume length: opt for a one page resume unless you've got many years of experience.
Open your marketing specialist resume with a snappy objective or summary. Add your experience and education next.
Put your marketing skills in a separate key skills section. Add your professional certifications, and list your interests. Mention your membership in professional associations and organizations.
Expert Hint: Save your social media marketing resume as a PDF file. This way you'll preserve its formatting and make it readable to ATSs.
2. Start with a Marketing Resume Objective or Summary that Turns Heads
You need to market yourself in under 7 seconds.
This is how long an average recruiter will spend looking at your creative marketing resume.
So—
Start with a bang.
Use this proven formula to make sure your marketing resume summary gets it just right.
An adjective or two
Job title
Years of experience
What you can offer and how it will help
Your biggest achievement
Marketing Resume Sample—Summary
Make sure you've mentioned the company you're applying to by name.
And remember—
At the end of the day, marketing is about numbers. So don't fail to show them off at the outset.
What If You've Got No Experience?
A digital marketing resume for freshers must open just as spectacularly as a marketing director resume.
The difference is you start it with a marketing resume objective, not a summary.
A resume objective for marketing brings forward your relevant skills, strengths, and achievements.
It doesn't have to be entirely focused on your professional experience. If you're a recent graduate—tell the recruiter about your educational wins, internships, etc.
Mind you, though.
Relevant is the keyword.
Refrain from stuffing your digital marketing resume objective with any experience just for the sake of making it look better.
Fresher Resume for Marketing—Objective
Expert Hint: Write your marketing resume objective or summary once you're done with all the rest. Pick out the best parts from your digital marketing manager resume and include them in your intro.
3. Write the Perfect Marketing Resume Skills and Job Description Sections
Here's the secret—
It's the experience and marketing skills on your resume that sell.
So, prepare your marketing resume job description with all the attention it deserves.
Thanks to these three simple steps, you'll nail it every time:
Re-read the job posting.
Identify the required marketing skills.
Write your marketing resume job description using the keywords from the job ad.
Marketing Resume Samples—Marketing Job Description for Resume
Why is this part of your marketing resume so crucial?
Here's the thing:
It will get you past the ATS screening stage.
Applicant Tracking Systems (ATSs) help recruiters sift through the deluge of job resumes they receive.
ATSs scan the documents for marketing resume keywords.
The keywords are part of the job advert. You can see them highlighted in the marketing resume example above.
To up your chances of getting through the initial ATS screening, use the keywords and phrases you find in the job ad.
But remember, the ATS is just a hurdle to be cleared. Your ultimate goal is to make a lasting impression on the hiring manager.
How to do that?
Quantify your marketing experience. Pepper your marketing strategist resume with numbers and percentages to show how capable you really are.
Remember: your marketing resume skills and responsibilities backed up with numbers turn into achievements.
Now—
Select one or two things you're really proud of and list them on your marketing resume in a separate key achievements subsection.
The ResumeLab builder is more than looks. Get specific content to boost your chances of getting the job. Add job descriptions, bullet points, and skills. Easy. Improve your resume in our resume builder now.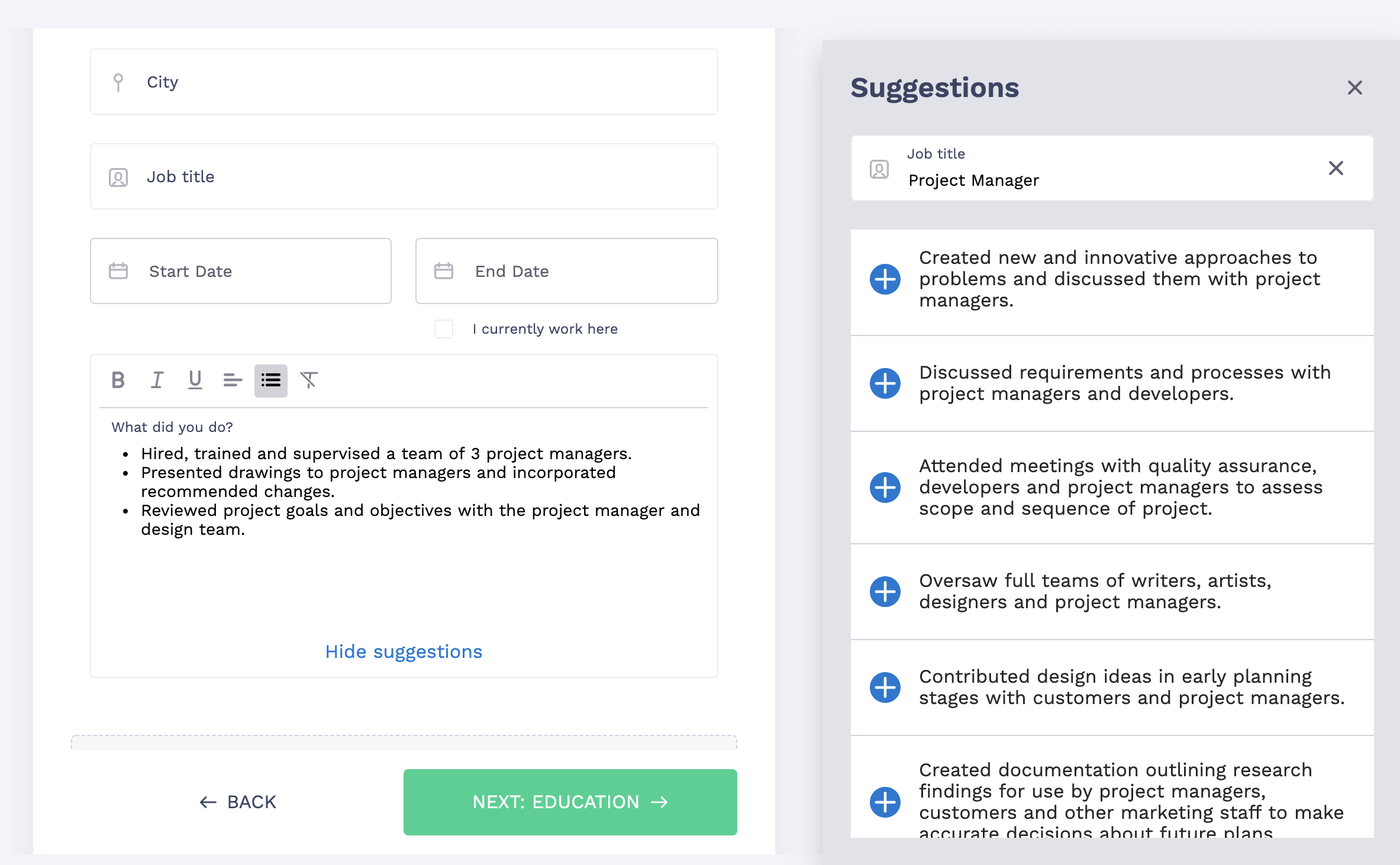 Nail it all with a splash of color, choose a clean font, highlight your skills in just a few clicks. You're the perfect candidate and we'll prove it. Use the ResumeLab builder now.
Marketing Resume Samples—Key Achievements
Key achievement:
Led A/B testing for content.Improved CRO by 1.5% by optimizing blog content and increasing website traffic by 300%.
And—
Don't forget to give your key skills proper exposure.
How to write skills on a resume?
Take a good look at the job ad to see if the desired skills for your marketing resume are listed there.
If so, they're good skills to put on your resume. Of course, if you have them.
Marketing Resume Skills—Examples
You definitely wonder what to put in the skills section of a resume for marketing positions.
Here's a list of hard and soft skills for your reference:
Hard Skills—Resume Examples
SEO
CRO
SEM
A/B Testing
CMSs (Wordpress, Sitecore, Drupal)
HTML
CSS
Outreach marketing
Email marketing
Soft Skills—Resume Examples
Multi-tasking
Problem-solving
Adaptability
Collaboration
Time management
Organization
Oral/written communication
Interpersonal skills
One final remark.
Don't paraphrase too much.
I know you'd like to make a creative marketing resume.
But—
ATSs are not that smart. If the job ad says "team-player" and you're one, put a team-player on your marketing resume. Don't go for "collaboration."
Expert Hint: You may be tempted to put a long list of skills on your marketing coordinator resume. Don't do it though. Put about top ten skills on your resume and avoid the presenter's paradox.
4. Turn Boring Education Into a Reason to Hire You
Education matters.
Especially—
If you know how to put it to good use on your entry-level resume for marketing positions.
Here's the thing:
Don't just plonk the name of your highest education level.
List relevant coursework on a resume, mix in extracurricular activities and show off your GPA.
Entry Level Marketing Resume Sample—Education
Expert Hint: Pay particular attention to the education section of your marketing resume when your professional experience isn't huge yet. The more experienced you become the less detailed this section can be.
5. Light Up Your Marketing Resume With These
You know what they say:
Small steps lead to the biggest changes.
So—
Plant a couple of golden nuggets here and there, and let your marketing resume make a change.
List your certifications on a resume, membership in professional associations, interests, and foreign languages.
Certificates
Data Driven Marketing—eCornell Certificate
Digital Marketing—eCornell Certificate
Associations
American Marketing Association (AMA)—Member
Interests
Science-fiction literature
Landscape photography
Languages
Spanish (Advanced)
French (Conversational)
Expert Hint: Boost your chances of landing a marketing job with a cover letter. More than half of the recruiters want to read them but less than 50% of candidates write them.
Double your impact with a matching resume and cover letter combo. Use our cover letter builder and make your application documents pop out.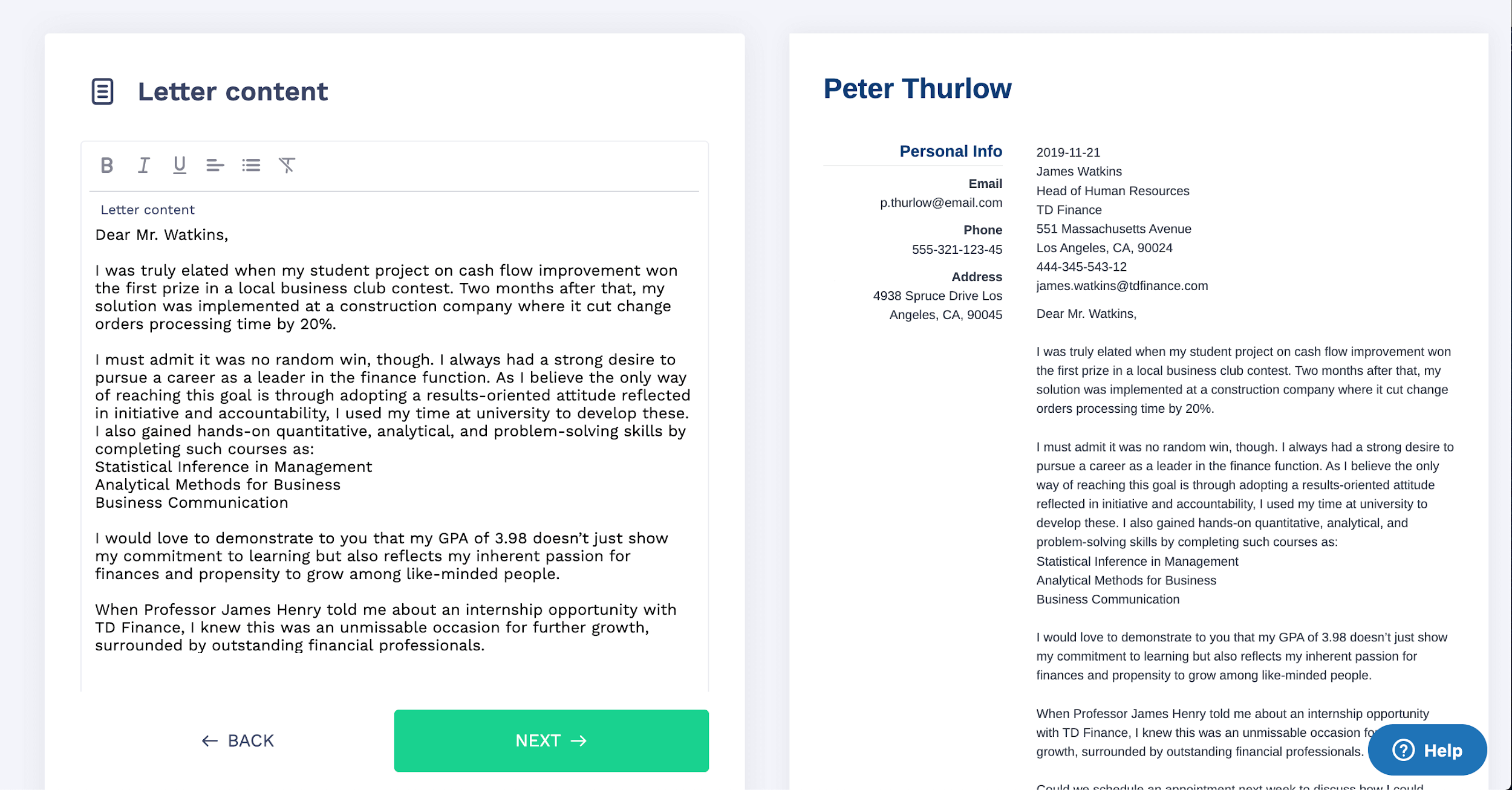 Want to try a different look? There's 18 more. A single click will give your document a total makeover. Pick a cover letter template here.
Key Points
Here's a quick recap of the main points:
Pick out the best marketing resume templates. An entry level marketing resume doesn't call for such a spacious experience section as a marketing director resume.
Give it an exceptional look. Fill your sales and marketing resume with relevant experience, go for a one-pager, and format it elegantly. Don't clutter it, and make good use of white space.
Tailor your marketing professional resume to the job offer. Remember your marketing job description and skills must target a specific job ad.
Make the most of your education. Especially when preparing a marketing intern resume or an entry-level marketing resume.
Pepper it with extras. Prove you're a well-rounded candidate. List your certifications, interests, and membership in professional associations.
Questions on how to write the best marketing resume? Want to share advice on how to prepare a resume for marketing jobs (social media marketing resume or sales and marketing resume)? We'd love to hear from you. Leave your comment below.