Electrical Engineering Resume—Examples and 25+ Writing Tips
With your skills, you could reverse-engineer a flying saucer or design an X-Wing. But employers have no clue unless you clue them in—with this electrical engineering resume sample.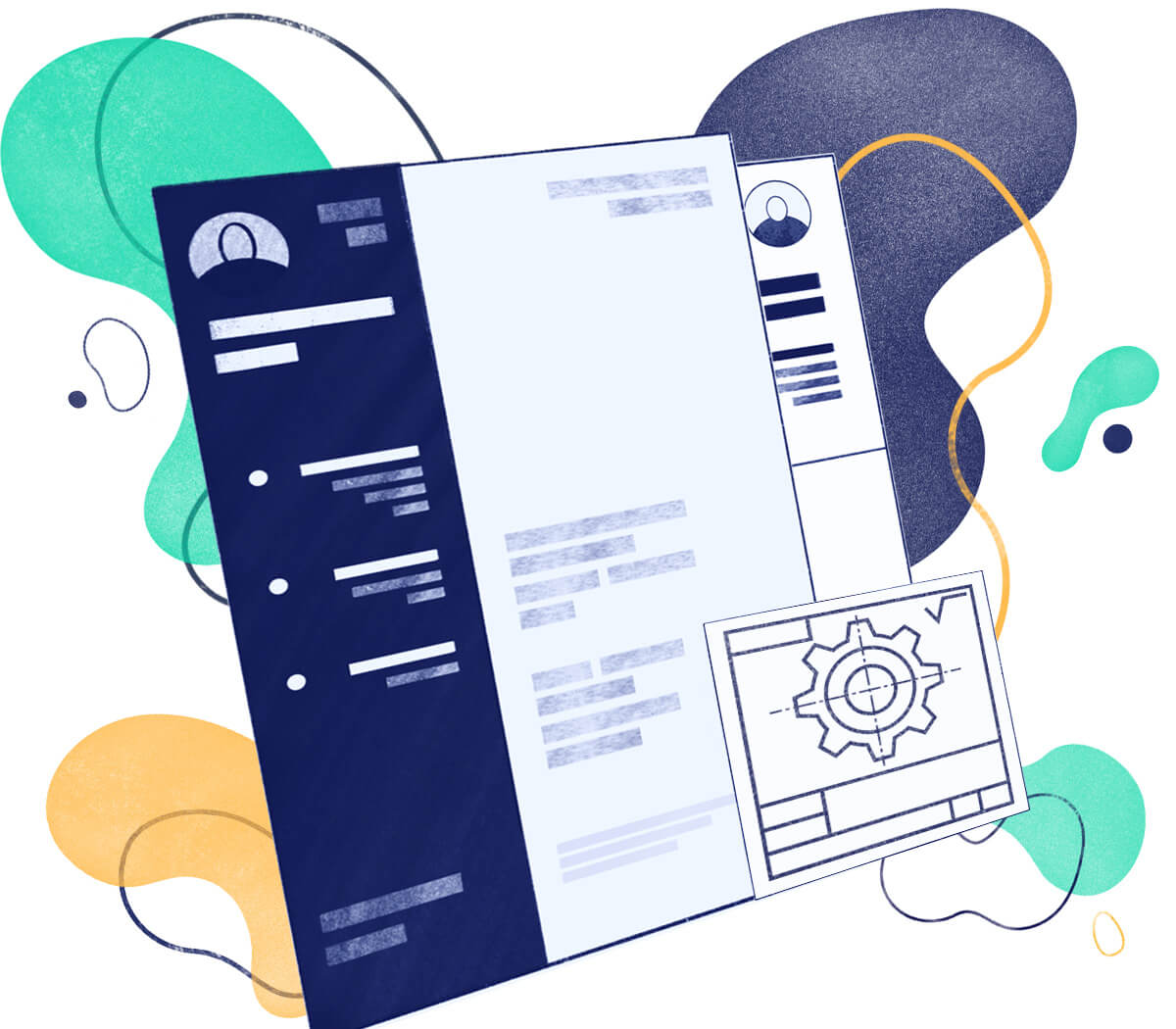 Why is it so hard?
You understand and design circuits that would give most people migraines.
But writing an electrical engineering resume makes your teeth click.
The reason?
You don't know which things employers care about.
Take heart. Plug in the right discrete components and your job search will light up like a Christmas tree.
In this guide:
An electrical engineering resume sample better than most.
How to write a resume for electrical engineering jobs that works.
How to fine-tune the electrical engineering job description in your resume.
Why you can't just list electrical engineering skills (and what to do instead).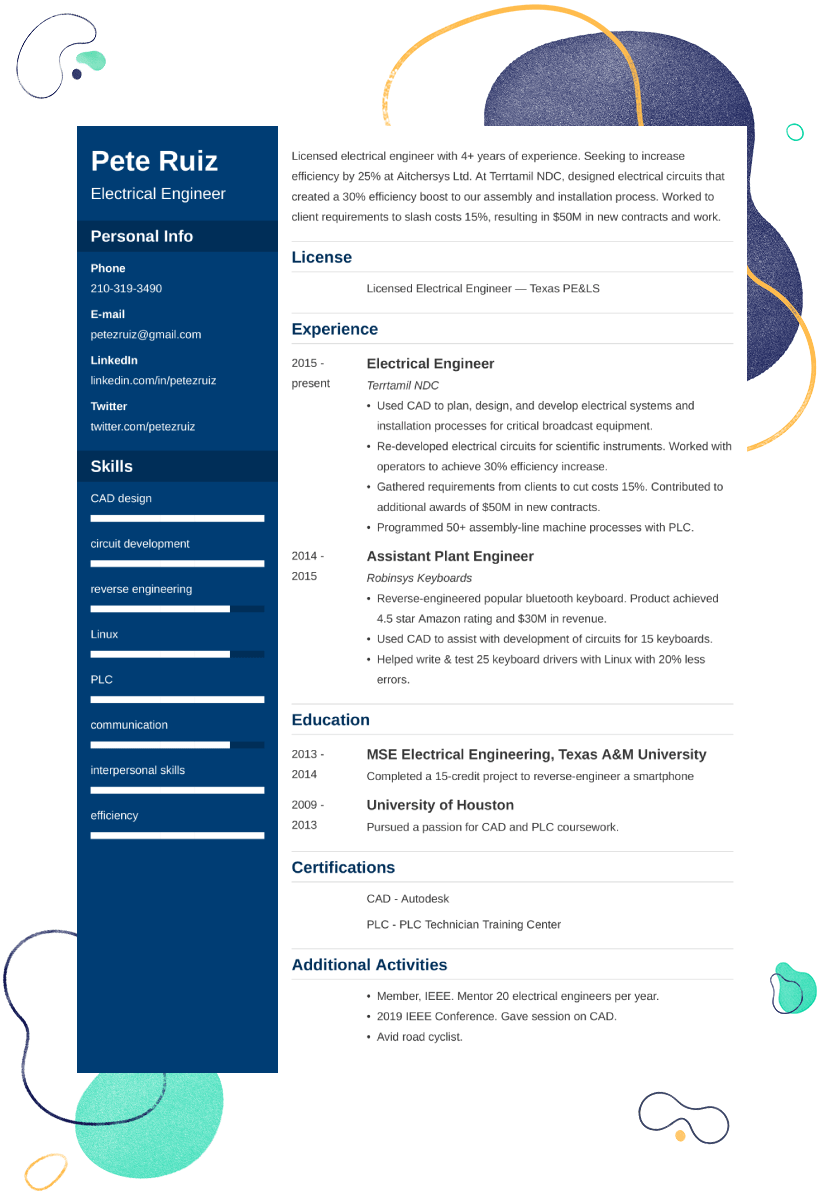 Create a job-winning resume with little effort. Hack your way through ATS software with our 18 beautiful templates—give our builder a try!

Create my resume now
Electrical Engineering Resume Sample You Can Copy and Use
Pete Ruiz
Electrical Engineer
Personal Info
Phone: 210-319-3490
E-mail: petezruiz@gmail.com
linkedin.com/in/petezruiz
twitter.com/petezruiz
Summary
Licensed electrical engineer with 4+ years of experience. Seeking to increase efficiency by 25% at Aitchersys Ltd. At Terrtamil NDC, designed electrical circuits that created a 30% efficiency boost to our assembly and installation process. Worked to client requirements to slash costs 15%, resulting in $50M in new contracts and work.
License
Licensed Electrical Engineer — Texas PE&LS
Experience
Electrical Engineer
Terrtamil NDC
2015–present
Used CAD to plan, design, and develop electrical systems and installation processes for critical broadcast equipment.
Re-developed electrical circuits for scientific instruments. Worked with operators to achieve 30% efficiency increase.
Gathered requirements from clients to cut costs 15%. Contributed to additional awards of $50M in new contracts.
Programmed 50+ assembly-line machine processes with PLC.
Assistant Plant Engineer
Robinsys Keyboards
2014–2015
Reverse-engineered popular bluetooth keyboard. Product achieved 4.5 star Amazon rating and $30M in revenue.
Used CAD to assist with development of circuits for 15 keyboards.
Helped write & test 25 keyboard drivers with Linux with 20% less errors.
Education
MSE Electrical Engineering, Texas A&M University
2013–2014
Completed a 15-credit project to reverse-engineer a smartphone
University of Houston
2009–2013
Pursued a passion for CAD and PLC coursework.
Certifications
CAD - Autodesk
PLC - PLC Technician Training Center
Additional Activities
Member, IEEE. Mentor 20 electrical engineers per year.
2019 IEEE Conference. Gave session on CAD.
Avid road cyclist.
Hard Skills: CAD design, circuit development, reverse engineering, Linux, PLC
Soft Skills: communication, interpersonal skills, efficiency
In the wrong discipline? See our guides:
Haven't found what you're looking for? Check all our resume examples for over 200 jobs.
Writing an electrical engineering internship resume? See our guide: Internship Resume Examples—Template & 25+ Writing Tips
Here's how to write an electrical engineering resume that gets jobs:
1. Choose Your Electrical Engineering Resume Format
Let's lay the groundwork.
Resume formatting matters to employers.
Do it wrong, and your electrical engineer resume will wind up in the waste bin.
Use these tips to start off right:
Electrical Engineering Resume Format
Expert Hint: There are only 330,300 electrical engineer jobs in the US, and job growth has hit a wall. Target your resume to cut through the hiring static.
2. Write an Electrical Engineering Resume Objective or Summary
Warning:
Most recruiters spend six seconds with a resume.
But—
You can get more time for yours.
Start your electrical engineering resume with a resume objective or resume summary.
It's a short overview that gets attention.
Include:
One adjective (licensed, results-driven)
The title "electrical engineer"
Years of experience (3+, 4+)
Who & how you'll help (increase efficiency by 25% at Aitchersys)
Best electrical engineering moments (slashed costs 15%...)
Psst—write it last to zap the stress.
These engineer resume examples show the diagram:
Electrical Engineering Resume Summary—Example
Major difference.
That first sample crackles with details.
But—
An electrical engineering resume with no experience must show achievements too.
Entry-Level Electrical Engineering Resume Objective
The second of those entry-level electrical engineering resume examples is a dud.
The first shows drive and competence—with proof.
One caveat:
Engineers won't read your resume. Recruiters will. So—
It's critical to show you've helped the bottom line.
Expert Hint: Writing an entry-level electrical engineer resume? Give serious thought to getting your EIT certification. Princeton has a great guide on how to get it here.
3. Recharge Your Electrical Engineering Job Description and Skills Section
Good news:
Most electrical engineering resumes are generic.
Dodge that, and you'll stand out like Albert Macovski.
To write a great electrical engineering job description:
Look in the job ad for the right resume skills.
Those are your resume keywords. List times you used them.
Add numbers to show your work mattered.
Look again at step #3. Believe it! Recruiters with no engineering knowledge will hire you (or not). You must show them how you moved the needle.
Do it like the first of these electrical engineer resume samples:
The job ad wants these electrical engineering skills: CAD, developing circuits, gathering requirements, PLC.
Electrical Engineering Job Description for Resume [Sample]
The second of those electrical engineering resume examples lacks:
The skills in the job ad.
Numbers for scale.
Other than that, it's the same resume.
This entry-level resume sample does the same thing:
The job ad wants these electrical engineering skills: reverse-engineering, CAD, Linux.
Entry-Level Electrical Engineering Resume Job Description [Sample]
Notice:
Applicant #2 had the right components and didn't install them.
Remember—use their skills, plus numbers for evidence.
Start with these electrical engineering resume skills:
Electrical Engineering Resume Skills
| | |
| --- | --- |
| Hard Skills | Soft Skills |
| Microcontrollers (PIC, 8051, etc.) | Communication |
| Programming Languages (C, Java) | Collaboration |
| Linux | Problem Solving |
| Reverse Engineering | Leadership |
| Circuit Design | Travel |
| PLC | Precision |
| CAD | Organization |
| NFPA Standards | Decision Making |
| Revit | Active Learning |
| PCB Design | Mentoring |
Expert Hint: What certifications look best on an electrical engineer resume? CAD, PLC, and safety can help. But make sure your chosen employer cares about them.
4. Turn Boring Education to a Reason to Hire You
Here's a tip:
If you've got lots of experience, your education can get by with school, degree, and dates.
But—
An electrical engineering student resume must stretch its resume education section.
Add:
Academic projects
Favorite classes
Awards or fellowships
Relevant coursework
Follow this electrical engineering resume sample:
Electrical Engineering Resume Example—Education
Expert Hint: Boeing, Lockheed Martin, IBM, Google, Apple, and GE are hiring electrical engineers. For more, search "electrical engineering jobs" + [your location]. Then click Google's big blue bar.
5. Add Your License to Your Electrical Engineering Resume
"Is he licensed?"
Don't make employers ask that.
Instead—
Put your license under your electrical engineering resume summary where they'll see it.
Add other sections to show you're no mere robot.
Try a couple of these:
Conferences (especially if you spoke at them)
Programming languages (Linux, Java, C)
Certifications (PLC, CAD, safety)
Foreign languages
Groups & clubs
Freelance work
Publications
Personal projects
Additional activities
Fitness
These electrical engineering resume examples show the schematic:
Electrical Engineering Resume—Extra Sections
Night & day.
They'll fight to hire the first of those electrical engineering resume examples.
Expert Hint: Add a cover letter to your resume. Resumes for electrical engineers without cover letters have more than a 40% chance of getting skipped.
Key Points
For an electrical engineering resume that flows:
Use the electrical engineering resume template up top. It plugs in your best career moments to get you hired.
Source resume keywords from the electrical engineering job description online.
Write these resume sections: summary, license, experience, education, and skills. Pack them with proof you've already done their job.
Add other sections to show you're a living, breathing human being.
Write a engineering cover letter to increase your odds of getting invited for an interview
Got questions on how to write great resumes for electrical engineering jobs? Want to know how your electrical engineer resume can stand out from the crowd? Leave a comment. We'll be happy to reply!