Certified Nurse Assistant / CNA Resume—Examples and 25 Writing Tips
You've completed the CNA course, passed the exam, and found the perfect job opening. One last thing to score this ideal work opportunity—the best CNA resume they've yet seen.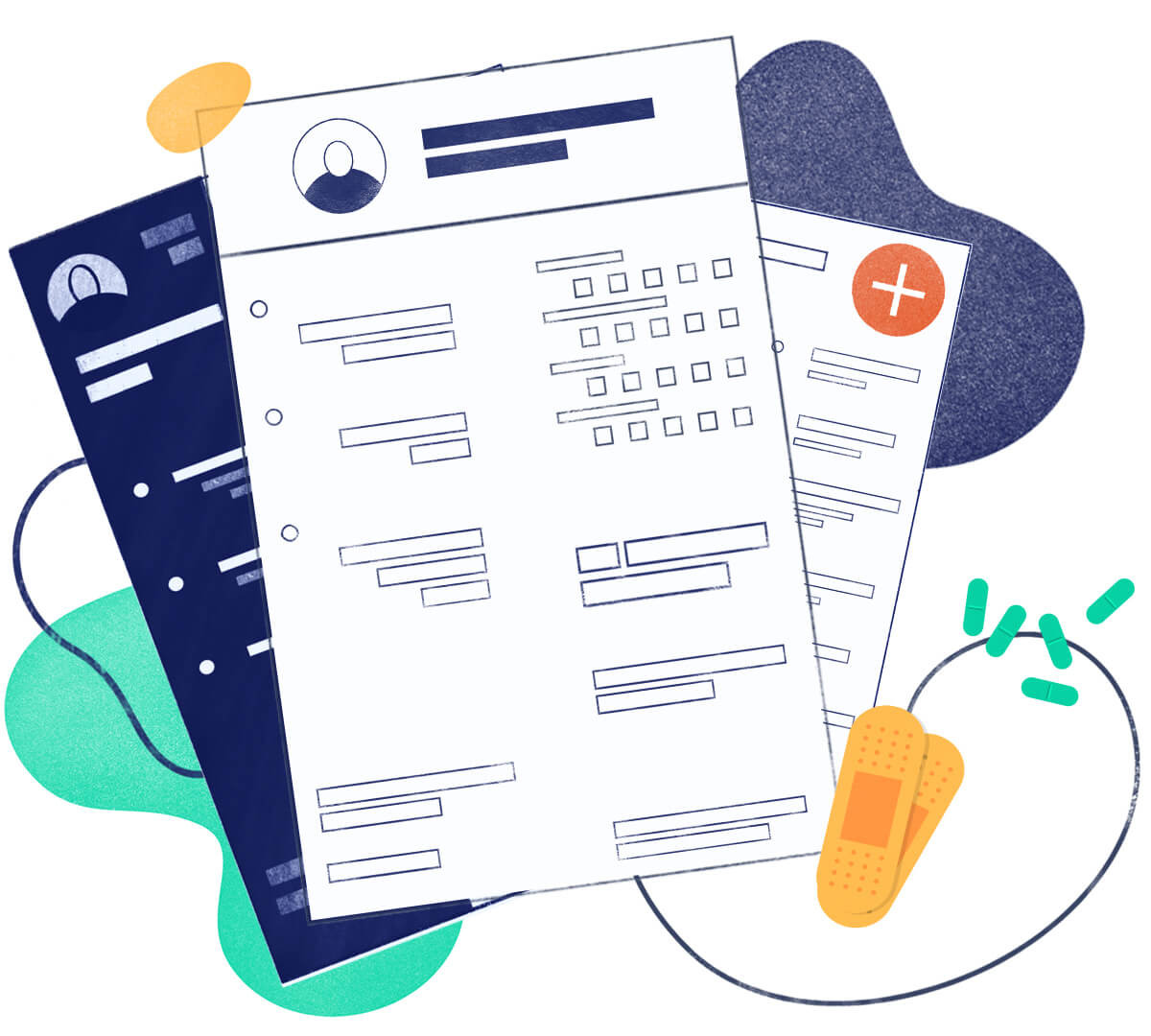 From the chronically ill to the mentally disabled to the elderly, you help people who can't help themselves.
Thing is, the hospital or long-term care clinic doesn't yet know about your your extraordinary nursing skills.
So, you'll inform them—
With the best CNA resume to talk up your medical skills, nursing experience, and professional background.
In this guide you'll find:
The best certified nursing assistant resume sample to get those CNA jobs.
How to tailor your nurse assistant resume to the CNA job description.
How to write resumes for CNA positions that score hospital and nursing interviews.
Expert tips and examples to improve your chances of landing nursing jobs.
Save hours of work and get a resume like this. Pick a template, fill it in. Quick and easy. Choose from 18+ resume templates and download your resume now.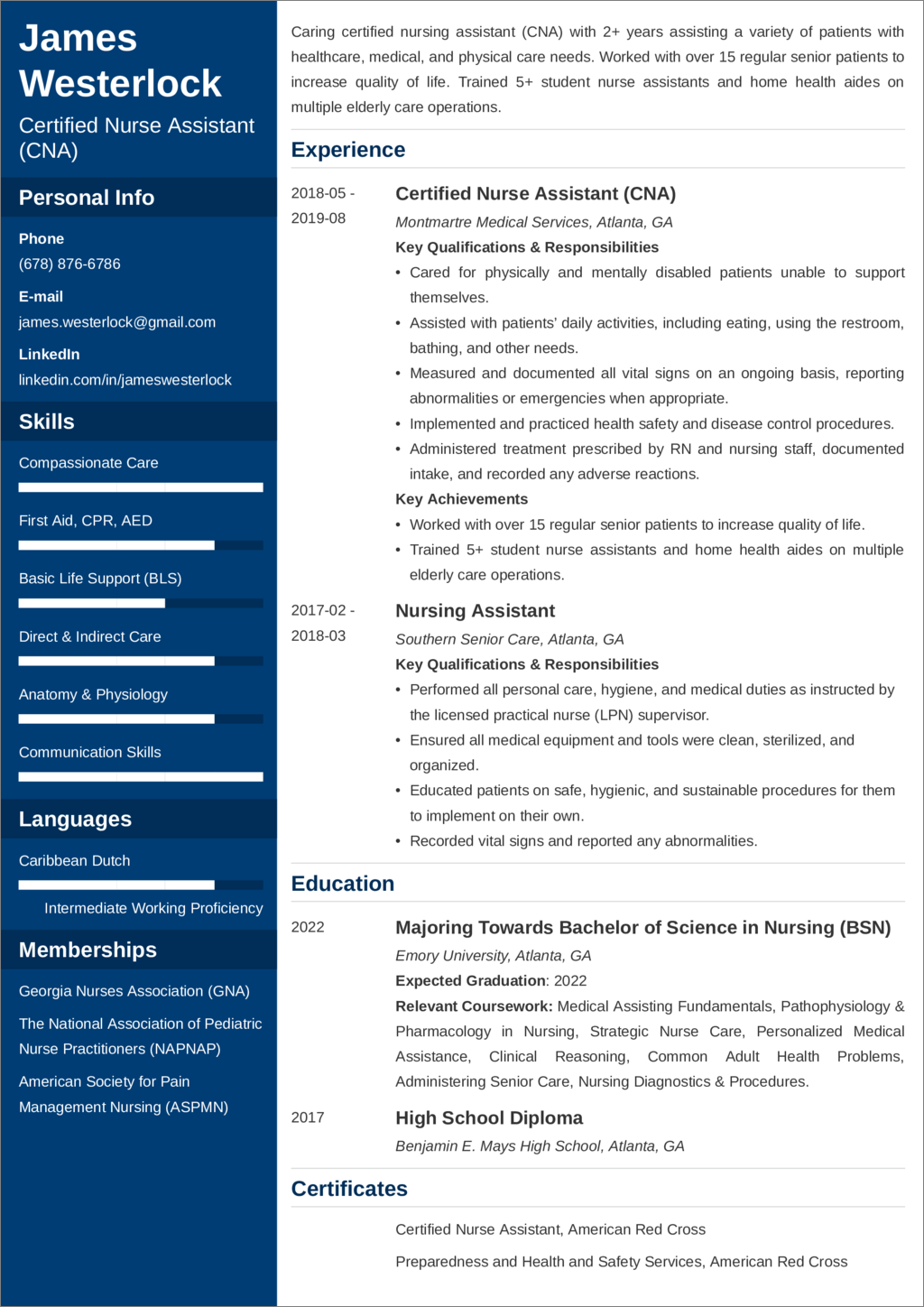 What users say about ResumeLab:
I had an interview yesterday and the first thing they said on the phone was: "Wow! I love your resume."
Patrick

I love the variety of templates. Good job guys, keep up the good work!
Dylan

My previous resume was really weak and I used to spend hours adjusting it in Word. Now, I can introduce any changes within minutes. Absolutely wonderful!
George
CNA Resume Example You Can Copy and Use
James Westerlock
Certified Nurse Assistant (CNA)
james.westerlock@gmail.com
(678) 876-6786
linkedin.com/in/jameswesterlock
Summary of Qualifications
Caring certified nursing assistant (CNA) with 2+ years assisting a variety of patients with healthcare, medical, and physical care needs. Worked with over 15 regular senior patients to increase quality of life. Trained 5+ student nurse assistants and home health aides on multiple elderly care operations.
Work Experience
Certified Nurse Assistant (CNA)
May 2018–August 2019
Montmartre Medical Services, Atlanta, GA
Key Qualifications & Responsibilities
Cared for physically and mentally disabled patients unable to support themselves.
Assisted with patients' daily activities, including eating, using the restroom, bathing, and other needs.
Measured and documented all vital signs on an ongoing basis, reporting abnormalities or emergencies when appropriate.
Implemented and practiced health safety and disease control procedures.
Administered treatment prescribed by RN and nursing staff, documented intake, and recorded any adverse reactions.
Key Achievements
Worked with over 15 regular senior patients to increase quality of life.
Trained 5+ student nurse assistants and home health aides on multiple elderly care operations.
Nursing Assistant
February 2017–March 2018
Southern Senior Care, Atlanta, GA
Key Qualifications & Responsibilities
Performed all personal care, hygiene, and medical duties as instructed by the licensed practical nurse (LPN) supervisor.
Ensured all medical equipment and tools were clean, sterilized, and organized.
Educated patients on safe, hygienic, and sustainable procedures for them to implement on their own.
Recorded vital signs and reported any abnormalities.
Education
Majoring Towards Bachelor of Science in Nursing (BSN)
Emory University, Atlanta, GA
Expected Graduation: 2022
Relevant Coursework: Medical Assisting Fundamentals, Pathophysiology & Pharmacology in Nursing, Strategic Nurse Care, Personalized Medical Assistance, Clinical Reasoning, Common Adult Health Problems, Administering Senior Care, Nursing Diagnostics & Procedures.
High School Diploma
Benjamin E. Mays High School, Atlanta, GA
Graduation: 2017
Key Skills
Compassionate Care
First Aid, CPR, AED
Basic Life Support (BLS)
Direct & Indirect Care
Anatomy & Physiology
Communication Skills
Certifications
Certified Nurse Assistant, American Red Cross
Preparedness and Health and Safety Services, American Red Cross
Memberships
Georgia Nurses Association (GNA)
The National Association of Pediatric Nurse Practitioners (NAPNAP)
American Society for Pain Management Nursing (ASPMN)
Languages
Caribbean Dutch: Intermediate Working Proficiency
Also, have a look at these similar medical resume examples related to nursing:
Haven't found what you're looking for? Check all our resume examples for over 200 jobs.
Now—
Here's how to write a CNA resume of your own:
1. Format a CNA Resume Template Before Writing
A nurse wouldn't just jab a needle in a patient's arm before washing their hands and sanitizing the area, right?
Similarly, before you begin writing a resume for certified nurse assistant jobs, the resume formatting needs to be prepared.
So—
Here's how to format a CNA resume template:
In the work history, education, and other time-based resume sections, use the reverse-chronological order to document each entry.
Choose the best resume font to use, and stick with 11pt or 12 pt font size in the general text.
Maintain a 1" margin around all 4 sides of your CNA resume for hospital jobs.
Include only relevant resume sections with only the most appropriate skills, experience, duties, education, and achievements.
Expert Hint: Export the resume as a PDF, unless directed otherwise. A CNA resume PDF can be read on any screen or device, while a Word document appears funny on certain phones or computers.
2. Start with a CNA Resume Objective or CNA Summary
If a client comes into a medical office for a procedural consultation, the doctor's competence and demeanor will either set their mind at ease or have them running away in fear.
It's the same when starting a resume—
A resume header paragraph, known as an objective or summary, either compels the RN or LPN in charge to read further or makes them move on to the next candidate.
It has to be good.
But which intro statement is right for you?
If you have experience as a nurse assistant, go with the resume summary.
The career summary statement talks up your knowledge of nursing assistant skills, procedures, and protocols. It introduces you as a CNA candidate by briefly relaying your background, and it intrigues them by proving your abilities with a numbered achievement.
Here's how to write a summary on a nursing assistant resume:
CNA Resume Examples of Summary Paragraphs
The first example resume summary is the winner because it is detailed, specific, and includes numbers to verify your nursing assistant skills. Furthermore, it's tailored to the job—a key trait of CNA resumes that score interviews.
But—
No Nursing Experience to Speak Of?
When you've got little or no work history as a nursing assistant, go with the resume objective.
The objective statement on a resume for certified nursing assistants gives evidence of your skills and background, though unrelated. It provides your career goals to show your desire for this CNA job, and it also submits a numbered achievement for the win.
Here's how to write a CNA resume objective introduction:
Entry-Level CNA Resume Objective
The bad example is generic and full of job-seeking jargon—you'll prove you're not the best nurse assistant because you'll make them sick.
The good example is just right: to the point, detailed, personalized, and quantifiable.
Expert Hint: For the biggest impact, write the heading statement last. This way, you'll have the best idea of what to talk about in your intro from writing the other sections.
3. Write a Great CNA Job Description and CNA Skills Sections
Now we've come to the main part of any certified nurse assistant resume—
Here's how to list past work in a CNA job description resume section:
List your current or most recent employment position at the top, in reverse-chronological order.
Include a job title, dates of employment, hospital or medical services company name, and its city and state.
Add 5 or 6 job responsibilities you handled as bullet points. Choose only the ones most relevant to this particular nursing assistant position.
Submit a key achievement or accomplishment using numbers to quantify how great you were at the job.
Check out these two certified nursing assistant job description examples:
CNA Job Description for Resumes
See this?
It's not enough to give a monotonous, basic list of CNA duties.
To captivate the hiring doctor, RN, LPN, or LVN, give detailed bullet points of your job responsibilities, customize it for this particular position, and include quantifiable wins.
Focus on accomplishments. Most office assistants, CNAs, waiters, waitresses and others send lists with job titles and the job-candidate's job description. Hiring managers either know your job description or they can look it up online. They cannot look up your accomplishments in the job. What kinds of patients did you serve as a CNA? How many did you care for each day?
Also—
Beware the ATS.
An ATS, or applicant tracking system, assists the administrative staff at larger hospitals and clinics manage the large amounts of resumes they receive. A resume is fed into the software, given resume keywords to look for, and is graded by its match percentage.
If you get a poor grade, you'll be deemed a poor candidate.
To locate the ideal keywords to use on a resume for CNA jobs, return to the job advertisement.
The CNA job description, particularly in the job responsibilities area, will tell you exactly which skills and abilities this medical facility is looking for in a CNA candidate.
Next up—
A great resume skills section.
Nursing assistants, aides, and orderlies are expected to increase by 177,700 jobs by 2026.
This 11% increase means more jobs—
But also more competitors.
Here is a list of sample CNA resume skills to ensure you get it right:
10+ Winning CNA Skills and Qualifications for CNAs
Cardiopulmonary Resuscitation (CPR)
Automated External Defibrillator (AED)
First Aid
Emergency Response
Mental Health Requirements
Empathy & Compassion
Communication Skills
Organizational Skills
Teamwork & Collaboration
Technical Skills
Disease and Infection Control
Assessing Vital Signs
Health Documents & Medical Records
Everyday Health & Personal Hygiene
As we mentioned earlier, a tailored resume is a resume they'll consider.
So, don't think of every CNA skill and medical ability you have and throw them into a nursing assistant skills list. Instead, look at the job ad once more to find the skills they're looking for. If you have one they request, add that into your certified nurse assistant skills resume list.
Consider including a core competency matrix of 9 hard skills in three columns to help ATS systems find your resume. This is especially important for CNA and related healthcare jobs where specific patient care competencies are key to being selected.
Expert Hint: Include a few soft skills to complement your hard skills! Communication skills, patience, and empathy are just as important for CNA jobs as knowing how to check vital signs.
The ResumeLab builder is more than looks. Get specific content to boost your chances of getting the job. Add job descriptions, bullet points, and skills. Easy. Improve your resume in our resume builder now.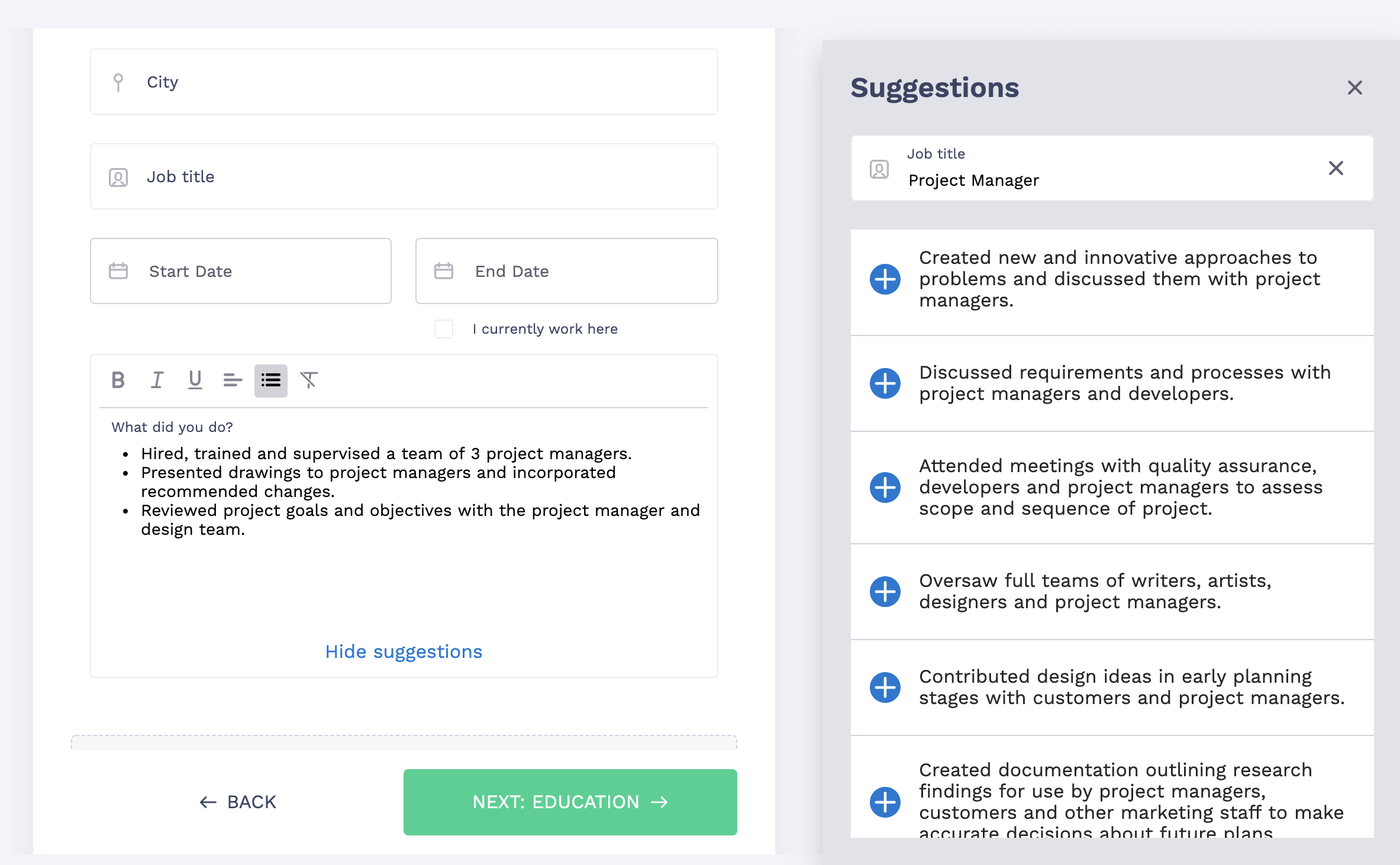 Nail it all with a splash of color, choose a clean font, highlight your skills in just a few clicks. You're the perfect candidate and we'll prove it. Use the ResumeLab builder now.
4. Use the CNA Resume Education Section to Your Advantage
You don't need more than a high school education for most nursing assistant positions.
However—
You do need to document your education correctly.
Here's how a CNA resume education section should appear:
CNA Resume Example of Education Section
Here are guidelines to follow for a perfect CNA resume education section:
Add your most impressive (recent) degree or diploma at the top.
Include the major, name of the school, location, and date of completion.
Throw in any relevant and impressive wins, such as academic awards or relevant coursework completed.
If you're a university student, add high school as a second entry below.
If you have completed a college degree, however, there's no need to include your high school diploma.
Expert Hint: In most cases, your work history section goes above your education section. However, if you haven't worked yet and your education section is more substantial, switch places and put this on top.
5. Round Out a Resume for CNAs With Appropriate Extras
Additional sections on a CNA resume show the RN or LPN a clearer picture of yourself as a candidate.
Here are several top choices to consider for extra sections on a nursing assistant resume:
Certified Nursing Assistant (CNA), American Red Cross
Preparedness and Health and Safety Services Certification
Healthcare Assistant Certificate, Pre-LPN Entry Program
Certified Hospice and Palliative Nursing Assistant (CHPNA)
CNA & Nursing Organizations & Associations
Nursing Ethics Network (NEN)
National Association of Health Care Assistants (NAHCA)
Association of Nurses in AIDS Care (ANAC)
Home Healthcare Nurses Association (HHNA)
International Association for Human Caring (IAHC)
International Council of Nurses (ICN)
Yoga & Physical Fitness
Studying for LPN Exam
Tutoring First Aid & CPR Classes
Volunteering at Local Clinic
Foreign Language Proficiency
Bengali: Native Proficiency
Hindi: Professional Working Proficiency
Saraiki: Intermediate Proficiency
Kinyarwanda: Basic Conversational Proficiency
Expert Hint: Don't forget to include a cover letter for CNA jobs. Most employers require one, and many of the ones that don't still prefer a CNA cover letter.
Double your impact with a matching resume and cover letter combo. Use our cover letter builder and make your application documents pop out.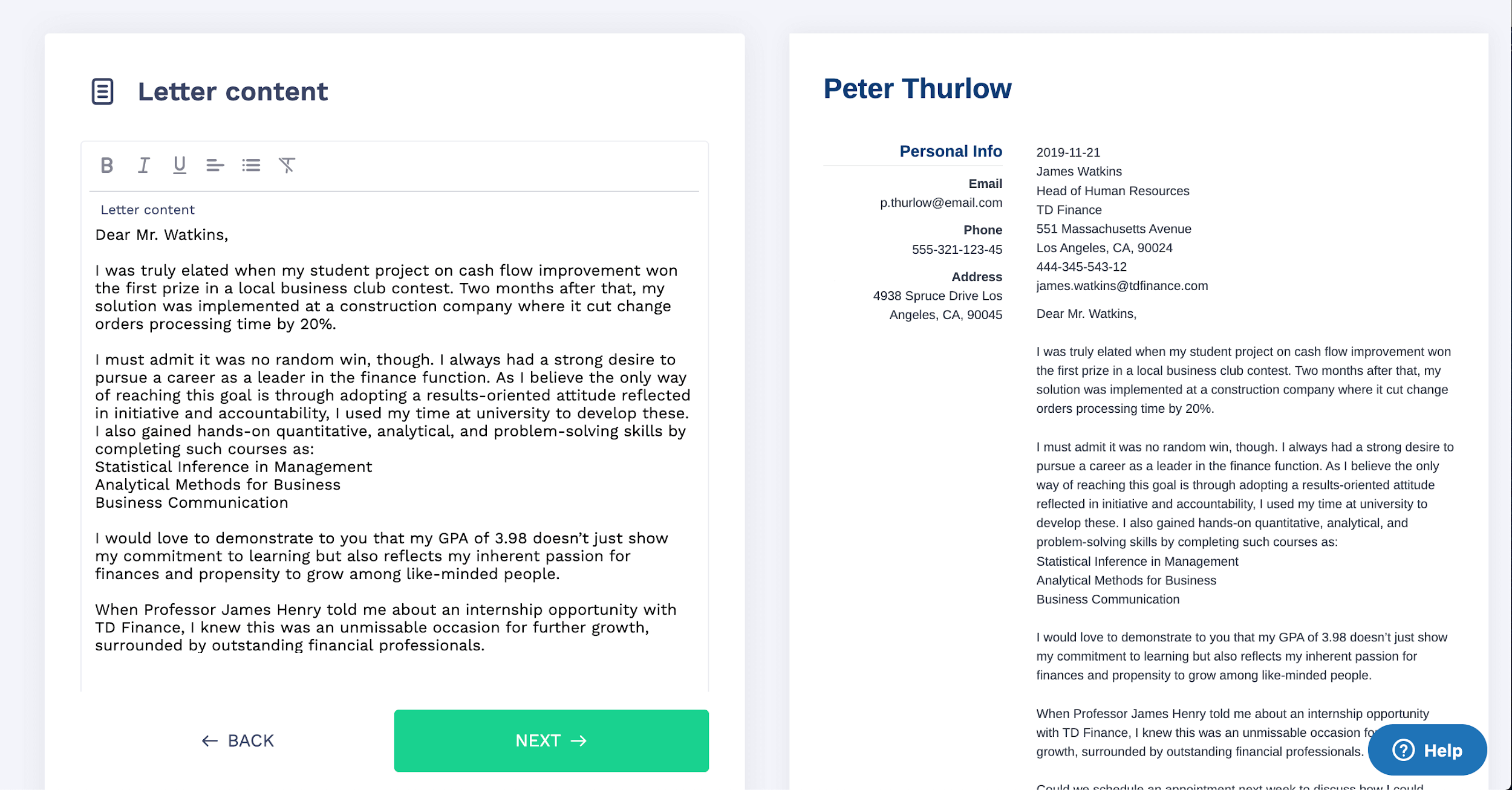 Want to try a different look? There's 18 more. A single click will give your document a total makeover. Pick a cover letter template here.
Key Points
Let's sum up—
Here's how to write a resume for CNA jobs:
Format the CNA resume template before you begin by choosing the right fonts, using a 1-inch margin, and structuring it reverse-chronologically.
Open with a compelling introduction, either an objective or summary statement.
Document your work history in reverse-chronological order, with 5 or 6 bullet points, and with quantifiable achievements.
Tailor your resume to one specific job, rather than writing a generic CNA resume.
Include a list of nursing skills which they request from the job description.
Add an education section and any academic achievements relevant to the CNA job.
Throw in a few additional sections, such as languages, certifications, or hobbies, to really wow the registered nurse who'll read your resume.
Have any questions on how to write a resume for certified nursing assistant jobs? Want more CNA resume samples? Let's chat below in the comments, and thanks for reading!