Marketing Internship Resume—Examples & Tips for 2023
You read marketing blogs like the daily news, and social media novelties are your bread and butter? Learn how to create a marketing internship resume that wins that first-ever interview.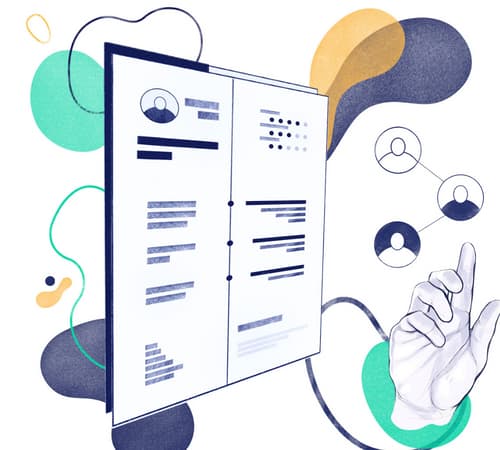 You're a marketing freak, right? But you can tell it won't be easy to kick off that first-ever internship you crave. Many marketers have been there before. Wishing even to prove their coffee-making skills to join the ranks of that dreamy agency.
And they succeeded as well-oriented marketing professionals. And baristas, too.
How did they do that? They crafted marketing internship resumes that would melt even Don Draper's heart. You, too, can learn this trick.
In this guide:
A marketing intern resume sample that gets jobs.
How to ace your marketing intern job description on a resume.
How to write a resume for a marketing intern that gets the interview.
Expert tips and examples to boost your chances of landing a marketing internship.
Save hours of work and get a job-winning resume like this. Try our resume builder with 20+ resume templates and create your resume now.
What users say about ResumeLab:
I had an interview yesterday and the first thing they said on the phone was: "Wow! I love your resume."
Patrick

I love the variety of templates. Good job guys, keep up the good work!
Dylan

My previous resume was really weak and I used to spend hours adjusting it in Word. Now, I can introduce any changes within minutes. Absolutely wonderful!
George
Need a resume for similar positions? Check these resume samples:
Marketing Intern Resume Sample
Sarah T. Hodges
Marketing Intern
303-704-8764
sarahthodges@gmail.com
linkedin.com/in/sarah.hodges
Objective
Reliable University of Arkansas graduate with a Marketing Bachelor's degree. Knowledgeable in customer behavior, product promotion, and awareness campaigns. Initiated a Student Expert Program and acquired 190 entries to the project. Seeking employment as a marketing intern at McMichael Consulting LLC to apply my strategic skills and foster the company's marketing vision in the upcoming year.
Experience
Volunteer
Arkansas Education Association, AR
September 2022–November 2022
Key Qualifications & Responsibilities
Co-created a local awareness campaign about equitable public education in Arkansas, utilizing ATL marketing strategies, which received excessive media coverage.
Revamped AEA Facebook social media strategy, leading to a +45% increase in organic traffic in 3 months.
Co-organized a local fundraising event for AEA and acquired the University of Arkansas' sponsorship.
Supported AEA mobile app modernization with ideas for new features, resulting in a recorded +34% jump in registrations.
Key Achievement:
Initiated a new Student Expert Program to discover and develop students' talents, resulting in 190 entries to the project.
Virtual Customer Service Agent
Sitel Group, Remote
September 2021–September 2022
Key Qualifications & Responsibilities
Assisted customers with questions and concerns, attaining a 75% CSAT score after the first 3 months of employment.
Resolved 92% of customer issues at the first point of contact, ensuring the achievement of company goals.
Attained a 100% success rate on communications skills and problem-solving in February 2022, receiving the Employee of the Month award.
Key Achievement:
Contributed to boosting the customer retention rate of up to 85% in Q1 2022, exceeding the company's objective.
Education
Bachelor of Marketing
University of Arkansas, AR
August 2019–July 2022
GPA: 4.0
Developed passion for marketing and social media through coursework.
Actively participated in Marketing Student Club's projects and initiatives.
Skills
Excellent communication skills
Strong knowledge of research tools
Data-oriented approach
Impeccable social media management
Open-minded and full of initiative
Ability to work under pressure
Certifications
Marketing Psychology and Consumer Behavior, Udemy, 2022
Meta Social Media Marketing, Meta, 2022
Conferences
Attendee at DigiMarCon America, Digital Marketing Conference, July 2022
Interests
Expanding marketing knowledge through up-to-date online marketing courses.
Developing graphic design skills and sharing results on Behance for valuable feedback.
Marketing interns excel at digital marketing, customer behavior, product promotion, and social media. As a marketer, you can pursue your aspirations in functional areas like Brand Management. You must demonstrate excellent communication, open-mindedness, creativity, and multitasking ability.
Now, follow these guidelines to create a marketing internship resume that gets you noticed:
1. Pick the Best Resume Format
Imagine that Marketing Intern at Google shining at the very top of your LinkedIn profile. Awesome, huh?
That's why you must start with a bang. Your marketing intern resume should speak for itself.
Go big or go home, right?
Choose the proper resume format first. As an entry-level candidate, pick the reverse-chronological format to accentuate your most recent and relevant achievements.
Then, follow these simple formatting rules:
Apply one of the recommended resume fonts like Calibri in 10–12pt.
Set 1-inch resume margins on all sides, and do not flood your resume with text.
Use single or 1.15 line spacing. Separate sections with extra space.
Create a resume of the perfect length. Go for one page. As a fresh graduate, you need no more.
Craft a legible resume header with critical contact information.
Now, move smoothly to your resume outline, and divide it into sections. Here's what to put into your marketing internship resume:
Contact Information
Resume Objective
Work/Volunteer Experience
Education
Skills
Added Sections
When you're all set, download your resume in PDF format unless required differently. Rest assured; your formatting will be kept in place.
2. Formulate an Eye-catching Resume Objective/Summary
Sometimes, it takes just a couple of seconds for an employer to call the shots.
So, it's yours now or never.
A few entry lines in your marketing internship resume to prove you're the one. Otherwise, who would've hired a marketer who doesn't know how to promote themselves?
Prepare the perfect resume objective or resume summary, and hit the nail on the head. As an entry-level candidate, you might need a resume objective more, but no strict rules here. If you already have relevant work or volunteer experience, go for a resume summary to highlight the achievements you've already gained.
But, for starters, how to craft a resume objective for an aspiring marketing intern?
Start with an adjective that describes you best.
Brief your educational background.
Show off your skills and suitable achievements.
Explain how you'll bring value to the company.
Call out the position you're applying for.
Keep it concise and use third-person pronouns.
Here's a crib sheet:
Marketing Internship Resume Example—Objective
Now, what's the deal?
The first example is detailed and precise. It underscores your strengths and relevant achievements. It also clearly states your intention towards a new company you want to join.
The other one is just sloppy.
Marketing Internship Resume Example—Summary
Blah-blah-blah.
It's not storytelling. You need to get down to brass tacks here.
Scroll back up to the previous one. You see? Numbers are the best evidence for achievements.
3. Write Top-Notch Marketing Internship Job Descriptions and Skills Sections
You think this internship opportunity is a dream. You're the matching candidate. Yes, you!
But your potential employer just scrolled down on your resume and didn't find what he expected to find. He rejected your application. No mercy.
But this lousy scenario doesn't need to happen.
Whether an entry-level candidate or a career changer, you need to summarize your previous experience and achievements. Ideally, list them in the experience section as expected in the job posting.
Here's how to do that:
Thoroughly examine the marketing internship description.
Extract the marketing intern skills that they want you to have.
Think of times you've presented those skills and outran expectations.
Create resume bullet points with professional achievements.
Marketing Internship Resume—Job Description Samples
Can you spot the difference?
The first example is specific. It provides achievements and backs them up with numbers. The second one is just vague.
And what if you don't have any relevant experience to show off in your marketing intern resume?
Prepare a flawless, no-experience resume, and elaborate more on your education.
Last but not least, draw up a list of your marketing skills.
What skills do marketing interns need?
Skills for a Marketing Intern Resume
Deep understanding of customer journey and behavior
Up-to-date knowledge of marketing strategies, tactics, and tools
Strong research skills and data-driven approach
Excellent writing and editing skills
Familiarity with social media platforms
Good understanding of digital marketing solutions and trends
Pick the ones that describe you best. Note to self: don't go beyond facts.
The ResumeLab builder is more than looks. Get specific content to boost your chances of getting the job. Add job descriptions, bullet points, and skills. Easy. Improve your resume in our resume builder now.
Nail it all with a splash of color, choose a clean font, and highlight your skills in just a few clicks. You're the perfect candidate, and we'll prove it. Use our resume builder now.
4. Make Your Education Section Stand Out
Education is dull. No one looks at that.
Is that what you think? It ain't true.
If you're a beginner, the education section is something you should keep a watchful eye on.
Here's how to prepare a flawless education description:
Marketing Intern Resume Sample—Education
Add bullet points to enrich this section and prove your engagement. It can be anything that helps you to grow and develop your marketing skills.
5. Spruce Up Your Marketing Intern Resume With Added Sections
Marketers keep up the pace. They are hardly ever bored.
They're curious. They're nosey.
And this is how they bolster their expertise.
Top up your resume with at least 2 bonus sections:
See the example:
Resume for a Marketing Intern—Extra Sections Examples
Whether it's Certifications or Interests, they are pertinent. And they add value to your resume.
Expert Hint: Many people think that cover letters have become a thing of the past. In fact, some employers require cover letters even to start considering your application. Learn how to write cover letters to increase the chances you're hired.
Double your impact with a matching resume and cover letter combo. Use our cover letter generator and make your application documents pop out.
Want to try a different look? There's 21 more. A single click will give your document a total makeover. Pick a cover letter template here.
Key Points
For a successful marketing intern resume that gets you noticed:
Follow the marketing internship resume template and list all sections in the suggested order.
Place achievementsat the top of your resume. Re-use it in work experience, education, and other sections to prove you're the best candidate.
Implement competitive skills. Use particular skills required for a marketing position, like marketing research, promotion, data mining, and more.Examine the job description for the marketing internship you want, and mindfully prepare a list of skills.
Write a marketing internship cover letter. Show off your deep interest in marketing, and let your employer know why he should hire you.
Got questions on how to write an excellent resume for a marketing internship? Not sure what to include in your marketing intern resume? Drop a comment. We'll be happy to answer.