Program Manager Resume—Examples and 25+ Writing Tips
You can herd lions and get cross-functional teams to make things happen. But the hiring executive won't know that 'til you prove it. This program manager resume sample does that.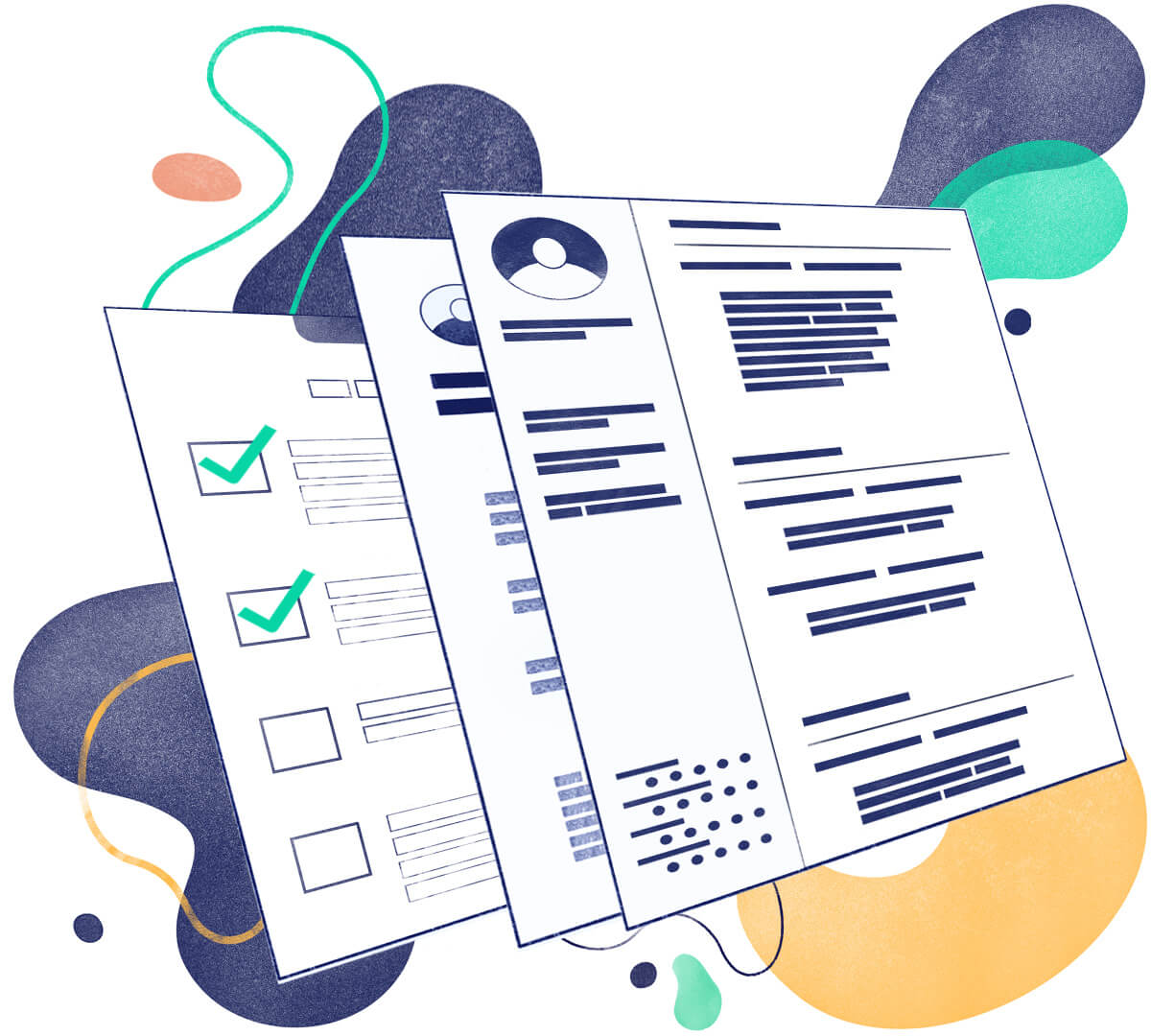 You're up against it.
A program manager who hasn't done the exact job the company needs will not get hired.
Why?
Program managers make $88K a year on average.
If the company hires wrong, it'll cost them $26K to $38K.
But don't worry—
With the right skills and keywords in your program manager resume, you'll fit the job like a Jira project.
In this guide:
A program manager resume sample better than most.
How to write a resume for program manager jobs that puts you in the lead.
How to make a professional program manager job description for resumes.
Why you can't just list program manager skills (and what to do instead).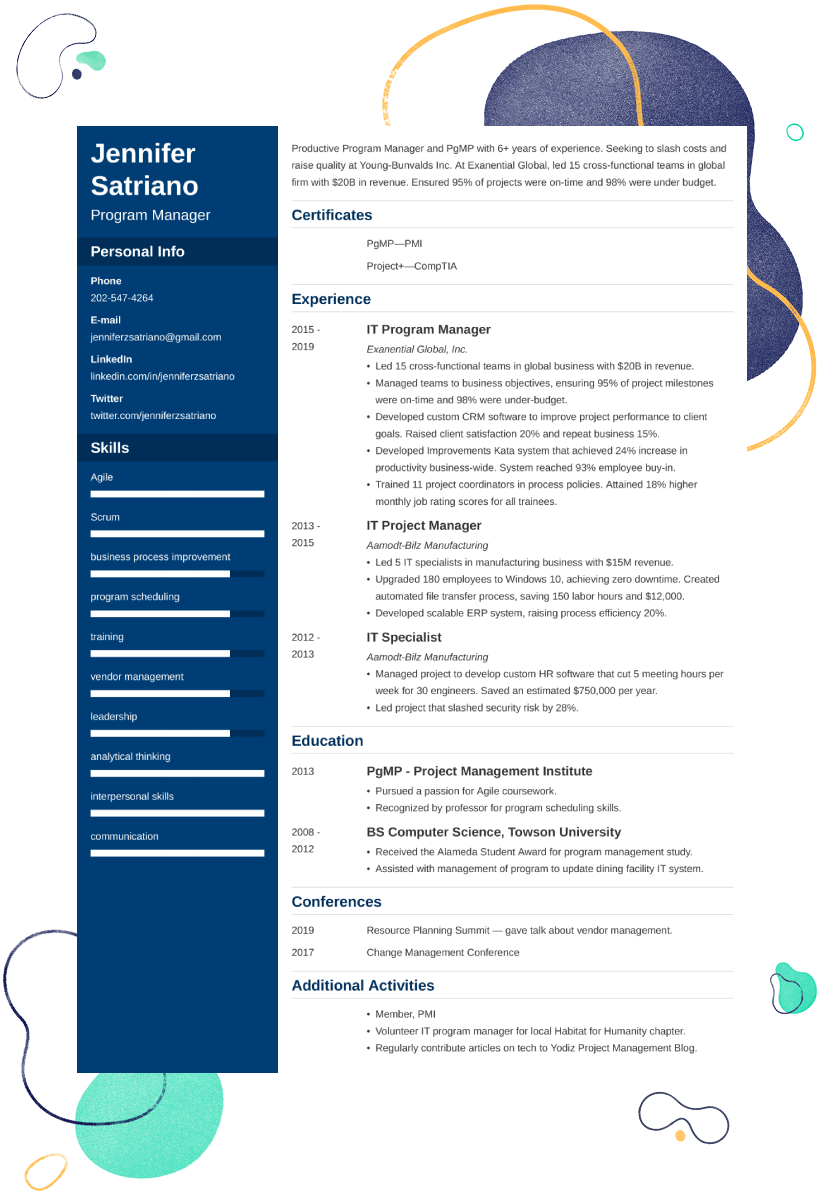 Create a job-winning resume with little effort. Hack your way through ATS software with our 18 beautiful templates—give our builder a try!

Create my resume now
Program Manager Resume Sample You Can Copy and Use
Jennifer Satriano
Program Manager
Personal Info
Phone: 202-547-4264
E-mail: jenniferzsatriano@gmail.com
linkedin.com/in/jenniferzsatriano
twitter.com/jenniferzsatriano
Summary
Productive Program Manager and PgMP with 6+ years of experience. Seeking to slash costs and raise quality at Young-Bunvalds Inc. At Exanential Global, led 15 cross-functional teams in global firm with $20B in revenue. Ensured 95% of projects were on-time and 98% were under budget.
Certifications
Experience
IT Program Manager
Exanential Global, Inc.
2015–2019
Led 15 cross-functional teams in global business with $20B in revenue.
Managed teams to business objectives, ensuring 95% of project milestones were on-time and 98% were under-budget.
Developed custom CRM software to improve project performance to client goals. Raised client satisfaction 20% and repeat business 15%.
Developed Improvements Kata system that achieved 24% increase in productivity business-wide. System reached 93% employee buy-in.
Trained 11 project coordinators in process policies. Attained 18% higher monthly job rating scores for all trainees.
IT Project Manager
Aamodt-Bilz Manufacturing
2013–2015
Led 5 IT specialists in manufacturing business with $15M revenue.
Upgraded 180 employees to Windows 10, achieving zero downtime. Created automated file transfer process, saving 150 labor hours and $12,000.
Developed scalable ERP system, raising process efficiency 20%.
IT Specialist
Aamodt-Bilz Manufacturing
2012–2013
Managed project to develop custom HR software that cut 5 meeting hours per week for 30 engineers. Saved an estimated $750,000 per year.
Led project that slashed security risk by 28%.
Education
PgMP - Project Management Institute, 2013
Pursued a passion for Agile coursework.
Recognized by professor for program scheduling skills.
BS Computer Science, Towson University
2008–2012
Received the Alameda Student Award for program management study.
Assisted with management of program to update dining facility IT system.
Conferences
2019 — Resource Planning Summit — gave talk about vendor management.
2017 — Change Management Conference
Additional Activities
Member, PMI
Volunteer IT program manager for local Habitat for Humanity chapter.
Regularly contribute articles on tech to Yodiz Project Management Blog.
Hard Skills: Agile, Scrum, business process improvement, program scheduling, training, vendor management
Soft Skills: Leadership, analytical thinking, interpersonal skills, communication
Do you have other management chops? See our guides:
Here's how to write a program manager resume:
1. Select the Best Program Manager Resume Format
How can you get hired?
Answer: show you meet acceptance criteria at a glance.
The format of your resume is critical.
Use the reverse-chronological format so the hiring team can't miss your relevant achievements.
Program Manager Resume Format
Use one-inch margins and a 1-page resume.
Add white space for legibility.
Write with a resume font like 10–12pt Times New Roman or Calibri.
Make resume sections like Heading, Summary, Experience, Education, and Skills.
Save it in the PDF format. PDF resume layouts stay agile across all devices.
Expert Hint: The average bad hire costs 30% of employee salary. To overcome company fears, craft the most professional-looking program manager resume you can.
2. Write a Program Manager Resume Objective or Summary
You can convince them.
That is—
You could. If you had ten minutes.
You don't.
You have about seven seconds before they ditch you for the next applicant.
That's why a resume for program manager jobs needs a resume summary or resume objective.
That's a quick paragraph that makes them care.
Add:
An adjective (productive, efficient)
"program manager"
Years of experience (2+, 6+)
How & who you want to help (slash costs at Young-Bunvalds Inc.)
Best program manager moments (led 15 cross-functional teams...)
Some key job skills (leadership, program scheduling...)
Make it easy by writing it last.
These technical program manager resume examples outline the plan:
Program Manager Resume Summary—Example
Interesting.
Both samples reference leadership and program scheduling. But—
One adds $20B, 15 teams, 95% on-time, and other telling metrics.
Do the same thing with an entry-level resume for program managers.
See this entry-level program manager resume sample:
Entry-Level Program Manager Resume Objective
This is key.
The second of those entry-level program manager assistant resume examples lists upgrading and developing.
The first shows proof.
Expert Hint: Program managers have a massive salary range from $57K–$127K. To hit the high end, your IT program manager resume must show you match the opening.
3. Write a Solid Program Manager Job Description and Skills Section
75% of resumes never reach a human.
To get past the hiring software, your resume for program manager jobs needs keywords.
But—
Use them the right way. Then when you do get to a person, you'll turn heads.
In other words, target your resume.
To write a program manager job description for resumes:
Search for resume skills in the job ad.
Write down the most important. They're your resume keywords.
Don't just toss them into your resume. Show you used them to get bottom line results.
Follow the first of these senior program manager resume samples:
Pretend the job ad wants these program management skills: program scheduling, developing custom software, employee training.
Program Manager Job Description for Resume [Sample]
Wow.
The first of those IT program manager resume examples adds keywords like schedule, develop, and train.
But it also uses 15, $20B, 95%, and other numbers to show size.
Now—
What about an entry-level resume?
Pretend the job ad wants these program manager skills: leadership, upgrading workstations, developing custom ERP systems.
If you're entry-level, you've never been a program manager. But—
You've used the skills:
Entry-Level Program Manager Resume Job Description [Sample]
That first sample shows you've done what they need.
Want to see it fail? Just take out the key skills and numbers.
What program manager skills work best? Use this list:
Program Manager Skills for Resumes
| | |
| --- | --- |
| Hard Skills | Soft Skills |
| Supervising Programs | Interpersonal Skills |
| Training | Communication |
| Recruiting | Collaboration |
| Program Scheduling | Problem Solving |
| Agile & Scrum | Leadership |
| Vendor Management | Empathy |
| Project Management | Time Management |
| Business Process Improvement | Analytical Thinking |
| IT and Technical Skills | Critical Thinking |
| Leading Cross-Functional Teams | Organization |
Expert Hint: You may need to show Gantt chart skills in your program manager resume. If the job ad mentions them, a quick Gantt training course can help.
4. Show Competence With Education
Most program managers need at least a bachelor's degree.
But your education resume section can't be a dummy activity.
Add details to get the right attention.
This technical program manager resume sample shows how:
Program Manager Resume Example—Education
If the job ad wants skills in Agile, program scheduling, and IT, you're in.
5. Add "Extra" Sections to Your Program Manager Resume
Go the extra mile.
To get hired, show you're different in a good way.
Add a couple of these "extra" sections:
Conferences (especially if you volunteered or spoke)
Publications or media appearances
Groups
Freelancing work
Foreign languages
Additional activities
Fitness
This sample resume for a non profit program manager earns the value:
Program Manager Resume—Extra Sections
One more thing—
Put key certifications like PgMP up top.
Expert Hint: Write a cover letter. Your resume for program manager jobs will get more TLC. Why? Most hiring executives do read those letters. Almost half require them.
Key Points
Here's how to write a program manager resume:
Use the program manager resume template up top. It stands out by showing your past fits into the job.
Search for resume keywords and skills in the program manager job description.
Put the skills they ask for in your bullet points. Add numbers to hold up a yardstick to your talents.
Add "extra" resume sections that show passion for program management outside working hours.
Got questions on how to write great resumes for program manager jobs? Not sure how to put program manager on a resume? Leave a comment. We'll be happy to reply!