College Student Resume Example—20+ Writing Tips & Samples
You're ready to take your place in the W-2 world, but they don't know it yet. Prove you can slug it out with experienced candidates with this hirable college student resume sample.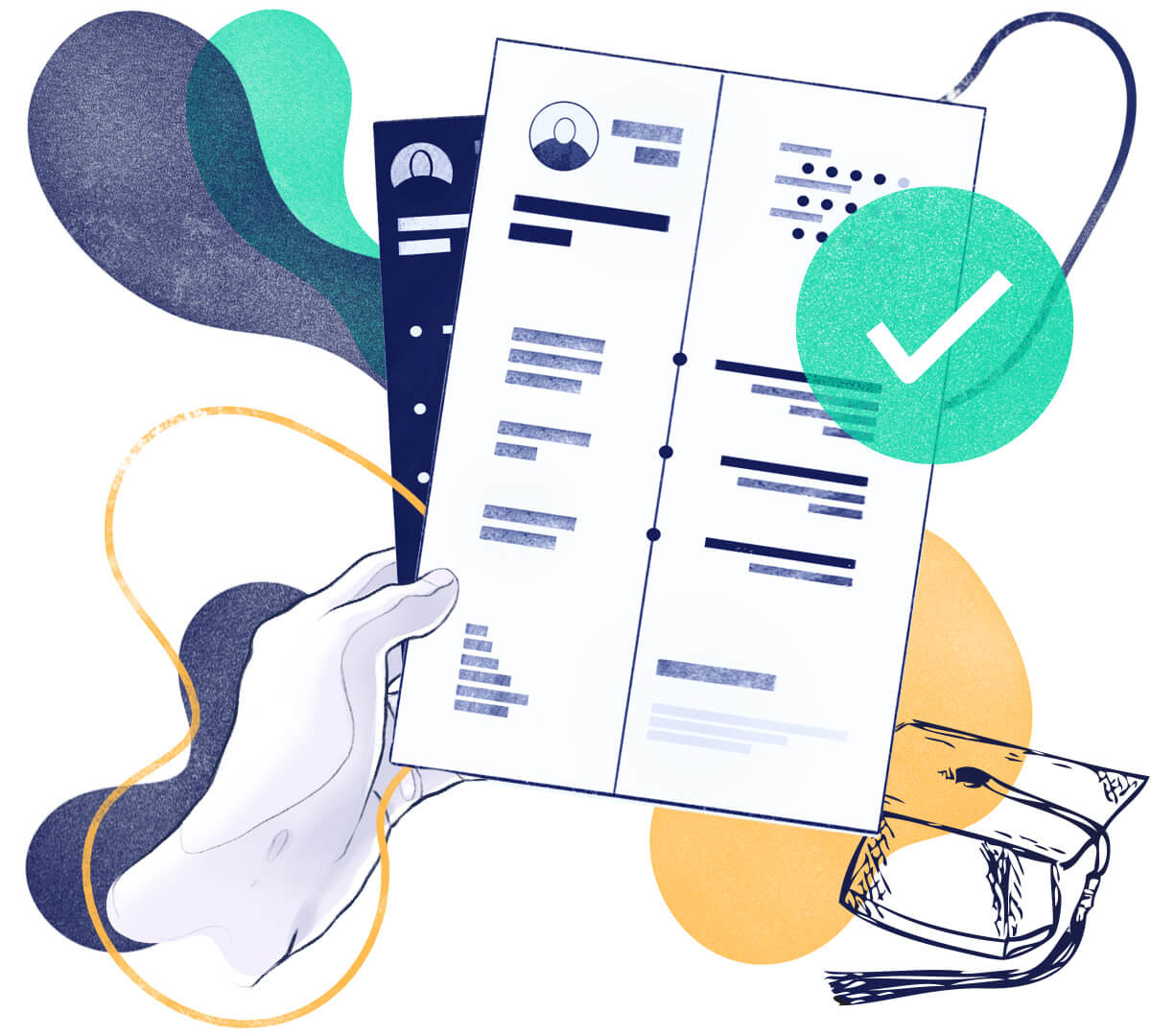 Most college resumes have a major problem.
They lack experience.
To get hired, you must show you've got the skills, even if you haven't used them.
How?
It's not doctoral-level. You can do it. The key is knowing how to show your education on a resume.
This guide will show you:
A sample resume for college students better than most.
How to make the best college student job description for resumes.
How to write a college student resume that proves you're hirable.
Why you can't just list generic resume skills (and what to do instead).
The top line advice:
How to write a resume as a college student:
You won't have much experience in a college resume, but don't sweat it. First, expand your resume education section into projects that demonstrate key job skills. Then show only relevant job experience accomplishments to convince the hiring team you can do the job.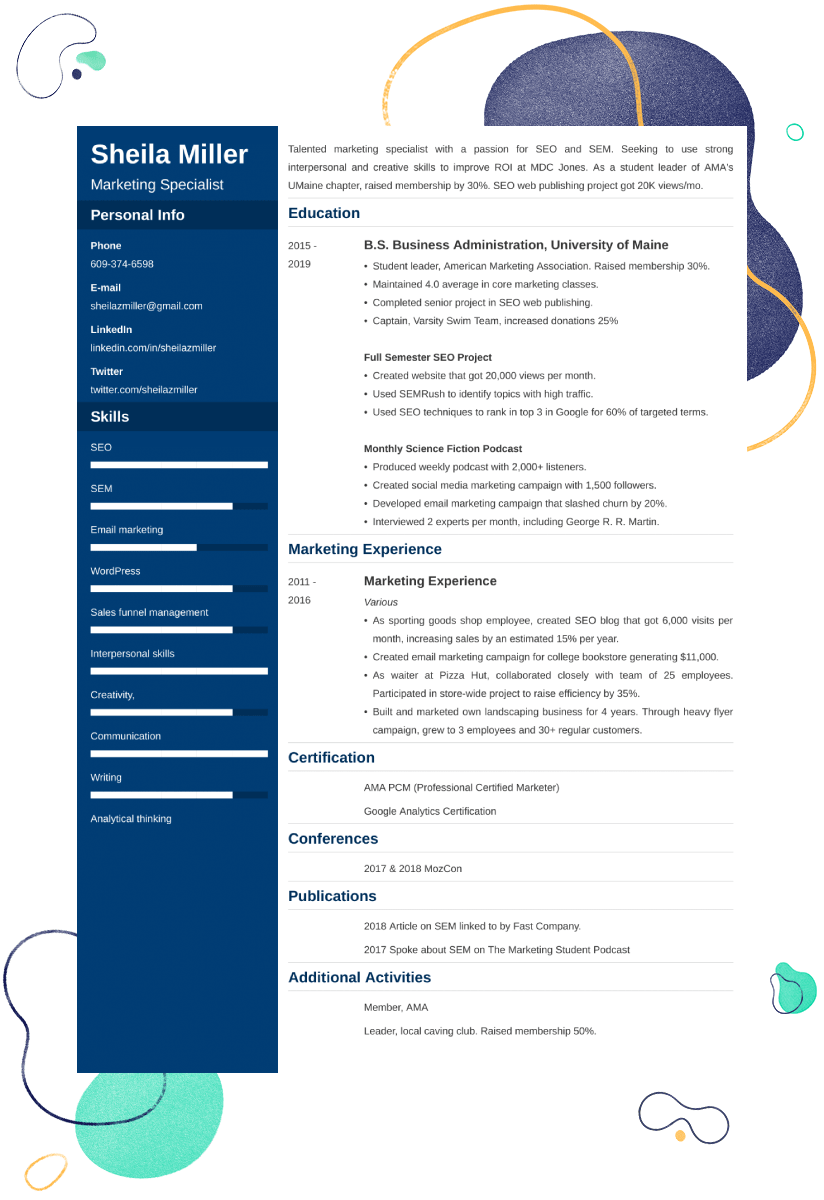 Create a job-winning resume with little effort. Hack your way through ATS software with our 18 beautiful templates—give our builder a try!

Create my resume now
Sample Resume for College Students You Can Copy and Use
Feel free to copy-paste this good resume example for college students:
Sheila Miller
Marketing Specialist
Personal Info
Phone: 609-374-6598
Email: sheilazmiller@gmail.com
linkedin.com/in/sheilazmiller
twitter.com/sheilazmiller
Career Objective
Talented marketing specialist with a passion for SEO and SEM. Seeking to use strong interpersonal and creative skills to improve ROI at MDC Jones. As a student leader of AMA's UMaine chapter, raised membership by 30%. SEO web publishing project got 20K views/mo.
Education
B.S. Business Administration, University of Maine
2015–2019
Student leader, American Marketing Association. Raised membership 30%.
Maintained 4.0 average in core marketing classes.
Completed senior project in SEO web publishing.
Captain, Varsity Swim Team, increased donations 25%
Full Semester SEO Project
Created website that got 20,000 views per month.
Used SEMRush to identify topics with high traffic.
Used SEO techniques to rank in top 3 in Google for 60% of targeted terms.
Monthly Science Fiction Podcast
Produced weekly podcast with 2,000+ listeners.
Created social media marketing campaign with 1,500 followers.
Developed email marketing campaign that slashed churn by 20%.
Interviewed 2 experts per month, including George R. R. Martin.
Marketing Experience
Various
2011–2016
As sporting goods shop employee, created SEO blog that got 6,000 visits per month, increasing sales by an estimated 15% per year.
Created email marketing campaign for college bookstore generating $11,000.
As waiter at Pizza Hut, collaborated closely with team of 25 employees. Participated in store-wide project to raise efficiency by 35%.
Built and marketed own landscaping business for 4 years. Through heavy flyer campaign, grew to 3 employees and 30+ regular customers.
Marketing Certifications
AMA PCM (Professional Certified Marketer)
Google Analytics Certification
Conferences
2017 & 2018 MozCon
Publications
2018 Article on SEM linked to by Fast Company.
2017 Spoke about SEM on The Marketing Student Podcast
Additional Activities
Member, AMA
Leader, local caving club. Raised membership 50%.
Hard Skills: SEO, SEM, email marketing, WordPress, sales funnel management
Soft Skills: Interpersonal skills, creativity, communication, writing, analytical thinking
Are you in the first place? If you need a college application resume or a college internship resume, see these guides:
Writing a first job resume with no experience? See our guide: How to Write an Entry-Level Resume with No Experience [10+ Tips]
Want to write a job-specific college resume? See our resume examples for every profession.
Now here's how to write a college student resume they'll love:
1. Start With the Best College Student Resume Format
College students are post-high-school students admitted to a college or a university. They enter the working world with the education needed to do a variety of jobs, but no experience. That's why a college resume must focus on relevant achievements that show key skill abilities.
But formatting is the key.
Why?
Because a poorly-formatted college student resume confuses the reader.
If they're confused, they won't see why you're such a perfect fit.
Use these resume tips to get your points across:
College Resume Format
Expert Hint: Save your college student resume in PDF formunless the employer specifically says otherwise. PDFs stay formatted across all devices and platforms.
2. Write a Great Resume Objective for College Students
Horror story:
They won't actually read your college resume.
They'll skim it in six seconds.
If you don't grab them in that time, they'll move on to the next eager applicant.
So—
A resume objective for college students has a Herculean job to do.
Use:
One adjective (talented, creative, personable)
Job title (marketing specialist, engineer)
How you'll help (raise ROI, cut lead times)
Nicest few achievements (student leader of AMA, web project got 20K views/mo)
These college resume examples show how:
College Student Resume Objective—Example
Crikey.
The first of those college resume examples will get dozens of interview requests. The second works if you know the boss's mother.
The key?
Wrack your brain to find your biggest accomplishment the hiring manager will like.
And remember—
Write your resume objective last. Writing it first is like sitting for the final exam before you've taken the class.
Expert Hint: Got a few years of professional experience? Write a college student resume summary instead. It's an alternative resume introductory statement for more experienced candidates.
3. Turn Boring Education to a Reason to Hire You
It's frustrating.
You don't have experience.
But they won't hire you without it.
Get ready for a sigh of relief.
You've got enough experience to get the job.
The crux here is to put your resume education section first, then show it like a series of jobs or "projects."
Just pick the ones that show the skills the job ad wants.
These college resume examples show how:
College Student Education—Example
Job posting wants skills in 1) leadership, 2) marketing, 3) SEO, 4) podcasting, 5) social media, 6) email marketing.
See that?
You can prove yourself without the dreaded "5 years of experience."
You could just as easily have had a section called "Student Leader, American Marketing Association" or "Captain, Varsity Swim Team."
It all comes down to what you think are your most eye-catching accomplishments. And what skills the job posting values most.
Expert Hint: Don't clutter up your college resume with terms the hiring team won't recognize. "Produced Weekly Podcast" works better than "Jilliboam Tribbins Podcast."
4. Write a Tempting College Student Job Description
You don't have experience yet.
They know it. You know it.
But—
Don't list summer jobs on your college student resume with no work experience.
Instead, show achievements from those jobs that put key skills in your trophy case.
How to write a college student work history for a resume
Build your skills list from the online ad.
Think of times you used those skills in summer jobs or part-time jobs.
Show those things in a combined work experience section.
Add numbers to give scale to your abilities.
Skip the long list of menial jobs.
These college resume examples show how:
College Student Job Description for Resume [Sample]
Stunning.
The first of those college resume examples bonds you to the job. All the second does is show you've worked for money.
Be careful.
Don't just kitchen-sink a bunch of college student resume skills.
Anyone can do that.
So again, look to the job posting. Then prove your skills with achievements from school and part-time work.
For inspiration, see these resume skills employers crave:
College Student Resume Skills
Interpersonal skills
Communication
Collaboration or teamwork
Strong work ethic
Listening
Decision making
Problem solving
Time management
Organization
Customer service
Persuasion
Judgement
Analytical thinking
Honesty
Critical thinking
Creativity
Physically fit
Self confidence
Self motivated
Flexibility/adaptability
Good attitude
Ethical
Compassion
Dependability
Psychology
Perceptiveness
Coordination
Expert Hint: Networking is so, so, so important. It's cliche, but it's so true and can't be overstated. Learn to network like your life depends on it. Your college resume will thank you!
5. Enhance Your College Resume With These "Other" Sections
Just a second.
Your undergraduate resume can't peter out after experience and education.
If it does, you'll look as generic as a freshman on orientation day.
You've got to add more skills proof. And it helps to show you're well-rounded.
So—
Add a few extra-curricular bonus resume sections:
Additional Activities
Awards & Honors
Conferences
Freelance Work
Continuing Education
Publications
Foreign Languages
Projects
These two college resume examples clear the cobwebs:
College Student Resume—Extra Sections
Clap your eyes on that.
The first of those college resume samples shows you live and breathe your trade.
The second shows you can fog up a mirror.
Finally, have a LinkedIn profile or other online portfolio. Need some help? See our guide: Use LinkedIn Like a Pro: Hot Tips for Students and Recent Grads
Expert Hint: Write a college student cover letter. Half the hiring teams will ditch your college student resume unless you write one (even though that isn't fair!)
Key Points
For a college resume that gets jobs:
Use the resume template for college students up top. It's got all the requisites for getting hired.
Put achievements in your college resume. They are the only way to prove you're skilled.
Choose your job skills wisely. Get them from the top part of the online job ad.
Write a college student cover letter. Prove you know the job's needs and list a couple of big school achievements that show you can fill them.
Got questions on how to write a great resume for college students? Not getting any love with your college student resume with no work experience? Leave a comment. We'll be happy to reply!