Physical Therapy Resume—Examples and 25+ Writing Tips
You can dry-needle with the best of them, plus assess, educate, and build a plan of care. But can you get them to hire you? You can with this expert physical therapy resume sample.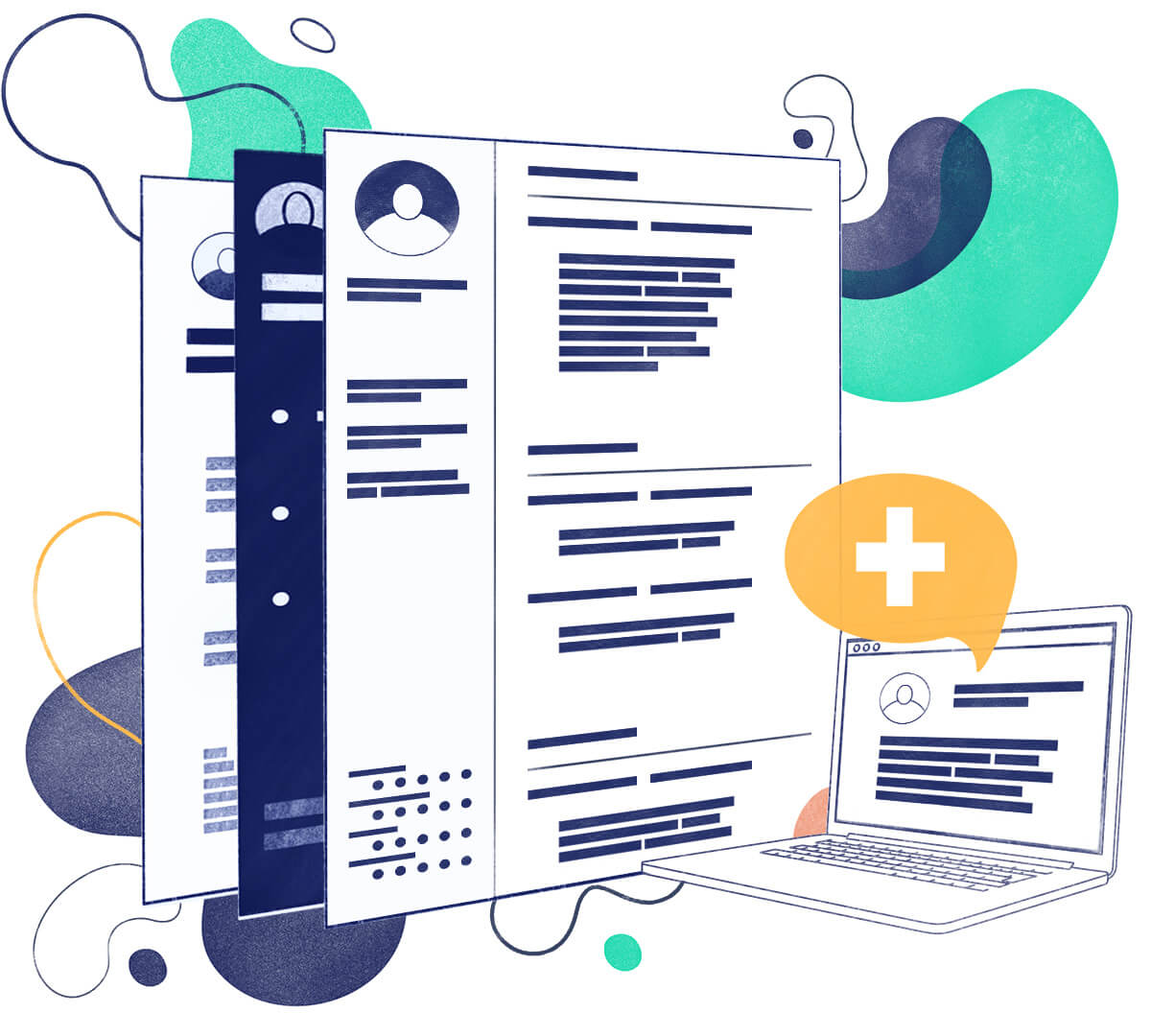 "Oh, you're a physical therapist?"
"Can you give me a massage?"
Eye roll.
You're a doctor, not a spa employee.
Plus, you were smart enough to pick a field that's growing 22% every 10 years.
That's much faster than average.
But—
To get high-salary PT jobs, you need a high-level physical therapist resume.
You'll get there fast with a little professional help.
In this guide:
A physical therapy resume sample better than most.
How to write a resume for physical therapy jobs that gets things moving.
How to make the perfect physical therapy job description for resumes.
Why you can't just list physical therapy skills (and what to do instead).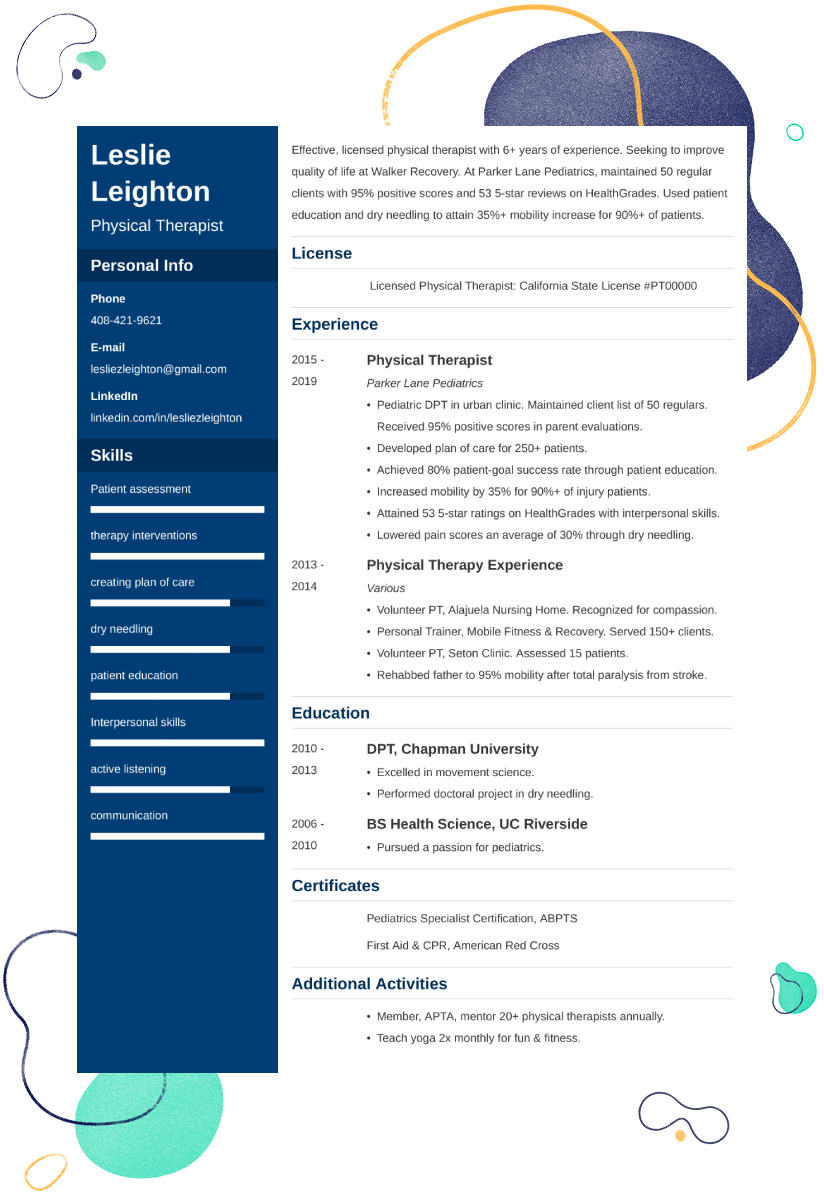 Create a job-winning resume with little effort. Hack your way through ATS software with our 18 beautiful templates—give our builder a try!

Create my resume now
Physical Therapy Resume Sample You Can Copy and Use
Leslie Leighton
Physical Therapist
Personal Info
Phone: 408-421-9621
E-mail: lesliezleighton@gmail.com
linkedin.com/in/lesliezleighton
instagram.com/lesliezleighton
Summary
Effective, licensed physical therapist with 6+ years of experience. Seeking to improve quality of life at Walker Recovery. At Parker Lane Pediatrics, maintained 50 regular clients with 95% positive scores and 53 5-star reviews on HealthGrades. Used patient education and dry needling to attain 35%+ mobility increase for 90%+ of patients.
License
Licensed Physical Therapist: California State License #PT00000
Experience
Physical Therapist
Parker Lane Pediatrics
2014–2019
Pediatric DPT in urban clinic. Maintained client list of 50 regulars. Received 95% positive scores in parent evaluations.
Developed plan of care for 250+ patients.
Achieved 80% patient-goal success rate through patient education.
Increased mobility by 35% for 90%+ of injury patients.
Attained 53 5-star ratings on HealthGrades with interpersonal skills.
Lowered pain scores an average of 30% through dry needling.
Physical Therapy Experience
Various
2013–2014
Volunteer PT, Alajuela Nursing Home. Recognized for compassion.
Personal Trainer, Mobile Fitness & Recovery. Served 150+ clients.
Volunteer PT, Seton Clinic. Assessed 15 patients.
Rehabbed father to 95% mobility after total paralysis from stroke.
Education
DPT, Chapman University
2010–2013
Excelled in movement science.
Performed doctoral project in dry needling.
BS Health Science, UC Riverside
2006–2010
Pursued a passion for pediatrics.
Certifications
Pediatrics Specialist Certification, ABPTS
First Aid & CPR, American Red Cross
Additional Activities
Member, APTA, mentor 20+ physical therapists annually.
Teach yoga 2x monthly for fun & fitness.
Hard Skills: Patient assessment, therapy interventions, creating plan of care, dry needling, patient education
Soft Skills: Interpersonal skills, active listening, communication
Want to check out other medical careers? See our guides:
Here's how to write your version of that sample physical therapy resume:
1. Choose the Best Physical Therapy Resume Format
They won't hire a sloppy-looking physical therapist.
Or read sloppy physical therapy resumes.
Get the format of your resume in line.
Warm up with the reverse-chronological format.
Physical Therapy Resume Format
Set one-inch margins on a one-page resume.
Leave white space so your words can breathe.
Include a resume font like 10–12pt Cambria or Avenir Next.
Write common resume sections like Heading, Summary, Work Experience, Education, and Skills.
Save a PDF resume. They move well from machine to machine.
Expert Hint: Physical therapy jobs will grow 22% in the next 10 years. But we both know there are lots of bad PT jobs. That's why your physical therapist resume has to shine.
2. Make a Physical Therapy Resume Objective or Summary
Sad but true.
Dozens of physical therapist resumes stand between you and your dream job.
To clear that hurdle, get noticed fast.
Write an agile career summary or career objective.
That's a fast rundown of why you matter to them.
Add:
An adjective or two (licensed, effective)
"physical therapist"
Years of experience (2+, 7+)
How & who you'll help (improve quality of life at Walker Recovery)
Best physical therapy moments (maintained 50 regular clients...)
Some key job skills (patient education, dry-needling...)
Write it last to make it easy on yourself.
These physical therapy resume examples show how:
Physical Therapy Resume Summary—Example
Look at that.
Both of those reference dry needling and pediatrics. But—
One adds "50 clients, 95% positive scores," and other energizing factors.
But even an entry-level physical therapist resume needs proof.
Let's say all you've done is volunteer and work as a personal trainer.
Check out how this physical therapist assistant resume sample does it:
Entry-Level Physical Therapy Resume Objective
See that?
The second of those entry-level physical therapy assistant resume examples lists compassion and assessment.
But the first one proves them.
Expert Hint: Most physical therapists work in private clinics. To get hired, your PT or PTA resume must show your contribution to the clinic and its patients.
3. Write a Meaty Physical Therapy Job Description and Skills Section
A physical therapist resume can't be generic.
So—
You need to fit the job like a wraparound brace.
To write a physical therapy job description for resumes:
Find the resume skills (known as resume keywords) in the online ad.
List times you used them to make things happen.
Write yours like the first of these physical therapy resume samples:
Pretend the job ad wants a pediatric DPT with these physical therapy skills: developing plan of care, patient education, dry needling.
Physical Therapy Job Description for Resume [Sample]
Ouch, that hurts.
The second of those physical therapist resume examples is like a shoulder impingement. It doesn't target the job.
Plus—how did that applicant help? There are no numbers.
Now for an entry-level resume:
Say the job ad wants these physical therapy skills: compassion, assessment, stroke rehab.
Entry-Level Physical Therapy Resume Job Description [Sample]
Freeze.
The second sample isn't awful—if they want skills in customer service, listening, and efficiency.
They don't. (See the job skills in yellow above.)
What physical therapist skills work best? Here's a list:
Physical Therapy Skills for Resumes
| | |
| --- | --- |
| Hard Skills | Soft Skills |
| Patient Assessment | Interpersonal Skills |
| Plan of Care | Customer Service |
| PT Interventions | Listening |
| Patient Education | Collaboration |
| Heat Treatment | Communication |
| Patient History | Problem Solving |
| Documentation | Compassion |
| Pediatric | Persuasion |
| Sports | Time Management |
| Orthopedic | Physical Stamina |
Expert Hint: In a physical therapy resume for new grads, focus on soft skills. Then, give evidence of the hard skills you learned while earning your doctorate.
4. Make the Most of Your Education
Your doctorate is no joke.
But your education section can't be like all the rest.
If it is—
You'll get rejected like them, too.
So put a few key details in your schooling to catch the eye.
This physical therapist resume sample shows the routine:
Physical Therapy Resume Example—Education
If they listed movement science, dry needling, and pediatrics in their ad, you're in.
In a physical therapy student resume, your education can fill most of the page.
5. Add "Other" Sections to Your Physical Therapy Resume
Quick quiz:
What if the other physical therapist resumes show similar experience and education?
Whatever makes you different in a good way can get you hired.
So add a couple "other" sections like:
Associations (APTA)
Conferences you spoke at
Certifications (Pediatrics, First Aid, etc.)
Groups
Freelance work
Foreign languages
Publications
Additional activities
Fitness
These physical therapy resume examples work it out:
Front-End Web Developer Resume—Extra Sections
Oh, and—
Put your license in its own section, near the top.
You don't want the hiring manager to miss it!
Expert Hint: Write a cover letter. Your resume for physical therapy jobs will get more special care. Why? Most managers read those letters. Some insist on them.
Key Points
Here's how to write a physical therapy resume:
Use the physical therapist resume template up top. It lets you match your hard-won skills to the job.
Get resume keywords (skills and duties) from the physical therapy job description.
Pump up your resume sections with your skills. Show proof you've used them to help patients.
Add "other" sections that show you're not just another PT who needs work.
Got questions on how to write great resumes for physical therapy jobs? Not sure how to show physical therapy on a resume? Leave a comment. We'll be happy to reply!