Event Planner Resume Sample: 25+ Examples and Best Writing Tips
An event planner resume sample and guide that lands job interviews. Make your event planning resume quickly with expert tips and good-vs-bad examples.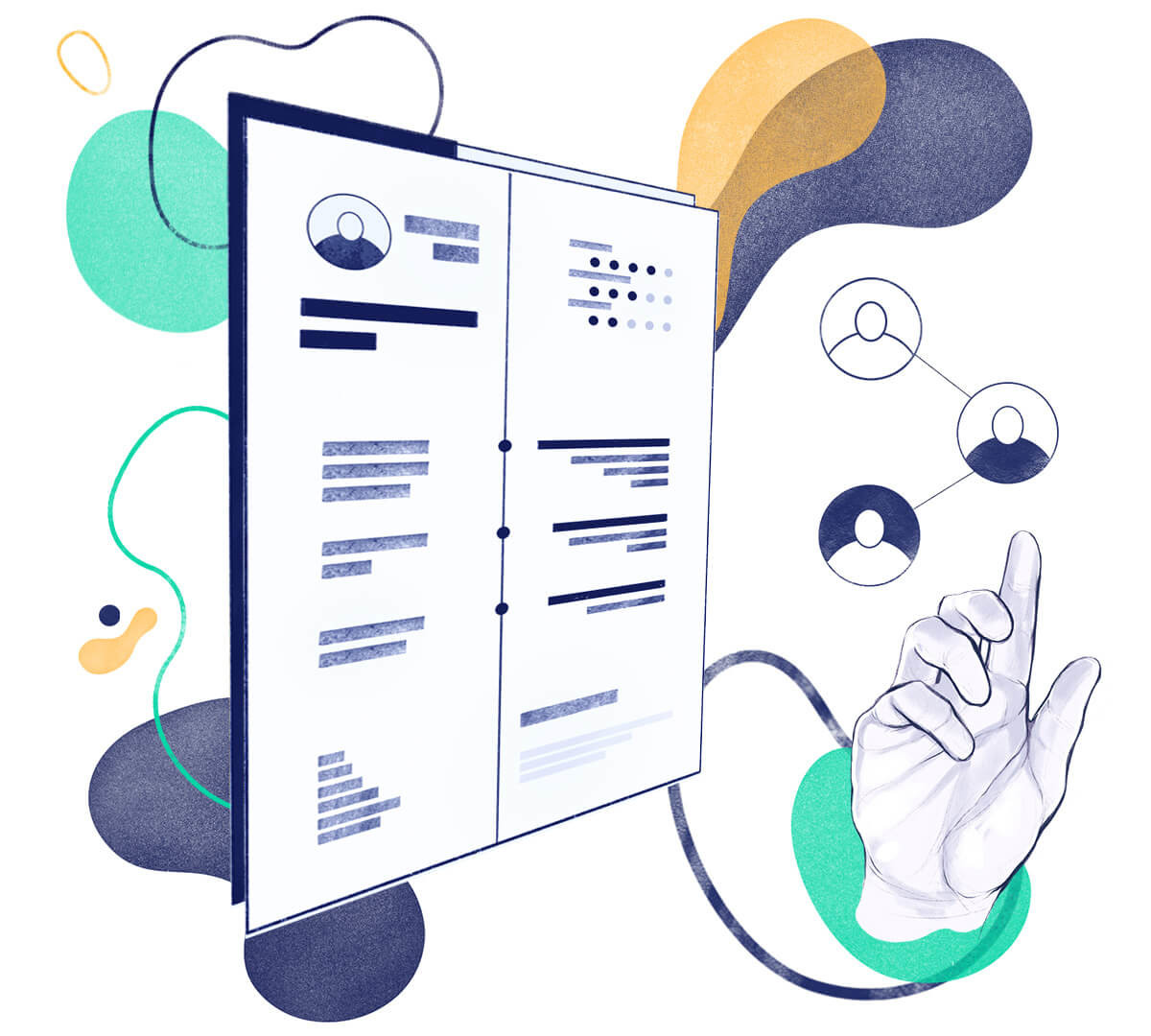 Ready to write your event planner resume? You've come to the right place.
Whether planning small weddings or managing large corporate events, getting those event planner jobs starts with an awesome resume.
But don't worry.
This guide will show you:
Great event planner resume examples that get job interviews.
How to ace your event manager job description for a resume.
Expert tips and examples to boost your chances of landing event planning jobs.
Save hours of work and get a resume like this. Pick a template, fill it in. Quick and easy. Choose from 18+ resume templates and download your resume now.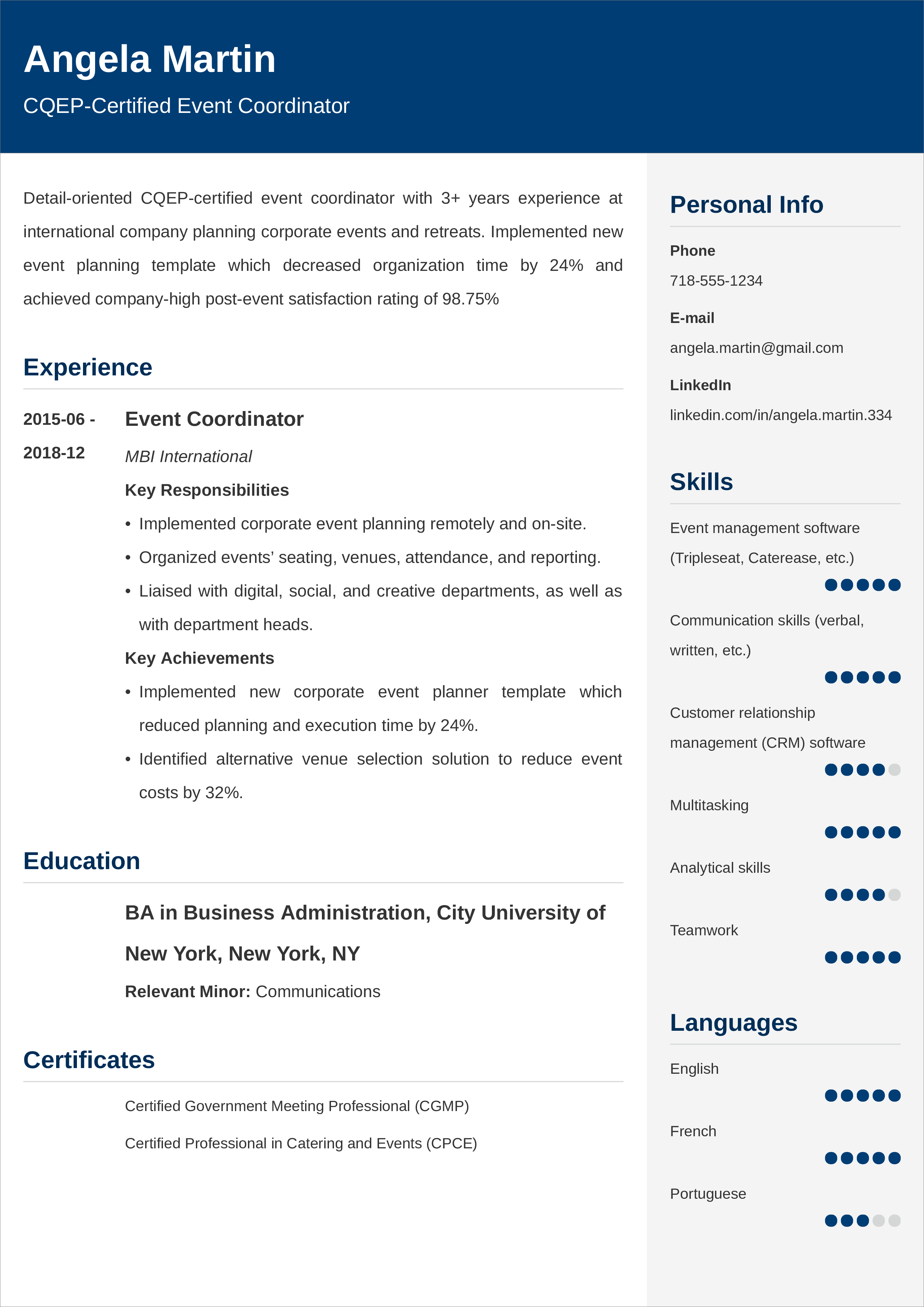 What users say about ResumeLab:
I had an interview yesterday and the first thing they said on the phone was: "Wow! I love your resume."
Patrick

I love the variety of templates. Good job guys, keep up the good work!
Dylan

My previous resume was really weak and I used to spend hours adjusting it in Word. Now, I can introduce any changes within minutes. Absolutely wonderful!
George
Looking for other gigs? Have a look at these guides:
Haven't found what you're looking for? Check all our resume examples for any job.
Before we get to the resume guide, here's an event planner resume example for your reference:
Event Planner Resume Template
Angela Martin
CQEP-Certified Event Planner
718-555-1234
angela.martin@gmail.com
linkedin.com/in/angela.martin.334
Summary
Detail-oriented CQEP-certified event planner with 3+ years experience at international company planning corporate events and retreats. Implemented new event planning template which decreased organization time by 24% and achieved company-high post-event satisfaction rating of 98.75%
Work Experience
Event Planner
MBI International
June 2015–December 2018
Key Responsibilities
Implemented corporate event planning remotely and on-site.
Organized events' seating, venues, attendance, and reporting.
Liaised with digital, social, and creative departments, as well as with department heads.
Key Achievements
Implemented new corporate event planner template which reduced planning and execution time by 24%.
Identified alternative venue selection solution to reduce event costs by 32%.
Education
BA in Business Administration
City University of New York, New York, NY
Relevant Minor: Communications
Key Skills
Event management software (Tripleseat, Caterease, etc.)
Communication skills (verbal, written, etc.)
Customer relationship management (CRM) software
Multitasking
Analytical skills
Teamwork
Certifications
Certified Government Meeting Professional (CGMP)
Certified Professional in Catering and Events (CPCE)
Languages
English—Native Proficiency
French—Professional Working Proficiency
Portuguese—Limited Working Proficiency
1. Choose the Best Event Planner Resume Format
As an event planner, you have a strict vision of how your gigs are to be structured.
Guess what?
The company's senior event producer or HR manager has the same idea of what your event planning resume should look like.
That's called the resume format.
Here's how to format a resume for event planning jobs:
Use reverse-chronological order. Most recent employment and education goes first, followed by the next, and so on.
Place most important things at top. Your most relevant resume sections should be placed above less relevant ones. If this will be your first time applying at event planner jobs, your experience section should go below your education area.
Choose professional styling. You're good at choosing legible fonts for any RSVP cards—do the same on your resume. Don't cram everything onto your event planning resume. Using that white space instead to increase how scannable your resume is.
Save it correctly. Save your resume (and the accompanying event planner cover letter) in the PDF convention to be sure it looks right on any device.
Expert Hint: Distinctly label the various subsection headings (e.g., "Certifications") so the reader is able to easily locate the particular part they want. Bold these headings and enlarge them by 2–4 pts over the body text.
2. Start with a Event Planner Resume Summary or Objective that Turns Heads
HR managers and senior event managers will glance at your resume for 7 seconds, initially.
That means—
Like a strong opening act, you need to grab their attention at the beginning with a compelling resume summary or resume objective.
Got Experience Planning Events?
If you have some event planning experience under your belt, use the resume summary statement.
A great event management resume summary:
Summarizes your event history into a brief personal statement
Matches the company's needs with relevant experience
Uses quantifiable accomplishments to prove your worth
Lets them easily see you handling their event management jobs.
Event Manager Resume Summary—Example
Many people do something like the second one, but here's why the first is better:
It proves your knowledge with quantifiable achievements,
It summarizes who you are and the experience and skills you bring,
It doesn't use the first-person.
What If You've Got No Experience?
The only event you've planned so far was your dream wedding back when you were 5 years old?
No problem.
If you're only starting as an event planner and have no relevant work experience (check out how to write a resume with no experience and this entry level resume), you should write a resume career objective instead.
A great event planner resume objective tells them:
Where you're coming from (your background)
The event position you're applying for
A sampling of your skills relevant to organizing events
Why the company would grow by hiring you.
Event Planning Resume Objective—Sample
What about these?
That first one follows our rules above, is tailored to the job position, and easily lets the hiring manager picture you on their roster.
That other one, well, is just all wrong.
Expert Hint: As you see in our full event planner resume sample above, the heading profiile statement is right at the top. However, don't write it first! Instead, save it for the end so you can use the rest of your resume to make sure it's perfect.
3. Write the Perfect Event Planner Job Description and Skills
To make sure the work experience section on your event planner resume is all buttoned up:
Keep the event planning job description out and open in front of you.
Locate the best keywords to use by looking at their job requirements.
Add in those resume keywords throughout your job description bullet points.
Use quantifiable achievements just like in your resume opening statement.
Event Planner Resume Example—Job Description
That second one just lists duties and responsibilities, but it doesn't show the HR manager how well you performed them.
The first one is fireworks!
It gives them your key event planning responsibilities and skills and includes key accomplishments with numbers to prove how great you are at event coordination. Make sure each bullet point entry begins with power words.
Also, did you have any event planning internships in your past?
Adding them to a party coordinating or wedding planner resume will definitely boost your chances of getting hired.
And regarding event planning skills—
Showcase them on your resume. But avoid long skill lists.
Instead, pick 4–6 that are most relevant to the event planner job you're applying for.
These skills are pretty common:
Event Planning Resume Skills
Event management software (Tripleseat, Caterease, etc.)
Communication skills (verbal, written, etc.)
Customer relationship management (CRM) software
Multitasking
Analytical skills
Teamwork
Creativity
Project management
Problem solving
Budget management
Marketing
Professionalism
One more thing to remember—
—the ATS.
HR staff use applicant tracking systems more and more to help them sort through the hundreds of resumes they receive for each opening. The ATS can parse hundreds of resumes for specific words and phrases to find possible candidate matches.
How to make sure your event planner resume will beat the ATS?
Use the best resume keywords from the event coordinator job in the work experience, resume skills and other sections of your event planning resume.
If you don't have keywords they're looking for, you've no chance of an interview.
Expert Hint: Include only skills which are relevant for corporate event planners or meeting organizers. You might be a whiz with computers, for example, but most of the general IT skills will be pointless on an event planner resume.
The ResumeLab builder is more than looks. Get specific content to boost your chances of getting the job. Add job descriptions, bullet points, and skills. Easy. Improve your resume in our resume builder now.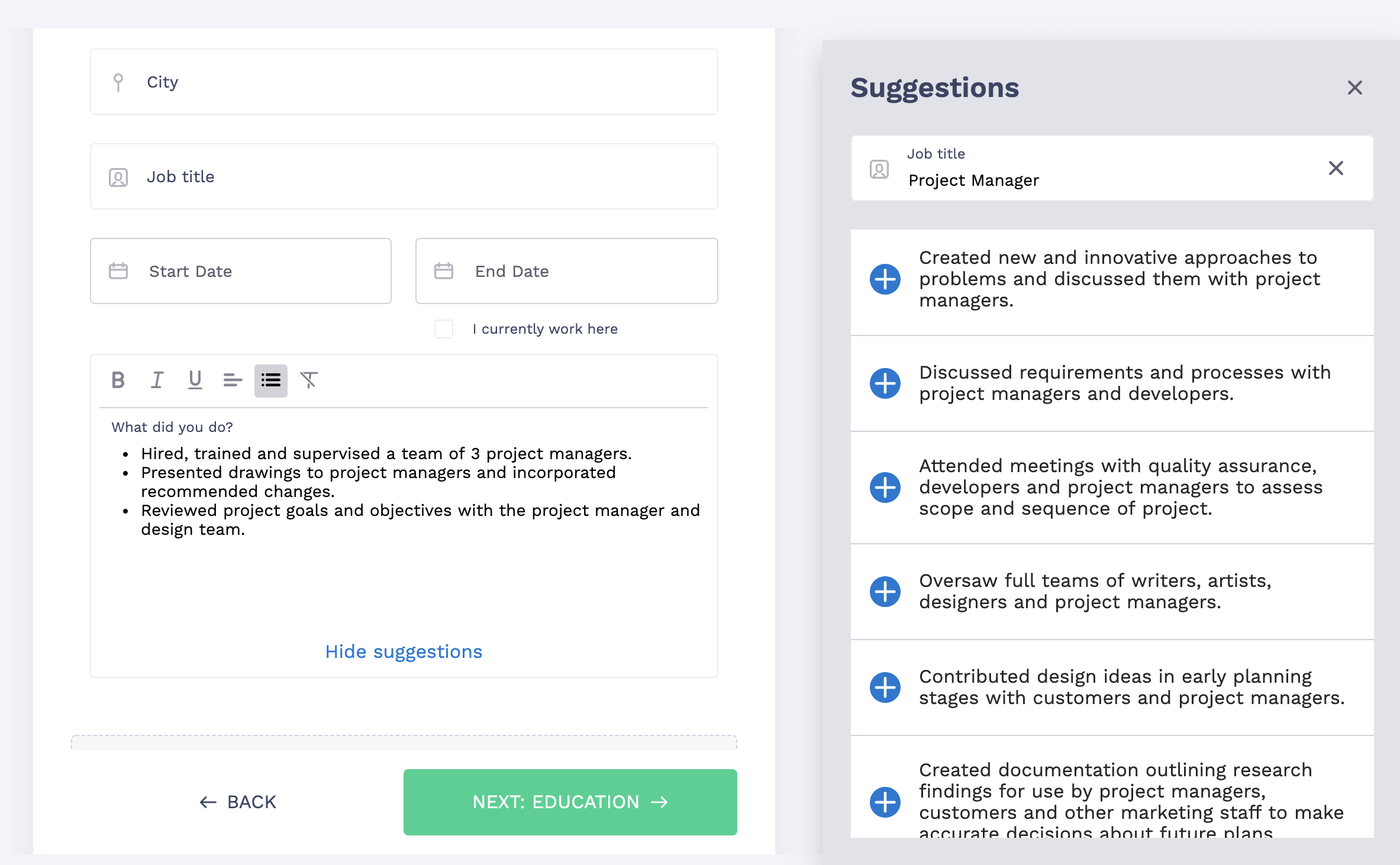 Nail it all with a splash of color, choose a clean font, highlight your skills in just a few clicks. You're the perfect candidate and we'll prove it. Use the ResumeLab builder now.
4. Turn Boring Education Into a Reason to Hire You
Education on event planning resumes usually gets but seconds of attention.
But—
Don't let this easy-to-assemble section be the cause of you not getting the job.
Here's how to add education on a resume to make it count:
Event Planner Resume Example—Education
BA in Business Administration
City University of New York, New York, NY
Relevant Minor: Communications
Here, we skipped adding dates and a GPA, because a too-low GPA or a graduation date too far in the past can get discriminated against, unfortunately.
If you are applying for entry-level event planning jobs and you don't have work experience in event planning, move up this education section so it gets placed directly under your resume objective.
Expert Hint: Don't add your high school if you've completed a college degree. But if it is the last thing you've fully completed and you are still at the university, you can add high school.
5. Enhance Your Event Planner Resume with Extras
Include some additional resume sections to help your resume stand out from the other event management and party planning candidates.
Here are examples of what to include on a resume as extra sections:
Certifications
For wedding/party planner jobs, or other event management jobs, hiring managers and recruiters often perceive your certifications on a resume as more important than the college degree.
Here are some of the best certficates in the event industry you should have and include in your resume:
Certified Government Meeting Professional (CGMP)
Certified Professional in Catering and Events (CPCE)
Digital Event Strategist (DES)
Certification in Meeting Management (CMM)
Certified Special Events Professional (CSEP)
Certified Meetings Professional (CMP)
Check out the Convention Industry Council (CIC) and the Society of Government Meeting Professionals (SGMP) for more info.
Languages
If you know a second (or third) language, don't hesitate to add it. It can unlock job doors that would otherwise have stayed closed.
Here's how you can add your language skills onto your event planner resume:
Languages
English—Native Proficiency
French—Professional Working Proficiency
Portuguese—Limited Working Proficiency
Hobbies & Interests
Hobbies and interests on a resume for event planners help show you're not just numbers and accomplishments. However, add relevant ones only, like those which have something in common with the event coordinator job you're applying for.
Hobbies & Interests
Book club co-host
Trivia night organizer
Expert Hint: Other extra resume sections to consider on your event planner resume are event planning conferences, event management licenses, event management memberships, event planning awards, and volunteer work on resumes.
Double your impact with a matching resume and cover letter combo. Use our cover letter builder and make your application documents pop out.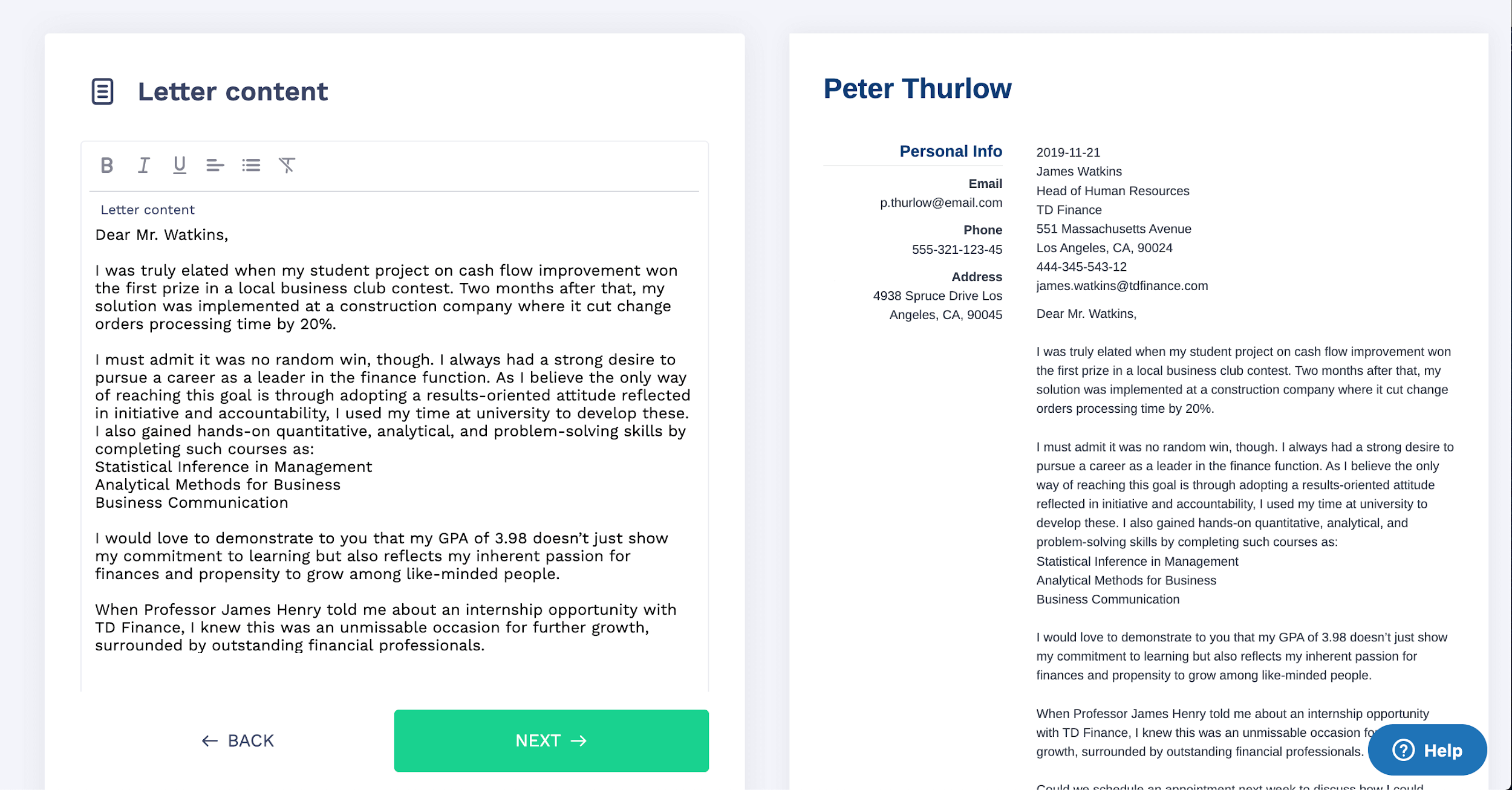 Want to try a different look? There's 18 more. A single click will give your document a total makeover. Pick a cover letter template here.
Key Points
Whether you're aiming to be a party coordinator, hotel event planner, or a corporate event planner, the recruiter wants to see a perfectionist in you.
Your event planning resume will show it if you:
Use the reverse-chronological format to keep things organized like the best party planning template.
Write an event planner resume summary or objective that's super compelling.
Describe your work history using your proudest achievements and most relevant skills that match the job ad.
Include an education section with relevant coursework, minors, or honors.
Add extra resume sections to stand out from the other candidates—most importantly any event planning certifications you have earned.
Good luck at your upcoming event planning interview!
Need more resume-related resources? See:
Got any questions on how to write a resume for event planners? Not sure how to describe your skills or achievements on a wedding planner resume? Get at us below in the comments, and thanks for reading!