Technical Resume Examples—Guide, Template and 20+ Writing Tips
You worked hard in school, and now you've got the knowhow to make big things happen. Show the hiring manager your strengths with this professional technical resume sample.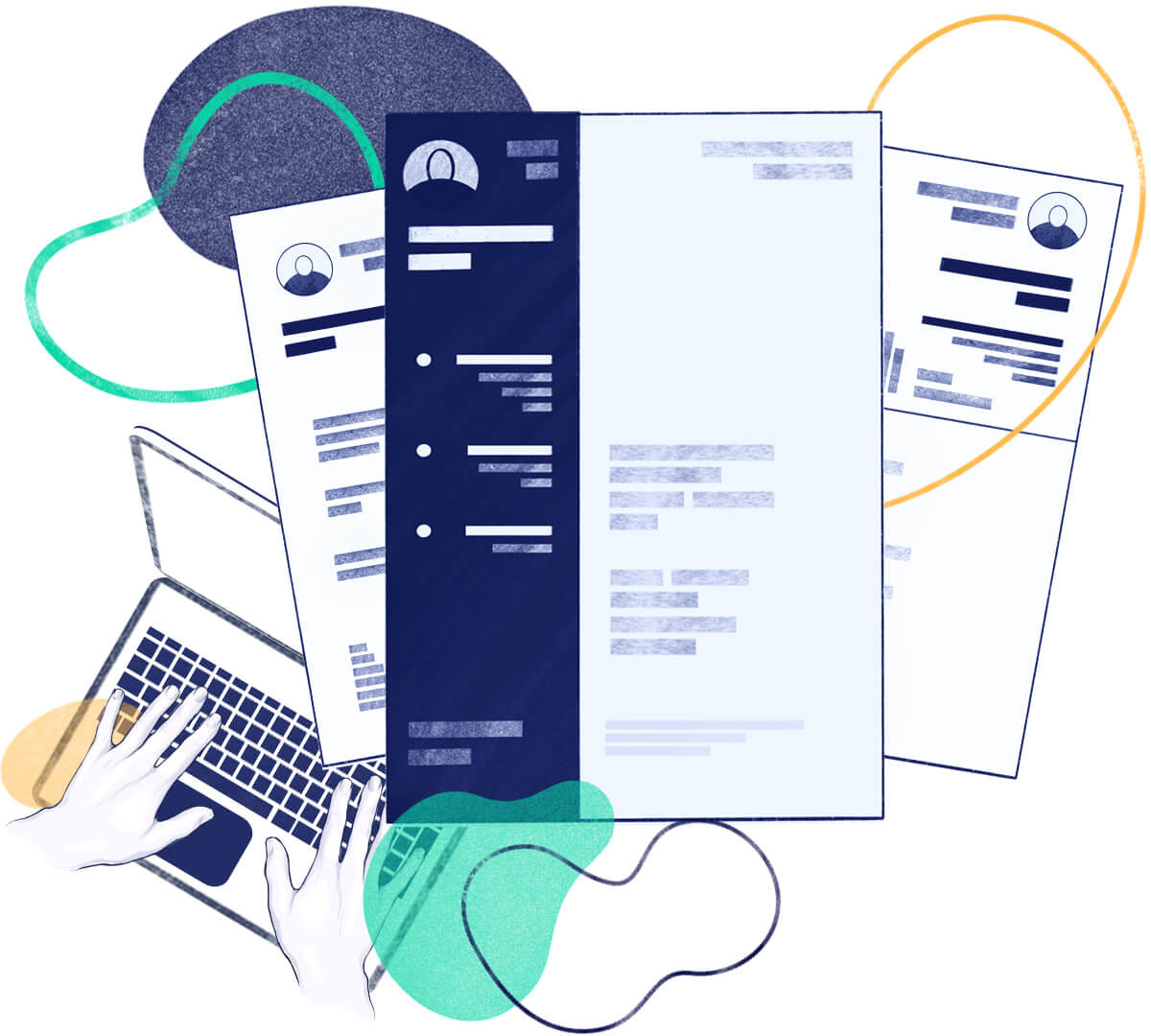 There are a lot of smart people out there.
To get the job, your tech resume needs to stand out like the IBM Summit in a world of Raspberry Pi's.
But don't worry.
All you have to do is 1) know the technical skills they want, and 2) show how you've used them to do great things.
The technology skills resume sample below will give you the schematic.
This guide will show you:
A technical resume sample better than most.
How to make a good technical job description for resumes.
How to write a resume for technology jobs that would wow Elon Musk.
Why you can't just list your technical skills (and what to do instead).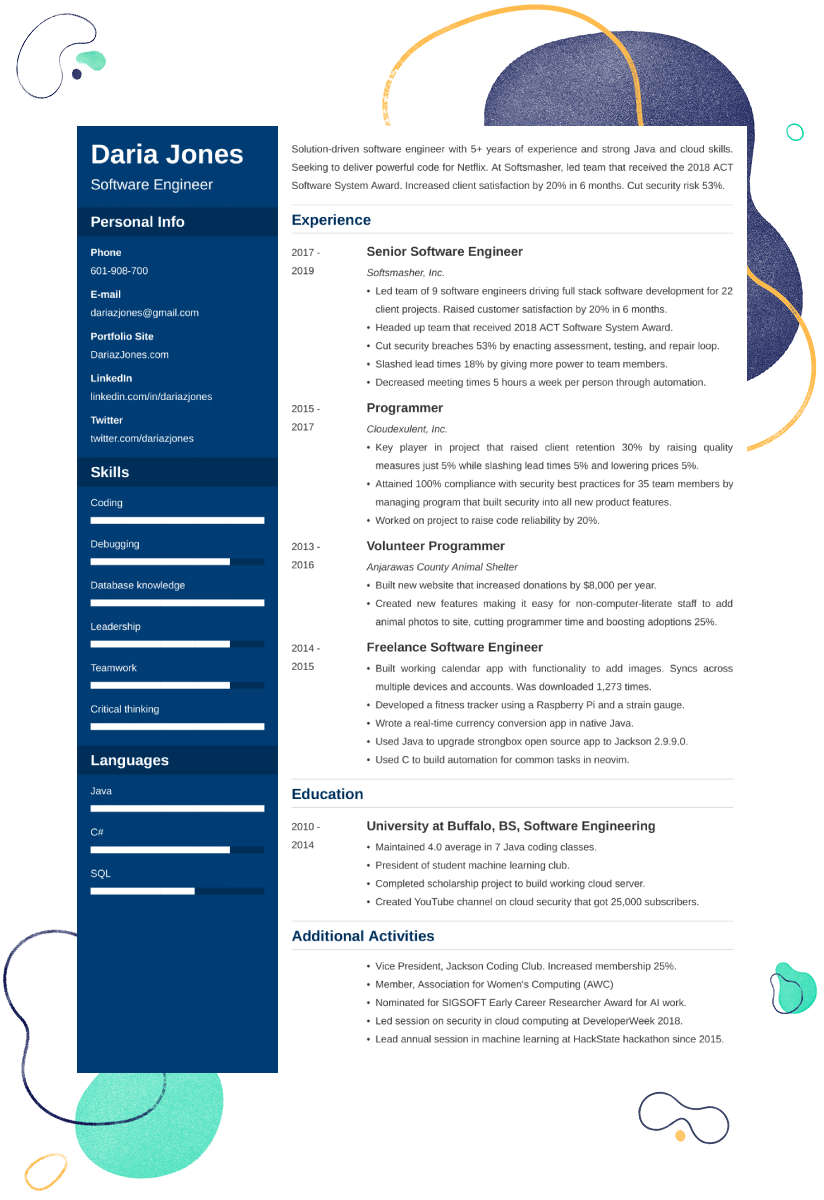 Create a job-winning resume with little effort. Hack your way through ATS software with our 18 beautiful templates—give our builder a try!

Create my resume now
Technical Resume Template You Can Copy and Use
Daria Jones
Software Engineer
Personal Info
Phone: 601-908-700
Portfolio Site: DariazJones.com
Email: dariazjones@gmail.com
linkedin.com/in/dariazjones
twitter.com/dariazjones
Professional Summary
Solution-driven software engineer with 5+ years of experience and strong Java and cloud skills. Seeking to deliver powerful code for Netflix. At Softsmasher, led team that received the 2018 ACT Software System Award. Increased client satisfaction by 20% in 6 months. Cut security risk 53%.
Experience
Senior Software Engineer
2017–2019
Softsmasher, Inc.
Led team of 9 software engineers driving full stack software development for 22 client projects. Raised customer satisfaction by 20% in 6 months.
Headed up team that received 2018 ACT Software System Award.
Cut security breaches 53% by enacting assessment, testing, and repair loop.
Slashed lead times 18% by giving more power to team members.
Decreased meeting times 5 hours a week per person through automation.
Programmer
2015–2017
Cloudexulent, Inc.
Key player in project that raised client retention 30% by raising quality measures just 5% while slashing lead times 5% and lowering prices 5%.
Attained 100% compliance with security best practices for 35 team members by managing program that built security into all new product features.
Worked on project to raise code reliability by 20%.
Volunteer Programmer
2013–2016
Anjarawas County Animal Shelter
Built new website that increased donations by $8,000 per year.
Created new features making it easy for non-computer-literate staff to add animal photos to site, cutting programmer time and boosting adoptions 25%.
Freelance Software Engineer
2014–2015
Built working calendar app with functionality to add images. Syncs across multiple devices and accounts. Was downloaded 1,273 times.
Developed a fitness tracker using a Raspberry Pi and a strain gauge.
Wrote a real-time currency conversion app in native Java.
Used Java to upgrade strongbox open source app to Jackson 2.9.9.0.
Used C to build automation for common tasks in neovim.
Education
University at Buffalo, BS, Software Engineering
2010–2014
Maintained 4.0 average in 7 Java coding classes.
President of student machine learning club.
Completed scholarship project to build working cloud server.
Created YouTube channel on cloud security that got 25,000 subscribers.
Additional Activities
Vice President, Jackson Coding Club. Increased membership 25%.
Member, Association for Women's Computing (AWC)
Nominated for SIGSOFT Early Career Researcher Award for AI work.
Led session on security in cloud computing at DeveloperWeek 2018.
Lead annual session in machine learning at HackState hackathon since 2015.
Hard Skills: Coding, debugging, database knowledge
Soft Skills: Leadership, teamwork, critical thinking
Languages: Java, C#, SQL
Need a specific kind of technology skills resume? Looking for specific technical resume templates? See our guides:
Now here's how to write a technical resume they'll love:
1. Start With the Best Technical Resume Format
Technical workers handle complex jobs that need a high degree of training and competency. They work in subjects like computers, information, programming, science, engineering, and math. A technical resume needs to narrow the field and focus on skills and achievements wanted by a particular employer.
The first step?
Showing you can deliver to specs.
That's why the best tech resume templates (like the one above) follow these resume format rules:
Technical Resume Templates
Start with the reverse-chronological format.
Work with resume fonts like Georgia or Lato in 10–12pt.
Use white space as a buffer, and 1-inch margins.
Deliver a one-page resume to most technical job openings.
Cover these resume sections: Header, Summary, Experience, Education, Skills, and "Additional."
Expert Hint: Save your technology skills resume as a PDF file. PDF resumes don't cause usability issues on different devices. Check the job ad first for warnings against them.
2. Write a Technical Resume Summary or Objective
Most technology skills resumes get ignored.
Here's why:
Because tech hiring managers aren't machines. After a while, the resumes they read start to look like redundant code.
How can you make them read yours?
With a strongly-typed technical resume summary or resume objective.
Include:
One adjective (solution-driven, hard-working, efficient)
Job title (Software Engineer, Data Scientist)
Years of experience (2+, 4+)
How you'll help (deliver powerful code, supply deep business insights)
Best few achievements (increased client satisfaction by 20%...)
These computer technical resume examples give the requirements:
Technical Resume Summary—Example
Schrödinger, meet cat.
The first of those technical resume samples could get you in at a unicorn.
The second is a donkey with a papier-mâché horn. It's bereft of concrete details.
Technical Resume Objective—Example
Writing an entry-level resume for technical jobs?
Don't panic.
You can use freelance work, volunteer work, or personal projects, like this:
Expert Hint: Each achievement in your technical resume should exactly match what the hiring team advertises in the job ad. That's called tailoring a resume. I'll show how next.
3. Write a Solid Job Description for Your Technical Resume
God is in the details.
But the details are in your resume job description.
It must be short (or they won't read it).
But make it punchy (or they won't care).
Do both by first reading the job ad, then plugging in your technical achievements that match.
These computer technical resume examples crack the code:
Technical Job Description for Resume [Sample]
That's binary.
The second of those technical resume examples doesn't pass validation. It's technically fine, but it's not tailored to the job posting.
Writing an entry-level technical skills resume? See this:
Entry-Level Technical Resume Job Description [Sample]
Remember that.
You must show you've at least dabbled in the skill sets the hiring team wants.
So—look at the resume skills list below, but focus on the ones in the online posting.
Technical Skills to Put on a Resume
Computer skills: MS Office, email, Google Drive, PowerPoint, spreadsheets
Web skills: HTML, CSS, Content Management Systems, Javascript, WordPress
Programming skills: Java, C, C#, C++, Objective-C, XML, Python, PHP, MySQL, SQL, Perl, ASP.NET, Ruby, AJAX.
Engineering skills: STEM skills, design, CAD, prototyping, testing
IT: Agile, UI/UX, debugging, cloud management, data synchronization
Collaboration: Trello, Slack, Jira
Project Management: Scrum, planning
General: Math, logic, troubleshooting
Other: Technical writing, research
Expert Hint: Add numbers to your work history to drive home your achievements for a resume. A technical skill like "automation" is more believable if you used it to slash 5 meeting hours per week.
4. Turn Boring Education to a Reason to Hire You
You didn't skimp on education.
But that doesn't mean they'll like you.
You need to make this hiring team care about your schooling.
Do that by hard-wiring it to their needs.
These technical resume examples show the syntax:
Technical Education—Example
Let's say they care about Java, machine learning, cloud computing, and security.
See that?
You didn't just say "graduated in x with y degree and z GPA."
You showed technical accomplishments that fit the role.
Expert Hint: If you just graduated, give your resume education section more space on the page. Split it into projects, classes, and clubs, with emphasis on skills in each.
5. Build Your Technical Resume With Bonus Sections
Here's the killer app.
Hiring managers don't want an algorithm. They want a person.
Give them one by adding "bonus" sections to your technical resume:
Additional Activities
Your Portfolio Site
Certifications (like AWS DevOps or CompTIA A+)
Programming Languages
Conferences
Freelance Work
Continuing Education
Publications
Foreign Languages
These two examples show how to make additional resume sections stand out:
Technical Resume—Extra Sections
Wow.
The first of those technical resume samples could be the next Jeff Bezos.
Its "other" sections show off massive technical skills and passion.
Expert Hint: Writing a cover letter for technical jobs is more than necessary. Many technical hiring managers will delete your resume if you don't have one. Use it to show why this job means so much to you.
Key Points
For the best technical resume that gets jobs:
Use the technical resume template up top. It downloads your skills to the hiring team at terabit speeds.
Put technical achievements in your resume summary, experience, education, and "bonus" sections to prove you're no self-taught noob.
List the best technical skills. You won't find them in an online list. They're in the hiring team's own job posting.
Write a technical cover letter. Show you "get" the job's needs. Then add a couple of tech accomplishments that prove you'll deliver.
Got questions on how to write a great resume for technical jobs? Not sure how to show technical skills on a resume? Leave a comment. We'll be happy to reply!