Federal Resume—Examples and 25+ Writing Tips
The bad thing about government jobs is that you have tons of competition. The good thing? We're here with a government resume guide to help you stand out from the other applicants.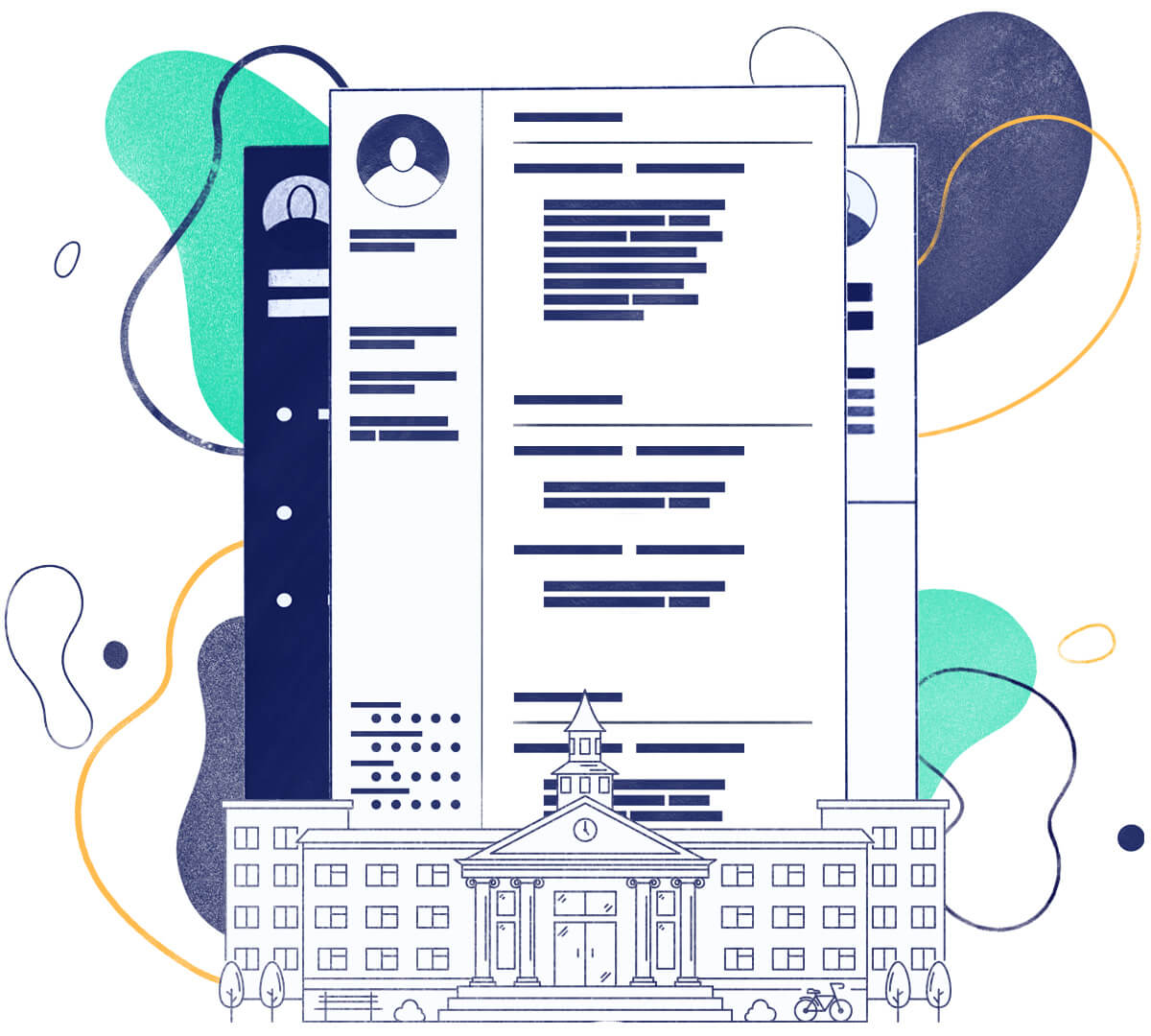 Whether it's for job security, to serve your country, or the generous pension later on, you're ready to take on the challenges of a federal job.
You're confident you've the talent, training, and clearance level to meet and exceed their career expectations.
But—
The agency director doesn't yet know how perfect a match you are.
You can't have a resume that's simply close enough for government work.
Rather, you need to turn in a federal resume as detailed as the national budget and as welcome as a stimulus package.
It's not as difficult as you think—
In this guide:
The best federal resume samples to get those government jobs.
How to target government resumes to a specific federal job description.
How to write resumes for federal positions that score government interviews.
Expert tips and examples to improve your chances of landing federal jobs.
Save hours of work and get a resume like this. Pick a template, fill it in. Quick and easy. Choose from 18+ resume templates and download your resume now.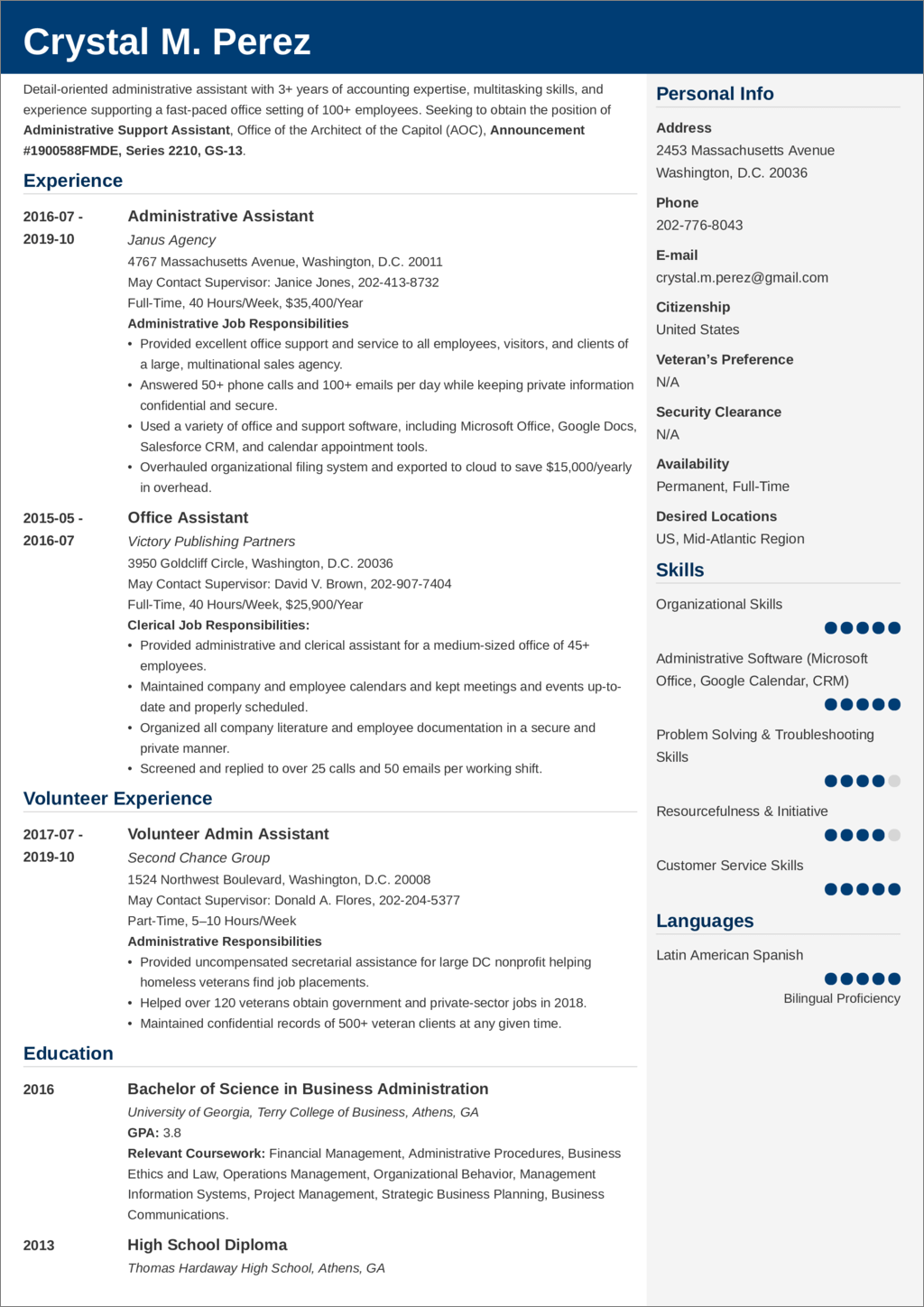 What users say about ResumeLab:
I had an interview yesterday and the first thing they said on the phone was: "Wow! I love your resume."
Patrick

I love the variety of templates. Good job guys, keep up the good work!
Dylan

My previous resume was really weak and I used to spend hours adjusting it in Word. Now, I can introduce any changes within minutes. Absolutely wonderful!
George
Federal Resume Example You Can Copy and Use
Crystal M. Perez
2453 Massachusetts Avenue
Washington, D.C. 20036
202-776-8043
crystal.m.perez@gmail.com
Citizenship: United States
Veteran's Preference: N/A
Security Clearance: N/A
Availability: Permanent, Full-Time
Desired Locations: US, Mid-Atlantic Region
Objective
Detail-oriented administrative assistant with 3+ years of accounting expertise, multitasking skills, and experience supporting a fast-paced office setting of 100+ employees. Seeking to obtain the position of Administrative Support Assistant, Office of the Architect of the Capitol (AOC), Announcement #1900588FMDE, Series 2210, GS-13.
Work Experience
Administrative Assistant
July 2016–October 2019
Janus Agency
4767 Massachusetts Avenue, Washington, D.C. 20011
May Contact Supervisor: Janice Jones, 202-413-8732
Full-Time, 40 Hours/Week, $35,400/Year
Administrative Job Responsibilities
Provided excellent office support and service to all employees, visitors, and clients of a large, multinational sales agency.
Answered 50+ phone calls and 100+ emails per day while keeping private information confidential and secure.
Used a variety of office and support software, including Microsoft Office, Google Docs, Salesforce CRM, and calendar appointment tools.
Overhauled organizational filing system and exported to cloud to save $15,000/yearly in overhead.
Office Assistant
May 2015–July 2016
Victory Publishing Partners
3950 Goldcliff Circle, Washington, D.C. 20036
May Contact Supervisor: David V. Brown, 202-907-7404
Full-Time, 40 Hours/Week, $25,900/Year
Clerical Job Responsibilities:
Provided administrative and clerical assistant for a medium-sized office of 45+ employees.
Maintained company and employee calendars and kept meetings and events up-to-date and properly scheduled.
Organized all company literature and employee documentation in a secure and private manner.
Screened and replied to over 25 calls and 50 emails per working shift.
Volunteer Experience
Volunteer Admin Assistant
July 2017–October 2019
Second Chance Group
1524 Northwest Boulevard, Washington, D.C. 20008
May Contact Supervisor: Donald A. Flores, 202-204-5377
Part-Time, 5–10 Hours/Week
Administrative Responsibilities
Provided uncompensated secretarial assistance for large DC nonprofit helping homeless veterans find job placements.
Helped over 120 veterans obtain government and private-sector jobs in 2018.
Maintained confidential records of 500+ veteran clients at any given time.
Education
Bachelor of Science in Business Administration
University of Georgia, Terry College of Business, Athens, GA
Graduation: 2016
GPA: 3.8
Relevant Coursework: Financial Management, Administrative Procedures, Business Ethics and Law, Operations Management, Organizational Behavior, Management Information Systems, Project Management, Strategic Business Planning, Business Communications.
High School Diploma
Thomas Hardaway High School, Athens, GA
Graduation: 2013
Key Skills
Organizational Skills
Administrative Software (Microsoft Office, Google Calendar, CRM)
Problem Solving & Troubleshooting Skills
Resourcefulness & Initiative
Customer Service Skills
Certifications
NCCB Administrative Assistant Certification (CAA)
ASAP Administrative Certification of Excellence (PACE)
Memberships
American Society of Administrative Professionals (ASAP)
International Association of Administrative Professionals (IAAP)
Awards & Recognition
2018 Award for Administrative Excellence, Mid-Atlantic Office Workers Assc.
Industry Training
4-Week Office Administration Bootcamp, Tysons Corner, VA (April–May 2018)
Languages
Latin American Spanish: Bilingual Proficiency
That's our take on a pitch-perfect federal resume sample.
Think it's way too complicated?
Don't worry—
Here's how to write a federal resume of your own:
1. Format the Federal Resume Template According to Spec
The US government doesn't use the standard job application process.
Rather, your federal resume is your job application.
To win the agency director or department manager over, you need to organize the resume layout for readability before you begin filling it with details.
So—
Here's how to format a federal resume template:
Use reverse-chronological resume formatting for dated sections such as work history, starting with your most recent entry first and moving back from there.
Use a one-inch margin on all sides of your resume for government jobs.
Choose a resume font which is easy on the eyes of any department head.
Include the most relevant resume sections, and prioritize the placement of the most impactful areas.
Use bold heading titles to allow the reader to easily scan your federal government resume.
If you're switching careers, you may use the combination federal resume format rather than the reverse-chronological. Federal resume writers switching careers choose this resume format for its ability to highlight transferable skills.
Expert Hint: How long should a federal resume be? Different gov't agencies say different things: the National Archives says 1–3 pages is fine, the SEC gives a 4-page federal resume sample, and the Dept of Energy says 2–5 pages. Stay between 2 and 6 pages to be safe.
2. Identify Yourself in the Contact Information Section
We begin the journey in the contact information section of the resume header.
Unlike other, non-federal resumes, there are rules to follow on a government job application, most mandated by the Office of Personnel Management (OPM).
To simplify things—
Here's a simple template of which personal details to include on a federal resume:
Full Name
Home Address
Email Address
Telephone Number
Veteran's Preference (If Applicable)
Security Clearance (If Applicable, e.g., Secret, Top Secret, Confidential)
Availability (e.g., Permanent, Full-Time, Part-Time, Temporary)
Highest GS Grade (Optional)
Desired Locations (Optional)
To get your accurate General Schedule (GS) grade, see the OPM guidelines.
Veteran's preference is just about self-explanatory—it offers veterans preference over other candidates for particular government job openings. If you received a Purple Heart or have a disability from combat, you'll be given a hiring advantage as a thank you from Uncle Sam.
However, if you choose to use this option, you must provide proper documentation of the appointment eligibility or preference (e.g., a copy of the DD-214 form, SF-15).
To find out more about veteran's preference options and what to put, visit FedsHireVets.gov.
Expert Hint: Do not include sensitive information on a government resume, such as your social security number or classified material. Also, USAJOBS says to leave photos and information that could be used discriminatorily (e.g., gender, race, religion) off your federal resume.
3. Open with a Federal Resume Objective Statement
After you contact and personal information in the government resume header, it's time to write a quick, to-the-point objective statement.
However—
This quick paragraph differs from normal resume objectives.
Rather than using marketing jargon and colorful adjectives to describe how awesome you've become, keep this as buttoned-up as a Secret Service suit.
A federal resume objective is the most distilled version of the definition—it must literally give your objective, which is the specific government job you're applying for.
The must-have items of the gov't resume objective statement are:
Job Announcement Number
Official Job Title
Job Family (4-Digit Series Number)
Job Grade
Government Agency / Department
One cool aspect about this is that it immediately becomes a tailored resume.
Some government agencies and departments optionally allow you to add some meat to the objective paragraph. In such cases, a sentence or two about your experience, skills, and achievements (like a regular resume) would suffice.
Here are two examples:
Federal Resume Examples of Objective Statements
The second example is great—just not for a government job, unfortunately.
The first example, however, is ready for duty.
It's got a brief sentence introducing you as a candidate, but not too much that they get lost in the text. Then, it identifies the exact position with the pertinent details we outlined above.
Remember not to go overboard.
The hiring director wants to see the essentials first thing. Diluting the objective with too much extraneous details distracts from the important details.
Expert Hint: USAJOBS.gov is the federal government's official job board, and likely where you'll look for the jobs you want. All the information you need for the objective statement and prospective job can be found in each particular job ad on their website.
4. Document Your Employment History Thoroughly
You may upload your federal job resume to USAJOBS for a specific offer or just to publicize so government recruiters can find you.
Either way—
A resume for federal jobs must portray your past work experience in a particular way.
How?
Here's how to detail your work experience on a resume for federal jobs:
List your work history in reverse-chronological order, starting with your most recent job at the top.
Add your job title, the month and year for both the start and end of your employment, and the name of the company.
Unlike a regular resume, here you'll include the company's address, your supervisor name, whether the agency is allowed to contact them, and a contact method for your previous boss.
Next, specify the number of hours you worked each week, as well as your salary (either per hour or yearly).
For each you entry you list, include only the most relevant job responsibilities and duties.
Include quantifiable achievements using percentages, dollar amounts, or other numbers to give them a taste of just how well you performed those tasks.
Here are two federal resume examples of work history sections:
Government Resume Examples of Employment History
The first example follows the federal government's resume guidelines, while the second one isn't even appropriate for public-sector jobs. It has no detailed job duties, no numbered achievements, and it's missing key items required.
How far back should you go on a government resume?
The work history section is often what makes a federal resume so long. Uncle Sam wants to know it all, so go as far back as possible.
Expert Hint: Include unpaid work experience, as well, such as volunteer work. However, make a separate section just under your work experience area to differentiate them, as these unpaid positions won't need to include salary details or hours per week.
The ResumeLab builder is more than looks. Get specific content to boost your chances of getting the job. Add job descriptions, bullet points, and skills. Easy. Improve your resume in our resume builder now.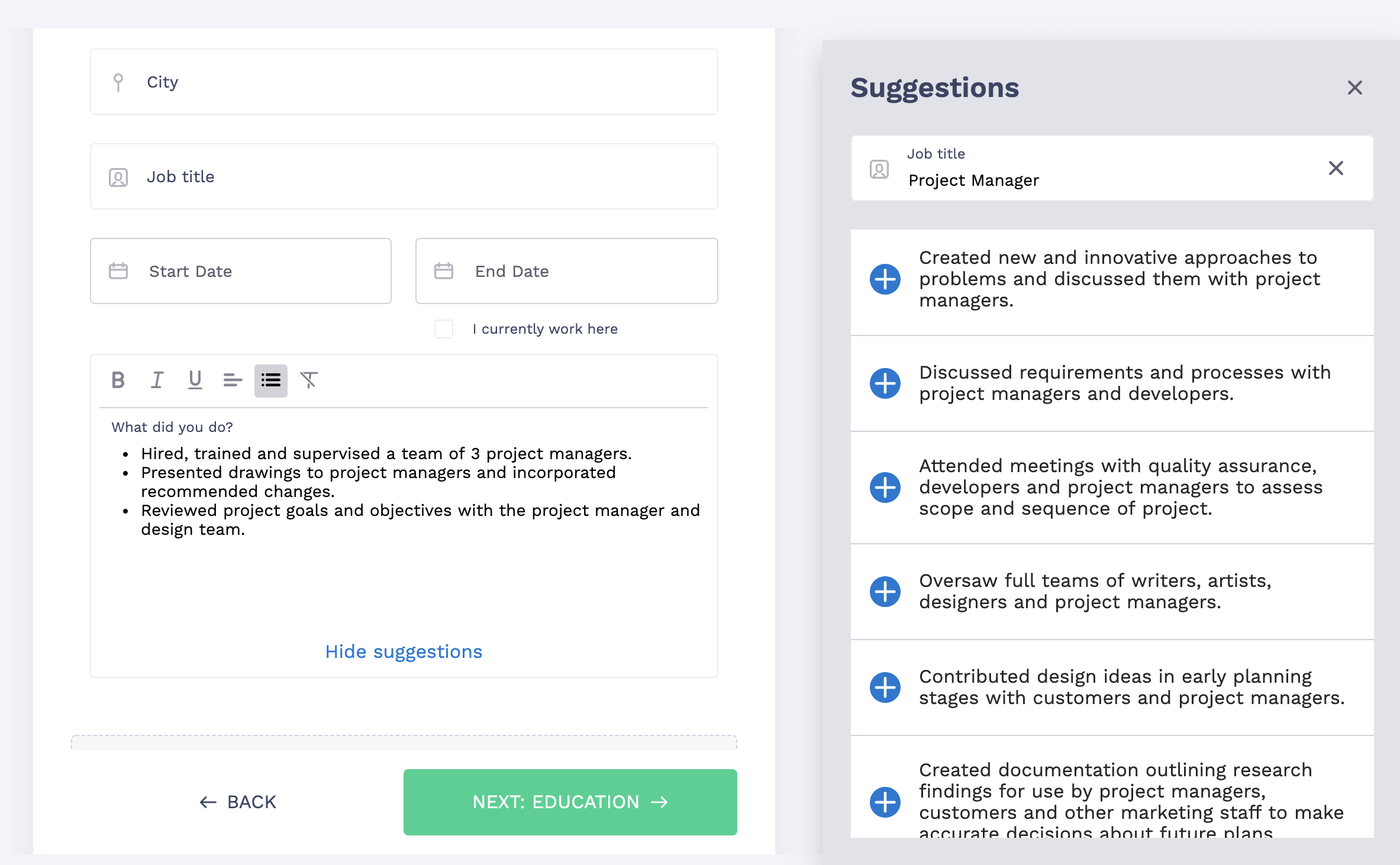 Nail it all with a splash of color, choose a clean font, highlight your skills in just a few clicks. You're the perfect candidate and we'll prove it. Use the ResumeLab builder now.
5. Create a Short Government Resume Skills List
Resume skills are important to include for any job, and that holds true for federal employment opportunities, as well.
First, let's look at some common skills—
Here are some skills which work great in any career path:
Top 15+ Federal Resume Skills for Government Jobs
Communication Skills
Interpersonal Skills
Attention to Detail & Perceptiveness
Creative Thinking & Conceptual Skills
Multitasking Abilities
Technical Expertise
Software (e.g., Microsoft Excel)
Administrative Skills
Organizational Skills
Confidentiality
Time Management & Efficiency
Management & Leadership
Project Management
Problem Solving Skills
Decision Making Skills
Teamwork & Collaboration
But—
An environmental protection specialist with the Bureau of Land Management will need different skills than a paralegal specialist in the Patent and Trademark Office.
That means you can't simply pick any skill you have and add it to your federal resume.
When you're looking at a job ad on USAJOBS.gov, scroll down to the "responsibilities" section. Here you'll find the exact traits and characteristics the hiring manager seeks in their ideal job candidate.
It's a government-sanctioned cheat sheet!
One final thing to remember—
The government gets thousands of resumes each day. To assist them with this massive workload, they'll use an ATS (Applicant Tracking System). Uploading your federal USAJOBS.gov is essentially being added straight into the federal ATS database.
The ATS helps an agency manager sort through the thousands of resumes by allowing them to search by resume keywords. The more keywords you have on your federal resume that match the job description, the better your chances at scoring an interview.
Expert Hint: There may be more keywords to add on a government resume. Some job ads have a "conditions of employment" section, where you may need to be registered for Selective Service, for example. If applicable, add that to your federal government resume template.
6. Turn Your Education Section Into a Reason to Hire You
Here's a breath of fresh air for you—
The education section of a government resume basically resembles one on any other resume.
However, because they want details, there are a few minor differences.
Here's a sample federal resume academic section:
Federal Job Resume Sample of Education Section
Here's how to add your educational history on a federal resume:
First, add the degree or major name on the first line.
Follow that with the college's or school's name, their city, and their state.
Next, add the date of course completion or the anticipated date of completion.
Identify your grade point average (GPA) on government resumes.
Include extras to further impress the agency manager or director. Great examples include practicum information, relevant classes, academic awards, or thesis topics.
Expert Hint: Usually, you wouldn't include high school on a resume, but federal resumes require your entire history. List high school below any higher education in reverse-chronological order.
7. Round Out Your Federal Resume With Relevant Additional Sections
Additional sections on a federal resume shouldn't be taken lightly.
Though optional, a strategic certificate or organizational membership could just be what puts you on top and lands you that interview.
So—
Here are a few great extra sections to add on a government resume, as well as common examples of each:
Certified Internal Auditor (CIA)
Certified Management Accountant (CMA)
SHRM-CP: SHRM Certified Professional
Microsoft Certified Solutions Associate (MCSA) – Windows Server
Certified Information Systems Security Pro (CISSP)
Project Management Professional (PMP) Certification
Association of Clinical Research Professionals – Certified Professional (ACRP-CP)
National Certified Addiction Counselor Level I (NCACI)
Oracle Application Express Developer Certification (Oracle APEX)
Professional Affiliations
American Institute of Aeronautics and Astronautics (AIAA)
Center for Association Leadership (ASAE)
National Information Officers Association (NIOA)
National Association of Government Web Professionals (NAGW)
National Association of Government Communicators (NAGC)
National Association of Government Contractors (NAGC)
Government Finance Officers Association (GFOA)
Association of Government Accountants (AGA)
National Association of Government Archives and Records Administrators (NAGARA
Foreign Language Proficiency
Western Punjabi (Lahnda): Native Proficiency
Vietnamese: Bilingual Proficiency
Egyptian Arabic: Professional Working Proficiency
German: Intermediate Proficiency
Portuguese: Basic Conversational Proficiency
Other great extras on a federal resume include: professional awards, research or academic publications, job-related training and courses, leadership activities, industry conferences, public speaking gigs, relevant projects, or a professional reference list.
Unlike a "normal" resume, leave related hobbies and interests off your government job application.
Expert Hint: Also unlike resumes for other jobs, a cover letter is optional for federal jobs. If you are able to submit a government cover letter along with your resume, it may help. However, USAJOBS.gov makes it hard to upload one.
Double your impact with a matching resume and cover letter combo. Use our cover letter builder and make your application documents pop out.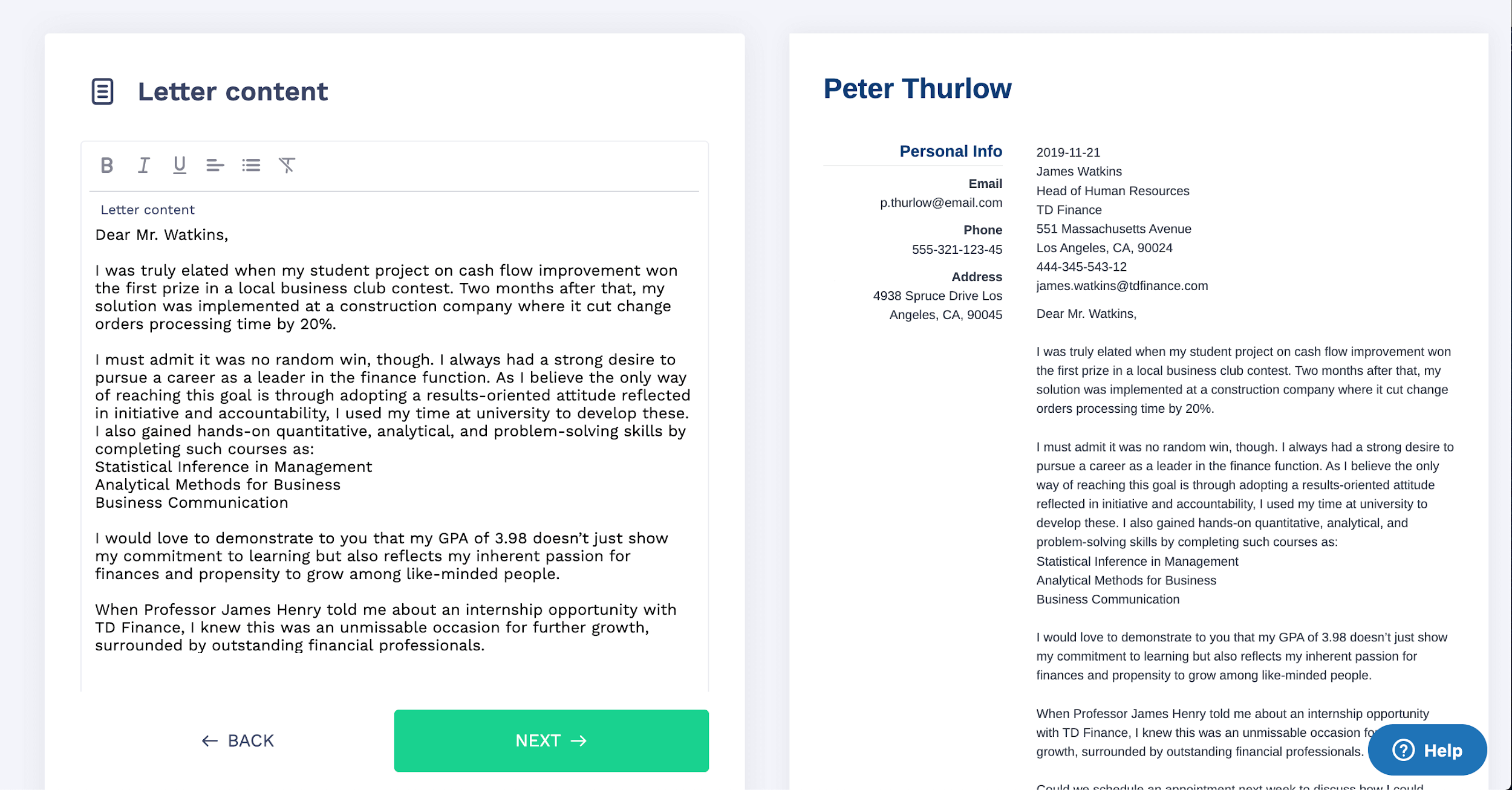 Want to try a different look? There's 18 more. A single click will give your document a total makeover. Pick a cover letter template here.
Key Points
Whether you create your own government resume or use the federal resume builder to upload it into the cloud, it'll still follow the same guidelines.
Let's sum it up—
Here's how to write a federal resume:
Format the government resume template before you begin writing.
Detail your contact information and personal details including citizenship, clearance level, and veteran's preference.
Write a short summary emphasizing the details of the job you're looking to obtain (job announcement number, job title, 4-digit series number, grade, and agency).
Document your entire work history from most recent down to your first job held.
Pick a few choice skills to highlight your readiness for this particular job.
List your educational history in reverse-chronological order.
Add a few extra sections to stand out, such as publications, certifications, awards, second languages, or professional associations.
Do you have any questions on federal government resume formatting? Need help detailing your public-sector or private-sector job accomplishments? Let's talk about it below in the comments, and thanks for reading!