Store Manager Resume—Examples and 25+ Writing Tips
It takes so much to be a good store manager—leadership, budgeting, P&L statements, teamwork, organization... Prove you've got it all in stock with this store manager resume sample.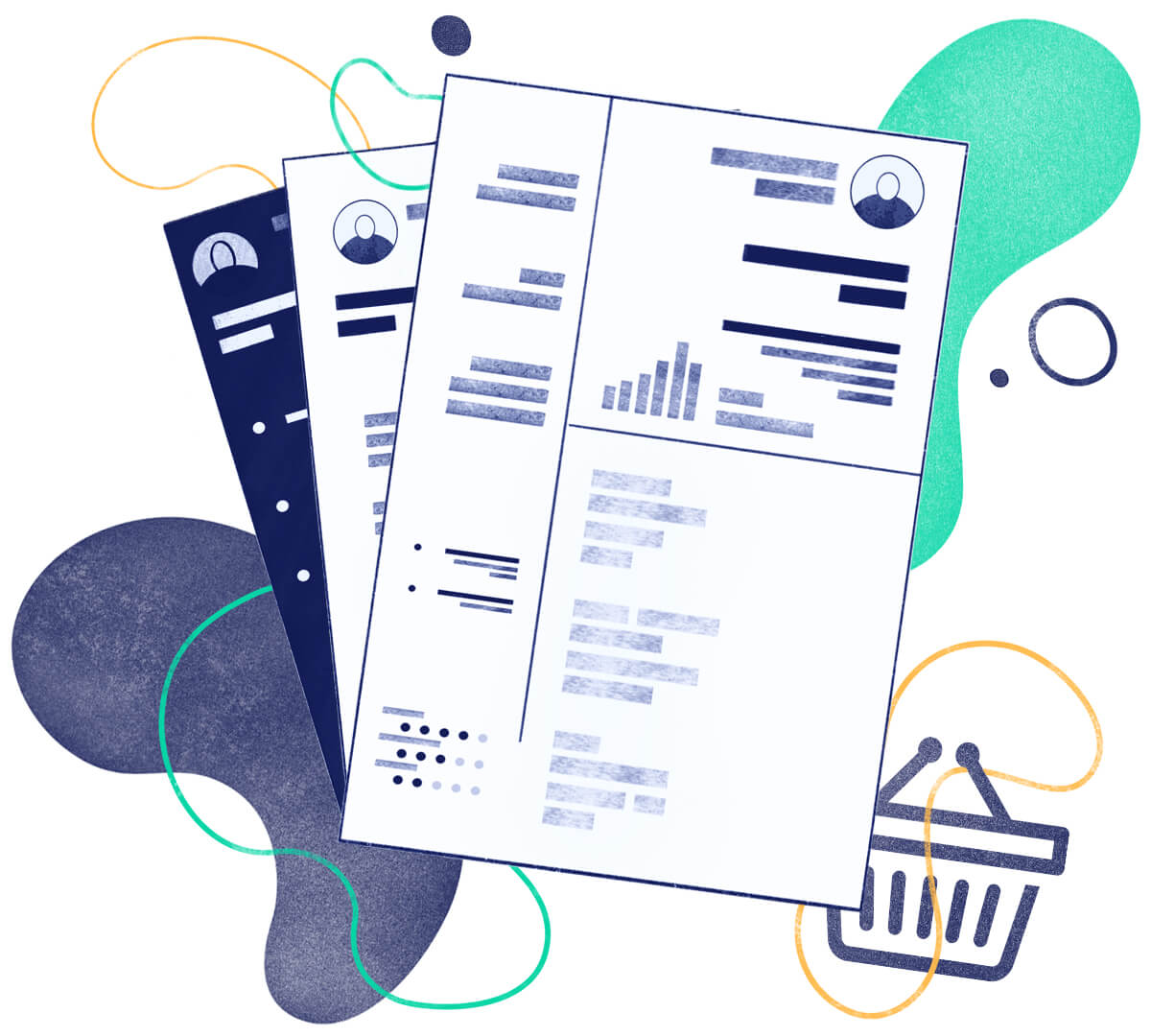 You're about to see a store manager resume sample that gets noticed.
Better, I'll help you make it yours.
But—
Being a store manager takes an incredible skill set.
You have to be a great leader, create budgets, train employees, hire, fire, and write P&L statements.
Plus you have to put up numbers that hit the moon.
Your resume for store manager jobs has to show you've done all that.
Don't worry.
In this guide:
A retail store manager resume sample better than most.
How to write a retail manager resume that shows your best merch.
How to customize your store manager job description for resumes.
Why you can't just list store manager skills (and what to do instead).
Save hours of work and get a resume like this. Pick a template, fill it in. Quick and easy. Choose from 18+ resume templates and download your resume now.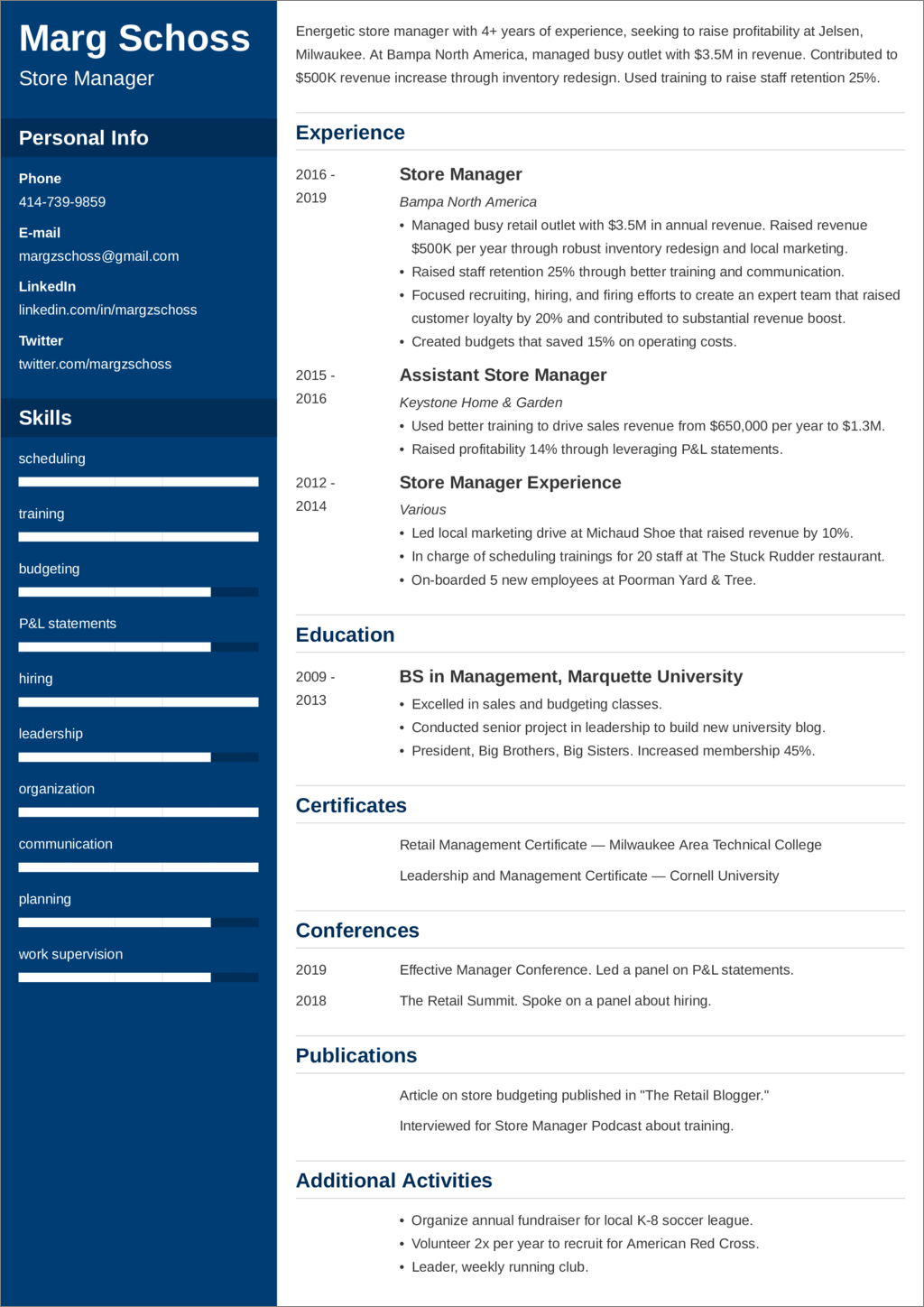 What users say about ResumeLab:
I had an interview yesterday and the first thing they said on the phone was: "Wow! I love your resume."
Patrick

I love the variety of templates. Good job guys, keep up the good work!
Dylan

My previous resume was really weak and I used to spend hours adjusting it in Word. Now, I can introduce any changes within minutes. Absolutely wonderful!
George
Store Manager Resume Sample You Can Copy and Use
Marg Schoss
Store Manager
Personal Info
Phone: 414-739-9859
E-mail: margzschoss@gmail.com
linkedin.com/in/margzschoss
twitter.com/margzschoss
Summary
Energetic store manager with 4+ years of experience, seeking to raise profitability at Jelsen, Milwaukee. At Bampa North America, managed busy outlet with $3.5M in revenue. Contributed to $500K revenue increase through inventory redesign. Used training to raise staff retention 25%.
Experience
Store Manager
Bampa North America
2016–2019
Managed busy retail outlet with $3.5M in annual revenue. Raised revenue $500K per year through robust inventory redesign and local marketing.
Raised staff retention 25% through better training and communication.
Focused recruiting, hiring, and firing efforts to create an expert team that raised customer loyalty by 20% and contributed to substantial revenue boost.
Created budgets that saved 15% on operating costs.
Assistant Store Manager
Keystone Home & Garden
2015–2016
Used better training to drive sales revenue from $650,000 per year to $1.3M.
Raised profitability 14% through leveraging P&L statements.
Store Manager Experience
Various
2012–2014
Led local marketing drive at Michaud Shoe that raised revenue by 10%.
In charge of scheduling trainings for 20 staff at The Stuck Rudder restaurant.
On-boarded 5 new employees at Poorman Yard & Tree.
Education
BS in Management, Marquette University
2009–2013
Excelled in sales and budgeting classes.
Conducted senior project in leadership to build new university blog.
President, Big Brothers, Big Sisters. Increased membership 45%.
Certifications
Retail Management Certificate — Milwaukee Area Technical College
Leadership and Management Certificate — Cornell University
Conferences
2019 — Effective Manager Conference. Led a panel on P&L statements.
2018 — The Retail Summit. Spoke on a panel about hiring.
Publications
Article on store budgeting published in "The Retail Blogger."
Interviewed for Store Manager Podcast about training.
Additional Activities
Organize annual fundraiser for local K-8 soccer league.
Volunteer 2x per year to recruit for American Red Cross.
Leader, weekly running club.
Hard Skills: Scheduling, training, budgeting, P&L statements, hiring
Soft Skills: Leadership, organization, communication, planning, work supervision
Looking for a different kind of retail managers resume? See our guides:
Assistant Manager Resume & Guide
Haven't found what you're looking for? Check all our resume examples for any job.
Not sure how to put manager on a resume? Are you getting into store management from a different career? See this guide: Resume for a Career Change
Here's how to write a store manager resume that sells:
1. Use a Professional Store Manager Resume Format
Heads up:
If you write a messy retail manager resume—
They'll think you run a messy store.
Solution: look your best with a crisply formatted resume.
The reverse-chronological resume format is best. It's like putting your best items in the aisle end-caps. Also, remember to:
Store Manager Resume Format
Expert Hint: There are 1.1 million stores in the US across all industries. To get into the best, your retail store manager resume needs to target the company's exact needs.
2. Write a Store Manager Resume Objective or Summary
Beware.
You have six seconds before they torch your store manager resume.
So—
Flag them down like a standee, with an eye-catching resume summary or resume objective.
That's just a few short sentences that show they should consider you.
Use:
An adjective (energetic, effective)
"store manager"
Years of experience (1+, 8+)
How/who you want to help (raise profitability at Jelsen, Milwaukee)
Best store manager moments (contributed to $500K revenue increase...)
Some key job skills (scheduling, training...)
Zap writer's block by saving it for last.
These retail store manager resume examples demonstrate:
Store Manager Resume Summary—Example
Look at that.
Both retail manager resume samples talk leadership and training skills. But—
The first adds $3.5M, $500K, 25%, and other tempting measures.
But what if you're making an entry-level resume for store managers?
See this assistant store manager resume sample:
Entry-Level Store Manager Resume Objective
Important:
They won't believe the second of those retail management resume examples. "Highly skilled in training" means nothing without evidence.
Expert Hint: The average Walmart store manager makes $175,000 a year. An internal retail manager resume should show you understand the manager job's requirements.
3. Craft Your Store Manager Job Description and Skills Section
It's depressing, but—
About 75% of retail manager resumes are never seen by a human being.
Why?
Hiring software. It looks for the right keywords. It deletes resumes without them.
To write a store manager job description for resumes:
Hunt for resume skills in the online job ad.
Save them as your resume keywords.
Show the bottom line effects you got by using them.
Do like the first of these retail store manager resume samples:
Imagine the job ad wants these store management skills: leadership, local marketing, training, recruiting, budgeting.
Store Manager Job Description for a Resume [Sample]
Yikes.
The second of those store manager resume examples fails to mention leadership, local marketing, training, recruiting, and budgets.
It also biffs the numbers like 22, $3.5M, and 25%.
Next—
Can you do this with an entry-level resume?
You bet you can.
Let's say the job ad wants these store manager skills: training, P&L statements, local marketing, on-boarding.
See this assistant retail manager resume example with no experience:
Entry-Level Store Manager Resume Job Description [Sample]
See that?
That first assistant retail manager resume example shows training, P&L, and other required skills.
To wreck it, pull out the numbers and resume keywords.
What store manager resume skills work? See this list:
Retail Management Skills for a Resume
| | |
| --- | --- |
| Hard Skills | Soft Skills |
| Budgeting | Leadership |
| Scheduling | Interpersonal Skills |
| Creating P&L Statements | Communication |
| Training | Empathy & Compassion |
| Recruiting, Hiring, Firing | Persuasion |
| On-Boarding | Teamwork |
| Inventory Management | Organization |
| Vendor Relationships | Analytical Thinking |
| CRM Software, POS Software | Critical Thinking |
| Accounting and Finance | Creativity |
Expert Hint: The pressure on store managers is huge. Do you do yoga or work out? That goes in an "extra" section in retail managers resumes. (More on that below.)
The ResumeLab builder is more than looks. Get specific content to boost your chances of getting the job. Add job descriptions, bullet points, and skills. Easy. Improve your resume in our resume builder now.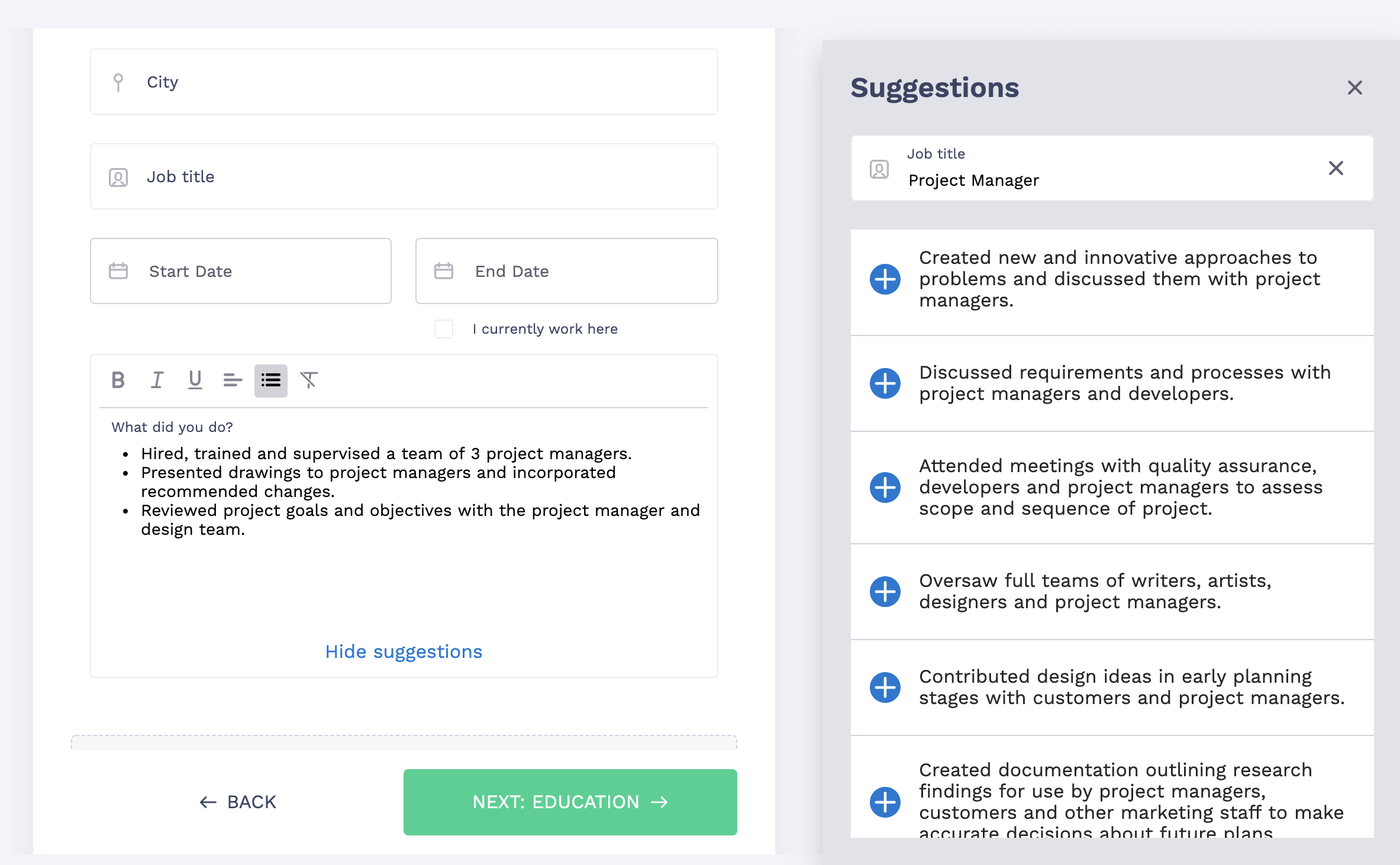 Nail it all with a splash of color, choose a clean font, highlight your skills in just a few clicks. You're the perfect candidate and we'll prove it. Use the ResumeLab builder now.
4. Show Competence With Education
Dan Akroyd said it best:
"I've worked in the private sector. They expect results."
Show results in every section of your retail manager resume.
Can't show a 4.0 in your education resume section? That's okay. List other achievements that demonstrate key skills.
This store manager resume sample shows how:
Store Manager Resume Example—Education
Bam.
You just proved budgeting and leadership in your education section.
5. Add "Bonus" Sections to Your Store Manager Resume
"We should interview her."
They won't say that just because of your work history.
Take every chance to add another reason to hire you.
Put "bonus" sections in your store manager resume like:
Conferences (especially if you volunteered or spoke)
Publications or media appearances
Certifications (Retail Management, etc.)
Groups
Freelancing work
Foreign languages
Additional activities
Hobbies
Fitness and self-care
This sample retail manager resume sells it:
Store Manager Resume—Extra Sections
Hey, nothing against curling. It's attention-getting in a retail manager resume.
But—
It's better to show "extras" that prove skills like retail management, budgeting, and leadership.
Expert Hint: Write a cover letter. Your store manager resume will thank you for it. It's true—a few hiring teams don't read them. But many executives demand them.
Double your impact with a matching resume and cover letter combo. Use our cover letter builder and make your application documents pop out.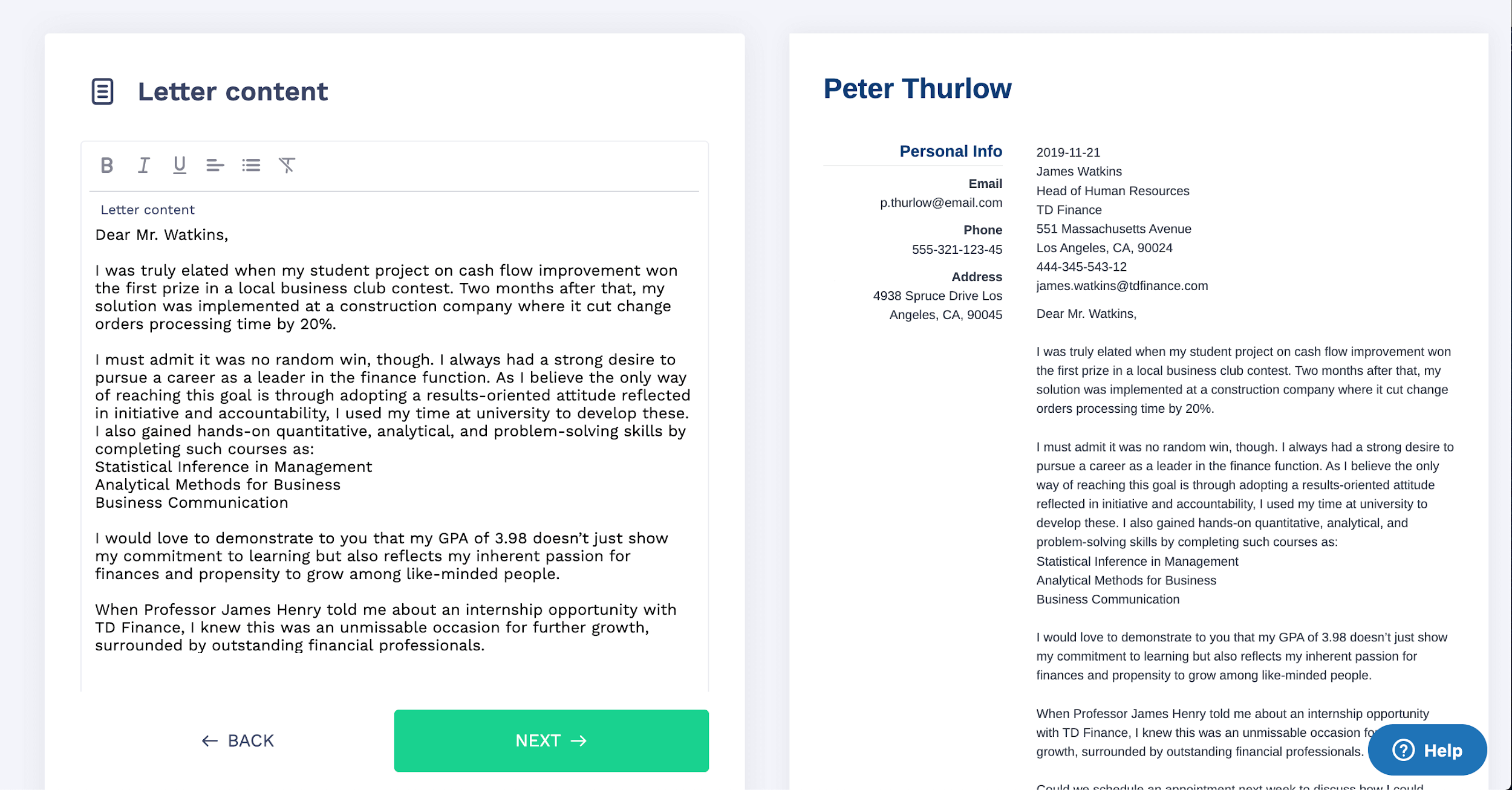 Want to try a different look? There's 18 more. A single click will give your document a total makeover. Pick a cover letter template here.
Key Points
Here's how to write a store manager resume:
Use the retail resume template up top. Stock it with key skills from the job ad online.
Don't just list retail manager resume skills. P&L statements or budgeting are nice. But show you used them and got bottom line results.
Your education section can't just show your school and GPA. Put in skills like scheduling or training.
Add "bonus" resume sections that show retail management accomplishments.
Got questions on how to write great resumes for store manager jobs? Not sure how to put store manager on a resume? Leave a comment. We'll be happy to reply!