Entry Level Resume Examples, Template & Tips for Beginners
How to write a first job resume, or an entry-level resume, especially when other candidates have experience? This guide shows you.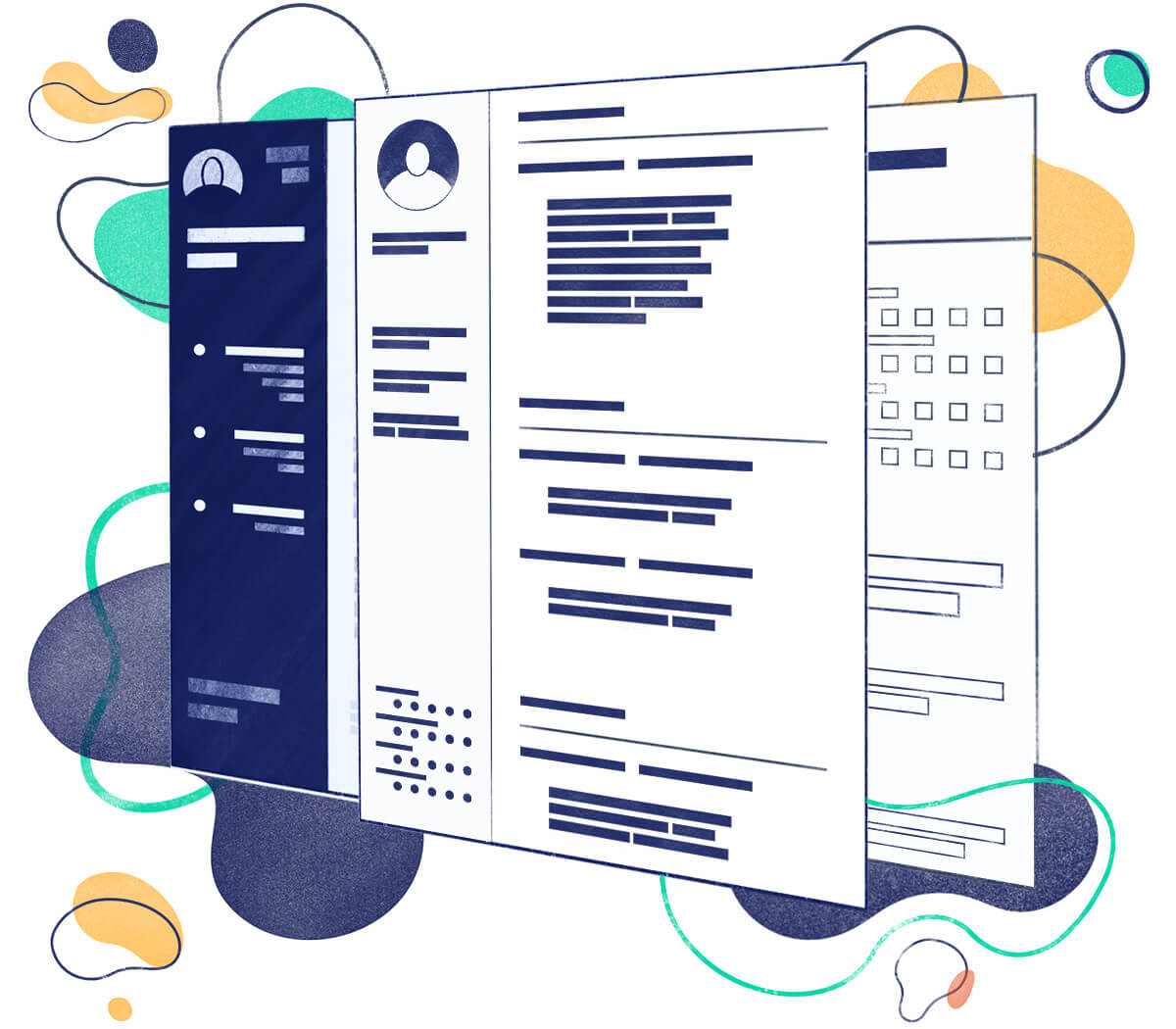 Whether a first job resume, an entry-level resume, or a resume for a first job in this particular field, one thing is certain:
You don't have experience relevant to this position.
Making matters worse, you're up against 249 other candidates.
But, let me ease your mind.
All 250 of you are new. It's their first time applying to this job, as well.
To gain the upper hand, you have to write an entry-level resume that grabs the hiring manager's attention.
Here's how—
In this resume guide, you'll see:
How to make a resume with little experience that outshines others with experience.
What education and skills to put on entry-level resumes to let you shine.
Dozens of great resume samples to help you get those entry-level jobs.
Tips and advice on how to create a resume objective that sells you to them.
Save hours of work and get a resume like this. Pick a template, fill it in. Quick and easy. Choose from 18+ resume templates and download your resume now.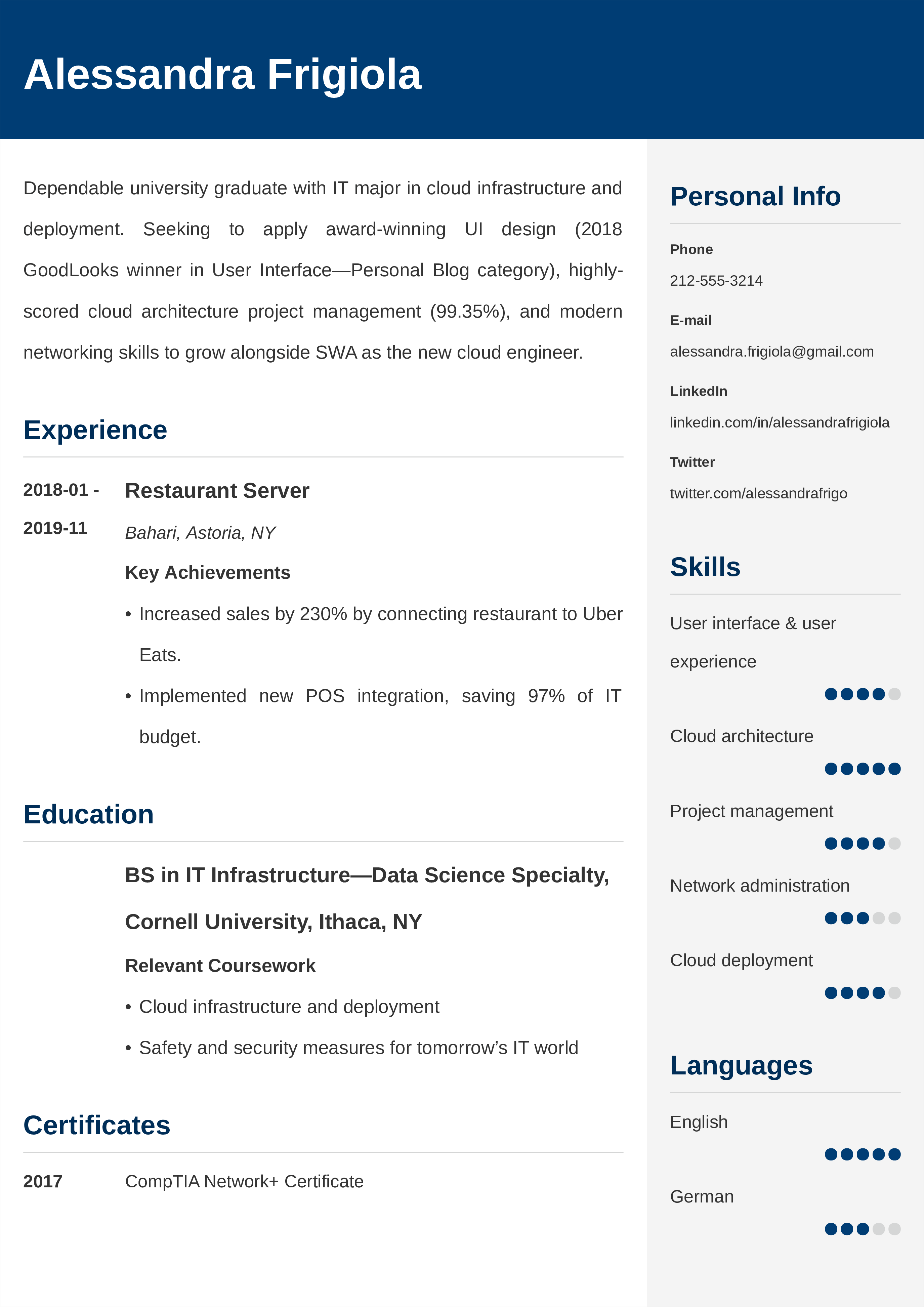 What users say about ResumeLab:
I had an interview yesterday and the first thing they said on the phone was: "Wow! I love your resume."
Patrick

I love the variety of templates. Good job guys, keep up the good work!
Dylan

My previous resume was really weak and I used to spend hours adjusting it in Word. Now, I can introduce any changes within minutes. Absolutely wonderful!
George
First up, here's a sample resume for a candidate without relevant work history:
Entry-Level Resume Example
Alessandra Frigiola
212-555-3214 • alessandra.frigiola@gmail.com • linkedin.com/in/alessandrafrigiola • twitter.com/alessandrafrigo
Objective Statement
Dependable university graduate with IT major in cloud infrastructure and deployment. Seeking to apply award-winning UI design (2018 GoodLooks winner in User Interface—Personal Blog category), highly-scored cloud architecture project management (99.35%), and modern networking skills to grow alongside SWA as the new cloud engineer.
Education
BS in IT Infrastructure—Data Science Specialty
Cornell University, Ithaca, NY
Relevant Coursework
Cloud infrastructure and deployment
Safety and security measures for tomorrow's IT world
Work Experience
Restaurant Server
Bahari, Astoria, NY
January 2017–December 2018
Key Achievements
Increased sales by 230% by connecting restaurant to Uber Eats.
Implemented new POS integration, saving 97% of IT budget.
Skills
User interface & user experience
Cloud architecture
Project management
Network administration
Cloud deployment
Certifications
2017 CompTIA Network+ Certificate
Languages
English—Native Proficiency
German—Intermediate Conversational
Looking for resume examples for students and fresh grads? Have a look at our selection:
Haven't found what you're looking for? Check all our resume examples for over 200 jobs.
1. Choose the Best Entry-Level Resume Format
With your level of experience, it's not your work history that'll catch their attention.
So what will?
For starters, knowing how to format a resume for entry-level jobs:
Stay reverse-chronological. Whether it's in your work experience or your education section, list your most recent entry first, and go back from there.
Order each section strategically. The most relevant items should be the closest to the top always.
Use a professional design. Choose the best resume font, use standard margins and line spacing, and keep white space to improve scannability.
Stick to a one-column template. This makes it easy for the recruiters (and any machine software, like the ATS) to scan and find exactly what they're looking for. If (for some strange reason) you need more real estate, a two-column template is fine.
Use bold subheadings with a larger font size than the regular text. This will differentiate each resume section and make the document easier to follow.
Expert Hint: Want to make sure that your entry-level resume renders correctly on the hiring manager's computer like it does on your own? Save the resume as a PDF. The PDF keeps all your formatting and fonts intact.
2. Write a Compelling Entry-Level Resume Objective Statement
According to an eye-tracking study by TheLadders, employers give your resume a mere 7-second glance.
That hurts.
So, you've got to make that time count.
How?
Put a powerful resume objective on top of your resume.
Also known as a resume profile, this is a brief paragraph of text explaining (1) what skills you have, and (2) how you want to develop at a given company
How to write an objective for a resume without experience?
Let's look at two resume objective examples for an entry-level IT role:
Entry-Level Resume Objective—Samples
Why is that second resume objective sample so bad? Too many adjectives and too much focus on you.
What makes the other one so good?
It follows all the best resume objective practices.
The ideal entry-level resume objective is:
About them, not you. Sure, it's your objective, but the employer needs to see that you have their best interests in mind.
Written to prove your worth. Everyone says they're [adjective] and [adjective], but that doesn't tell the hiring manager how well you'll perform. Use numbers to quantify and back up how great you are.
Tailored to the job ad. The bad example could be sent out to anyone, while the good one is personalized and specifically mentions the company by name.
Packed with the skills you bring. Even if it's an entry-level role or a first-time job, you still can find transferable skills from college, personal projects, etc. We'll cover this more shortly.
Free from tired phrasing. That first example is just jargon-vomit.
3. Highlight Your Hireability in the Entry-Level Resume Education Section
Lack of relevant past employment can make or break your resume.
But it doesn't have to—if you switch tactics.
Always start your resume with your greatest strength. If that means your education, go with that!
Move the education section above the experience section and highlight your greatest educational wins.
When writing your entry-level resume education section:
Start from your most recent schooling, and go backward from there.
Add your high school if you have an incomplete college degree.
Leave your high school off of your resume if you've finished university.
Additionally, you will get a leg up on your competitors by listing any honors, minors, extracurricular activities, and relevant coursework as an education subsection. We go into detail in our resume education guide.
So, how to put education on an entry-level resume?
Look at this sample:
Entry-Level Resume Example—Education
BS in IT Infrastructure—Data Science Specialty
Cornell University, Ithaca, NY
4. Expand Your Entry-Level Resume with Some Experience That's Relevant
So, some of you might be writing a resume with no job experience, which means you can skip this part, right?
Technically, yes. You could just move on to other resume areas.
But—
I strongly suggest you get some experience.
I don't mean getting a first-first job before your first job, but rather doing some freelance gigs or volunteer work.
Looking to become a graphic designer? Find some one-off design gigs on Upwork—it'll look great on your resume for first jobs and/or professional portfolio.
Alternatively—
Highlight relevant skills or achievements from unrelated job. Let's say you are an IT student who worked part-time as a waiter:
Entry-Level Resume Example—Work Experience
Restaurant Server
Bahari, Astoria, NY
January 2017–December 2018
Key Achievements
Increased sales by 230% by connecting restaurant to Uber Eats.
Implemented new POS integration, saving 97% of IT budget.
We skipped the common "job responsibilities" subsection, but we highlighted tech-centric resume achievements. Also, start each achievement and job duty entry with a power verb.
You may have waited tables, but handling that installation of the new POS, as well as integrating them with Uber Eats—super relevant on the entry-level IT resume!
Expert Hint: Don't add too many skills to your resume. You don't want to get thought of as the "jack of all trades, master of none." Add no more than 10.
Find out more: Resume Work Experience Section: Job Descriptions that Wow
The ResumeLab builder is more than looks. Get specific content to boost your chances of getting the job. Add job descriptions, bullet points, and skills. Easy. Improve your resume in our resume builder now.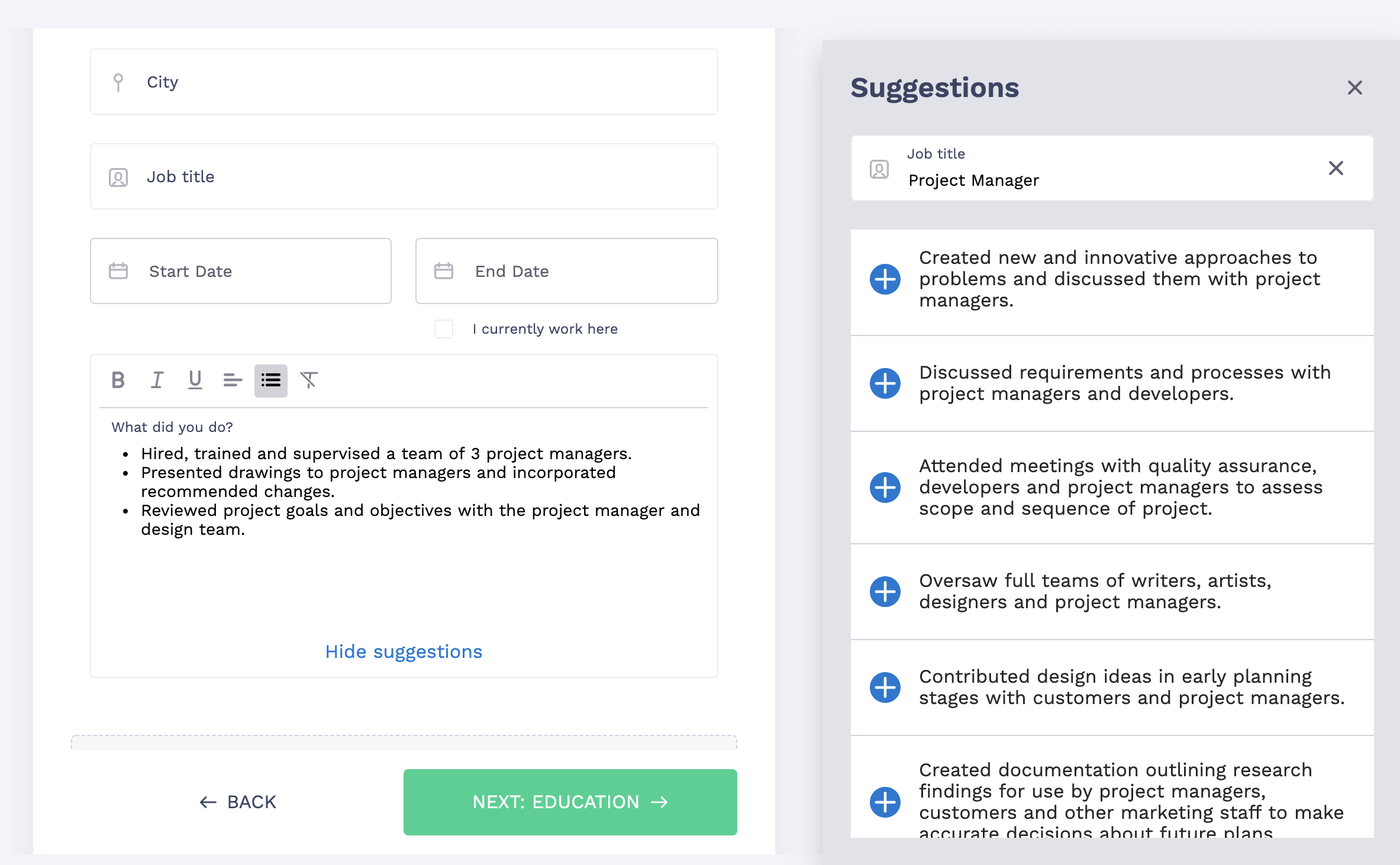 Nail it all with a splash of color, choose a clean font, highlight your skills in just a few clicks. You're the perfect candidate and we'll prove it. Use the ResumeLab builder now.
5. Add a Relevant Skills Section to Your Entry-Level Resume
There used to be a time when everyone and their mother put they're skilled in Microsoft Word.
(Some people still do.)
Don't get me wrong, this is a great skill to have.
But—
It's irrelevant to 99% of jobs.
What are relevant skills to put on a resume?
Take a look at that job description again.
Find the area that says "Qualifications" or "Requirements"—THESE are the things they're looking for on your entry-level resume.
And include them in your resume, because—
Remember that ATS thing? This software scans your resume in search of resume keywords. Key words often mean key skills.
So, when finding skills to list on resumes:
Add the skills they're looking for (in the job ad).
Skip skills that aren't relevant (like Photoshop if you're looking to be a sous chef).
Sprinkle in some hard and soft skills that are relevant to the industry.
6. Stand Out With Additional Entry-Level Resume Sections
Since you have a first-time resume, you'll be hard-pressed to fill out even one page.
Treat it as an unintentional gift.
You have room to make the case for your candidacy in other, less traditional ways:
Add extra resume sections.
Here are the best resume parts to include to make your entry-level resume exceptional:
Entry-Level Resume Example—Extra Sections
When you have very little relevant work experience, add any volunteer work in a separate section. When you have no experience at all, add your volunteer work within your main work history section.
Languages
Can you speak French or Spanish? Add it to your entry-level resume and describe your linguistic proficiency. Fluency in a second language can make all the difference to a hiring manager.
Certifications & Awards
Certificates can make up for what's lacking in your experience section. Looking to be an IT consultant? That CompTIA Network+ certificate you've earned will come in handy. An award for the best apple pie at the state fair will likewise look great on a restaurant resume.
At first glance, who cares, right? But adding hobbies and interests can subtly show aptitude and certain skills. For example, team sports emphasize teamwork, while coaching team sports help show managerial skills.
Expert Hint: One resume addition you should leave off always is that "References Available Upon Request" line. Because, they know, you know? This is always implied.
7. Amp up Your Entry-Level Resume with a Great Cover Letter
A cover letter is a must alongside your entry-level resume.
Why?
First, it is your secret power to convince the recruiter you're worth hiring even without relevant jobs under your belt.
Second, almost half of all employers will simply reject your first job resume if a cover letter doesn't come with it.
Lubomir Tomaska of Comenius University in Bratislava puts it like this:
"Think of your cover letter as… a cork that represents an entry to the contents of a wine bottle. Just as a cracked or rotten cork will discourage a user from pouring the contents of the bottle into a glass…, an uninspiring cover letter might prevent the recruiter from reading the full application and assessing your suitability for the position."
We won't go into how to write a cover letter here, but check out our guide on writing a cover letter with no experience before you send one with your resume.
Also, check out our best cover letter tips to adjust it to perfection!
Expert Hint: The importance of a cover letter can't be ignored. But remember, a cover letter is not supposed to repeat your resume. It should complement your entry-level resume by adding additional details and explaining your motivation to work at a given company.
Double your impact with a matching resume and cover letter combo. Use our cover letter builder and make your application documents pop out.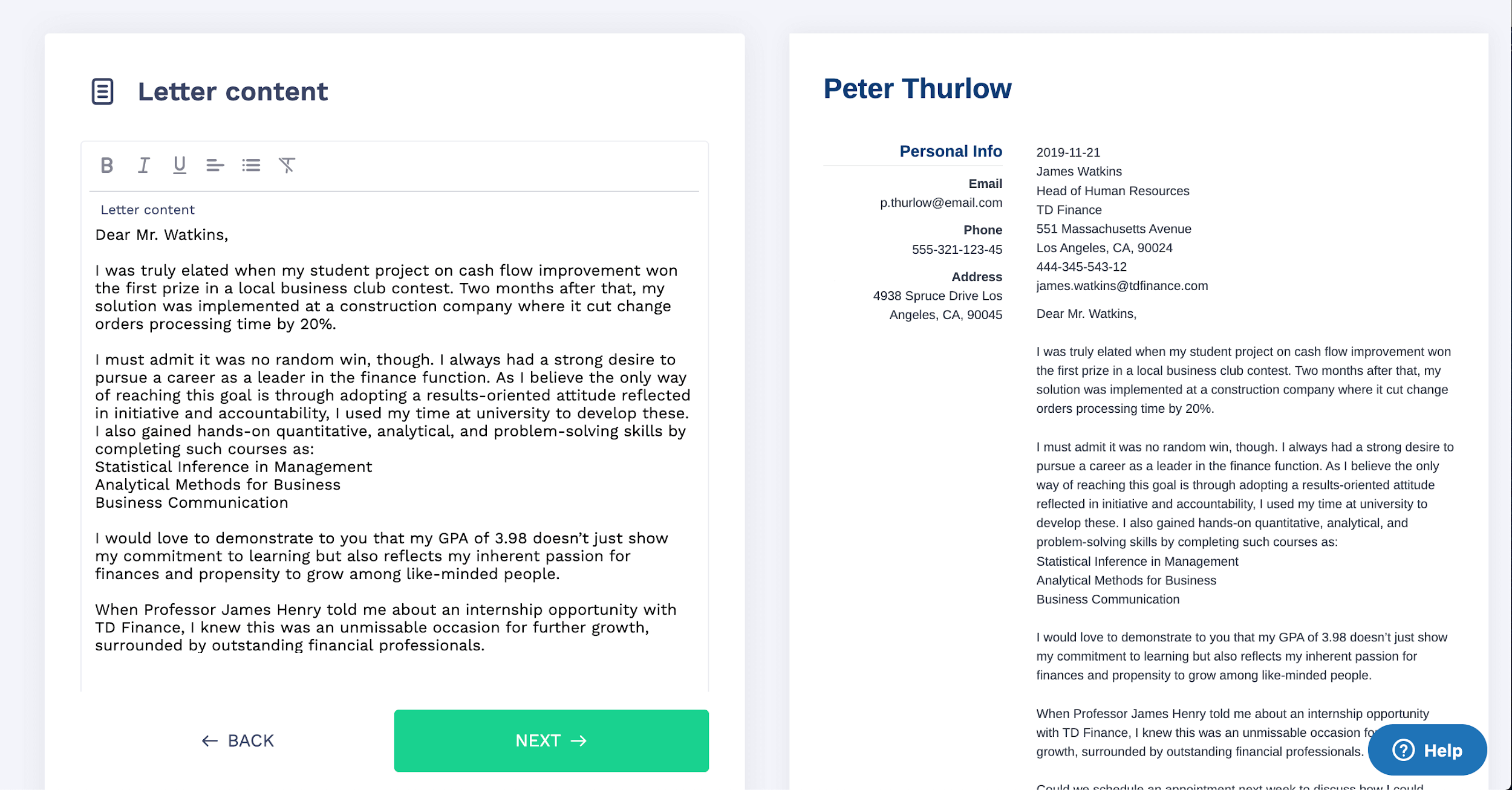 Want to try a different look? There's 18 more. A single click will give your document a total makeover. Pick a cover letter template here.
Key Points
Use the reverse-chronological format on your first-time resume.
For an effective entry-level resume, write a compelling resume objective.
Upgrade your resume by describing your education first.
Use the job ad to add relevant keywords to your entry-level skills section.
Make your resume more unique by including additional resume sections.
ALWAYS include an entry-level cover letter with your resume. This guide on how to write a cover letter as a recent graduate is a good place to start.
Have any questions on how to make a resume for first jobs or an entry-level resume? Let's chat about it here in the comments below, and thanks for reading!