Dentist Resume—Examples and 25+ Writing Tips
You know your way around a bridge and you can hear someone say "worcestershire" through a mouthful of knuckles. Prove it to the clinic with this professional dentist resume sample.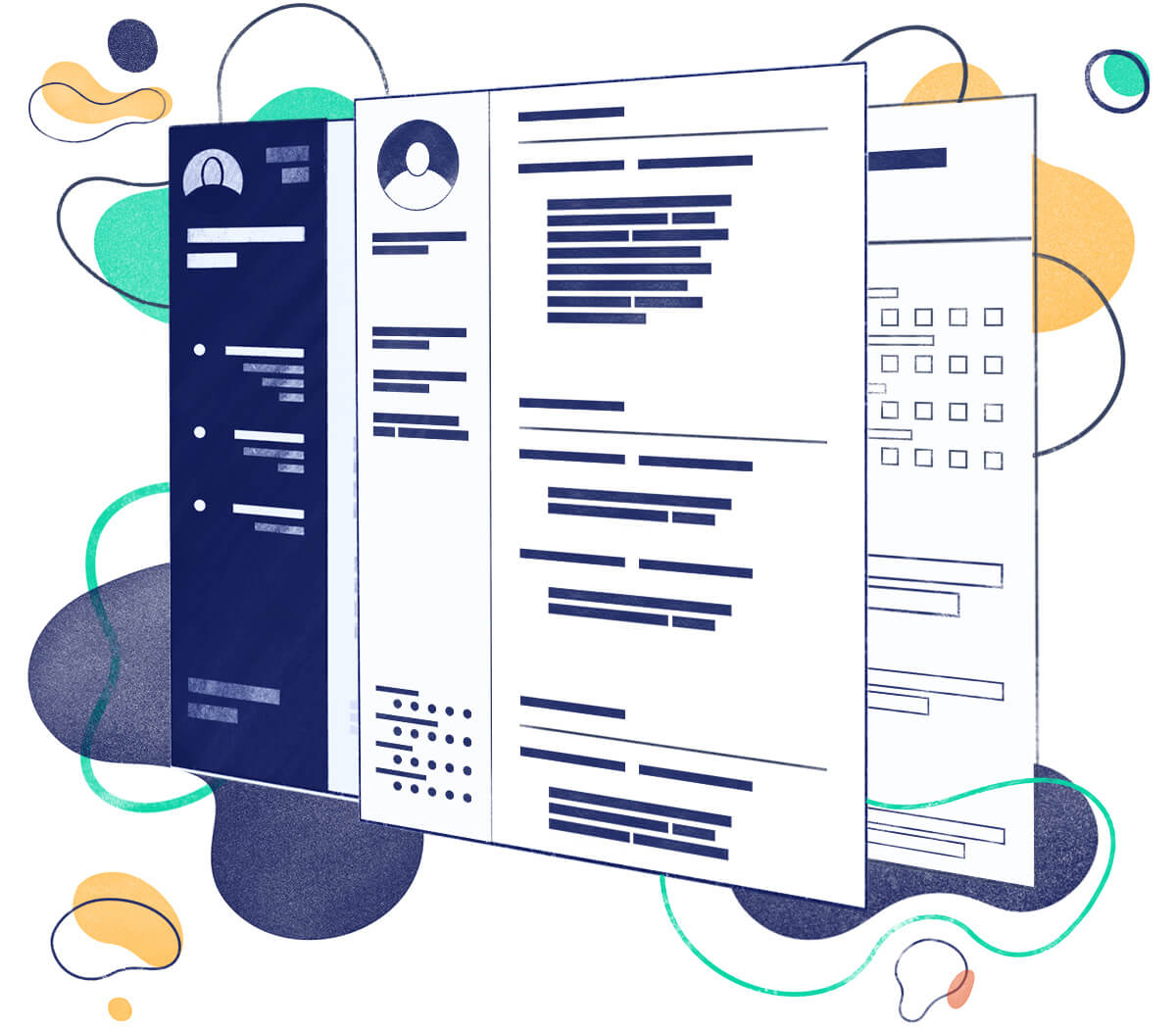 In a minute, you'll see a gleaming dentist resume sample. But first—
They say dentist jobs are tough.
The secret?
All jobs are tough. Most are tougher than dentistry.
But writing a resume for dentist jobs shouldn't be as hard as drilling jawbones.
You just need to show your track record fits the clinic like an endosteal implant.
In this guide:
A dentist resume sample better than most.
How to write a dentist resume that shines.
How to insert your dentist job description for resumes into the position.
Why you can't just list dentist skills (and what to do instead).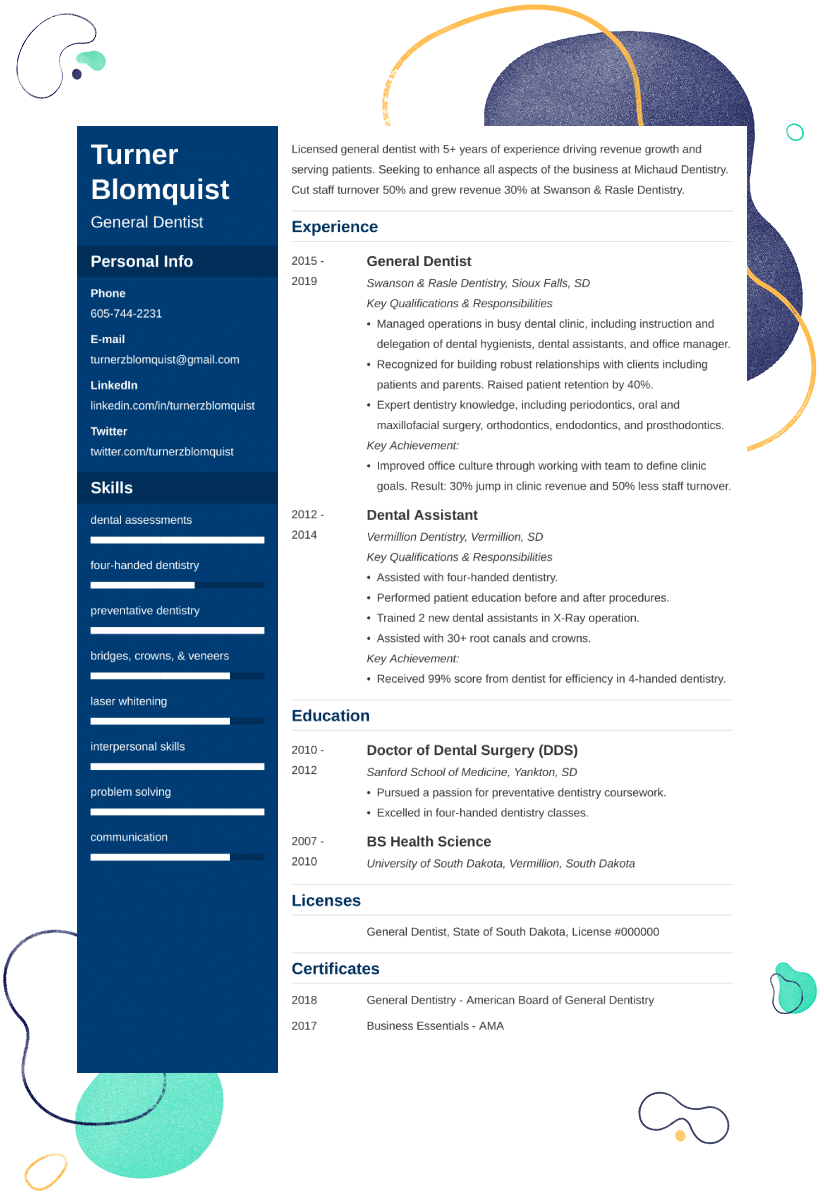 Create a job-winning resume with little effort. Hack your way through ATS software with our 18 beautiful templates—give our builder a try!

Create my resume now
Are you more of a dental or medical assistant? See our guides:
Haven't found what you're looking for? Check all our Resume Examples.
Dentist Resume Sample You Can Copy and Use
Turner Blomquist
General Dentist
Personal Info
Phone: 605-744-2231
Email: turnerzblomquist@gmail.com
linkedin.com/in/turnerzblomquist
twitter.com/turnerzblomquist
Summary
Licensed general dentist with 5+ years of experience driving revenue growth and serving patients. Seeking to enhance all aspects of the business at Michaud Dentistry. Cut staff turnover 50% and grew revenue 30% at Swanson & Rasle Dentistry.
Experience
General Dentist
Swanson & Rasle Dentistry, Sioux Falls, SD
2014–2019
Key Qualifications & Responsibilities
Managed operations in busy dental clinic, including instruction and delegation of dental hygienists, dental assistants, and office manager.
Recognized for building robust relationships with clients including patients and parents. Raised patient retention by 40%.
Expert dentistry knowledge, including periodontics, oral and maxillofacial surgery, orthodontics, endodontics, and prosthodontics.
Key Achievement:
Improved office culture through working with team to define clinic goals. Result: 30% jump in clinic revenue and 50% less staff turnover.
Dental Assistant
Vermillion Dentistry, Vermillion, SD
2012–2014
Key Qualifications & Responsibilities
Assisted with four-handed dentistry.
Performed patient education before and after procedures.
Trained 2 new dental assistants in X-Ray operation.
Assisted with 30+ root canals and crowns.
Key Achievement:
Received 99% score from dentist for efficiency in 4-handed dentistry.
Education
Doctor of Dental Surgery (DDS)
Sanford School of Medicine, Yankton, SD
2010–2012
Pursued a passion for preventative dentistry coursework.
Excelled in four-handed dentistry classes.
BS Health Science
University of South Dakota, Vermillion, South Dakota
2007–2010
License
General Dentist, State of South Dakota, License #000000
Certifications
2018 - General Dentistry - American Board of General Dentistry
2017 - Business Essentials - AMA
Hard Skills: Dental assessments, four-handed dentistry, preventative dentistry, bridges, crowns, & veneers, laser whitening
Soft Skills: Interpersonal skills, problem solving, communication
Here's how to write a dentist resume that gets calls:
1. Choose the Best Dentist Resume Format
Your resume format is the enamel on your job search.
Without it, everything falls apart.
Use the reverse-chronological resume format to tell your story.
Complete it with these tips:
Dentist Resume Format
Create 1-inch margins.
Use one resume font like 10–12pt Arial or Garamond.
Make these resume sections: Heading, Summary, History, Education, and Skills.
Leave room between sections to avoid crowding.
Your resume length should be 1–2 pages, depending on experience.
Send them a PDF resume. Those look sharp on multiple devices.
Expert Hint: According to ADA data, dentists are among the most trusted professionals on Earth. If you've got a track record of gaining patient trust, show proof in your general dentist resume.
2. Insert a Dentist Resume Summary or Objective
What's worse than convincing patients X-Rays won't kill them?
Applying to dental clinics and hearing silence.
To get traction, start your resume for dentist jobs with a winning career summary or career objective.
Include:
An adjective (business-minded, efficient)
"Licensed dentist" (or "general dentist" if that's the title in the job ad)
Years of experience (3+, 9+)
How/who you'll help (enhance all aspects of the business at Michaud Dentistry)
Best dentist moments (grew revenue 30%...), i.e. an achievement to show off on your resume.
Write your summary last to make it easier.
See these general dentist resume examples:
Dentist Resume Summary—Example
Hmm.
The second of those dentist resume samples says you'll grow revenue. The first adds proof.
"Wait—I can't show numbers like that!"
No worries. A resume for dentists with no experience can still work wonders.
See this entry-level resume for dentists:
Entry-Level Dentist Resume Objective
Those entry-level dentist resume examples are like a before-and-after photo.
The second claims root canals and training. The first shows you've cut your teeth.
Expert Hint: A study by BMC shows 62% of dentists have musculoskeletal problems like back pain, wrist, shoulder, or elbow pain. If you do yoga or other self-care to stay fit, show it in an "additional activities" section in your resume for dentist positions.
3. Make a Fitting Dentist Job Description and Skills Section
In dental surgery, "close enough" won't cut it.
It's the same with dentist skills on a resume.
Here's a quick list:
Dentist Skills for Resumes
| | | |
| --- | --- | --- |
| Hard Skills | Soft Skills | Dental Specialties |
| Bridges, Crowns, Veneers | Interpersonal Skills | Maxillofacial Surgery |
| Preventative Dentistry | Communication | Periodontics |
| Dental Assessments | Collaboration | Prosthodontics |
| X-Ray Operation | Attention to Detail | Endodontics |
| Laser Whitening | Time Management | Pediatric Dentistry |
| Smile Makeovers | Dexterity | Oral Radiology |
| Four-Handed Dentistry | Stress Management | Orthodontics |
| Fluoride Treatments | Analytical Thinking | Oral Surgery |
| Sleep Apnea | Problem Solving | Dental Hygiene |
| Braces | Accountability | Cosmetic Dentistry |
Danger—
Your dream job might not care about most of those.
It'll require you to include specific skills in your resume work experience section.
Take the surgical approach and find resume keywords in the dentist job ad.
Then customize your resume.
See these general dentist resume samples:
The job wants these dentist job requirements: management, relationship building, periodontics, maxillofacial surgery, and prosthodontics.
Dentist Job Description for a Resume [Sample]
Wow.
The first of those dentist resume examples is like a LightScalpel. It touches all the right spots.
New to the game?
In an entry-level resume, extract your best career moments.
See these associate dentist resume examples with no experience:
They target a job needing four-handed dentistry, patient education, training, and root canals.
Entry-Level Dentist Resume Job Description [Sample]
Expert Tip: A study in JAMA revealed that dentists have a higher hepatitis risk than many other healthcare professionals. Show biohazard or infectious disease trainings in your dentist resume if you've got them.
4. Polish up Your Education Section
That DDS or DMD did not come easy.
So don't hide it on your resume for dentist jobs.
But—
Your resume's education section is a great way to list skills.
This general dentist resume sample shows how:
Dentist Resume Example—Education
Did you head up a student group or get a fellowship? Those can make dental clinic owners notice you.
5. Add More to Your Dentist Resume
We're almost there.
Your dentist resume just needs a finishing touch. With additional resume categories.
List your license and certifications below your education.
Then if there's room, graft on some interview bait.
You can add:
See these dentist resume examples:
Dentist Resume—Extra Sections
That first dentist resume sample has it all. Even the BSA volunteering shows relationship-building and community involvement.
Expert Hint: Write a cover letter for your resume for dentist jobs. Don't talk about yourself. Talk about the business and what you'll do for it. Then give proof you can.
Key Points
Here's how to write a dentist resume:
Start with our dentist resume template. Add gold moments from your dentistry career.
List dentist skills like oral surgery or laser whitening. Show your bottom-line results.
Write a dentistry resume summary up top. Like a smile, it gets employers to want more.
Add "bonus" sections to show you know pulp from prophylaxis.
Got questions on how to write great resumes for dentist jobs? Not sure how to put dentist on a resume? Leave a comment. We'll be happy to reply!