Photographer Resume—Examples and 25+ Writing Tips
You're a sniper, and you leave the "spray and pray" for the amateurs. Like a darkroom, it's time to develop your photog resume so it's ready for employers to view and gush over.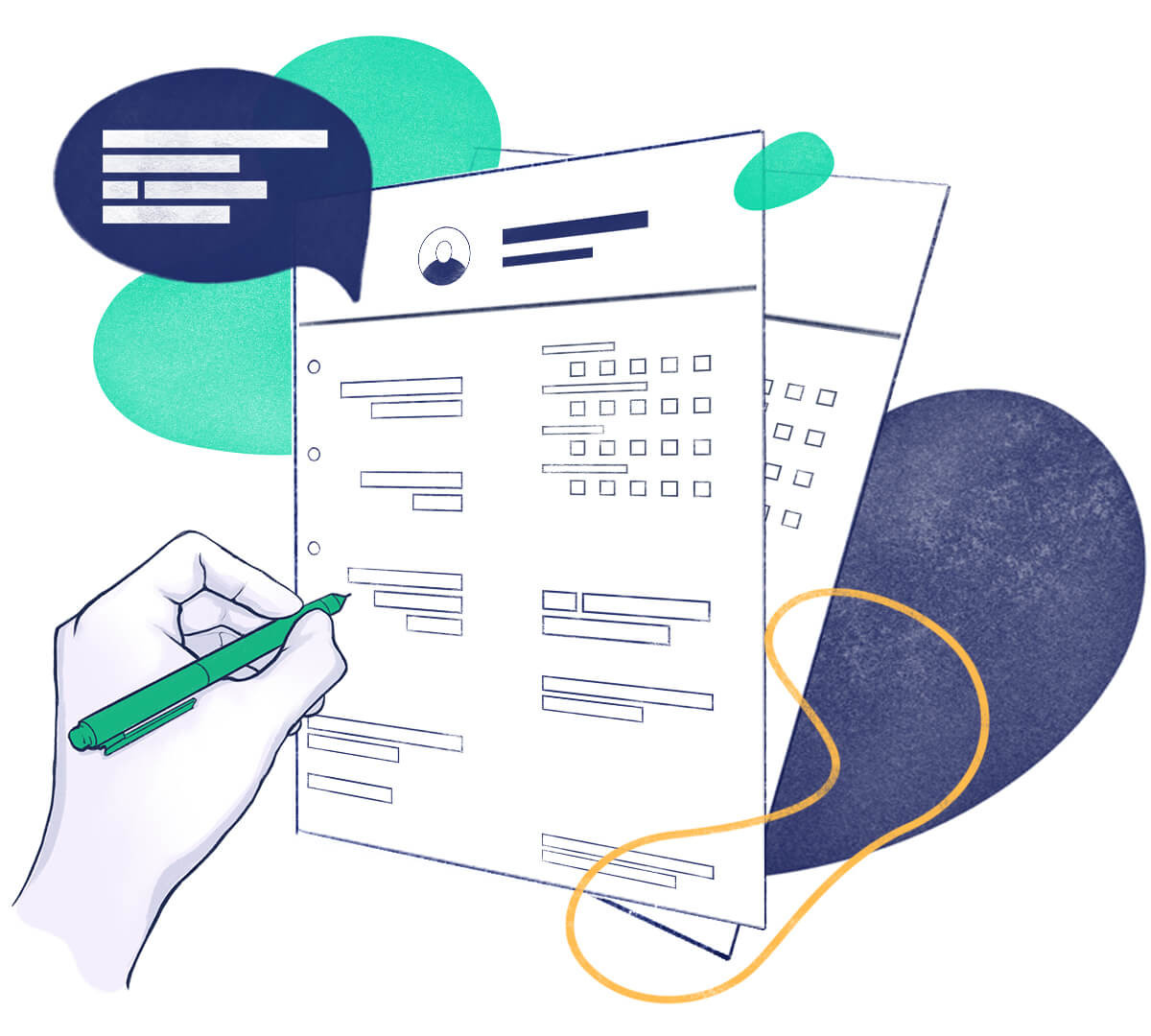 Whether they're cityscapes, composites, photojournalism, or abstract shots, you're no average shutterbug.
You're a professional photographer with the skills to back it up.
But—
Unlike bokeh effects, you don't want to be twinkling in the background.
You need to be the image they focus on, upfront and center, with the perfect photographer resume they'll see.
Not a problem.
In this guide:
The best professional photographer resume examples to get photography jobs.
How to customize a resume to the photographer job description.
How to write resumes for photography that score creative job interviews.
Expert tips and examples to better your chances of landing photography jobs.
Save hours of work and get a resume like this. Pick a template, fill it in. Quick and easy. Choose from 18+ resume templates and download your resume now.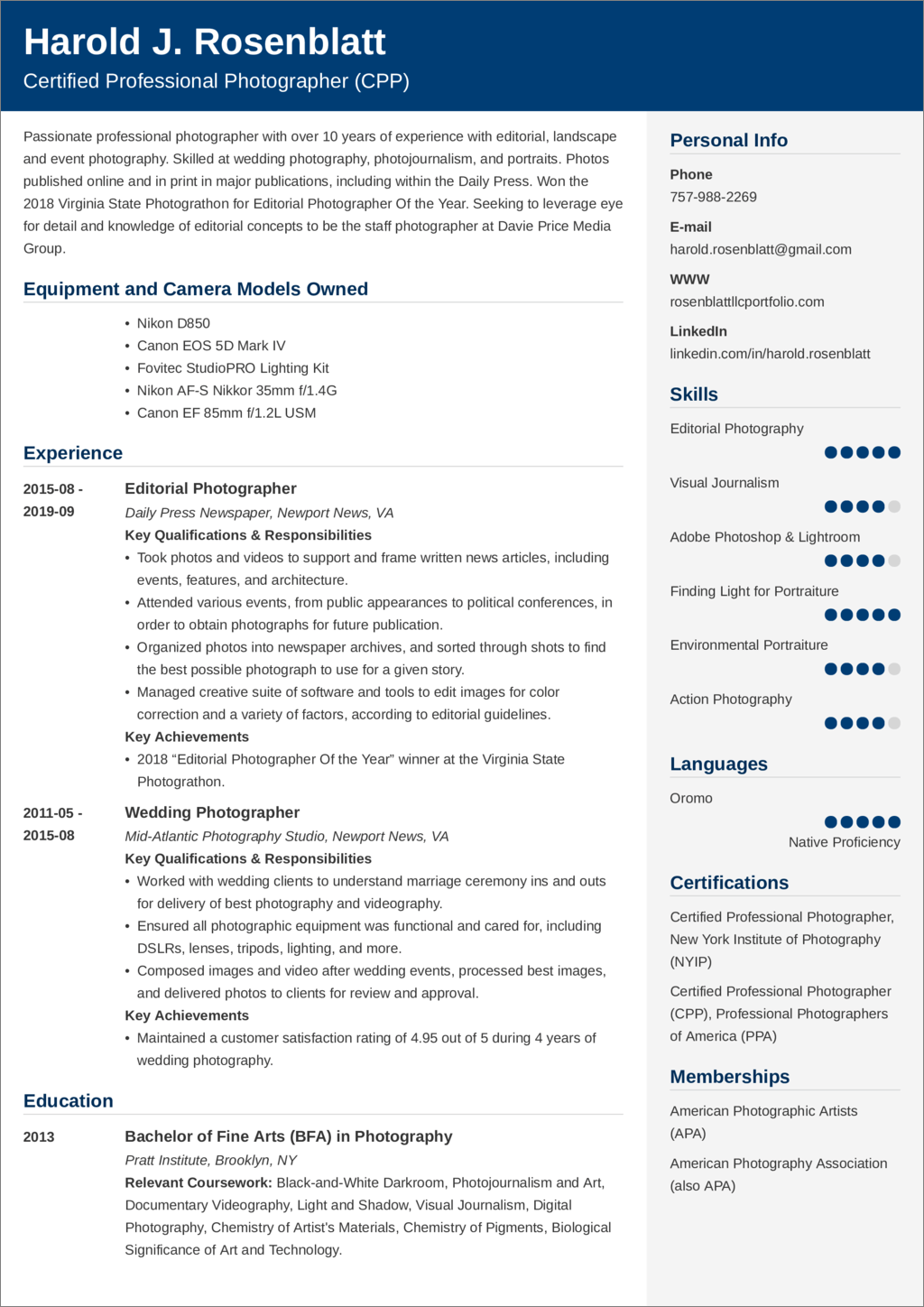 What users say about ResumeLab:
I had an interview yesterday and the first thing they said on the phone was: "Wow! I love your resume."
Patrick

I love the variety of templates. Good job guys, keep up the good work!
Dylan

My previous resume was really weak and I used to spend hours adjusting it in Word. Now, I can introduce any changes within minutes. Absolutely wonderful!
George
Photographer Resume Example
Harold J. Rosenblatt
Certified Professional Photographer (CPP)
harold.rosenblatt@gmail.com
757-988-2269
linkedin.com/in/harold.rosenblatt
rosenblattllcportfolio.com
Summary of Qualifications
Passionate professional photographer with over 10 years of experience with editorial, landscape and event photography. Skilled at wedding photography, photojournalism, and portraits. Photos published online and in print in major publications, including within the Daily Press. Won the 2018 Virginia State Photograthon for Editorial Photographer Of the Year. Seeking to leverage eye for detail and knowledge of editorial concepts to be the staff photographer at Davie Price Media Group.
Equipment & Camera Models Owned
Nikon D850
Canon EOS 5D Mark IV
Fovitec StudioPRO Lighting Kit
Nikon AF-S Nikkor 35mm f/1.4G
Canon EF 85mm f/1.2L USM
Work Experience
Editorial Photographer
August 2015–September 2019
Daily Press Newspaper, Newport News, VA
Key Qualifications & Responsibilities
Took photos and videos to support and frame written news articles, including events, features, and architecture.
Attended various events, from public appearances to political conferences, in order to obtain photographs for future publication.
Organized photos into newspaper archives, and sorted through shots to find the best possible photograph to use for a given story.
Managed creative suite of software and tools to edit images for color correction and a variety of factors, according to editorial guidelines.
Key Achievements
2018 "Editorial Photographer Of the Year" winner at the Virginia State Photograthon.
Wedding Photographer
May 2011–August 2015
Mid-Atlantic Photography Studio, Newport News, VA
Key Qualifications & Responsibilities
Worked with wedding clients to understand marriage ceremony ins and outs for delivery of best photography and videography.
Ensured all photographic equipment was functional and cared for, including DSLRs, lenses, tripods, lighting, and more.
Composed images and video after wedding events, processed best images, and delivered photos to clients for review and approval.
Key Achievements
Maintained a customer satisfaction rating of 4.95 out of 5 during 4 years of wedding photography.
Education
Bachelor of Fine Arts (BFA) in Photography
Pratt Institute, Brooklyn, NY
Graduation: 2013
Relevant Coursework: Black-and-White Darkroom, Photojournalism and Art, Documentary Videography, Light and Shadow, Visual Journalism, Digital Photography, Chemistry of Artist's Materials, Chemistry of Pigments, Biological Significance of Art and Technology.
Key Skills
Editorial Photography
Visual Journalism
Adobe Photoshop & Lightroom
Finding Light for Portraiture
Environmental Portraiture
Action Photography
Certifications
Certified Professional Photographer, New York Institute of Photography (NYIP)
Certified Professional Photographer (CPP), Professional Photographers of America (PPA)
Memberships
American Photographic Artists (APA)
American Photography Association (also APA)
Languages
Oromo: Native Proficiency
Seeking other creative resume examples for professions related to photography? Try these:
Haven't found what you're looking for? Check all our resume examples for any job.
Now—
Here's how to write a photographer resume that's picture perfect:
1. Format the Photographer Resume Template
Some shots capture a tense moment, like a photojournalist framing a Molotov cocktail midair over a crowds' political protest.
Other times (think modeling photo shoots), it takes time to set up for the perfect picture.
Treat your resume like a photoshoot—
If you don't format a resume right, your interview chances are as dead as the subjects of memento mori photography.
So—
Here's how to format a photographer resume template perfectly:
List your most recent or current employment and education first, then go backward from there—this is called the reverse-chronological layout.
Pick a stylish resume font which is still easy for any reader to view.
Leave a 1-inch border around all 4 edges of your resume for photography jobs.
Only include relevant parts of a resume; if it doesn't add value or increase your chances of a photography interview, leave it off.
Use a strong and clean visual format. Avoid dense blocks of text. Triple check spelling and grammar. Doing these things will make it easier for recruiters and hiring managers to read your resume and remember you when it counts.
Expert Hint: In the address on a resume, within your contact details, be sure to provide a link to your photography portfolio. Oh, and fix it up. Interviewers and agency directors will want to see your best work, and any unfinished website or photo albums will turn them off.
2. Start with a Photographer Resume Objective or Summary
Like Lightroom's loupe function, employers peer closely at photography resumes' opening statements (also known as profile summary).
These brief paragraphs, known as either a summary or objective, give them a quick introduction to you as a candidate.
It needs to catch their attention—
If you don't interest them here, they'll discard your resume as if it were an image my father took (every photo he shot had his finger in the frame; it became a sort of extended family member).
But which intro paragraph to pick?
If you have years of pro photography expertise, go with the summary paragraph.
The resume summary intrigues them to consider you further by introducing you to them and talking up your photography experience and shot-taking skills. To add the cherry on top, it gives a numbered accomplishment for verification of your photography talents.
Here's how to write a creative photographer resume summary:
Photographer Resume Example—Summary Statement
Can you notice what separates the good example from the bad one?
First, the "bad" freelance photographer resume sample is generic, while the "good" one is a targeted resume tailored specifically for one job and company.
Going further, the "good" example gives numbers (in this case, the year of their photography award). In the "bad" example, there's no way for the studio director to determine just how skilled the candidate is as a photographer.
But—
What about when writing a photography resume with no experience?
When you've no experience as a professional photographer, such as on a freelance photography resume, go with the objective paragraph.
The photography resume objective statement impresses them with your freelance work, or it shows them you have the skills to be a great photographer from other work you've done. It also talks up your career plans and goals as a professional photographer.
Finally, it gives them a quantifiable achievement to prove your value, as well.
Here's how to write an objective statement on a resume for photographer jobs:
Entry-Level Photography Resume Objective Example
Just like with our last resume examples, this second one is as outdated as the daguerreotype process—
No employer wants a generic resume heading, but all want some form of numbers attached to a particular photography win.
The first example, however, is fully developed and ready for them to view.
Expert Hint: Do you send a photography resume with a photograph? In the United States, it is not suggested for you to add a photo onto a resume unless you're a model or actor. There's really no reason the employer needs to see you with a resume photograph, and they probably can find you online anyway.
3. Write a Great Photographer Job Description and Photography Skills Sections
The work history section is where you influence the employer to hire you based on your past employment.
Don't drone on with a list of photographer duties you performed.
Instead—
Here's how to describe past experience on a resume for photographers:
Use reverse-chronological ordering, listing your most recent or current job at the top.
Include your job title, the time you worked there, the company's name, and their location.
Be descriptive in your photography job description, referring to the responsibilities from the job ad to ensure they're a match (these are resume keywords).
Include numbers where appropriate to quantify past responsibilities and convince them how skilled you are as a photographer.
Here are two photography resume examples of great job descriptions:
Photography Job Description for Resume Examples
See these?
In the second photographer job description resume section, it's just a dull list of past duties.
The first photographer resume sample, though, gives plenty of details, uses keywords based on the job description, and adds quantifiable accomplishments
High contrast, indeed.
After that—
A resume skills section.
Think about photography job openings as the smallest aperture you can find—f/2000. And, like any narrow aperture, it means it captures a wide field.
According to the report by the US Office of Occupational Statistics and Employment Projection, between 2016 and 2026, there will be a 6% decline, or 8,300 jobs less. Those 8,300 jobless photographers mean much more competition for the remaining photography jobs.
So, prove to them you're the best cameraperson they can possibly find with a curated list of the most in-demand skills for photographers.
Here is a list of sample photography skills resume section inclusions:
25+ Top Photographer Skills for a Resume
Photography Organizational Tools (e.g., Adobe Lightroom)
Photography Nondestructive Editing Tools (e.g., Adobe Photoshop)
Photo Editing & Touch Ups
Digital Photography
Analog Photography
File Types (e.g., RAW, JPEG, PNG, TIFF)
Wedding Photography
Communication Skills
Photojournalism
Action & Sports Photography
Drone Operation
Abstract Photography
Nighttime / Low Light Photography
Black and White Photography
Composite Photography
Food Photography
Portrait Photography
Time-Lapse Photography
Creativity Skills
Attention to Detail
Nature Photography
Gimp
Canva
Fashion Photography
Topaz Studio
Long Exposure Photography
But hold up a sec.
Don't put a list of 25 photographer skills on a resume (5 or 6 tops). Don't even put these particular skills we've listed above.
Instead—
Refer back to the photographer job description. Find the skills this photography studio or marketing department wants from their job responsibilities.
If you have a skill that matches something from the ad, that's what you should list in a photographer resume skills section.
Expert Hint: You know how important the right file format is. As such, save photographer resumes you send out in the PDF format. The employer may have a hard time reading a Microsoft Word resume, depending on their device and browser, but a PDF resume looks right anywhere.
The name of your resume file matters! If you use a file name such as "resume" or "new_resume" you won't stand out and your file can be difficult to sort. It can also give the impression that you don't really care about the job enough to pay attention to details. Instead of a generic file name, use a format such as: "firstname_lastname_resume.PDF" to make it easier for an employer to find your documents.
The ResumeLab builder is more than looks. Get specific content to boost your chances of getting the job. Add job descriptions, bullet points, and skills. Easy. Improve your resume in our resume builder now.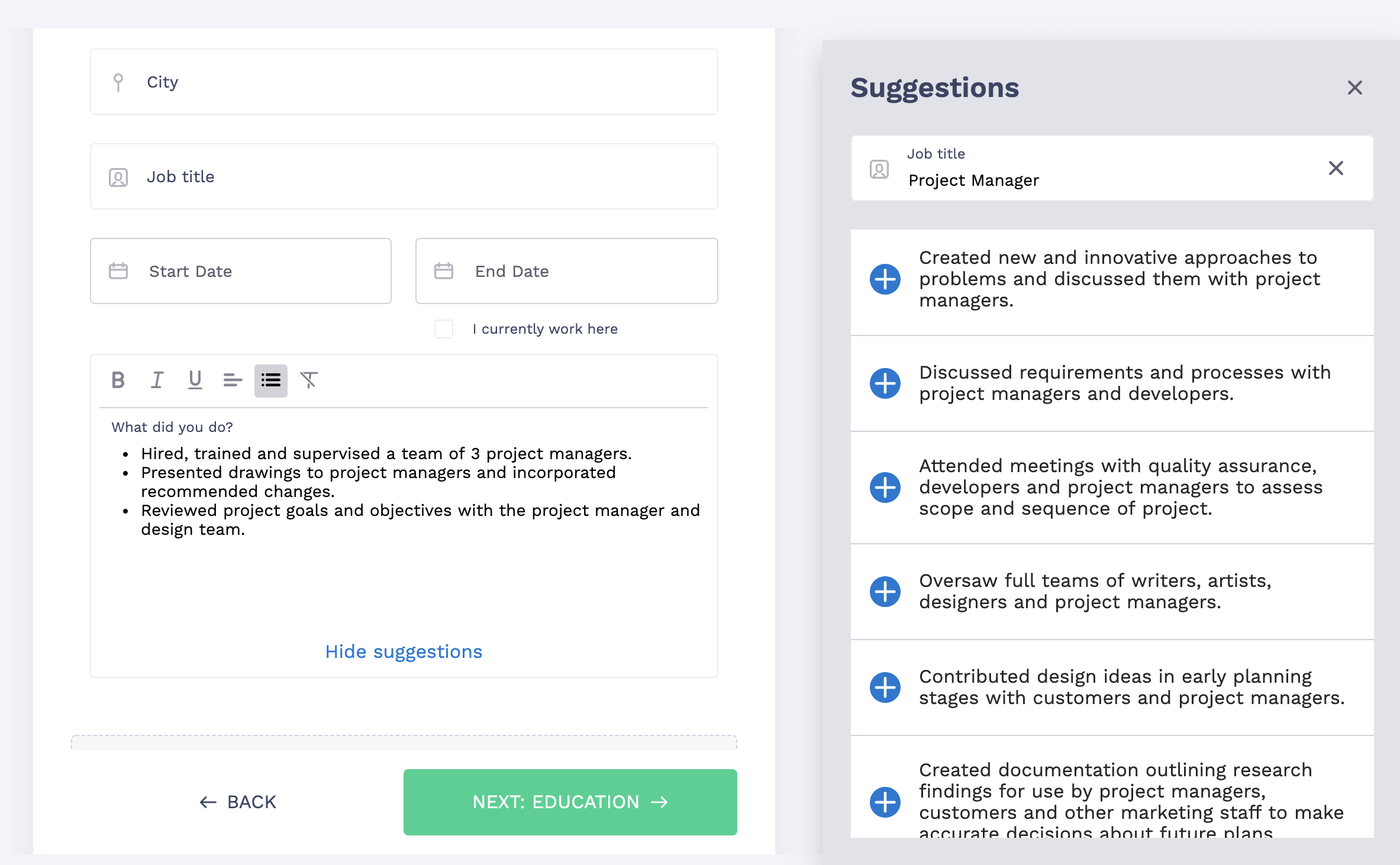 Nail it all with a splash of color, choose a clean font, highlight your skills in just a few clicks. You're the perfect candidate and we'll prove it. Use the ResumeLab builder now.
4. Turn the Photographer's Education Section Into the Reason You're Hired
There's no trade requirement which says a photographer needs a minimum education to get hired.
However, employers still want to see education on a resume with your academic accomplishments in focus and its format cropped to perfection.
Here's a photography resume sample of a top education section:
Photographer Resume Example of Education Section
Here's how to make your own just like it:
Start with listing your degree or certificate title at the top.
Add the design school or university's name, its city and state, and the year in which you completed the course.
Include a list of relevant classes to show the photography studio or digital marketing team you're well rounded.
Next, add any academic extras you may have, such as awards or extracurricular activities.
Expert Hint: If you've completed a degree at a college, whether it's a photography degree or otherwise, leave high school off.
5. Add Some Special Effects to a Photography Resume
Employers have a large depth of field when it comes to the amount of photography resumes to go through.
Want to gain the longest exposure when it comes to considering you for an interview?
Include more than just the core sections we've talked about.
Below are some of the best additional sections to add to any photography resume template for it to sparkle and shine:
Certified Professional Photographer (CPP)
CPD iPhotography Course Certification
Certificate in Digital Photography
Photography Organizations & Associations
National Press Photographers Association (NPPA)
American Society of Media Professionals (ASMP)
Professional Photographers of America (PPA)
Fashion Blogging
Instagramming
Interior Design
Equipment & Professional Camera Makes & Models
Canon EOS 5D Mark IV
Nikon D750
Panasonic S1R
Sony A9 Mirrorless Camera
Fujifilm X-A5
Olympus E-M10 III
Fancierstudio Chromakey Lighting Kit
LimoStudio Continuous Lighting Kit
Canon 70 - 200mm f/2.8L IS II USM
Nikon 85mm f/1.4G
Knowledge of a Second Language
Oromo: Native Proficiency
Thai: Professional Working Proficiency
Icelandic: Intermediate Proficiency
Spanish: Basic Conversational Proficiency
Expert Hint: Know what pairs well with a photographer resume? A great photography cover letter. Always include a cover letter, because most creative heads and photography studio employers prefer it.
Double your impact with a matching resume and cover letter combo. Use our cover letter builder and make your application documents pop out.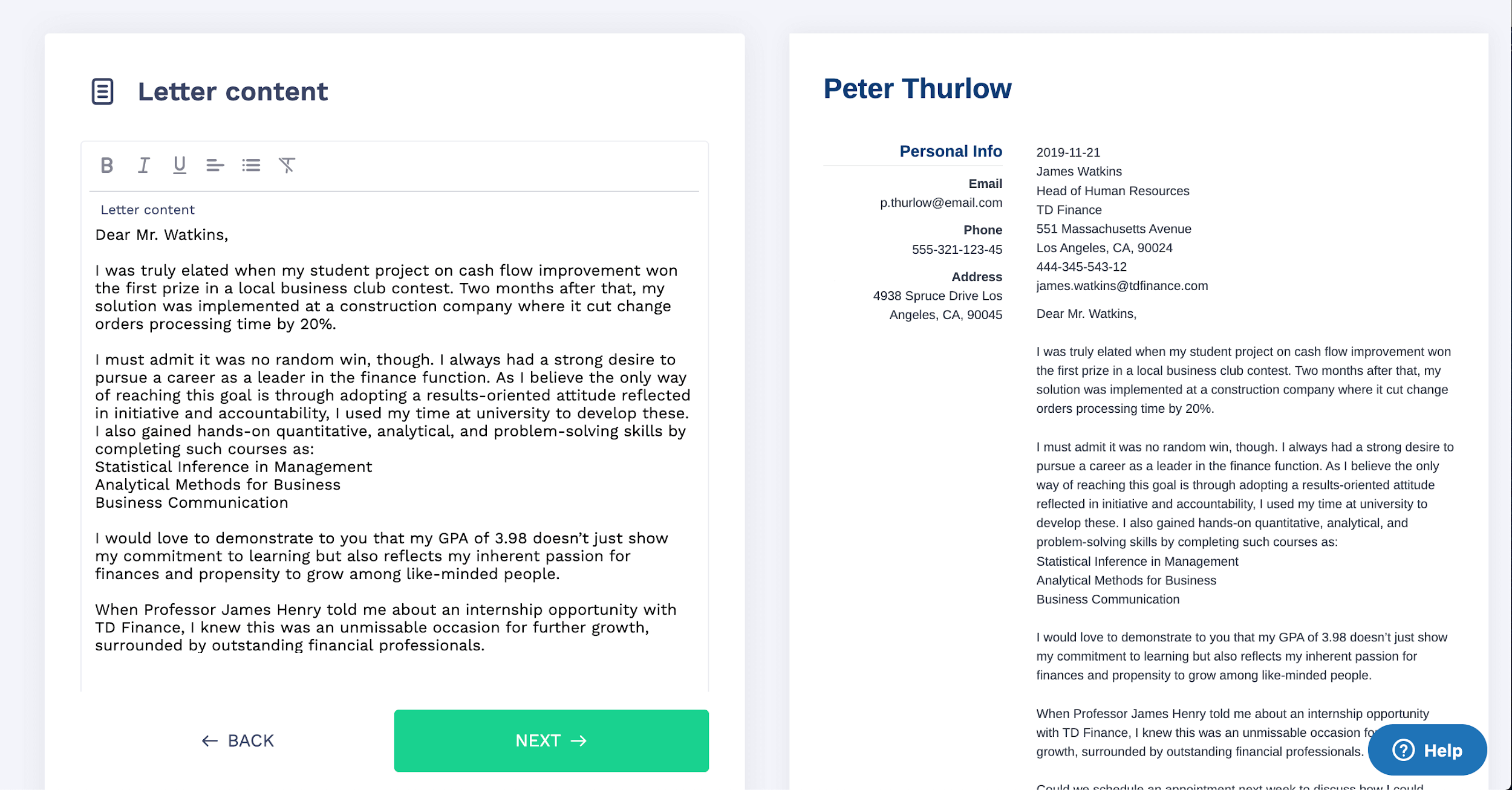 Want to try a different look? There's 18 more. A single click will give your document a total makeover. Pick a cover letter template here.
Key Points
Let's recap—
Here's how to create a photography resume that steals the show:
Get the formatting sorted before you put pen to paper on your photography resume.
Open the document with a powerful and compelling summary or objective statement.
List your past work responsibilities in high-resolution detail.
Include achievements with numbers to quantify your know-how.
Add a short list of the most potent photography skills this employer's looking for.
Throw in an extra section or two, such as photography certifications or foreign languages.
Don't forget a cover letter for photographer jobs alongside your resume.
Have any questions on how to write a photographer assistant resume or a photography resume for beginners? Need help documenting your professional photographer resume achievements? Let's talk below in the comment area, and thanks for reading!