Social Media Resume—Examples and 25+ Writing Tips
You know Facebook inside and out, Twitter from top to bottom, and Instagram from front to back. Show the marketing head your talents and skills with a great social media resume.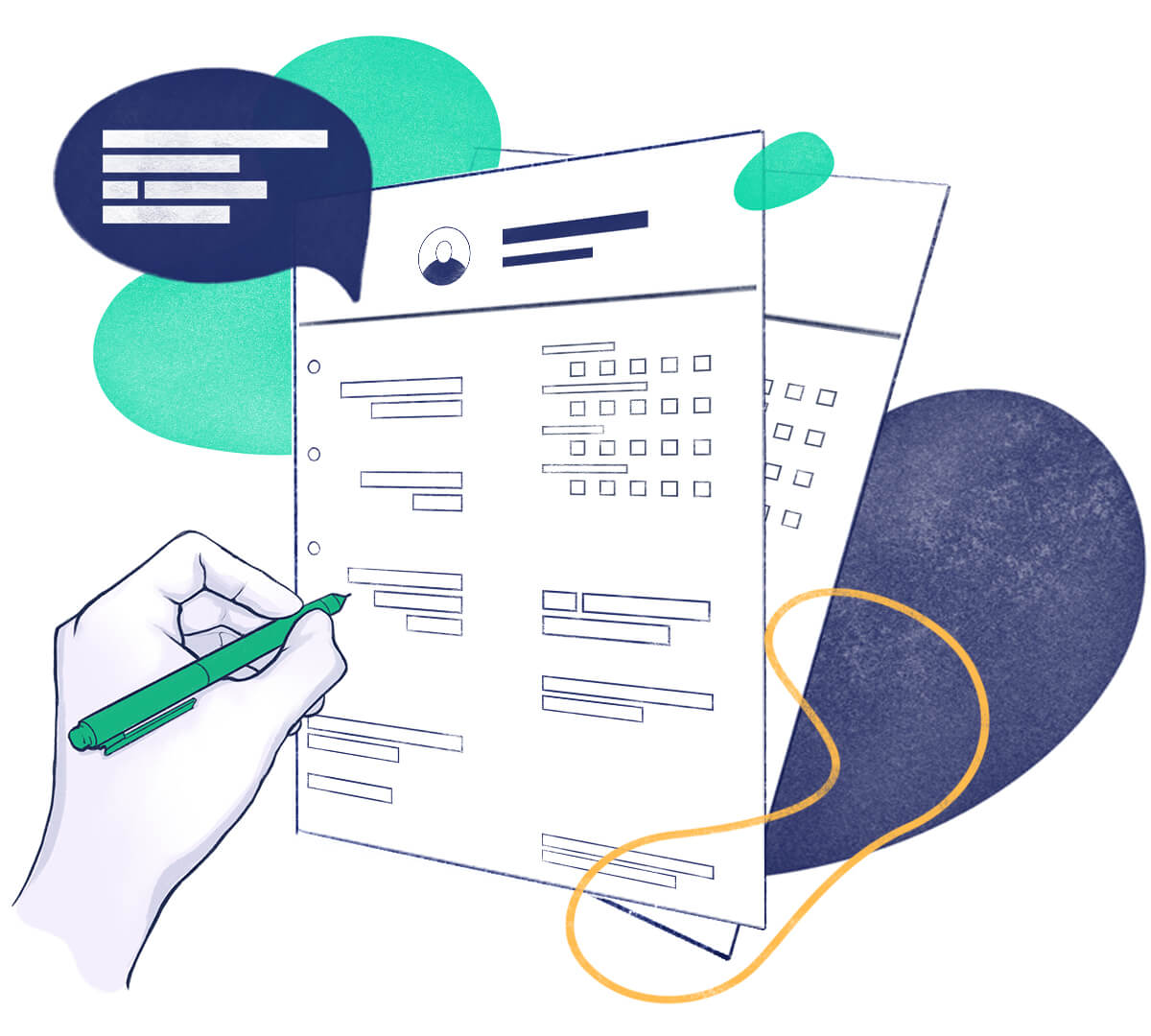 Whether generating buzz on Facebook, promoting pins on Pinterest, or coming up with LinkedIn copy that converts, you're a social media pro.
Tell that to the hiring manager.
To win them over and earn that interview, you need a social media resume that sells yourself as effortlessly and compellingly as influencer marketing.
It's easier than you might think—
In this guide:
Great social media resume examples to land top digital marketing jobs.
How to personalize resumes to the social media coordinator job description.
How to write a resume for social media jobs that score lucrative interviews.
Expert tips and examples to increase the likelihood of getting social media jobs.
Save hours of work and get a resume like this. Pick a template, fill it in. Quick and easy. Choose from 18+ resume templates and download your resume now.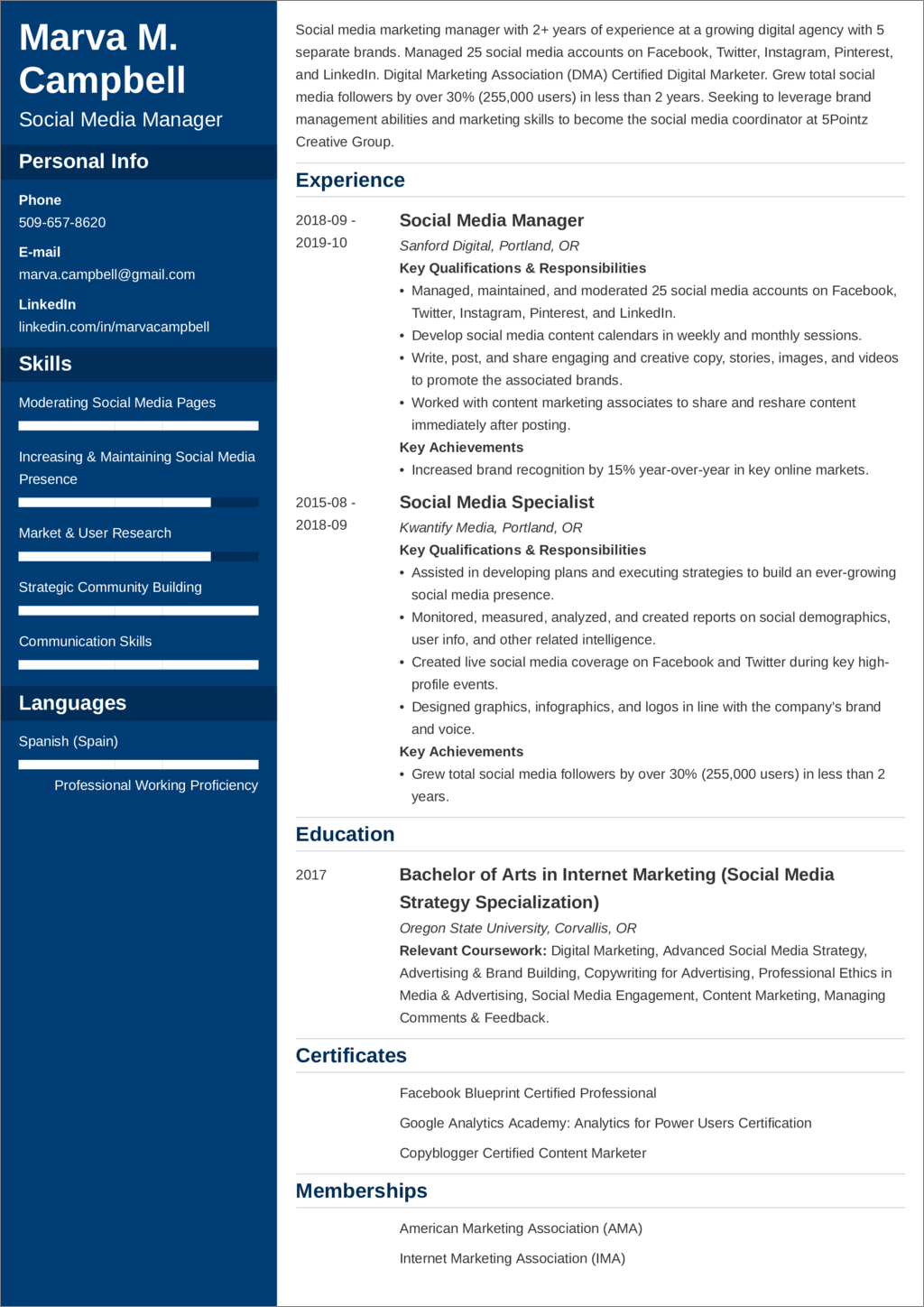 What users say about ResumeLab:
I had an interview yesterday and the first thing they said on the phone was: "Wow! I love your resume."
Patrick

I love the variety of templates. Good job guys, keep up the good work!
Dylan

My previous resume was really weak and I used to spend hours adjusting it in Word. Now, I can introduce any changes within minutes. Absolutely wonderful!
George
Social Media Resume Sample to Copy and Use
Marva M. Campbell
Social Media Coordinator
marva.campbell@gmail.com
509-657-8620
linkedin.com/in/marvacampbell
Summary of Qualifications
Social media marketing coordinator with 2+ years of experience at a growing digital agency with 5 separate brands. Managed 25 social media accounts on Facebook, Twitter, Instagram, Pinterest, and LinkedIn. Digital Marketing Association (DMA) Certified Digital Marketer. Grew total social media followers by over 30% (255,000 users) in less than 2 years. Seeking to leverage brand management abilities and marketing skills to become the social media coordinator at 5Pointz Creative Group.
Work Experience
Social Media Coordinator
September 2018–October 2019
Sanford Digital, Portland, OR
Key Qualifications & Responsibilities
Managed, maintained, and moderated 25 social media accounts on Facebook, Twitter, Instagram, Pinterest, and LinkedIn.
Develop social media content calendars in weekly and monthly sessions.
Write, post, and share engaging and creative copy, stories, images, and videos to promote the associated brands.
Worked with content marketing associates to share and reshare content immediately after posting.
Key Achievements
Increased brand recognition by 15% year-over-year in key online markets.
Social Media Specialist
August 2015–September 2018
Kwantify Media, Portland, OR
Key Qualifications & Responsibilities
Assisted in developing plans and executing strategies to build an ever-growing social media presence.
Monitored, measured, analyzed, and created reports on social demographics, user info, and other related intelligence.
Created live social media coverage on Facebook and Twitter during key high-profile events.
Designed graphics, infographics, and logos in line with the company's brand and voice.
Key Achievements
Grew total social media followers by over 30% (255,000 users) in less than 2 years.
Education
Bachelor of Arts in Internet Marketing (Social Media Strategy Specialization)
Oregon State University, Corvallis, OR
Graduation: 2017
Relevant Coursework: Digital Marketing, Advanced Social Media Strategy, Advertising & Brand Building, Copywriting for Advertising, Professional Ethics in Media & Advertising, Social Media Engagement, Content Marketing, Managing Comments & Feedback.
Key Skills
Moderating Social Media Pages
Increasing & Maintaining Social Media Presence
Market & User Research
Strategic Community Building
Communication Skills
Certifications
Facebook Blueprint Certified Professional
Google Analytics Academy: Analytics for Power Users Certification
Copyblogger Certified Content Marketer
Memberships
American Marketing Association (AMA)
Internet Marketing Association (IMA)
Languages
Spanish (Spain): Professional Working Proficiency
Want a few other resume examples related to social media and marketing?
Give these a look:
Haven't found what you're looking for? Check all our resume samples.
Oh, and are you wondering how to put social media on resumes? Check out our guide on addressing resumes: Resume Header: Examples, Template, and Ideas on Writing Headings
Okay—
Here is how to write a social media resume:
1. First Format the Social Media Resume Template
Before you're paid and sanctioned to use social media in the workplace, you've got to have a great social media resume.
And, a great resume starts with a template formatted so it's easy to read and compels them to want to learn more about you.
So—
This is how to format a social media resume template:
Document all dated entries, such as your employment history and education, using the reverse-chronological resume layout.
Border the resume for social media jobs with a one-inch margin around all the edges.
Choose the best resume font, one that's easy for the social media manager or marketing director to read.
Make sure all the parts of a resume pop out—use plenty of white space to guide the reader's eye, and include large, bold headings to differentiate each section.
Expert Hint: As a social media professional, you know the dimensions of Facebook header, you know the sizes required for a FB profile photo or LI cover image. For your resume to render right on any device, save it as a PDF. Word docs don't always look right on certain screens.
2. Start with a Social Media Resume Objective or Summary
The posts you publish on social channels are often the very top of the sales funnel. As a gateway for new customers, you understand the importance of engagement right from the start.
Well—
On a social media marketing resume, the top of the funnel is the heading statement, known as either the career objective or summary statement.
It also has to engage the hiring manager from the very beginning.
But what are the differences?
The career summary is perfect for experienced social media marketers, perhaps those seeking to become a social media strategist, coordinator, or manager.
A career summary is an intro paragraph that makes them hungry for more by adding a brief statement on your social media experience, skills, and background. Because only numbers matter at the end of the day, add quantifiable achievements to seal the deal.
Here's a social media specialist resume sample summary:
Social Media Resume Examples—Summary Paragraphs
The second example earns the frowning Pile of Poo emoji, for sure.
This first one, on the other hand, will earn a high response rate.
The marketing supervisor sees immediately that it's a resume customized to one particular job ad. It also goes further, using actual numbers to convey how well you will manage the new company's KPIs, challenges, and goals.
But—
Don't have any experience working in social media management?
No worries.
The career objective is ideal for those writing social media intern resumes or entry-level social media resumes.
An objective statement is a great opening paragraph which impresses them with your career goals (hence the "objective") rather than your storied past. However, numbers are still useful to add proof of your talents.
Here's how to write a social media resume objective statement:
Entry-Level Social Media Resume Samples—Objective
Considering these in an A/B test, which one do you think would win?
The second feels as personalized as a simple chatbot message—it could be on a social media job application to any agency anywhere. Furthermore, it's got nothing to prove how well you did the job duties you say you managed.
The first one, on the other hand, is guaranteed to have a high conversion rate.
Expert Hint: Feeling stuck coming up with the most impactful sentences here in the social media heading statement on a resume? Write it last. When you go through the other sections first, you'll get a better feel as to what would provide the most oomph here.
3. Write a Great Social Media Resume Job Description and Skills Sections
What happens when you don't show the previous job history area much love?
Your job application will become as defunct as Friendster.
To keep yourself relevant, pay special attention to the intricacies of an effective work experience section.
Here's what to do:
List your current or last-worked job first (reverse-chronological order), and follow it with the job you had before that.
For each work entry, include your job title, the timespan of your employment, and the company's name and geotag (city and state).
Below that, add a few duties you had. Include job responsibilities which are the most related to the social media job you're applying for.
Add in a quantifiable accomplishment to verify your progress, abilities, and drive.
Check out these two social media work experience section resume examples:
Social Media Job Description for Resume Examples
See the differences between those two above?
One will go viral, while the other becomes a meme.
The main point is, don't just list duty after past duty monotonously. Use those bullet points to relate to the agency's needs, be super detailed, and always include numbers to show off your social media metrics.
Finally, the good example above includes numbered accomplishments—
Regular employees are 9% more efficient when they're allowed to browse social media sites at leisure. Your efficiency, on the other hand, will be expected to be sky-high since you're tasked with browsing social media all day.
Show them how efficient and effective you are with quantifiable achievements:
After your work experience—
It's time to add a resume skills list to showcase your various social media abilities.
Here is how to list social media skills on resumes:
22+ Top Social Media Skills & Proficiencies for a Resume
Social Media Platforms (e.g., Facebook, Instagram, Twitter, Pinterest, Snapchat, LinkedIn, Reddit, Tumblr, VK)
Market Analysis & Research
Social Media Management Tools (e.g., Hootsuite, Buffer)
Community & Brand Building
Strategic Planning
Automation Tools (e.g., IFTTT, Zapier)
Time Management
Content Marketing Tools (e.g., BuzzSumo)
Metrics Tools (Google Analytics, Crimson Hexagon, Snaplytics)
Key Performance Indicators (KPIs)
Lookalike Audiences
A/B Testing & Split URL Testing
URL Shorteners (e.g., goo.gl, bit.ly)
Influencer Marketing
Lead Generation & Nurturing
Facebook Relevancy Scores & Quality Scores
Engagement & Discussion
Business to Business (B2B) Marketing
Business to Consumer (B2C) Marketing
Attention to Detail
Active Listening & Written Communication Skills
Cultural Sensitivity & Awareness
Copywriting & Copyediting
But, don't just take some random list off the internet (ours included), and add it to your social media coordinator resume.
Remember to tailor it.
So, instead, go back to the work description and find the job responsibilities section. There you'll find the perfect keywords to use on a resume.
If you believe you are skilled with a particular trait they seek, put that into your social media resume skills list.
Expert Hint: Many modern agencies hiring social media marketers have modern recruitment strategies with a large focus on social media themselves. Flex your social media muscle by using a platform such as LinkedIn to reach out, rather than old school email.
The ResumeLab builder is more than looks. Get specific content to boost your chances of getting the job. Add job descriptions, bullet points, and skills. Easy. Improve your resume in our resume builder now.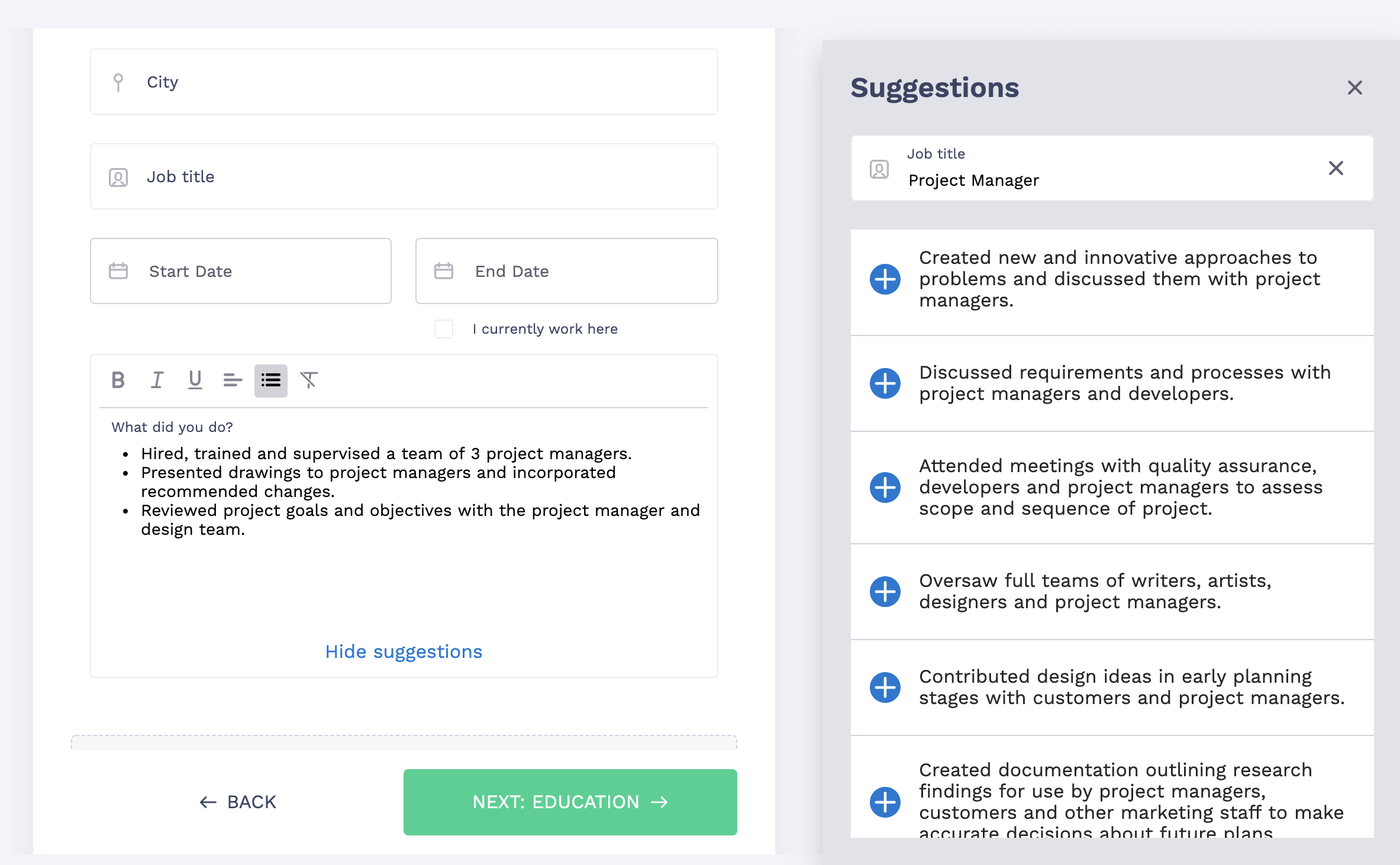 Nail it all with a splash of color, choose a clean font, highlight your skills in just a few clicks. You're the perfect candidate and we'll prove it. Use the ResumeLab builder now.
4. Turn Your Education Section Into a Reason You're Hired
Just because internet-speak seems uneducated doesn't mean the marketing director won't care about your educational background on a social media marketer resume.
So—
Here's how to include it perfectly:
Social Media Marketing Resume Example of Education Section
And, these are the guidelines to make your own just like ours:
Start by listing your degree or major on the first line of your educational entry.
Below that, place the school's name, its city, and its state.
Next, include the date of your completion (or the anticipated date of your graduation, if you're still in college).
Finally, add relevant extras which will boost your chances at getting social media jobs. Popular examples include classwork, presentations, projects, and awards.
Lastly, if you've finished a university degree, skip adding high school. Otherwise, add it below as a secondary entry (or the only entry if you're right out of high school).
Expert Hint: Do you have little experience in social media marketing jobs but an impressive academic section? Swap places. Always include the most pertinent and important items on social media resumes first so the reader gets to it as quickly as possible.
5. Round Out Your Social Media Coordinator Resume With a Lil' Sumthin' Sumthin' on the Side
You've made a social media resume that's now #instagood.
How do we get it to #instaperfect?
Throw in a few additional sections to beat the other social media applicants by showing you're a well-rounded individual.
Here are a few awesome options:
Boot Camp Digital Online Social Media Certification
Social Media Marketing at LinkedIn Learning Hub
Marketing Leadership Flight Path at Twitter Flight School
Content Marketing Institute (CMI) University Coursework
Hootsuite Social Media Marketing Certification (Hootsuite Academy)
YouTube Creator Academy, YouTube Certification
Social Media Marketing Associations
Online Marketing Institute (OMI)
Social Media Association (SMA)
Social Marketing Association of North America (SMANA)
International Social Marketing Association (ISMA)
Digital Marketing Institute (DMI)
Social Media Marketing Society (SMMS)
Sales and Marketing Executives International (SMEI)
Blogging
Food Instagramming
Networking & Conferences
Proficiency in Foreign Languages
Hindi: Native Proficiency
Standard Arabic: Professional Working Proficiency
Swahili: Intermediate Proficiency
French: Basic Conversational Proficiency
Expert Hint: Resumes are incomplete without a cover letter alongside. A great social media cover letter can help explain gaps in employment, show passion for marketing work, and display enthusiasm about this social media gig, among other things.
Double your impact with a matching resume and cover letter combo. Use our cover letter builder and make your application documents pop out.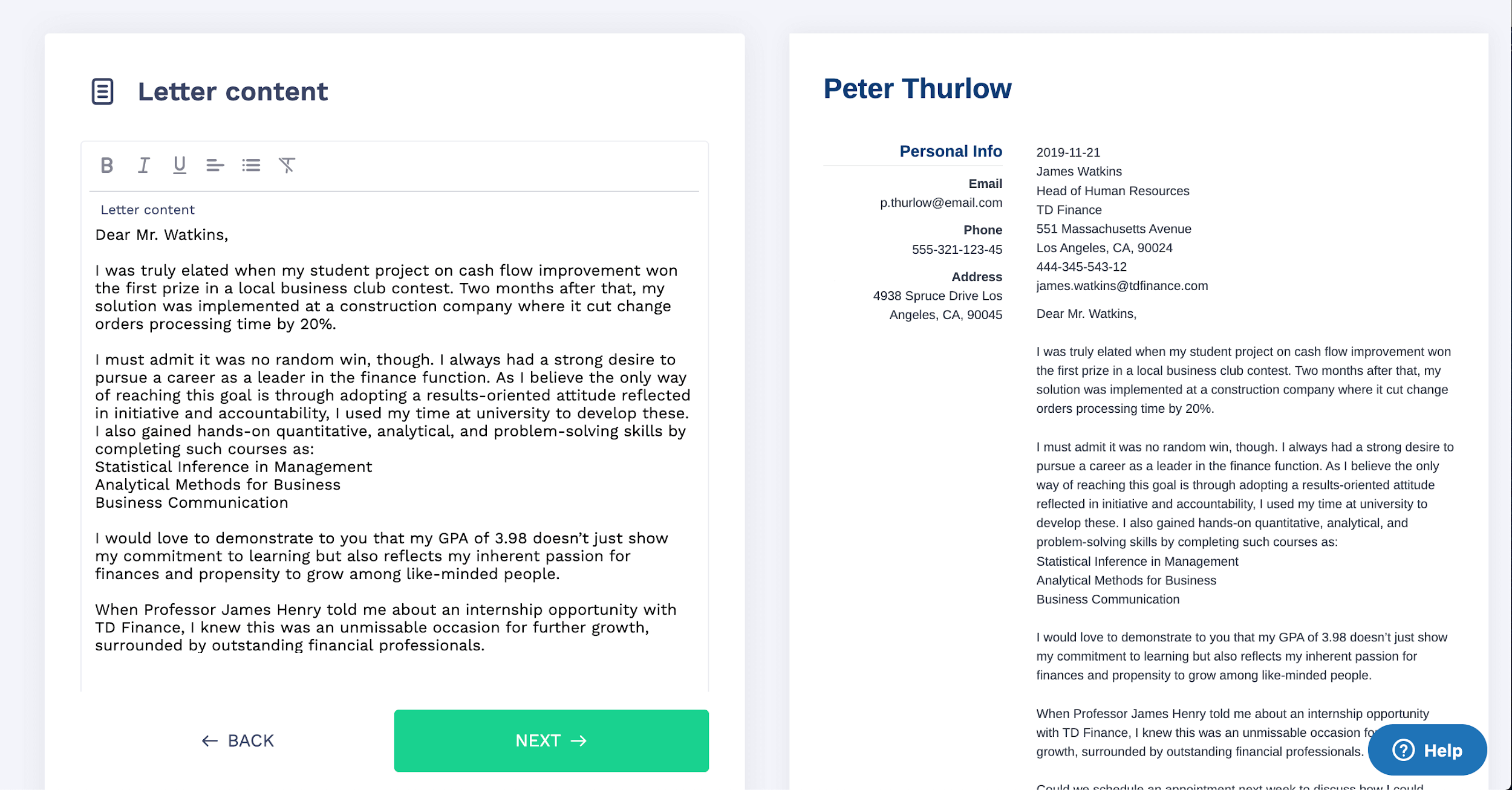 Want to try a different look? There's 18 more. A single click will give your document a total makeover. Pick a cover letter template here.
Key Points
Now you've got a resume that'll get talked about like it's a Twitter trending topic.
Want the TL;DR? Here's a recap—
Here's how to write a resume for social media jobs:
Before you start writing your social media evaluator resume, format the template first.
Open with an intriguing objective or summary statement to introduce yourself as a social media job applicant.
Include your work experience by listing your most recent job first.
Add achievements with numbers to give them relevant insights like Quantcast.
Place a list of social media resume skills below that, using the social media coordinator job description to locate the most relevant keywords.
Select relevant coursework, awards, or projects when including your education on the social media strategist resume.
Throw in an extra section or two to stand above the other candidates, such as marketing certifications or social media organization memberships.
Don't forget a social media marketing cover letter!
Got any questions on how to include social media skills on resumes? Need help with coming up with quantifiable achievements on social media marketing resumes? Let's get social below in the comments, and thanks for reading!