Data Entry Resume—Examples and 25+ Writing Tips
You can type, do 10-key, transcribe, and process orders under pressure. But how to convince the hiring team? Do it by filling in the right blanks in this data entry resume sample.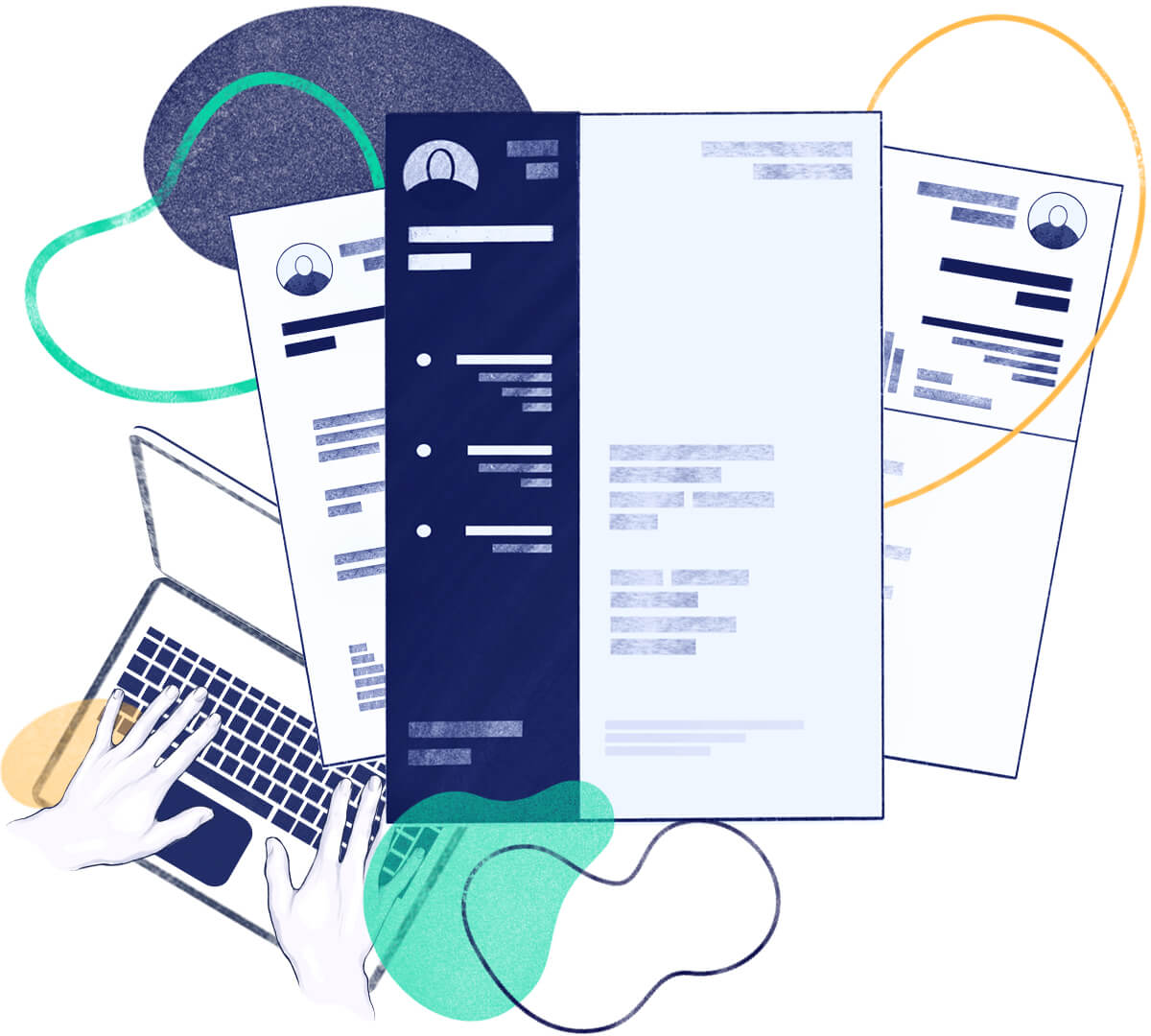 You're worth so much more.
You know it. But they don't. Not until you show them what you've done.
Transcription? 10-Key typing? Order-processing?
Data entry resumes have to shine the right light on your past.
That's the only way to get a better job.
In this guide:
A data entry resume sample better than most.
How to write a resume for data entry jobs that pushes the right buttons.
How to make the perfect data entry job description for resumes.
Why you can't just list data entry skills (and what to do instead).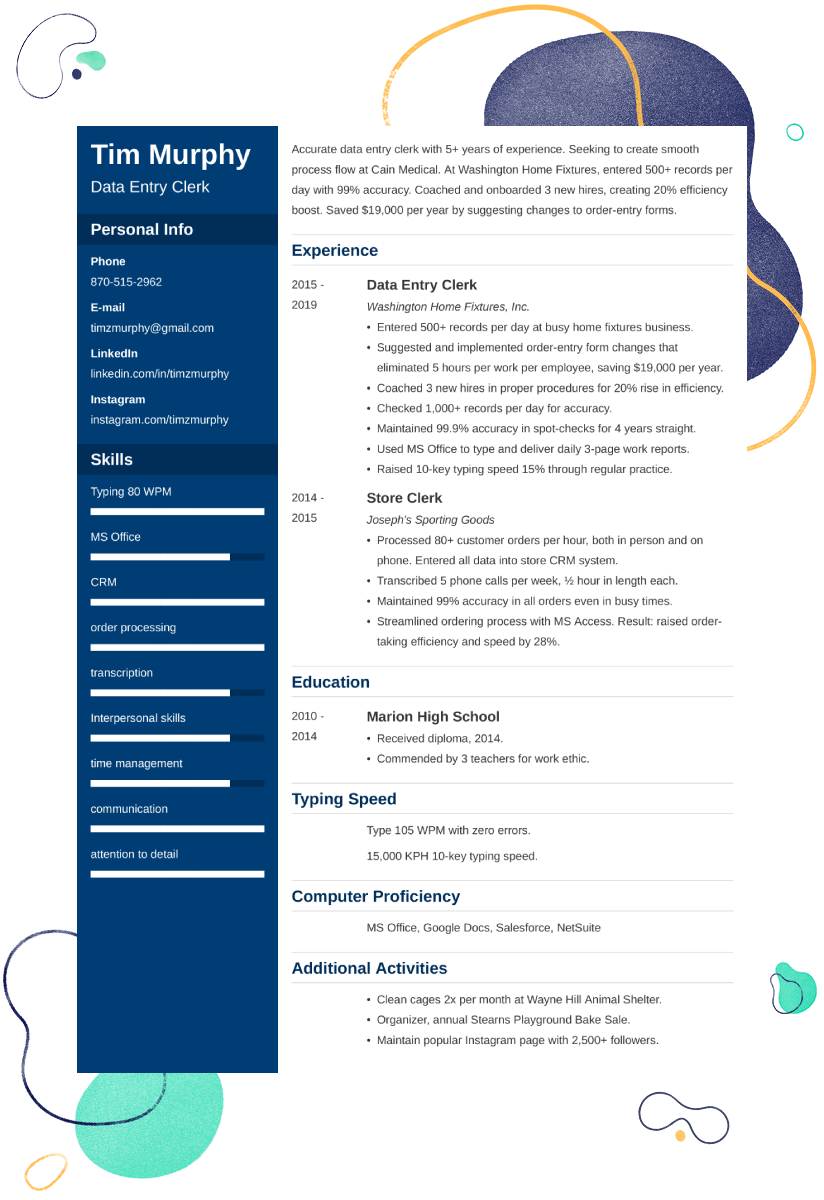 Create a job-winning resume with little effort. Hack your way through ATS software with our 18 beautiful templates—give our builder a try!

Create my resume now
Data Entry Resume Sample You Can Copy and Use
Tim Murphy
Data Entry Clerk
Personal Info
Phone: 870-515-2962
E-mail: timzmurphy@gmail.com
linkedin.com/in/timzmurphy
instagram.com/timzmurphy
Summary
Accurate data entry clerk with 5+ years of experience. Seeking to create smooth process flow at Cain Medical. At Washington Home Fixtures, entered 500+ records per day with 99% accuracy. Coached and onboarded 3 new hires, creating 20% efficiency boost. Saved $19,000 per year by suggesting changes to order-entry forms.
Experience
Data Entry Clerk
Washington Home Fixtures, Inc.
2015–2019
Entered 500+ records per day at busy home fixtures business.
Suggested and implemented order-entry form changes that eliminated 5 hours per work per employee, saving $19,000 per year.
Coached 3 new hires in proper procedures for 20% rise in efficiency.
Checked 1,000+ records per day for accuracy.
Maintained 99.9% accuracy in spot-checks for 4 years straight.
Used MS Office to type and deliver daily 3-page work reports.
Raised 10-key typing speed 15% through regular practice.
Store Clerk
Joseph's Sporting Goods
2014–2015
Processed 80+ customer orders per hour, both in person and on phone. Entered all data into store CRM system.
Transcribed 5 phone calls per week, ½ hour in length each.
Maintained 99% accuracy in all orders even in busy times.
Streamlined ordering process with MS Access. Result: raised order-taking efficiency and speed by 28%.
Education
Marion High School
2010–2014
Received diploma, 2014.
Commended by 3 teachers for work ethic.
Typing Speed
Type 105 WPM with zero errors.
15,000 KPH 10-key typing speed.
Computer Proficiency
MS Office, Google Docs, Salesforce, NetSuite
Additional Activities
Clean cages 2x per month at Wayne Hill Animal Shelter.
Organizer, annual Stearns Playground Bake Sale.
Maintain popular Instagram page with 2,500+ followers.
Hard Skills: Typing 80 WPM, MS Office, CRM, order processing, transcription
Soft Skills: Interpersonal skills, time management, communication, attention to detail
Why limit yourself to just data entry? See our guides:
Haven't found what you're looking for? Check all our resume samples.
Here's how to write a data entry resume that gets results:
1. Choose the Best Data Entry Resume Format
You of all people know—
It all starts with the right format.
Formatting a resume is no different.
To get a data entry job, begin with the reverse-chronological format.
Then fill it in:
Data Entry Resume Format
Expert Hint: The average data entry clerk makes $27K per year. But the best jobs pay $36K or more. Don't settle. Dial in your data entry resume format and message.
2. Write a Data Entry Resume Objective or Summary
This is critical.
A stack of data entry specialist resumes stands between you and the job.
Catch the eye fast or vanish in the data-pile.
Do it with a career summary or a career objective.
That's a quick-hit of why you matter.
Add:
An adjective (accurate, reliable)
"data entry"
Years of experience (1+, 4+)
How and who you'll help (create smooth process flow at Cain Medical)
Best data entry moments (entered 500+ records per day...)
The few skills they want most (accuracy, coaching...)
Create it last to make life easy.
These data entry resume examples show how:
Data Entry Resume Summary—Example
Those two samples are the same.
Except—
One says, "fast typing." The other says, "80 WPM."
One says, "creative thinker." The other says, "saved $19,000 with a creative idea."
God is in the details.
So is getting hired.
But even a data entry resume with no experience craves evidence:
Data Entry Resume Objective
Wow.
The second of those entry-level data entry resume examples "shows" the same skills. But the first actually proves them.
Expert Hint: To get hired, you'll face recruiters and HR pros, not data entry managers. That means you must show how you've helped the bottom line.
3. Ace Your Data Entry Job Description and Skills Section
What's the best data entry clerk resume advice?
It's the only way to make them think:
"He's perfect for this job."
To write a good data entry job description for resumes:
Find resume keywords (aka resume skills) in the online posting.
Show how you used those things to move the needle.
Craft yours like the first of these data entry resume samples:
Imagine the job ad wants these data entry skills: entering records, coaching, accuracy, MS Office.
Data Entry Job Description for Resume [Sample]
Sorry, wrong number.
The second of those data entry resume examples is for the wrong job.
It's missing numbers, too. Specifically: how did you help the company make money?
Next—an entry-level resume:
Say the job ad wants these data entry skills: processing customer orders, accuracy, MS Access.
Entry-Level Data Entry Resume Job Description [Sample]
Fzzt.
The second resume sample misses by a mile.
But look closer.
Both were from the same past job.
Use these data entry resume skills for inspiration:
Data Entry Skills for Resumes
| | |
| --- | --- |
| Hard Skills | Soft Skills |
| Typing Speed | Interpersonal Skills |
| | Customer Service |
| CRM | Organization |
| MS Office | Active Listening |
| Order Entry | Accuracy |
| Transcription | Confidentiality |
| QuickBooks | Phone Skills |
| Report Generation | Positive Attitude |
| 10-Key Typing | Efficiency |
| Forms Processing | Collaboration |
4. Use Your Education to Get Noticed
Does a resume for data entry jobs really need an education section?
Yes. So—
Why not use it to your advantage?
Key in enticing details to get nibbles.
Watch how this data entry resume sample nails it:
Data Entry Resume Example—Education
Aha!
You just told them you work hard.
5. Add "Other" Material to Your Data Entry Resume
The bad news?
Most hiring managers see your data entry clerk resume as spam.
Do you actually need to prove you're human?
Yes.
Add a section or two like:
These data entry resume examples sort it out:
Data Entry Resume—Extra Sections
Why does the first of those data entry resume examples work?
It proves data entry skills. Even the "additional activities" show you're something special.
Expert Hint: Write a cover letter. Your resume for data entry jobs will get more attention if you do. The reason? Almost half of hiring managers reject resumes without them. Check out our data entry cover letter example for some inspiration.
Key Points
Here's how to write a data entry resume:
Use the data entry resume template up top. It puts all your best data entry moments in the proper order.
Fill in the form with resume keywords from the data entry job description.
Flesh out your resume sections with evidence you've made some kind of difference.
Add "other" material to show you're no mere robot who can type.
Got questions on how to write great resumes for data entry jobs? Not sure how to show data entry on a resume? Leave a comment. We'll be happy to reply!