Electrician Resume—Examples and 25+ Writing Tips
You know a solenoid from a semiconductor, and sloppy electrical work makes you lose sleep at night. Prove that to recruiters with this switched-on electrician resume sample.
Without electricians, we'd all be in the dark.
So why is it so hard to get electrician work?
It's because you're up against a quarter million other applicants.
Don't hit the panic button yet.
You can have a great electrician resume in minutes.
In this guide:
An electrician resume sample better than most.
How to write a resume for electrician jobs that gets attention.
How to make the right electrician job description for resumes.
Why you can't just list electrician skills (and what to do instead).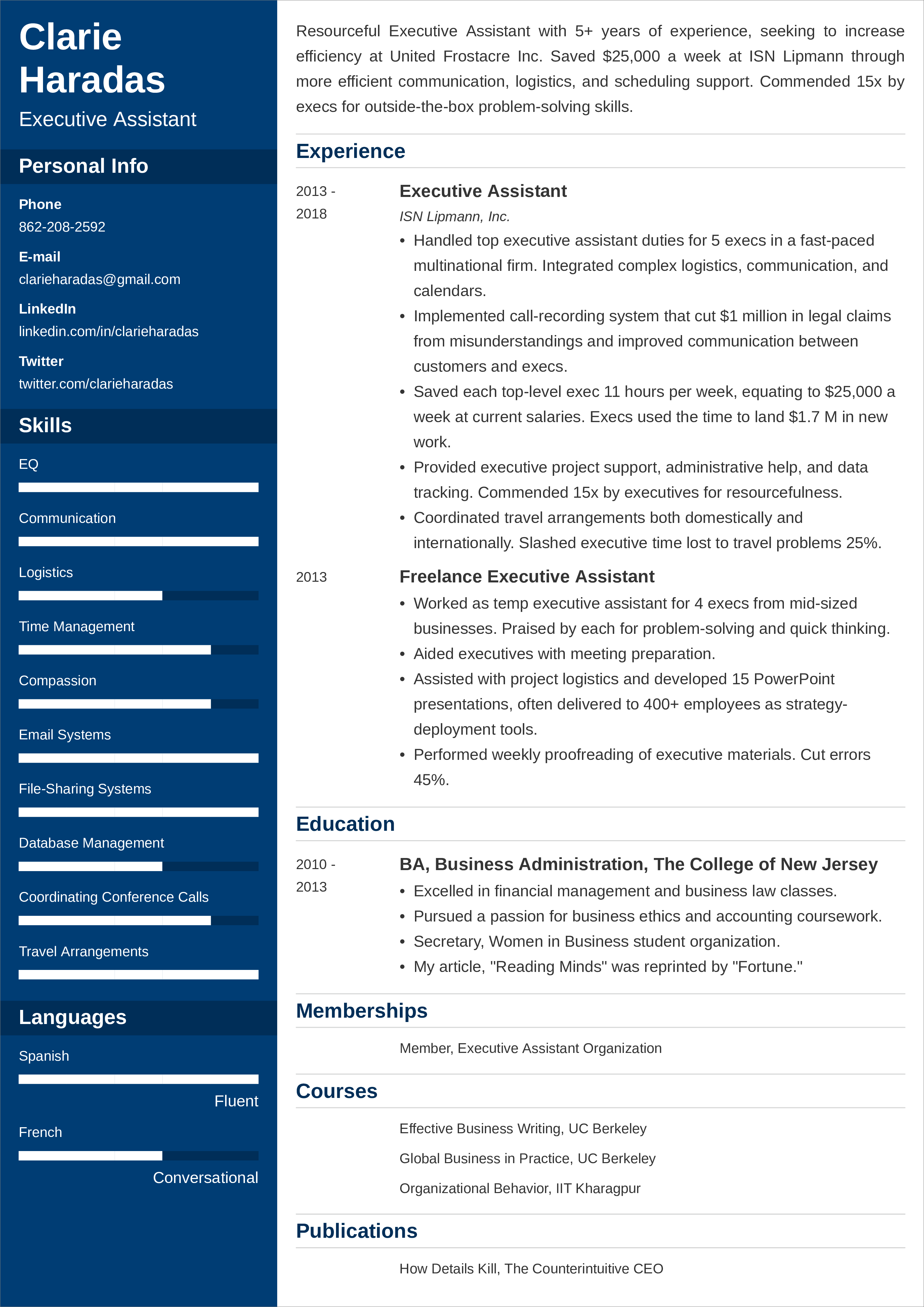 Create a job-winning resume with little effort. Hack your way through ATS software with our 18 beautiful templates—give our builder a try!

Create my resume now
Electrician Resume Sample You Can Copy and Use
Rick Stover
Master Electrician
Personal Info
Phone: 334-209-7725
E-mail: richardzstover@gmail.com
linkedin.com/in/richardzstover
twitter.com/richardzstover
Summary
Licensed master electrician with 6+ years of experience. Seeking to provide safe & efficient electrical design, installation, and maintenance at Alger Technical. At Pinecone Sage, installed and repaired key electrical systems. Identified a complex wiring issue that slashed fire risk 35%. Managed 10 apprentices with 15% efficiency increase.
Certification
Certified Electrical Inspector, IAEI
Experience
Master Electrician
Pinecone Sage, Inc.
2014–2019
Installed and repaired key electrical systems, including fixtures, wiring, and motors. Exceeded productivity targets by 20%.
Trained and onboarded 5 electrical apprentices.
Managed 10 apprentice electricians, prioritizing and assigning work. Assessed work quality and drove 15% efficiency increase.
Installed switches, circuit breaker panels, and relays.
Designed and implemented power and control circuits.
Installed and maintained switchgear and electrical distribution centers up to 14,000 volts, observing all lockout-tagout policies.
Key Achievement:
Identified and repaired a complex and hazardous wiring issue. Built and supervised a team of 5 specialists. Reduced fire risk 35%.
Journeyman Maintenance Electrician
Pinecone Sage, Inc.
2014–2019
Maintained and troubleshot high and low voltage electrical systems and controls, including VFD controllers and variable speed drives.
Used Total Productive Maintenance to cut downtime by 30%.
Inspected job sites alongside inspectors. Ensured NEC compliance.
Key Achievement:
Slashed costs 22% by installing factory-wide energy saving devices.
Education
AS Electrical Tech, Bevil State Community College
2011–2013
Additional Activities
Volunteer electrician, Etowah County Animal Shelter.
Volunteer Scout Leader, BSA Troop 58.
Hard Skills: PLC controllers, industrial control systems, analyzing blueprints, wiring diagrams, customer service
Soft Skills: Interpersonal skills, efficiency, communication
Check out our other technical guides:
Haven't found what you're looking for? Check all our resume examples.
Trying to put electrician on a resume? Try this guide: Resume for a Career Change
Here's how to write a home-run electrician resume:
1. Start with the Right Electrician Resume Format
You'd never install spaghetti wiring.
But the hiring team won't know that if you use spaghetti resume formatting.
So—
Start with the right resume format: in your case, it'll be the reverse-chronological one. It's the best transmission system for your skills.
Electrician Resume Format
List your current job first. Follow it up with the previous ones.
Make your resume length one page unless you've been at it 7+ years.
Use 1-inch margins and a pro resume font like 10–12pt Garamond or Didot.
Write resume sections titled Heading, Summary, Experience, Education, and Skills.
Save a PDF resume. PDFs stay uninterruptible on all devices.
Expert Hint: There are 715,400 electricians in the US, and their ranks are growing every year. Pay attention to your electrician resume format to ensure you're one of them.
2. Write an Electrician Resume Objective or Summary
The problem?
Most electrician's resumes blend in like Little Red Things.
They fade into the darkness in a pile of other resumes.
So—
Light yours up with a resume summary or resume objective.
Include:
An adjective (licensed, efficient)
Title (master electrician, journeyman electrician)
Years of experience (3+, 7+)
How & where you'll help (provide efficient electrical work at Alger Technical)
Best electrician moments (slashed fire risk 35%...)
One or two skills (installation, maintenance...)
Write it last to make it easy.
See these industrial electrician resume examples:
Electrician Resume Summary—Example
What's the difference?
Both electrician duties resume samples tout installation, repair, and identifying wiring issues. But—
The first adds stats like 35%, 10, and 15%.
Those numbers are convincing.
Now what about a resume for electricians with no experience?
See this electrician apprentice resume sample:
Entry-Level Electrician Resume Objective
Just a minute:
They won't like the second of those journeyman electrician resume examples. Experience working on electrical systems sounds empty without details.
Expert Hint: Electricians make from $14 to $35 an hour. That's a huge gap. Customize your electrician resume to raise your chance of landing at the high end. That's next.
3. Enhance Your Electrician Job Description and Skills
"We liked him but he doesn't have the skills."
Don't let them say that.
See this electrician resume skills list:
Electrician Resume Skills
| | |
| --- | --- |
| Hard Skills | Soft Skills |
| Process Evaluation | Communication |
| Analyzing Blueprints | Collaboration |
| Risk Evaluation | Organization |
| National Electric Code (NEC) | Safety |
| Programmable Logic Controllers | Precision |
| Repairing Electrical Systems | Problem Solving |
| Schematics | Accuracy |
| Industrial Control Systems | Working Odd Hours |
| Wiring Diagrams | Mentorship |
| 3-Phase Motor Replacement | Dependability |
Danger!
Don't use all of them. Hiring managers reject that.
To write an electrician job description for resumes:
Source resume skills in the job ad online.
Add those keywords to your bullet lists.
Show you changed the world by using them.
See these industrial electrician resume samples:
Say the job ad wants these electrician skills: installation, training, leadership.
Electrician Job Description for Resume [Sample]
Notice anything?
The second of those electrician resume examples is strong. But it skips the installation, training, and leadership required by the job ad.
Plus, the first example adds descriptive numbers like 20%, 5, and 10.
That's no different in an entry-level resume.
What if the job wants these electrician skills: maintaining VFD controllers, Total Productive Maintenance, and NEC compliance.
See this journeyman electrician resume example with no experience:
Entry-Level Electrician Resume Job Description [Sample]
See that?
Always hit the skills they want.
But what if you have less experience than that first electrician resume example?
Show you used transferable skills in non-electrician jobs.
And—
Consider using the combination resume format. It's the best pick for career changers.
4. Energize Your Education Section
Master electricians get almost as much training as doctors.
Don't gloss over the education section of your electrician or electrician apprentice resume.
Add 1–2 accomplishments to stand out like an arc flash.
This personal electrician resume sample shows how:
Electrician Resume Example—Education
5. Up the Voltage on Your Electrician Resume
Why don't employers call?
It's probably because your electricians resume lacks character.
Include a few non-work achievements to show passion.
Try these:
Classes
Freelancing
Additional activities
Languages
Fitness
This sample electrician resume draws the schematic:
Electrician Resume—Extra Sections
Blowout.
The first of those industrial electrician resume examples wins by a mile. It shows you're certified and you get things done.
Expert Hint: Write a cover letter. Your electrician apprentice resume won't work for every hiring manager without one. Use it to show you're switched on to the job's needs.
Key Points
Here's how to write an electrician resume:
Use the electrician resume template at the top. It tosses the ballast while it highlights your achievements.
Don't just list electrician skills. Installation and repair are respectable. But to get the job, show you used them to make things happen.
Write a magnetic education section with electrician moments that prove skills.
Add more resume sections like certifications or volunteer work to show character.
Attach a cover letter to your electrician resume. Less than 50% of candidates do it and more than 50% of hiring managers expect it.
Got questions on how to write great resumes for electrician jobs? Not sure how to put electrician on a resume? Leave a comment. We'll be happy to reply!