Logistics Resume—Examples and 25+ Writing Tips
You make sure that the flow of goods through your organization continues to run smoothly. Show that you're up to the task with a logistics resume that delivers up the goods.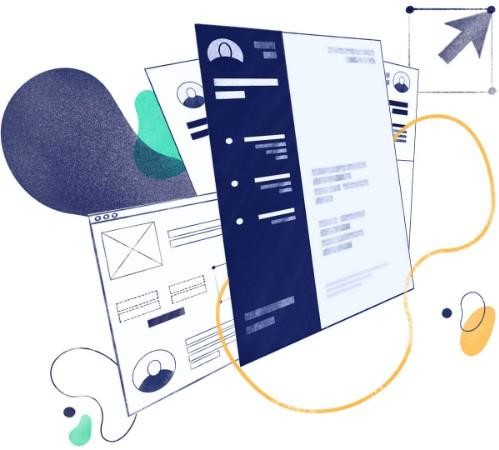 Logistics is a quickly evolving field—
And driverless vehicles and drone swarms are just around the corner.
Keeping up with the times isn't going to be enough—
Get ahead of the pack so you can pick and choose.
How?
With a logistics resume that's better than nine out of ten.
In this guide:
A logistics resume sample better than most.
How to create the perfect logistics job descriptions for your resume.
How to write a resume for logistics jobs that stands out.
Expert tips and examples to boost your chances of landing a job in logistics.
Save hours of work and get a job-winning resume like this. Try our resume builder for free. Start by choosing a resume template.
What users say about ResumeLab:
I had an interview yesterday and the first thing they said on the phone was: "Wow! I love your resume."
Patrick

I love the variety of templates. Good job guys, keep up the good work!
Dylan

My previous resume was really weak and I used to spend hours adjusting it in Word. Now, I can introduce any changes within minutes. Absolutely wonderful!
George
Need something more geared towards management? Or maybe you're looking for something more entry-level? Check out just some of our other guides:
Logistics Resume Sample That'll Take You There
Stephanie Rutz
Logistics Manager
Personal Info
Phone: 908-241-9084
E-mail: stephanie.d.rutz@reslab.com
linkedin.com/in/stephrutz
Summary
Driven logistics manager with 5+ years' experience working with complex supply chains. At Hiskar Inc., boosted customer satisfaction metrics by 14% and kept driver standby time down to less than 20 minutes per shift. Seeking opportunity to apply proven vendor management skills in helping ABC Company maintain its competitive edge in the region.
Experience
Logistics Manager
Hiskar Inc.
April 2018–present
Developed management routines to boost customer satisfaction metrics by 14%.
Completed 93% of projects on schedule, within budget, and with satisfied customers.
Maximized equipment and driver utilization, keeping driver standby time down to <20 minutes per shift.
Managed strategic alliances with third party logistics services for transportation and warehousing, saving $125,000+ over two years.
Logistics Coordinator
Callista Management Services
December 2016–March 2018
Negotiated rates with carriers, bringing in savings of $1,700 per month.
Ensured that 99.1% of outgoing orders were accurate and 83% were on-time.
Maintained carrier relationships to ensure dedicated capacity exceeded projected demand by at least 5%.
Located 11 carriers for available freight and negotiated competitive rates.
Education
BBA in Supply Chain Management
Temple University, Philadelphia, PA
2012–2016
Pursued a passion for sourcing and procurement coursework.
Graduated with a 3.91 GPA.
Software
Office suites (LibreOffice, Microsoft Word)
SAP
SQL
Languages
English – native speaker
German – native speaker
Danish – intermediate
Key Skills
Project management
Supply chain management
Inventory control
Vendor management
Communication skills
Problem solving
Interpersonal skills
Negotiation
Now here's how to write a logistics resume they'll love:
1. Choose the Right Logistics Resume Format
There's no shortage of it in logistics—
And no wonder:
Paperwork plays a crucial role in getting things from A to B.
Imagine if proper formatting and layout weren't a thing—
We'd all be dead in the water.
Make sure your resume format helps hiring managers rather than hindering them:
Logistics Resume Format
If stability and compatibility were your only concerns, then yes—
Hands down, PDF is better than a *.docx file for your resume.
But—
Always check that something other than PDF isn't required in the job ad.
Some companies' ATSs (Applicant Tracking Systems) can't handle resumes in PDF, for example. In that case, the job ad will specifically ask candidates to submit their resumes as Word files (or in some other format). Do as requested. Your ATS resume must be readable by the employer's ATS software, or they'll reject you.
2. Write a Compelling Logistics Resume Objective or Summary
It's time to start standing out from the crowd:
Do that with a resume profile that makes hiring managers sit up and take notice.
Already got some relevant experience?
Then start with a resume career summary and capitalize on your logistics achievements.
Use:
One adjective (efficient, detail-oriented, industrious)
Job title (Logistics Specialist, Logistics Coordinator)
Years of experience (4+, 5+)
What you'll do to help (provide accurate inventory control)
Two or three of your best achievements (implemented new distribution protocol for $330,000 annual savings, reduced shrinkage by 33%)
These logistics resume examples show how:
Logistics Resume Summary
Who would you take on?
The first logistics resume summary is all about what the candidate:
Was able to do for previous employers.
Can do for their new employer.
It's also fully quantified.
But what if you're just starting out in logistics?
Lead with a resume career objective instead and talk up relevant achievements from other lines of work.
Logistics Resume Objective
Something else the bad examples get wrong:
They're focused on what the candidate expects to get out of their new job.
Avoid doing this, it won't do you any good.
Instead—
Show what concrete value you can bring to the table.
Stuck?
Here's a simple trick:
Write your resume profile last.
3. Create Winning Logistics Resume Job Description and Skills Sections
Hiring managers demand proof that you're up to the job.
So supply it to them—
Show them what you were able to achieve for previous employers.
Turn your resume work history into an inventory of logistics accomplishments.
How to write logistics resume job descriptions:
Go back over the job ad.
Zero in on the skills and duties they mention there.
Think of times you've aced your duties by drawing on those skills.
Write resume bullet points that describe those situations (and put numbers to your awesomeness).
These logistics resume examples show how:
Logistics Resume Job Descriptions
Minor tweak, huge payoff.
The second example looks like someone wasn't paying attention:
It's just a list of duties. Ain't no one got time for that.
That first example, though—
Those are real accomplishments.
One more thing:
A skills section is a must.
But—
It's not about going overboard with the skills to put on a resume.
In fact—
The fewer, the better.
Aim to cover what the job ad requires and not much more.
This is one way of targeting your resume to each job offer.
Logistics Skills for a Resume
Customer service
Project management
Supply chain management
Inventory management
Inventory control
Vendor management
Transportation logistics
Supply chain logistics
Communication skills
Problem solving
Interpersonal skills
Organization
Time management
Critical thinking
Teamwork
Detail orientation
Negotiation
Coordination
The ResumeLab builder is more than looks. Get specific content to boost your chances of getting the job. Add job descriptions, bullet points, and skills. Easy. Improve your resume in our resume builder now.
Nail it all with a splash of color, choose a clean font, and highlight your skills in just a few clicks. You're the perfect candidate, and we'll prove it. Use our resume builder now.
4. Turn Potentially Meh Education into a Reason to Hire You
"Logistics" is a fairly broad term—
And logistics jobs run the full gamut of education requirements:
From no formal education requirement to Master's degrees and above.
To get the most out of your education section:
List your degrees (with majors), school names, and years attended.
And then:
Add a couple of bullet points that speak to logistics skills.
This logistics resume example shows how:
Logistics Resume Example—Education Section
Short on work experience?
Include additional bullet points with projects, classes, and accomplishments that show how you're made for this logistics thing.
5. Load Your Logistics Resume With Extra Sections
You could stop here—
But you'd be selling yourself short.
Add one or two extra sections that put you ahead of the rest:
Additional Activities
Classes Taken
These two logistics resume examples show yes vs no:
Logistics Resume Examples—Extra Sections
Looks exaggerated, but you'd be surprised.
Hobbies are fine, even weird ones, but—
Everything you add has to be clearly relevant to the job at hand.
One final step:
Learn how to write a cover letter to go with your logistics resume.
Your only out here is having been explicitly asked not to include one.
Double your impact with a matching resume and cover letter combo. Use our cover letter generator and make your application documents pop out.
Want to try a different look? There's 21 more. A single click will give your document a total makeover. Pick a cover letter template here.
Key Points
For a logistics resume that gets interviews:
Use the logistics resume template from the beginning of this guide. It checks all the right boxes.
Put logistics achievementsin your resume profile (summary or objective), work history, and education sections to show you can walk the walk.
Focus in on the right logistics resume skills. This is a big part of targeting your resume to the given job ad.
Write a logistics cover letter to go with your resume. Use it to put your passion front and center while you continue to showcase your achievements.
Got unanswered questions on how to write your best ever resume for logistics jobs? Leave us a comment down below—we'll be happy to get back to you.