Research Assistant Resume—Examples and 25+ Writing Tips
You can work the aliquots or do surveys like you were born to it. You've got indispensable labrat skills. Now prove it to the PI with this clear research assistant resume sample.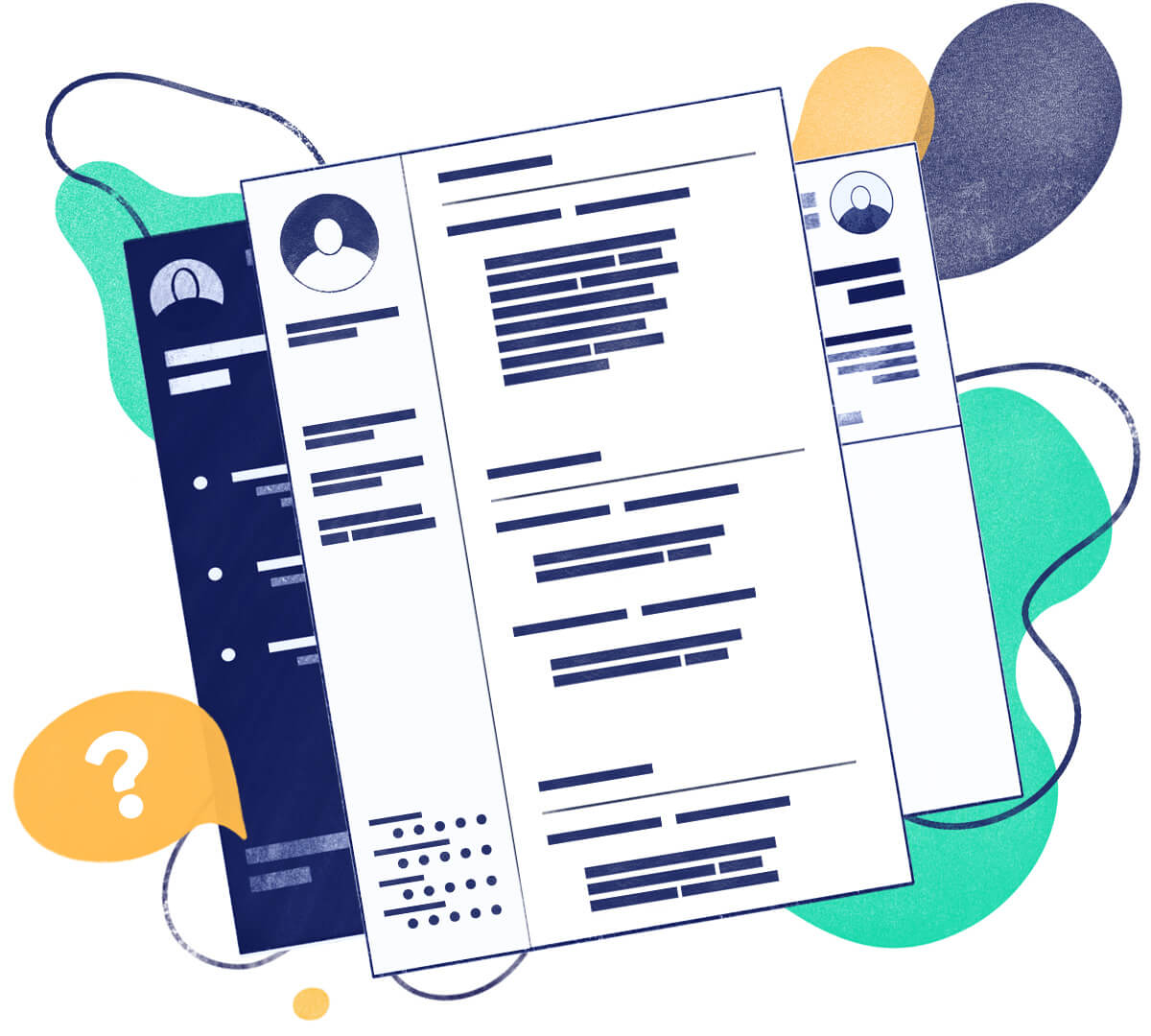 Picture this:
You're doing vital research that feeds your passion.
I'm talking about Goodall, Derong, or Capecchi-level work.
But—
You won't get there with an average research assistant resume.
You need to show how well you've done work just like this.
In this guide:
A research assistant resume sample better than most.
How to make a convincing research assistant job description for resumes.
How to write a resume for research assistant jobs that gets you hired.
Why you can't just list research assistant skills (and what to do instead).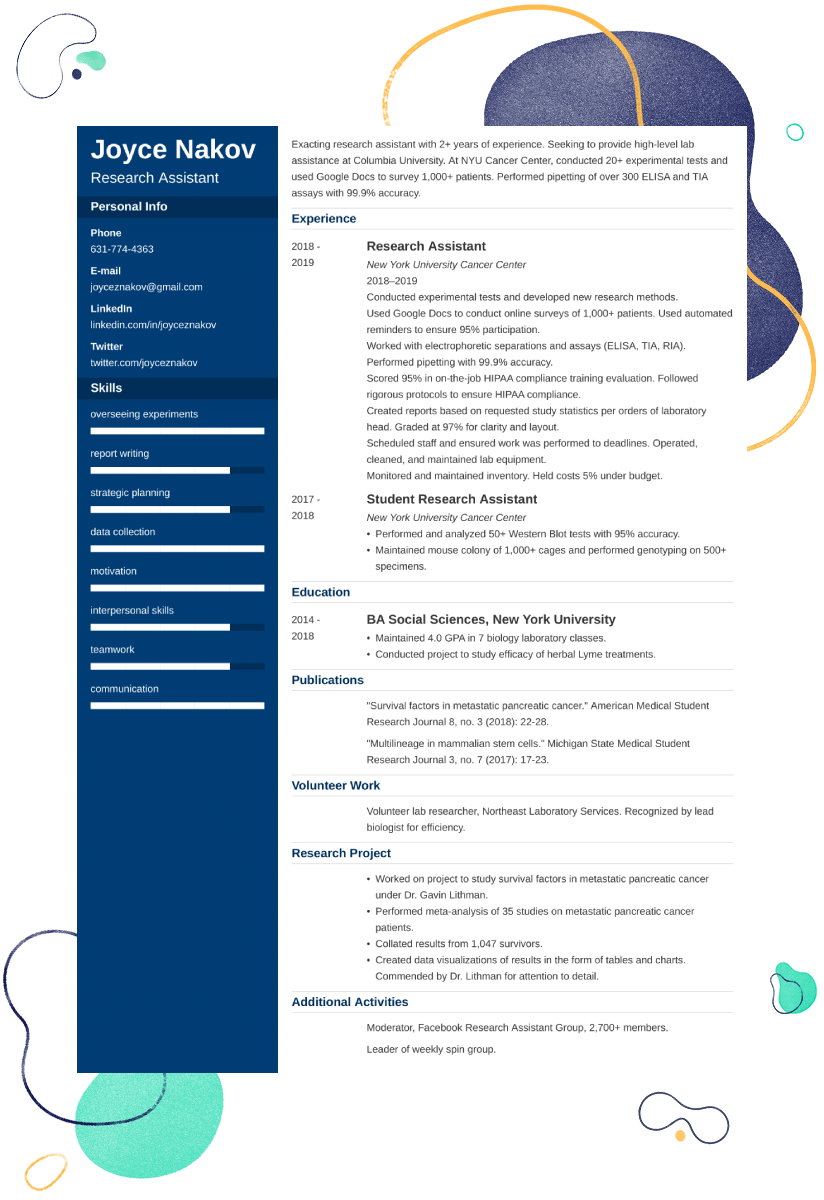 Create a job-winning resume with little effort. Hack your way through ATS software with our 18 beautiful templates—give our builder a try!

Create my resume now
Research Assistant Resume Sample You Can Copy and Use
Joyce Nakov
Research Assistant
Personal Info
Phone: 631-774-4363
E-mail: joyceznakov@gmail.com
linkedin.com/in/joyceznakov
twitter.com/joyceznakov
Summary
Exacting research assistant with 2+ years of experience. Seeking to provide high-level lab assistance at Columbia University. At NYU Cancer Center, conducted 20+ experimental tests and used Google Docs to survey 1,000+ patients. Performed pipetting of over 300 ELISA and TIA assays with 99.9% accuracy.
Experience
Research Assistant
New York University Cancer Center
2018–2019
Conducted experimental tests and developed new research methods.
Used Google Docs to conduct online surveys of 1,000+ patients. Used automated reminders to ensure 95% participation.
Worked with electrophoretic separations and assays (ELISA, TIA, RIA). Performed pipetting with 99.9% accuracy.
Scored 95% in on-the-job HIPAA compliance training evaluation. Followed rigorous protocols to ensure HIPAA compliance.
Created reports based on requested study statistics per orders of laboratory head. Graded at 97% for clarity and layout.
Scheduled staff and ensured work was performed to deadlines. Operated, cleaned, and maintained lab equipment.
Monitored and maintained inventory. Held costs 5% under budget.
Student Research Assistant
New York University Cancer Center
2017–2018
Performed and analyzed 50+ Western Blot tests with 95% accuracy.
Maintained mouse colony of 1,000+ cages and performed genotyping on 500+ specimens.
Education
BA Social Sciences, New York University
2014–2018
Maintained 4.0 GPA in 7 biology laboratory classes.
Conducted project to study efficacy of herbal Lyme treatments.
Publications
"Survival factors in metastatic pancreatic cancer." American Medical Student Research Journal 8, no. 3 (2018): 22-28.
"Multilineage in mammalian stem cells." Michigan State Medical Student Research Journal 3, no. 7 (2017): 17-23.
Volunteer Work
Volunteer lab researcher, Northeast Laboratory Services. Recognized by lead biologist for efficiency.
Research Project
Worked on project to study survival factors in metastatic pancreatic cancer under Dr. Gavin Lithman.
Performed meta-analysis of 35 studies on metastatic pancreatic cancer patients.
Collated results from 1,047 survivors.
Created data visualizations of results in the form of tables and charts. Commended by Dr. Lithman for attention to detail.
Additional Activities
Moderator, Facebook Research Assistant Group, 2,700+ members.
Leader of weekly spin group.
Hard Skills: overseeing experiments, report writing, strategic planning, data collection
Soft Skills: motivation, interpersonal skills, teamwork, communication
Want to open other doors in academe? See our guides:
Haven't found what you're looking for? Check all our resume examples for over 200 jobs.
Applying for a full-length research program? Need to write an academic CV instead of a brief resume? Switch over to Academic CV Sample & Guide
Here's how to write a research assistant resume that works:
1. Choose the Right Research Assistant Resume Format
Don't fail before you start.
A badly formatted resume looks lazy.
The flip side?
Dot your i's and cross your t's and they'll know you're a professional.
Follow these tips:
Research Assistant Resume Format
Format your resume in the reverse-chronological format.
Use a resume font like 10–12pt Helvetica or Verdana.
Leave breathing space between the words and set 1-inch margins.
Hold the length of your resume to one page.
Create these resume sections: Heading, Objective, Work Experience, Education, and Skills.
Save your resume as a PDF. They're ATS-readable and look nice on all devices.
Expert Hint: Is it ever okay to write a 2-page research assistant resume? If you've got tons of great publications and experience, go ahead and stretch it to two pages!
2. Write a Research Assistant Resume Objective or Summary
Your research resume objective or career summary is vital.
It's the one thing they're guaranteed to read.
So—
Make it short and snappy. Fill it with details they care about.
Include:
A single adjective (exacting, energetic)
The words "research assistant"
Years of experience (1+, 5+)
Who & how you'll help (provide high-level lab assistance at Columbia University)
Your best research assistant achievements (surveyed 1,000+ patients...)
These biology research assistant resume examples show the way:
Research Assistant Resume Summary—Example
Both of those resumes for research assistant examples say the same thing. But one adds specifics that convince.
But what if you don't have that much research experience?
See this example:
Entry-Level Research Assistant Resume Example—Objective
Same person. Same info. But the first of those two research assistant resume examples has details that show how well you did the job.
If you have zero experience, list academic achievements or non-research-assistant job accomplishments that show transferable skills.
For instance, teamwork, communication, and work ethic can come from any job.
Expert Hint: Can't get hired? Networking is especially important to research assistants. Reach out to former profs and fellow students. Tell them what you're looking for.
3. Make a Standout Research Assistant Job Description and Skills Section
Got experience?
There's a right and wrong way to put it on resumes for research assistants.
Employers will want to know you did the kind of research they need done.
They'll also want to see you did it well.
To list research experience on your resume:
Find the exact skills for your resume in the job posting.
Put those resume keywords in your bullet points.
Watch these undergraduate research assistant resume samples do it:
The job ad wants these research assistant skills: Google Docs surveys, ELISA assays, HIPAA, and creating reports.
Research Assistant Job Description for Resume [Sample]
See that?
You've already got Google Docs survey experience. Plus you've done ELISA assays. You're also good at report-writing and HIPAA compliance.
That's everything they need.
And now they know it.
What about an entry-level resume for research assistant jobs?
The online posting wants these research assistant skills: Western blot tests, mouse colony maintenance, efficiency, and attention to detail.
Watch how these examples do it:
Entry-Level Research Assistant Resume Job Description [Sample]
Miles apart.
But they're the same person. The better example just lists the right skills.
The numbers make it pop.
Get started with this research assistant resume skills list:
Research Assistant Resume Skills
| | |
| --- | --- |
| Hard Skills | Soft Skills |
| Internet and Phone Research | Interpersonal Skills |
| Overseeing Experiments | Teamwork |
| Report Writing | Communication |
| Data Collection | Attention to Detail |
| Online Surveys | Critical Thinking |
| Strategic Planning | Problem Solving |
| Conducting Experiments | Efficiency |
| MS Office | Organization |
| Data Analysis | Prioritizing |
| Laboratory Preparation | Presentation |
Expert Hint: Proofread, proofread, proofread. Especially in a resume for a research assistant, typos will sink you. Nobody wants to hire a sloppy RA.
4. Let Your Education Section Make the Difference
Don't have much research assistant experience?
Then your resume education section will be critical.
Use it to show how you've made a difference.
Check out this research assistant resume sample:
Research Assistant Resume Example—Education
Not bad.
That shows your degree, school, dates, and some key accomplishments.
5. Add "Extra" Sections to Your Research Assistant Resume
Are publications important in a research assistant resume?
If you have them, yes.
But so are other extras like projects or certifications.
Try adding one or two of these resume sections:
Associations (such as SOCRA)
Certifications (like CCRA)
Publications
Conferences
Projects you've worked on
High grades or test scores in key areas
Academic awards or honors
Commendations from professors
Additional activities
Exercise
These graduate research assistant resume examples show how:
Research Assistant Resume—Extra Sections
Don't get me wrong.
Hang gliding is great!
But that first research assistant resume example shows RA skills and passion.
Expert Hint: Write a research assistant cover letter to go with your research resume. The PI will be a lot more likely to read your resume closely if you do.
Key Points
For a research assistant resume that generates interest:
Use the research assistant resume template up top. It zeroes in on the right skills and achievements to get hired.
Fill your resume sections with accomplishments. That's the only way to show you can do what they need done.
Include the right resume keywords from the online job posting.
Add some "extra" sections that show you're passionate about research.
Got questions on how to write great resumes for research assistant jobs? Not sure how to show research assistant on a resume? Leave a comment. We'll be happy to reply!