Network Engineer Resume—Examples and 25+ Writing Tips
Routers, devices, and connectivity are your playground. But how will hiring teams believe it before they see you work? Convince them with this great network engineer resume sample.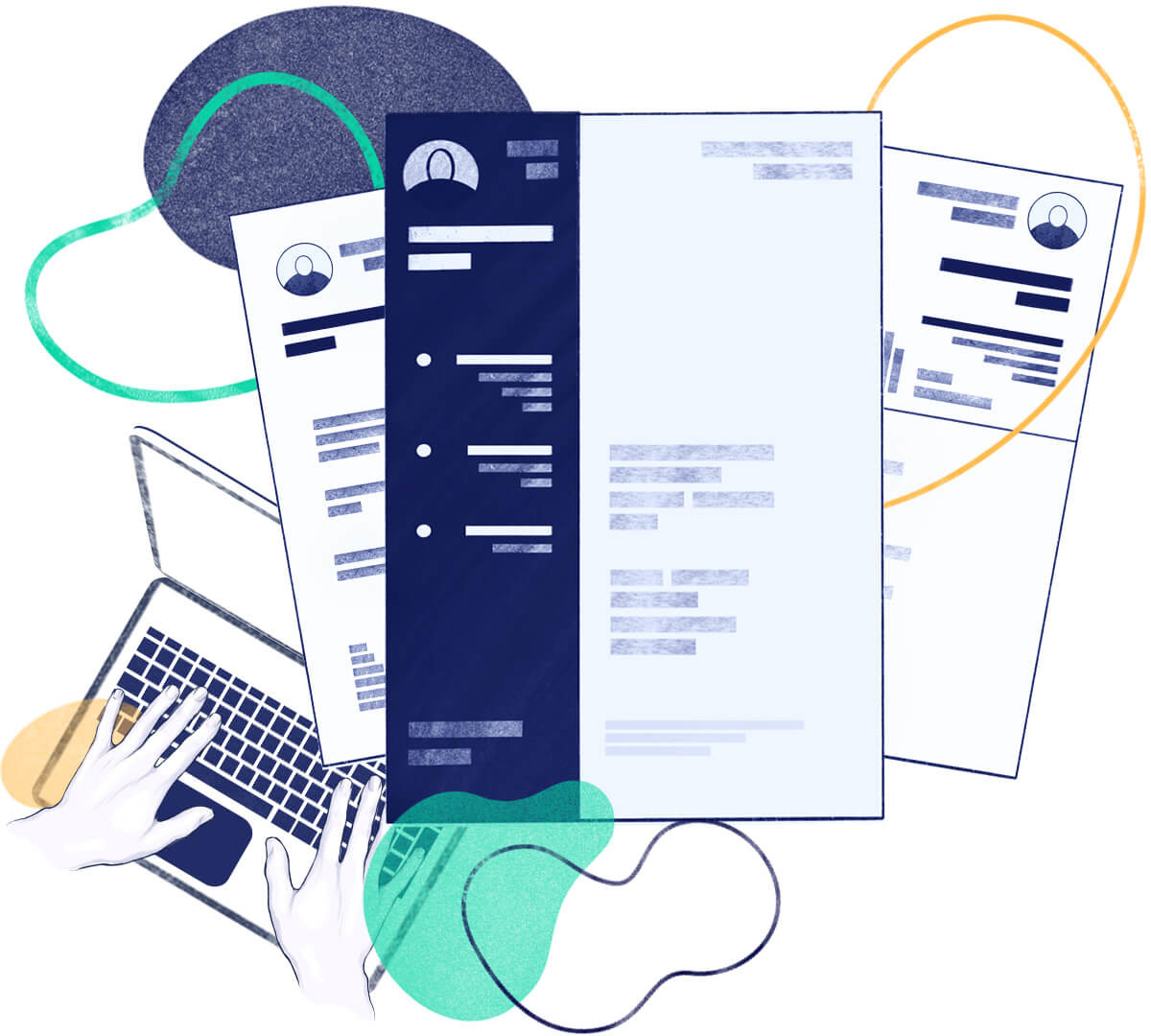 They may handle routers, switches, desktops, and local area networks (LANs).
A resume for network engineer jobs should prove skills in automation, security, systems design, installation, and products like Cisco or Juniper.
Think about this:
$100 an hour.
Top network engineers make that.
But—
Employers don't just hand it out to any candidate.
You have to fit the job like a fieldbus connector.
And you do! You just have to show it in your network engineering resume.
In this guide:
A network engineer resume sample better than most.
How to make a great network engineer job description for resumes.
How to write a resume for network engineer jobs that zaps your downtime.
Why you can't just list network engineer skills (and what to do instead).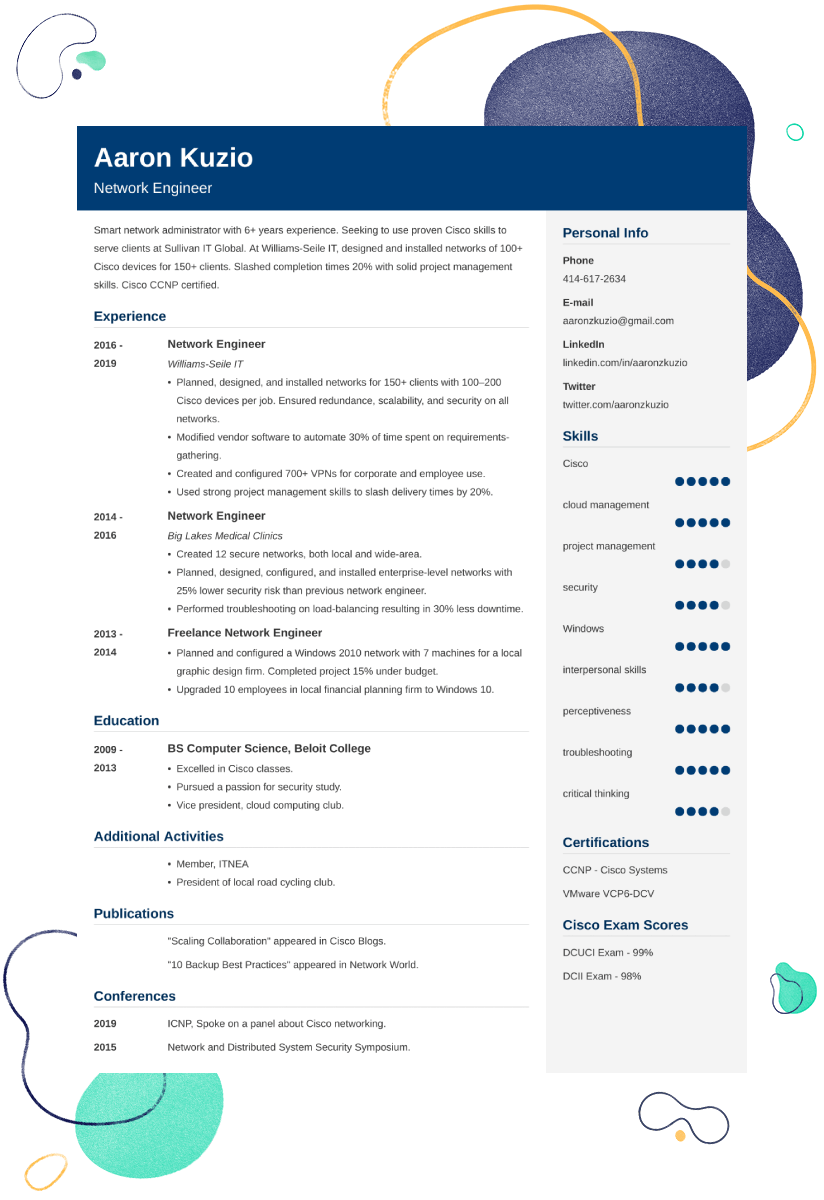 Create a job-winning resume with little effort. Hack your way through ATS software with our 18 beautiful templates—give our builder a try!

Create my resume now
Network Engineer Resume Sample You Can Copy and Use
Aaron Kuzio
Network Engineer
Personal Info
Phone: 414-617-2634
E-mail: aaronzkuzio@gmail.com
linkedin.com/in/aaronzkuzio
twitter.com/aaronzkuzio
Summary
Smart network administrator with 6+ years experience. Seeking to use proven Cisco skills to serve clients at Sullivan IT Global. At Williams-Seile IT, designed and installed networks of 100+ Cisco devices for 150+ clients. Slashed completion times 20% with solid project management skills. Cisco CCNP certified.
Experience
Network Engineer
Williams-Seile IT
2016–2019
Planned, designed, and installed networks for 150+ clients with 100–200 Cisco devices per job. Ensured redundance, scalability, and security on all networks.
Modified vendor software to automate 30% of time spent on requirements-gathering.
Created and configured 700+ VPNs for corporate and employee use.
Used strong project management skills to slash delivery times by 20%.
Network Engineer
Big Lakes Medical Clinics
2014–2016
Created 12 secure networks, both local and wide-area.
Planned, designed, configured, and installed enterprise-level networks with 25% lower security risk than previous network engineer.
Performed troubleshooting on load-balancing resulting in 30% less downtime.
Freelance Network Engineer
2013–2014
Planned and configured a Windows 2010 network with 7 machines for a local graphic design firm. Completed project 15% under budget.
Upgraded 10 employees in local financial planning firm to Windows 10.
Education
BS Computer Science, Beloit College
2009–2013
Excelled in Cisco classes.
Pursued a passion for security study.
Vice president, cloud computing club.
Certifications
CCNP - Cisco Systems
VMware VCP6-DCV
Cisco Exam Scores
DCUCI Exam - 99%
DCII Exam - 98%
Additional Activities
Member, ITNEA
President of local road cycling club.
Publications
"Scaling Collaboration" appeared in Cisco Blogs.
"10 Backup Best Practices" appeared in Network World.
Conferences
2019 - ICNP, Spoke on a panel about Cisco networking.
2015 - Network and Distributed System Security Symposium.
Hard Skills: Cisco, cloud management, project management, security, Windows
Soft Skills: interpersonal skills, perceptiveness, troubleshooting, critical thinking
Got other digital superpowers? See our guides:
Haven't found what you're looking for? Check all our professional resume examples.
Here's how to write a network engineer resume that works:
1. Choose the Right Network Engineer Resume Format
This is gold:
So many network engineer resumes fail before they start.
Why?
They don't pay attention to resume formatting.
Use these tips for the right protocol:
Network Engineer Resume Format
Expert Hint: The median network engineer salary is $82,050. The top jobs pay far above the median. Target the top jobs with a well-tailored resume.
2. Write a Network Engineer Resume Objective or Summary
Picture this:
You have six seconds with your dream employer.
Can you convince her to hire you in that tiny time?
In fact you have to.
Most hiring teams spend just that long with each networking engineer resume.
But don't sweat it.
Six seconds is plenty to hook them with a career objective statement or a summary statement.
Make yours right, and you'll look like a young Chuck Robbins.
Use:
One adjective (smart, talented)
The words "network engineer"
Years of experience (2+, 6+)
How/whom you'll help (serve clients at Sullivan IT)
Your coolest network engineer achievements (slashed completion times 20%)
These Cisco network engineer resume examples show the design:
Network Engineer Resume Summary—Example
Now:
Pretend you're the hiring manager. Which one of those would grab you?
It's the numbers. It's the details.
But what if your experience is still in packing peanuts?
In an entry-level network engineer resume, talk about small things you've done.
Junior Network Engineer Resume Objective
Bonus: Save your network engineer resume summary for last. It's simpler to write that way.
Expert Hint: Certifications matter in an entry-level resume for network engineers. Go for a CompTIA A+, MCSA, VMware, or other certs to stand above the other N00Bs.
3. Electrify Your Network Engineer Job Description and Skills Section
So many blow this.
But it's so easy.
Your network resume can't just say, "I've got experience."
It must say, "I've got your experience."
What do I mean?
Look in the job ad for the right resume skills. Write them down. They're your resume keywords.
Now, show times you've used them.
Watch these senior network engineer resume samples do it right and wrong:
The job ad wants these network engineer skills: Cisco, automation, VPNs, project management.
Network Engineer Job Description for Resume [Sample]
The point:
The hiring manager who sees the first of those network engineer resume examples will say—
"Wow. She's a Cisco expert and she's done a ton of VPNs. Plus, she's got automation and project management experience."
The numbers are the icing on the cake.
Next let's see a job description for an entry-level resume:
The job ad wants these network engineer skills: Windows 2010 networks, upgrading, efficiency, teamwork.
Entry-Level Network Engineer Resume Job Description [Sample]
Worlds apart.
But both the same applicant.
Use these network engineer resume skills to start:
Network Engineer Resume Skills
| | |
| --- | --- |
| Hard Skills | Soft Skills |
| Routing and Switching | Interpersonal Skills |
| Network Components | Collaboration |
| Firewalls | Communication |
| Services Virtualization | Critical Thinking |
| Security | Efficiency |
| Automation | Problem Solving |
| Converged Systems | Organization |
| Cisco | Attention to Detail |
| Product Knowledge | Troubleshooting |
| VPNs | Presentation |
Expert Hint: Just starting with no experience? You may need to start on the help desk or as a network admin assistant. Those look great on networking engineer resumes.
4. Turn Boring Education to a Reason to Hire You
Most network engineers need at least a bachelor's degree.
But—
You can't just say you have it.
Your resume's education section is a place to show more skills.
Watch how this network engineer resume sample does it:
Network Engineer Resume Example—Education
Nice.
If the job ad wants Cisco, security, and cloud computing, you just turbocharged your resume.
Expert Hint: Want your CCNA certification? Get help from the Todd Lammle books and Wendell Odom's test guides. If you pass, put it on your network engineering resume.
5. Add "Bonus" Sections to Your Network Engineer Resume
"He's got the right experience, but is he good to work with?"
Prove you are.
Do it with added sections in your network resume.
Try a couple of these:
Conferences
Projects
Freelancing
Groups, clubs
High test scores
Awards, honors
Publications
Additional activities
Exercise
These network engineer resume examples show how:
Network Engineer Resume—Extra Sections
Wow.
Nothing against ski joring. What a conversation-starter!
But that first network engineer resume example is Juniper-worthy.
Expert Hint: Write a cover letter. Your job search will almost automate itself if you show passion and job fit in your network engineer cover letter.
Key Points
For a network engineer resume that clicks:
Use the network engineer resume template up top. It routes all your best achievements to the front.
Pack your resume sections with accomplishments that fit the job needs.
Pick resume keywords from the hiring ad online.
Add some "bonus" sections to show the network engineering force is strong in you.
Got questions on how to write great resumes for network engineer jobs? Not sure how to show network engineer on a resume? Leave a comment. We'll be happy to reply!