Acting Resume Template and Guide—20+ Examples and Writing Tips
You're serious about your acting skills. You get into your roles and you know your destiny is on Ellen and The View. Show you have the skills with this acting resume sample.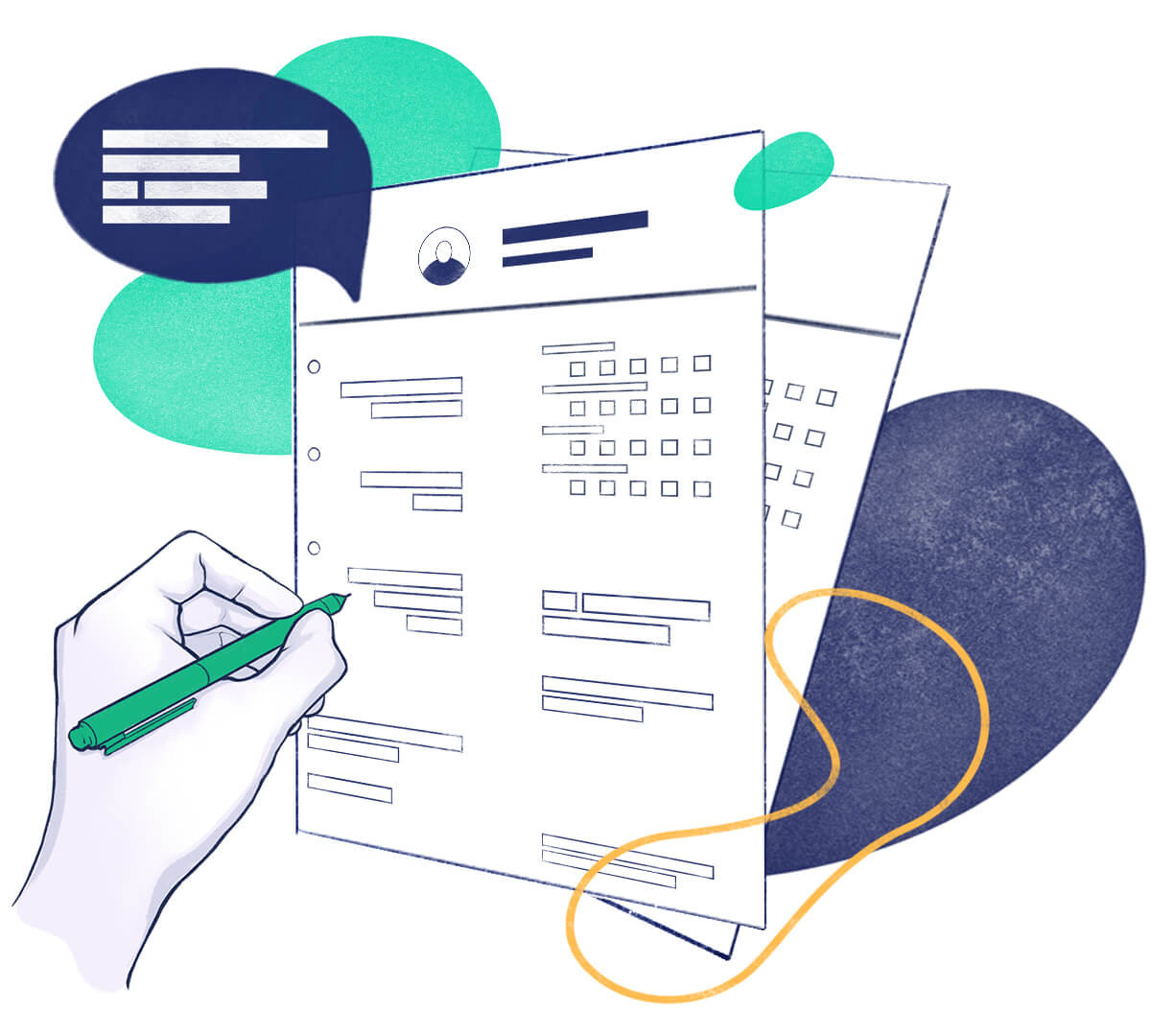 Why do most actor resumes bomb?
It's basic.
They don't catch the casting director's eye.
But—
You can do it if you take the time to think about (and list) your biggest roles.
This guide will show you:
An acting resume sample better than most.
How to list roles on an acting resume.
How to write a resume for actors that can land your dream gig.
How to list special skills on your actors resume.
Save hours of work and get a resume like this. Pick a template, fill it in. Quick and easy. Choose from 18+ resume templates and download your resume now.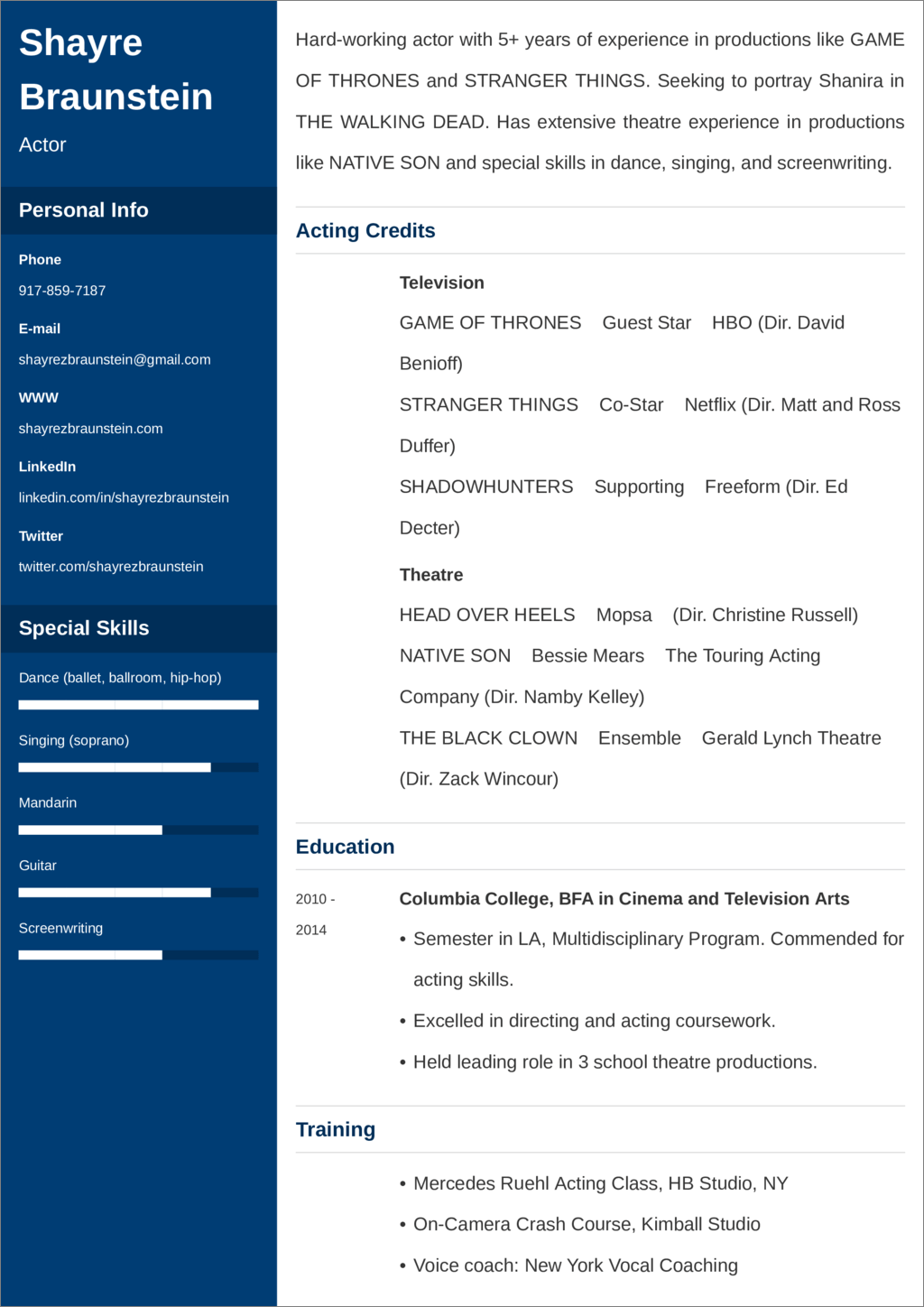 What users say about ResumeLab:
I had an interview yesterday and the first thing they said on the phone was: "Wow! I love your resume."
Patrick

I love the variety of templates. Good job guys, keep up the good work!
Dylan

My previous resume was really weak and I used to spend hours adjusting it in Word. Now, I can introduce any changes within minutes. Absolutely wonderful!
George
Acting Resume Template You Can Copy and Use
Shayre Braunstein
Actor
Personal Info
Phone: 917-859-7187
www: shayrezbraunstein.com
Email: shayrezbraunstein@gmail.com
linkedin.com/in/shayrezbraunstein
twitter.com/shayrezbraunstein
Summary:
Hard-working actor with 5+ years of experience in productions like GAME OF THRONES and STRANGER THINGS. Seeking to portray Shanira in THE WALKING DEAD. Has extensive theatre experience in productions like NATIVE SON and special skills in dance, singing, and screenwriting.
Acting Credits
Television
GAME OF THRONES Guest Star HBO (Dir. David Benioff)
STRANGER THINGS Co-Star Netflix (Dir. Matt and Ross Duffer)
SHADOWHUNTERS Supporting Freeform (Dir. Ed Decter)
Theatre
HEAD OVER HEELS Mopsa (Dir. Christine Russell)
NATIVE SON Bessie Mears The Touring Acting Company (Dir. Namby Kelley)
THE BLACK CLOWN Ensemble Gerald Lynch Theatre (Dir. Zack Wincour)
Education
Columbia College, BFA in Cinema and Television Arts
2010–2014
Semester in LA, Multidisciplinary Program. Commended for acting skills.
Excelled in directing and acting coursework.
Held leading role in 3 school theatre productions.
Special Skills
Dance (ballet, ballroom, hip-hop)
Singing (soprano)
Mandarin
Guitar
Screenwriting
Training
Mercedes Ruehl Acting Class, HB Studio, NY
On-Camera Crash Course, Kimball Studio
Voice coach: New York Vocal Coaching
Do your talents need something different than an actor resume? See our other guides:
Now here's how to make an acting resume they'll love:
1. Start With the Best Acting Resume Format
Actors play characters on TV, in movies, or in theatre productions. They may also work in commercials or infomercials, or in amusement parks. To get work, an actor resume must show credits that closely match the roles you are auditioning for.
But—
You can't just toss your best screen and stage moments in a blender and land great roles.
Use these resume formatting tips to stay in character:
Acting Resume Format
Use good resume fonts like Calibri or Didot in 10–12pt.
Add white space and include 1-inch margins.
Write a 2+ page resumeif you've got tons of impressive, matching credits.
Use these resume sections: Header, Objective, Acting Credits, Education, Special Skills, Training, Awards, and "Additional."
Expert Hint: Save your acting resume as a PDF. They play well on all devices (tablets, laptops, and phones). But make sure the casting call doesn't nix them.
2. How to Include a Headshot with an Actor Resume
Yes, you need a headshot with an acting resume.
You can:
Print it on the back of your resume.
Staple it to the back of your resume.
Tape it to the back of your resume.
The best way depends on how you get your headshots.
If you print them at home, print them on the back of your resume.
Does your photographer mail your headshots to you? Staple them to the back — at all four corners.
Big tip:
Don't use a glue stick. They can make your resume or headshot wrinkly.
Expert Hint: If you print your headshot on the back of your acting resume, only make a couple at a time. That way if you need to update your resume, you're not stuck with tossing copies in the trash.
3. Write an Acting Resume Objective or Summary
Yikes.
The casting director probably won't read your actors resume.
She'll skim it.
Unless—
You hook her like the first scene of Vertigo. Do it with a well-written acting resume objective or summary.
Include:
One adjective (passionate, talented, hard-working)
Job title (Actor)
Years of experience (3+, 5+)
Best few roles (GAME OF THRONES, STRANGER THINGS)
These child actor resume examples show how:
Acting Resume Summary—Example
Lauds, meet sklaundre.
The first of those actor resume samples will make directors itch to call you. The second is phoning it in.
Acting Resume for Beginners [Objective Example]
Writing a beginner acting resume?
There's a way that works.
You may not have Broadway credits, but—
You've done some acting you can list.
This beginner actor resume objective shows the way:
So you're no Tom Hanks. But you've been paid for a few gigs, even if it was only pennies or free beer. That's still professional experience.
Expert Hint: Don't write your actor's resume summary or objective first. That's like making the trailer for a film before the film's been shot.
4. How to List Roles on Acting Resumes
Should you show every role you've ever had?
No.
Nobody needs that much backstory.
So, list your best few roles that fit the one you're angling for.
That's called tailoring a resume.
Here are the types of roles you can show as your professional experience:
Types of Credits for Acting Resumes
Theatre
Broadway
Off-Broadway
Shakespeare
Musicals
Regional Theatre
And so on...
Film
Feature Film
Short Film
TV Movie
TV Series
Documentary
And so on...
Types of Roles for Acting Resumes
Speaking
Lead
Principle
Supporting
Guest Star (TV)
Voiceover
Non-Speaking
Featured
Extra
Stunt Performer
Stunt Double
Body Double
These professional acting resume examples show the format:
Roles on Acting Resume [Sample]
Wow.
The first of those actor resume examples gets a standing ovation. It shows exactly what the producers are after.
The second gets a "rotten" score.
Writing a beginner acting resume?
Beginners Acting Resume Roles List [Sample]
Got no acting chops at all? Add scenes you worked on in school. List your teacher as director:
Make sure you get that right.
You can't just show experience from other jobs in acting resumes.
You've got to show your efforts in the acting world. Even if they're slight.
What about special skills?
List the ones below if you have them:
Example Special Skills for Acting Resumes
Dancing
Accents
Singing
Foreign Languages
Screenwriting
Combat Training
Physical Fitness
Musical Instruments
You can add others that might be handy to the role you're trying for. Example: it's an underwater epic and you're a certified dive instructor.
Expert Hint: As you earn more credits in the acting world, target niches and build a resume for each. An experienced actor could have one resume for TV, one for theatre, and one for stage, or even one for horror and one for comedy.
The ResumeLab builder is more than looks. Get specific content to boost your chances of getting the job. Add job descriptions, bullet points, and skills. Easy. Improve your resume in our resume builder now.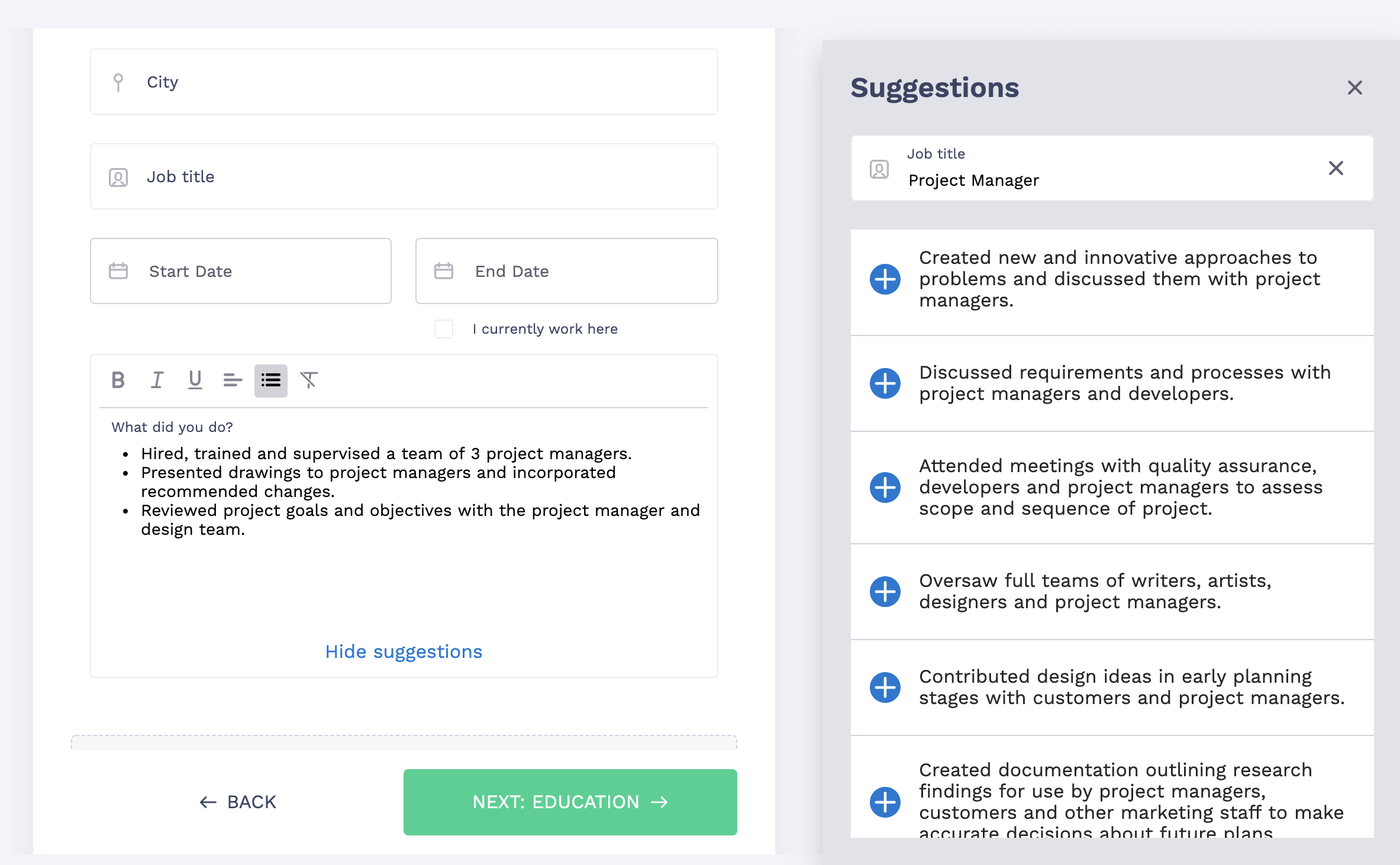 Nail it all with a splash of color, choose a clean font, highlight your skills in just a few clicks. You're the perfect candidate and we'll prove it. Use the ResumeLab builder now.
5. Don't Let Your Education Section Turn Them Off
Plenty of great actors don't have much education, right?
Yes, but this is crucial:
Use your acting school achievements to keep directors in their seats.
These professional acting resume examples lay it out:
Acting Resume Education—Example
Roll credits.
That professional actor resume example shows you "had it" even back in school.
Expert Hint: Want your actor's resume to really wow them? Consider listing any well-known teachers or studios you've studied with in your resume education section.
6. Script Your Acting Resume With Added Sections
It's not curtain call time yet.
Your application is not complete without 1–2 added resume sections.
You can choose from:
Training
Additional References
These two acting resume examples show the stage direction:
Acting Resume—Extra Sections
No comparison.
One of those acting resume samples could get you in the next Star Wars film.
The other proves you're a cool person, but no more.
What's "Additional References?" That's just where you list links to your work they can watch online.
Got a website or online portfolio?
Definitely list that, too.
Expert Hint: Write an acting cover letter. That's the best way to show your passion. To make it fit the role, list acting achievements that look similar to what they want.
Double your impact with a matching resume and cover letter combo. Use our cover letter builder and make your application documents pop out.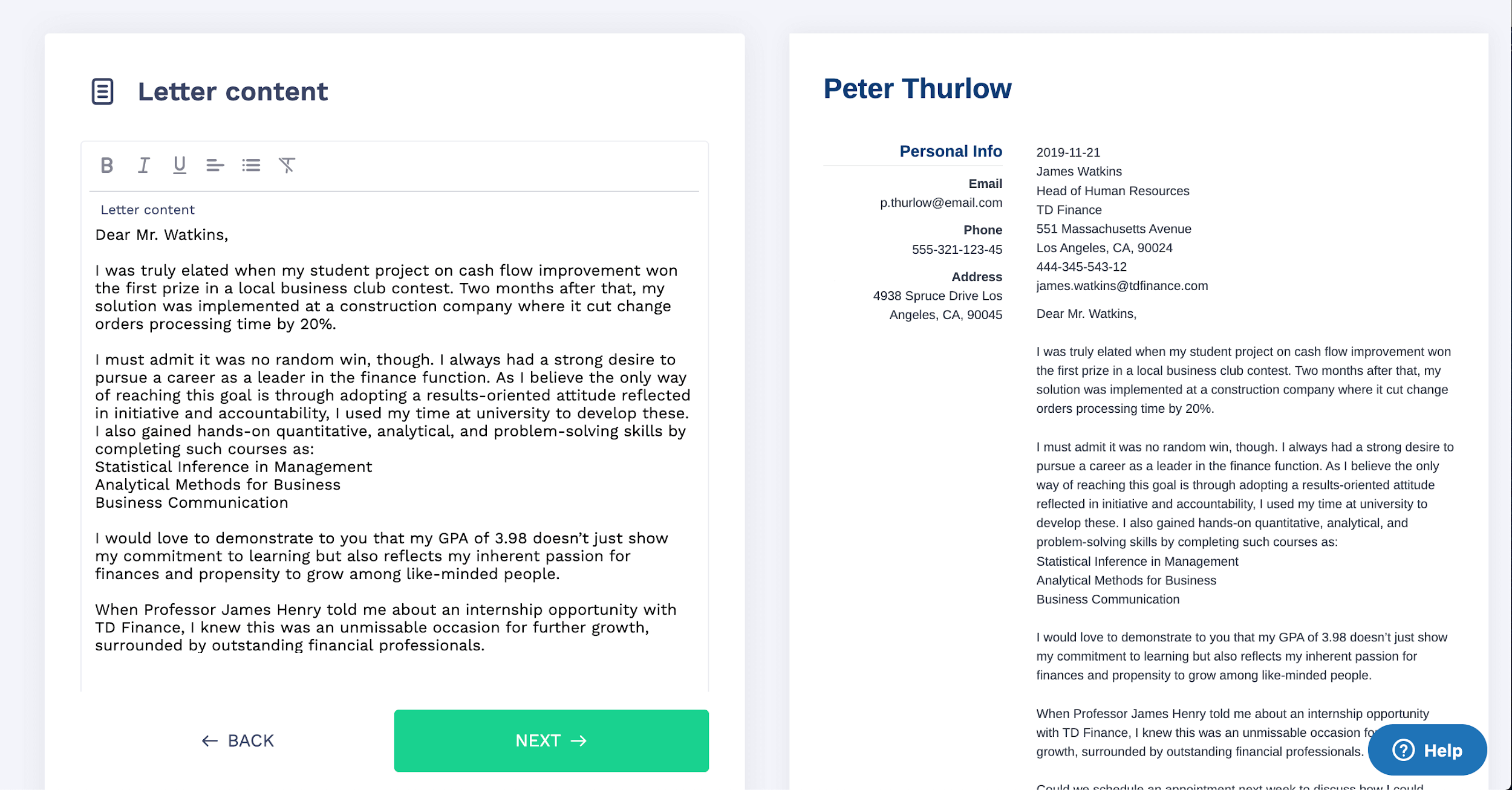 Want to try a different look? There's 18 more. A single click will give your document a total makeover. Pick a cover letter template here.
Key Points
For an actor resume that gets auditions:
Use the actor resume template up top. It connects you to the casting director's needs by showing your best side.
Put acting achievements in all your resume sections. That's how to prove you know how to bring the house down.
List special skills for acting resumes. Pick the ones that fit the production to a tee.
Write an acting cover letter. Use it to show your passion for the role especially if you lack experience.
Got questions on how to write a great resume for acting jobs? Not sure how to show acting on a resume? Leave a comment. We'll be happy to reply!