Paralegal Resume—Examples and 25+ Writing Tips
Paralegals are legal superheroes. They work long hours, protect clients, and basically save lives. Show you can fill the suit with this professional paralegal resume sample.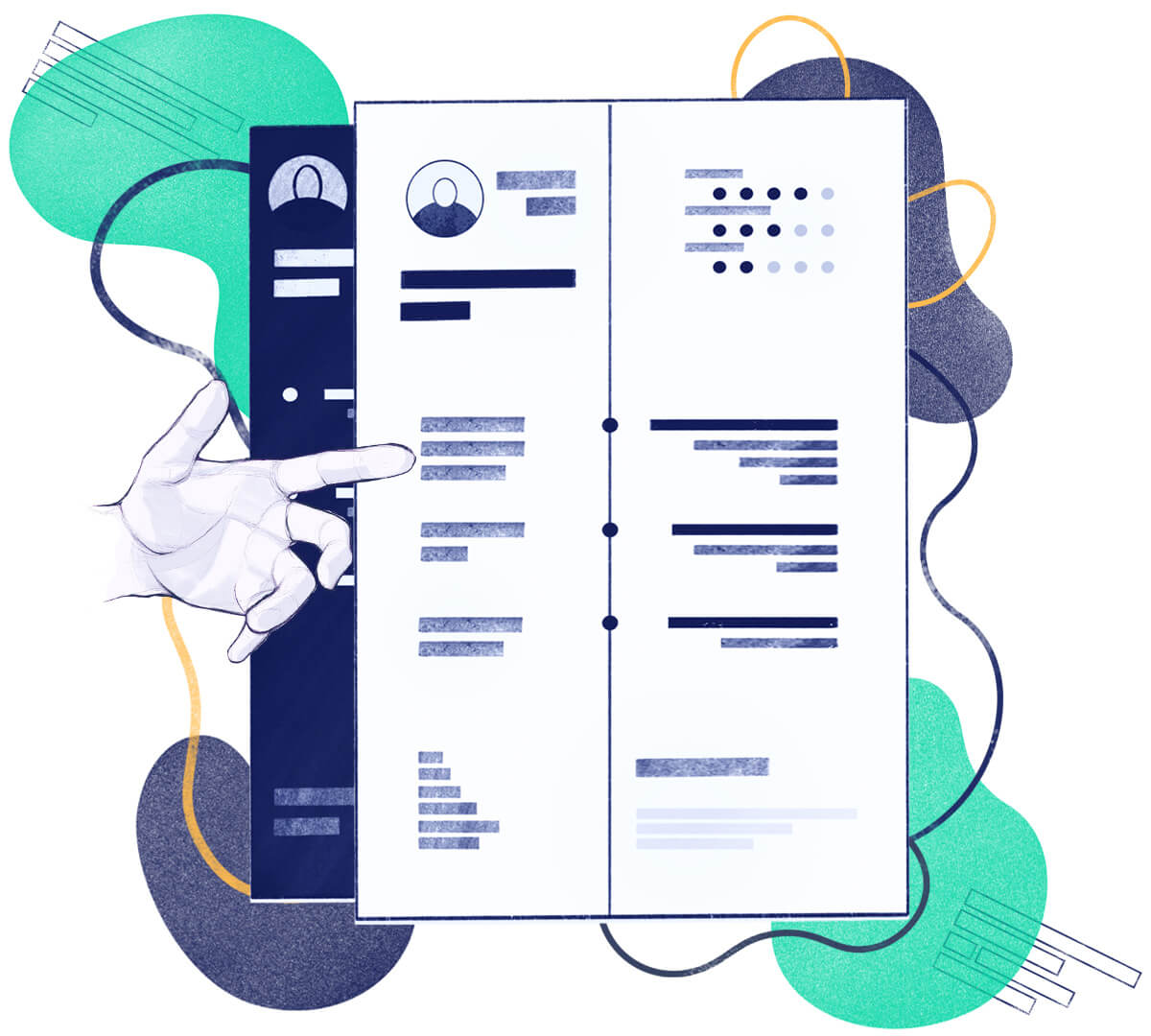 You're about to see the perfect paralegal resume.
But think about this—
Being a paralegal is not like Law and Order.
It's better.
The top paralegals make almost $80K a year. The job market will grow at 12% in the next 10 years.
In other words? You picked a great career.
The problem?
The best paralegal jobs draw hundreds of applicants.
But don't sweat it. We'll show you how to make a resume for paralegals that gets a hired verdict.
In this guide:
A paralegal resume sample better than most.
How to write a resume for paralegal jobs that stands out.
How to draft a paralegal job description for resumes.
Why you can't just list paralegal skills (and what to do instead).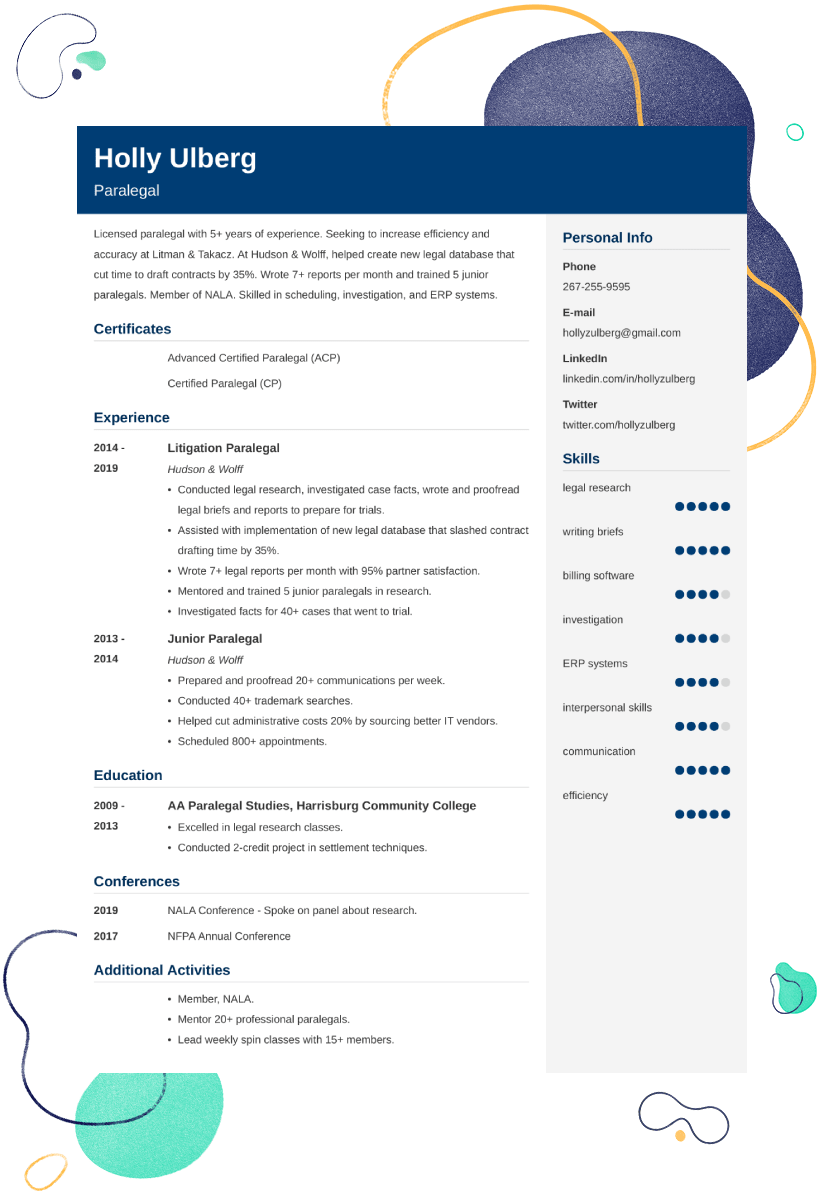 Create a job-winning resume with little effort. Hack your way through ATS software with our 18 beautiful templates—give our builder a try!

Create my resume now
Paralegal Resume Sample You Can Copy and Use
Holly Ulberg
Paralegal
Personal Info
Phone: 267-255-9595
E-mail: hollyzulberg@gmail.com
linkedin.com/in/hollyzulberg
twitter.com/hollyzulberg
Summary
Licensed paralegal with 5+ years of experience. Seeking to increase efficiency and accuracy at Litman & Takacz. At Hudson & Wolff, helped create new legal database that cut time to draft contracts by 35%. Wrote 7+ reports per month and trained 5 junior paralegals. Member of NALA. Skilled in scheduling, investigation, and ERP systems.
Certifications
Advanced Certified Paralegal (ACP)
Certified Paralegal (CP)
Experience
Litigation Paralegal
Hudson & Wolff
2014–2019
Conducted legal research, investigated case facts, wrote and proofread legal briefs and reports to prepare for trials.
Assisted with implementation of new legal database that slashed contract drafting time by 35%.
Wrote 7+ legal reports per month with 95% partner satisfaction.
Mentored and trained 5 junior paralegals in research.
Investigated facts for 40+ cases that went to trial.
Junior Paralegal
Hudson & Wolff
2013–2014
Prepared and proofread 20+ communications per week.
Conducted 40+ trademark searches.
Helped cut administrative costs 20% by sourcing better IT vendors.
Scheduled 800+ appointments.
Education
AA Paralegal Studies, Harrisburg Community College
2009–2013
Excelled in legal research classes.
Conducted 2-credit project in settlement techniques.
Additional Activities
Member, NALA.
Mentor 20+ professional paralegals.
Lead weekly spin classes with 15+ members.
Conferences
2019 - NALA Conference - Spoke on panel about research.
2017 - NFPA Annual Conference
Hard Skills: Legal research, writing briefs, billing software, investigation, ERP systems
Soft Skills: Interpersonal skills, communication, efficiency
Looking for a paralegal internship? See our guide: Internship Resume Sample & Guide
Trying to put paralegal on a resume? Coming into law from another job? Try this guide: Resume for a Career Change
If you need a more general resume, try our guide on How to Write a Legal Resume
Here's how to write a paralegal resume that convinces:
1. Choose a Professional Paralegal Resume Format
Can you handle the truth?
They'll judge you by your resume format.
So—
Start with the reverse-chronological layout. It puts the right facts before their eyes.
Paralegal Resume Format
Draft a single-page resume with 1-inch margins.
Use a resume font like 10–12pt Helvetica or Didot.
Create resume sections like Heading, Summary, History, Education, and Skills.
Put white space between sections for easy reading.
Save your resume in PDF form. PDF resumes show up well on different screens.
Expert Hint: Paralegals make from $40K to $73K per year. To almost double your salary, write a paralegal resume that's tailored to the job requirements.
2. Write a Paralegal Resume Objective or Summary
Danger.
You have little time before they file your resume.
So—
Make your resume summary or resume objective count.
Include:
"Licensed paralegal"
Years of experience (2+, 4+)
How/who you will help (increase efficiency at Litman & Takacz)
Best paralegal moments (cut time to draft contracts by 35%...)
A couple job skills (investigation, scheduling...)
Save brain cells by writing it last.
These litigation paralegal resume examples give the brief:
Paralegal Resume Summary—Example
I rest my case.
Both paralegal duties resume samples talk writing and training skills. But—
The first adds evidence like 35%, 7+, and 5.
Are you making an entry-level resume for paralegals?
See this entry-level paralegal resume sample:
Entry-Level Paralegal Resume Objective
Objection:
They won't buy the second of those paralegal resume examples. What does "good communicator" mean without proof?
Expert Hint: Perkins Cole is one of the best big law firms to work for as a paralegal. But don't limit yourself to big. Aim your paralegal duties resume at small firms to get hired faster.
3. Enhance Your Paralegal Job Description and Skills
What skills do you need in a paralegal resume?
Here's a list:
Paralegal Resume Skills
| | |
| --- | --- |
| Hard Skills | Soft Skills |
| Legal Research | Collaboration |
| Drafting Briefs | Interpersonal Skills |
| Investigation | Communication |
| Drafting Lawsuits | Writing |
| Client Counseling | Negotiation |
| Settlement Techniques | Self Motivation |
| Litigation | Attention to Detail |
| Proofreading | Time Management |
| Preparing Reports | Multi-Tasking |
| | Organization |
But there's a rider.
Don't list them all. You'll look silly. Maybe even dishonest.
To write a paralegal job description for resumes:
Pick the right resume skills in the job posting.
Put them in your resume as keywords.
Show the results you got from using them.
Copycat the first of these immigration paralegal resume samples:
Say the job ad wants these paralegal skills: IT, writing legal reports, training, investigation.
Paralegal Job Description for Resume [Sample]
So close.
The second of those paralegal resume examples skips IT skills, writing reports, training, and investigation.
It also lacks numbers like 35% and 40+.
But—
Does that work in an entry-level resume?
Yep.
Say the job wants these paralegal skills: proofreading, trademark searches, sourcing vendors, scheduling, teamwork.
See this entry-level paralegal resume example with no experience:
Entry-Level Paralegal Resume Job Description [Sample]
That's eye-opening.
The first paralegal resume example shows proofreading, and scheduling.
Then it says how much you did of each.
It also cites teamwork from another job.
Expert Hint: Paralegal duties resumes need computer skills. Does the job ad want Excel, Clio, or LexisNexis? What about MyCase? Check the ad, then put proof in your resume.
4. Squeeze More Out of Your Education Section
They already know you have an education.
But—
You can wow them with it.
How?
Put a couple coveted skills in your education section.
This personal injury paralegal resume sample shows how:
Paralegal Resume Example—Education
Nice.
That paralegal education resume example proves research and settlement techniques.
5. Add More to Your Paralegal Resume
"Wow, look at that."
If they say that about your paralegal resume, they'll call.
So—
Put a couple "added" sections in your resume with key accomplishments.
Try a few of these:
Groups
Conferences
Publications
Freelancing
Languages
Additional activities
Fitness
This sample paralegal resume crushes it:
Paralegal Resume—Extra Sections
No contest.
The first of those paralegal resume examples shows you're certified. Then it proves mentorship, leadership, and research skills.
Expert Hint: Write a cover letter. Your paralegal duties resume will sink without it. Yes, many hiring teams don't care about them. But don't insult the 45% that do.
Key Points
Here's how to write a paralegal resume:
Use the paralegal resume template up top. Build your case with skills mentioned in the online job ad.
Don't just list paralegal skills. Researching and investigation are great. But to get hired, show how they helped the partners.
Your education section needs evidence. Salt in skills like training or computer use.
Include resume sections that show NALA memberships, certifications, or athletic activities.
Got questions on how to write great resumes for paralegal jobs? Not sure how to put paralegal on a resume? Leave a comment. We'll be happy to reply!