Student Resume Template: 25+ Examples and Writing Tips
A student resume template that will land you an interview. See a sample high school & college resume. Follow expert advice, and learn from good & bad examples.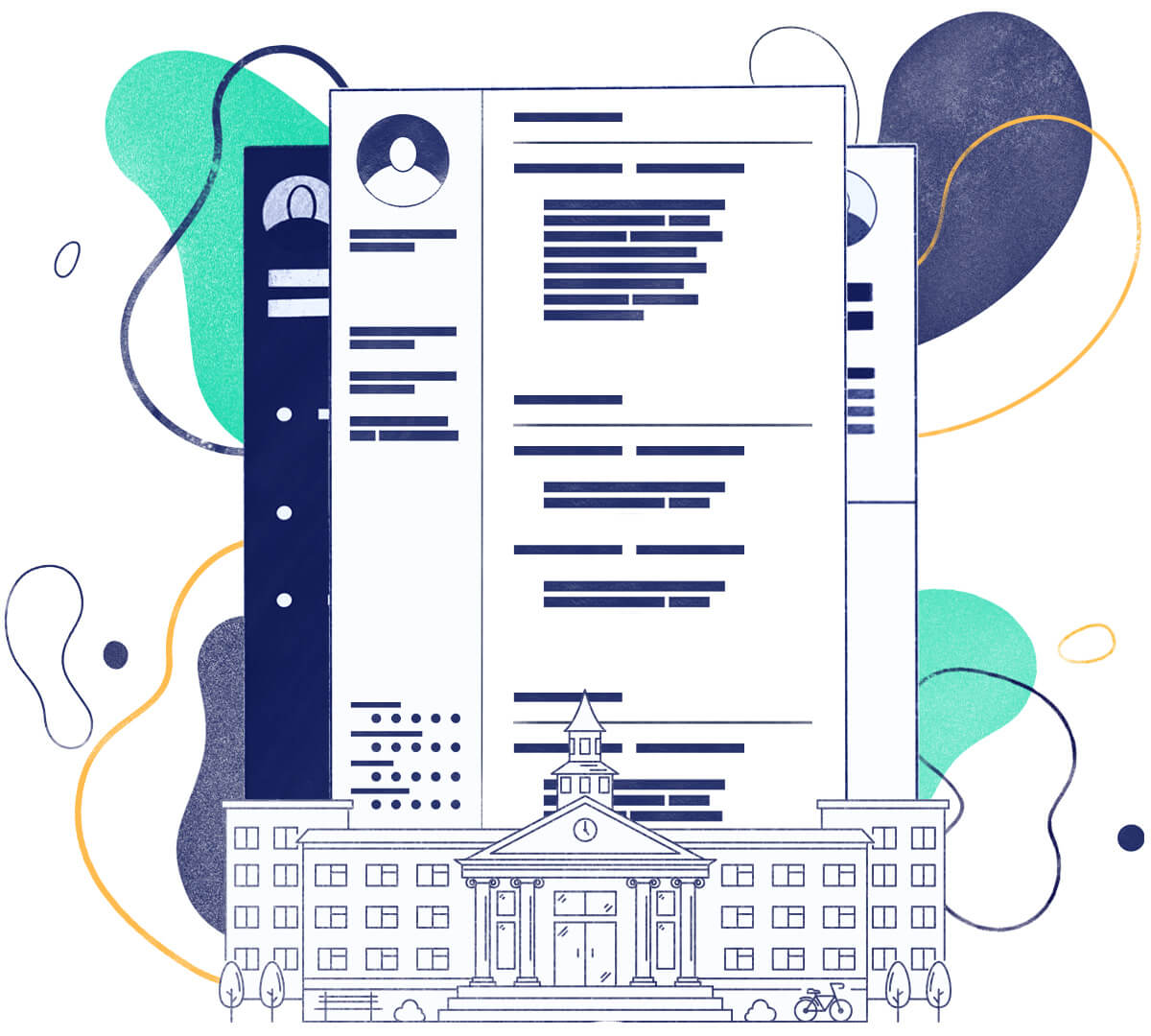 Listen:
Before you get down to writing your student resume, there's something you need to know.
Your education doesn't matter that much.
Employers care more about what you can deliver.
How to show it to them?
Well, you're about to learn how to make a perfect student resume.
And it doesn't matter if you want to write a college resume or make a resume for a high school student.
We've got you covered.
In this guide you will find:
Good student resume examples that get jobs.
How to write a college resume that gets the interview.
How to ace your student job description for a resume.
Expert tips and examples to boost your chances of landing jobs.
Save hours of work and get a resume like this. Pick a template, fill it in. Quick and easy. Choose from 18+ resume templates and download your resume now.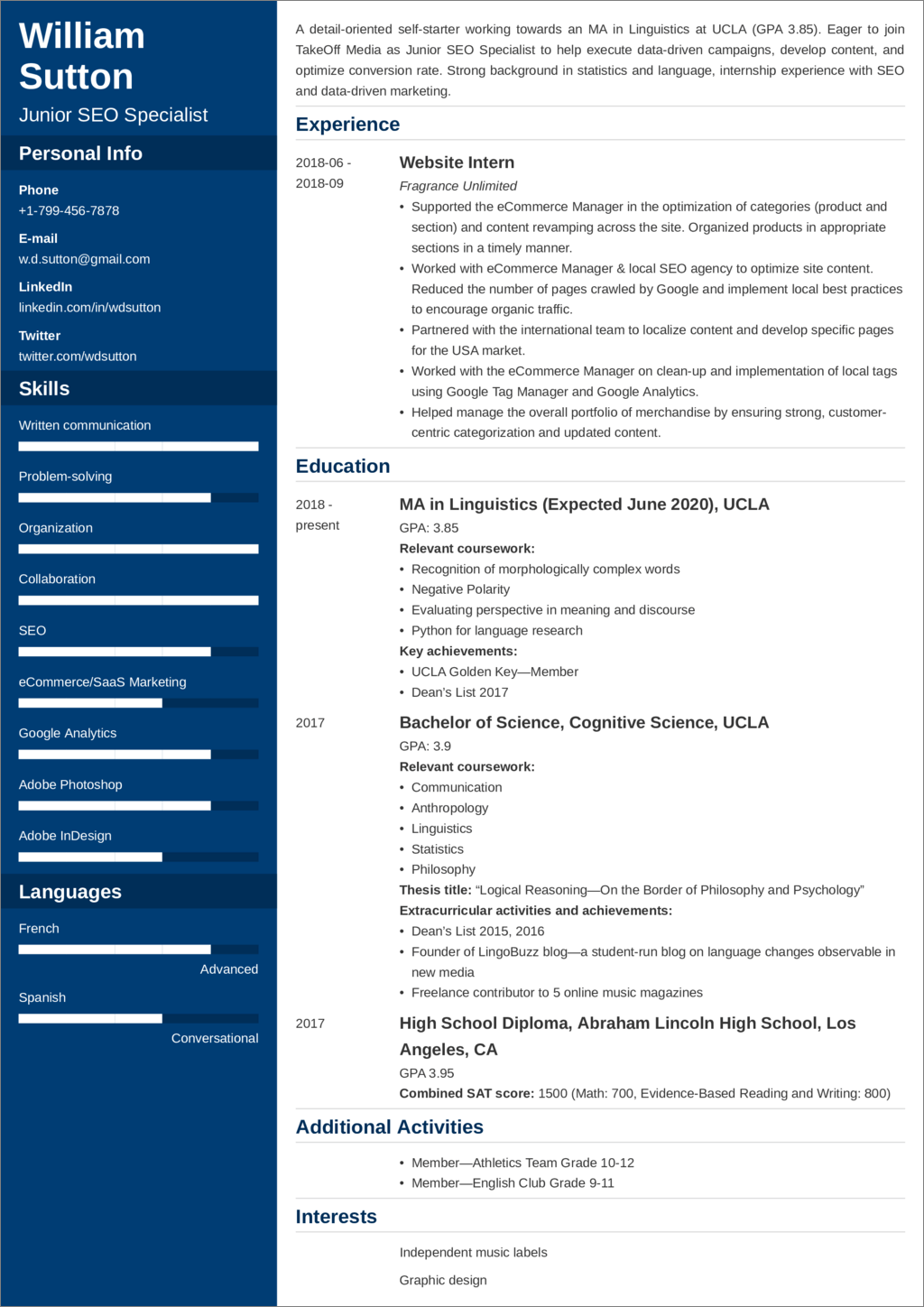 What users say about ResumeLab:
I had an interview yesterday and the first thing they said on the phone was: "Wow! I love your resume."
Patrick

I love the variety of templates. Good job guys, keep up the good work!
Dylan

My previous resume was really weak and I used to spend hours adjusting it in Word. Now, I can introduce any changes within minutes. Absolutely wonderful!
George
Student Resume—Template
William Sutton
Junior SEO Specialist
Phone: +1-799-456-7878
Email: w.d.sutton@gmail.com
LinkedIn: linkedin.com/in/wdsutton
Twitter: twitter.com/wdsutton
Objective
A detail-oriented self-starter working towards an MA in Linguistics at UCLA (GPA 3.85). Eager to join TakeOff Media as Junior SEO Specialist to help execute data-driven campaigns, develop content, and optimize conversion rate. Strong background in statistics and language, internship experience with SEO and data-driven marketing.
Experience
June 2018– September 2018
Fragrance Unlimited
Website Intern
Supported the eCommerce Manager in the optimization of categories (product and section) and content revamping across the site. Organized products in appropriate sections in a timely manner.
Worked with eCommerce Manager & local SEO agency to optimize site content. Reduced the number of pages crawled by Google and implement local best practices to encourage organic traffic.
Partnered with the international team to localize content and develop specific pages for the USA market.
Worked with the eCommerce Manager on clean-up and implementation of local tags using Google Tag Manager and Google Analytics.
Helped manage the overall portfolio of merchandise by ensuring strong, customer-centric categorization and updated content.
Education
2018—present
UCLA
MA in Linguistics (Expected June 2020)
GPA: 3.85
Relevant coursework:
Recognition of morphologically complex words
Negative Polarity
Evaluating perspective in meaning and discourse
Python for language research
Key achievements:
UCLA Golden Key—Member
Dean's List 2017
2017
UCLA
Bachelor of Science, Cognitive Science
GPA: 3.9
Relevant coursework:
Communication
Anthropology
Linguistics
Statistics
Philosophy
Thesis title: "Logical Reasoning—On the Border of Philosophy and Psychology"
Extracurricular activities and achievements:
Dean's List 2015, 2016
Founder of LingoBuzz blog—a student-run blog on language changes observable in new media
Freelance contributor to 5 online music magazines
2017
Abraham Lincoln High School, Los Angeles, CA
High School Diploma
GPA 3.95
Combined SAT score: 1500 (Math: 700, Evidence-Based Reading and Writing: 800)
Activities:
Member—Athletics Team Grade 10-12
Member—English Club Grade 9-11
Interests
Independent music labels
Graphic design
Key Skills
Written communication
Problem-solving
Organization
Collaboration
SEO
eCommerce/SaaS Marketing
Google Analytics
Adobe Photoshop
Adobe InDesign
Languages
French (Advanced)
Spanish (Conversational)
Need help with a different kind of resume? Explore our other guides:
Haven't found what you're looking for? Check all our resume examples for over 200 jobs.
1. Choose the Best Student Resume Format
You might be wondering:
How to write a student resume that stands out?
Well—
Make it relevant, navigable, and readable for humans and machines alike.
Simple? Yes. Easy? Ummm.
Not to worry.
Start with this checklist:
A good student resume starts with your latest school and goes back in time. The same applies to the other sections, such as summer internships, experience, etc.
Anything between 10 and 14pt works fine. Write simple headings. Make good use of white space. A cluttered resume will put the recruiter off.
Consider additional resume sections to show off your certifications, interests or membership in student associations and organizations.
Expert Hint: Export your student resume to a PDF file. Its formatting will remain intact and ATSs (Applicant Tracking Systems) will be able to read it.
2. Start with a Student Resume Objective That Turns Heads
Cut to the chase:
Your student resume has 7 seconds to impress the recruiter.
So—
Make the most of the little time you have and start it off with a powerful resume objective.
This foolproof formula will help you nail it every single time:
An adjective/strong trait
How you can help
What you have to offer
Your experience
And here's how it looks in practice:
Sample College Student Resume—Objective
Mention the company you're applying to by name. You don't want your college resume objective to look generic.
And remember—
It doesn't matter whether you're making a high school resume or college student resume. It simply has to be great. The opening statement sets the tone for the rest.
High School Student Resume with No Work Experience—Objective
Obviously—
You won't be able to put a lot of professional experience in your high school resume objective.
But don't let this discourage you.
Leverage your passions.
There's always something you're great at.
Identify it, think how it can help you in the role you're applying for, and boast about it in your high school resume objective.
Expert Hint: Your student resume should start with the objective, but there's nothing wrong with writing it at the very end. Once your entire student resume is ready, go through it, select the best parts, and arrange them in a snappy intro.
3. Write the Perfect Experience and Skills Sections on Your Student Resume
Reality check:
A recent NACE study revealed that hiring managers pay the most attention to internships and employment on student resumes.
| | |
| --- | --- |
| Factor | Influence Rating (0-5) |
| Has completed an internship with your organization | 4.6 |
| Has internship experience in your industry | 4.4 |
| Major | 3.8 |
It means one thing:
Your student resume experience section must be anything but empty.
So—
If you're serious about landing a job as a student, you need to show you're not entirely green behind the ears.
Think of your:
internships
volunteering and campus/students organisations
part-time and freelance jobs
extracurricular activities
All this counts.
Take a look at the example below.
It's all about a summer internship. But reads like a summary of Jeff Bezos' early years.
College Student Resume Example—Little Experience
Expert Hint: Not sure about the best jobs for college students? Go right here to look for inspiration.
Here's a heads-up for you.
Your student resume won't get you anywhere if you've never heard of ATSs (Applicant Tracking Systems). ATSs are commonly used in large companies to help recruiters separate the wheat from the chaff.
To cut a long story short. ATSs screen your student resume for keywords. If they're missing from yours—
Say bye-bye to the job interview.
This is what you have to do:
When describing your experience (or education, or skills) tailor your resume by using the phrasing and vocabulary from the job ad.
Re-read the job posting.
Identify the sought-after skills.
Write your college resume using the language from the job ad.
In the student resume example above, the keywords are highlighted.
But it doesn't end here.
Your key skills must be properly exposed.
According to a NACE study, the following skills are among the most valued in recent college graduates.
Top Student Resume Skills—Example
Problem-solving skills
Ability to work in a team
Communication skills (written)
Leadership
Strong work ethic
Analytical/quantitative skills
Communication skills (verbal)
Initiative
Detail-oriented
Flexibility/adaptability
Technical skills
Interpersonal skills (relates well to others)
Mind you—
Even though these skills are the most desirable, they don't have to be the best skills to put on a college resume.
So, what are the best skills to put on your resume?
Here's the secret:
Make sure the skills on your student resume stay as close as possible to those listed in the job ad.
If the job ad refers to the ability to work in a team as collaboration go for the resume keywords used in the job ad.
Both the ATS and recruiters like it.
Expert Hint: Keep your list of skills for a student resume at bay. Put up to ten skills you feel confident about and leave out the others. This way you'll avoid the so-called presenter's paradox.
The ResumeLab builder is more than looks. Get specific content to boost your chances of getting the job. Add job descriptions, bullet points, and skills. Easy. Improve your resume in our resume builder now.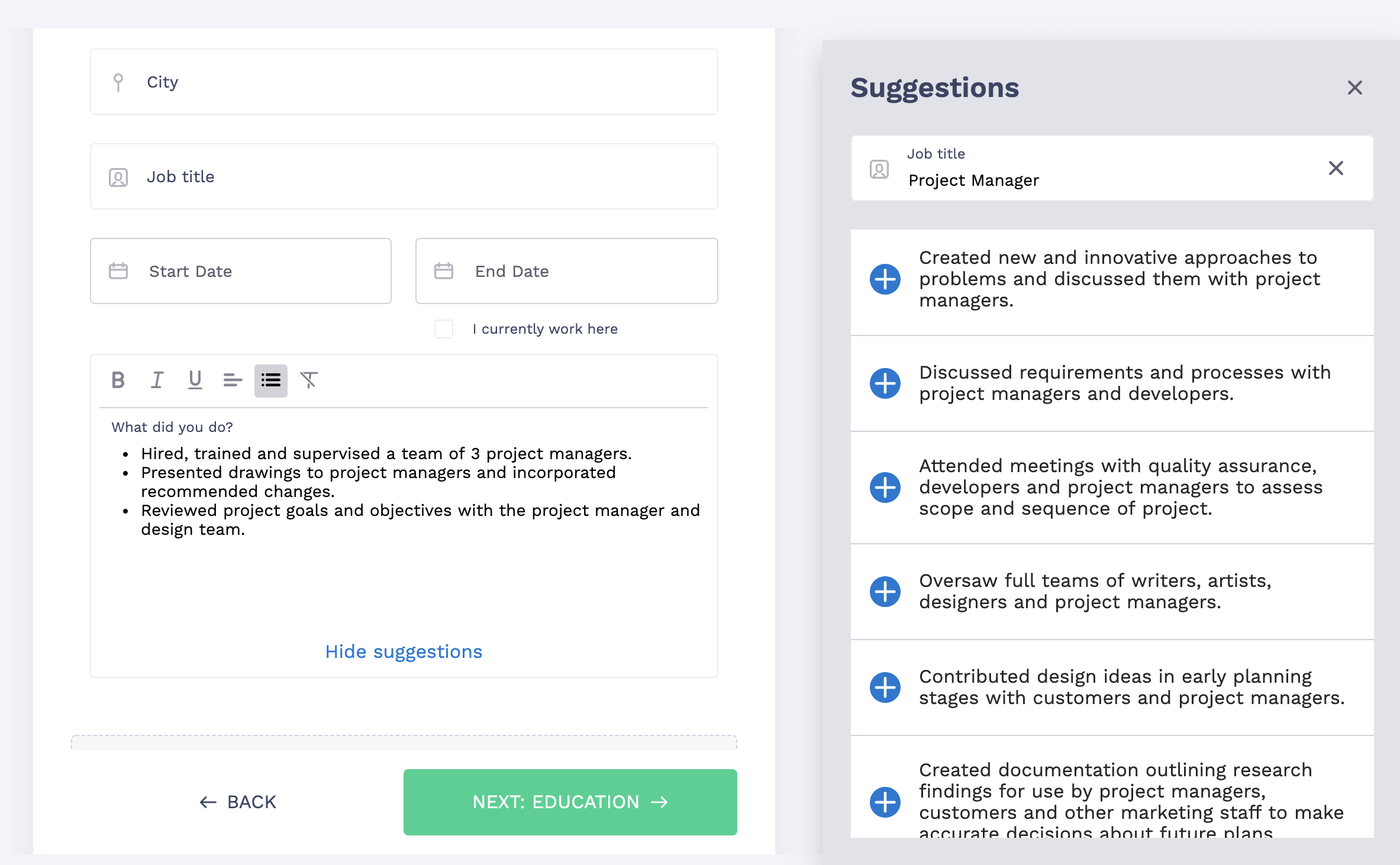 Nail it all with a splash of color, choose a clean font, highlight your skills in just a few clicks. You're the perfect candidate and we'll prove it. Use the ResumeLab builder now.
4. Turn Education Into Yet Another Reason to Hire You
It's no secret—
Education resume section isn't as important as experience on your student resume.
But it's not unimportant either.
So—
If you're serious about making the most of your student resume, don't neglect this section.
Make sure you:
Show off your GPA if it's above 3.5.
Add thesis title.
Include your key achievements and extracurricular activities (publications, honors, awards.)
College Student Resume Example—Education
On a good student resume, the education section has every right to be more detailed than on a seasoned pro's resume.
After all, this is what you do on a daily basis.
The rule of thumb is to only list the latest school/degree. But if you're an MA student, do list your bachelor's as well. And don't go back more than five years.
If you're preparing a high school student resume your education section could look like this:
High School Student Resume—Education
Expert Hint: If the experience section of your student resume looks meager, do a little trick. Swap the experience and education sections, so that education comes first on your college student resume.
5. Light Up Your Student Resume With These Extra Sections
These little tweaks for your student resume can become a giant leap for your career.
Dazzle the hiring manager with a couple of strategically placed extras.
List your interests on a resume. To reassure the recruiters you fit the company culture.
Your knowledge of foreign languages will give you an edge. Especially when working in an international environment.
Blend in your additional skills if they're relevant to the position.
Sample High School Student Resume—Interests
Independent music labels
Graphic design
Student Resume Example—Additional Skills
Adobe Photoshop
Adobe InDesign
Example of Student Resume—Languages
French (Advanced)
Spanish (Conversational)
Expert Hint: You can easily double the impact of your student resume by writing a student resume cover letter. Did you know? More than half of the recruiters expect a cover letter to be part of your job application, but less than half of the candidates write them.
Double your impact with a matching resume and cover letter combo. Use our cover letter builder and make your application documents pop out.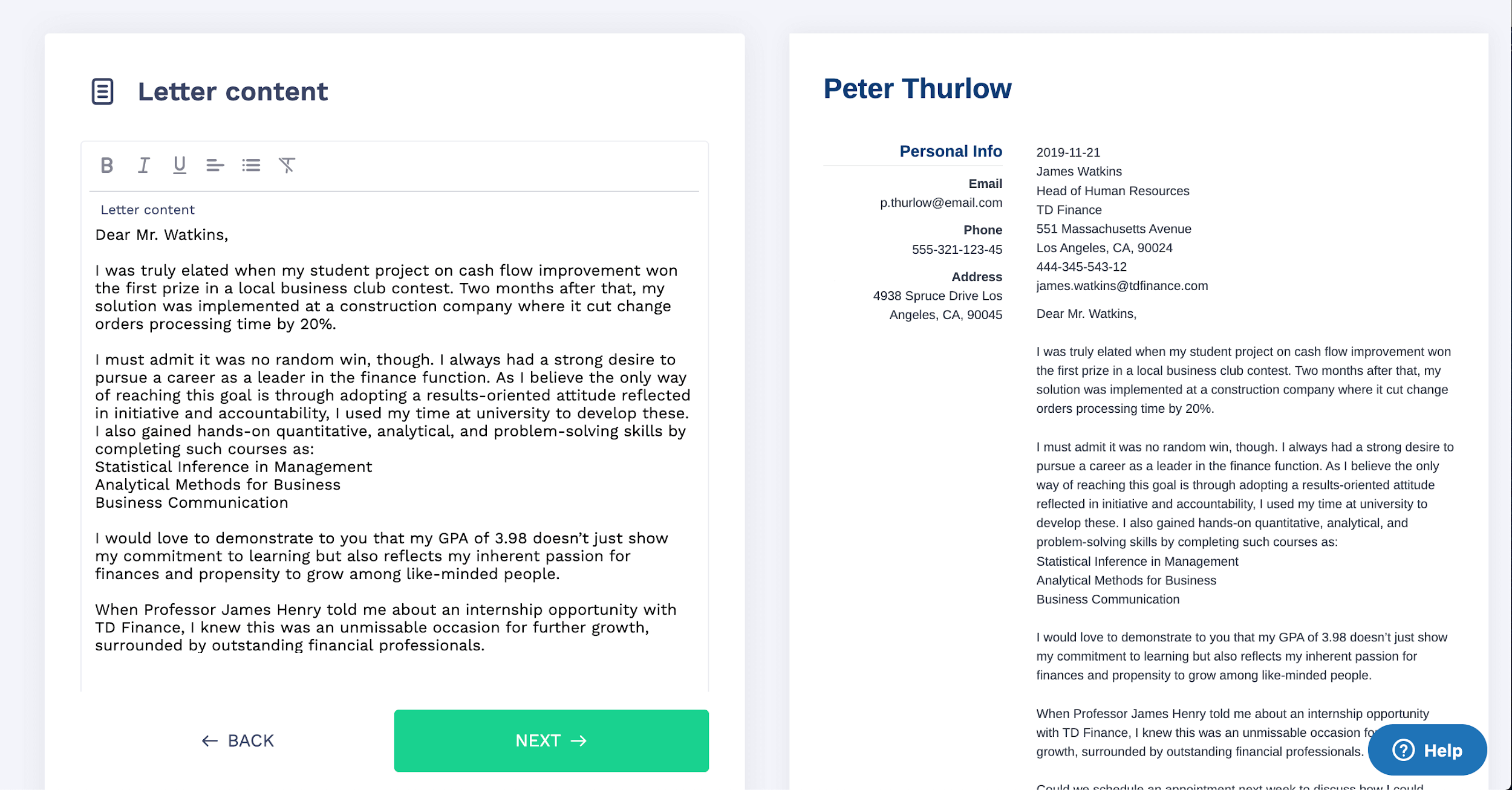 Want to try a different look? There's 18 more. A single click will give your document a total makeover. Pick a cover letter template here.
Key Points
Time for a quick recap. To write the perfect student resume:
Select the best student resume template. A good student resume template will help you arrange all the sections in the most effective way.
Make it look great. Fill up your student resume with relevant information. Make it one-page long. Choose an elegant student resume format. Put white space to good use, and avoid clutter.
Tailor your student resume to the job offer. Your resume will be machine-read first. Do not allow poor phrasing to put you out of the game.
Pay particular attention to the experience and education sections. These two sections of your college student resume will be scrutinized by the recruiters. If you ace them, you'll land the interview.
Sprinkle your student resume with extras. They not only prove you're well-rounded and serious. They show if you're a cultural fit.
Do you have what it takes to win a scholarship? Write a scholarship cover letter that will make you stand out from the crowd.
Questions on how to write the best student resume? Want to share advice on how to prepare different kinds of student resumes (undergraduate student resume or high school student resume)? We'd love to hear from you. Leave your comment below.