Waiter & Waitress Resume Sample—Examples and 25+ Writing Tips
You've got table waiting skills, a friendly demeanor, and an impressive background. Show the restaurant manager and score an interview with the perfect waiter or waitress resume.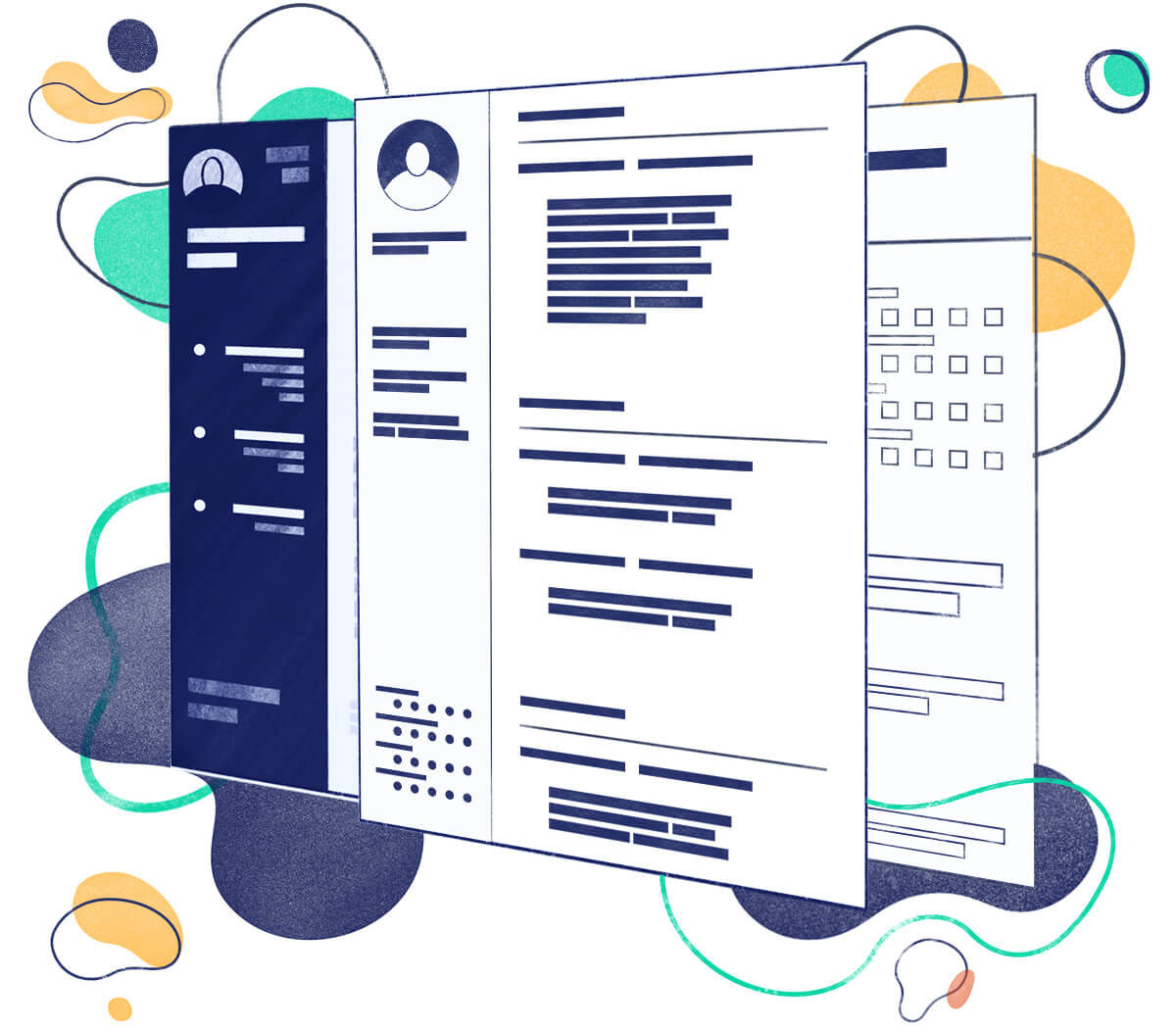 From serving adorable couples at two-tops to troublesome parties of seven, you're the best waitperson they could hire.
Thing is, they don't yet know it.
You need a waiter or waitress resume that shows you're a catch as rare as a New York strip still mooing.
Want that job? No prob—
In this guide:
The best waiter and waitress resume sample to get those restaurant jobs.
How to tailor your resume to the waiter or waitress job description.
How to write resumes for waitstaff positions that score restaurant interviews.
Expert tips and examples to improve your chances of landing restaurant jobs.
Save hours of work and get a resume like this. Pick a template, fill it in. Quick and easy. Choose from 18+ resume templates and download your resume now.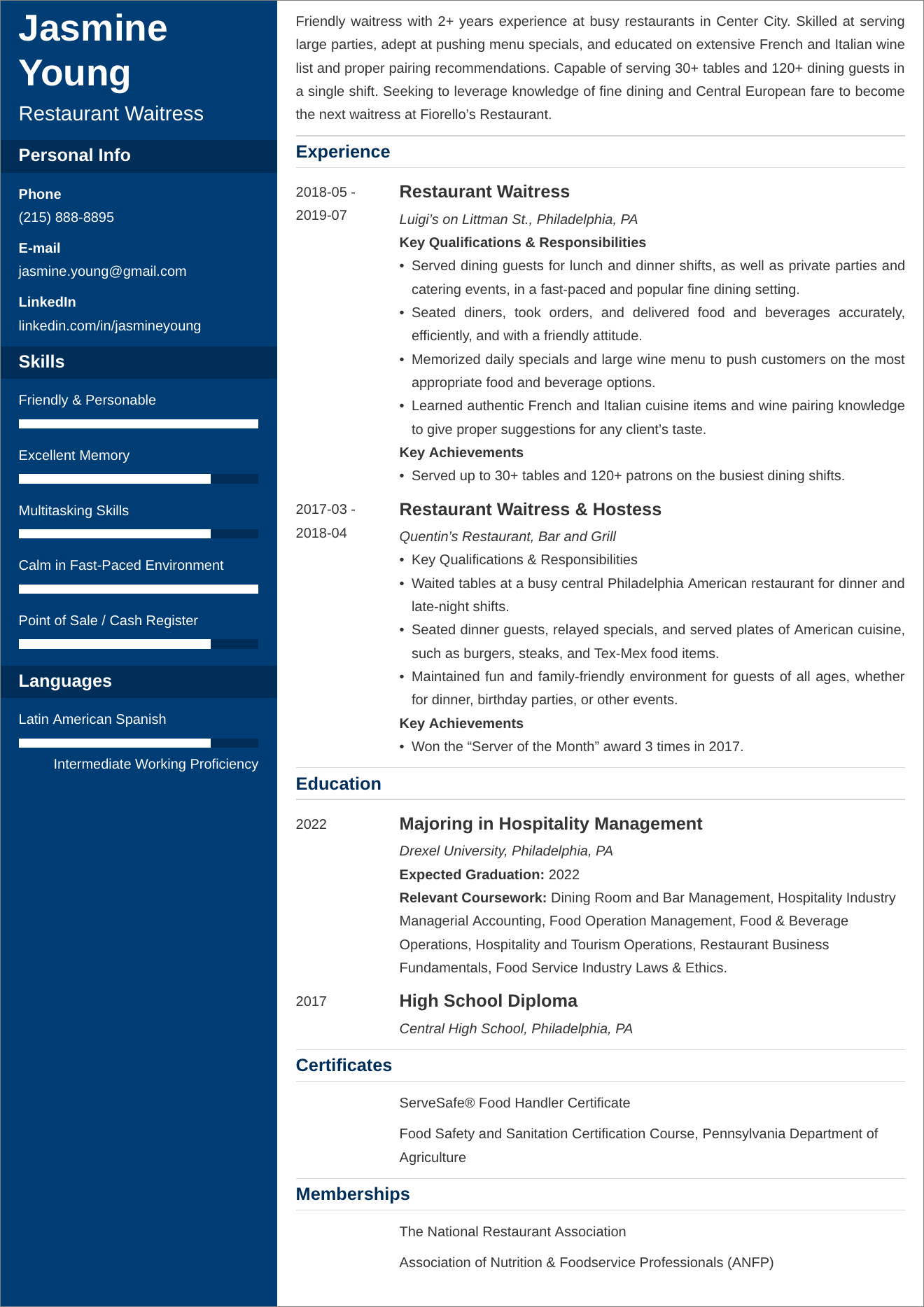 What users say about ResumeLab:
I had an interview yesterday and the first thing they said on the phone was: "Wow! I love your resume."
Patrick

I love the variety of templates. Good job guys, keep up the good work!
Dylan

My previous resume was really weak and I used to spend hours adjusting it in Word. Now, I can introduce any changes within minutes. Absolutely wonderful!
George
Waiter / Waitress Resume Example You Can Copy and Use
Jasmine Young
Restaurant Waitress
jasmine.young@gmail.com
(215) 888-8895
linkedin.com/in/jasmineyoung
Summary of Qualifications
Friendly waitress with 2+ years experience at busy restaurants in Center City. Skilled at serving large parties, adept at pushing menu specials, and educated on extensive French and Italian wine list and proper pairing recommendations. Capable of serving 30+ tables and 120+ dining guests in a single shift. Seeking to leverage knowledge of fine dining and Central European fare to become the next waitress at Fiorello's Restaurant.
Work Experience
Restaurant Waitress
May 2018–July 2019
Luigi's on Littman St., Philadelphia, PA
Key Qualifications & Responsibilities
Served dining guests for lunch and dinner shifts, as well as private parties and catering events, in a fast-paced and popular fine dining setting.
Seated diners, took orders, and delivered food and beverages accurately, efficiently, and with a friendly attitude.
Memorized daily specials and large wine menu to push customers on the most appropriate food and beverage options.
Learned authentic French and Italian cuisine items and wine pairing knowledge to give proper suggestions for any client's taste.
Key Achievements
Served up to 30+ tables and 120+ patrons on the busiest dining shifts.
Restaurant Waitress & Hostess
March 2017–April 2018
Quentin's Restaurant, Bar and Grill
Key Qualifications & Responsibilities
Waited tables at a busy central Philadelphia American restaurant for dinner and late-night shifts.
Seated dinner guests, relayed specials, and served plates of American cuisine, such as burgers, steaks, and Tex-Mex food items.
Maintained fun and family-friendly environment for guests of all ages, whether for dinner, birthday parties, or other events.
Key Achievements
Won the "Server of the Month" award 3 times in 2017.
Education
Majoring in Hospitality Management
Drexel University, Philadelphia, PA
Expected Graduation: 2022
Relevant Coursework: Dining Room and Bar Management, Hospitality Industry Managerial Accounting, Food Operation Management, Food & Beverage Operations, Hospitality and Tourism Operations, Restaurant Business Fundamentals, Food Service Industry Laws & Ethics.
High School Diploma
Central High School, Philadelphia, PA
Graduation: 2017
Key Skills
Friendly & Personable
Excellent Memory
Multitasking Skills
Calm in Fast-Paced Environment
Point of Sale / Cash Register
Certifications
ServeSafe® Food Handler Certificate
Food Safety and Sanitation Certification Course, Pennsylvania Department of Agriculture
Memberships
The National Restaurant Association
Association of Nutrition & Foodservice Professionals (ANFP)
Languages
Latin American Spanish: Intermediate Working Proficiency
Are you looking for other restaurant-related resume examples? Try these out:
Now—
Here's how to write a waiter resume or waitress resume of your own:
1. Sort Out the Waiter or Waitress Resume Format First
Like any eatery about to open for dinner, you have to prep things on your resume before you begin to write.
It needs to be as organized as a kitchen on the brigade system.
So—
This is how to format a waitress resume template:
Make sure your resume has an eye-catching design. Know what to include and what to leave out, and don't cram a ton of tiny print in there or push out the margins to the edge just to fit it on one page. While what you say on your resume is paramount, how you format and design your CV can make a big difference, too.
Expert Hint: Save your resume as a PDF. The PDF format can be read on any device the restaurant manager views it on, unlike a Microsoft Word doc, which sometimes looks funny on certain screens.
2. Start with a Waiter or Waitress Resume Objective or Summary
When a dinner guest firsts walks into a dining establishment, the restaurant hopes to set the tone with appropriate lighting, scrumptious smells wafting from the kitchen, and a pleasant ambience.
The resume heading statement, an objective or summary, has to do the same thing—lure the employer in rather than turning them away.
But which introduction paragraph do you choose?
If you have years of restaurant serving experience, choose the resume summary.
The summary statement whets their appetite with a quick recap of your waitstaff experience and server skills. It adds a cherry on top by offering up a number or two to quantify your achievements.
Here's how to write a waitress or waiter resume summary:
Waiter or Waitress Resume Summary Example
This first one comes from a resume personalized to one specific job offer, and that's a key attribute of interview-winning resumes. On top of that, it offers up examples of just how good this person is as a waitress with the use of numbers.
But—
What If You Have No Serving Experience?
When you have little or no serving experience, use the resume objective.
The objective statement talks up any unrelated experience you have and transferable skills to make the case that you'd be better than any of the other waiters applying for the job. It then states your career goals at the restaurant or other establishment.
It also includes a numbered accomplishment to prove your talent.
Here's how to write a waitress resume objective statement:
Entry-Level Waiter or Waitress Resume Objective Example
As in our previous set of examples, the first one here is tailored to the job and uses transferable skills to show how their earlier job sets them up for success as a waiter. Also, here we used achievements, in the form of the awards, to immediately be their top candidate.
Expert Hint: Write this resume profile statement when you finish all the other parts of your resume, even though it is positioned at the very top. This way, you'll have a clearer image of the best items to talk about for maximum impact.
3. Write a Great Waiter or Waitress Job Description and Restaurant Skills Sections
Think of your resume as a many-course meal, each course being a particular resume section.
In that case, you've just come to the main dish—
The waiter or waitress work history section.
Here's how to describe previous work experience on a resume for waiter jobs:
Go in reverse-chronological order, listing your current or most recent job position first.
Add your job title, the date range you worked there, the name of the place, and its location.
Next, add job responsibilities you had to your waitress resume description. Document them strategically in a way that is relevant to the current waitress job duties.
Whenever possible, include a key win or accomplishment with numbers to showcase your talent in the waitress job description for resumes.
Now, here are waiter or waitress resume examples of job descriptions:
Waiter or Waitress Job Description for Resume Examples
How about that?
If you compare the first example with the second one, you'll easily see what makes one far more palatable than the other. In the good example, we spelled out waiter duties in detail, removed any obvious ones, and added quantifiable achievements.
One's medium well, while the other is well done.
Another thing to keep in mind—
Many larger and more modern restaurants use an ATS (Applicant Tracking System) to manage the dozens of server job applications they receive each day.
An ATS helps the employer screen large amounts of resumes for waitresses and waiters by digitally scanning them for particular resume keywords.
And, if your waiter or waitress resume lacks a keyword, it could mean you're 86'd right out of the candidate pool.
How to find the right keywords to use on a resume for waitresses and waiters?
Go back to the job ad.
The original job description tells you exactly the kind of applicant this restaurant is searching for. Look at the job responsibilities section of the advertisement, in particular. If you're having doubts about how to phrase such-and-such, use the wording from the ad to be on the safe side.
After a waiter or waitress description for resumes, it's time to list the perfect resume skills to pair alongside.
According to the National Restaurant Association, the restaurant industry is set to employ 15.3 million workers in 2019 alone, which is roughly equal to 1 in 10 of the US workforce.
You've got a lot of competition, and you need to portray yourself in a way that gets their attention.
That's where a server skills list comes in.
Here is a list of sample waitress and waiter resume skills:
Waiter/Waitress Top Skills & Proficiencies for a Resume
Basic arithmetic skills
Customer service
Excellent verbal communication
Interpersonal skills
Able to work in fast-paced environment
Quick thinking
Honesty and integrity
Strength, balance, and stamina
Patience and diplomacy
Microbrew beer menu
French wine list
Cash register & credit card machine
Great memory
Japanese cuisine
Food safety & personal hygiene
Dining room layout and organization
Don't just pick any server skill you think of and add it to your resume. Remember to tailor it to this one waiter job by looking at the job ad.
Use the job responsibilities section to understand the kind of waitress they're looking for. If you are blessed with a skill they value, add that to your restaurant server or cocktail waitress resume.
The ResumeLab builder is more than looks. Get specific content to boost your chances of getting the job. Add job descriptions, bullet points, and skills. Easy. Improve your resume in our resume builder now.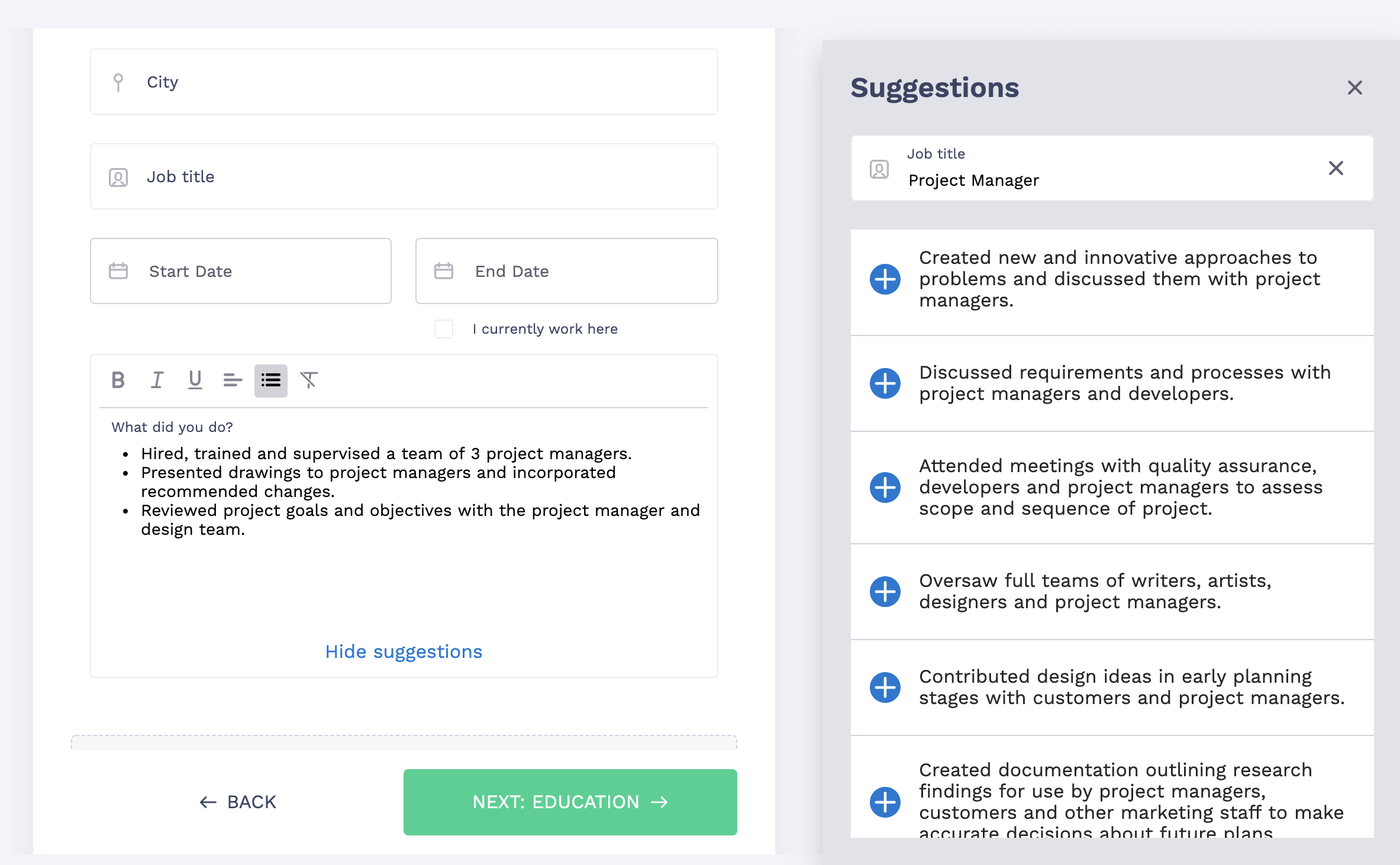 Nail it all with a splash of color, choose a clean font, highlight your skills in just a few clicks. You're the perfect candidate and we'll prove it. Use the ResumeLab builder now.
Expert Hint: Always add a healthy mixture of both hard skills (those you can build, such as knowing how to use the POS) and soft skills (those you develop through life, such as communication skills).
4. Turn Your Education Section Into a Reason to Hire You
Not adding your education correctly on resumes for waitress jobs is a quick way for you to be removed from their "specials" board.
Since you don't want that—
Here's how an academic entry should appear on your resume for waitressing:
Waiter/Waitress Resume Example of Education Section
To break it down, here's what we did:
The degree (or, in this case, the major) is listed at the top.
On the next line, we give the school name, the city, and the state.
Next, we add the estimated date of completion or a graduation date.
Finally, include extras to really impress them. In our example, we listed relevant coursework related to waiter jobs. However, you could list academic awards or an extracurricular activity.
Finally, if you have completed a degree in college, don't add high school. If you've never been to university or are in the middle of working on a degree, add high school as a secondary entry.
Expert Hint: Is your education more impressive than your work history so far? If you have an impressive academic section but no real-world working experience, place your education area above the employment section.
5. Round Out Your Waiter or Waitress Resume With a Few Extra Side Dishes
Show the restaurant manager you're an item from the secret menu rather than any ol' blue-plate special.
How?
By including a few additional resume sections to really impress them.
Here are some of the best extra sections you can add, followed by some prime waiter and waitress resume samples:
Restaurant Organizations & Associations
Philadelphia Area Association of Food Handlers & Restaurant Servers
Cooking
Food Blogging
Wine Tasting
Foreign Language Proficiency
Latin American Spanish: Native Proficiency
Brazilian Portuguese: Professional Working Proficiency
Bahasa Indonesia: Intermediate Proficiency
Swahili: Basic Conversational Proficiency
Double your impact with a matching resume and cover letter combo. Use our cover letter builder and make your application documents pop out.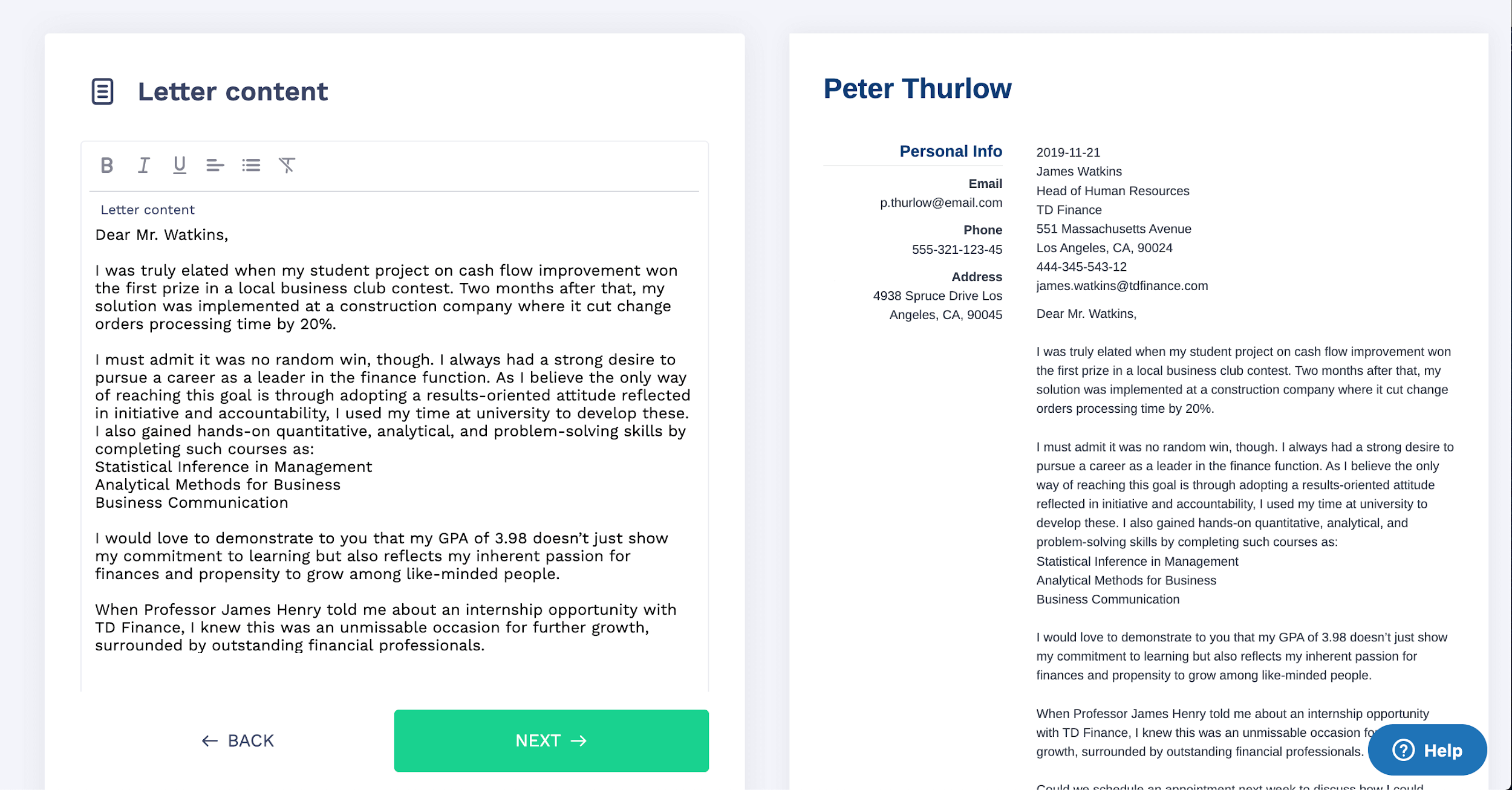 Want to try a different look? There's 18 more. A single click will give your document a total makeover. Pick a cover letter template here.
Expert Hint: Want to know the best side dish for any waitress or waiter resume? A waiter or waitress cover letter. How important are cover letters? More than 80% of recruiters and hiring managers prefer it.
Key Points
It's not so hard to serve up a plate of your skills, experience, and education as a mouth-watering resume.
But it's not so hard to mess it up, either.
So, to recap—
Here's how to write a resume for waiter and waitress jobs:
Format the waiter / waitress resume template before you begin writing.
Start with a great waitress or waiter resume objective or summary at the top, but write it last for effectiveness.
Document your past experience in a waiter or waitress duties resume section. Use numbers to show quantifiable accomplishments.
List your top skills which are relevant to this restaurant server job, specifically.
Include a standard addition of your education on a waitstaff resume template.
Add a dash of a few extra sections to really stand out as a restaurant job candidate.
Always include a waiter or waitress cover letter alongside.
Have any questions on how to write a waitress job description resume section or how to make waitressing sound good on a resume? Need more waiter resume samples? Let's chat below in the comment area, and thanks for reading!