Nursing Student Resume Sample—Examples and 25+ Writing Tips
A nursing student resume template employers come alive for. Write your new grad RN resume fast, with expert tips and good and bad examples.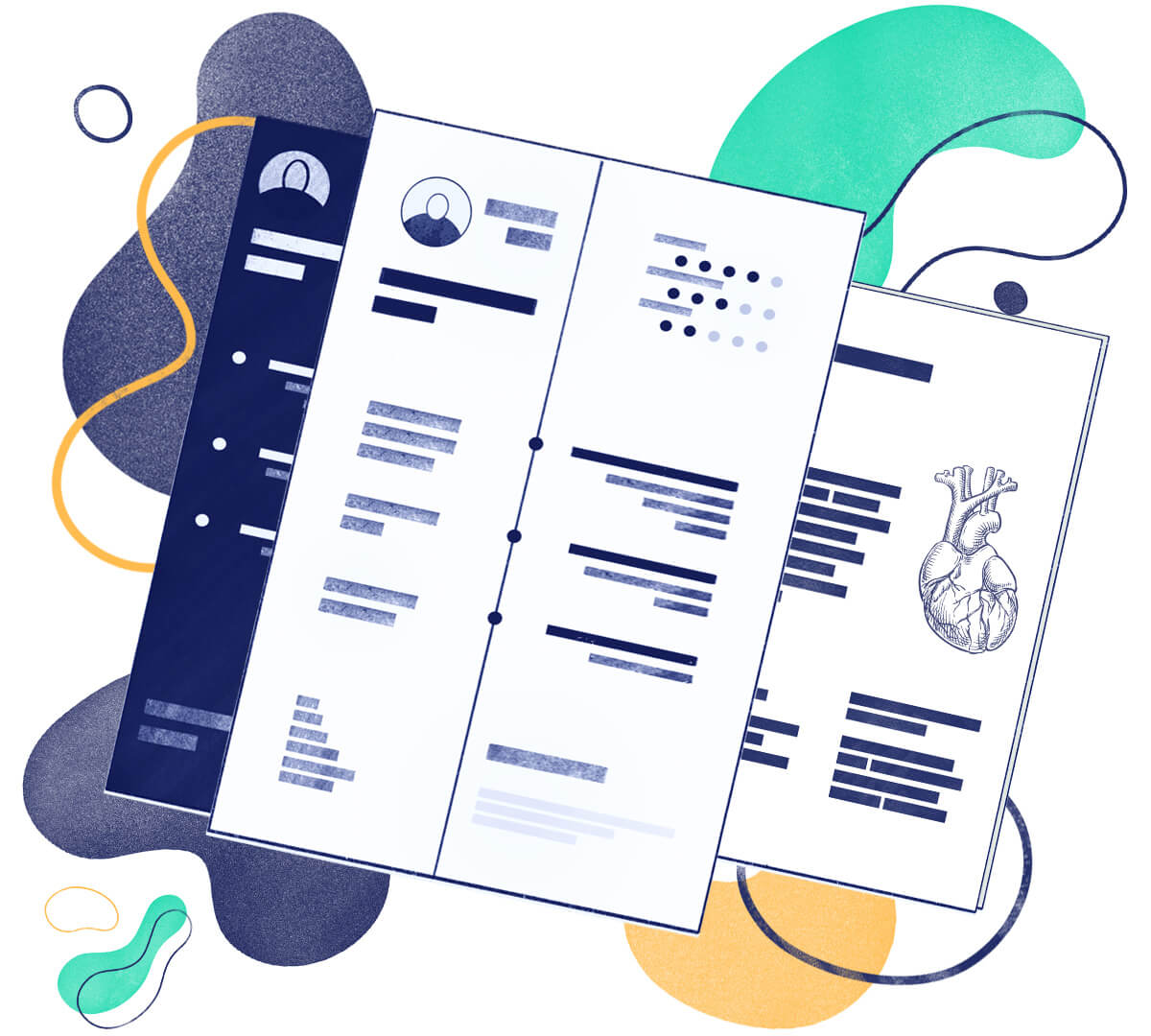 There's a major problem with nursing student resumes.
If there's a nursing shortage—
Why's it so hard to get a job?
Because you need to show the right achievements, the right way.
This guide will show you:
A nursing student resume example better than most.
How to write a nursing student resume that gets interviews.
How to make a great nursing student job description on a resume.
Why your choice of RN resume achievements is everything.
Save hours of work and get a resume like this. Pick a template, fill it in. Quick and easy. Choose from 18+ resume templates and download your resume now.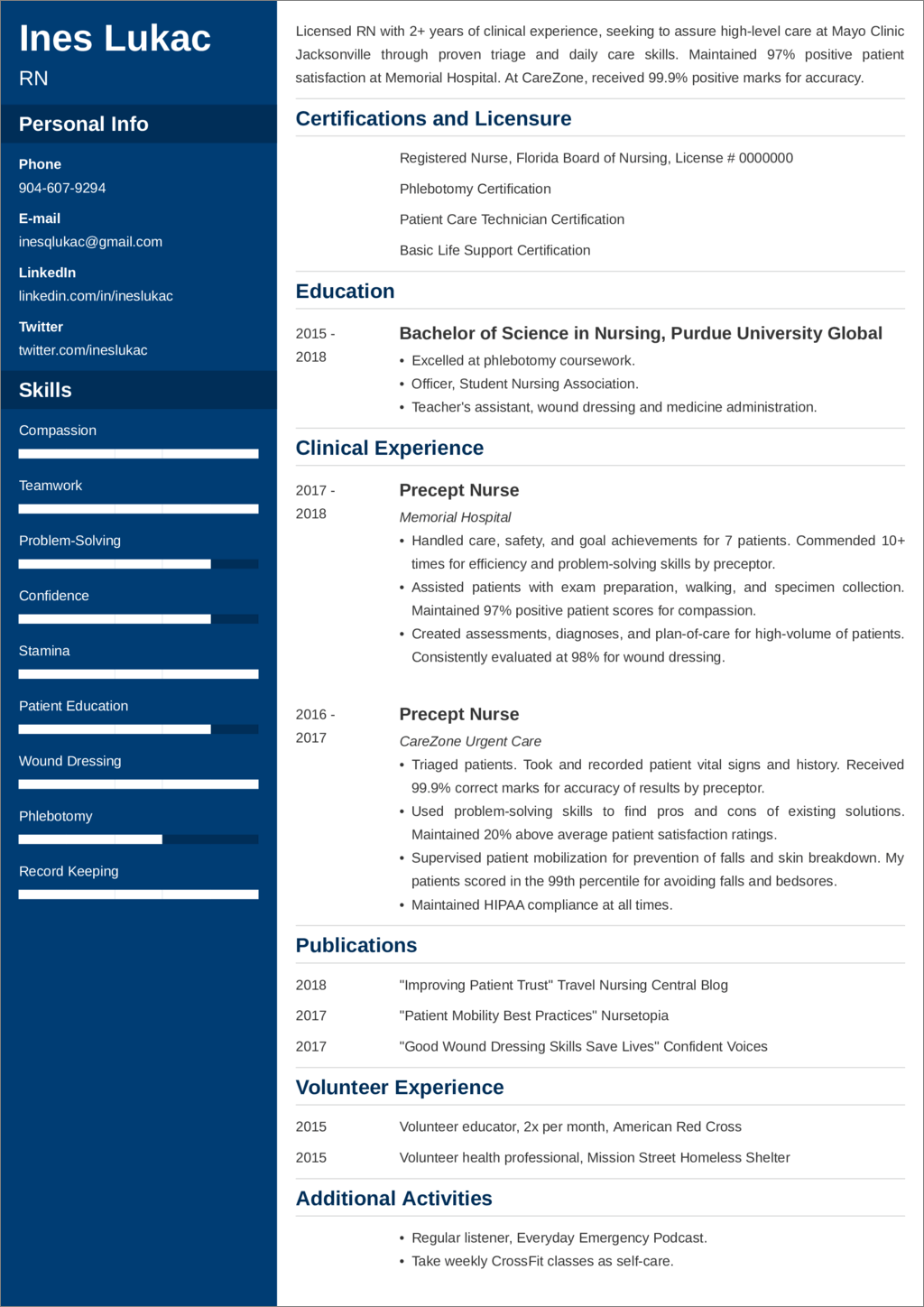 What users say about ResumeLab:
I had an interview yesterday and the first thing they said on the phone was: "Wow! I love your resume."
Patrick

I love the variety of templates. Good job guys, keep up the good work!
Dylan

My previous resume was really weak and I used to spend hours adjusting it in Word. Now, I can introduce any changes within minutes. Absolutely wonderful!
George
Free Nursing Student Resume Template
Ines Lukac

RN
Personal Info

Phone: 904-607-9294
Email: inesqlukac@gmail.com
linkedin.com/in/ineslukac
twitter.com/ineslukac
Summary
Licensed RN with 2+ years of clinical experience, seeking to assure high-level care at Mayo Clinic Jacksonville through proven triage and daily care skills. Maintained 97% positive patient satisfaction at Memorial Hospital. At CareZone, received 99.9% positive marks for accuracy.
Certifications and Licensure
Registered Nurse, Florida Board of Nursing, License # 0000000
Phlebotomy Certification
Patient Care Technician Certification
Basic Life Support Certification
Education
Bachelor of Science in Nursing, Purdue University Global
2015–2018
Excelled at phlebotomy coursework.
Officer, Student Nursing Association.
Teacher's assistant, wound dressing and medicine administration.
Clinical Experience
Memorial Hospital
Precept Nurse
2017–2018
Handled care, safety, and goal achievements for 7 patients. Commended 10+ times for efficiency and problem-solving skills by preceptor.
Assisted patients with exam preparation, walking, and specimen collection. Maintained 97% positive patient scores for compassion.
Created assessments, diagnoses, and plan-of-care for high-volume of patients. Consistently evaluated at 98% for wound dressing.
CareZone Urgent Care
Precept Nurse
2016–2017
Triaged patients. Took and recorded patient vital signs and history. Received 99.9% correct marks for accuracy of results by preceptor.
Used problem-solving skills to find pros and cons of existing solutions. Maintained 20% above average patient satisfaction ratings.
Supervised patient mobilization for prevention of falls and skin breakdown. My patients scored in the 99th percentile for avoiding falls and bedsores.
Maintained HIPAA compliance at all times.
Publications
2018 "Improving Patient Trust" Travel Nursing Central Blog
2017 "Patient Mobility Best Practices" Nursetopia
2017 "Good Wound Dressing Skills Save Lives" Confident Voices
Volunteer Experience
2015 Volunteer educator, 2x per month, American Red Cross
2015 Volunteer health professional, Mission Street Homeless Shelter
Additional Activities
Regular listener, Everyday Emergency Podcast.
Take weekly CrossFit classes as self-care.
Soft Skills: Compassion, Teamwork, Problem-Solving, Confidence, Stamina
Hard Skills: Patient Education, Wound Dressing, Phlebotomy, Record Keeping
Looking for other medical resume samples? Have a look at our dedicated guides:
Now here's how to write a nursing student resume:
1. Choose a Healthy Nursing Student Resume Format
Start right.
The right new grad nursing resume format shows you know remission from referred pain.
Use the reverse-chronological resume format. It puts your latest hero work up top.
Select the best resume fonts in 10–14pt. Use 1-inch margins, white space, and arresting headings.
Create a one-page resume unless you're basically Nurse Beth.
Make a resume header with name, phone number, email, and social media. No photo. No snail mail address.
Add a nursing student resume objective to grab the eye. Then list certifications, education, and clinical experience.
Include resume extras like publications, volunteer work, and additional activities.
Expert Hint: Save your resume as a PDF unless the job ad says not to. Nursing student resume PDFs stay stable in transit. Plus they're machine-readable in 2019.
2. Write a Professional Nursing Resume Objective
What comes first?
Write a crisp resume objective.
It should show the hiring manager you know a SOAP note from a sponge bath.
Use:
One adjective (efficient, compassionate, hard-working)
Job title + certification (RN)
Years of experience (1+, 2+)
How you'll help (assure high-level standard-of-care).
Best 2–3 achievements (maintained 97% positive patient scores).
Look at these professional nursing student resume examples:
Healthy.
The first of those nursing resume samples injects just the right achievements. Then it uses numbers to show their value.
A new grad RN resume objective used to tease your goals. Writing your nursing student resume with no experience in 2019, you'll get more credit for proving how you'll help.
Expert Hint: It's hard to write a new grad nursing resume objective without a full new grad nursing resume in hand. Write it last so you'll have lots of great material to sew it up.
3. Put Certifications on a Nursing Resume
You worked your tail off for that certification.
Put it in a special section under your student nurse resume objective.
This new grad nurse resume example shows the way:
Certifications and Licensure
Registered Nurse, Florida Board of Nursing, License # 0000000
Phlebotomy Certification
Patient Care Technician Certification
Basic Life Support Certification
Now that graduate nurse resume certification won't get missed.
The hiring manager can see it even if she's A&Ox0.
Expert Hint: Do you really want to highlight your certification on a new graduate nurse resume? Put your "other" certs in a different section, lower down.
The ResumeLab builder is more than looks. Get specific content to boost your chances of getting the job. Add job descriptions, bullet points, and skills. Easy. Improve your resume in our resume builder now.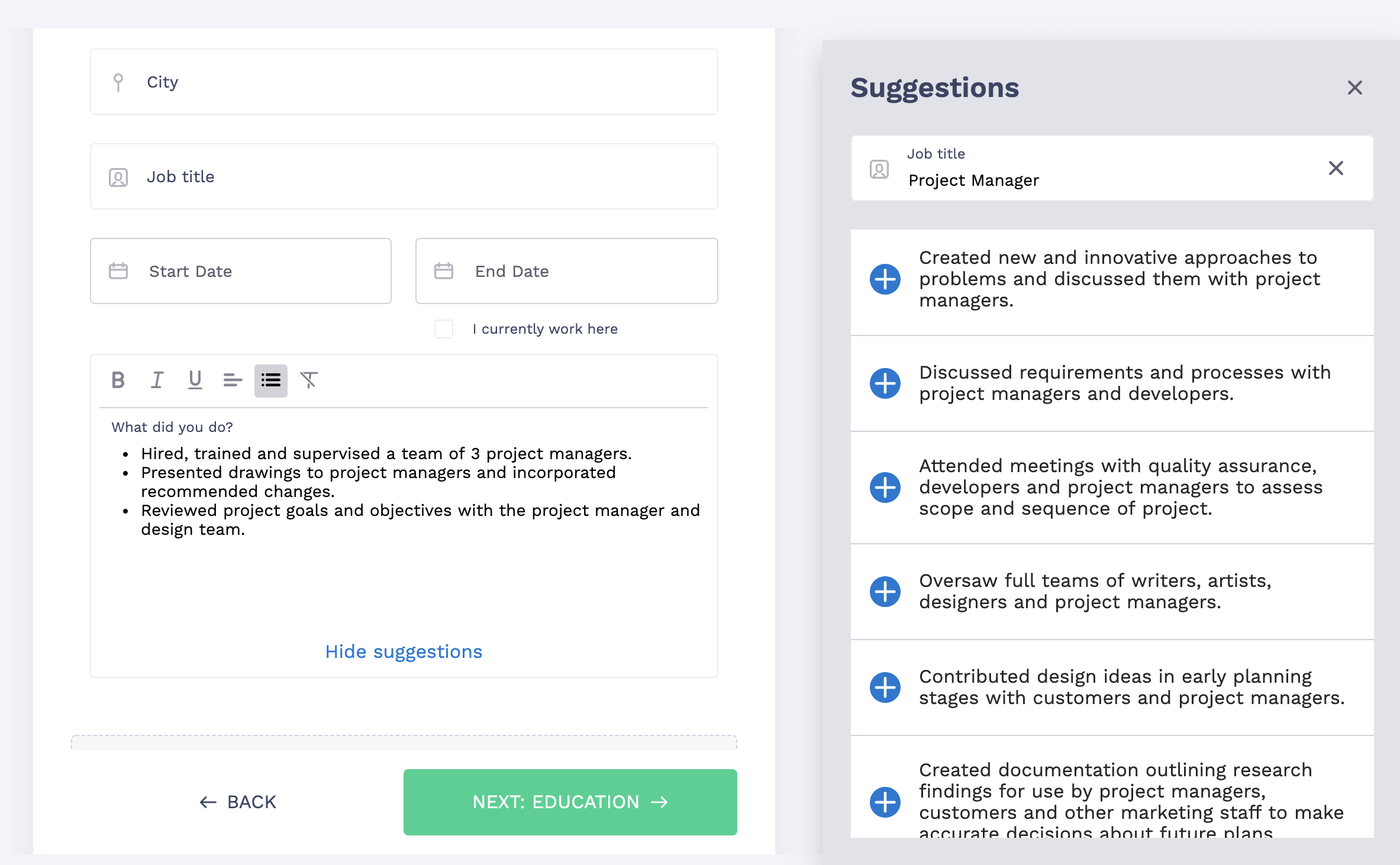 Nail it all with a splash of color, choose a clean font, highlight your skills in just a few clicks. You're the perfect candidate and we'll prove it. Use the ResumeLab builder now.
4. Write a Perfect RN Resume Job Description
Here's the thing—
Most student nurse resumes are DOA.
They list the wrong achievements.
Do it right, and employers will get out of bed to hire you.
Here's how:
Read the job ad.
Underline the nursing skills and duties.
Write resume bullets that prove you know them cold.
These senior nursing student resume examples nail it:
Job ad wants these nursing resume skills: (1) assessments (2) wound-dressing (3) problem-solving.
Why does #1 sparkle? It's got the exact skills the employer asked for. Best, it proves them with achievements tagged with numbers.
List of Nursing Skills for Resumes
Regarding skills for resumes—
Don't copy-paste nursing student skills from the internet.
Nurse hiring managers see through that like the window in the ICU.
Nurse Resume Skills

| | |
| --- | --- |
| Soft Skills | Hard Skills |
| Compassion | Patient Education |
| Communication | Budgeting |
| Problem Solving | Patient Transport |
| Teamwork | Record Keeping |
| Critical Thinking | Wound Dressing |
| Confidence | Electronic Health Records (EHR) |
| Ethics | Phlebotomy |
| Stamina | Recording Patient Vitals |
| Attention to Detail | Medicine Administration |
| Passion for Learning | Care and Discharge Planning |
Expert Hint: Should you put your license number on a new grad RN resume? Yes. Your number is already public record in most states anyway.
5. Turn Boring Education to a Reason to Hire You
It's true:
You can pack skill-proving achievements in your education section.
Do it well, and administrators will want to call you at 3am.
These entry-level nursing student resume examples give the plan:
Move over, Nurse Katz.
That first graduate nurse resume sample will overbook your interview requests.
It shows you owned the skills while you were still in nursing school.
Expert Hint: Read the job offer first to find the skills you want to prove in your new grad nursing resume. Then think hard: When did you display those skills in school?
6. Energize Your Nursing Student Resume With These
Horrifying:
Most entry-level nurse resumes are identical.
Here's my education and clinical experience.
Stand out like The Nerdy Nurse instead. Add resume extras to your new grad RN that show nursing boosts your BPM.
Look at these two nursing student resume examples:
Number one? Hired.
Those first new graduate nurse resumes samples prove you live for the line of fire.
Expert Hint: Send a nursing student cover letter. Most hiring managers won't read cover letters. But early half will toss your student nurse resume without one.
Double your impact with a matching resume and cover letter combo. Use our cover letter builder and make your application documents pop out.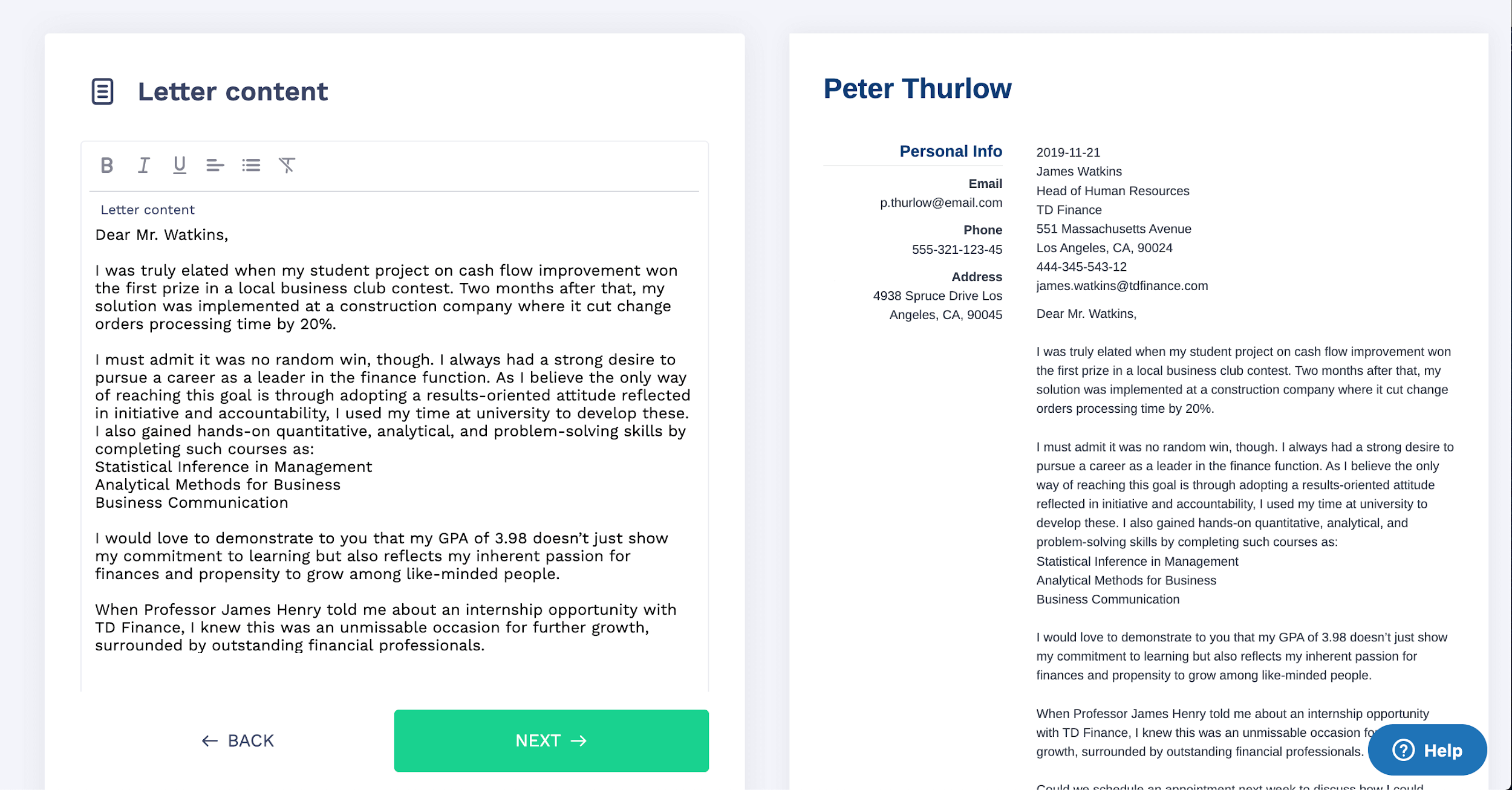 Want to try a different look? There's 18 more. A single click will give your document a total makeover. Pick a cover letter template here.
Key Points
For a great nursing student resume:
Start with our nursing student resume template. You'll get a lot more interviews.
Pick accomplishments that fit the job like Spanx. Use them to prove you've got the skills you worked so hard for.
Add percentages and other numbers. They'll elevate your new grad RN resume to the top of the triage order.
Include new grad nursing resume extras like publications and volunteer work. They'll show this isn't just a job—it's your passion.
Got questions on how to write a great resume for nursing students? Not sure how to show achievements on a nursing graduate resume? Leave a comment. We're happy to reply.