Bookkeeper Resume—Examples and 25+ Writing Tips
You know how to handle cash flow, and numbers obey you. You've got what it takes to keep a company's finances in line. Prove it with this maxed-out bookkeeper resume sample.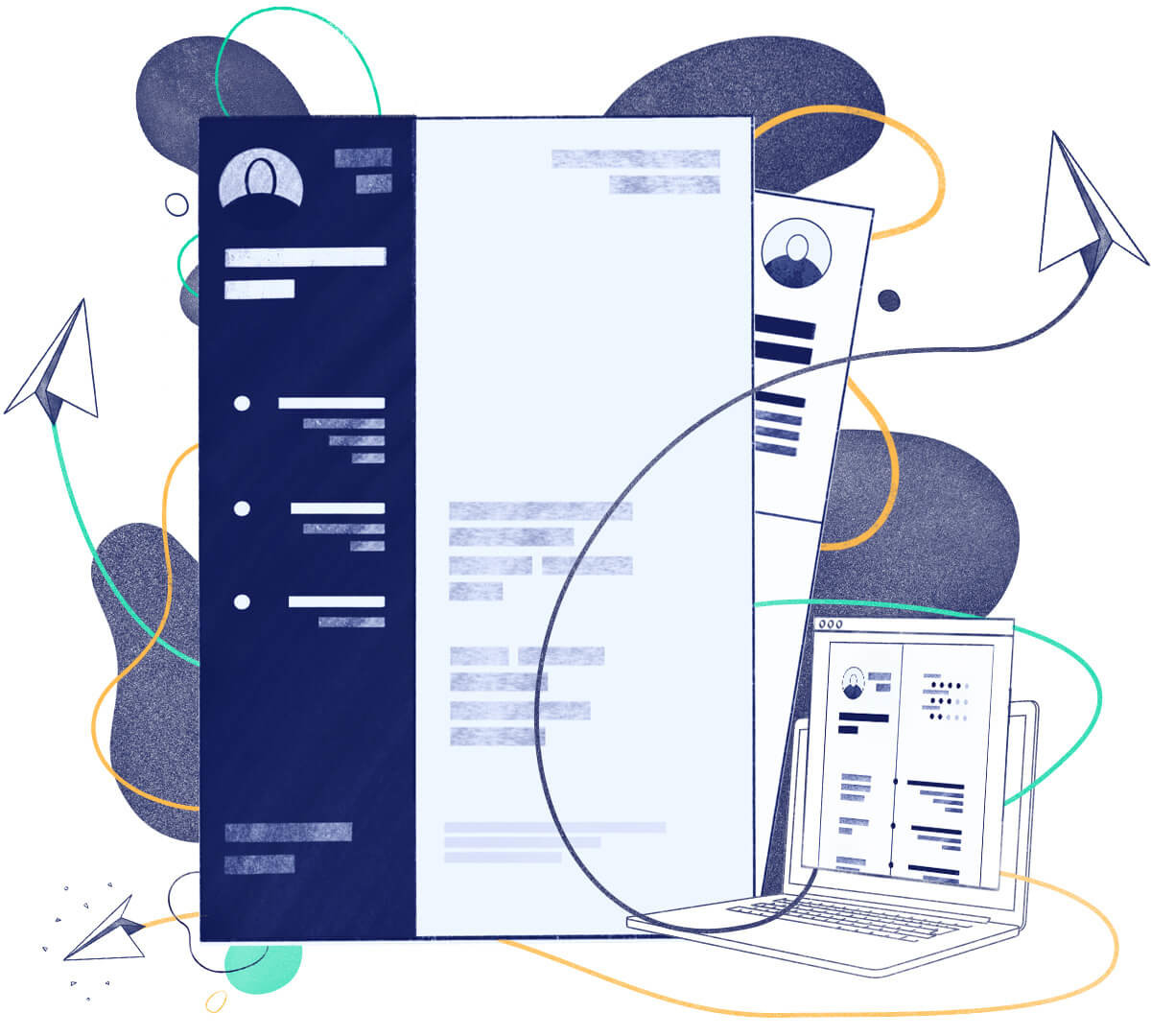 The secret?
Most bookkeeping resumes bore employers to tears.
Fund yours with the right skills in the right way and you'll stand out like a million-dollar surplus.
In this guide:
A bookkeeper resume sample better than most.
How to make a tight bookkeeper job description for resumes.
How to write a resume for bookkeeper jobs that generates interest.
Why you can't just list bookkeeper skills (and what to do instead).
Save hours of work and get a resume like this. Pick a template, fill it in. Quick and easy. Choose from 18+ resume templates and download your resume now.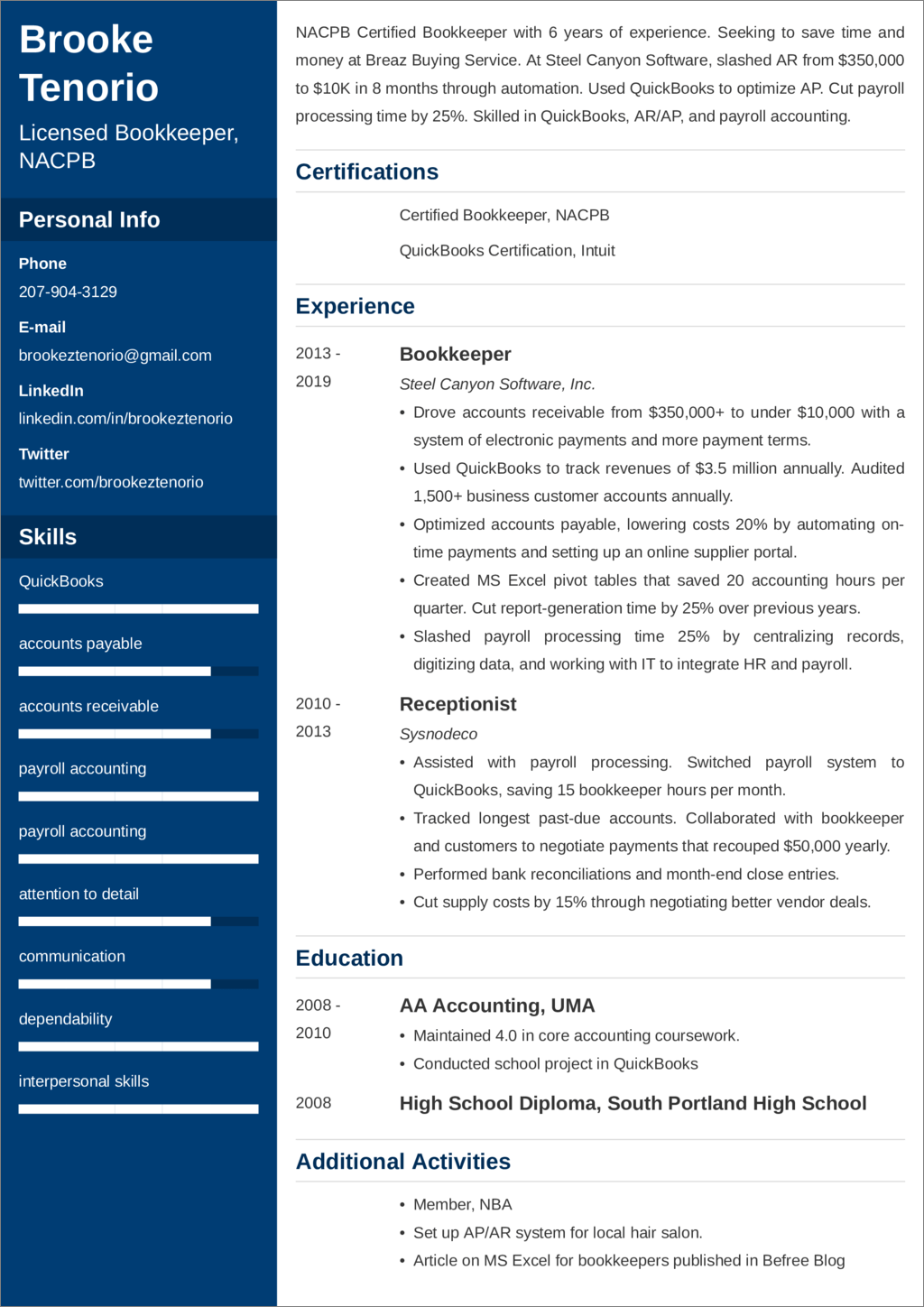 What users say about ResumeLab:
I had an interview yesterday and the first thing they said on the phone was: "Wow! I love your resume."
Patrick

I love the variety of templates. Good job guys, keep up the good work!
Dylan

My previous resume was really weak and I used to spend hours adjusting it in Word. Now, I can introduce any changes within minutes. Absolutely wonderful!
George
Bookkeeper Resume Sample You Can Copy and Use
Brooke Tenorio
Licensed Bookkeeper, NACPB
Personal Info
Phone: 207-904-3129
E-mail: brookeztenorio@gmail.com
linkedin.com/in/brookeztenorio
twitter.com/brookeztenorio
Summary
NACPB Certified Bookkeeper with 6 years of experience. Seeking to save time and money at Breaz Buying Service. At Steel Canyon Software, slashed AR from $350,000 to $10K in 8 months through automation. Used QuickBooks to optimize AP. Cut payroll processing time by 25%. Skilled in QuickBooks, AR/AP, and payroll accounting.
Certifications
Certified Bookkeeper, NACPB
QuickBooks Certification, Intuit
Experience
Bookkeeper
Steel Canyon Software, Inc.
2013–2019
Drove accounts receivable from $350,000+ to under $10,000 with a system of electronic payments and more payment terms.
Used QuickBooks to track revenues of $3.5 million annually. Audited 1,500+ business customer accounts annually.
Optimized accounts payable, lowering costs 20% by automating on-time payments and setting up an online supplier portal.
Created MS Excel pivot tables that saved 20 accounting hours per quarter. Cut report-generation time by 25% over previous years.
Slashed payroll processing time 25% by centralizing records, digitizing data, and working with IT to integrate HR and payroll.
Receptionist
Sysnodeco
2010–2013
Assisted with payroll processing. Switched payroll system to QuickBooks, saving 15 bookkeeper hours per month.
Tracked longest past-due accounts. Collaborated with bookkeeper and customers to negotiate payments that recouped $50,000 yearly.
Performed bank reconciliations and month-end close entries.
Cut supply costs by 15% through negotiating better vendor deals.
Education
AA Accounting, UMA
2008–2010
Maintained 4.0 in core accounting coursework.
Conducted school project in QuickBooks
High School Diploma, South Portland High School, 2008
Additional Activities
Member, NBA
Set up AP/AR system for local hair salon.
Article on MS Excel for bookkeepers published in Befree Blog
Hard Skills: QuickBooks, accounts payable, accounts receivable, payroll accounting
Soft Skills: attention to detail, communication, dependability, interpersonal skills
Do you have other math and money skills? See our guides:
Here's how to write a bookkeeper resume that works:
1. Use the Right Bookkeeper Resume Format
Here's the problem:
Most employers spend six seconds with each resume.
They'll judge you in an eyeblink!
So—
Your resume format can make or break you.
Use these tips:
Bookkeeper Resume Format
Choose the reverse-chronological resume format.
Use a respected resume font like 10–12pt Helvetica or Calibri.
Don't forget the white space. Use 1-inch margins.
The right resume length for bookkeeper jobs? One page.
Write these resume sections: Header, Objective, Experience, Education, Skills, and "added" sections.
Expert Hint:Save your resume as a PDF file. PDFs convert well to all the different kinds of screens. Plus, ATS hiring software reads them properly.
2. Improve Your Bookkeeper Resume Objective or Summary
Bad luck!
The hiring manager deleted your bookkeeper resume!
What went wrong?
You didn't grab her right away.
To fix that, write a gripping resume objective or resume summary.
Include:
Your certification if you have one.
The word "bookkeeper"
Years of experience (4+, 6+)
How you'll help and whom (save time and money at Breaz Buying Service)
Your greatest bookkeeper achievements (...slashed AR from $350,000 to $10K in 8 months...)
Check out these bookkeeping resume examples:
Bookkeeper Resume Summary—Example
The first of those bookkeeper resume examples has so much going for it. It's personal, professional, and it shows money details.
But—
What if your bookkeeper experience is underfunded?
In a resume for bookkeepers with no experience, cite experience from non-bookkeeper jobs.
Bookkeeper Resume Objective—Example
The second of those bookkeeping resume examples is broke. No details and no numbers.
Expert Hint: Put your full-charge bookkeeper resume objective or summary up top, but write it last. You'll have all your best financial accomplishments at your fingertips.
3. Write a Magnetic Bookkeeper Job Description and Skills Sections
Why do some get interviewed, while others get ignored?
It's all in how you write your job description.
Prove you've got the financial skills they ask for in the online job posting.
Look at these full-charge bookkeeper resume examples:
The job ad wants these bookkeeping skills: (1) accounts receivable (2) QuickBooks (3) accounts payable (4) MS Excel (5) payroll processing.
Bookkeeper Job Description for a Resume [Sample]
Wow.
The first of those bookkeeper resume samples has every skill they want. The numbers add power.
Next—
A job description for an entry-level resume:
The job ad wants these bookkeeper skills: (1) payroll processing (2) QuickBooks (3) collaboration (4) negotiation (5) month-end close.
Entry-Level Bookkeeper Resume Job Description [Sample]
The point?
Both of those bookkeeping resume examples are the same person.
But—
One focused on bookkeeping achievements from a non-bookkeeping job.
Make sure to list the right resume skills. Mix hard and soft skills for maximum effect.
The skills in the list below make good bookkeeper resume keywords.
Bookkeeper Resume Skills
| | |
| --- | --- |
| Hard Skills | Soft Skills |
| QuickBooks | Interpersonal Skills |
| Accounts Payable | Collaboration |
| Accounts Receivable | Communication |
| Xero | Attention to Detail |
| Payroll Accounting | Problem Solving |
| Balance Sheets | Organization |
| Tax Calculations | Honesty |
| Billing | Critical Thinking |
| General Ledger | Dependability |
| MS Office | Self Motivation |
Expert Tip: Can't prove you have the skills they need with your work history? Consider online training classes from Accounting Coach or Penn Foster. They look great on entry-level bookkeeping resumes.
The ResumeLab builder is more than looks. Get specific content to boost your chances of getting the job. Add job descriptions, bullet points, and skills. Easy. Improve your resume in our resume builder now.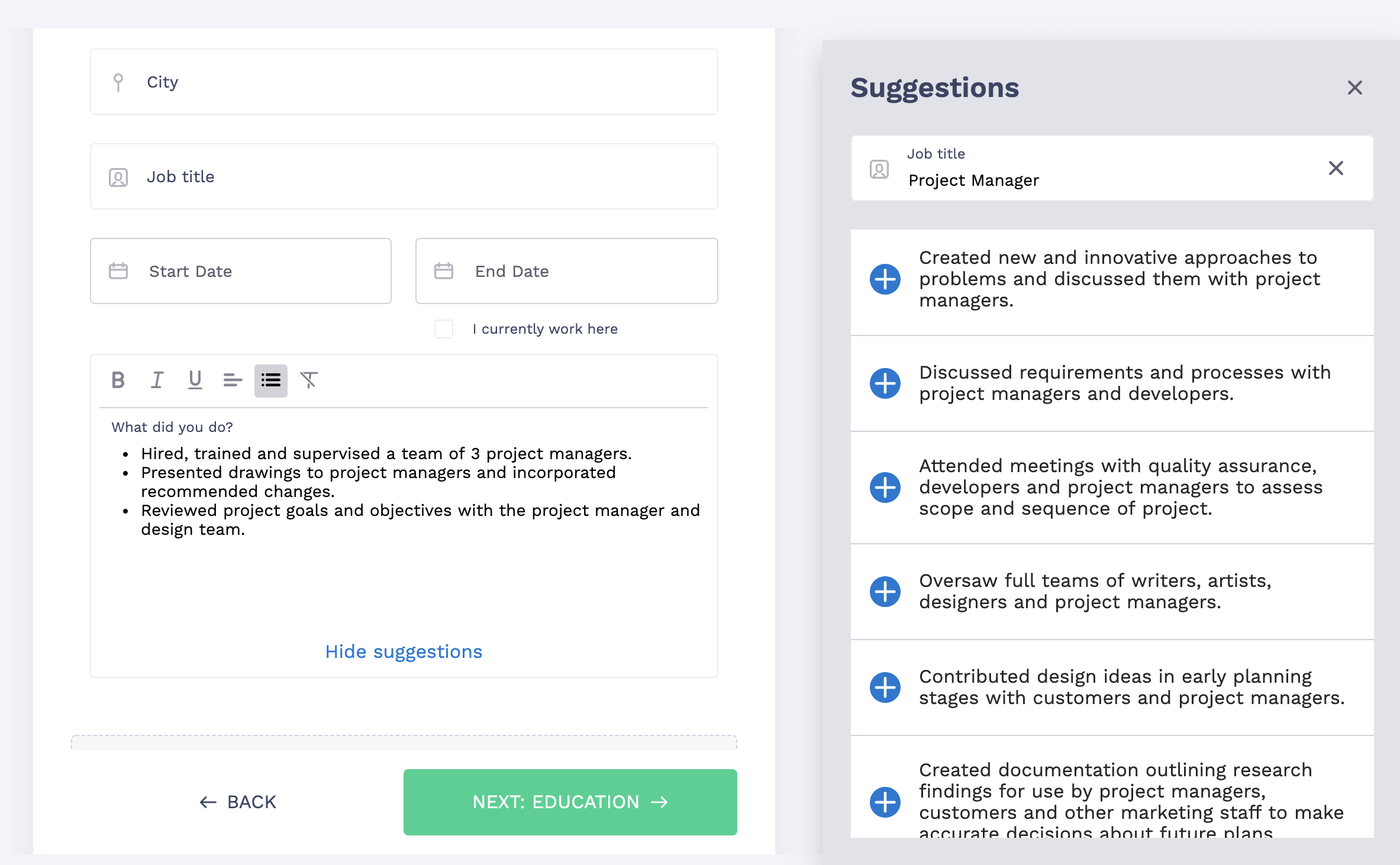 Nail it all with a splash of color, choose a clean font, highlight your skills in just a few clicks. You're the perfect candidate and we'll prove it. Use the ResumeLab builder now.
4. Turn Boring Education to a Reason to Hire You
You want the job. And you deserve the job.
But—
Did you know the education section of your resume can help?
This bookkeeper resume example works so well:
Bookkeeper Education—Example
Why does that work?
It's the bullet points. They show key bookkeeping skills.
Expert Hint: If you don't have any bookkeeping accomplishments from school, don't fret. Add some "other" sections to your resume. See below.
5. Put Added Sections in Your Bookkeeper Resume
All you need is experience and education, right?
Hold up.
A resume for bookkeeper jobs needs "added" sections.
They can help you stand out like a windfall.
Choose one or two of these:
Certifications (like QuickBooks)
Conferences (especially if you spoke at them)
Freelance work
Personal projects
Publications
Awards
Honors
Clubs
Fitness
Do it like this:
Bookkeeper Resume—Extra Sections
Nice!
The first of those bookkeeper resume examples could do Jeff Bezos' taxes.
The second could be anyone.
Expert Hint: Write a cover letter. They'll read your resume for bookkeeper jobs more carefully. Show you understand this bookkeeper job, and why you'll do it well.
Double your impact with a matching resume and cover letter combo. Use our cover letter builder and make your application documents pop out.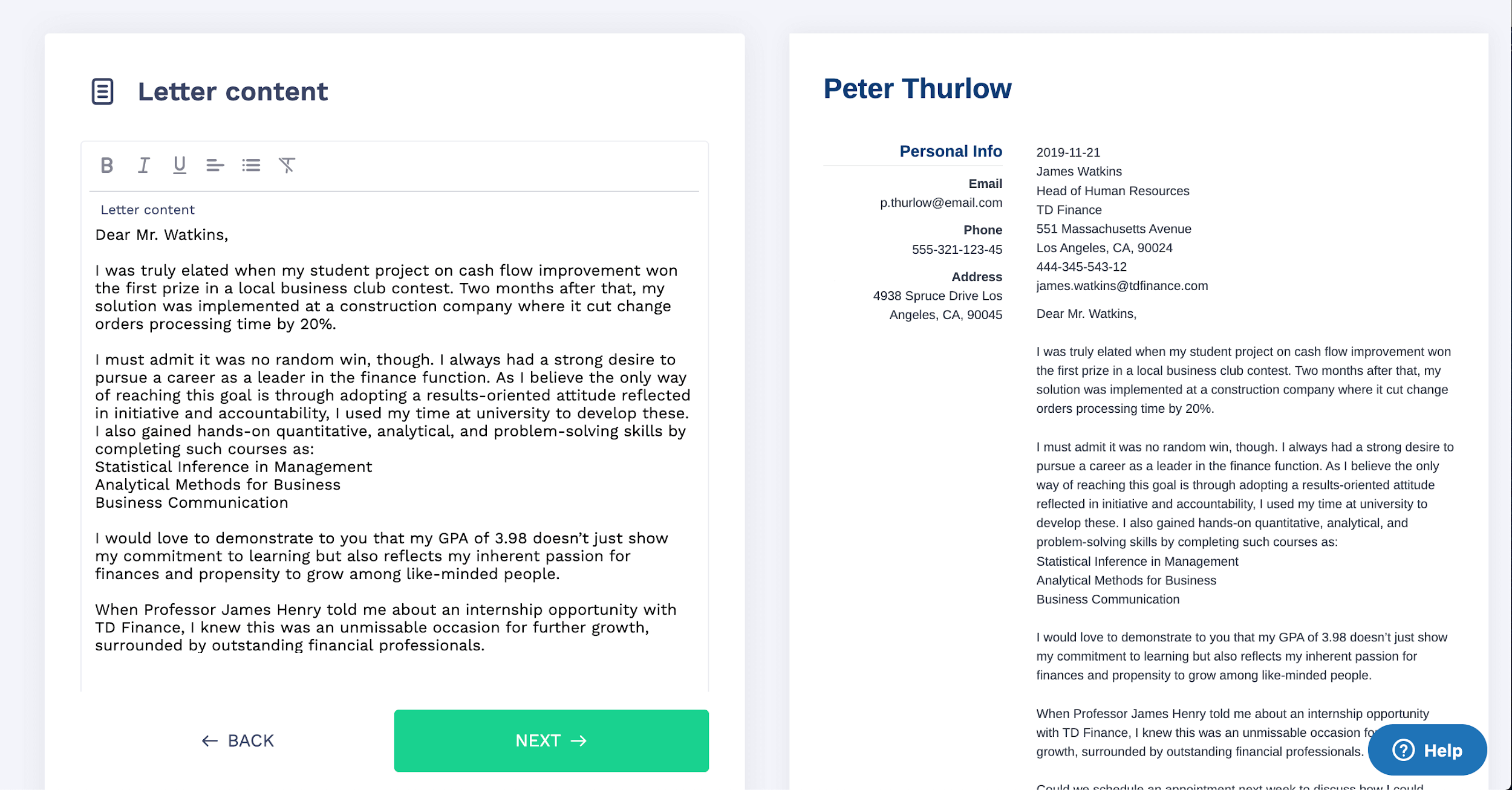 Want to try a different look? There's 18 more. A single click will give your document a total makeover. Pick a cover letter template here.
Key Points
For a bookkeeper resume that shines:
Use the bookkeeper resume template up top. It fills the blanks to get you hired.
Put bookkeeper accomplishments in your resume objective, job experience, education, and "added" sections.
Include bookkeeper keywords and skills from the job ad, and prove them in your resume bullets.
Write a bookkeeper cover letter. Use it to zero in on why you're perfect for the role.
Got questions on how to write great resumes for bookkeeper jobs? Not sure how to show bookkeeper on a resume? Leave a comment. We'll be happy to reply!