DevOps Resume Sample—Template, 25+ Examples and Writing Tips
A DevOps resume sample that proves you GTD and gets the interview. Write your resume for DevOps jobs fast, with expert tips and good + bad examples.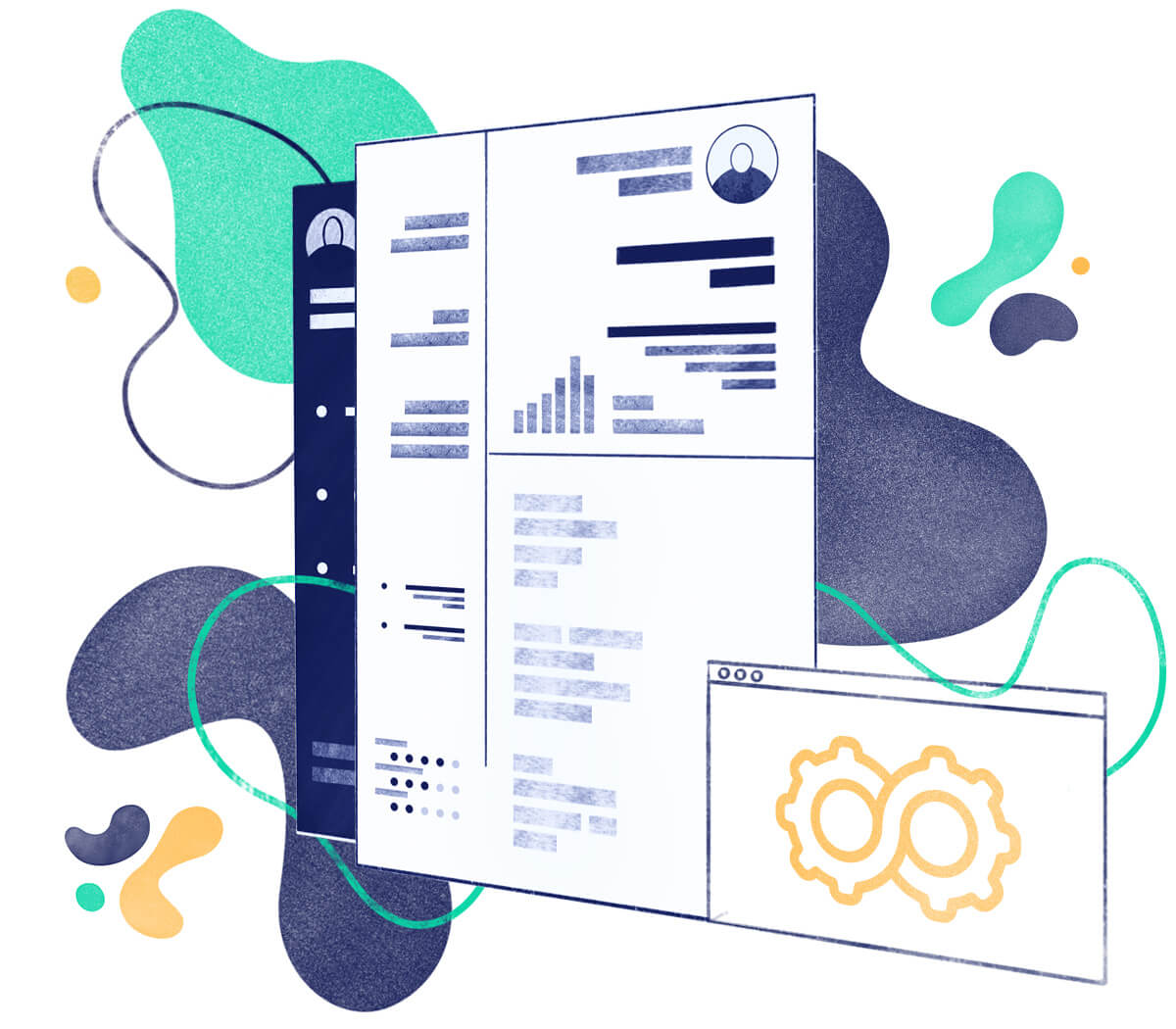 This DevOps resume template gives you faster time-to-market.
Why?
Most DevOps engineer resumes are buggy. They don't show the right capabilities.
But—
Pick the right achievements for your bullet points and you'll stand out like Gene Kim.
This guide will show you:
A DevOps resume example better than most.
How to write a DevOps resume that gets interviews.
The key to a perfect DevOps job description on a resume.
Why your choice of DevOps manager resume accomplishments will make or break you.
Save hours of work and get a resume like this. Pick a template, fill it in. Quick and easy. Choose from 18+ resume templates and download your resume now.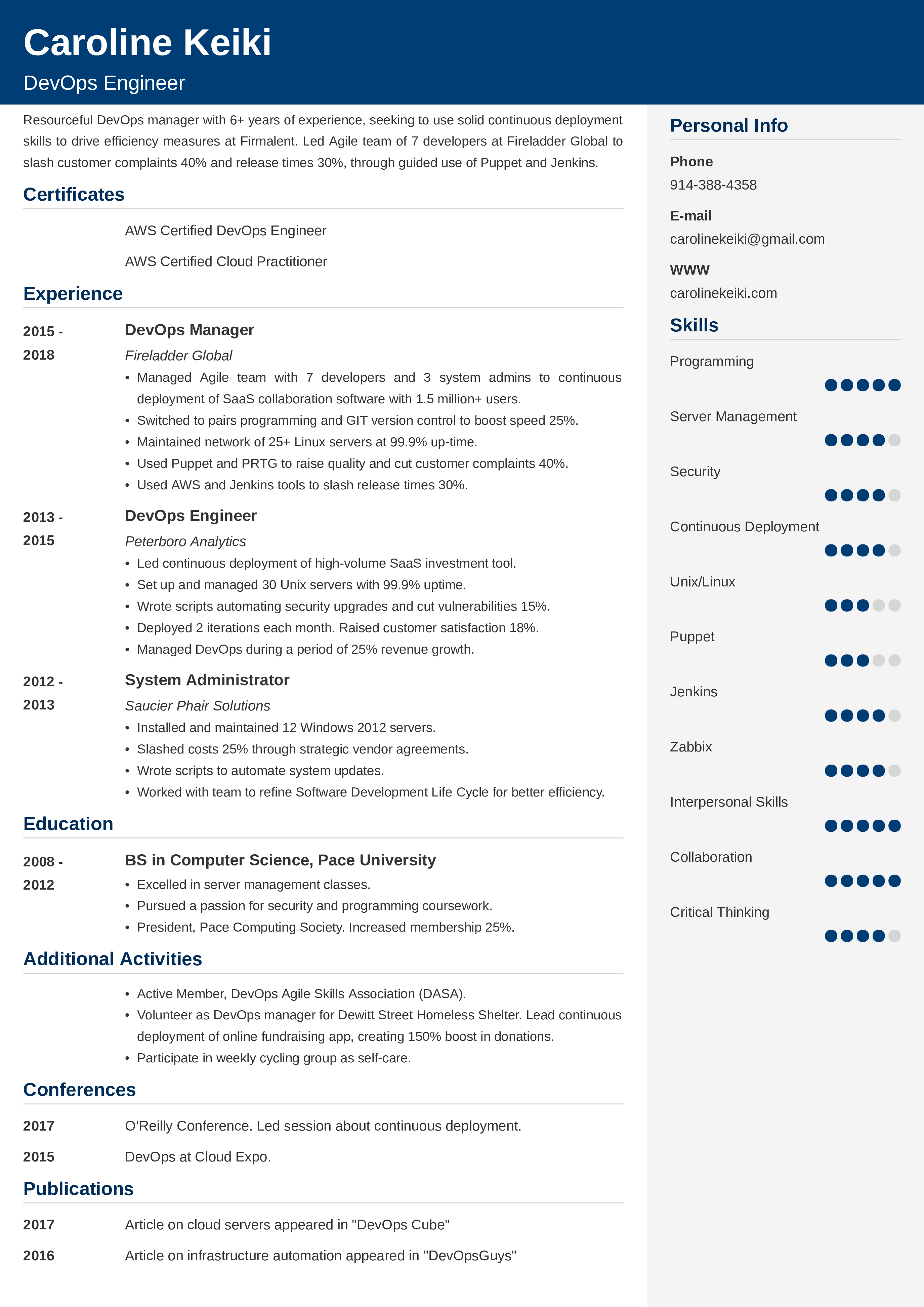 What users say about ResumeLab:
I had an interview yesterday and the first thing they said on the phone was: "Wow! I love your resume."
Patrick

I love the variety of templates. Good job guys, keep up the good work!
Dylan

My previous resume was really weak and I used to spend hours adjusting it in Word. Now, I can introduce any changes within minutes. Absolutely wonderful!
George
DevOps Resume Template
Caroline Keiki
DevOps Engineer
Personal Info
Phone: 914-388-4358
Email: carolinekeiki@gmail.com
Portfolio: carolinekeiki.com
Summary
Resourceful DevOps manager with 6+ years of experience, seeking to use solid continuous deployment skills to drive efficiency measures at Firmalent. Led Agile team of 7 developers at Fireladder Global to slash customer complaints 40% and release times 30%, through guided use of Puppet and Jenkins.
Certifications
AWS Certified DevOps Engineer
AWS Certified Cloud Practitioner
Experience
DevOps Manager
Fireladder Global
2015–2018
Managed Agile team with 7 developers and 3 system admins to continuous deployment of SaaS collaboration software with 1.5 million+ users.
Switched to pairs programming and GIT version control to boost speed 25%.
Maintained network of 25+ Linux servers at 99.9% up-time.
Used Puppet and PRTG to raise quality and cut customer complaints 40%.
Used AWS and Jenkins tools to slash release times 30%.
DevOps Engineer
Peterboro Analytics
2013–2015
Led continuous deployment of high-volume SaaS investment tool.
Set up and managed 30 Unix servers with 99.9% uptime.
Wrote scripts automating security upgrades and cut vulnerabilities 15%.
Deployed 2 iterations each month. Raised customer satisfaction 18%.
Managed DevOps during a period of 25% revenue growth.
System Administrator
Saucier Phair Solutions
2012–2013
Installed and maintained 12 Windows 2012 servers.
Slashed costs 25% through strategic vendor agreements.
Wrote scripts to automate system updates.
Worked with team to refine Software Development Life Cycle for better efficiency.
Education
BS in Computer Science, Pace University
2008–2012
Excelled in server management classes.
Pursued a passion for security and programming coursework.
President, Pace Computing Society. Increased membership 25%.
Additional Activities
Active Member, DevOps Agile Skills Association (DASA).
Volunteer as DevOps manager for Dewitt Street Homeless Shelter. Lead continuous deployment of online fundraising app, creating 150% boost in donations.
Participate in weekly cycling group as self-care.
Conferences
2017 O'Reilly Conference. Led session about continuous deployment.
2015 DevOps at Cloud Expo.
Publications
2017 Article on cloud servers appeared in "DevOps Cube"
2016 Article on infrastructure automation appeared in "DevOpsGuys"
Hard Skills: Programming, Server Management, Security, Continuous Deployment, Unix/Linux, Puppet, Jenkins, Zabbix
Soft Skills: Interpersonal Skills, Collaboration, Critical Thinking
Need help with a different kind of resume? Explore our other guides:
Haven't found what you're looking for? Check all our resume samples.
Now here's how to write a DevOps resume:
1. Choose the Best DevOps Resume Format
This is crucial:
Your resume format must show you don't think Puppet is a talking frog.
Start with the reverse-chronological resume format. It puts your newest accomplishments up top.
Use the best resume fonts in 10–14pt with 1-inch margins, negative space, and big headings.
Make a one-page resume unless you're more experienced than Sanjeev Sharma.
Write a resume header with your name, phone, email, and portfolio link. No photo or street address.
Lead with a DevOps resume summary, then work experience and education.
Add resume extras like certifications, publications, and conferences to show you're a true Devops Chef.
Expert Hint: Save your resume in PDF form unless the job ad says not to. DevOps resume PDFs hold their integrity in transit. Plus in 2019 they're machine-readable.
2. Write an Eye-Catching DevOps Resume Summary or Objective
How do you start a DevOps manager resume?
Most DevOps engineer resumes are almost identical.
They make hiring managers *yawn*.
So—
Write a resume objective that turns heads.
How?
Combine:
One adjective (resourceful, hard-working, motivational)
Job title + certification (DevOps Manager or DevOps Engineer)
Years of experience (2+, 5+)
How you'll help (drive efficiency)
Flashiest 2–3 achievements (slashed complaints 40%, raised sales 20%)
These senior DevOps resume examples show how:
DevOps Resume Summary—Example
Pow.
The first of those DevOps resume samples nails the black box test. It defines the scope of your power for employers.
What if You've Got No Experience?
How to write a DevOps Chef resume or DevOps Ansible resume with no experience?
List achievements. Get them from:
Non-DevOps Jobs
School Projects
Personal Projects
Volunteer Positions
Consulting Work
Here's a DevOps experience resume example that shows what I mean:
Sooo much better than "I'm still looking for my first DevOps job." Even with no experience for your resume, you've got a professional DevOps architect resume.
Note: A DevOps resume objective used to focus on the applicant's goals. In 2018, you'll get more mileage if you show how you'll help the company.
Expert Hint: Write your resume summary last. Why? You'll skip the writer's block, because you'll have much to choose from.
3. Add a Strong DevOps Resume Job Description
Surprise:
The best DevOps engineer resumes show a precious few accomplishments.
But pick the right ones and the manager will call you.
So—
Read the job ad closely.
Highlight the DevOps skills and duties in it.
Write resume bullets that prove your bandwidth.
These DevOps resume examples show the way:
DevOps Job Description—Sample
Job ad wants these DevOps skills: (1) Agile (2) pairs programming (3) Puppet.
The second of those DevOps Puppet resume examples is 404. The other shows you fit the job OOTB.
It also lists percents and other numbers to show how solid your skills are.
Entry-Level DevOps Resume Example—No Experience
No DevOps experience? Don't sweat.
Your entry-level DevOps engineer resume can still put you in the pipeline.
Again, list achievements, like this DevOps sample resume:
DevOps Entry-Level Job Description—Sample
Resume DevOps Skills
Huge tip:
Don't copy-paste resume skills lists.
Hiring managers can smell that like a password on a PostIt.
But—for reference:
DevOps Skills for Resume

| | | |
| --- | --- | --- |
| Soft Skills | Hard Skills | Tools |
| Collaboration | Operating Systems | Unix/Linux |
| Problem Solving | Build and Release | Jenkins |
| Communication | Networking Protocols | GIT |
| Critical Thinking | Deployment | Salt/Ansible |
| Creative Thinking | Source Control | Puppet/Chef |
| Active Learning | Containers | AWS/VMWare |
| Adaptability | Configuration Management | Docker |
| Leadership | Programming | Apache/Nginx |
| Perceptiveness | Monitoring | Python/Perl |
| Decision Making | Agile | Zabbix/Sensu |
According to Chef CTO Adam Jacob, a true DevOps pro needs a full stack of skills.
The ResumeLab builder is more than looks. Get specific content to boost your chances of getting the job. Add job descriptions, bullet points, and skills. Easy. Improve your resume in our resume builder now.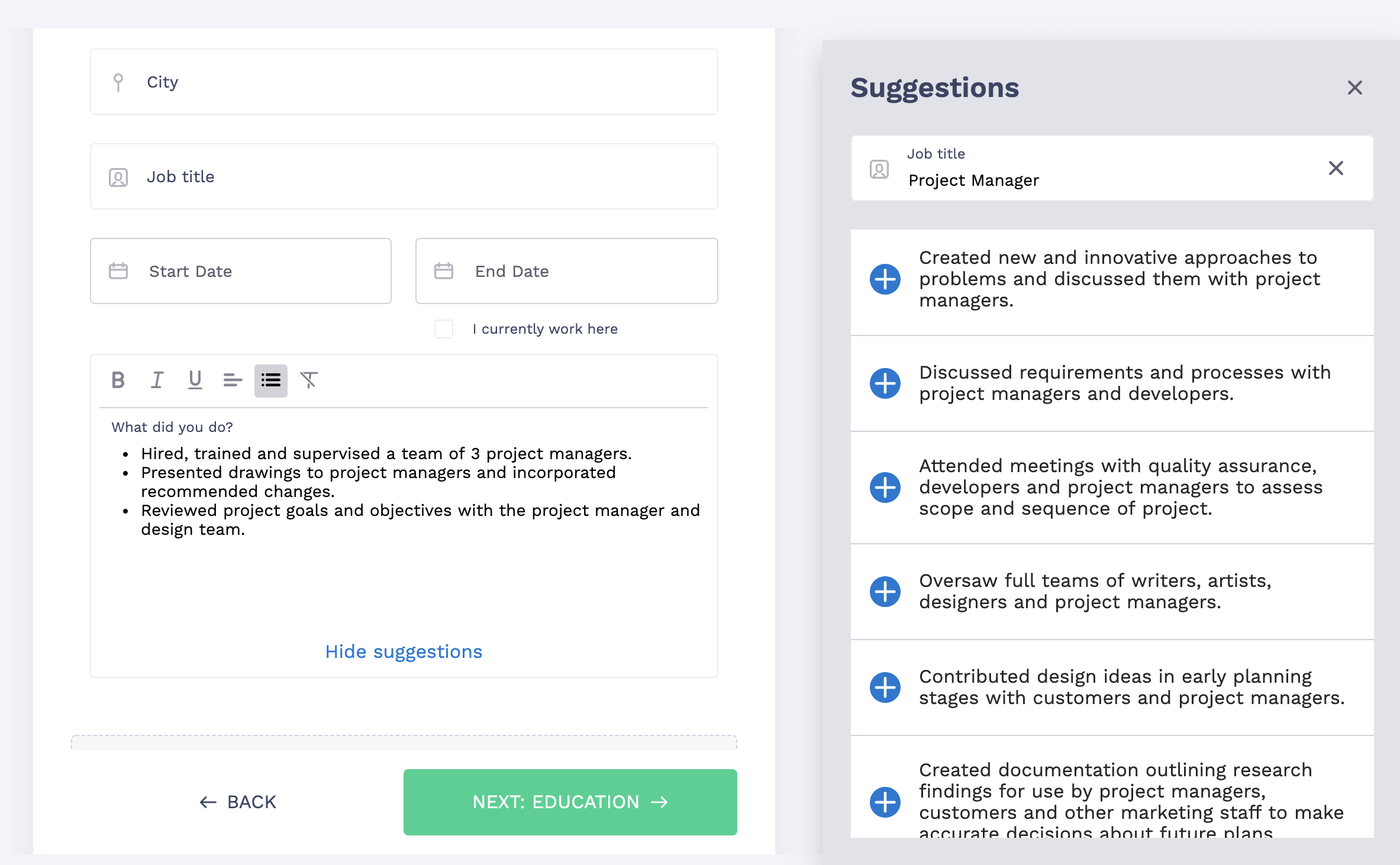 Nail it all with a splash of color, choose a clean font, highlight your skills in just a few clicks. You're the perfect candidate and we'll prove it. Use the ResumeLab builder now.
Expert Hint: Always include a portfolio link with your DevOps or DevOps consultant resume. Then the hiring manager can get to know your strengths beyond a sheet of paper.
4. Turn Boring Education to a Reason to Hire You
Don't blow this:
Your education section should convince.
On a DevOps engineer resume, that means showing wins that fit the job.
These DevOps resume examples show the way:
DevOps Resume Education—Sample
Functional.
The first of those DevOps engineer resume samples is interview-ready.
It shows DevOps was your passion way back when.
Expert Hint: Is your DevOps resume experience still in the requirements gathering stage? Split your education section up like a series of jobs. List positions, organizations, and projects, with achievements in each one.
5. Transform Your DevOps Resume With These
Want to nail it?
Use your DevOps Java resume or DevOps AWS resume to show you live and breathe your job.
Do it with special tech resume extras.
These two DevOps engineer resume examples show how:
Additional Sections for DevOps Resume—Sample
Handled.
Those first DevOps resume samples prove your depth of knowledge.
Where to put certifications on DevOps manager resumes?
Put them in a special section under your summary. See the DevOps resume template up top for placement.
Expert Hint: Add a DevOps cover letter. It's the sales pitch for your DevOps Ansible resume. Nearly half of hiring managers don't read resumes without cover letters.
Double your impact with a matching resume and cover letter combo. Use our cover letter builder and make your application documents pop out.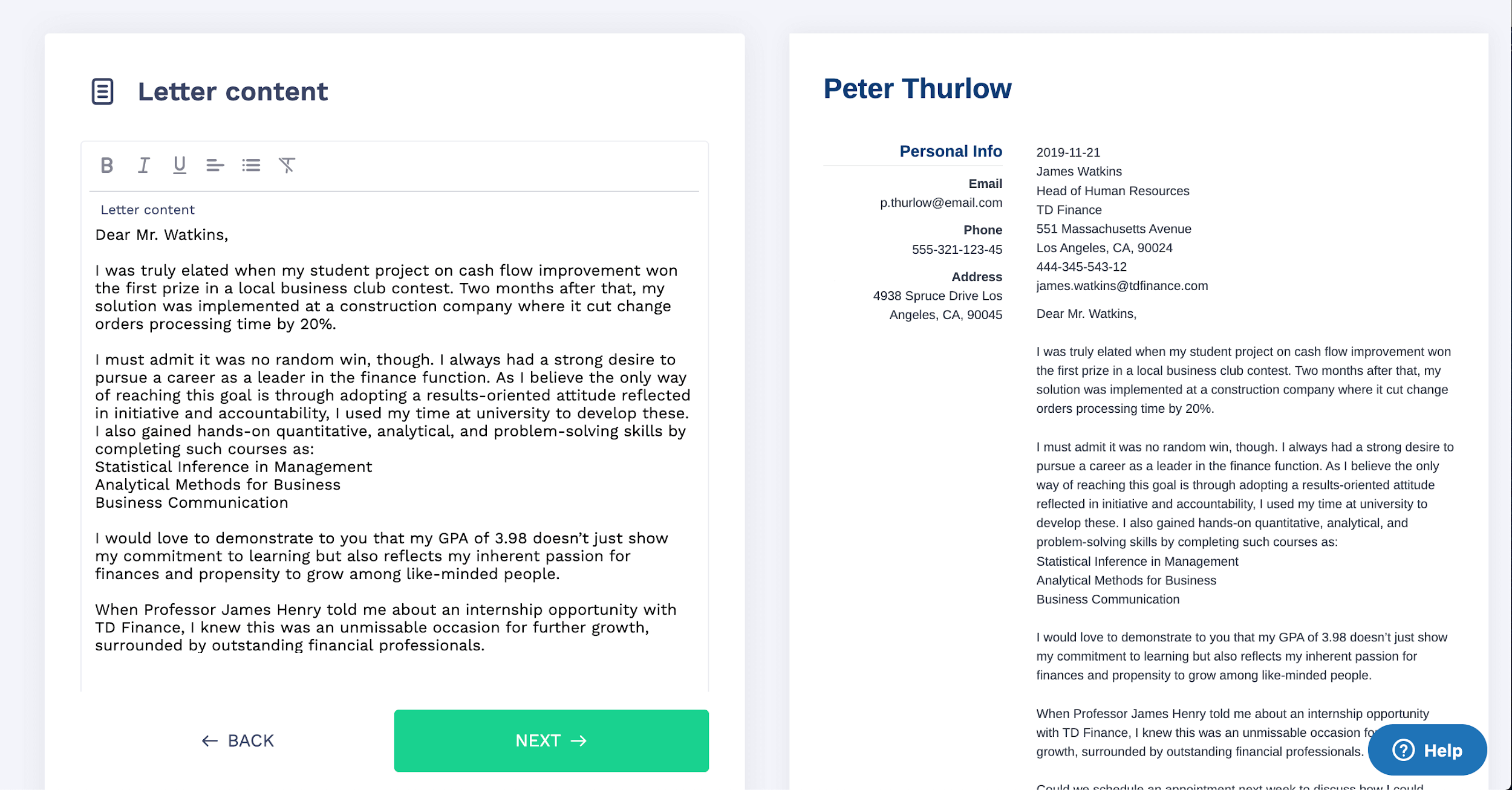 Want to try a different look? There's 18 more. A single click will give your document a total makeover. Pick a cover letter template here.
Key Points
For a DevOps engineer resume that sizzles:
Use the DevOps resume template up top. It makes all the right connections.
List achievements in your DevOps experience resume bullet points. Make sure they patch into the job.
Don't waste space. Even education in a DevOps developer resume should show job-matching accomplishments.
Send a DevOps cover letter. Plug it into the manager's needs, and she'll read your DevOps engineer resume with interest.
Got questions on how to write a great resume for DevOps jobs? Not sure how to show DevOps on a resume? Leave a comment. We'll be happy to reply.