Bartender Resume—Examples and 25+ Writing Tips
A bartender resume example that lands interviews. Make your server bartender resume quickly. Learn from expert tips. See good vs. bad examples.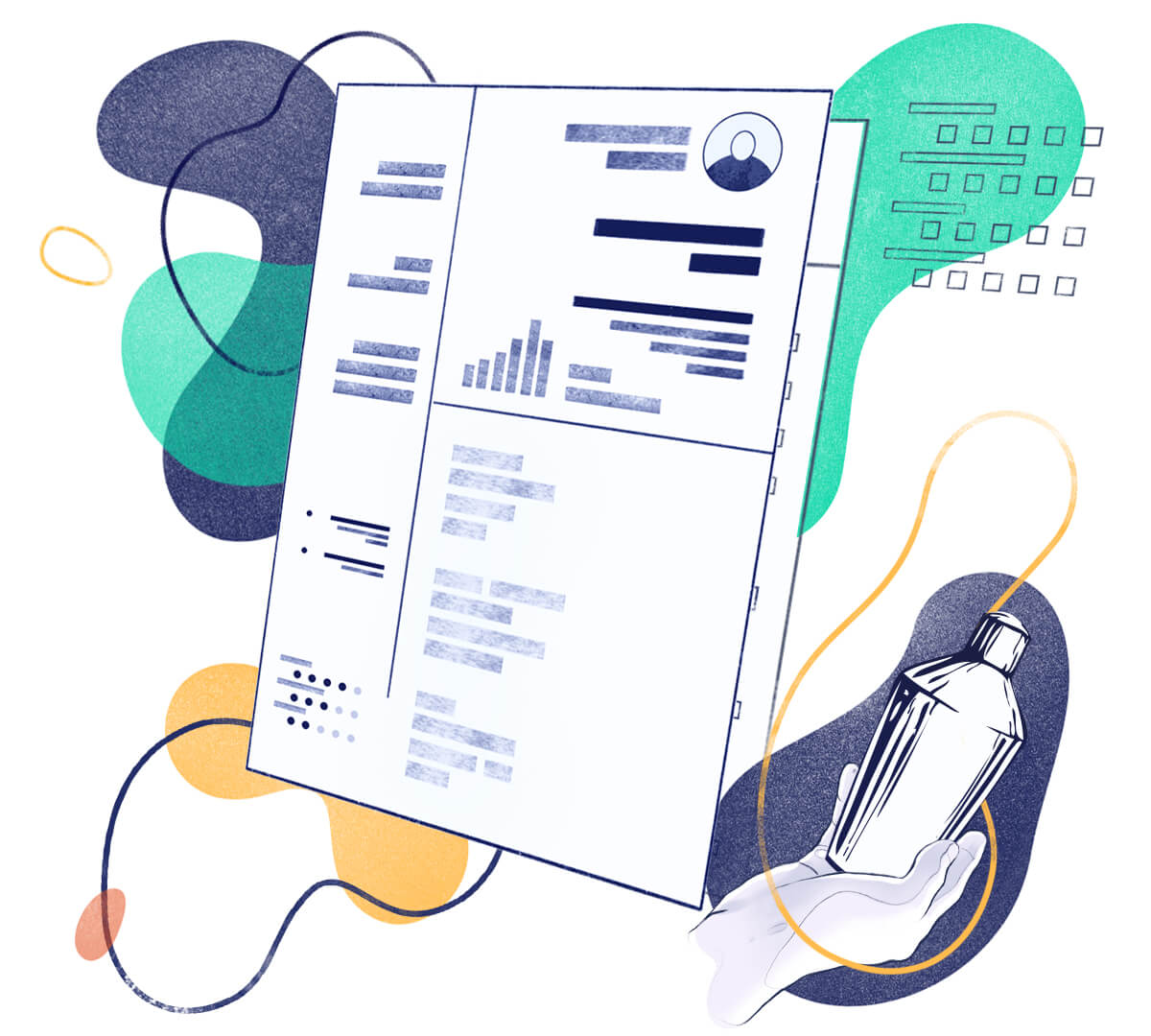 You've got the flair. You've got the attitude. You've got the look.
You have it all.
The problem is—
Does your bartender resume have what it takes to land you the job?
Not so sure?
Well, you've found the right guide. Now:
Give it a shot.
In this guide:
Best bartender resume examples that get jobs.
How to ace your bartender job description for a resume.
How to write resumes for bartender positions that get the interview.
Expert tips and examples to boost your chances of landing bartending jobs.
Save hours of work and get a resume like this. Pick a template, fill it in. Quick and easy. Choose from 18+ resume templates and download your resume now.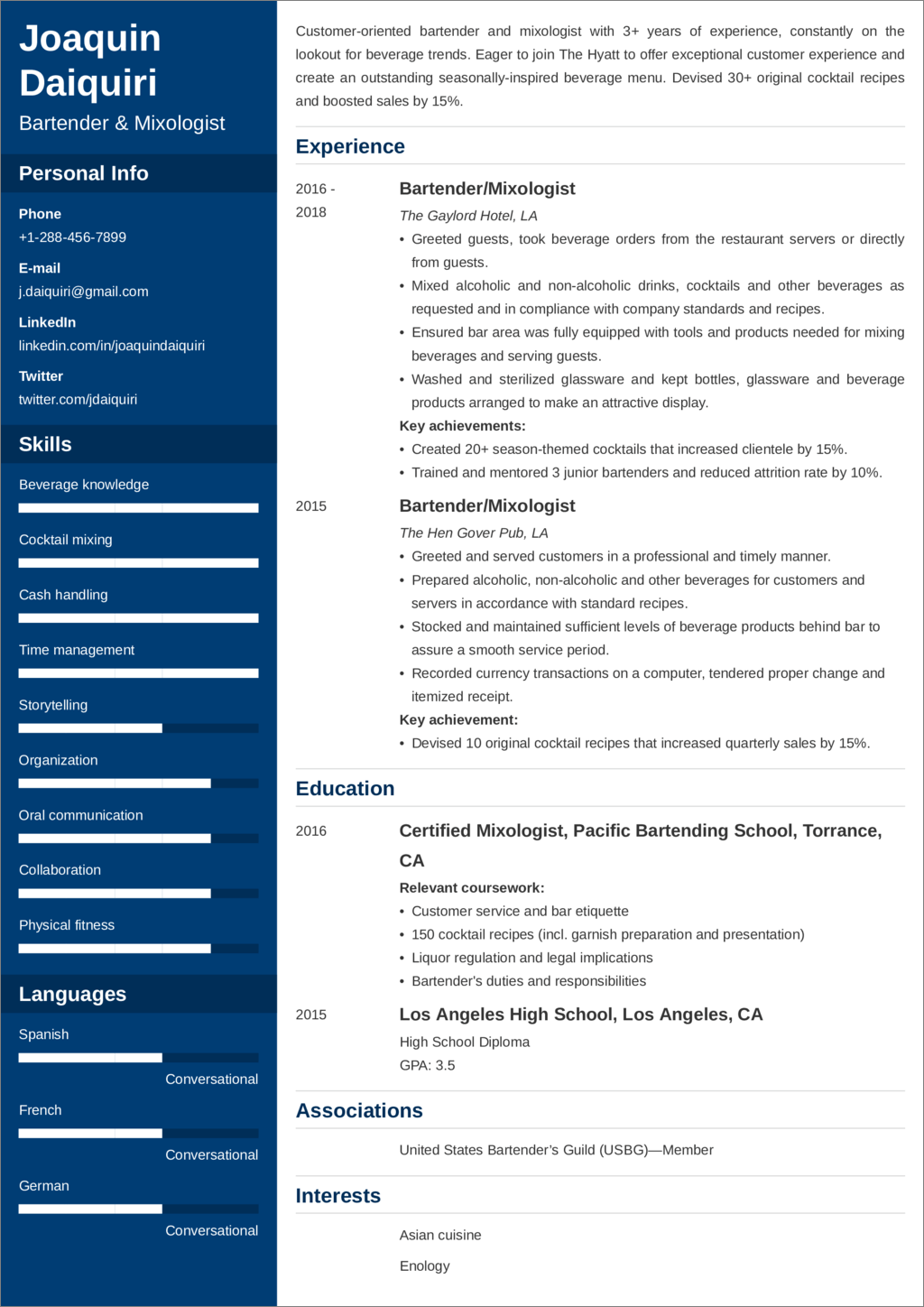 What users say about ResumeLab:
I had an interview yesterday and the first thing they said on the phone was: "Wow! I love your resume."
Patrick

I love the variety of templates. Good job guys, keep up the good work!
Dylan

My previous resume was really weak and I used to spend hours adjusting it in Word. Now, I can introduce any changes within minutes. Absolutely wonderful!
George
Bartender Resume—Example
Joaquin Daiquiri
Bartender & Mixologist
Phone: +1-288-456-7899
Email: j.daiquiri@gmail.com
LinkedIn: linkedin.com/in/joaquindaiquiri
Twitter: twitter.com/jdaiquiri
Summary
Customer-oriented bartender and mixologist with 3+ years of experience, constantly on the lookout for beverage trends. Eager to join The Hyatt to offer exceptional customer experience and create an outstanding seasonally-inspired beverage menu. Devised 30+ original cocktail recipes and boosted sales by 15%.
Experience
2016–2018
The Gaylord Hotel, LA
Bartender/Mixologist
Greeted guests, took beverage orders from the restaurant servers or directly from guests.
Mixed alcoholic and non-alcoholic drinks, cocktails and other beverages as requested and in compliance with company standards and recipes.
Rang up all drink and food orders in the POS system, collected payment for drinks and food served, balanced all receipts and followed cash handling procedures.
Ensured bar area was fully equipped with tools and products needed for mixing beverages and serving guests.
Washed and sterilized glassware and kept bottles, glassware and beverage products arranged to make an attractive display.
Key achievements:
Created 20+ season-themed cocktails that increased clientele by 15%.
Trained and mentored 3 junior bartenders and reduced attrition rate by 10%.
2015
The Hen Gover Pub, LA
Bartender/Mixologist
Greeted and served customers in a professional and timely manner.
Prepared alcoholic, non-alcoholic and other beverages for customers and servers in accordance with standard recipes.
Maintained a clean bar by regular wiping, disposing of debris and bottles, filling ice bins and washing glasses behind the bar as needed.
Stocked and maintained sufficient levels of beverage products behind bar to assure a smooth service period.
Recorded currency transactions on a computer, tendered proper change and itemized receipt.
Key achievement:
Devised 10 original cocktail recipes that increased quarterly sales by 15%.
Education
2016
Pacific Bartending School, Torrance, CA
Certified Mixologist
Relevant coursework:
Customer service and bar etiquette
150 cocktail recipes (incl. garnish preparation and presentation)
Liquor regulation and legal implications
Bartender's duties and responsibilities
2015
Los Angeles High School, Los Angeles, CA
High School Diploma
GPA: 3.5
Associations
United States Bartender's Guild (USBG)—Member
Interests
Key Skills
Beverage knowledge
Cocktail mixing
Cash handling
Time management
Storytelling
Organization
Oral communication
Collaboration
Physical fitness
Languages
Spanish (Conversational)
French (Conversational)
German (Conversational)
Need help with a different kind of resume? Explore our other guides:
Haven't found what you're looking for? Check all our resume examples for over 200 jobs.
1. Choose the Best Bartender Resume Format
This is how much time Sheldon Wiley needs to mix two cocktails.
This is also how long a recruiter will be scanning your resume.
So—
Make your bartender resume look at least as good as Rainbow Sangria.
Pick the reverse-chronological resume format. It puts a spotlight on your bartender experience and key accomplishments.
Stick with simple and readable resume fonts in the range between 10 and 14pt. Add simple headings, keep clutter under control by using white space.
Stay under one page unless you have tons of experience. Make sure your resume length is within acceptable standards.
Top your server bartender resume with an objective, summary or summary of qualifications. Then add the experience and education sections.
Your bartender resume skills should go straight to the key skills section.Garnish your bartender resume with a couple of extras, such as membership in professional organizations, interests, and knowledge of foreign languages.
Expert Hint: Export your lead bartender resume to a PDF file. It will be ATS-scannable, and the formatting will stay intact.
2. Start with a Bartender Resume Objective or Summary That Goes to the Head
Your bartender resume objective or resume summary must be like a Little Red Corvette.
A powerful shot of the good stuff.
So—
Use this formula to leave the recruiter drunk with happiness.
An adjective
Job title
Years of experience
What you can offer and how it will help
Your biggest achievement
Bartender Resume Summary—Example
You can see the difference right away, can't you?
The good example of the bartender resume objective makes you think of Tom Cruise in the movie Cocktail. And, you can clearly see what the candidate has to offer.
On the other hand, the bad example looks generic and focuses entirely on what the candidate wants.
What If You've Got No Bartending Experience?
Here's the secret:
It doesn't matter.
Your entry-level resume must own the recruiter from the start as well.
The only difference is you'd be writing a bartender resume objective, not a summary.
So—
How to write an objective for a bartender resume?
Easy like a Sunday morning:
Focus on your skills rather than professional experience. And convince the recruiter you're best in class.
Here's what a good bartender resume objective statement looks like:
Entry-Level Bartender Resume—Objective
Well—
Just look at the two bartender resume objective examples. Each can be summarized in a single word.
The good example: Me!
The bad example: Meh...
Expert Hint: Write your bartender resume objective at the very end. Why? It's supposed to focus on the highlights from your bartender resume. If you have no resume ready yet, you'll have a hard time deciding what to put there.
3. Write the Best Bartender Resume Skills and Job Description Sections
The only rules that really matter are these:
What a man can do, and what a man can't do.
End of quote.
In short—
Your bartender resume job description must deliver. Just like Captain Jack Sparrow.
Here's how to get it right.
Go through the job ad.
Highlight the bartender resume duties and skills the employer looks for.
Describe your bartender experience on the resume using keywords from the ad.
Bartender Resume Examples—Bartender Job Description for Resume
Here's a question:
Would you read 250+ bartender resumes if you knew at least 50% of them look like the bad examples above?
That's right, you wouldn't.
This is where the ATS (Applicant Tracking System) comes in. It helps the recruiters screen all the resumes for bartender positions by looking for resume keywords.
What keywords?
Those you can find in the job ad.
And this is exactly why it's so important to reply to a specific job ad and describe your bartending skills with the phrases you see there.
And yes—
ATSs are mostly used by large companies, such as hotel chains, cruise lines, etc. Your bartender resume is much more likely to be machine-read first if you're applying to such places.
Which doesn't mean that when you're sending your bartender resume to a local place, you don't have to make an effort. No.
Your bartender resume must impress the hiring manager.
How?
Again, use the phrasing form the job ad.
Plus—
Avoid the "responsible for" formula on your bartender resume. It's meaningless. Use action words instead. Such verbs as greeted, served, prepared, cleaned, stocked, or maintained communicate much more.
They show what you actually did, not what you were only responsible for.
Put numbers where you can. This way the effects of your work become measurable and the bartender job description on your resume gains more meaning.
Last but not least.
Pick up to three top accomplishments, make sure they're quantifiable, and put them in a separate key achievements subsection.
The ResumeLab builder is more than looks. Get specific content to boost your chances of getting the job. Add job descriptions, bullet points, and skills. Easy. Improve your resume in our resume builder now.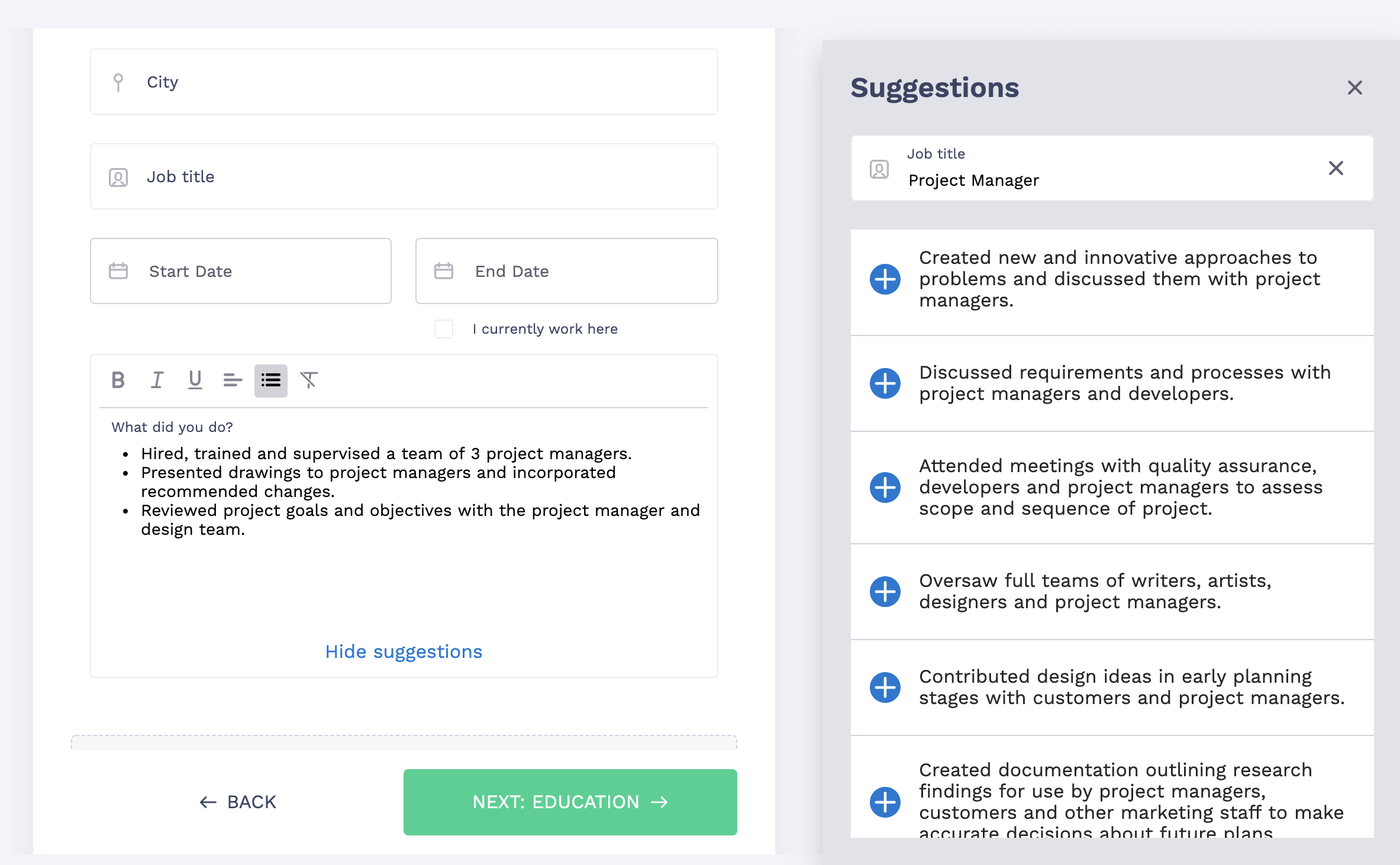 Nail it all with a splash of color, choose a clean font, highlight your skills in just a few clicks. You're the perfect candidate and we'll prove it. Use the ResumeLab builder now.
Bartender Resume Sample—Key Achievements
Key achievements:
Created 20+ season-themed cocktails that increased clientele by 15%.
Trained and mentored 3 junior bartenders and reduced attrition rate by 10%.
And one more thing.
Pick out the right bartender skills for your resume, and make them clearly visible.
Treat the job ad as a treasure trove. All the sought-after skills are spelled out right in there.
The lists below will help you get inspired.
Bartender Resume—Skills
Beverage knowledge
Cocktail mixing
Cash handling
Multi-tasking
Physical fitness
Time management
Storytelling
Interpersonal skills
Organization
Oral communication
Collaboration
Adaptability
Conflict resolution
Expert Hint: The employers may be looking for particular physical skills, such as the ability to lift up to 30 pounds, or to stand and bend for prolonged periods of time. If this is the case, be more specific in your bartender resume skills section.
4. Turn Boring Education Into a Reason to Hire You
To include education. Or not to include education on a resume.
That is the question.
Include.
But only if you know how to make the education section work for you on your bartender resume.
The most important thing is relevance. If your education is related to the job, it's a no-brainer.
Bartender Resume Examples—Education
If you're a student looking for a part-time job, do include the education section on your bartender resume. Mention coursework that is relevant to the position.
Entry-Level Bartender Resume Example—Education
Expert Hint: Unless it's relevant to the job, the education section isn't of utmost importance on a bartender resume. Keep this section short and to the point.
5. Garnish Your Bartender Resume With These
Make your bartender resume truly special with a unique mixture of flavors.
Your membership in professional associations, interests on a resume, and knowledge of foreign languages all count.
Associations
United States Bartender's Guild (USBG)—Member
Interests
Languages
Spanish (Conversational)
French (Conversational)
German (Conversational)
Expert Hint: There's always room for something special. Write a resume cover letter for bartender jobs and up your chances of landing an interview. More than 50% of the recruiters would like to read one.
Double your impact with a matching resume and cover letter combo. Use our cover letter builder and make your application documents pop out.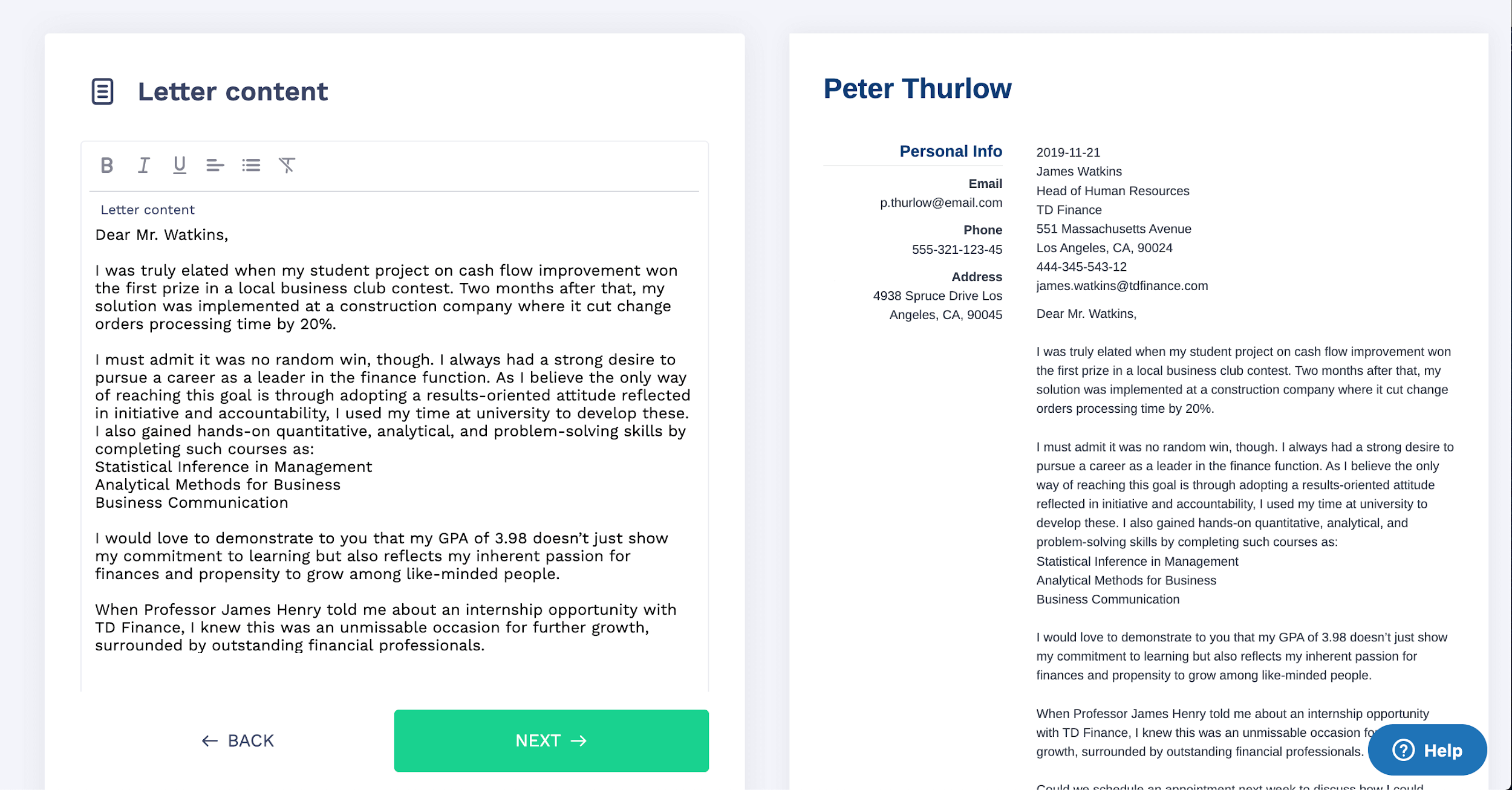 Want to try a different look? There's 18 more. A single click will give your document a total makeover. Pick a cover letter template here.
Key Points
To ace your bartender resume:
Choose the best bartender resume template. A bartender resume with no experience will look different from an experienced bartender resume.
Give your bartender resume a stunning look. One page is the preferred length. Use white space to your advantage. Keep it clean and only focus on your relevant experience.
Target a specific job offer. Your bartender resume job description and skills must target a specific job ad.
Let your education work for you. On a bartender resume, this section is not super important. But if your education is job-related, do show it.
Spike it with extras. List your interests, knowledge of foreign languages, and membership in professional associations.
Questions on how to write the best bartender resume? Want to share advice on how to prepare a resume for bartending jobs (lead bartender resume or banquet bartender resume)? We'd love to hear from you. Leave your comment below.