Operations Manager Resume Sample—25+ Examples and Writing Tips
An operations manager resume sample that gets interviews. Write your resume for operations manager jobs fast, with expert tips and good + bad examples.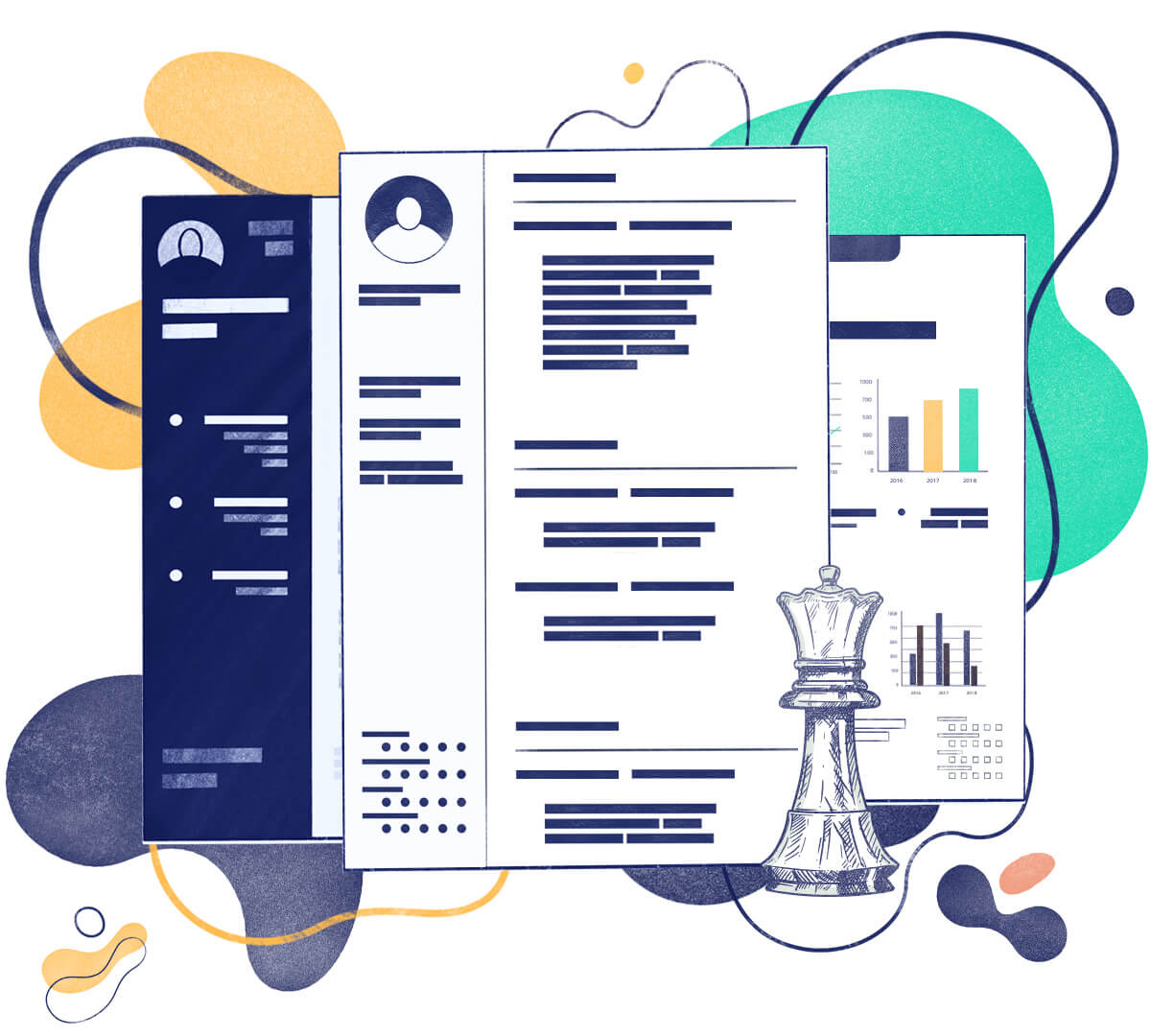 This operations manager resume template stands out like Jeff Bezos in a Chick-fil-a.
Why?
Most operations management resumes slide off the hiring team's eyes.
You need to go beyond merely "impressive."
To get noticed, show specific operation resume successes in the right format.
This guide will show you:
An operations manager resume example better than most.
How to write an operations manager resume that gets more interviews.
The key to a perfect operations manager job description on a resume.
Why your choice of operations manager skills can reengineer your job search.
Save hours of work and get a resume like this. Pick a template, fill it in. Quick and easy. Choose from 18+ resume templates and download your resume now.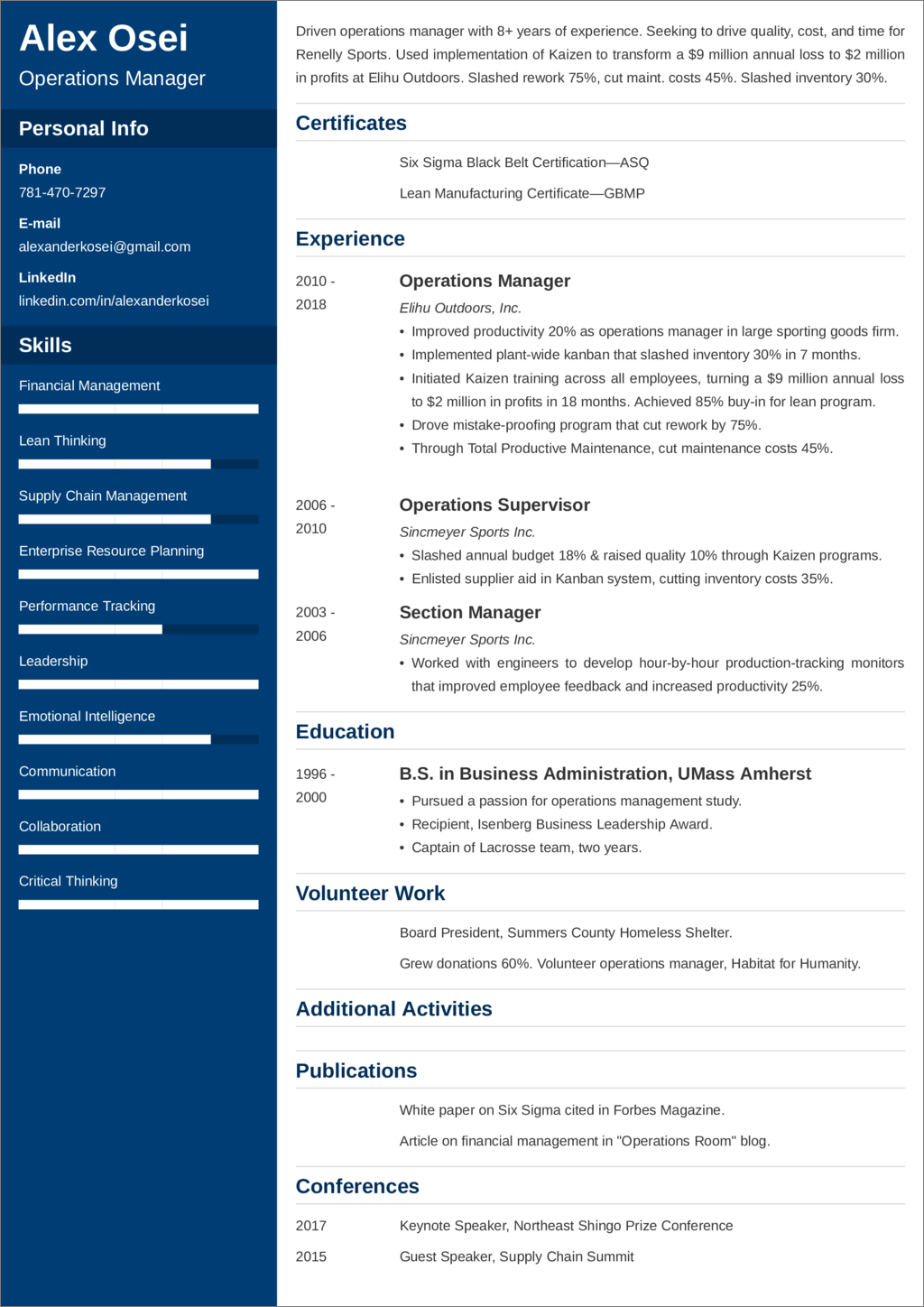 What users say about ResumeLab:
I had an interview yesterday and the first thing they said on the phone was: "Wow! I love your resume."
Patrick

I love the variety of templates. Good job guys, keep up the good work!
Dylan

My previous resume was really weak and I used to spend hours adjusting it in Word. Now, I can introduce any changes within minutes. Absolutely wonderful!
George
Operations Manager Resume Template
Alex Osei
Operations Manager
Personal Info

Phone: 781-470-7297
Email: alexanderkosei@gmail.com
linkedin.com/in/alexanderkosei
Summary
Driven operations manager with 8+ years of experience. Seeking to drive quality, cost, and time for Renelly Sports. Used implementation of Kaizen to transform a $9 million annual loss to $2 million in profits at Elihu Outdoors. Slashed rework 75%, cut maint. costs 45%. Slashed inventory 30%.
Certificates
Six Sigma Black Belt Certification—ASQ
Lean Manufacturing Certificate—GBMP
Experience
Operations Manager
Elihu Outdoors, Inc.
2010–2018
Improved productivity 20% as operations manager in large sporting goods firm.
Implemented plant-wide kanban that slashed inventory 30% in 7 months.
Initiated Kaizen training across all employees, turning a $9 million annual loss to $2 million in profits in 18 months. Achieved 85% buy-in for lean program.
Drove mistake-proofing program that cut rework by 75%.
Through Total Productive Maintenance, cut maintenance costs 45%.
Operations Supervisor
Sincmeyer Sports Inc.
2006–2010
Slashed annual budget 18% & raised quality 10% through Kaizen programs.
Enlisted supplier aid in Kanban system, cutting inventory costs 35%.
Section Manager
Sincmeyer Sports Inc.
2003–2006
Worked with engineers to develop hour-by-hour production-tracking monitors that improved employee feedback and increased productivity 25%.
Education
B.S. in Business Administration, UMass Amherst
1996–2000
Pursued a passion for operations management study.
Recipient, Isenberg Business Leadership Award.
Captain of Lacrosse team, two years.
Volunteer Work
Board President, Summers County Homeless Shelter. Grew donations 60%.
Volunteer operations manager, Habitat for Humanity.
Additional Activities
Active member, Association for Operations Management (APICS).
Lead weekly hiking club. Raised membership 65%.
Publications
White paper on Six Sigma cited in Forbes Magazine.
Article on financial management in "Operations Room" blog.
Conferences
2017 Keynote Speaker, Northeast Shingo Prize Conference
2015 Guest Speaker, Supply Chain Summit
Hard Skills: Financial Management, Lean Thinking, Supply Chain Management, Enterprise Resource Planning, Performance Tracking
Soft Skills: Leadership, Emotional Intelligence, Communication, Collaboration, Critical Thinking
Want to see more specific resume examples? Switch over to one of our dedicated guides:
Haven't found what you're looking for? Check all our resume samples.
Now here's how to write an operations manager resume:
1. Choose the Best Operations Manager Resume Format
This matters:
Your operations manager resume format must show competence at a glance.
Start with the reverse-chronological resume format. It puts your best assets up front.
Use the best resume fonts like Cambria or Arial, in 10–14pt. Rely on big headings, lots of white space, and 1-inch margins.
Start with a resume header. Include your name, phone, email, and social media links. No photo or street address.
Add an operations manager profile summary, then work experience, then education.
Include extras like publications, conferences, and volunteer work to show you thrive in the production world.
Write a one-page resume unless you're Meg Whitman or Dieter Zetsche.
Switching from another line of work? Consider the combination operations management resume format. It pulls in your best related wins from non-operations manager jobs.
Expert Tip: Save your resume as a PDF unless the job ad lays them off. Operations manager resume PDFs won't turn to muda in transit. In 2018, they're also machine-readable.
2. Write a Lean Operations Manager Resume Summary
The problem?
Most employers don't read resumes for operations manager jobs.
They skim, then come back and read the few they like.
Stop skimmers with a profile summary done right.
Stuff it with impressive feats to stand out like Jose Boisjoli or Blake Moret.
Use:
One adjective (focused, engaging, supportive)
Job title (Operations Manager)
Years of experience (5+, 10+)
How you'll help (drive productivity)
Flashiest 2–3 achievements (turned $9 million loss to $2M profit)
These senior operations manager resume examples show how:
Retail Operations Manager Resume—Summary
Interesting.
The first of those retail operations manager resume samples brims with assets. It'll grab the hiring team and shake them.
What about a resume objective? Those are for applicants with no experience. Don't write one in a resume for operations manager jobs.
Expert Tip: Don't make your operations manager resume summary first. Do it last so you'll have a supermarket of impressive bullet points to pull from.
3. How to Write an Operations Manager Resume Job Description
It's sink-or-swim time.
How to show skills in an operations manager job resume?
First, list them.
Then prove them.
Here's how to do it right—
Read the job ad and talk to employees.
Build a list of operations manager skills they're dying for.
Go through your past to find accomplishments that prove you've got those things.
Put those accomplishments in your resume bullets, with metrics.
Operations Manager Skills on a Resume—Example
These manufacturing operations manager resume examples show the standard work:
Job ad wants these operations manager skills: (1) Kanban (2) training (3) Total Productive Maintenance.
Yeesh.
The second of those plant manager resume examples is scrap.
The first? Jack Welch-level.
Operations Manager Resume Skills
Oh, by the way:
Don't copy operations manager resume skills from online lists.
To hiring teams, that's obvious counterfeiting.
Just for reference:
Operations Manager Resume Skills

| | |
| --- | --- |
| Soft Skills | Hard Skills |
| Leadership | Budgeting |
| Interpersonal Skills | Performance Tracking |
| Communication | Lean Thinking |
| Problem Solving | Financial Management |
| Listening | Delegation |
| Critical Thinking | Enterprise Resource Planning |
| Collaboration | Supply Chain Management |
| Psychology | Product Lifecycle Management |
| Decision Making | Customer Relationship Management |
| Detail Oriented | Strategy Development |
Expert Tip: Gunning for an Amazon operations manager job? Check out this TED Talk for key insights into what to highlight in your resume.
The ResumeLab builder is more than looks. Get specific content to boost your chances of getting the job. Add job descriptions, bullet points, and skills. Easy. Improve your resume in our resume builder now.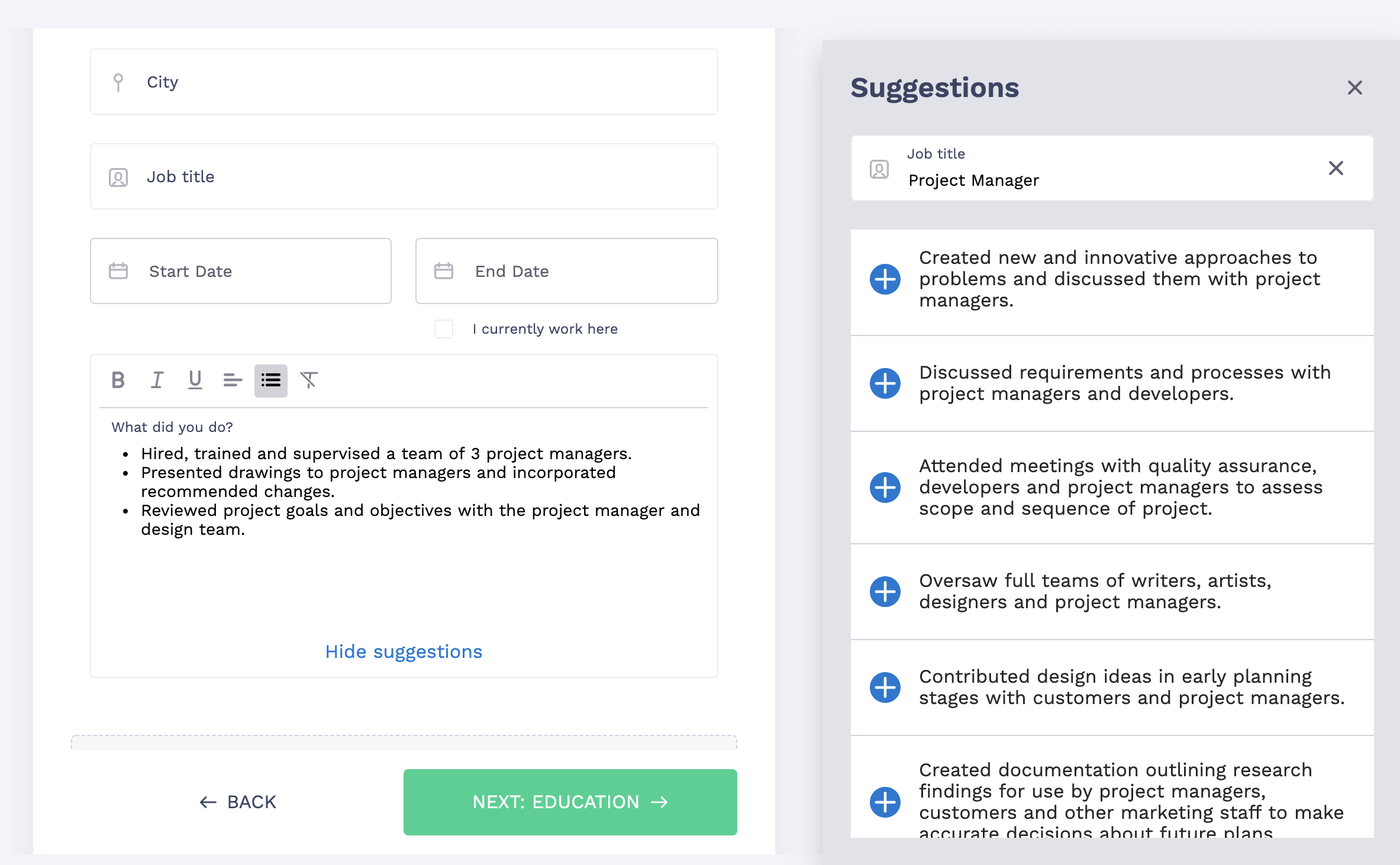 Nail it all with a splash of color, choose a clean font, highlight your skills in just a few clicks. You're the perfect candidate and we'll prove it. Use the ResumeLab builder now.
4. Turn Boring Education Into a Reason to Hire You
You know this:
You need to show education on a director-level resume.
But—
Did you know it can convince them to interview you?
These manager of operations resume examples show the value stream:
Education on a Business Operations Manager Resume—Sample
That operations manager resume sample will make the hiring team take notice.
It shows you groomed for this since school.
Where's the GPA? If it's not impressive, scrap it.
Expert Tip: Should you list GPA on an IT, logistics or warehouse operations manager job resume? Not unless it's sky-high. If not, save the space for more impressive stats.
5. Add Value to Your Operations Manager Resume With Additional Sections
Guaranteed return:
Your resume for operations manager jobs must prove you're more than good.
To build engagement, add resume additional sections like these operations manager resume examples:
Additional Sections on a Resume for Operations Management—Example
Can you see the difference? Those first senior operations management resume samples make it work.
What about certifications on a resume?
On operation resumes, put them below your summary. The operations manager resume template up top shows how.
Expert Tip: Send an operations manager cover letter. A cover letter is the elevator pitch that gets the board to read your VP of operations resume or supply chain manager resume.
Double your impact with a matching resume and cover letter combo. Use our cover letter builder and make your application documents pop out.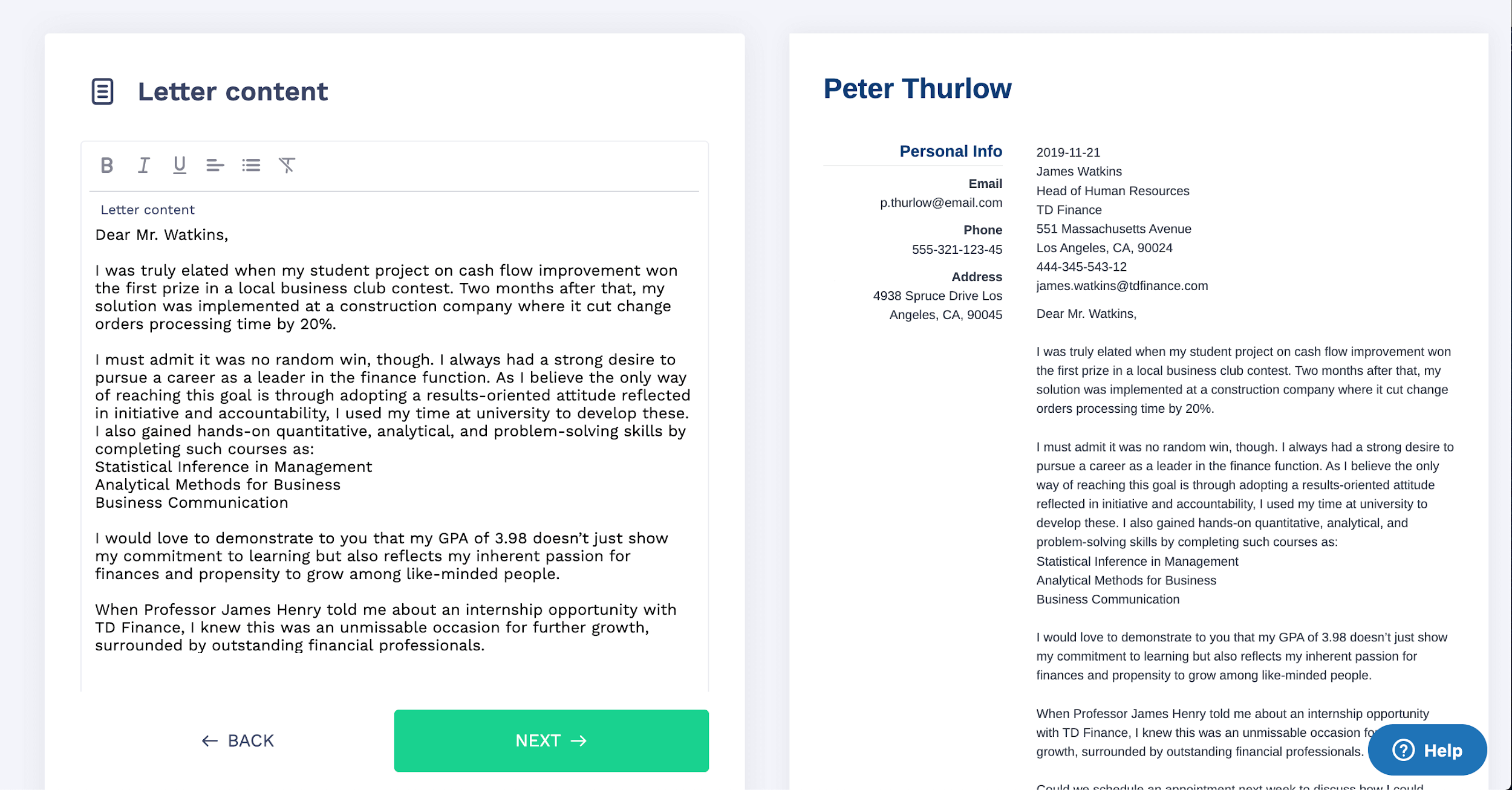 Want to try a different look? There's 18 more. A single click will give your document a total makeover. Pick a cover letter template here.
Key Points
For an operations manager resume that makes the phone ring:
Start with the operations manager resume template up top. It brings the best practices to life.
List achievementsin your operations management resume bullet points. Match them to the job opening like tooling to a fixture.
Cut the waste. Even the education section in a resume for operations manager jobs should show success.
Use operation resume keywords. Find them in the job ad, and by talking to key people in the hiring chain.
Got questions on how to write a great resume for operations manager jobs? Not sure how to show operations manager on a resume? Leave a comment. We'll be happy to reply.