33+ Cover Letter Tips, Advice, Dos and Don'ts & More (Examples)
Looking for cover letter tips and advice to really stand out? Want cover letter mistakes to avoid and other dos and don'ts? You've come to the right place.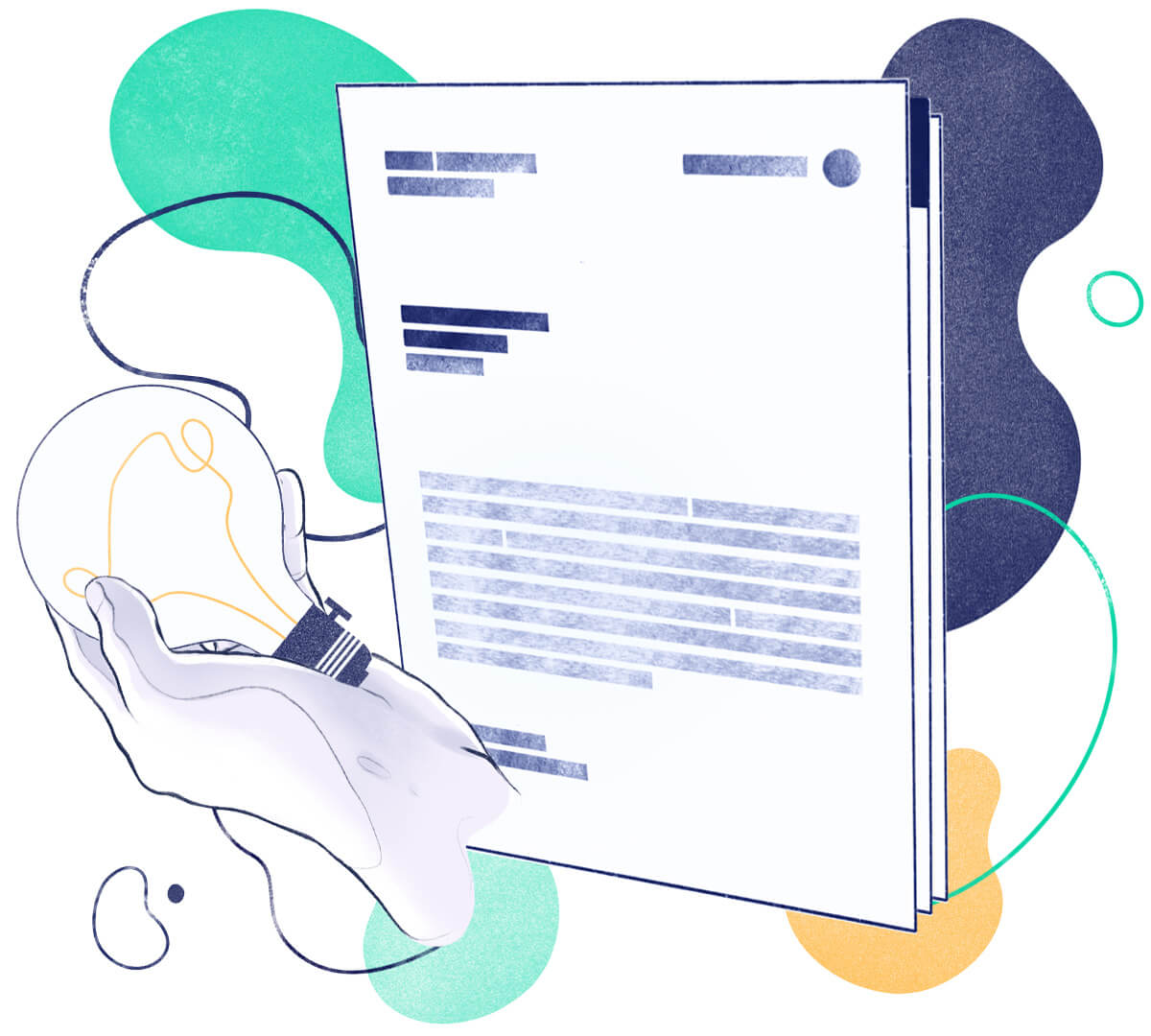 You've written a cover letter.
But—
So have the other candidates.
To outshine them, your cover letter must be perfect.
And it will be—
If you follow all the cover letter tips and advice we've collected here for you.
This guide will show you:
Proven tips for writing a cover letter, section by section.
Most important cover letter dos and don'ts so yours is just right.
Dangerous cover letter mistakes to avoid.
Helpful cover letter examples for various scenarios.
Save hours of work and get a cover letter like this. Pick a template, fill it in. Quick and easy. Choose from 18+ cover letter templates and download your cover letter now.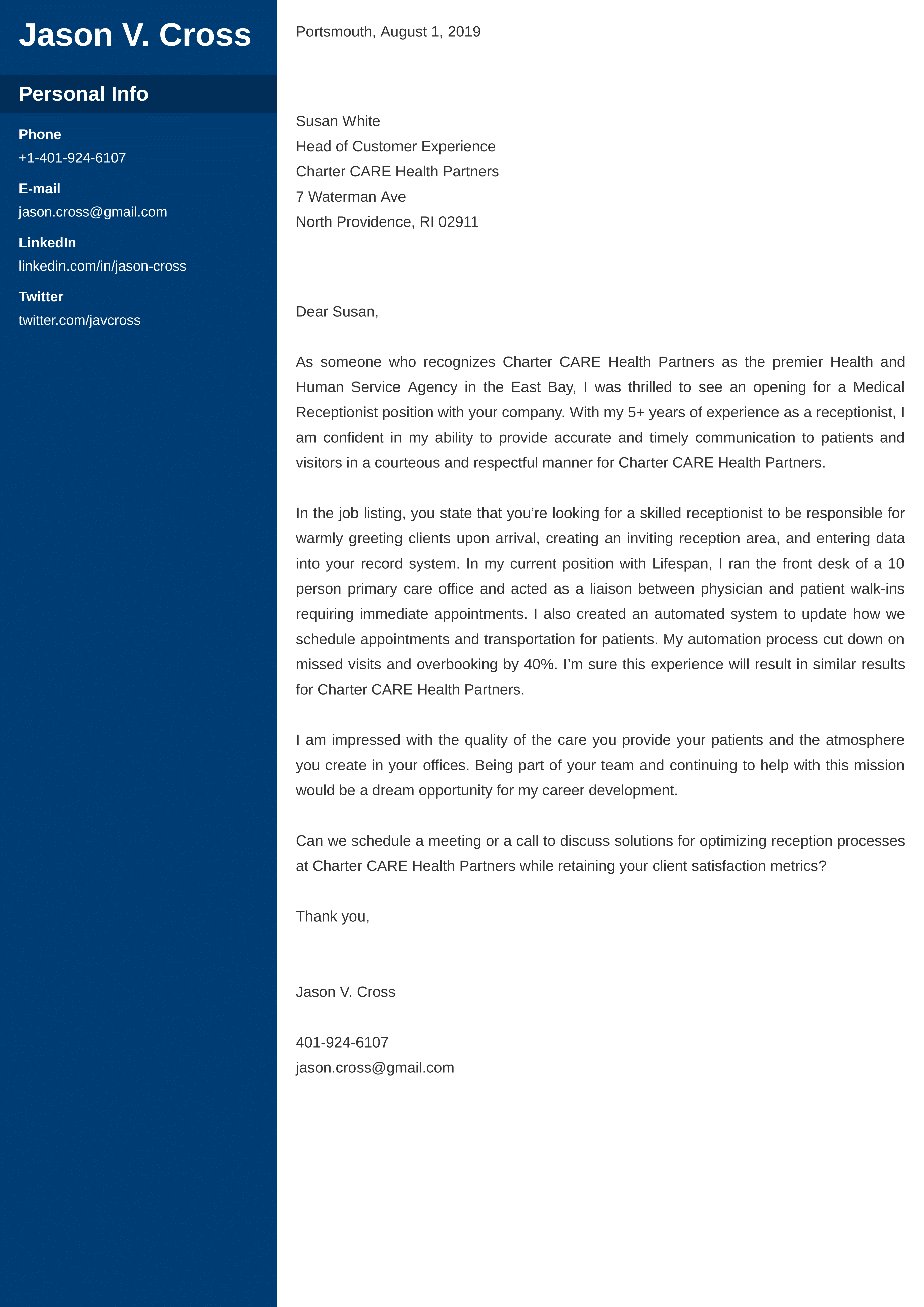 What users say about ResumeLab:
I had an interview yesterday and the first thing they said on the phone was: "Wow! I love your cover letter."
Patrick

I love the variety of templates. Good job guys, keep up the good work!
Dylan

My previous cover letter was really weak and I used to spend hours adjusting it in Word. Now, I can introduce any changes within minutes. Absolutely wonderful!
George
1. Cover Letter Tips for Before You Start Writing
Research the Company
Learn as much as you can about the company you're applying to. You'll need it to successfully tailor your cover letter to their values, needs and requirements, which is one of the key cover letter rules.
Use the job ad to understand who they're looking for. Visit the company's website to learn more about them (including the "About Us" or "Our Values" pages if they have them).
Finally, visit sites like Glassdoor to learn what their employees say about working on a given position or team to gain a better understanding of what this job may entail.
Tailor the Cover Letter, Too!
Like in the case of resumes, tailoring a cover letter to the specific job you're applying for is an absolute must.
This means not only writing separate cover letters when you're applying for two different positions, but also customizing the contents of each to match the specific job ad and company.
If you do your company research well, it will be easy peasy.
Understand a Cover Letter's Purpose
A perfect cover letter is meant to:
Introduce you to the company as the best-qualified candidate,
Call attention to your resume so they'll further notice your qualifications,
Show the value you'll bring and the problems you'll solve,
Assure them of your desire to work for them and your fit for the company, and
Compel the hiring manager to want to call you in for an interview.
Choose the Right Font Typeface and Size
Use 11-pt or 12-pt font size throughout the entire cover letter so that it's easy to read. If you use your name as a letterhead, you can make that 2–4 pts larger. Keep the font consistent with what you used on your resume.
Don't Duplicate Your Resume
A cover letter should complement your resume; it should never copy your resume.
Don't repeat the same info on your resume, because, well, then it's a resume (in a weird, unacceptable format).
Instead, use the cover letter to do what a resume can't. Speak in the first person, show some enthusiasm and personality, and explain those elements from your resume that might be confusing to them (such as a gap in employment).
Stay Relevant
You have limited space to get your point across and convince them to read your resume. Don't waste it.
You'll stay relevant if you highlight transferable skills you'll use as their employee, and only talk about experiences you have that are pertinent to the position you're applying for.
Use the Right Cover Letter Format
The cover letter format is the layout and structure of your cover letter template.
Here's a cover letter outline to follow to format it correctly:
Cover letter heading (your info, date of writing, recipient's info)
Salutation
Introductory paragraph
Body paragraphs
Closing statement and call to action
Complimentary close and your name/signature.
We'll go over these professional cover letter components and sections shortly.
Don't Be Boring
Keep your cover letter interesting to keep the reader interested in you.
Use action verbs and descriptive language to color your writing. Vary your sentence structure so that you don't have long strings of text which are hard to read.
2. Tips for How to Write a Cover Letter Heading
Follow Business Formatting Rules in Your Cover Letter
Cover letters are business letters, so should be formatted like business documents. Add your details at the very top, followed by the date, and then the company's details. Keep a 1" margin all the way around.
Left align everything, top to bottom, and don't indent the beginning of each paragraph. This is called the block format.
The only exception can be for your name and address area, which you can center- or right-align to match your resume's design. This is the modified block format.
Add the Sender's Details First
Add your contact details at the very top of the cover letter address area.
Here's how to format your cover sender's details:
[Your First & Last Name]
[Your Address]
[Your Phone Number]
[Your Email Address]
Easy as pie.
One note: though we don't recommend adding your address to a resume, you have to include it in your cover letter.
Also, if you want to be super formal and are sending your cover letter as an email, this block of text has to go below your signature at the end rather than at the start.
Date It
A date of writing is one of those oft-forgotten elements on a cover letter. However, it's still necessary.
Place the date of writing between your contact details above and the recipient's deets below. If you wrote it over a span of several dates, use the date which you finished writing your cover letter.
And, as MIT's Mayfield Handbook adds, "Spell out the name of month."
So it's November, not Nov.
Add the Recipient
Now it's time for them. Add the company name and address in the following way:
[Recipient's Name]
[Recipient's Title]
[Company Name]
[Company Address]
The best cover letter practice is to find the hiring manager's name (if possible) and to include that person's details in this field of the cover letter. If you can't, though, just make it out to the company name and address.
No need to add a phone or email here.
Skip the Social Links
Don't add social media profile URLs to your cover letter. Though they're welcome in a resume, they're redundant in cover letters because they don't fit into the business letter layout.
3. Advice for Perfecting the Cover Letter Introduction
Start With a Dear, Then Call Them by Name
In your cover letter opening (salutation), "dear" is a fine way to begin.
Then, call them by name if you had found it (as we discussed before):
Dear Mr. Smith:
Dear Jamie:
Dear Jamie Smith:
All those are fine; it just depends on how formal you want to be. Also, if you can't determine their gender from their name (Jamie could be both male or female), just write out their full name.
Don't have a name? Try something like Dear Hiring Manager, instead.
Finally, if you want to be precise on a business letter, a) you always use "dear," and b) you follow their name with a colon, not a comma. Commas are for personal correspondence.
Write a Powerful Cover Letter Opening Statement
A great cover letter introduction paragraph:
Informs them about the position you're applying for,
Mentions who referred you to the position (if someone has),
Conveys your enthusiasm at the opportunity to be considered, and
Compels them to read on into the body of your cover letter.
Keep your opening paragraph short—no more than 3 or 4 sentences. In this cover letter intro, you can also disclose how you heard about the job.
Skip Your Name
You don't need to tell them your name again.
Look at these two cover letter examples:
Telling them your name is redundant and a waste of space and time, especially when your intro hasto hook them from the get-go.
State the Position & Company Name
A tailored cover letter introduction will include the specific job title of the position you're applying for, as well as the name of the company:
4. Professional Tips for Cover Letter Body Paragraphs
Use a Two-Pronged Approach
For the body section of a cover letter, you show follow this structure:
Show why you are a perfect candidate for the company.
Explain why the company is the ideal workplace for you.
Include Job Ad Keywords in Your Cover Letter
Just as you should always use resume keywords, include them in your cover letter, too.
You're already going to highlight some skills, experience, accomplishments, certifications, and achievements here on your cover letter, right?
So, do it using keywords from the job ad—it's the perfect cheat sheet. This hack will make your cover letter even more applicable to the job.
Make Your Cover Letter About Them, Not You
Show them how your skills are perfectly suited for the role, and why your experience makes you the ideal candidate. Even if you're writing a cover letter with no work experience, explain to them how the company will benefit should they hire you.
Use Numbers to Prove Your Knowledge
Numbers help to back up your achievements and accomplishments. Instead of saying you know how to cut costs, prove it by saying you cut costs during your time as the logistics manager by reducing shrinkage by 17%
As with any writing, show, don't tell.
Show Them Just How Excited You Are
Don't be afraid to show emotions—enthusiasm means conviction and dedication, and it lets the hiring manager see a more personal side to you.
Do the Humblebrag
Briefly describe your proudest professional wins and how you can repeat them at the position you're applying for. You're selling yourself—that's what the employment process is all about.
But don't brag too much or be too cocky.
Double your impact with a matching resume and cover letter combo. Use our cover letter builder and make your application documents pop out.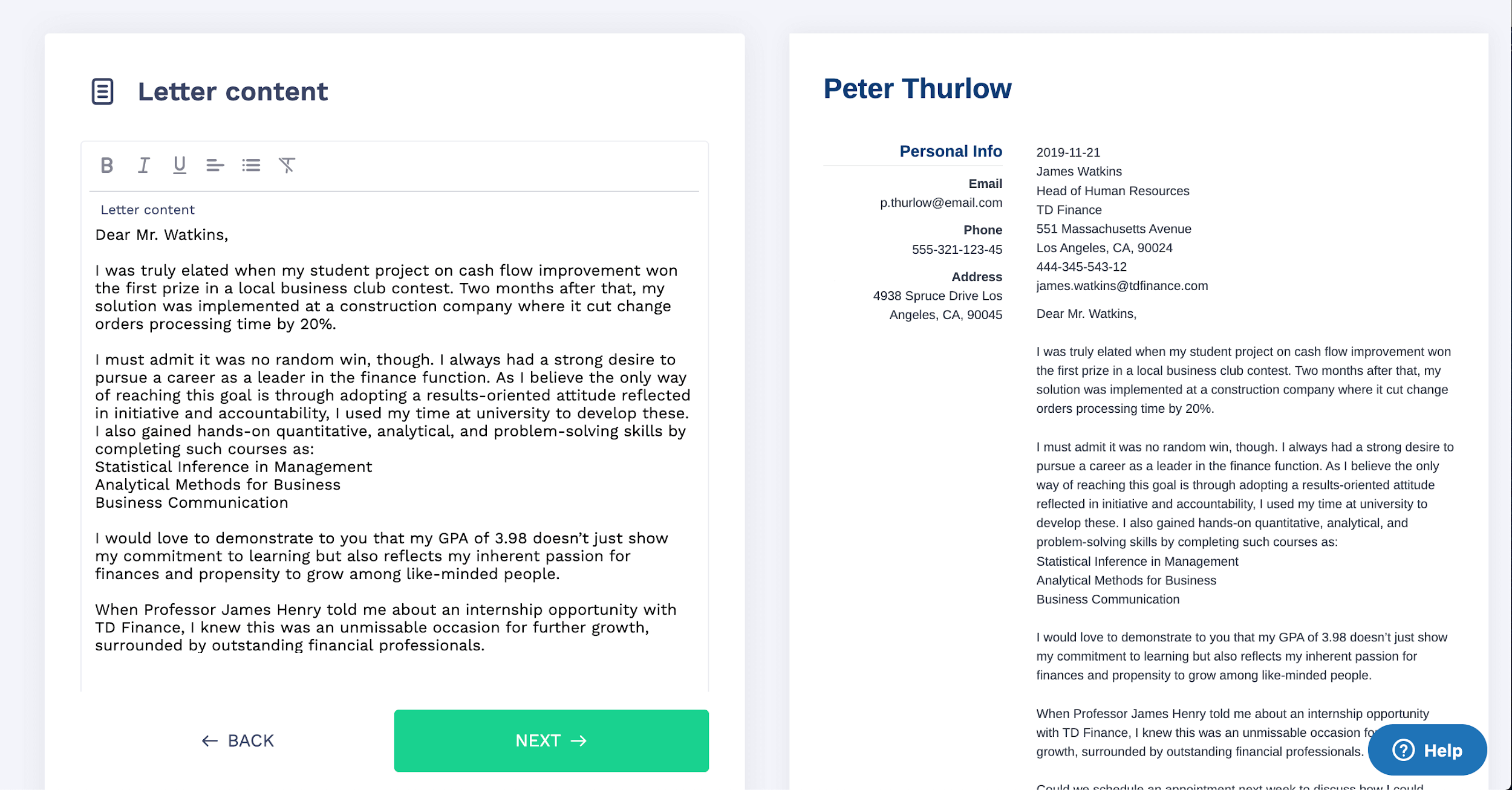 Want to try a different look? There's 18 more. A single click will give your document a total makeover. Pick a cover letter template here.
5. Cover Letter Tips for Ending It Correctly
End Your Cover Letter With a Strong Call to Action
As you wrap up, you leave the onus on them.
This is called a call to action, and there are several ways of how to end a cover letter like this.
In the cover letter ending, you can:
Promise more information.
Guarantee you'll get results.
Show one more burst of enthusiasm.
Make your cover letter ending just as enticing as your introduction.
Sign Off Right
Use one of these common complimentary closes:
Sincerely,
Regards,
Yours truly,
Then, just add your name, and done!
If handing in a hard copy, use your hand signature, instead.
Add a Postscript
A P.S. at the end is one of my favorite cover letter tips. Postscripts draw the recruiter's attention so if you write a compelling one-liner, you'll surely encourage them to read the entire cover letter.
6. Cover Letter Mistakes You Must Avoid
Don't Be Generic
Sending a generic cover letter breaks all the important rules, because:
It's not tailored to the company.
It is not personalized to the hiring manager.
It tells them you are lazy and not so interested, and
They can easily tell.
All these will diminish your chances of landing a job interview.
Don't make this mistake.
Care to spend those extra 10 or 15 minutes writing a tailored cover letter and the hiring manager will notice and appreciate it.
Don't Be Overly Formal
We suggested you use the formal format, but this doesn't mean that your writing style has to be Victorian.
Unless you're writing a cover letter to a company from the Old Guard, write colloquially. Show some enthusiasm for the chance of working for them
The first one wakes them up, while the second puts them to sleep.
Don't Lie
Just don't.
They will want to verify all you've written in your cover letter, so you'll get caught. Sooner or later.
Don't Use Passive Voice or Buzzwords
Passive voice makes your writing look less clear and natural.
Use active voice and action verbs on your cover letter instead:
Also, leave the buzzwords off—they also can get misinterpreted and cause confusion.
Don't Bring Up Your Shortcomings
While you are not supposed to lie, you're not supposed to repent, either..
Don't talk about experience or skills you lack. Save this for the interview.
Don't Exceed One Page
A cover letter should be no more than ¾ of a page in length, all parts included. If you are nearing a full
page, or—Gasp!—spilled over onto the second one, it's time to snip snip.
If you're cover letter is too long, the recruiter simply won't read it.
7. Final Cover Letter Tips
Edit and Proofread
Proofread your cover letter from top to bottom to make sure it has no typos.
Replace overused words, especially the pronoun I, or else it will read poorly.
Then, run it through an such as Grammarly to spot errors you might have not noticed. This is frequent.
Get Another Set of Eyes on It
Take your cover letter draft and hand it to a friend or relative to look over. Another pair of eyes helps spot things that you missed and sound unclear.
Save It Right
Save your cover letter as a PDF so the format stays intact, unless the job ad says otherwise.
As far as the naming convention is concerned, use one which includes your name, hyphens (or underscores), the position you're targeting, and the words cover letter.
Do it wrong and they could lose it—costing you the job.
Title Your Email Correctly
Many job ads these days say something along the lines of:
When applying by email, be sure to put "Graphic Design Opening" as the subject line.
If you put anything else in your email title, all these cover letter tips and advice will go be in vain. Your application just won't reach the hiring manager.
With ResumeLab's resume builder you'll write your resume in a flash. Get specific content to boost your chances of getting the job. Add job descriptions, bullet points, and skills. Improve your resume in our resume builder now.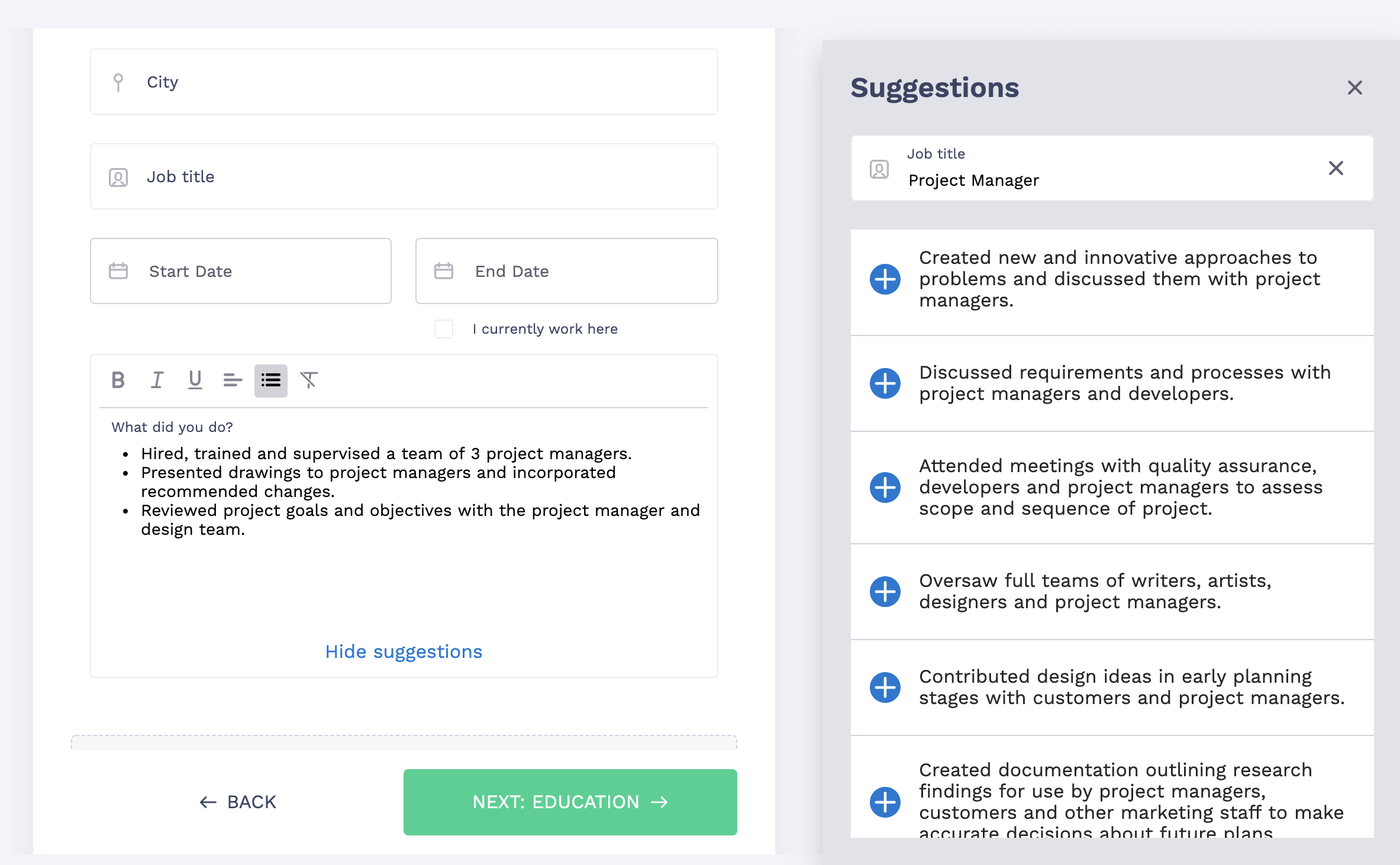 Nail it all with a splash of color, choose a clean font, highlight your skills in just a few clicks. You're the perfect candidate and we'll prove it. Just pick one of 18 resume templates and get started now.
Key Points
To outscore other candidates, follow our proven cover letter writing tips.
Remember to:
Tailor the cover letter to the job ad—it's super important.
Show, don't tell, by using numbers to prove what you know.
Stay consistent, relevant, and compelling.
Use a formal cover letter structure, but an informal writing tone.
Got any questions on how to write a cover letter? Maybe have some more cover letter tips, advice, or cover letter dos and don'ts to add? Write to us here below in the comment area, and thanks for reading!