Medical Receptionist CV—Sample and 25+ Writing Tips
With a medical receptionist CV like this, you will have the phone falling off the hook at home, and will be double booking interviews.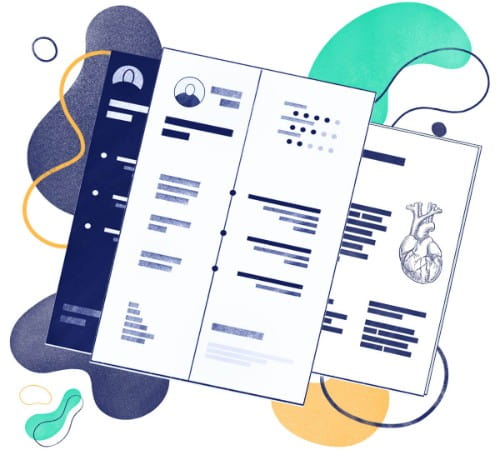 If someone gets the wrong leg amputated, chances are...you'll know whose fault it was. Listening is one of your key skills, after all. Your medical receptionist CV must reflect your ability to organise and cut through the noise.
With this guide, getting a medical receptionist job is a piece of cake. When both phones are ringing, someone's being impatient at the front desk, and you see an irritated doctor barreling down the hallway, you might wish it weren't!
In this guide:
A healthy and glowing medical receptionist CV sample.
A comprehensive guide to the CV format.
Tips for presenting your job description and education.
Here's how it's done.
Save hours of work and get a CV like this. Pick a template, fill it in. Quick and easy. Choose from 21 CV templates and download your CV now.
What users say about ResumeLab:
I had an interview yesterday and the first thing they said on the phone was: "Wow! I love your CV."
Patrick

I love the variety of templates. Good job guys, keep up the good work!
Dylan

My previous CV was really weak and I used to spend hours adjusting it in Word. Now, I can introduce any changes within minutes. Absolutely wonderful!
George
Considering other positions? See our dedicated CV guides:
Medical Receptionist CV Sample You Can Copy and Use
Gertrude W. Young
2482 Ford Street
Oakland, CA 94612
408-549-1409
GertrudeWYoung@rhyta.com
Personable medical receptionist with 4+ years of experience and a track record of managing 12 physician schedules. Adept at finding solutions to increase patient numbers and decrease missed appointments (by 78%), as well as reducing costs by up to 15%. Seeking to apply these proven skills to a more challenging environment and help provide world-class care at Great John's Hospital.
Work Experience
Medical Receptionist
Healthy U, Oakland
May 2017—Present
Scheduled 120+ appointments daily, receiving messages from patients via phone calls, email and website.
Managed the calendars of 12 physicians of different specialisations: endocrinology, gastroenterology, sports medicine, internists and family doctors.
Introduced a new appointment scheduling system, which saved 10+ hours of work every month.
Maintained a 100% satisfaction rate for 11 months straight based on online surveys.
Trained three new employees, introducing them to our scheduling system and high standards.
Medical Receptionist
Oakland Health, Oakland
June 2016—April 2017
Introduced a new system that automatically sent appointment reminders, which reduced the number of patients missing the appointment by 78%.
Negotiated a contract with a new office supplies supplier, cutting monthly costs by 15%.
Organised a monthly Q&A session with a chosen physician on our Facebook page, growing our patient base by 12% in a year.
Education
BA Business Administration, 2012-2015
Oakland University, Oakland, United States
Associate's degree in Medical Assisting, 2016-2017
Oakland University, Oakland, United States
Skills
Multitasking
Organisation
Office Administration
Self Reliance
Scheduling
Languages
Spanish (intermediate)
Portuguese (intermediate)
French (beginner)
Certifications
First Aid, CPR, BLS (American Red Cross)
Seems easy enough. Let's start your own.
1. Use a Business CV Format
For a job that involves diaries, schedules, and organisation, you can't afford to be perceived as messy or inattentive. Old, free templates from the internet are clunky and sometimes the settings seem to change all by themselves.
Make sure everything is square before and after building your CV. Follow these CV format rules:
Medical Receptionist CV Format
When laying out your CV, focus on its readability. Choose a modern CV template and use bold for headings.
OK, you have the tools now, let's start the procedure.
2. Write a Glowing Medical Receptionist CV Objective or Summary
Imagine you have 7.4 seconds to get invited to interview. The employer is the receptionist, and you have to walk up and explain why they should hire you, in one breath. Does that sound a little ridiculous?
It's not. One study found that's exactly how long HR looks at your CV for, 7.4 seconds. Most medical receptionist CVs are full of empty statements, such as "reliable", "detail-oriented", "organised".
Empty statements make people sick. Instead, start your CV by listing two to three biggest achievements, metrics or improvements you can take credit for, and show them what you can do for them. Such a paragraph is called a career summary statement.
Medical Receptionist CV Summary
If you're writing an entry-level CV, focus on showing transferable skills and list achievements from school, internships or volunteer work at the top of your CV. It's called a career objective statement.
Medical Receptionist CV Objective
Expert Hint: How to write a CV profile? It is best to do this once you have completed the other sections of your medical receptionist CV, especially your job description.
3. Nurse Your Medical Receptionist Job Description
You win. You win because most receptionist CVs count out the same boring laundry list of responsibilities, making the job sound even more boring than it was on your worst day.
Make a list of 3 to 7 bullet points, descending in order of importance. Imagine what kind of responsibilities your new position will require, and prove that you can handle them at a high level. The PAR (Problem-Action-Result) formula can be very helpful in writing these bullet points.
Try to show you can cover the whole spectrum of medical receptionist responsibilities, and support them with various metrics and achievements.
Check out this job description from one of our medical receptionist CV samples:
Medical Receptionist Job Description
The bad example references good work. Unfortunately, without numbers, it doesn't even seem real. It doesn't seem impressive.
If you don't have much experience, you can help your CV shine like it stayed in Radiology for too long with a CV skills section. See the list for reference:
Medical Receptionist Skills for CV
Adaptability
Attention to detail
Collaboration
Conflict resolution
Corporate scheduling
Customer service
Data entry
Detail-oriented
Initiative
Interpersonal communication
Listening
Multi-line phone systems
Multi-tasking
Office supply management
Organisational skills
Prioritising
Problem-solving
Reliability
Scheduling
Time management
VOIP phone systems
XX WPM Typing Speed
The ResumeLab builder is more than looks. Get specific content to boost your chances of getting the job. Add job descriptions, bullet points, and skills. Easy. Improve your CV in our CV builder now.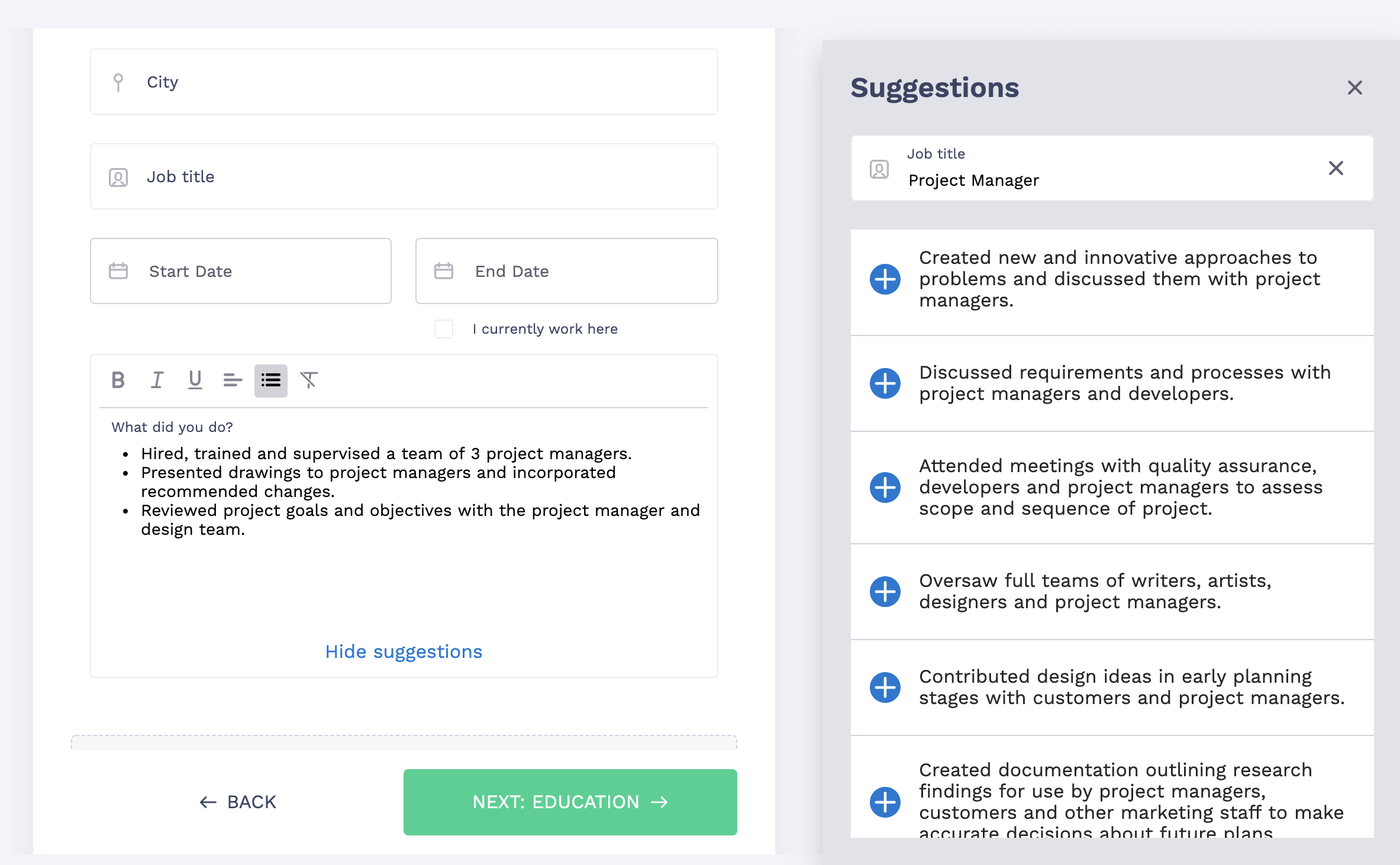 Nail it all with a splash of colour, choose a clean font, highlight your skills in just a few clicks. You're the perfect candidate and we'll prove it. Use the ResumeLab builder now.
4. Scrub Up Your Education Section
Unless the job calls for a specific level of education, save the space on your medical receptionist CV and record it in a shortened format. List the qualification, key subjects, date of graduation, and school name.
Here's how to list education on your CV:
Medical Receptionist CV Sample—Education
Education
BA Business Administration, 2012-2015
Oakland University, Oakland, United States
Associate's degree in Medical Assisting, 2016-2017
Oakland University, Oakland, United States
Expert Hint: If this is your first job out of school, you can find more guidance in our high school CV guide.
5. Inject Some Added Sections
The reception desk may be sometimes quiet, but when it all breaks loose, a multitasker is needed. Show your versatility. Add some bonus CV sections that you think may help your application, separate them into sections such as:
Additional Activities
Foreign Languages
Skills—if you haven't included them as part of your other sections
This is the proper way to organise it instead of throwing everything together under an 'Other Info' heading. Keep it relevant. And remember: 82% of managers would rather hire someone with volunteering experience than without.
See the after and before from this medical receptionist CV example:
Medical Receptionist CV Example—Extra Sections
One more tip. Write a receptionist cover letter especially if you are writing a CV with no experience. Entry-level cover letters help to show transferable skills and motivation.
Double your impact with a matching CV and cover letter combo. Use our cover letter builder and make your application documents pop out.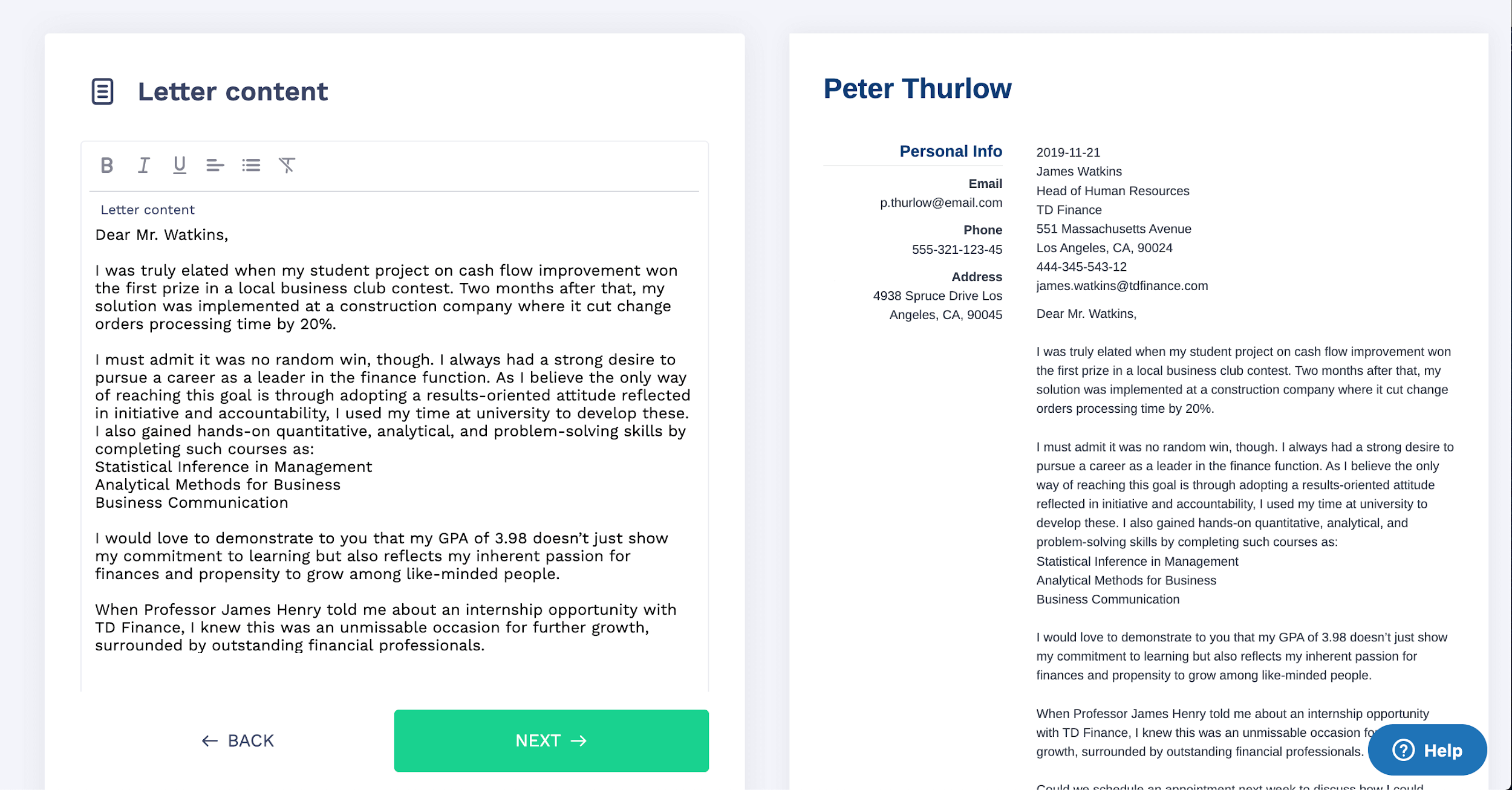 Want to try a different look? There's 18 more. A single click will give your document a total makeover. Pick a cover letter template here.
Key Points
When treating your medical receptionist CV:
Begin with the medical receptionist CV sample and add your own information.
Stick to the CV format guidelines—margins, fonts, 1 page, reverse chronological.
Inject your medical receptionist job description with achievements and numbers.
Split up certifications, skills and other bonus sections properly.
Write a medical receptionist cover letter.
Got questions on how to write a great CV for medical receptionists? Did we help you get your medical receptionist CV right? Leave a comment. We'll be happy to reply.