Secretary CV—Examples and 25+ Writing Tips
To beat the other candidates, you need a secretary CV that doesn't just repeat the same old spiel. This quick guide shows you how to make your phone ring and get interviews.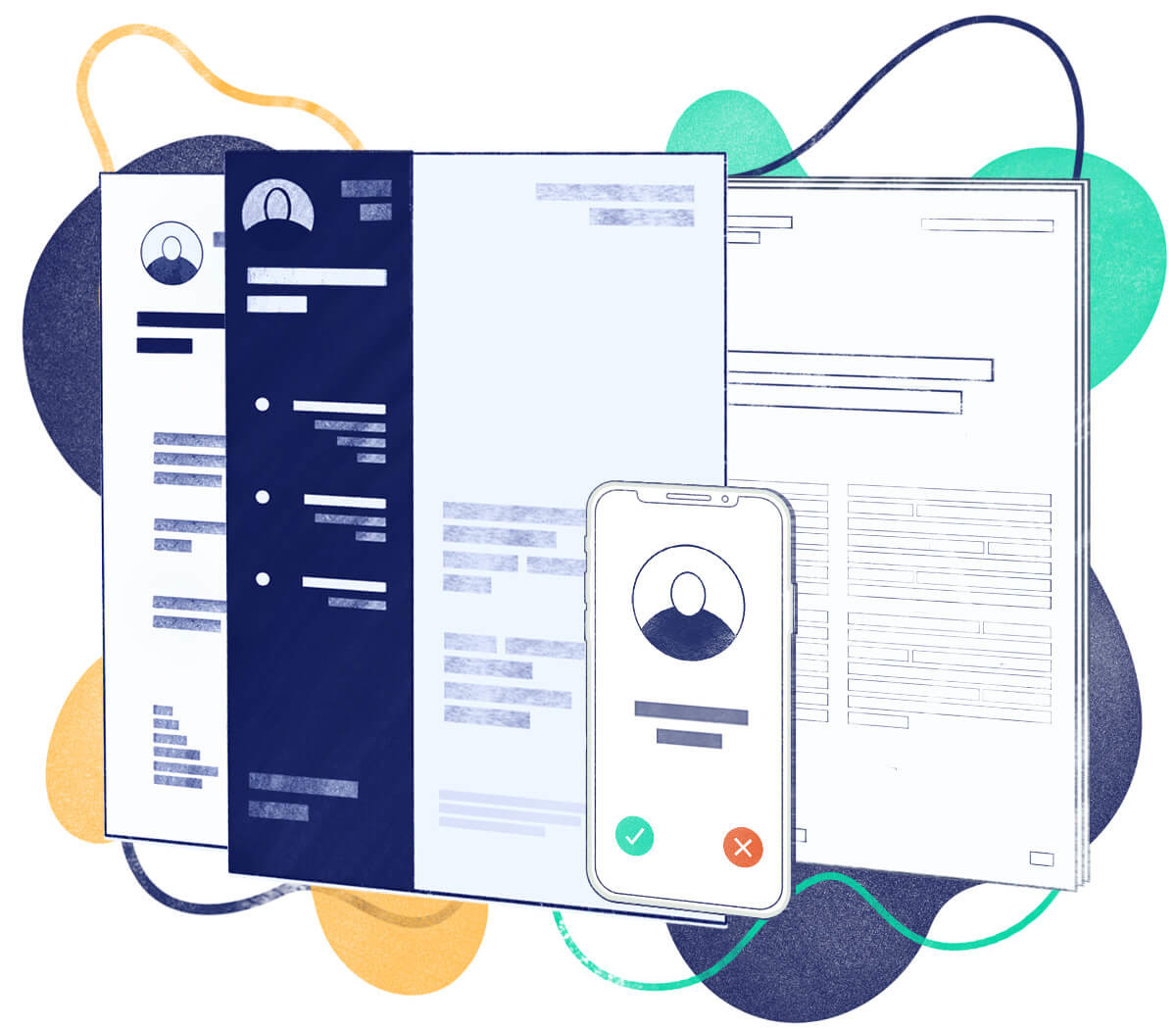 Secretaries, also called administrative professionals, provide support to managers and employees.
They may field phone calls, manage projects, and interact with customers.
CVs for secretary jobs must show a history of using skills like MS Office, scheduling, or writing documents.
But think about this—
Lots of other people want that secretary job.
Some have more experience than Peggy Olson. They'll all say they've got the skills.
Don't worry.
You can get hired if you just do a few things right.
In this guide:
A secretary CV sample better than most.
How to make a well-formatted secretary job description for CVs.
How to write a CV for secretary jobs that shows off your best qualities.
Why you can't just list secretary skills (and what to do instead).
Save hours of work and get a CV like this. Pick a template, fill it in. Quick and easy. Choose from 21 CV templates and download your CV now.
Create a job-winning CV with little effort. Hack your way through ATS software with our 18 beautiful templates—give our builder a try!
Writing a different kind of CV for administrative positions? See our guides:
Coming into the secretary world from another job? See this guide:
Haven't found what you're looking for? Check all our CV Examples for Any Job.
Secretary CV Sample You Can Copy and Use
Luke Torp
Secretary
Personal Info
Phone: 267-841-5938
E-mail: lukeztorp@gmail.com
linkedin.com/in/lukeztorp
twitter.com/lukeztorp
Summary
Efficient secretary with 6+ years of experience. Seeking to maintain smooth office flow at Ballew-Poulin. At Speering & Ashland, typed 5–20 reports per day. Created schedules for work, meetings, and conferences for 20+ employees. Triaged 20+ emails daily. Skilled in MS Office and billing.
Experience
Secretary
Speering & Ashland Inc.
2014–2019
Performed secretarial duties in a busy construction business.
Contributed to 10% boost in customer loyalty through better communication.
Created office schedules and calendars, coordinating with 23 employees.
Typed and sent 5–20 daily reports and regular correspondences.
Collaborated with 15 vendors to place orders and manage inventory.
Triaged 20+ emails daily, replying to easy issues, resolving complaints.
Fielded 30+ phone calls per day, answering questions and relaying messages.
Scheduled meetings and conferences between up to 35+ parties.
Secretary
Bryant Medical, Inc.
2013–2014
Managed busy office, took 50+ phone calls daily.
Scheduled 5+ appointments per day.
Cut errors 20% through better data entry.
Collaborated with insurance payers to help raise reimbursements 10%.
Used automated reminder system to aid 15% drop in past-due accounts.
Temp Secretary, 2012
Worked as temp secretary in 11 firms.
Used MS Office to write 40+ documents.
Answered 15+ client phone calls per day.
Responded to 10+ customer emails daily.
Recognised by 3 managers for efficiency and pleasant attitude.
Education
BA, Liberal Arts, Bucknell University
2008–2012
Pursued a passion for bookkeeping study.
Excelled in writing and computer skills.
As volunteer student fundraiser, raised £20,000 through alumni calls.
Member, Campus Arts Board.
Skills Proficiency
Typing Speed: 105 WPM, zero errors.
MS Office: Scored 93%+ on 3 Wise Owl Training assessments.
10-Key Data Entry: 9,700 KPH.
Additional Activities
ASAP Member (American Society of Administrative Professionals)
Weekly spin classes for self-care
Volunteer Work
Bookkeeper, Jemsen County Animal Shelter
Perform outreach for local Habitat for Humanity chapter.
Hard Skills: MS Office, building customer relationships, billing, shipping
Soft Skills: written communication, verbal communication, friendliness, organisation
Here's how to write a secretary CV that boosts your chances:
1. Choose the Right Secretary CV Format
You have two possible futures.
In one, a great employer calls and interviews you. You get hired.
In the other, your phone stays silent as an office at 3am.
The first step toward future #1?
Here's the plan:
Secretary CV Format
Choose the reverse-chronological format for CVs.
Use one of the top CV fonts like 10–12pt Arial or Garamond.
Add 1-inch margins and white space for easy reading.
The length of a CV for secretary jobs is one page.
Include these sections in a CV: Header, Objective, Work History, Education, and Skills.
Save your secretary CV in PDF format.
Expert Hint: Know what looks great on CVs for secretaries? A typing speed test. There's a speed test that saves your results online at Live Chat.
2. Write a Secretary CV Objective or Summary
Bad news!
You've got 7 seconds to make a first impression.
That's how long the office manager will read your secretary skills CV.
So—
Catch her attention fast with an objective statement or summary statement.
Include:
One adjective (detail-oriented, efficient)
Job title (secretary)
Years of experience (1+, 4+)
Who & how you'll help (maintain smooth office flow)
Top secretary achievements (triaged 20+ emails per day...)
A couple skills (MS Office, billing)
These secretary CV examples show the procedure:
Secretary Manager CV Examples [Summary]
Vastly different.
Why is one of those secretary CV samples more powerful?
Hint: it's the concrete details.
But—
In an entry-level CV for secretary jobs, use temp work or non-secretary jobs.
Medical Secretary CV Example—Entry-Level
The first of those CV for secretary jobs examples shows secretary skills.
Expert Hint: Want another speed test to list on your CV for secretaries? There's a great one at Official-Typing-Test.com.
The ResumeLab builder is more than looks. Get specific content to boost your chances of getting the job. Add job descriptions, bullet points, and skills. Easy. Improve your CV in our CV builder now.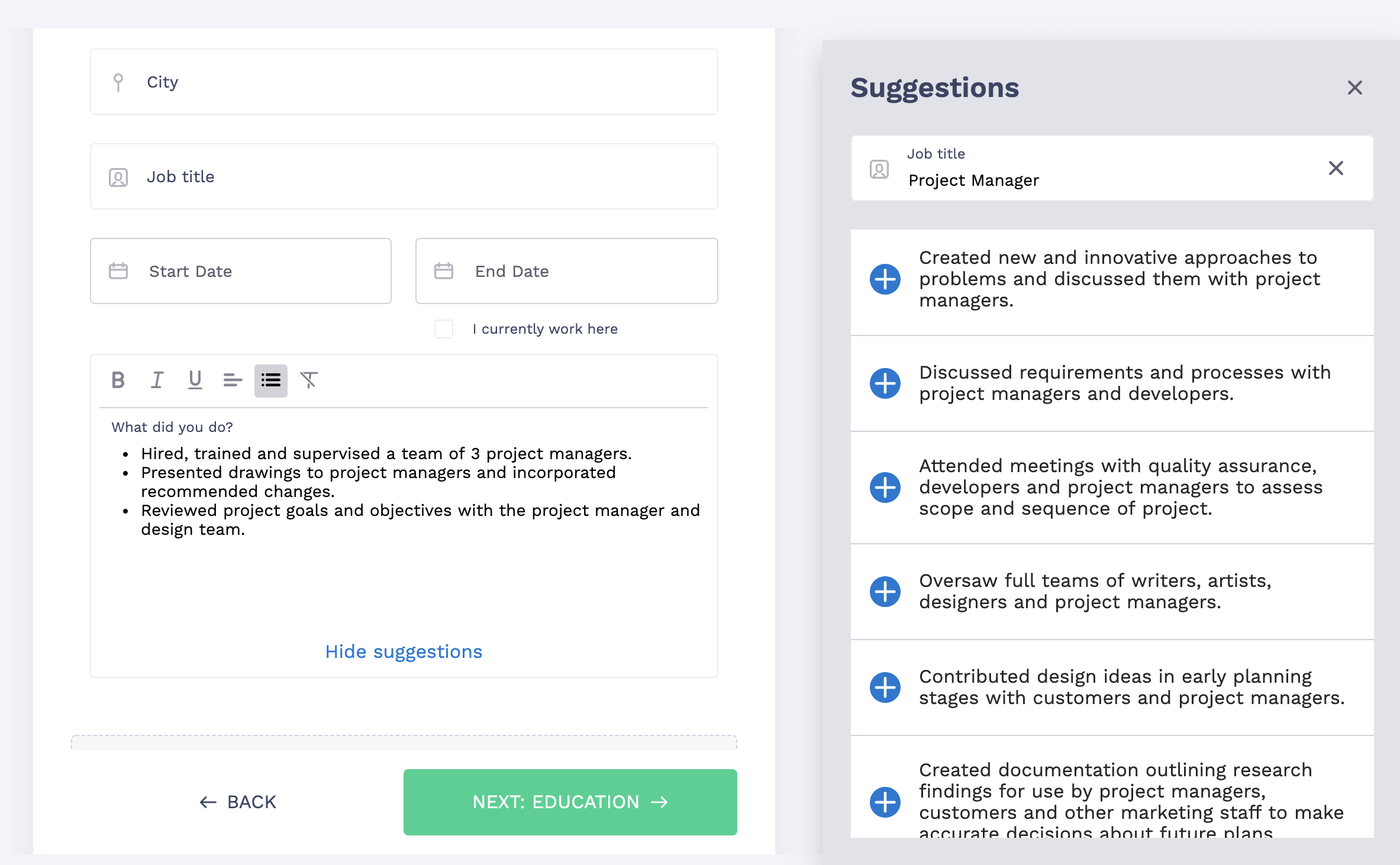 3. Make a Professional Job Description and Skills Section
Here's a tip about employers:
They skim most CVs.
They read a precious few with interest.
The difference?
The CVs employers like have job descriptions with the right skills.
To make yours count:
Look in the job ad for CV keywords.
Those are the exact CV skills you need to prove.
Take the time to think when you have used those skills.
These secretary CV examples show how:
The job ad wants these secretary skills: communication, scheduling, typing, collaboration, answering phone calls.
Secretary Manager Job Description for a CV [Sample]
Oh-oh.
One of those secretary CV samples has it all. The other lacks:
The skills from the job ad.
Numbers for scale.
What about a CV with no experience?
Find times you used the right skills.
These examples show right from wrong:
Let's say the job ad wants these secretary skills: MS Office, answering phone calls, answering emails, efficiency.
Entry-Level Secretary Server CV Sample [Experience]
Also worked as temp secretary for 3 months.
No contest.
One of those school secretary CV examples is hirable.
It proves every skill they asked for.
Here's a list of secretary skills to get you going:
Secretary Skills for a CV
| | |
| --- | --- |
| Hard Skills | Soft Skills |
| MS Office | Communication |
| Ability to Write Documents | Courtesy |
| Scheduling | Professionalism |
| Managing Calendars | Interpersonal Skills |
| Fast Typist | Time Management |
| Data Entry | Adaptability |
| Customer Relationships | Collaboration |
| Taking Messages | Detail Oriented |
| Answering Emails | Self-Motivated |
| Inventory Management | Accuracy |
Expert Hint: Don't have enough skills for your entry-level secretary CV? Consider getting certified by the American Society of Administrative Professionals.
4. Turn Boring Education to a Reason to Hire You
Does the education section of your CV matter?
After all, you're a secretary, not an architect or an accountant.
Well here's the thing—
You can pack more skills into your education section.
That can make employers notice you.
This secretary CV example does it right:
Secretary CV Template—Education
That shows bookkeeping, computer skills, and phone skills. Even the Arts Board membership shows teamwork.
Those all work great in a CV for secretary jobs.
5. Put "Other" Sections in Your Secretary CV
There's only one rule.
If you want the job, stand out.
But in a good way.
"Other" sections in your CV for secretaries can help.
Add one or two of these:
Associations (like ASAP)
Skills proficiency (typing speed, data entry speed, MS Office assessments)
Awards (employee of the month)
Classes you've taken
Additional activities
Fitness
Interests
Clubs or groups
These unit secretary CV examples show how:
Secretary CV—Extra Sections
Perfect.
The first of those secretary CV examples shows you're a pro.
Finally—
Write a cover letter. They'll read your CV for secretary jobs so much more carefully if you do.
Double your impact with a matching CV and cover letter combo. Use our cover letter builder and make your application documents pop out.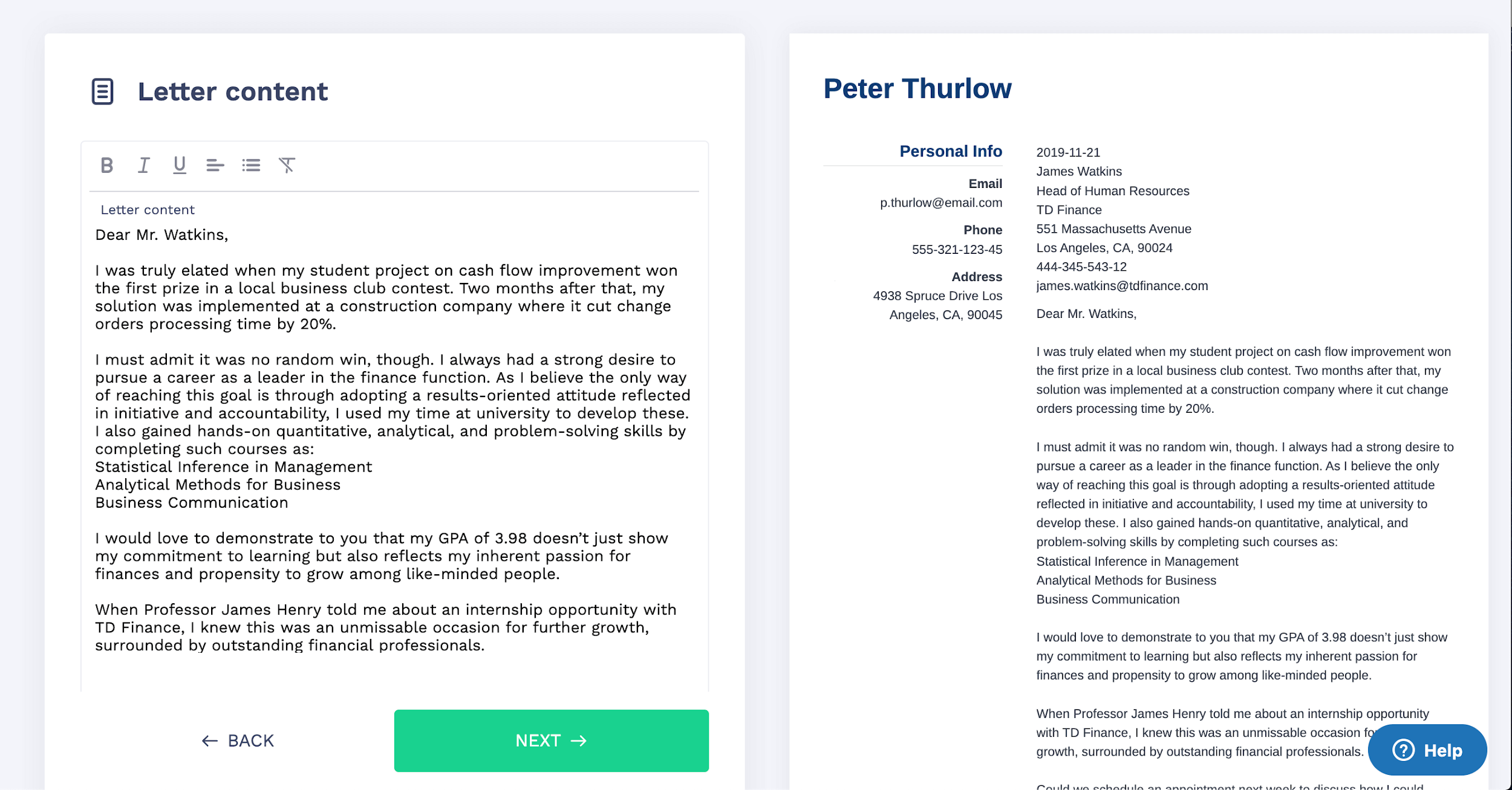 Key Points
For a secretary CV that gets you hired:
Use the secretarial CV template up top. It stands out like a Herman Miller in a room of folding chairs.
Put secretary achievements in your objective, experience, and education.
Add secretary skills from the job posting to your bullet points.
Add some "other" sections to show passion and more skills.
Got questions on how to write great CVs for secretary jobs? Not sure how to show secretary on a CV? Leave a comment. We'll be happy to reply!