Office Assistant CV—Examples and 25+ Writing Tips
You're a whiz at filing documents, organising events, managing schedules, and communicating with clients. Show the office manager you're the best choice with a perfect CV.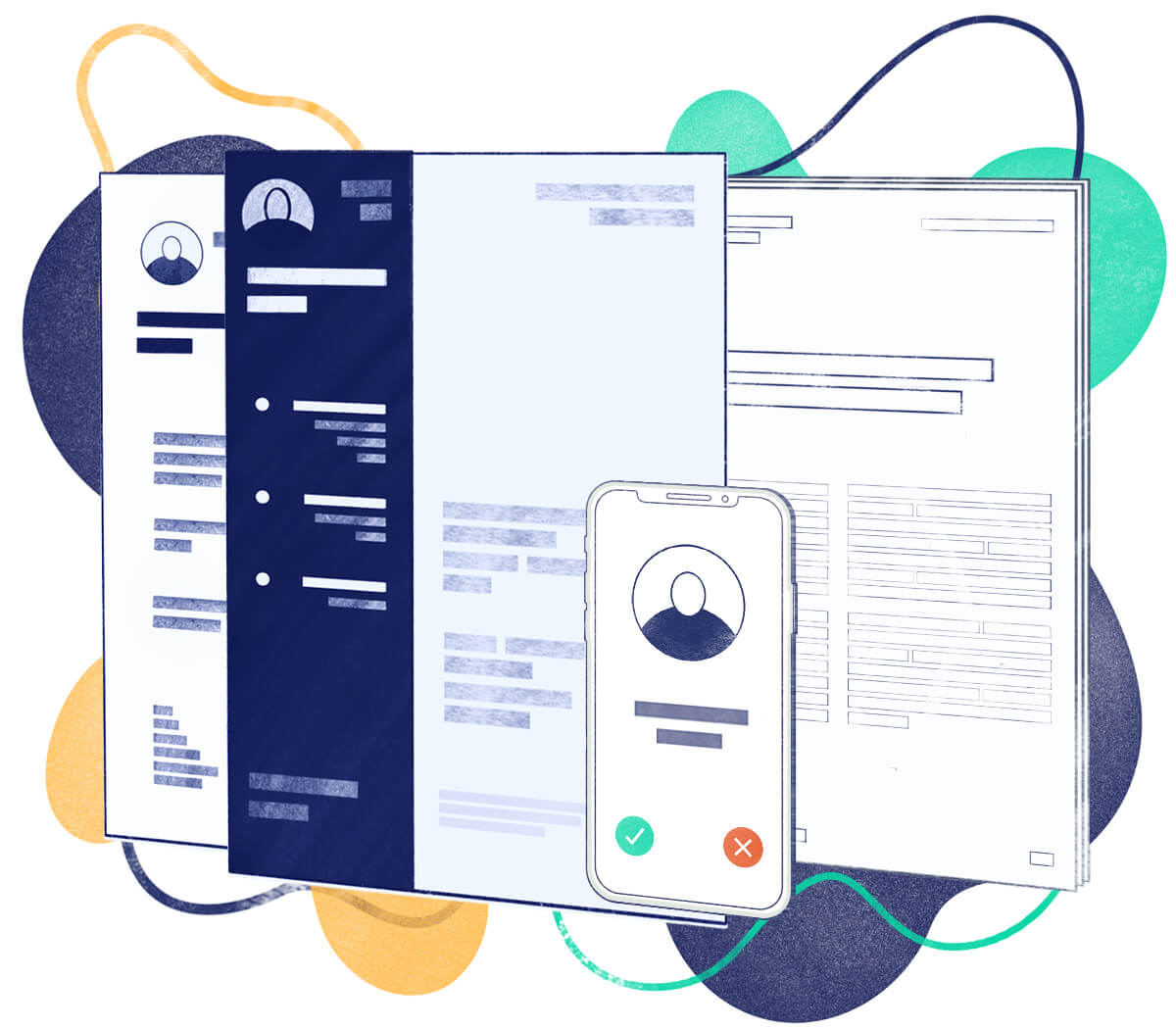 You're applying to be an office assistant.
You know you've got the talent to do the job, the mettle to keep you going, and the skills to take on the variety of tasks you'll perform.
And you know you'll do it all well.
However—
The office manager or HR generalist isn't aware of your administrative talent yet. So, you'll have to show them you're the best hire by writing a top-notch office assistant CV.
No sweat.
In this guide:
The best office assistant CV sample to get those clerical and administrative jobs.
How to tailor your CV to the office assistant job description and responsibilities.
How to write CVs for office assistant positions that score office job interviews.
Expert tips and examples to improve your chances of landing office jobs.
Save hours of work and get a CV like this. Pick a template, fill it in. Quick and easy. Choose from 21 CV templates and download your CV now.
What users say about ResumeLab:
I had an interview yesterday and the first thing they said on the phone was: "Wow! I love your CV."
Patrick

I love the variety of templates. Good job guys, keep up the good work!
Dylan

My previous CV was really weak and I used to spend hours adjusting it in Word. Now, I can introduce any changes within minutes. Absolutely wonderful!
George
Seeking further CV examples?
Try these on for size:
Haven't found what you're looking for? Check all our CV Examples for Any Job.
Office Assistant CV Sample
Charles Cross
Office Assistant
charles.cross@gmail.com
(720) 999-9978
linkedin.com/in/charlescross
Summary of Qualifications
Personable and dependable office assistant with 2+ years experience at medium-sized companies handling a variety of administrative and clerical duties. Knowledgeable with scheduling software, Microsoft Office, organisation, and invoicing. Lowered calendar overlaps by 15% and increased office productivity by 25% through implementation of new filing system. Looking to utilise secretarial skills and administrative know-how to become the office assistant at KMY Partners.
Work Experience
Office Assistant
July 2018–August 2019
GBPD Consulting Firm, Denver, CO
Key Qualifications & Responsibilities
Performed an entire array of administrative duties as designated and assigned by the office manager.
Communicated effectively with clients through written correspondence, email, and over the phone.
Handled invoices between the firm and clients, and submitted payments to vendors.
Managed a calendar of events and scheduling meetings for a team of 30+ employees.
Key Achievements
Lowered calendar overlaps by 15% through revamp of the booking system.
Increased office productivity by 25% through implementation of new filing system.
Front Office Assistant
June 2017–July 2018
Woodstar Hotels, Denver, CO
Key Qualifications & Responsibilities
Provided administrative assistance to all departments in a company with over 50 employees.
Managed emails, phone calls, and chat bot to assist clients and potential clients with company or booking-related queries.
Drafted invoices for VIP customers and corporate accounts, as well as paid invoices from hotel vendors.
Maintained neat and orderly filing system for documents on the hotel property, guest stays, and employee information.
Education
Majoring in Business Administration
Community University Of Denver, Denver, CO
Expected Graduation: 2022
Relevant Coursework: General Business Accounting Principles, Data & Information Systems, Human Resource Management, Finance & Managerial Accounting, Business Ethics & Procedures, Microeconomics, Macroeconomics, Office Organisational Methods.
High School Diploma
DSST: Stapleton High School, Denver, CO
Graduation: 2017
Key Skills
Organisational Skills
Administrative Skills
Advanced Mathematics
Managing Operations
Problem Solving
Clerical & Secretarial Duties
Certifications
IAAP Certified Administrative Professional
Memberships
American Society of Administrative Professionals (ASAP)
Languages
German: Basic Conversational Proficiency
On to yours—
Here's how to write an office assistant CV:
1. Format the Office Assistant CV Template First
When writing an email to a client, you wouldn't just say "we're still waiting on your payment" and send it off.
You'd format it first, with a signature, opening greeting, and maybe a company logo.
An office assistant CV is similar—
The office assistant CV needs to be formatted right if it's to be taken seriously.
Here are some guidelines for formatting office assistant CV templates:
Go with the reverse-chronological format when listing entries with dates involved (e.g., experience, education).
Keep CVs for office assistants neat by prioritising white space and including a one-inch border all around.
Select the best font for CVs from our list so that it will be easy to read.
Know what to put on a CV—both appropriate CV sections and relevant content within each one.
Expert Hint: Choose the PDF format when saving your CV, because there's a reason it's called the "Portable Document Format." PDFs render fine on any screen, whereas a Microsoft Word .docx may look funny on certain devices. Start from one of these MS Word CV templates and export it to PDF.
2. Start with an Office Assistant CV Objective or Summary
At the top of your CV, just below your contact deets, is your heading statement.
There are two kinds—the CV objective or summary.
They differ slightly based on your level of job experience, but a great objective and a great summary are both similar in one key way:
Each are compelling.
An optimised heading statement has to captivate the reader, in your case an HR manager or office manager. Otherwise, they'll stop right there and move on to the next CV.
Have office assistance know-how and experience?
Choose the CV summary.
A summary statement introduces you to the company as a top candidate for the office assistant position. It showcases your previous experience, the administrative skills you've established, and your professional background.
Finally, it includes numbers to verify your abilities.
Here's how to write an office assistant CV summary:
Office Assistant CV Summary
The bad CV example is monotonously generic. It uses the kind of jargon that makes office managers' eyes bleed.
The good CV example, on the other hand, is perfectly tailored to this one particular job and company. Numbers are used to quantify just how skilled you are as an office assistant.
Every office assistant's CV should have a solid summary detailing why the hiring manager should consider them for the position. A good CV summary reads like a good product description and should answer my question, 'Why should I call you for an interview?' With that in mind, an office assistant's CV summary should sell me on the person using action verbs like 'driven,' 'motivated,' 'skilled' and so forth.
Now—
What if you have no office experience?
Choose the CV objective.
An objective statement still includes a proud accomplishment with numbers to quantify it. However, rather than your company office or medical office assistant CV experience, you talk up your career goals and past unrelated work in a way that's relevant.
Here's how to write an office assistant CV objective statement:
Entry-Level Office Assistant CV Objective
The good example here may be from a CV without experience, but we show that our unrelated previous job still taught us some valuable skills. Also, it's got numbers and personalization to really draw the reader's attention.
Expert Hint: Though the heading summary or objective is located at the beginning, write it at the end. This way, you'll have a better idea of the most powerful and compelling details to include there.
3. Write a Great Office Assistant Job Description and Skills CV Sections
As the entire office revolves around your desk, so too does a CV revolve around the work experience section.
So—
Here's how to write an office assistant job description CV section:
List your most recent job at the top, followed by the one before that, and so on (reverse-chronological order).
Add you job position title, the months and years you worked, the company's name, and their city and state.
Below that, include 5 or 6 key responsibilities and duties which are most relevant to this office assistant position to which you're applying now.
Start each bullet point with action verbs, and use active voice rather than passive voice.
Use numbers to portray just how well you did your past work duties.
Here are a couple of office assistant CV samples of job descriptions:
Office Assistant Job Description for CV Examples
Here, you see how much more detailed the good example is compared to the bad one. Also, it includes interview-winning achievements with numbers to show them you're capable.
Also—
Many modern offices, as well as all the large ones, utilise an ATS to not sink under the waves of CVs people send them each day.
An ATS, or applicant tracking system, helps by parsing each CV for particular CV keywords the HR manager asks it to look for. It returns a score based on each candidate's match percentage.
Not enough keywords = low score = low chances of an interview.
So—
To single out the most effective keywords for your CV, look at the job description once more. In the responsibilities area, you'll find all the traits they want in an employee—those are the CV keywords to use.
Speaking of traits—
Follow up your awesome work history area with the perfect CV skills section.
Secretaries, office assistants, receptionists, and administrative assistants will decline by 192,200 jobs between 2016 and 2026.
Those displaced office workers will mean way more competition for you.
Luckily, though, if you have an impressive office skills list, you'll leave that competition far behind.
Here are several sample office assistant CV skills to consider:
15+ Top Skills for Office Assistants
Organisational Skills
Administrative Skills
Advanced Mathematics
Managing Operations
Problem Solving
Interpersonal Skills
Microsoft Office (Word, Excel, etc.)
Google Docs, Sheets, etc.
Technical Skills
Confidentiality
Payments & Invoicing
Accounting Software (e.g., Quickbooks)
Data Entry Skills
Friendly & Personable
Attention to Detail
Collaboration & Teamwork
Look at the job ad's responsibilities section to locate the skills this office needs in a new office assistant.
If you possess that ability, add it to your CV.
Candidates who can provide evidence on their CV of how they have gained their skills and how they have applied them in a multitude of settings can be just as successful as candidates who have worked jobs. Job experience is beneficial, but one should never discount the skill sets that they have gained from clubs/organisations, volunteerism, classroom projects, or study abroad experiences.
Expert Hint: Office assistants should show they have both hard skills (data entry, Microsoft Excel, etc.) and soft skills (communication skills, teamwork, etc.) on their CVs.
The ResumeLab builder is more than looks. Get specific content to boost your chances of getting the job. Add job descriptions, bullet points, and skills. Easy. Improve your CV in our CV builder now.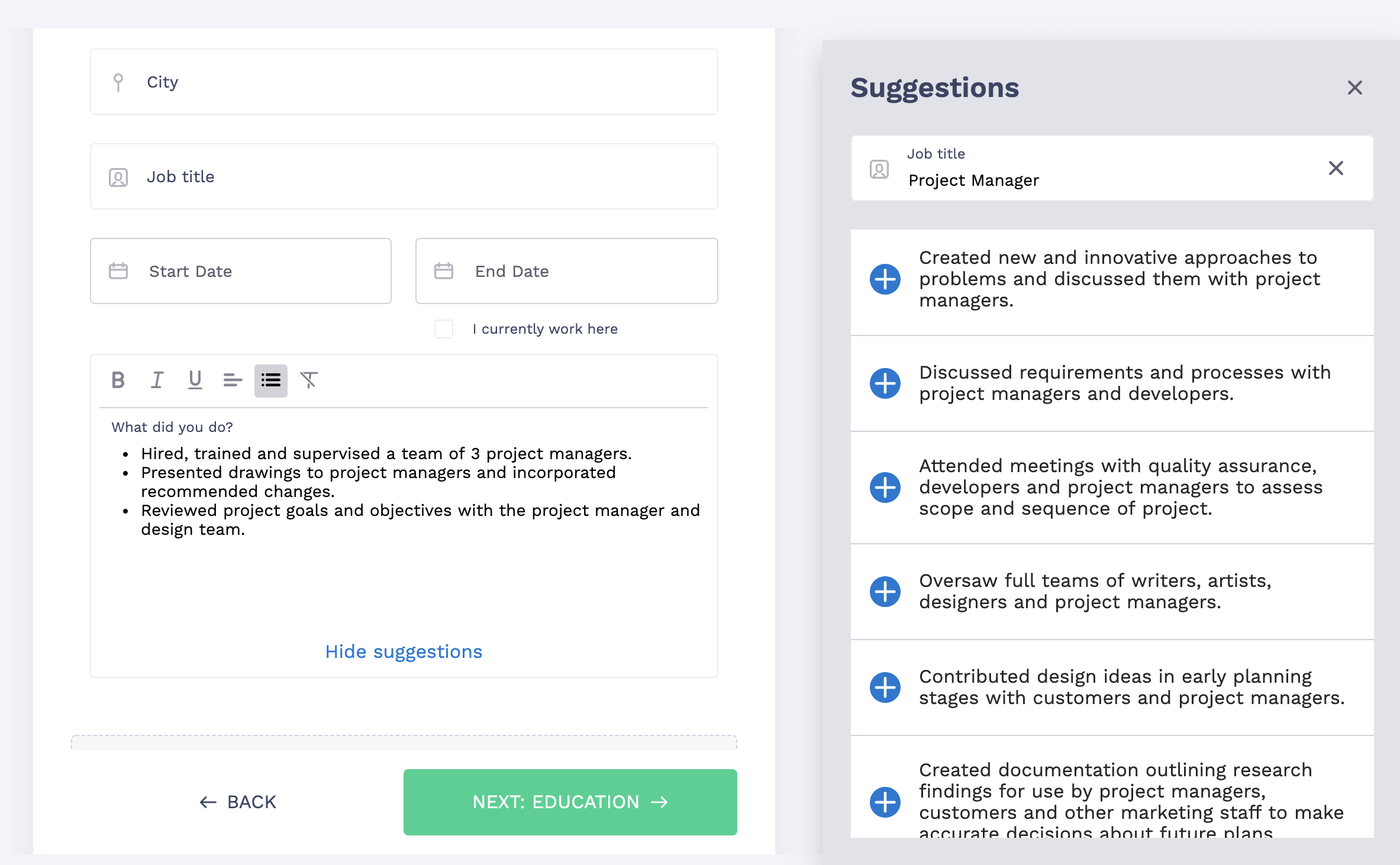 Nail it all with a splash of colour, choose a clean font, highlight your skills in just a few clicks. You're the perfect candidate and we'll prove it. Use the ResumeLab builder now.
4. Turn an Office Assistant CV Education Section Into the Reason They Hire You
Most office assistant jobs don't require a university degree.
However, an office assistant CV does require a clean and informative education section.
So—
Here's an example of how to list education on a CV for office assistants:
Office Assistant Job CV Example of Education Section
Here's how to ace your office asst CV section:
If you have more than one school entry, list the most impressive one first.
Include the degree or diploma name, the year of completion, the school's name, and the school's location.
Add any relevant extras, such as associated coursework or academic awards.
Include high school on your CV for office jobs if you haven't completed university.
Expert Hint: Just starting out in the big, bad world of employment? If your work history isn't as impressive as your academic achievements, move things around so they read your education section before they get to your employment history.
5. Put a Shine on Office Assistant CVs With a Few Extras
Got something else you'd like to add to your CV to impress the office manager?
This is your chance.
However, only choose additional sections which are relevant to an office assistant CV. Remember, if it doesn't add value, leave it off.
Here are a few great examples of extra sections and entries to add on an office assistant CV:
IAAP Certified Administrative Professional
Professional Administrative Certification of Excellence (PACE)
American Payroll Association Fundamental Payroll Certification
And if you're writing a dental or medical office assistant CV, try these:
AAMA Certified Medical Assistant (CMA)
Medical Office Administration Certificate
Registered Health Information Administrator (RHIA)
Registered Health Information Technician (RHIT)
Medical Office Assistant: Admin Procedures Certificate
Certificates are a great way for office assistants to communicate that they have certain skills, so these should be listed on their CVs as well. List relevant certificates, including those earned online or in short courses. Sometimes job applicants don't think a certificate they have is a big deal, so they're surprised when they find out that their certificate helped them stand out among their competition.
Office Assistant Organisations & Associations
International Association of Administrative Professionals (IAAP)
International Virtual Assistants Association (IVAA)
American Society of Administrative Professionals (ASAP)
Again, here are some dental and medical office assistant CV sample organisations:
Blogging
Health & Wellness
Physical Fitness
Reading Russian Literature
Foreign Language Proficiency
Dutch: Native Proficiency
Swiss German: Professional Working Proficiency
Javanese: Intermediate Proficiency
Arabic: Basic Conversational Proficiency
Expert Hint: Remember to attach a cover letter with every office assistant job application you send out. Most hiring managers won't even consider a CV without it, so not including an office assistant cover letter drops your chances of an interview by 50% from the very start.
Double your impact with a matching CV and cover letter combo. Use our cover letter builder and make your application documents pop out.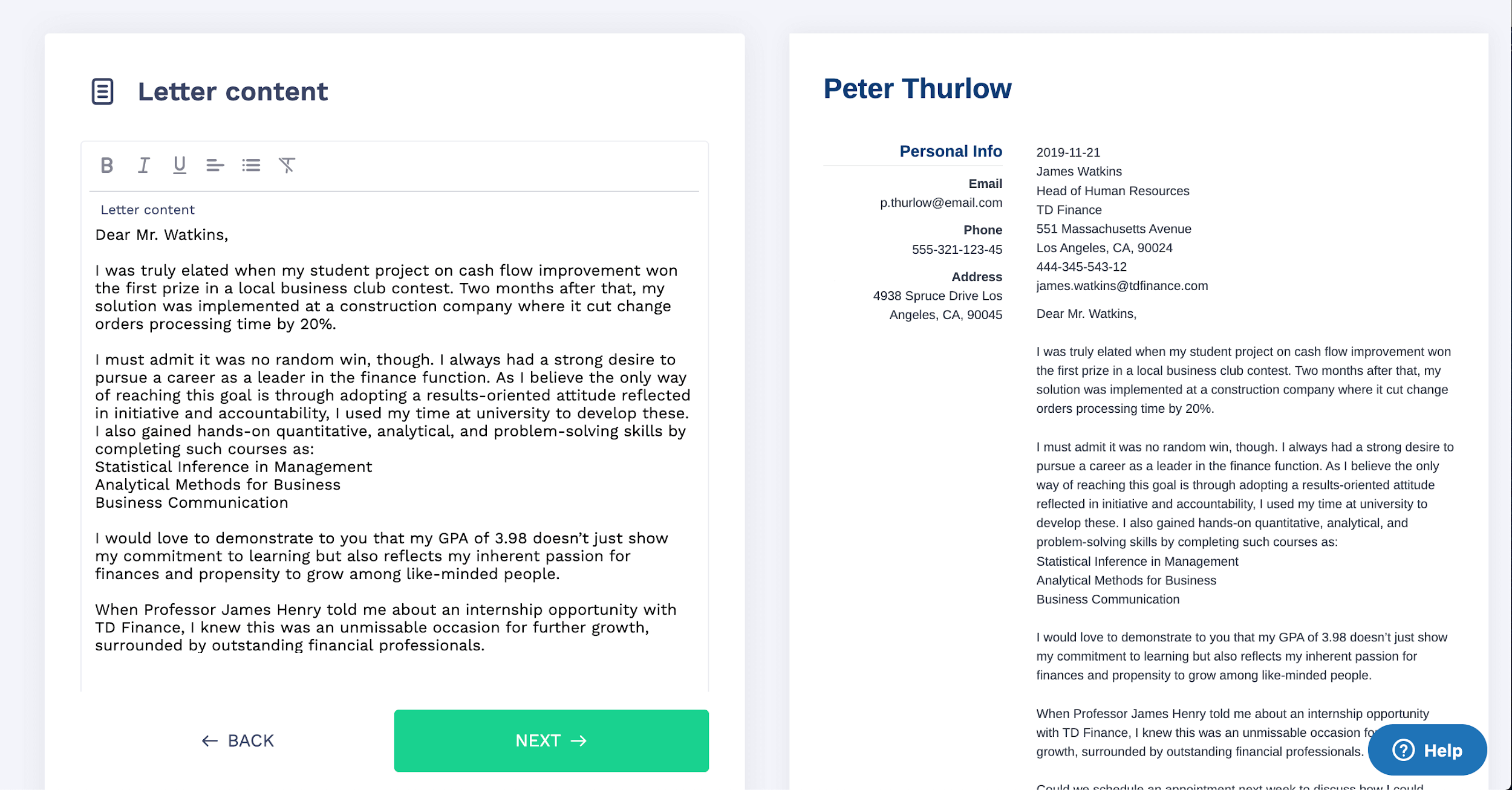 Want to try a different look? There's 18 more. A single click will give your document a total makeover. Pick a cover letter template here.
Key Points
Let's close this out with a quick summary—
Here's how to write a CV for office assistant jobs:
Format the office assistant CV layout before you start to write.
Begin with a compelling CV summary or career objective.
Document your experience with a few bullet points, relevance, and numbered achievements.
Highlight your office assistant talents in a customised CV skills list.
Include your education and any impressive academic accomplishments.
Add in an extra section or two, if relevant, such as foreign languages, pastimes, or certifications.
Always include an office assistant cover letter!
Have any questions on how to fill out your office assistant duties CV section? Need more office assistant CV examples of achievements or administrative skills? Let's chat in the comments area, and thanks for reading!