Medical Assistant CV Sample—25+ Examples and Writing Tips
Medical assistant CV example that will land interviews. See sample medical assistant job descriptions and actionable expert tips. Read more!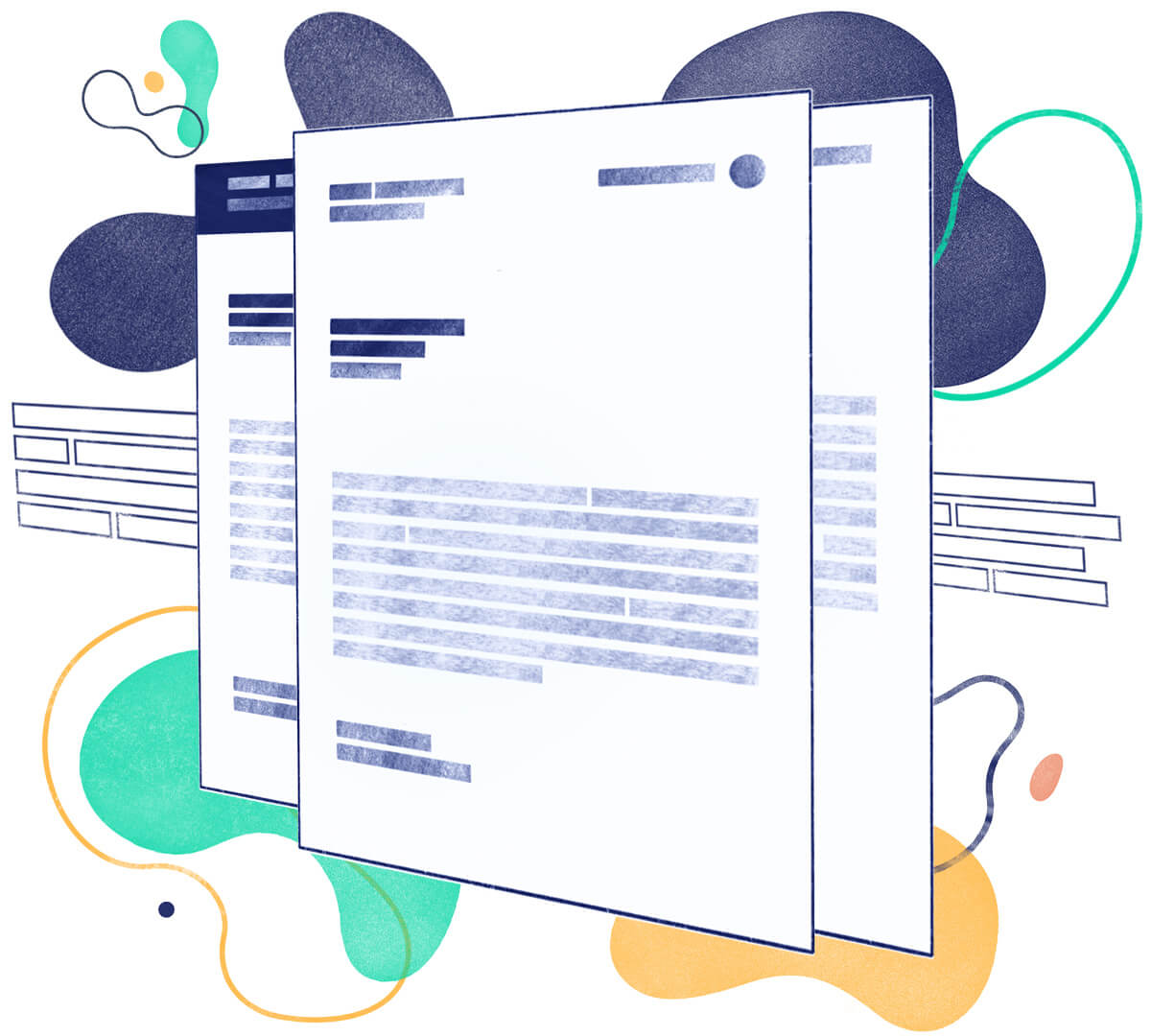 The demand for medical assistants is projected to grow by a staggering 29% in the next 10 years. That's great news, right? You can get a job with any CV.
Wrong.
To get a great medical assistant job, one with a high salary, cool benefits, and amazing work culture, your CV will have to be top-notch.
In 7 minutes, you'll learn how to write a standout medical assistant CV that lands you any job you set your sights on.
This guide will show you:
Medical assistant CV examples better than most.
How to ace the descriptions of medical assistant responsibilities on a CV.
How to write a CV for medical assistant jobs that gets the interview.
Why picking the right few medical assistant CV skills is the #1 key to get hired.
Save hours of work and get a CV like this. Pick a template, fill it in. Quick and easy. Choose from 21 CV templates and download your CV now.
What users say about ResumeLab:
I had an interview yesterday and the first thing they said on the phone was: "Wow! I love your CV."
Patrick

I love the variety of templates. Good job guys, keep up the good work!
Dylan

My previous CV was really weak and I used to spend hours adjusting it in Word. Now, I can introduce any changes within minutes. Absolutely wonderful!
George
Want to see other medical CV examples? See one of our dedicated guides:
Haven't found what you're looking for? Check all our Professional CV Examples.
First thing first—
See this sample medical assistant CV template. What do you think makes it so great?
Medical Assistant CV Sample You Can Copy and Use
Adam House
Certified Medical Assistant
591-122-6969
adam.jason.house@gmail.com
linkedin.com/in/adamjhouse11
Summary
Certified Medical Assistant with 6+ years of experience in fast-paced hospital environments. Highly skilled and accurate in recording data with HealthPro and EPIC. Implemented a new pull system to cut down on wasted supplies cutting costs by 30%. Seeking to leverage my expertise to assist St Andrew's Hospital in expanding and setting up new sites and community events.
Experience
Medical Research Assistant
Anytown Hospital, Anytown, OH
2015–
Booked appointments and verified patients' demographics data in EPIC with 98% accuracy.
Recruited study participants at Reliant Medical Group sites and community outreach events. Assisted in the set up of new community events.
Obtained electronic informed consent and questionnaires.
Answered phone calls with inquiries from study participants.
Prepared and coordinated the shipment of biospecimens.
Key achievement: Identified inaccuracies in the supply management, designed and implemented a new pull system to cut down on wasted supplies. Slashed costs by 30%.
Medical Assistant (Radiation Oncology)
University of Ohio Hospital, Columbus, OH
2013–2015
Scheduled patient appointments including new, follow-up, re-schedules and cancellations. Commanded by managers for friendliness and accuracy.
Provided general patient services: directions, parking garage validation, or calling for transportation. Received 93% positive reviews in patients' evaluation forms.
Performed direct patient care procedures and provided assistance to other providers.
Maintained designated levels of supplies in specified areas and assisted in the general maintenance of the clinic.
Hard Skills
Patient Assessment
Taking Vital Signs
Patient Preparation
Electrocardiogram (EKG)
Clinical Research
Soft Skills
Communication
Friendliness
Phone Skills
Time Management
Education
Associate Degree, Medical Assistant
Ohio State University
2013
Certifications
Registered Medical Assistant (RMA), American Medical Technologists, 2017
Certified Clinical Medical Assistant (CCMA), National Healthcareer Association, 2015
Clinical Medical Assistant (CMAC), American Medical Certification Association, 2013
More Healthcare CV Samples
Read on for a breakdown of how to write a medical assistant CV that gets you the job.
1. Use a Professional Medical Assistant CV Template
Research has shown that an average job opening gets 250 CVs.
The hiring manager won't read all of them. He'll be looking for reasons not to.
Poor formatting of your medical assistant CV might be that very reason.
Avoid it, by using a good medical CV format. Start by dividing your CV into the following sections:
Medical Assistant CV Template
Contact Information
Summary or Objective
Experience
Skills
Education
Certifications, Courses, and Additional Sections
Keep the formatting of your CV clean and elegant:
Use the respected reverse-chronological CV format. It highlights your most recent position.
Pick good CV fonts: 11–12pt for the main body and 14–16pt for section headings.
Set 1-inch margins on all sides.
Be generous with white space. Recruiters and hiring managers need breathing space.
Try to keep your CV one-page but don't go crazy about it. Two-pagers are fine. Omitting important career details isn't.
Expert Hint: Once done, save your medical assistant CV in PDF to keep the layout intact. But double-check with the job posting before you send it. Some employers will only accept MS Word CVs.
2. Write a Good Medical Assistant CV Objective or Summary
A medical assistant CV objective or a summary is a concise, succinct paragraph just below your contact info.
Its purpose is to explain why you're the perfect candidate for this particular role.
And which one should you pick?
Have relevant medical assistant experience? Write a CV summary. Describe your career progression and highlight your best achievements.
Little or no experience in the medical environment? Go for a CV objective. Show what skills you've mastered so far and how these can translate into success in your new role.
Whichever one is right for you, remember about the key thing:

Make it about your employer's benefit. Not your personal gain.
See what I mean on these medical assistant CV examples.
Medical Assistant CV Objective Examples
See this? "I've learned so much already and I'm willing to help you with your objectives."
Sorry pal—your CV is not a Christmas wish list. No one cares what you want out of the job.
Now, see these two very different medical assistant CV summaries.
Medical Assistant CV Examples: CV Summaries
The good example? Specific and detailed.
The bad one? As generic as it gets.
Expert Hint: This section comes at the top of your medical assistant CV, but it's best to write it last. That way it's like a trailer for your job search movie. You'll have lots to pick from in other CV sections and picking the best bits will be easy.
3. Create a Proper Medical Assistant Job Description
Here's the most crucial part of your whole CV: the work experience section.
The way you describe your medical assistant responsibilities on a CV can make or break your chances of landing that dream job.
This part is crucial. It's what's most important for employers.
Medical Assistant Job Description for a CV
Start with your current or most recent job. Follow it with the one before it, then the previous one, and so on.
List your job title, the hospital or clinic name, and the dates worked.
Add up to 6 bullet points under each job.
Limit the number of bullets as you go back in time. The more recent the job the more bullet points in the job description.
Don't just list medical assistant duties. Focus on achievements.
Use CV active words. "Scheduled appointments," or "maintained supplies" instead of "responsible for scheduling appointments and supply maintenance."
Below your bullet points, you can add a "key achievement" subsection. Outline your proudest career win.
Pay close attention to the job ad. Highlight the most important tasks that will be expected of you. Then, use those keywords in your medical assistant CV work experience section. Customise every CV you send to the position requirements.
See how it works on these sample medical assistant CVs:
Medical Administrative Assistant CV Samples: Job Description
Wow. The hiring manager just put her finger on your contact information.
This candidate's chances of getting an interview call-in are D.O.A.
The ResumeLab builder is more than looks. Get specific content to boost your chances of getting the job. Add job descriptions, bullet points, and skills. Easy. Improve your CV in our CV builder now.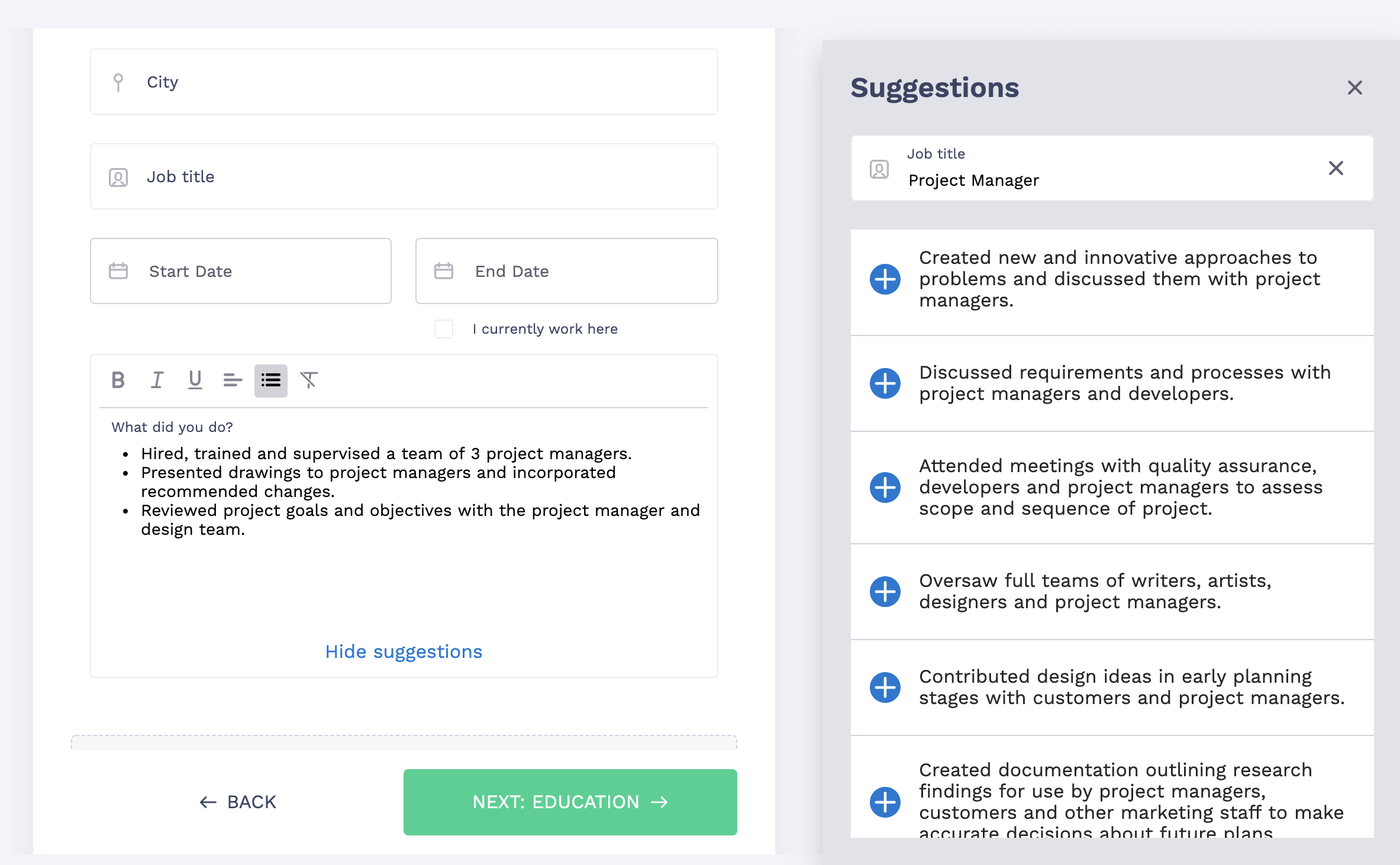 Nail it all with a splash of colour, choose a clean font, highlight your skills in just a few clicks. You're the perfect candidate and we'll prove it. Use the ResumeLab builder now.
Another crucial part of your medical assistant CV is the skills section.
How to List Medical Assistant CV Skills
Go through the job ad and look for keywords related to skills.
Add some of these in your medical assistant job description.
Add a few more to your medical assistant CV summary or objective.
Choose the ones that are more relevant and put them in a separate section of your CV.
Don't ever copy-paste generic medical assistant CV skills you find online.
Go through the job description and identify skills-related keywords.
Expert Hint: Don't even entertain the idea of skipping your soft skills section. According to a recent LinkedIn report, 57% employers value soft skills even higher than technical job skills.
Could use some inspiration coming up with the list of professional medical skills for your CV?

See the below table for reference.
The Best Medical Assistant CV Skills
Medical Assistant Skills List

| | |
| --- | --- |
| Hard Skills | Soft Skills |
| Recording the Medical History | Customer Service |
| Patient Assessment | Interpersonal Skills |
| Phlebotomy | Friendliness |
| Taking Vital Signs | Physical Fitness |
| Patient Preparation | Compassion |
| ICD 10 | Foreign Languages |
| EHR | Organisation |
| Supply Inventory | Verbal and Written Communication |
| Equipment Sterilisation | Stress Management |
| Clinical Research | Multitasking |
The 4 most desirable soft skills to have are: leadership, communication, collaboration, and time management.
4. Turn Boring Education into a Reason to Hire You
If you have relevant job experience, listing your medical assistant education will be easy.
Education on a Medical Assistant CV
School name
Graduation year
Degree
Not much hospital experience yet?
On an entry-level medical assistant CV, you should elaborate on your education a bit more.
Entry-Level Medical Assistant CV Sample: Education
Expert Hint: If you have more than 6 years of healthcare experience, omit your GPA altogether. Skip it also if it's lower than 3.5. It could do you more harm than good.
5. Boost Your Medical Assistant CV with These Extra Sections
Good news!

Statistics show that jobs for medical assistants are growing at a record rate!
But don't get carried away. There's some bad news too—
The competition is growing even faster.
How can you outperform them?

Add extra sections to your CV that prove you have that extra gear. Show employers you're the real deal.
Sample Medical Assistant CV Extra Sections
Courses taken
Conference participation
Volunteer experience
Continuing education
Additional activities
Expert Hint: Do write a medical assistant cover letter. True, some recruiters and hiring managers don't read them anymore. But almost half still expects them.
Double your impact with a matching CV and cover letter combo. Use our cover letter builder and make your application documents pop out.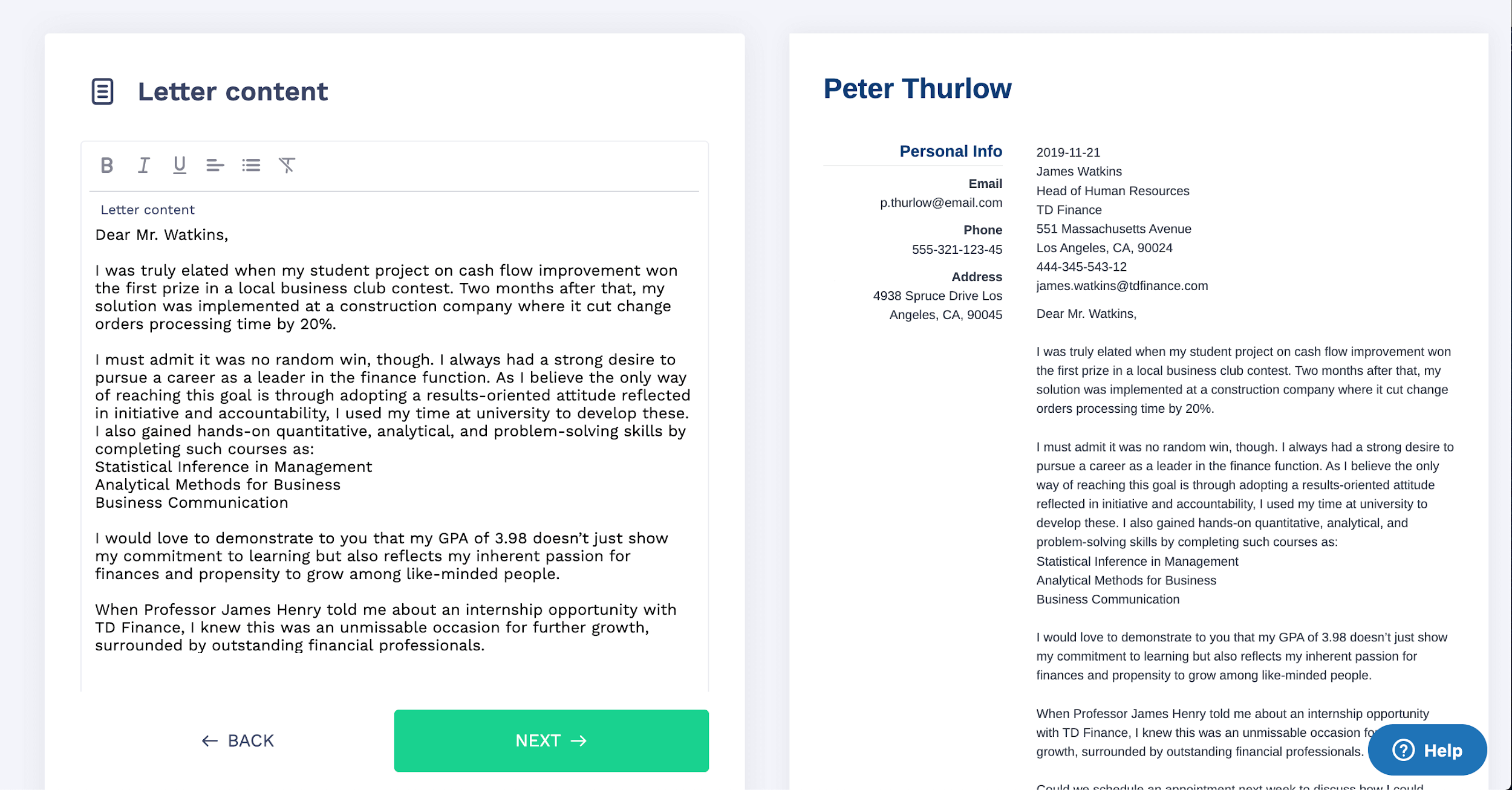 Want to try a different look? There's 18 more. A single click will give your document a total makeover. Pick a cover letter template here.
Key Points
To have a perfect, professional medical assistant CV, follow these steps:
Use a good CV template, divided into clear sections.
At the top, just below your contact info, put a short and sweet CV summary or a career objective.
Personalise every CV you send to match the requirements from the medical assistant job offer.
Focus on achievements over regular daily tasks.
Include a medical assistant cover letter to double your chances of getting hired!
If you have any questions or need further assistance, don't hesitate to ask in the comments. I'll reply to all of your queries!