Office Manager CV—Examples and 25+ Writing Tips
Without you, operations at the office grind to a halt—you're the backbone of the company. Well, your CV is the backbone of your job application, so here's how to do it right.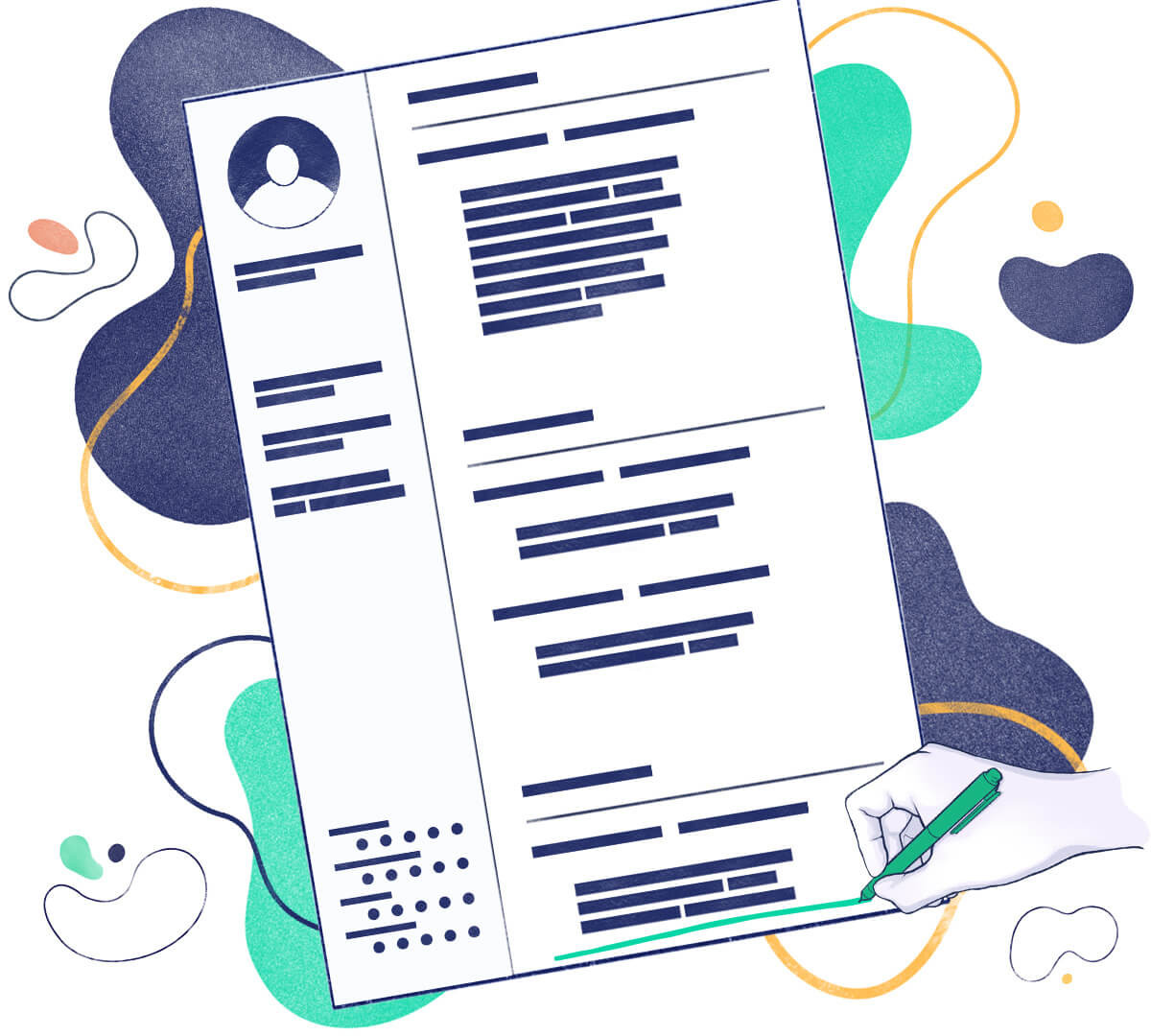 As an office manager, you do it all, whether it's hunting down signatures, preparing payroll, or manhandling calendar events into submission.
It takes skill to run an office smoothly.
There's just one problem in the way of you getting the office management job—
The HR manager doesn't know those talents about you yet.
Not only do you have to catch their attention, but you have to maintain it with great content on your CV for office manager jobs.
Don't worry.
In this guide:
The best office manager CV examples to get those clerical jobs.
How to ace the office manager job description for CV perfection.
How to write a CV for office manager jobs that lands an office interview.
Expert tips and examples to increase the chances you'll get the office job.
Create a job-winning CV with little effort. Hack your way through ATS software with our 18 beautiful templates—give our builder a try!
Seeking more administrative and managerial CV examples? Try these out:
Haven't found what you're looking for? Check all our CV Examples.
Office Manager CV Sample
Margaret C. Weiler
Certified Administrative Office Manager
margaret.weiler@gmail.com
(480) 799-7997
linkedin.com/in/margaretweiler
Summary of Qualifications
Detail-oriented office manager with 4+ years of experience handling administrative tasks, payroll, and filing systems for busy, mid-sized company. Enhanced file flow through overhaul of documentation storage which led to a 15% increase in efficiency. Seeking to leverage administrative skills and financial expertise to become the next office manager for Symbex Oasis Group.
Work Experience
Office Manager
May 2017–July 2019
GMPD Corporation, Tempe, AZ
Key Qualifications & Responsibilities
Maintained professional appearance and nurtured productive and comfortable office environment as the first point of contact for new clients and existing customers.
Administered company documents and kept filing system organised and up to date.
Ordered office supplies, stationery, maintenance services, and food items as needed.
Prepared official business documents, including payroll, tax returns, financial invoices, etc. as necessary.
Key Achievements
Increased office efficiency by 15% by overhauling company's document storage system.
Office Administrator
February 2015–April 2017
Schillerson's Supplies, Tempe, AZ
Key Qualifications & Responsibilities
Provided secretarial and administrative support to employees, supervisors, and executive board.
Assisted in training and onboarding new employees and conducting performance reviews.
Maintained adequate levels of supplies, such as stationery, computer peripherals, and kitchen snacks.
Handled basic financing, bookkeeping, and accounting tasks as requested by board members.
Education
Bachelor of Science in Office Administration & Technology
Arizona State University, Tempe, AZ
Graduation: 2016
Relevant Coursework: Business Accounting, Management of Office Systems, Administrative Systems, Financial Reporting, Human Resource Fundamentals, Business Statistics.
Key Skills
Great Written and Verbal Communication
Problem-Solving Skills
Planning and Organisational Skills
Accounting & Office Budgeting
Teamwork & Collaboration
Attention to Detail
Certifications
Certified Administrative Office Manager (CAOM)
Memberships
National Association of Certified Public Bookkeepers (NACPB)
International Facility Management Association (IFMA)
Languages
Finnish: Intermediate Working Proficiency
Just before these links, you saw the ideal sample office manager CV.
Let's turn it over to you—
Here's how to write an office manager CV:
1. Choose the Best Office Manager CV Format
What happens if you get the office manager CV format wrong?
The employer will simply toss your CV in the trash and move on to the next candidate.
So—
Here's how to format an office management CV template:
When picking a CV format, go reverse-chronological by beginning with your most recent job or education entry and going back from there.
Use a 1-inch border on all sides of any office supervisor CV.
Choose the best CV font to use. Make the regular body text about 11 or 12 pts in font size.
Choose appropriate CV sections. Remove anything but the most relevant items which add value to your CV.
Expert Hint: Export the final CV for office manager jobs in the PDF format. A PDF document renders perfectly on just about any phone or laptop, whereas a Microsoft Word .docx file may look funny on some devices.
2. Begin with a Mesmerising Office Manager CV Objective or Summary
Imagine the office administrator or secretary situated in the lobby or at the front of the office.
When a new client walks in, are they greeted with a mess and rudeness?
Hopefully not, if they want to keep the client—
Same goes on your CV for office management jobs. You want to keep the employer on your CV, so introduce yourself in just the right way.
That's where a CV heading statement, the objective or summary, comes in.
But which intro do you pick?
If you have plenty of history working as an office manager or in a similar position, use the CV summary.
A summary paragraph wows the hiring manager with an overview of your office management experience and administrative skills. It tops it off with a quick number drop of your most impressive achievement(s).
Here's are two summaries for office manager CV samples:
Office Manager CV Summary Example
The good CV example summary above is tailored to a particular job, whereas the second one is generic. And, as we mentioned, numbers prove competence and skill, so the first one is a true winner.
However—
What If You've Got No Office Management Experience?
In that case, go with the objective statement.
The CV objective is similar to the summary, as it's a short paragraph giving your professional background. However, since you don't have office management experience, talk up your unrelated work history in a way that's relevant to this office management position.
Oh, and definitely still include numbered wins!
Here's how to write an office manager objective CV statement:
Entry-Level Office Manager CV Objective Example
The bad example of a CV objective above is a bit over the top, obviously. However, pay attention to the first one. It's got personalization, relevance, and, most of all, a quantifiable achievement.
Expert Hint: The heading statement goes at the beginning of your office management CV, but write it last. It's easier to choose the best points about yourself when the remainder of your CV is already complete.
The ResumeLab builder is more than looks. Get specific content to boost your chances of getting the job. Add job descriptions, bullet points, and skills. Easy. Improve your CV in our CV builder now.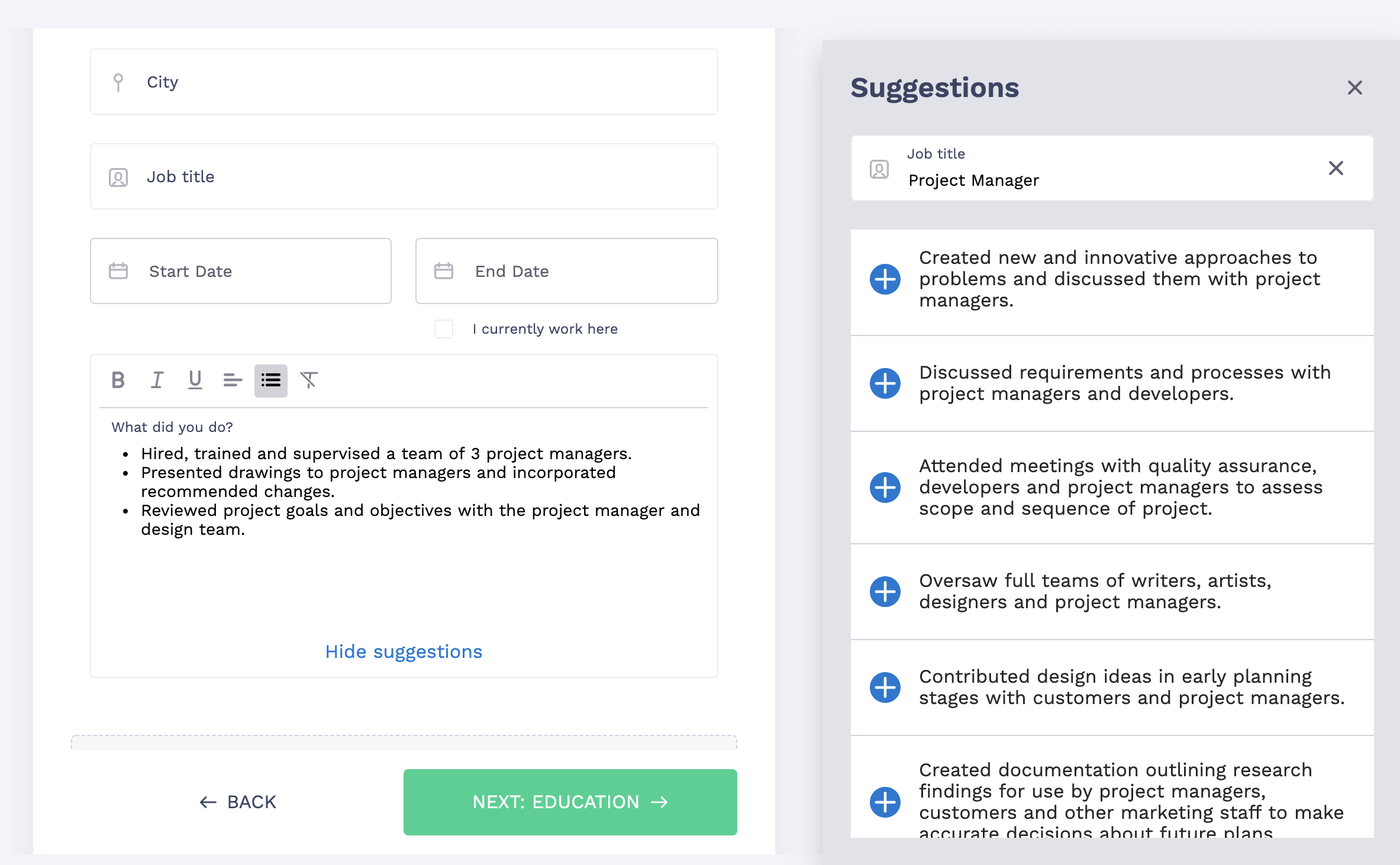 3. Write the Best Office Manager Job Description & Skills CV Sections
When you think of your domain at the workplace, your desk is command central.
Likewise—
On a CV for office supervisor jobs, the job description is what everything revolves around.
How to add an office manager duties CV section:
Organise your CV in reverse-chronological order, listing the current or most recent job title held first.
Include a position title, company name and location, and dates of employment.
Add several front office manager CV bullet points to describe your previous work experience in the most relevant manner.
Always top it off with a number or two to show them you're as knowledgeable as you say.
Here are CV examples of office management job descriptions:
Office Manager Job Description for CV Examples
How's that, right?
The first example follows all the rules for a perfect office manager CV description: detailed list of duties, relevant job responsibilities, and numbers to prove top accomplishments.
The CV should clearly distinguish between activities and accomplishments (results). An activity might be something like 'Designed new business process for closing the office books.' An accomplishment would be 'Reduced accounting close 4 days by designing new business reporting process.
Also—
Many larger companies, as well as ones that stay up to date with technology, use an applicant tracking system (ATS) to handle the many job applications they receive.
The HR manager scans a CV into the ATS, feeds it a few CV keywords to search for, and then the ATS returns a score based on how well each CV matched the keywords and search parameters.
If your office manager CV earns a low match percentage, you'll be passed on by for another candidate.
To locate the best keywords to use on a job application, use the job advertisement. The requirements section announces exactly the applicant they're searching for.
Next up, we need to locate the ideal CV skills to throw in.
Administrative services managers, including office supervisors and similar roles, are expected to grow by 28,500 jobs (10%) between 2016 and 2026.
To secure the position you want, office manager skills will play a crucial role.
Here are office manager CV skills examples:
Office Manager CV Skills
Written and Verbal Communication Skills
Problem-Solving Skills
Planning Meetings & Events
Organisational Skills
Accounting Skills
Budget & Finance Skills
Teamwork & Collaboration Skills
Attention to Detail
Call Screening & Answering
Friendly & Personable
Management & Leadership Skills
Technical Skills
Administrative Skills
Supplies Ordering & Inventory
These are just a few of the CV skills for office manager jobs.
However—
Be selective in the skills you choose, so you have a skills list of no more than half a dozen. Keeping in mind the value of CV keywords, look at the job responsibilities area once more to choose the perfect skills to add on your application.
Expert Hint: Choose both hard skills (e.g., Microsoft Excel, PowerPoint) and soft skills (e.g., communication, attention to detail).
4. Turn Boring Education Into a Reason to Hire You
Most office manager positions don't require more than high school education on a CV.
However—
To get office manager jobs, it is required to document your education.
And, bonus points for doing it effectively, like in this example:
Office Manager CV Example of Education Section
Here are the rules to follow when adding education on a CV for office jobs:
Add your highest degree first, going in reverse-chronological order just as you did in the job description.
Place the degree or major name in the first line, followed by the school's name, its city, and its state.
Give the date of graduation or completion, or an estimate as to when you will finish.
Under that, include anything impressive relevant to office management jobs, such as related classes or academic achievements.
Expert Hint: If you have completed university, don't add high school. If you are still working on your university degree, add a high school diploma as a secondary entry below it.
5. Level-Up An Office Manager CV With These Additions
Everything we've talked about so far in terms of your CV for office manager jobs has been a core section.
You've now included them all, so good job.

However—
To really set yourself apart from the other applicants, add some extra CV sections to show a clearer image of what you bring to the table.
Here are a few of the best office manager CV examples of extra sections to include:
Certified Business Office Manager (CBOM)
Certified Facility Manager (CFM)
If you're writing a dental office manager CV or medical office manager CV, other certifications may be right for you:
Certified Medical Office Manager (CMOM)
USCI Medical Office Management Certification
Administrative Organisations & Associations
National Association of Certified Public Bookkeepers (NACPB)
International Facility Management Association (IFMA)
American Society of Administrative Professionals (ASAP)
Again, if writing a medical office CV or dental office manager CV, consider these professional organisations:
American Association of Dental Office Management (AADOM)
New York Medical Group Management Association (NYMGMA)
Medical Group Management Association (MGMA)
Reading & Writing
Scrapbooking and Organising Old Photos
Long Walks With the Dogs
Proficiency in Foreign Languages
Dutch: Native Proficiency
Urdu: Professional Working Proficiency
Tagalog: Intermediate Working Proficiency
Canadian French: Basic Conversational Proficiency
Expert Hint: Want to know one crucial office mgmt CV addition? The cover letter. An office manager cover letter is necessary, as more than half of employers prefer it to come with a CV. If you don't include it, you can kiss your interview chances goodbye.
Double your impact with a matching CV and cover letter combo. Use our cover letter builder and make your application documents pop out.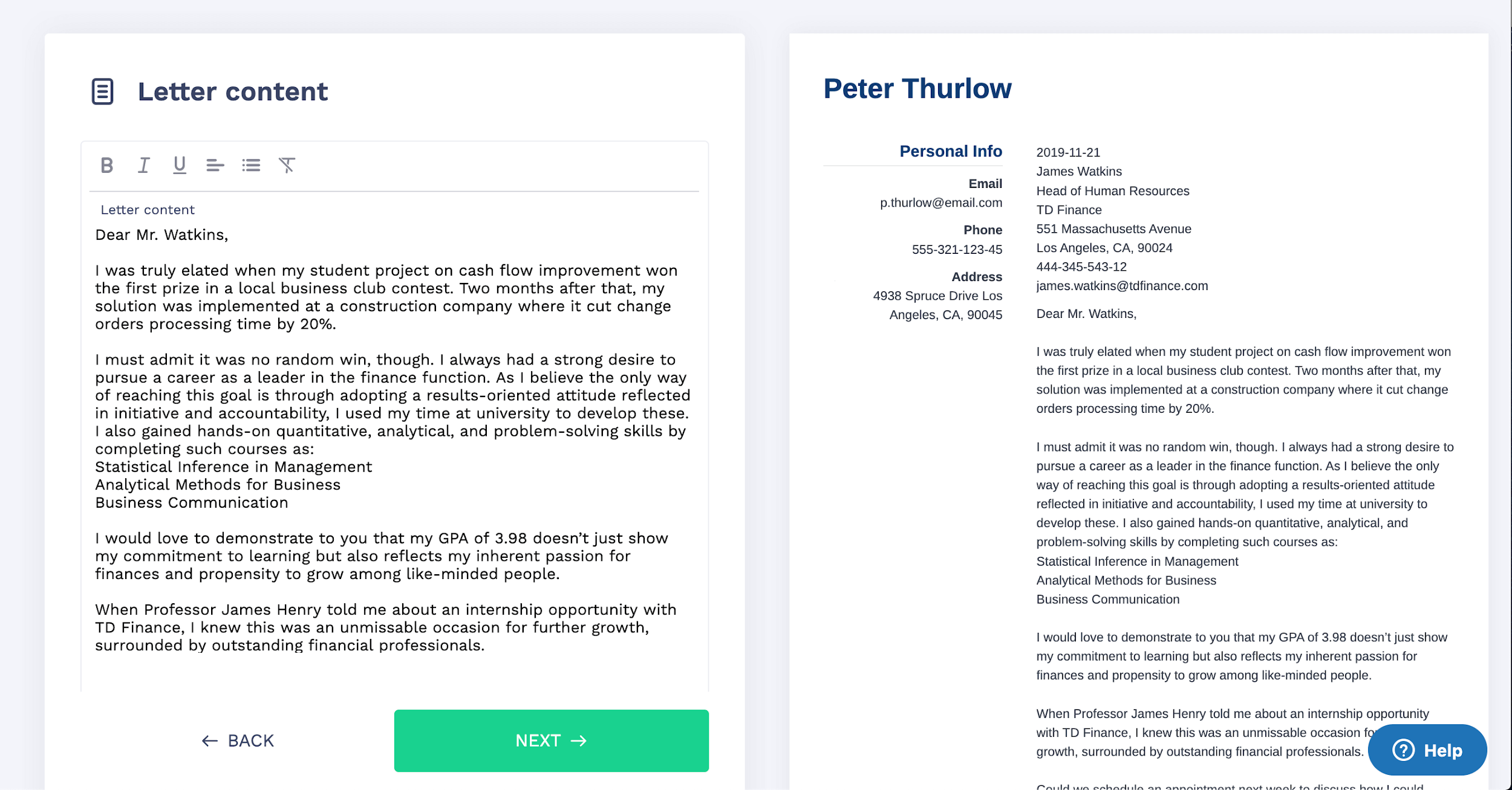 Key Points
Let's sum it all up—
Here is how to make a perfect office manager CV:
Format the office management CV template for easy readability. Place the most important points you want to bring up at the top.
Craft a compelling introduction objective or summary. However, write it last so you have the best idea of its content.
Talk up your work history in the office manager job description CV section. Add key achievements using numbers to quantify your abilities.
List your administrative skills and office management abilities, but just the ones which are most relevant to this specific job position.
Document your educational background on the CV for office manager jobs.
Include an extra section or three to really round out your candidacy. Top choices include office management certifications, industry associations, foreign languages, and hobbies.
Never forget to include an office manager cover letter with your job application!
Do you have any questions on how to format a business office manager CV template? Need more medical office manager CV samples? Let's discuss down here in the comments area, and thanks for reading!