Consultant CV—Examples and 25+ Writing Tips
You're a rock-star consultant who can spot process flaws and opportunities that spark a sea changes. Convey that to employers with this professional consultant CV sample.
In a minute, you'll see a rockstar consultant CV.
But hold up a second.
There's a reason why writing a CV for consultant jobs is hard.
It's because there are so many others like you struggling for the job.
How can you prove you're different?
It's all in how you tweak the sections of your consultant CV.
Mention the right skills and consulting "wins," and they'll know you're best-of-breed.
In this guide:
A consultant CV sample better than most.
How to write a consultant CV that passes the smell test.
How to target your consultant job description for CVs to the job.
Why you can't just list consultant skills (and what to do instead).
Save hours of work and get a CV like this. Pick a template, fill it in. Quick and easy. Choose from 21 CV templates and download your CV now.
Create a job-winning CV with little effort. Hack your way through ATS software with our 18 beautiful templates—give our builder a try!
What users say about Resumelab:
I had an interview yesterday and the first thing they said on the phone was: "Wow! I love your CV."
Patrick

I love the variety of templates. Good job guys, keep up the good work!
Dylan

My previous CV was really weak and I used to spend hours adjusting it in Word. Now, I can introduce any changes within minutes. Absolutely wonderful!
George
Most consultants have a full complement of management skills. If that's you, don't limit yourself to consultant jobs alone. See these guides:
Haven't found what you're looking for? Check all our CV Samples.
Now__
Consultant CV Sample You Can Copy and Use
Lucy Eser
Business Consultant
Personal Info
Phone: 305-201-9412
Email: lucyzeser@gmail.com
linkedin.com/in/lucyzeser
twitter.com/lucyzeser
Summary
Business consultant with 7+ years of experience creating process improvements. Seeking to raise quality and earnings for clients at Scarecrow & Williams Consulting. At LYC, worked with 100+ clients to raise revenue up to £3M a year.
Experience
Management Consultant
Ladd & Young Consulting, Miami, FL
2014–2019
Worked with cross-functional teams in 100+ client organisations to gather requirements and raise profitability an average of 25%.
Created new business strategies that raised revenue by £3M.
Created value stream maps that identified recurring waste and saved an average of £50K per department per year.
Developed CRM roadmaps that increased productivity 20%+.
Created train-the-trainer content for CRM applications creating 30% less user error and a 15% increase in client satisfaction.
Key Achievement:
Remapped business flow to improve quality, cost, and time and raise revenue £3M in 1 year for key client.
Junior Management Consultant
Hartigan & Gulch Consulting, Miami, FL
2012–2014
Developed IT strategies leading to 18% fewer support tickets.
Delivered presentations to clients and senior management.
Streamlined client processes in production and office systems.
Generated 15% increase in client base through needs analysis.
Key Achievement:
Identified new business opportunities worth £200K in revenue.
Education
EMBA, Northwestern University
2010–2012
Excelled in strategy and critical analysis classes.
Master's thesis on regression analysis published in Herding Cats.
BA Business Administration, University of Miami
2007–2010
GPA 3.8
Certifications
2017 - Certified Management Consultant - IMCUSA
Volunteer Fundraiser, 78th Street Animal Shelter
Raise over £40,000 per year for animal welfare.
Conduct 50+ meetings per year with donors.
Hard Skills: Process improvement, organisational redesign, SAS analytical software
Soft Skills: Interpersonal skills, problem solving, communication, analytical skills
Here's how to write a consultant CV with bandwidth:
1. Select the Best Consultant CV Format
Let's take a bottoms-up approach.
For the best chance they'll notice you, use a professional CV format.
In most cases that's the reverse-chronological CV type.
Use these tips to flesh it out:
Consultant CV Format
Set 1-inch margins.
Use a CV font like 10–12pt Times New Roman or Arial.
Write these CV sections: Heading, Summary, History, Education, and Skills.
Make it eye-friendly with added white space.
Make a 1–2 page CV length depending on your experience level.
Send a PDF CV. They travel better than Gary Hamel.
Expert Hint: According to The Trusted Advisor by David Maister, the first job of a consultant is to earn the trust of clients. Show feats of communication and persuasion in your business or leasing consultant CV.
2. Engage Employers with a Consultant CV Summary or Objective
The consulting world is dog-eat-dog.
How can you be dog #1?
By starting your consultant CV right.
That means writing a working CV profile (in the form of a CV summary or CV objective) up top.
Write it with:
An adjective (efficient, results-oriented)
"consultant"
Years of experience (2+, 7+)
Who/how you'll help (raise earnings for clients at Scarecrow & Williams)
Best consultant moments (raised revenue £3M a year...)
Write it last to make it flow.
See these management consultant CV examples:
Consultant CV Summary—Example
Whoops.
The second of those business consultant CV samples says you can help raise revenue.
The first example shows you have.
"But I haven't raised revenue by £3 million!"
In a CV for consultants with no experience, flaunt what you've got.
See this entry-level CV for consultants sample:
Entry-Level Consultant CV Objective
Hmm.
The second of those entry-level consultant CV examples isn't actionable.
The first shows you've already got your feet wet in the job.
Expert Hint: A white paper by Robin Fincham of the University of Stirling argues that the client-consultant relationship should be equal and relaxed. Have you built great relationships with clients? List wins like that in your CV for consultant jobs.
The ResumeLab builder is more than looks. Get specific content to boost your chances of getting the job. Add job descriptions, bullet points, and skills. Easy. Improve your CV in our CV builder now.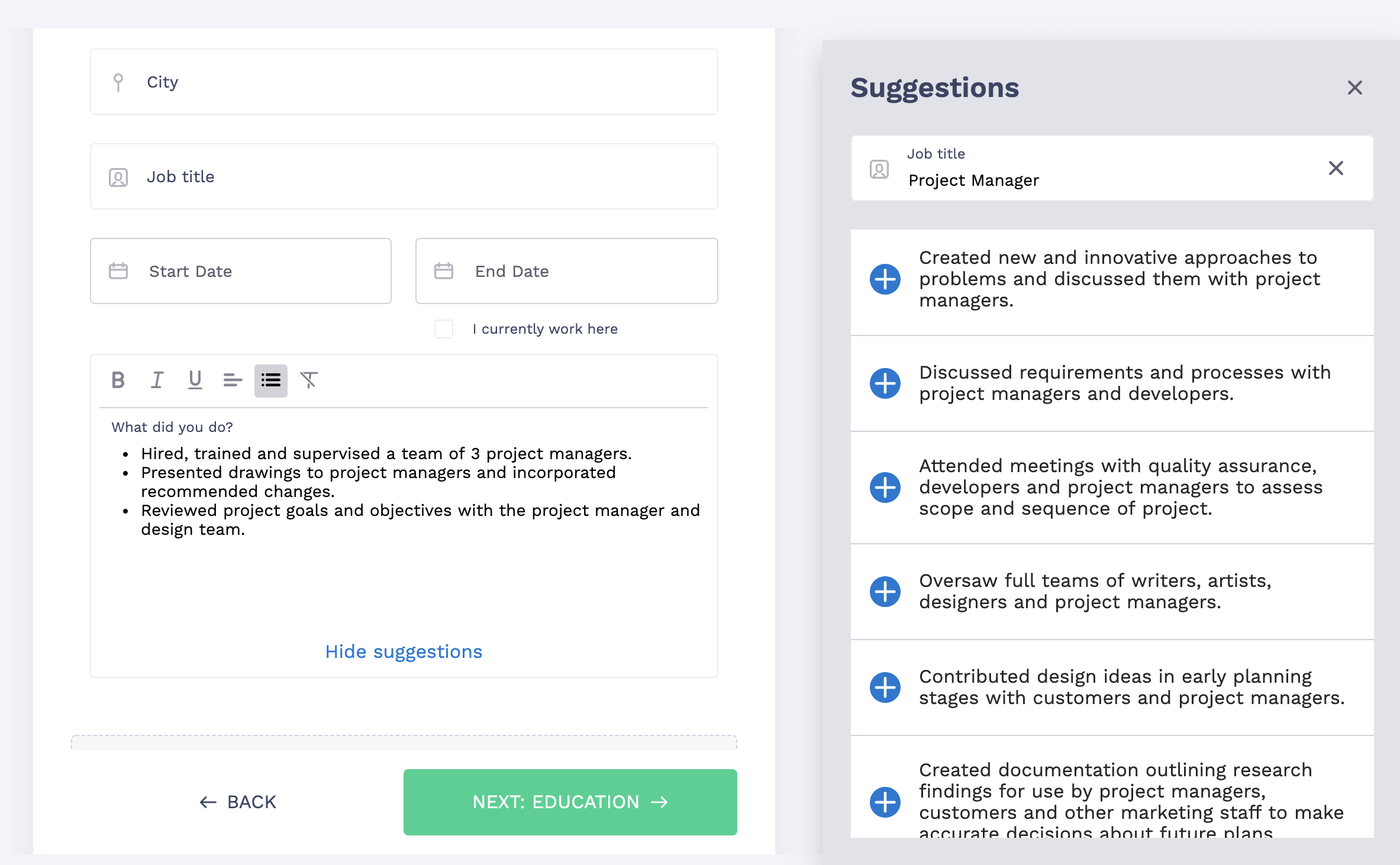 3. Write a Compelling Consultant Job Description and Skills Section
What consultant skills work best on CVs?
Here's a brief list:
Consultant Skills for CVs
| | |
| --- | --- |
| Hard Skills | Soft Skills |
| Process Improvement | Interpersonal Skills |
| Business Analysis | Communication |
| Data Visualisation | Teamwork |
| Cash Flow Management | Problem Solving |
| Marketing & Sales | Organisation |
| Lean Methodology | Time Management |
| Project Management | Leadership |
| Manufacturing | Analytical Thinking |
| IT | Creativity |
| Training | Attention to Detail |
But here's the thing—
Your dream job may not want those. List too many and you'll boil the ocean.
It may need specific CV skills and achievements we haven't mentioned.
Those skills are your CV keywords. Find them in the job ad, then write a tailored CV.
See these sample consultant CV work experience sections below:
The ad lists these consultant job requirements: raising profitability, business strategy development, value stream mapping, developing CRM roadmaps, and training.
Consultant Job Description for a CV [Sample]
What's the big difference?
Well, the first of those management consultant CV examples is buttoned down. It's got all five skills from the posting.
But what if you're not that legendary?
In entry-level CVs, circle back to your core competencies.
See these IT consulting CV examples with no experience:
The job needs consultant skills like developing IT strategies, presenting, streamlining processes, and needs analysis.
Entry-Level Consultant CV Job Description [Sample]
See that?
Both IT consultant CV examples come from an administrative assistant.
But the first gets buy-in with consulting accomplishments.
That's critical path.
Expert Tip: In Peter Block's Flawless Consulting, the author argues that the virtual world presents new challenges to today's consultants. Certifications in virtual risk management or systems auditing look great in entry-level consultant CVs.
4. Gain Traction with Your Education Section
The best consultants know there's more than one way to get clients.
Referrals, outreach, partnerships...
The same goes for CVs for consulting positions. The education section of your CV can be one more way to leverage your skills.
This marketing consultant CV sample shows how:
Consultant CV Example—Education
That's no run-of-the-mill education section. It adds three skills your next employer has been looking for.
5. List Additional Activities in Your Consultant CV
You're almost to the finish line.
But in the consulting world, races are won by fractions of a second.
Give your consulting CV a boost—with extra CV categories.
Try one of these:
See these sales consultant CV examples:
Consultant CV—Extra Sections
It's all in picking the right details.
Expert Hint: Write a cover letter for your sales or information technology consultant CV. Don't make it about you, but about the business, it's needs, and why your past wins will fulfil them.
Double your impact with a matching CV and cover letter combo. Use our cover letter builder and make your application documents pop out.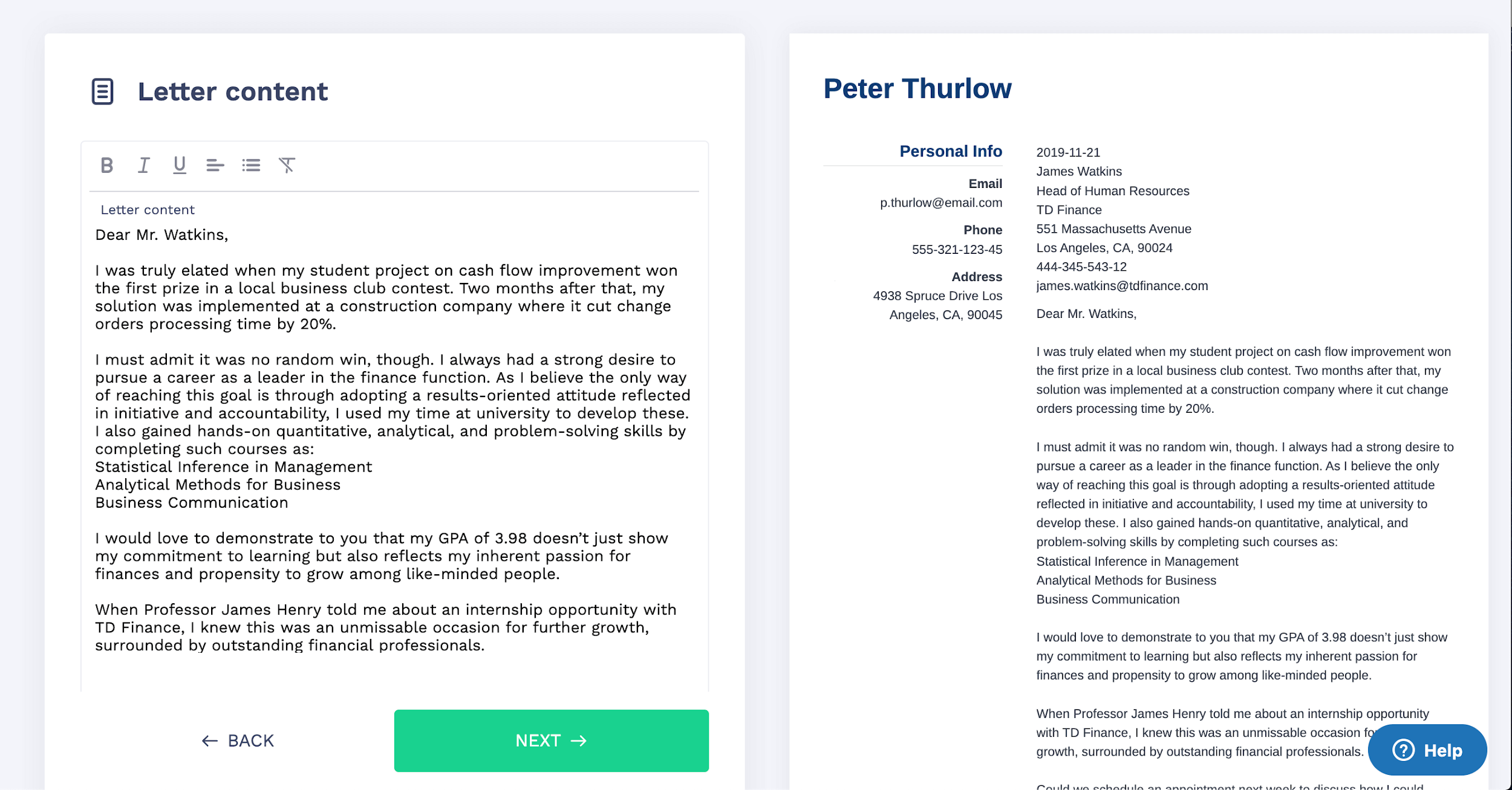 Key Points
Here's how to write a consultant CV:
Start with our consultant CV template up top. Add value from your best consulting career moments.
Include consultant skills like CRM or change management. Point out results you got with both.
Create a consulting CV summary at the top. It's your lift speech.
Add "other" CV sections to show you're the rockstar they need.
Complement your CV with a matching Consulting Cover Letter.

Got questions on how to write great CVs for consultant jobs? Not sure how to put consultant on a CV? Leave a comment. We'll be happy to reply!