Front Desk CV—Sample and 25 Tips (+Objective & Skills)
You make the company look good, meeting, greeting, and solving problems with efficiency and a smile. Prove your welcoming nature with your professional front desk CV.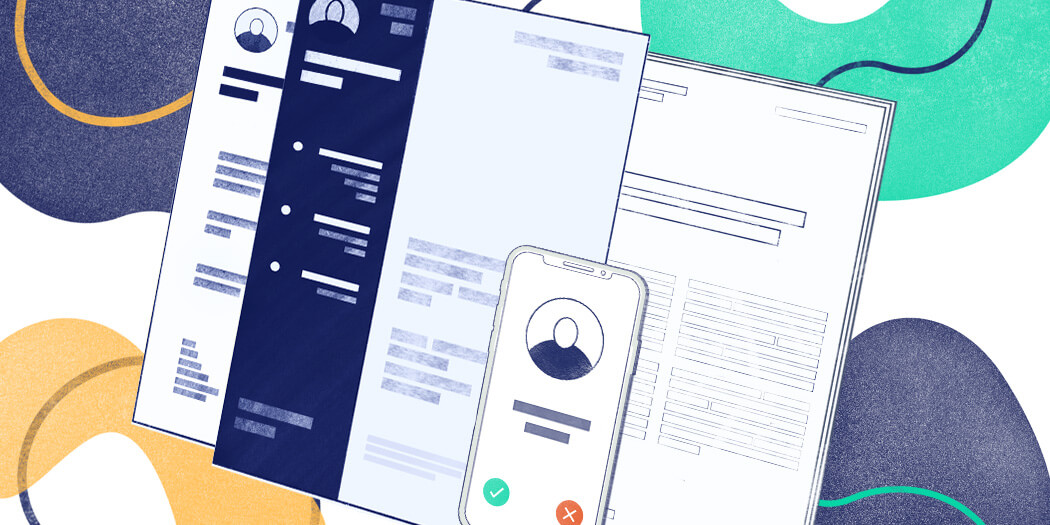 Here comes a flawless front desk CV sample.
But—
You're up against it.
You have to prove you're the best front desk receptionist out there. If you can't, why should they hire you over the other 50+ applicants?
Don't sweat it. We'll set you up with an easy format to show off past front desk achievements.
In this guide:
A front desk CV sample better than most.
How to write a front desk receptionist CV that checks you into "hired."
How to craft the right front desk job description for the role.
Why you can't just list front desk skills (and what to do instead).
Save hours of work and get a CV like this. Pick a template, fill it in. Quick and easy. Choose from 21 CV templates and download your CV now.
What users say about ResumeLab:
I had an interview yesterday and the first thing they said on the phone was: "Wow! I love your CV."
Patrick

I love the variety of templates. Good job guys, keep up the good work!
Dylan

My previous CV was really weak and I used to spend hours adjusting it in Word. Now, I can introduce any changes within minutes. Absolutely wonderful!
George
Do you need a special kind of front desk receptionist CV? See our guides:
Haven't found what you're looking for? Check all our CV examples for any job.
Front Desk CV Sample You Can Copy and Use
Isaac Diglio
Front Desk Clerk
Personal Info
Phone: 646-898-7895
Email: isaacdiglio@gmail.com
linkedin.com/in/isaacdiglio
twitter.com/isaacdiglio
Summary
Versatile front desk clerk with 2+ years of experience creating efficiencies in busy offices. Seeking to give excellent office support at Chelton Fencing, Inc. At Altreana, Inc., saved 20+ hours per week for staff and management by solving customer issues.
Typing Speeds
90 WPM with zero errors.
12,000 KPH 10-key typing speed with 98% accuracy.
Experience
Front Desk Clerk
Altreana, Inc., Newark NJ
2018–2020
Answered 100+ calls each week from customers. Answered 75+ questions weekly, escalating 25+ issues to supervisors.
Maintained documentation. Created new document filing system that saved an additional 10 hours per week for associates.
Performed light bookkeeping and billing. Created bills and maintained the automatic billing reminders system, lowering bad debts 20%.
Used MS Office to draught 5+ documents per week for associates and managers. Used online checking software to ensure zero error rate.
Scheduled 700+ appointments with customers.
Key Achievement:
Saved 20+ hours per week for managers and associates by solving low-level issues. Commended 3x by managers for efficiency.
Team Member
Red Lobster, Newark, NJ
2014–2018
Answered 25+ phone calls per day.
Greeted guests, receiving 98% customer service score from manager.
Gave answers to 50+ questions from guests daily.
Collaborated with management to solve customer problems.
Education
High School Diploma
East Side High School, Newark, NJ
2010–2014
Excelled in MS Office and typing classes.
Commended by 2 professors for interpersonal skills.
Additional Activities
Member, NAPR.
Facilitate 5 annual charity meal events serving 3,000+ diners.
Certified Front Desk Representative (CFDR).
Weekly jogging for self-care.
Hard Skills: data entry, scheduling systems, phone systems, bookkeeping
Soft Skills: interpersonal skills, communication, teamwork, efficiency, customer service
Here's how to write a front desk CV they'll remember:
1. Use a Clean Front Desk CV Format
Oh no!
Your CV formatting looks clunky. Now the GM thinks you'll seem that way to customers and guests.
Let's lock that out.
To write a hirable front desk hotel CV—
Use these pointers:
Front Desk CV Format
Make a 1-page CV.
Use a CV font like 11–14pt Goudie or Bell MT.
Add white space for comfortable reading.
Include one-inch margins.
Craft CV sections for Heading, Summary, Work History, Education, and Skills.
Use reverse-chronological CV order for your past jobs.
To look good on all platforms, submit a PDF CV.
2. Write a Front Desk CV Objective or Summary
Bad news:
The HR people will skim your CV in 6 seconds.
Unless—
You write an attractive career objective or career summary.
Include:
An adjective (versatile, efficient)
"Front desk clerk" (or title from the job ad)
Years of experience (2+, 5+)
How and who you'll help (give excellent support at Chelton Fencing)
Best front desk receptionist CV achievements(saved 20+ hours per week)
See these hotel front desk CV examples:
Front Desk CV Summary—Example
The Truth?
The last of those hotel front desk CV samples says you can solve problems and save time. But—
The first shows you saved 20+ hours per week.
To get hired, show, don't tell.
But what if your front desk experience is still out in the car park?
You can still look like Pam from The Office. See these entry-level CV samples for front desk jobs:
Front Desk CV Objective Example
Hold the phone.
Why should we believe the second of those entry-level front desk CV examples with no experience?
The numbers in the first are solid proof.
"But that applicant could be lying!"
If so, the employer will find out in the interview. Employers would rather interview a potential liar than a definite dud.
But don't lie. If you do and they catch you, you're toast.
3. Customise Your Front Desk Job Description and Skills Sections
What skills go in a front desk receptionist CV?
Check out this CV skills list:
Front Desk CV Skills
| | |
| --- | --- |
| Hard Skills | Soft Skills |
| Typing | Interpersonal Skills |
| Phone Systems | Communication |
| CRM Software | Teamwork |
| Writing Skills | Efficiency |
| Office Supply Management | Time Management |
| Building Customer Relationships | Problem Solving |
| MS Office | Organisation |
| | Attention to Detail |
| Multitasking | Customer Service |
| Data Entry | Cheerful Attitude |
But hang on—
Don't file them all in your CV for front desk jobs. That's sketchy.
Custom-fit your CV by adding CV keywords from the job ad.
These front desk receptionist CV samples show how:
Pretend the job wants skills in answering calls, filing, billing, and MS Office.
Front Desk Job Description for a CV [Sample]
Hmm.
The second of those front desk clerk CV examples says you held a front desk job.
The first shows you rocked it.
But—
What if your front desk experience isn't filed yet?
A no experience CV needs front desk wins from other work.
See these entry-level front desk CV examples with no experience. They're for a job that needs skills answering phones, greeting guests, and answering questions.
Entry-Level Hotel Front Desk CV Job Description [Sample]
Clever you.
You were a waiter, but you found front-desk achievements for your CV.
You answered phones, greeted guests, and answered questions.
Those are front desk receptionist CV skills!
But that second example—yeesh! That would only work to get another waiter job.
The ResumeLab builder is more than looks. Get specific content to boost your chances of getting the job. Add job descriptions, bullet points, and skills. Easy. Improve your CV in our CV builder now.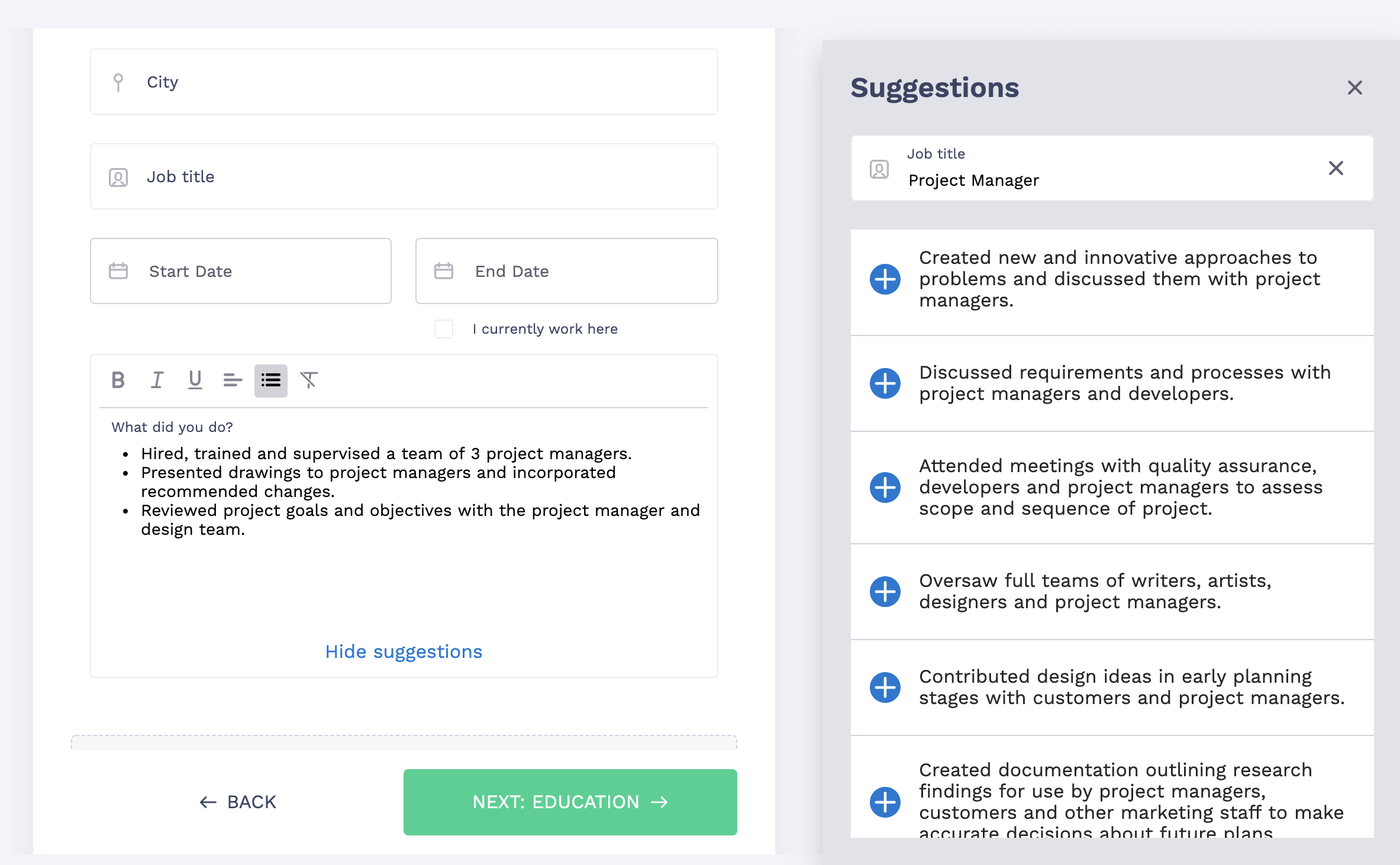 Nail it all with a splash of colour, choose a clean font, highlight your skills in just a few clicks. You're the perfect candidate and we'll prove it. Use the ResumeLab builder now.
4. Write an Inviting Education Section
For front desk jobs, does your CV education section matter?
Absolutely.
But—you only need a high-school education for most front desk positions.
The trick?
You have to show front office skills in it.
Follow this hotel front desk CV sample:
Front Desk CV Example—Education
See that?
You proved you can use MS Office and be nice to guests.
You're that much closer to a paycheck.
5. Add "Additional" Sections to Your Front Desk CV
"May I help you?"
The GM wants to know you're not a dud.
Show her—with additional sections in your front desk receptionist CV.
You can list:
Certifications (CFDR, CMAA, etc.)
Freelance work
Employee of the month awards
Foreign languages
Additional activities
Fitness
See these front desk CV examples:
Front Desk CV—Other Sections
Wow.
The first of those front desk receptionist CV samples packs bonus skills. I'd hire that guy in a heartbeat!
Expert Hint: Create a cover letter for your CV for front desk jobs. A cover letter should show why you love the company and role. It should also tease your best few front-desk accomplishments.
Double your impact with a matching CV and cover letter combo. Use our cover letter builder and make your application documents pop out.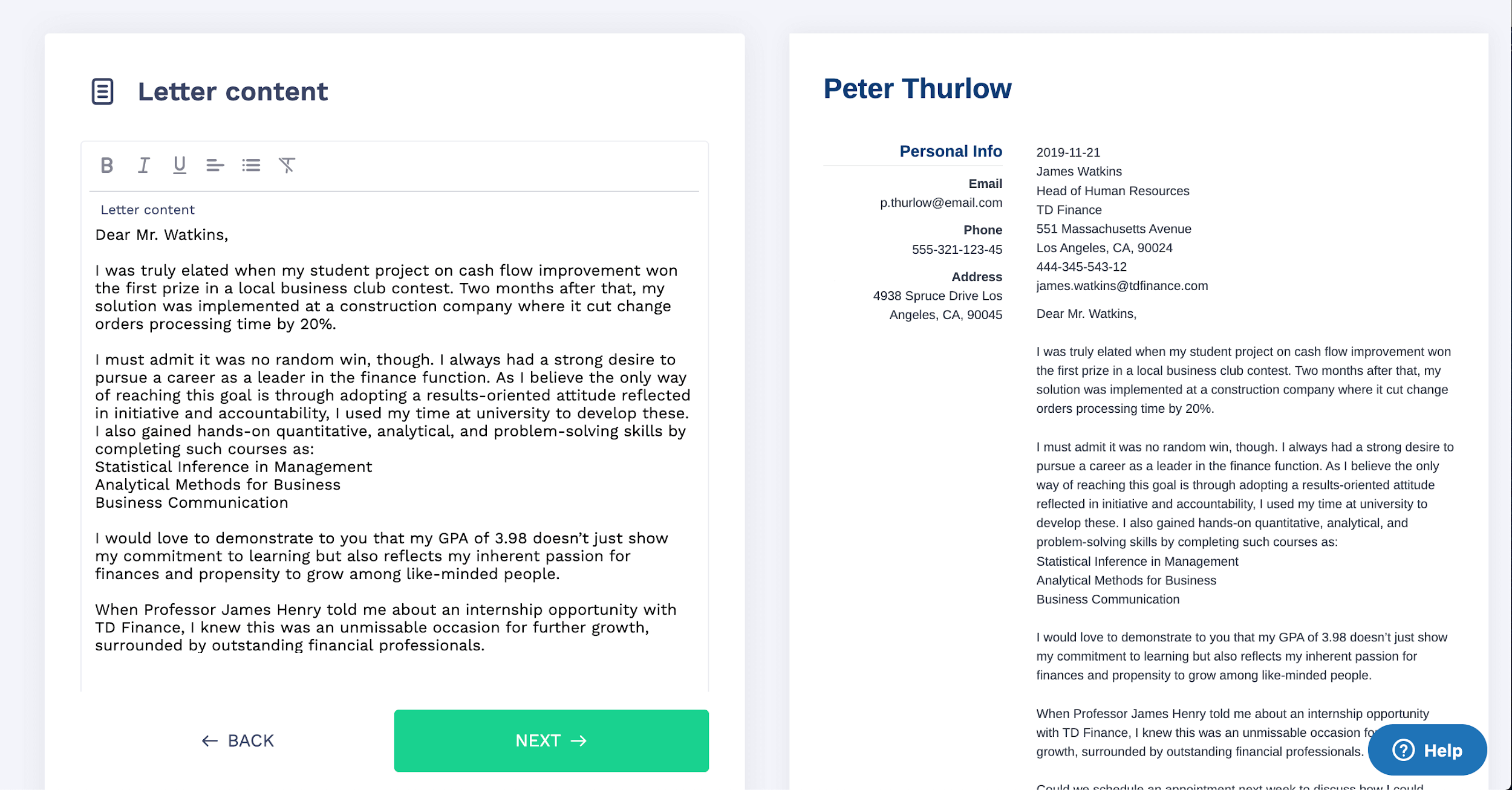 Want to try a different look? There's 18 more. A single click will give your document a total makeover. Pick a cover letter template here.
Key Points
Here's how to write a front desk CV:
Work from a good front desk CV template. Pack it with your top front desk achievements.
Add front desk skills like answering phones and scheduling. Include numbers to prove your skills had impact.
Write a hotel front desk CV objective to give a snapshot of your best features.
Add "additional" CV sections like an NAPR membership or your typing speeds to show you're not just desperate.
Got questions on how to write good CVs for front desk jobs? Not sure how to put front desk clerk duties on a CV? Leave a comment. We'll be happy to reply!