Technical Support CV—Example and 25+ Writing Tips
You're sending out tech support CVs, but there are no replies in your inbox? Have you tried turning it on and off again?
You have the knowledge, the skills, and you're a natural talker.
If you could just get them on the phone, you could surely talk yourself into that tech support specialist job.
Nobody's calling.
Your tech support CV is piling up somewhere with the others, like overdue user tickets after a Labour Day weekend.
Just like there are tricks to get immediately dealt with or escalated to management, there are CV tips and tricks that will escalate your CV to management.
There are also mistakes you can make that make sure your query never gets dealt with.
In this guide:
A tech support CV sample better than 9 out of 10.
The definitive guide on the CV format.
How to list your education, certifications, and skills.
Tricks that will allow you to write the best possible tech support job description.
First, let's open this attachment.
Save hours of work and get a CV like this. Pick a template, fill it in. Quick and easy. Choose from 21 CV templates and download your CV now.
What users say about ResumeLab:
I had an interview yesterday and the first thing they said on the phone was: "Wow! I love your CV."
Patrick

I love the variety of templates. Good job guys, keep up the good work!
Dylan

My previous CV was really weak and I used to spend hours adjusting it in Word. Now, I can introduce any changes within minutes. Absolutely wonderful!
George
Technical Support CV Sample You Can Make Your Own
Lillie M. Brown
Technical Support
Personal Info
4058 Green Street
Nashville, TN 37201
390-042-0092
lillie@brown.com
linkedin.com/lbrown
Summary:
Meticulous IT support technician with 3+ years of experience in providing Tier 2 technical support. Regularly handled 200+ tickets per week, and solved 98.5% of issues without seeking the help of Tier 3 support. Commended 3 times for best monthly ticket response times in a team of 60 support techs. Seeking to apply dynamic skills to a position as Tier 3 tech support at XWare Inc.
Experience
IT Support Technician (Tier 2)
GloWare
10.2018–10.2020
Regularly handled 200+ user tickets per week, solving 98.5% of issues without T3 assistance.
Commended 3 times for best monthly ticket response times in a team of 60.
Gained recognition 2 times by DevTeam for precise case documentation allowing for better and faster fixes.
Assisted T1 technical support with tickets outside their scope of responsibility.
Trained and onboarded 12 new T1 and T2 tech supports.
IT Support Technician (Tier 1)
GloWare
10.2017–0.2018
Handled 150+ T1 tickets per week.
Suggested 8 improvements to common problem scripts.
Maintained a client satisfaction rate of 99%.
Education
BS in Computer Science
Chicago University
GPA: 3.8
2014–2018
Certifications
CompTIA A+
ITIL Foundation
MCSA: Windows 10
HDI Customer Service Representative
Languages
Spanish – Conversational
French – Conversational
Key Skills
Logical Thinking
Active Communication
Active Listening
Customer Service Skills
Interpersonal Skills
Problem-Solving
Creative Thinking
Jira Service Desk
TOPdesk
Windows 10
Considering other paths? See our dedicated CV guides:
Haven't found what you're looking for? Check all our CV examples for over 200 jobs.
Ready to start troubleshooting?
1. Troubleshoot Your Tech Support CV Format
Everything is easier with a clear script, right? When you are guided through, step by step, it is easier to get cooperative. You literally have seconds of the recruiter's attention. Don't waste it by making someone wonder what made you use that font.
Here's the script for your CV format:
Tech Support CV Format
Get your headset plugged in.
2. Write a FAQ: The Tech Support CV Summary or Objective
In technical support, and recruitment alike, certain questions get asked very frequently. Having a short and concise answer is key to an effective outcome. In your CV profile, you should answer a few questions in one sentence each:
Start with a power adjective that describes you, job title, years of experience, and Tier.
In the next sentence, describe your relevant experience using numbers and accomplishments, using CV keywords from the job ad for reference.
Follow that up with one super-achievement.
Refer to the employer in the last sentence, to show that you're seeking a tech support position at that specific company.
This is how you write a CV summary statement.
Tech Support CV Summary—Example
The first one says I'm optimised for maximum performance, while the bad example says don't bother scanning the rest.
And what if your experience is scarce and you need an entry level CV or maybe you're writing a career change CV?
OK.
Instead of a summary, write a CV objective statement. In it, talk up your skills and achievements as they relate to tech support.
Tech Support CV Objective—Example
Expert Hint: How to write a CV profile? It is best to do this once you have completed the other sections of your technical support CV, especially your job description.
3. Write Faultless Tech Support Job Description and Skills Sections
Move on to your CV job description.
You may think it is hard to stand out amongst other tech supports. Most tech support CVs will not quantify the impact of their work. They don't know how many tickets they deal with, and what their average response times and satisfaction rates are.
Don't worry if your metrics aren't super good. Just knowing them shows you care about your performance at work. Try to build up to 6 bullet points that are varied and relevant to your next position.
Check out this job description from one of our tech support CV samples:
Technical Support Job Description for a CV
Once you have your metrics and achievements, don't then flood them with a list of empty statements about being calm on the phone. If you want to list some soft skills, do so in your CV skills section. This can be especially useful if you are writing a first CV with no experience.
Tech Support Skills for CV
IT Service Management (ITSM) Software (e.g., TOPdesk, ServiceNow, Spiceworks, Jira Service Desk, SolarWinds Service Desk, CA Service Desk Manager)
Information Technology Infrastructure Library (ITIL)
Up To Date on Technological Understanding
Knowledge of Product or Service Offered
Technical Skills & Savviness
Project Management Skills
Troubleshooting Skills
Customer Service Skills
Attention to Detail
Friendliness
Energetic & Enthusiastic
Compassionate & Empathetic
Verbal & Written Communication Skills
Organisational Skills
Time Management Skills
Teamwork Skills
Collaboration
Critical Thinking
Interpersonal Skills
Decision Making
Detail Oriented
Dependability
Communication
Problem Solving
Perceptiveness
Self Motivated
Expert Hint: Struggling on what to include in your CV? The CompTIA A+ certification is the gold standard for establishing a career in IT, and provides baseline skills for IT support staff.
The ResumeLab builder is more than looks. Get specific content to boost your chances of getting the job. Add job descriptions, bullet points, and skills. Easy. Improve your CV in our CV builder now.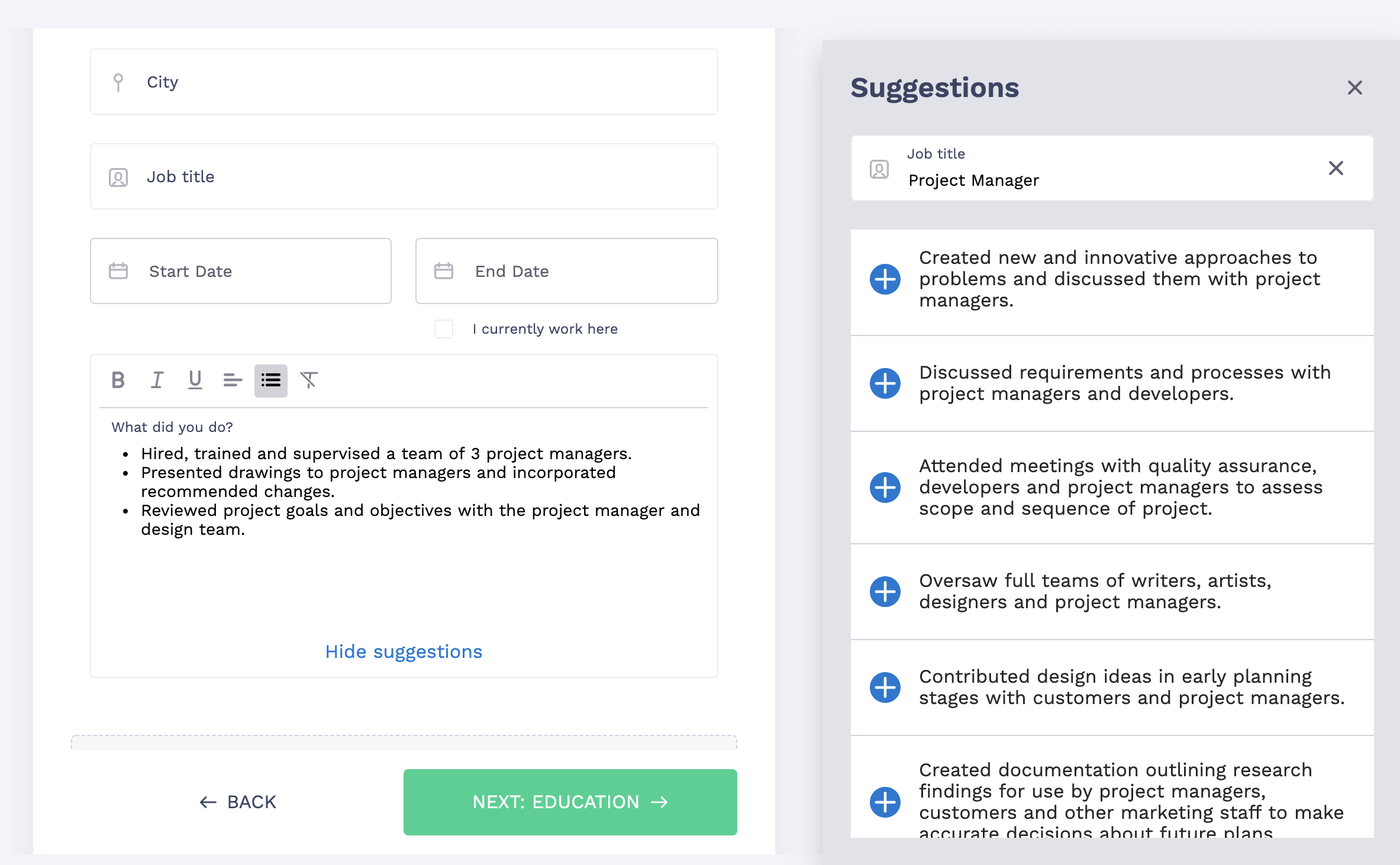 Nail it all with a splash of colour, choose a clean font, highlight your skills in just a few clicks. You're the perfect candidate and we'll prove it. Use the ResumeLab builder now.
4. Make Your Education Section a Reason To Hire You
Tech support attracts people from all walks of life. Some get in through their education, others on their knowledge, others—who knows how they get through? If you have a bachelor's degree, you should display it appropriately and make it another reason to get hired.
If you have substantial experience and are a Tier 3 support already, feel free to only list your school, degree name, and graduation date. If you're just starting out, list your GPA, and beef up this section with relevant coursework or Achievements sections.
Here's how to list education on your CV:
Technical Support Engineer CV Sample—Education
Expert Hint: A good LinkedIn profile can go a very long way. If someone goes to that extent to find out more about you, make sure you reward them with something interesting, so they reward you with that job. Check out our LinkedIn career advice.
5. Escalate Your Tech Support CV With Added Sections
To keep things clean and easy to navigate, you may want to break up all the additional information, such as your CompTIAs, your JIRA skills, and your French proficiency into different sections. Your list of certifications on a CV should come first.
You can also add other bonus CV sections:
Awards
Additional Activities
Foreign Languages
Skills—if you haven't included them as part of your other sections
Just see how different these two tech support CV examples are:
Technical Support Specialist CV Example—Extra Sections
And just like that, you should be ready to put that headset on, once you've written a cover letter, that is. It won't take you more than 15 minutes or so, but will help to make your CV stand out. Also, about 50% of all hiring managers expect one.
Expert Hint: Got the technical know-how, but not good on the phone? Update your confidence with a HDI Customer Representative certification, and expand your certifications section.
Double your impact with a matching CV and cover letter combo. Use our cover letter builder and make your application documents pop out.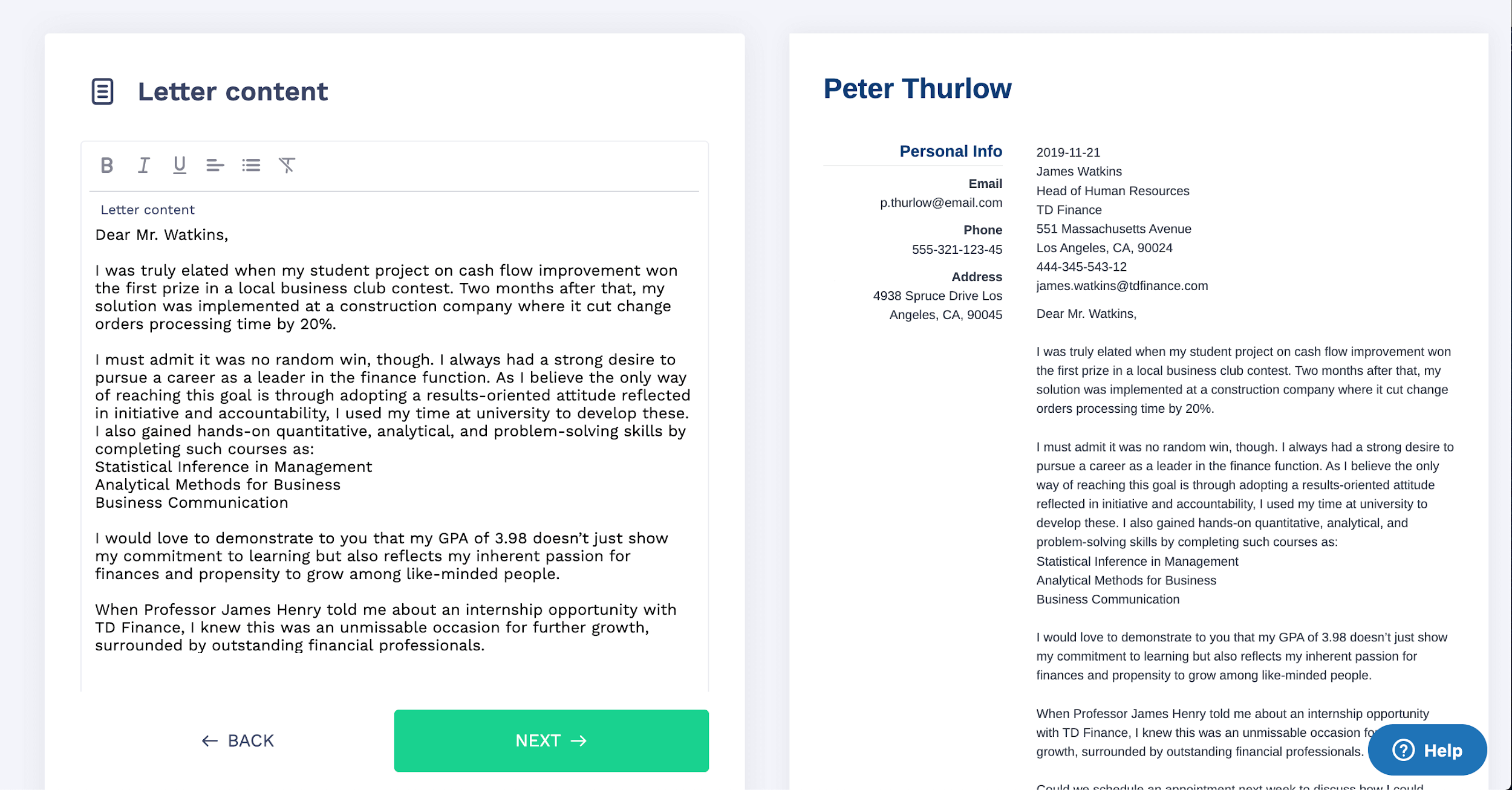 Want to try a different look? There's 18 more. A single click will give your document a total makeover. Pick a cover letter template here.
Key Points
Before you send off your technical support specialist CV:
Check your CV format—margins, fonts, 1 page, reverse chronological.
Begin by reworking our tech support CV sample.
Stud your tech support job description with achievements and numbers regarding your performance.
Add your certifications, skills and other bonus sections to round off.
Write a tech support cover letter. You can get started with this IT cover letter example and, if you want to highlight your excellent customer service skills, check out also this customer service rep cover letter guide.
Got questions on how to write a great CV for tech support jobs? Did we help you get your tech support CV right? Leave a comment. We'll be happy to reply.