Technical Writer CV—Sample and 25+ Writing Tips
You have the natural ability to translate technical mumbo-jumbo into understandable instructions. Convince some clients with this technical writer CV.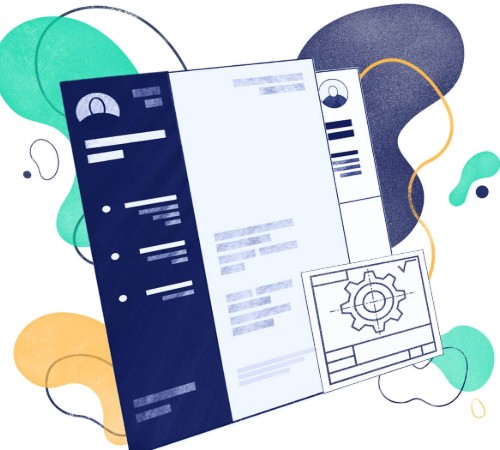 Whether you are adept at explaining the intricacies of cryptocurrencies to Joe Average—
Or you are particularly good at documenting the operation of a toaster—
Those skills will be for nothing if your technical writer CV ends up in a pile of others, or worse, the trash.
Writing a CV is a sales and marketing exercise even if all your skills are technical.
So, we are here to help.
In this guide:
A technical writer CV sample that gets traffic.
The appropriate CV format.
How to get the most out of your technical writer job description.
See a technical writer CV example.
Save hours of work and get a CV like this. Pick a template, fill it in. Quick and easy. Choose from 21 CV templates and download your CV now.
What users say about ResumeLab:
I had an interview yesterday and the first thing they said on the phone was: "Wow! I love your CV."
Patrick

I love the variety of templates. Good job guys, keep up the good work!
Dylan

My previous CV was really weak and I used to spend hours adjusting it in Word. Now, I can introduce any changes within minutes. Absolutely wonderful!
George
Technical Writer CV Sample You Can Use
Tony A. Reiner
Technical Writer
Personal Info
283 Sussex Court
Cooper Cove, TX 76566
254-394-1817
tony@reiner.com
linkedin.com/reiner
tonyreiner.com/portfolio
Summary:
Incisive technical writer with 5+ years of experience in writing technical documentation and core material for a company in the engineering industry. Regularly collaborated with 80+ engineering experts to collate best practises and scale them to all projects. Managed to reduce customer and subcontractor queries and problems for one product by 47% after introducing new documentation. The redesign of core company material in 2017 was cited as one of the reasons for the growth of efficiency and turnover in the 2017 annual company report. Seeking to leverage proven qualifications at Opto-Metrix.
Experience
Technical Writer
engineeric.
Jan 2016– Feb 2020
Authored 1500+ pages of technical documentation and core company material in the engineering industry.
Regularly worked with 80+ engineering experts to collate best practises and scale them to all projects.
Introduced new documentation for a flagship product in 2016 that reduced queries and problems from client and subcontractors by 47%.
The redesign of core company material in 2017, which I authored, was cited as one of the reasons for the growth of efficiency and turnover in the 2017 company report.
Managed the documentation system using Adobe InDesign, Photoshop, SnagIt, Help+Manual, SharePoint and WikiTools.
Freelance Writer
TechNews
2015–2016
Authored 75+ articles on tech news, the tech sector, and engineering.
Learned SEO practises allowing 17 texts to reach the No1 spot on Google.
Clients
Engineeric.
TechNews
Lenovo
LG
Business Insider
Education
BS in Creative Writing
Houston University
GPA: 3.8
2014–2018
Key Skills
Interpersonal Skills
Critical Thinking
Active Listening
Time Management
InDesign
Photoshop
SnagIt
Help+Manual
WikiTools
Scrivener
Looking at other positions you'll need CVs for? See our guides:
Haven't found what you're looking for? Check all our CV samples.
1. Prepare Your Technical Writer CV Format
I am not going to be the one to tell a writer how to write. After years of writing content and documentation, you know how to make text look professional. You may not have had to send a CV in a long time, however, so here's a refresher on the right CV layout.
Here's what's usually done with the CV format:
Technical Writer CV Format
Got your pad ready?
2. Write a Convincing CV Summary or Objective
If you were a product you had to document, which specifications would you list? Years of experience, most impressive things you have done and can do, and your suitability for the task. Remember to be concise here. At this stage, you are only convincing them to read your portfolio. Don't bore them.
Collate a CV profile that summarises reasons why they should read your portfolio.
Answer these questions with one sentence each:
Start with an powerful CV adjective, then your job title, years of experience and type of work you've done or the industry.
Spell out your CV accomplishments in numbers.
Personalise the CV in the last sentence by mentioning the company.
Technical Writer CV Summary—Example
That will construct a cohesive CV summary statement.
What if you've got the right qualifications but no experience? A CV objective statement will do the trick when writing your entry-level CV for technical writer jobs.
Technical Writer CV Objective—Example
Expert Hint: How to write a CV profile? It is best to do this once you have completed the other sections of your technical writer CV, especially your job description.
3. Write a Concrete Technical Writer Job Description and Skills Section
There are several facts of reality to grapple with when writing the job description on your tech writer CV. When companies look for writers, they seldom look for someone who can phrase it just right, and use just the right words to paint the vision the company had. I mean, that would be cute, but—
More often, they look for someone who can churn out a certain quantity of content in a certain field. Demonstrate your ability to deal with volume by estimating your contributions to your clients. Refer to examples and previous work that matches the profile of your new employer.
Remember that before they hire you, they will surely read your work. Don't describe work past the necessary generalisations, and focus on the measurable effects it had. Words have power. No one knows that better than you, so start each bullet with a CV power word.
Write your work experience section like one of our technical writer CV samples below.
However—
Before you get carried away, be sure to scan the job ad for skills and competencies you possess. These will be your CV keywords that you should deftly interweave throughout your CV.
Technical Writer Job Description
Next, write a CV skills section. List your skills also mentioned in the job ad first. This will further tailor your CV to the specific job, which is also super important when hiring managers run it through CV ATS software. When doing this, though, try not to be overzealous and list required skills you don't have. Lying on a CV can backfire like Columbo's '55 Peugeot.
Technical Writer Skills for CV
Soft Skills
Attention to Detail
Friendliness
Verbal & Written Communication Skills
Organisational Skills
Time Management Skills
Teamwork Skills
Collaboration
Critical Thinking
Interpersonal Skills
Decision Making
Dependability
Communication
Problem Solving
Perceptiveness
Self Motivated
Hard Skills
Research
Subject Matter Expert Collaboration
Understanding the audience
Visual Communication
InDesign
Photoshop
SnagIt
Help+Manual
WikiTools
Scrivener
Expert Hint: Did you take four months off to help rebuild tornado-hit neighbourhoods in Tennessee? When it comes to explaining employment gaps on a CV, it's simply best to do it. Otherwise, there's no way of telling what your prospective employer imagines you were doing.
Double your impact with a matching CV and cover letter combo. Use our cover letter builder and make your application documents pop out.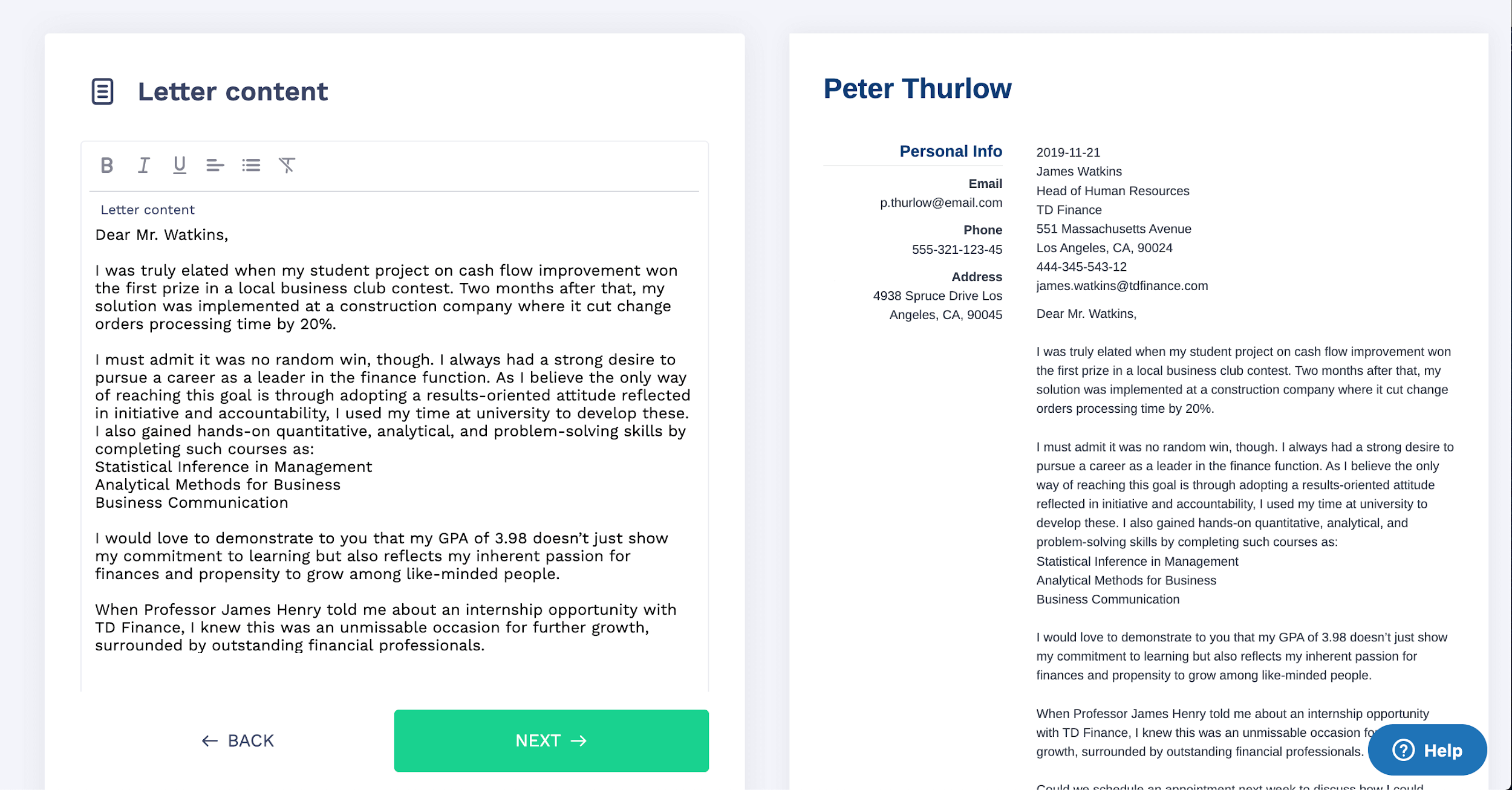 Want to try a different look? There's 18 more. A single click will give your document a total makeover. Pick a cover letter template here.
4. Don't Let Your Education Section Sabotage You
Reading one paragraph of your copy can tell someone more about what kind of writer you are than a whole stack of your diplomas. That's the truth, unfortunately. Keep it brief, listing your degree name, school, and graduation date. Only list your GPA if you graduated within the last couple of years.
If there's a specific topic area or prerequisite degree requirement for the assignment you're applying to, feel free to expand with a relevant coursework section.
This is enough to list degrees on your CV:
Senior Technical Writer CV Sample—Education
Expert Hint: A good LinkedIn profile can go a very long way. If someone goes to that extent to find out more about you, make sure you reward them with something interesting, so they reward you with that job. Check out our LinkedIn career advice examples.
5. Bolster Your Technical Writer CV With Added Sections
This is the part most CV writers go crazy with. They do extremely well up to here, plugging in their achievements and numbers into job descriptions, get to the bottom of the page and start discussing photography and their penchant for dog walking.
I don't need to tell a technical mind that only what's relevant should have the privilege of gracing your bonus CV sections.
Split them up like this for clarity:
Awards
Foreign Languages
Skills—if you haven't included them as part of your other sections
Compare these two examples:
Technical Writer CV Example—Extra Sections
I hope your fountain pen is filled up.
One last thing you'll need to write—a cover letter to include with your technical writer CV. Nearly half of all hiring teams out there expect so see one, and the ones who don't, will be pleasantly surprised to get one from you.
Expert Hint: If you don't have your own website, you can host a low-cost portfolio on Squarespace, Carbonmade, or Journo Portfolio. All are high-functionality fully customizable options that professionals all over the globe use.
Double your impact with a matching CV and cover letter combo. Use our cover letter builder and make your application documents pop out.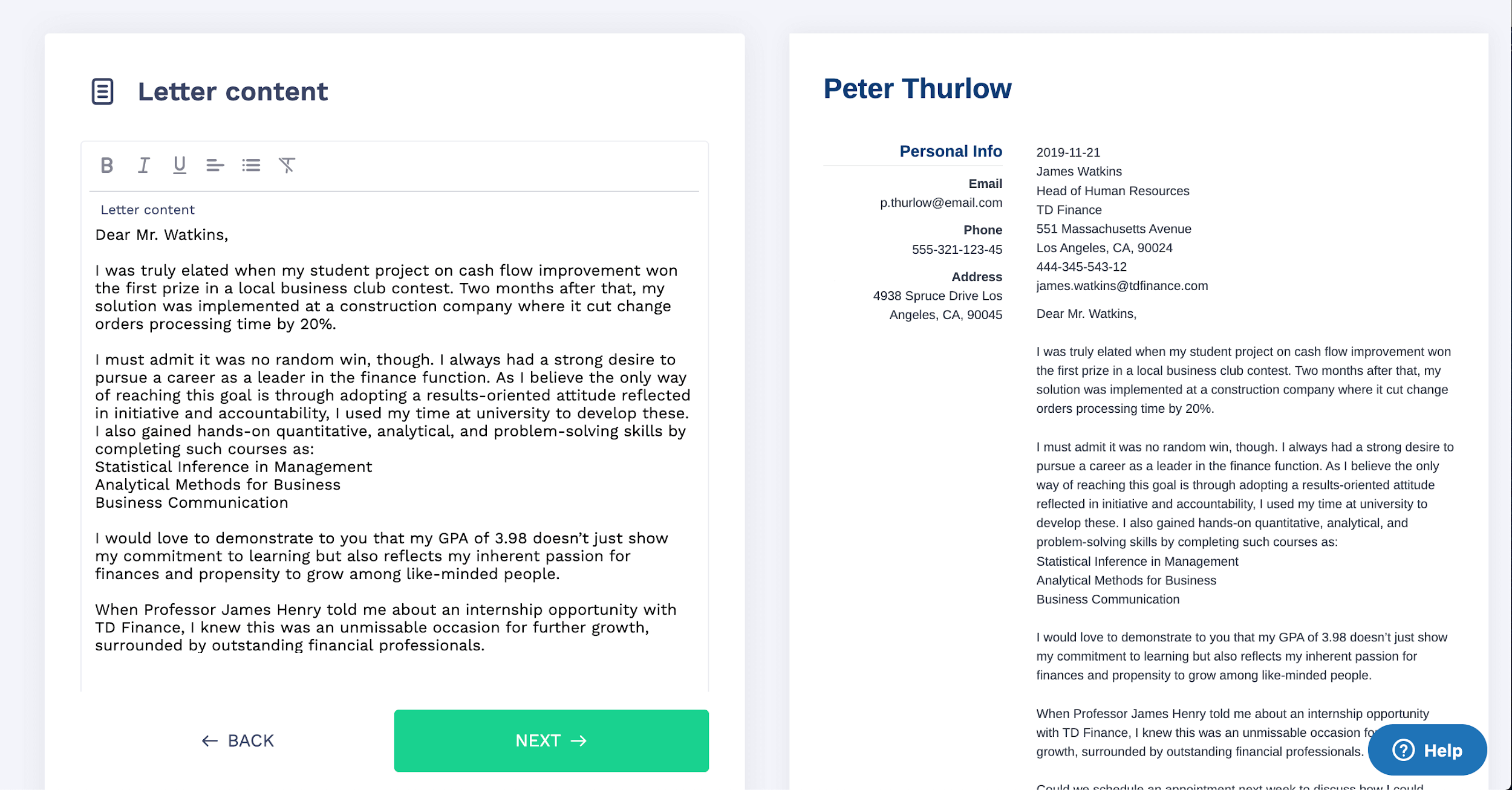 Want to try a different look? There's 18 more. A single click will give your document a total makeover. Pick a cover letter template here.
Key Points
Proofread your technical writer CV and check again the:
CV format—margins, fonts, 1 page, reverse chronological.
Achievement-laden technical writer job description. Enough numbers?
Bonus sections should separate your certifications, skills and other additional info.
Portfolio or website—is there a link in your CV?
Technical writer cover letter.
Got questions on how to write a great CV for technical writer jobs? Did we help you get your technical writer CV right? Leave a comment. We'll be happy to reply.