Data Scientist CV Sample—Examples and 25+ Writing Tips
Write a job-winning data science CV with the help of our handy guide. See pitch-perfect data scientist CV sample, get examples and expert tips!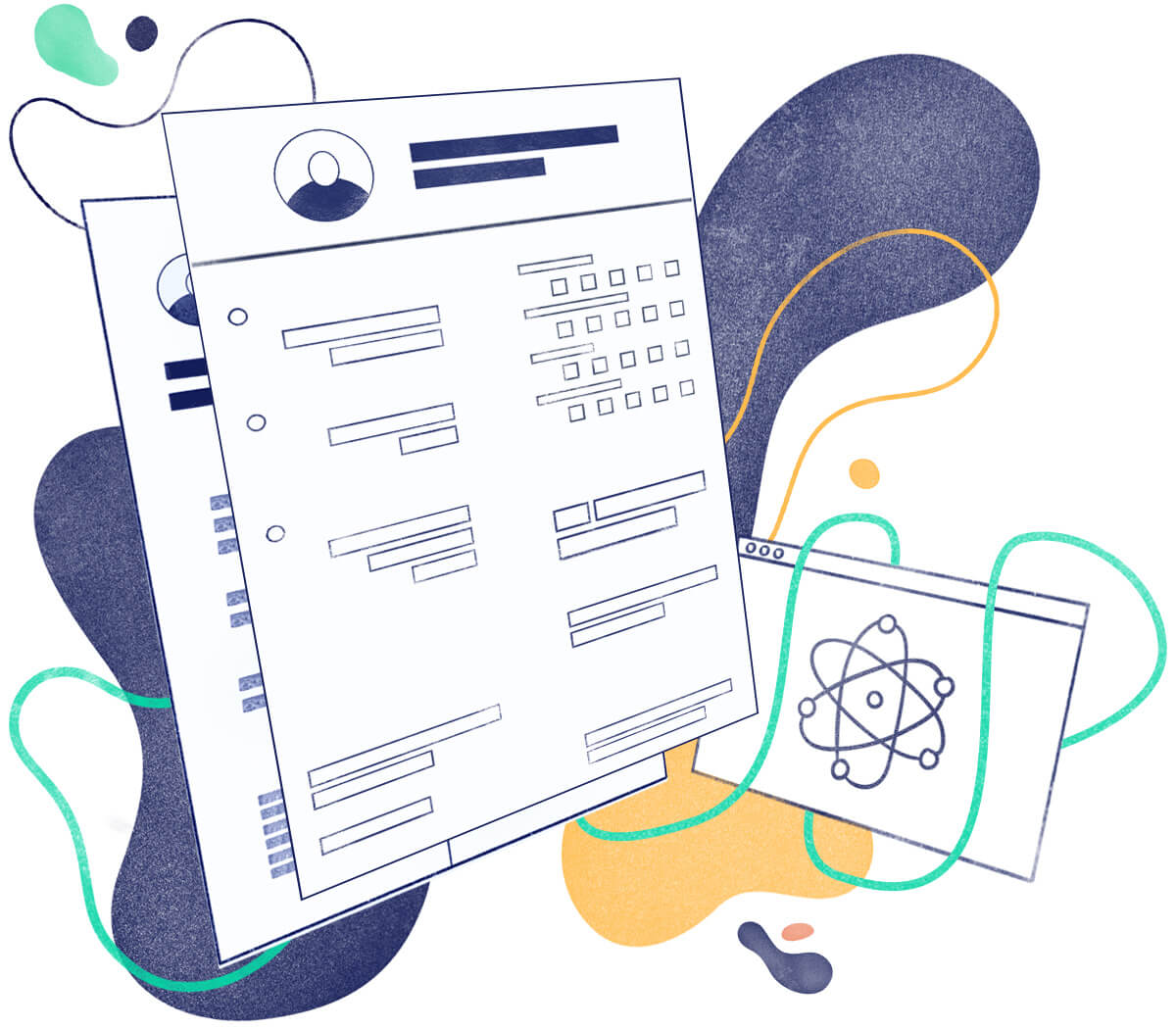 IBM forecast suggests that the amount of all the knowledge in the world will double every 12 hours in 2023. That's why data scientists are in high demand today. Someone has to process all that data after all!
If you're a data scientist, getting a job will be easy.
But you don't want just any job.
You want one with exciting projects, great company culture, amazing benefits, and a sky-high salary.
To land *this* job, your data science CV needs to be perfect: show that you're a true data wizard, able to interrogate dark data hard enough to get all the precious answers.
Give us 7 minutes and you'll learn how to write a CV like that.
This guide will show you:
A sample data scientist CV better than most.
How to ace your data scientist job description on a CV.
How to write a CV for data science jobs that gets the interview.
Why picking the right few data scientist qualifications is the #1 key to get hired.
Save hours of work and get a CV like this. Pick a template, fill it in. Quick and easy. Choose from 21 CV templates and download your CV now.
What users say about ResumeLab:
I had an interview yesterday and the first thing they said on the phone was: "Wow! I love your CV."
Patrick

I love the variety of templates. Good job guys, keep up the good work!
Dylan

My previous CV was really weak and I used to spend hours adjusting it in Word. Now, I can introduce any changes within minutes. Absolutely wonderful!
George
Targeting a different job? See our guides:
Haven't found what you're looking for? Check all our professional CV examples.
To begin with, see this example of a good data science CV:
Data Scientist CV Sample You Can Copy, Adjust, and Use
Anne Lounsberry
Data Scientist, Microsoft Certified
523-299-0012
anne.c.lounsberry@gmail.com
linkedin.com/in/annelounsbery12
github.com/annecarollounsberry
Summary
Microsoft Certified Data Scientist with 10+ years of experience in Python, R, Java, and Scala. Applied data mining to analyse ABC Inc. procurement processes demonstrating potential savings of £420,000 a year. Seeking to leverage my data visualisation and big data modelling skills to help increase XYZ's investment returns in the upcoming year.
Experience

Senior Data Scientist
ACB Inc.
Los Angeles, CA
2013–2019
Developed end-to-end machine learning prototypes and scaled them to run in production environments. Increased efficiency by 23%.
Contributed meaningful improvements to existing machine learning models through carefully directed research.
Derived actionable insights from massive data sets with minimal support.
Provided input into the collection of new data sources and the refinement of existing ones to improve analysis and model development.
Key achievement: Applied data mining to analyse procurement processes resulting in savings of £420,000 a year.
Machine Learning Specialist
AnyCompany
San Diego, CA
2008–2013
Collaborated with all team members to optimise Customer Relationship Management database for a high-volume real estate firm.
Increased repeat business among real estate investors by 25%.
Decreased wasted phone and email time by 57%.
Build a machine-learning-based system of matching clients with tailored investment opportunities. Increased customer retention by 30%.
Junior Data Analyst
Capgemini
San Diego, CA
2005–2008
Consulted and worked with development teams to determine, execute and deliver relevant solutions.
Analysed old information architectures and contributed to the design and development of the new one.
Provided information, feedback and guidance to clients to support technology-related decision making.
Education
MSc in Statistics
UCLA, Los Angeles, CA
2005

Key Skills
Technical Skills: Machine Learning, Data Visualisation, Big Data, Data Mining
Programming Languages: Python, R, Java, Scala, PERL
Soft Skills: Problem-Solving, Active Learning, Risk Analysis
Certifications
2014, Google Certified Professional Data Engineer
2008, Microsoft Professional Program Certificate in Data Science
Let's see a breakdown of what makes this data science CV so great! Plus, you'll see actionable, step-by-step tips to write an equally stunning one yourself.
1. Use a Professional Data Science CV Template
As a data scientist, you extract meaning and value from vast sets of complex data.
Think about your CV the same way: extract value for your employers.
The first step? Use a clear, legible data scientist CV template.
Pick a visually appealing CV template, a free Google Docs CV template or a free MS Word CV Template.
Divide your CV into following sections:
Data Science CV Template
Contact Information
Summary or Objective
Experience
Education
Skills
Additional Sections
And keep in mind some basic CV formatting rules:
Data Science CV Format
Use an elegant CV font.
Go for single or 1.15 line spacing.
Set single-inch margins on all sides.
Make section headings larger and in bold.
List your experience in reverse-chronological order.
Be generous on white space to avoid that feel of "drowning in data."
Make your CV as long as it needs to be. Having a more-than-one-page CV is okay. Skipping important bits about your career isn't.
Expert Hint: Save your professional big data CV in PDF to keep the formatting intact. But before you send it—double-check with the job ad if PDFs are accepted. Some employers use oldschool ATSs and will allow DOC/DOCX files only.
2. Write a Sparkling Data Scientist CV Summary or Objective
At the top of your CV, put a carefully crafted CV profile: summary or objective. This is a paragraph of 40–60 words explaining why you're the perfect candidate for this job.
Think of it as an lift pitch—a trailer for the rest of your job application.
Got years of relevant data science experience? Pick a CV summary. Showcase your most spectacular accomplishments.
Starting out on your data science career? On an entry-level CV, go for a junior data scientist CV objective. Outline what you've learned so far and show how well you'd fit in.
Whichever one is right for you, remember about the key thing—
Make it about them, not you. Show how your experience and knowledge can translate into their success.
Make an offer.
See what I mean:
Data Scientist CV Sample: Summary
The difference is clear, right?
Good example is specific, detailed, and focused on how the candidate will help the employer.
Bad example, in turn? All about "me, myself, and I."
Expert Hint: Although this section comes at the top of your CV, write it last. First, outline your experience, skills, education, and achievements. Then, pick the most impressive bits and fit them into a short-and-sweet summary.
Now, have a look at these two very different data engineer CV objectives for entry-level data science jobs.
Entry-Level Data Scientist CV Sample: Objective
See this? "I've learned so much already and I know what you need."
This one's actually not awful. But it gives too little proof the candidate can actually do the job.
3. Create Data Science Job Descriptions That Stand Out
Remember Chandler Bing from Friends?
He was an IT procurements manager specialising in "statistical analysis and data reconfiguration"—in a way, a nineties' equivalent of a data scientist.
The problem? His job was so complex and incomprehensible that even his closest friends didn't know what he did exactly for a living. (Honestly—how many of your friends really understand your job title?)
There's a lesson to be learned from Chandler. And it applies to your data science CV, too.
If you're applying directly via email to the company you want to join, your CV will most likely reach someone familiar with your niche. But—
If you're submitting your job application via job boards or online forms, before the hiring manager sees your CV, external recruiters will scan it. Some of them are not tech-savvy enough to understand highly technical descriptions of sophisticated data science projects.
So—
Don't outline every task you handled.
To make it easier for them, in your data scientist CV job descriptions focus on the impact your actions had.
The ResumeLab builder is more than looks. Get specific content to boost your chances of getting the job. Add job descriptions, bullet points, and skills. Easy. Improve your CV in our CV builder now.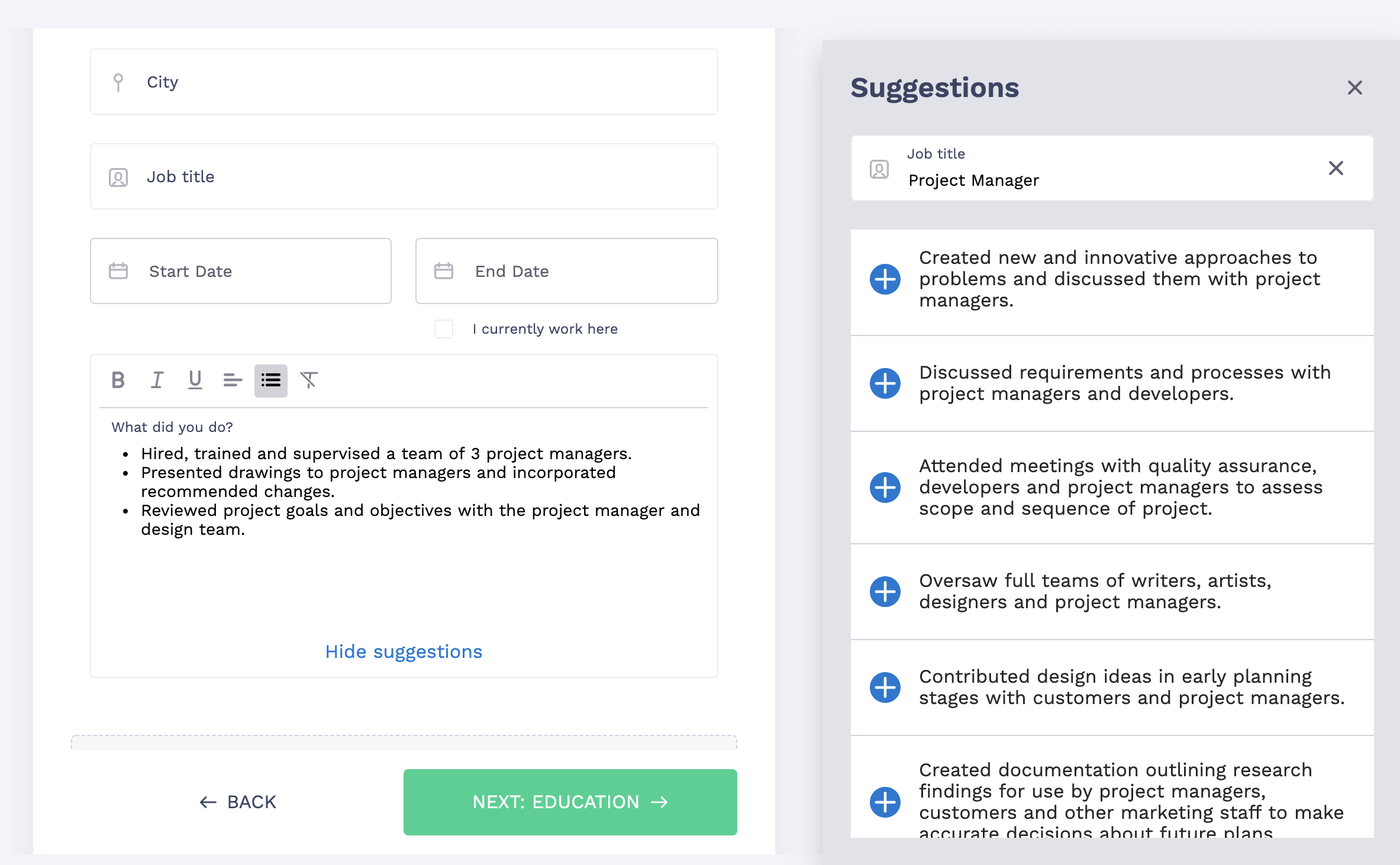 Nail it all with a splash of colour, choose a clean font, highlight your skills in just a few clicks. You're the perfect candidate and we'll prove it. Use the ResumeLab builder now.
How to List Experience on a Data Science/Data Modelling CV
Read the job ad carefully.
Jot down CV keywords related to the most important responsibilities and duties.
Use those keywords: tailor your CV to the job description.
Don't just list data science tasks. Focus on your achievements.
Active verbs are best: "developed" not "responsible for development."
Use numbers whenever you can.
See what I mean:
Big Data CV Sample: Job Description
See that? The bottom line is: "I know how to make processess smoother and save company money."
Cool. So you dig data. But that's already in your job title. What about the actual outcome of your work, huh?
And what if you've done a lot of freelancing and have had little full-time contracted experience? Add the "Projects" section below your regular Work Experience.
How to List Projects on a Data Science CV?
Describe what you've done for a client, what technology you used, and what results you produced.
If you're at the beginning of your career and have few projects to choose from, you can include academic projects you had to do for class.
If you've posted your code on Github, add a link to your Github profile in the contact information section.
Expert Hint: If you're struggling for ideas for good python projects for a CV, browse data science reddit threads. You'll find tonnes of inspiration there!
How to Plug Data Science Skills to Your CV?
First of all, do not use generic skills lists. Instead:
Start with a master list of your data science skill set. Enter all your professional skills, both technical and "soft."
Read the job ad carefully and look for skill-related keywords. Mark them.
How many of the skills expected match those on your master list? Quite a few, right? Presto, that's your data science CV skills section.
For reference, see the table below:
Data Scientist Qualifications for a CV
Data Science Skills for a CV

| | |
| --- | --- |
| Technical "hard" skills | Transferable "soft" skills |
| Programming and Software Engineering (include languages you're proficient in) | Communication (Translating the Tech Language) |
| Machine Learning, Deep Learning, AI | Active Learning |
| Data Visualisation | Problem-Solving |
| Linear Algebra | Critical Thinking |
| Data Wrangling | Judgement |
| Data Intuition | Perceptiveness |
| Statistics | Risk Analysis |
| Probability | Inquisitiveness |
| Modelling | Business Intuition |
| Quantitative Analysis | Collaboration |
4. Turn Boring Education into a Reason to Hire You
Good news:
For experienced data science professionals, putting education on a CV is easy. Include only the highest level of your education.
How to Put Education on a Data Science CV
List:
Degree type
Major
Minors (if applicable)
School name
Graduation date
And that'll do.
That said—
On entry level data science CVs, education should make up for the lack of work experience.
If you're writing a junior data scientist CV, elaborate bit more on your university years. Consider including:
Relevant coursework
Favourite fields of study
Academic achievements
Extracurricular activities
Expert Hint: Don't include your GPA unless it's higher than 3.5. Also, if you have more than a year of work experience in your field, skip the GPA altogether.
Entry-Level Data Scientist CV Sample: Education
Wow, who is this? The future Marissa Mayer?!
That won't be enough to grab recruiters' attention. Next please.
5. Spice Up Your Data Modelling CV With These Extra Sections
Nightmare time.
The hiring manager is reading your CV. She starts to think you're worth a shot. Whoops. She just changed her mind.
Your CV is in the trash.
What happened?!
She didn't quite believe the qualifications on your data science CV. There was not enough verifiable proof.
Want to avoid that bad dream? Include extra CV sections that showcase your unquestionable wins. Provide tangible evidence for your expertise. Check out some ideas:
Extra Sections to Add to a Data Science CV
Conferences
Publications
Blogging
Hackathons participation
Expert Hint: If you have an official certification, add it to your contact details, next to your job title, e.g. Data Scientist, Microsoft Certified.
Double your impact with a matching CV and cover letter combo. Use our cover letter builder and make your application documents pop out.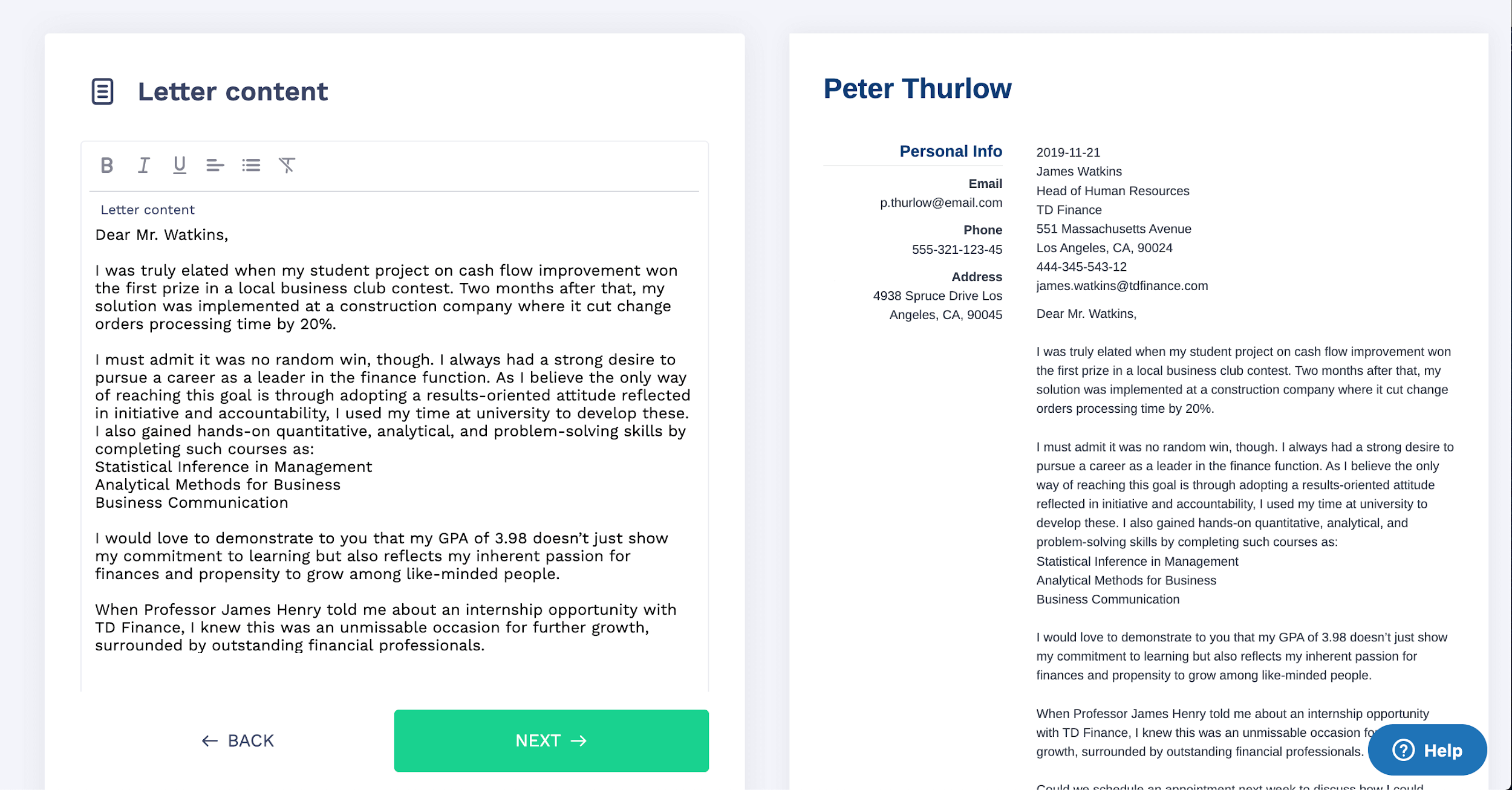 Want to try a different look? There's 18 more. A single click will give your document a total makeover. Pick a cover letter template here.
Key Points
For a data scientist CV that gets the best jobs:
Put a summary of your data science qualifications at the top of your CV.
When describing your data science experience, focus on the results of your actions, don't get overly technical.
Focus on showcasing skills relevant to the specific position you're targeting.
List your certifications, conferences, awards, and other accomplishments that put you in front of other candidates.
Questions? Concerns? Doubts? Drop me a line in the comments, I'll do my best to help!