SQL Developer CV—Sample and 25+ Writing Tips
Aren't you lucky that the world realised that data is worth more than its weight in gold? Let's get you an SQL developer job before the ice caps melt with this CV sample.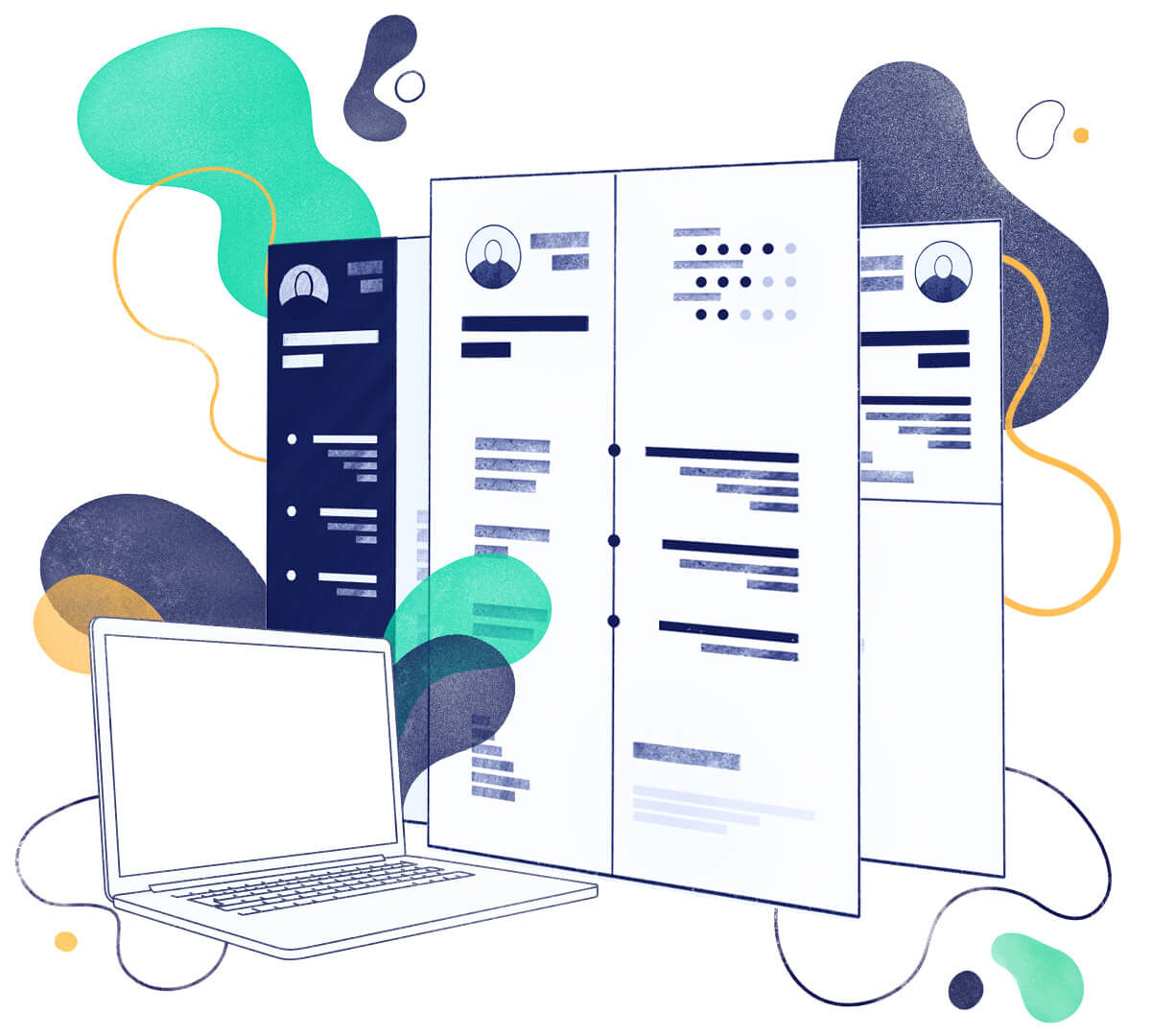 You query, script, and automate in your sleep. During the day, it takes three cups of coffee to start. Once you get going, there is no stopping you.
You are an oracle amongst men (and women).
Let's write an SQL developer CV that will get you working at full potential. Or at least for a lot of money.
In this guide:
A SQL developer CV sample that gets interviews
Tips for writing an entry level SQL developer CV.
Expert hints to tweak your CV profile and job description.
First, let's see our best SQL developer CV sample. Alright, let me try my best at pulling it up:
SELECT MAX(interview_rate)
FROM sql_developer_CV
WHERE ResumeLab;
Watch out, you might have one more competitor.
Save hours of work and get a CV like this. Pick a template, fill it in. Quick and easy. Choose from 21 CV templates and download your CV now.
What users say about ResumeLab:
I had an interview yesterday and the first thing they said on the phone was: "Wow! I love your CV."
Patrick

I love the variety of templates. Good job guys, keep up the good work!
Dylan

My previous CV was really weak and I used to spend hours adjusting it in Word. Now, I can introduce any changes within minutes. Absolutely wonderful!
George
Looking for similar CV examples for technical positions? See:
Haven't found what you're looking for? Check all our CV Samples.
SQL Developer CV Sample You Can Copy and Use
Caroline M. Kohn
SQL Developer
Personal Info
3896 Oakmound Road
Westchester, IL 60154
carol@kohn.com
linkedin.com/carolkohn
Summary:
OCA and MCSE certified SQL developer with 4+ years of practical in-house and contracting experience. At P&G, migrated and managed a group of 17 in-house databases which are integrated into apps, algorithms and forecasting tools, totaling over 75 million records on 150+ different products. Developed 27 SSRS reports using SSRS 2016 for use in APIs, apps, and printed files. Saved 7% of data entry budget by integrating a language-specific OCR tool.
Experience
SQL Developer
P&G
2017–2020
Migrated (from SQL 2012) and managed a group of 17 company SQL 2016 databases with over 75 million records.
Constantly working in a multidisciplinary team of 28 analysts, business analysts, developers, data scientists and BI professionals.
Developed 27 SSRS reports in SSRS 2016 as opposed to 2008 R2, allowing for better integration with modern APIs, and apps, and saving approx. 25-40 hours weekly across the team.
Developed 100+ SQL scripts and automations to implement improvements and tools suggested by the multidisciplinary team.
Saved 7% of the data entry budget (£140k/pa) by integrating a new, language-specific OCR tool.
SQL Developer
Freelance
2015–2017
Gathered experience of understanding business requirements for 25+ different clients across different industries, and creating SQL procedures, scripts and automations for different needs.
Migrated 10+ databases from Oracle and Access to SQL Server 2016.
Worked pro-bono with a local chain of greengrocers to help them mend their annual losses of £75k and be back in the clear in 2017. Now, Al's Greengrocers has three new locations and is operating profitably.
Education
BS in Computer Science
Chicago University
GPA: 3.8
2012–2016
Certifications
MCSE Data Management and Analytics
MCSA: SQL 2016 Database Administration
MCSA: SQL 2016 Database Development
MCSA: BI Reporting
Oracle Database 12c Administrator Certified Associate
Oracle Database Administrator Certified Professional
Languages
Key Skills
Oracle
PL/SQL
Migration to SQL Server
SSRS Reporting
Automation
Let's start optimising your own SQL Developer CV:
1. FORMAT(Your SQL Developer CV)
If the job you are applying to was a database, and your CV was SQL, then your CV format is the syntax. If you mess up the syntax, nothing is going to come back to your query.
Here's how to get it right:
SQL Developer CV Format
Alright, we're pre-configured.
Expert Hint: According to MarketsAndMarkets, the global big data market will grow from £138.9bn in 2020 to £229.4bn in 2025. Pack your SQL Developer CV with action words to beat the competition.
2. INSERT(SQL Developer CV Summary)
The manager reading your CV should not have to compose a complicated query to get the most important info. It should be right there, available in your CV profile. Your CV, unlike your databases, should not contain any useless or irrelevant data.
There are different ways of starting your CV, and generally most are a summary, or an objective. How to decide which one is for you?
SELECT IF(your_experience>0, "CV Summary", "CV Objective");
There is a chance that I got that wrong, so in human terms: use a CV summary if you have some real experience to talk about.
SQL Developer CV Summary
What to do if you're writing an entry-level SQL developer CV?
Highlight your experience and strong achievements (from school, university, or private projects) and set out your ambitions in a CV objective. Display passion and aptitude for the work by describing interesting projects you took on. Don't have any that you did? Maybe it's time.
Junior SQL Developer CV Objective
The difference is obvious. To get your SQL developer CV profile right:
Use power adjectives that are relevant to an SQL developer, like organised, detail-oriented.
If you are certified or in university for it, refer to yourself as SQL developer—even if you haven't worked as one just yet.
Explain what you bring to the (relational) table for your new employer.
Describe your performance in terms of achievements and numbers.
Expert Hint: A good LinkedIn profile can go a very long way. If someone goes to that extent to find out more about you, make sure you reward them with something interesting, so they reward you with that job. Check out our LinkedIn career advice.
3. CREATE an SQL Developer Job Description That Will Match Their Queries
Hey, did you know someone will be running queries on your SQL CV? Applicant Tracking Systems (ATS) automatically query CVs for keywords. For this reason, your CV must match their desired profile, instead of focusing on what you think was interesting.
Tailor your CV and focus on the things they described in the job posting. Do it in all CV sections, including your work experience section.
Check out this job description from one of our SQL developer CV examples:
SQL Developer Job Description for a CV
Do you know what treatment the bad example is getting? Can you guess?
Of course!
DELETE FROM Hiring Manager's Desk WHERE Applicant='You';
What if you're composing an entry-level CV with no experience?
Focus on above-and-beyond coursework, interesting private projects, and other transferable skills that correspond with what the employer is looking for.
Remember to add a CV skills section, too. Again, stick to the job ad, but use these SQL developer skills for reference:
SQL Developer Skills for CV
Soft Skills
Collaboration
Critical Thinking
Interpersonal Skills
Decision Making
Detail Oriented
Dependability
Communication
Problem Solving
Perceptiveness
Self Motivated
Hard Skills
API Integration
Common Table Expressions
SSRS
SSIS Development
T-SQL
Business Intelligence
Database Architecture
PL/SQL
Indexing
Reporting
Oracle
Set Theory
ETL
Cyber Security
Query Analyzer
The ResumeLab builder is more than looks. Get specific content to boost your chances of getting the job. Add job descriptions, bullet points, and skills. Easy. Improve your CV in our CV builder now.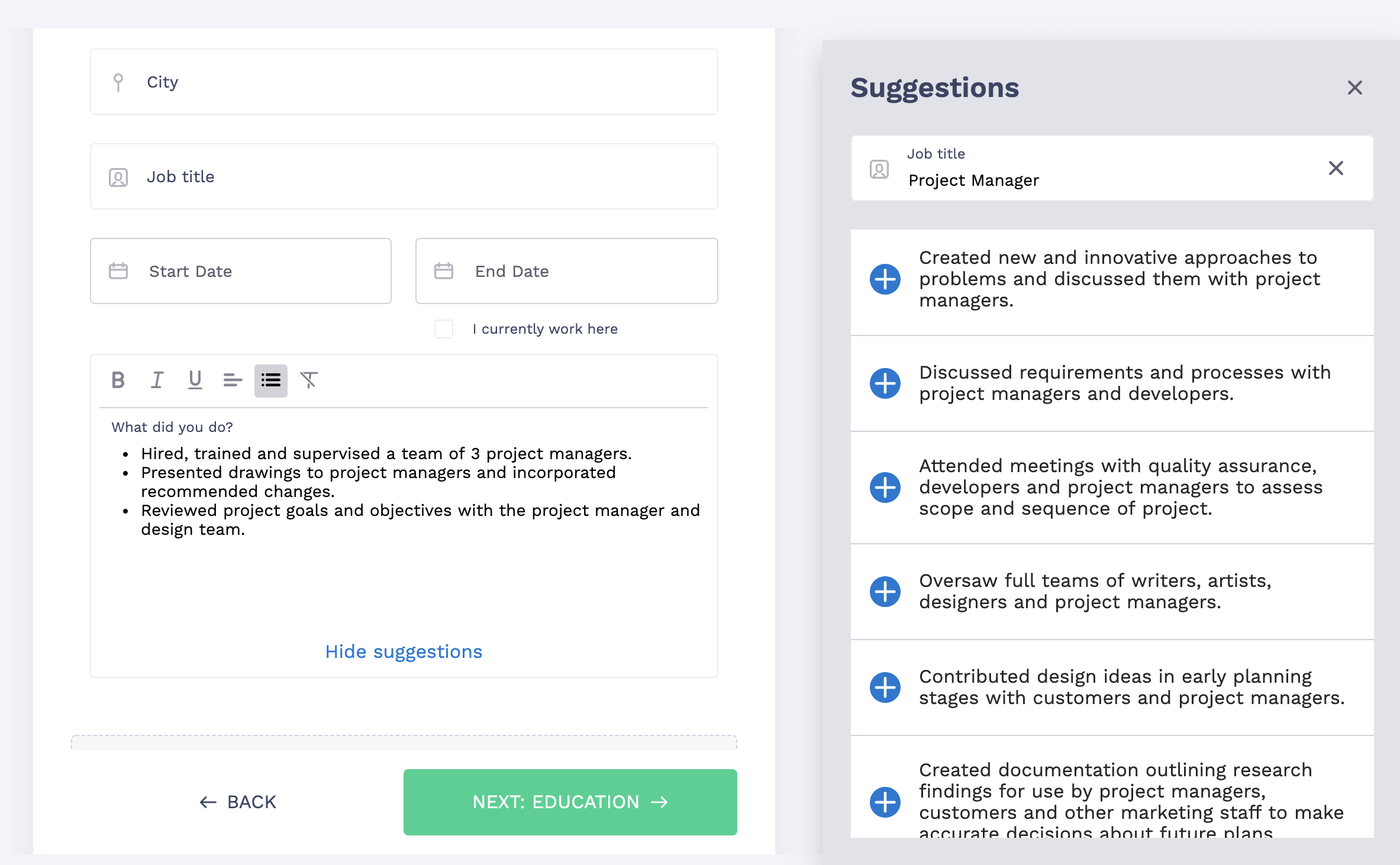 Nail it all with a splash of colour, choose a clean font, highlight your skills in just a few clicks. You're the perfect candidate and we'll prove it. Use the ResumeLab builder now.
4. ADD an Optimised Education Section
Yes, we both know how IT hiring managers look at formal education. With differing levels of indifference. You aren't a real developer until you...INSERT random statement here. Let's see how to capitalise on having the best education section for your purpose.
If you have real professional experience, keep it short and sweet: school name, degree name, graduation date. GPA optional. If you have scarce experience, bold out some bullet points with achievements and relevant coursework, like in the example below:
Entry-Level SQL Developer CV Sample—Education
Expert Hint: Certifications are a sure-fire way to up the chances of your SQL developer CV getting queried back. Microsoft SQL Server database certifications crop up more often as requirements in job offers, according to Business News Daily, but Oracle and IBM certifications are also important to many. Make sure you check out our guide to putting certifications on a CV once you have them.
5. Inject Your SQL Developer CV With Added Sections
In the IT world, the certifications section should most definitely be the first bonus CV sections you add. If you have space, consider others, too:
Additional Activities
Foreign Languages
Skills—if you haven't included them as part of your other sections
Just see how different these two SQL developer CV examples are:
SQL Developer CV Example—Extra Sections
Prioritise. The certifications are by far the most important here. With other things, ask yourself—is it relevant?If it's not adding another argument for you getting hired—it's not.
And… you're done! You've created a perfect CV!
One more thing. Attach a cover letter to your SQL developer CV. Around half of the managers still expect to get one.
Double your impact with a matching CV and cover letter combo. Use our cover letter builder and make your application documents pop out.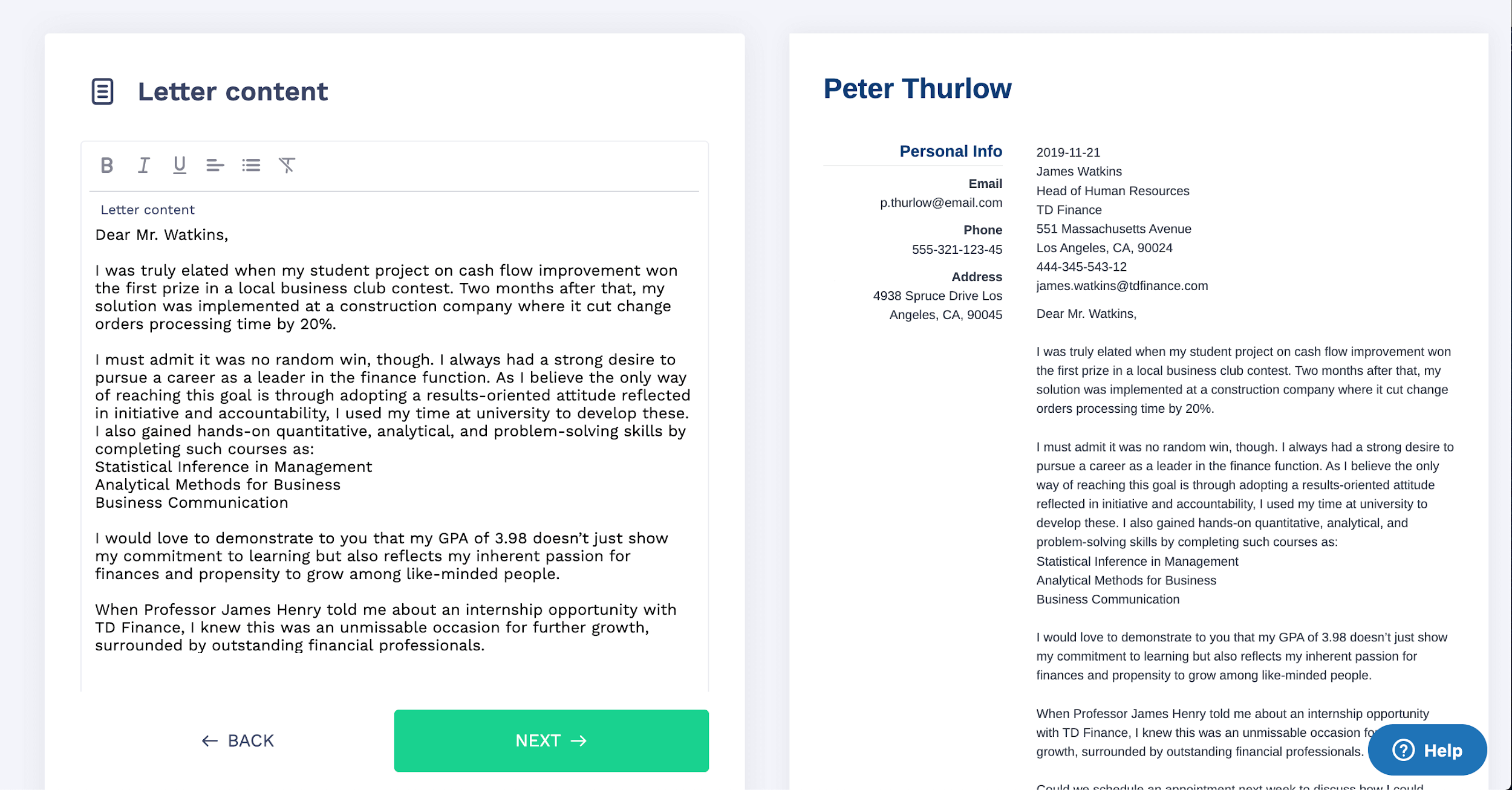 Want to try a different look? There's 18 more. A single click will give your document a total makeover. Pick a cover letter template here.
Key Points
Before you send off your SQL developer CV:
FORMAT(Your CV)—margins, fonts, 1 page, reverse chronological.
UPDATE our SQL developer CV sample with your own information.
Inject your SQL developer job description with achievements and numbers regarding your performance.
List your certifications, and other bonus sections if you have space left.
Send an SQL developer cover letter.
Got questions on how to write a great CV for SQL developer jobs? Did we help you get your PL / SQL developer CV right? Leave a comment. We'll be happy to reply.