Front-End Developer CV—Examples and 25+ Writing Tips
You make websites work like Dan Abramov, but how will the HR team at that great unicorn know it? Prove your skills with this responsive front-end developer CV sample.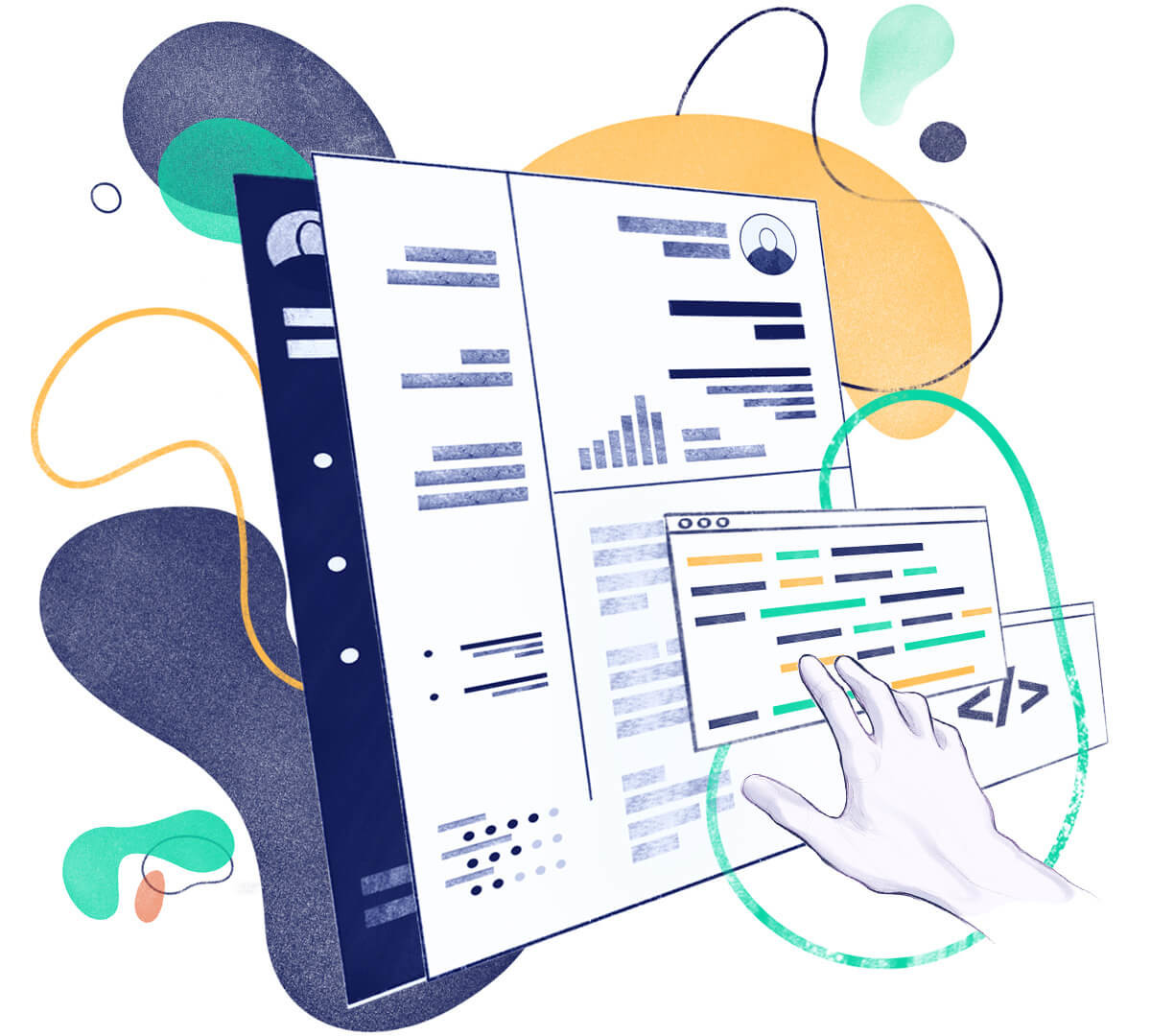 Most employers will trash your CV.
That's because it won't have the specific things they're looking for.
The good news?
You're about to see how to be that 1-in-300 they're looking for.
In this guide:
Save hours of work and get a CV like this. Pick a template, fill it in. Quick and easy. Choose from 21 CV templates and download your CV now.
Create a job-winning CV with little effort. Hack your way through ATS software with our 18 beautiful templates—give our builder a try!

Create my CV now
What users say about Resumelab:
I had an interview yesterday and the first thing they said on the phone was: "Wow! I love your CV."
Patrick

I love the variety of templates. Good job guys, keep up the good work!
Dylan

My previous CV was really weak and I used to spend hours adjusting it in Word. Now, I can introduce any changes within minutes. Absolutely wonderful!
George
Want to check out other IT CVs? See our guides:
Haven't found what you're looking for? Check all our CV Examples for Over 200 Jobs.
Front-End Developer CV Sample You Can Copy and Use
Owen Lawlor
Front-End Developer
Personal Info
Phone: 817-729-6920
E-mail: owenzlawlor@gmail.com
Portfolio: owenlawlor.com
linkedin.com/in/owenzlawlor
stackoverflow.com/users/owenzlawlor
twitter.com/owenzlawlor
Summary
Energetic front-end developer with 6+ years of experience. Seeking to exceed OKRs at YouTube. At Tempgamut, raised dwell times 35% through better JavaScript development. Mentored 5 front-end developers to a 22% boost in KPIs. Received CSS Design Award, 2018.
Experience
Front-End Developer
Tempgamut, Inc.
2015–2019
Managed front-end development of client sites. Used HTML5, CSS3, and JavaScript to develop UX that raised dwell time 35%.
Collaborated with back-end developers to identify and remove user impediments to purchase. Result: 20% rise in conversions.
On-boarded and mentored 5 new front-end developers through regular coaching sessions and work reviews. Improved KPI attainment 22%.
Used CSS3 and Photoshop to boost UX scores 28%.
Developed front-end code for 25 product prototypes per year.
Front-End Developer
Firestratos Dev
2013–2015
Performed front-end development for all client projects.
Used Photoshop and Illustrator to create artwork for 90+ client pages.
Wrote 250+ JavaScript components for client websites, contributing to 97% positive client satisfaction scores on front-end work.
Freelance Front-End Developer
Various
2010–2013
Used JavaScript to develop patient intake web form for veterinary office.
Wrote web app to sell wooden carvings with HTML, CSS, and JavaScript.
Used Joomla to develop donations website for local animal shelter.
Wireframed 3 small business websites with Axure, with 99% client satisfaction.
Education
BS Computer Science, Baylor University
2008–2012
Maintained 3.9 GPA in front-end design classes.
Pursued a passion for prototyping with JavaScript.
Created a student jQuery project that was written up in Codrops.
Contributed to 25 GitHub projects (see portfolio at owenlawlor.com).
Award
Awarded CSS Design Award for client site, 2018
Conferences
Covalence 2018—Led session on JavaScript
Midwest PHP 2017
Portfolio: www.owenlawlor.com
Additional Activities
Gave talk on XHTML at ByteHacks in NY, 2018. The YouTube video of the event now has over 50,000 views and 20,000 likes.
Founded and run the Fort Worthiness WebDev club with 35 members.
Organise monthly Fort Worth front-end developer meetups.
My article on version control best practises was linked to by Sitepoint.
Hard Skills: Photoshop, Illustrator, HTML5, CSS3, JavaScript, XHTML
Soft Skills: interpersonal skills, collaboration, communication, problem solving
Here's how to write a front-end developer CV that works:
1. Choose the Right Front-End Developer CV Format
It's not fair.
Employers judge you by your looks. Your clothes.
They even judge your CV format.
But take heart.
You can use these tips to even up the odds:
Front-End Developer CV Format
Expert Hint:Save your CV as a PDF file. Why? ATS software can read PDF CVs, and PDFs deploy great on mobile, desktop, and tablet screens.
2. Write a Front-End Developer CV Objective or Summary
Here's the good news:
Most front end developer CVs blow it in the first few seconds.
They don't add a CV profile (in the form of a CV objective or CV summary) that grabs the hiring team.
Do it right, and you'll look like Mark Dalgleish designed your CV.
Use:
An adjective (energetic, prolific)
The words "front-end developer"
Years of experience (3+, 8+)
How you'll help — and whom (exceed OKRs at YouTube)
Your coolest front-end developer achievements (...raised dwell times 35%...)
These front-end developer CV examples write the code:
Front-End Developer CV Summary—Example
The choice is clear.
Stack your summary with details like years, company names, skills, and numbers.
But—
What if your experience is still loading?
In a front-end developer CV with no experience, cite projects and freelance work.
Front-End Developer Objective—CV with No Experience
Expert Hint: Save your front end developer CV summary or objective for last. Otherwise you may not think of goodies like "22% boost in KPIs."
3. Write an Irresistible Front-End Developer Job Description and Skills Section
Here's the hard truth.
If you're not getting hired, you're probably not saying the right things.
But—
How can you know what those are?
It's simple.
They're in the online job posting.
Watch how these front-end developer CV examples do it:
The job ad wants these front-end developer skills: (1) JavaScript (2) collaboration (3) mentoring (4) Photoshop (5) prototyping.
Front-End Developer Job Description for CV [Sample]
Wow, right?
Both of those front-end developer CV examples show skills.
But—
The first one shows the right skills, with proof.
Now let's try it with an entry-level CV job description:
The job ad wants these front-end developer skills: (1) JavaScript (2) HTML & CSS (3) Joomla (4) wireframing.
The ResumeLab builder is more than looks. Get specific content to boost your chances of getting the job. Add job descriptions, bullet points, and skills. Easy. Improve your CV in our CV builder now.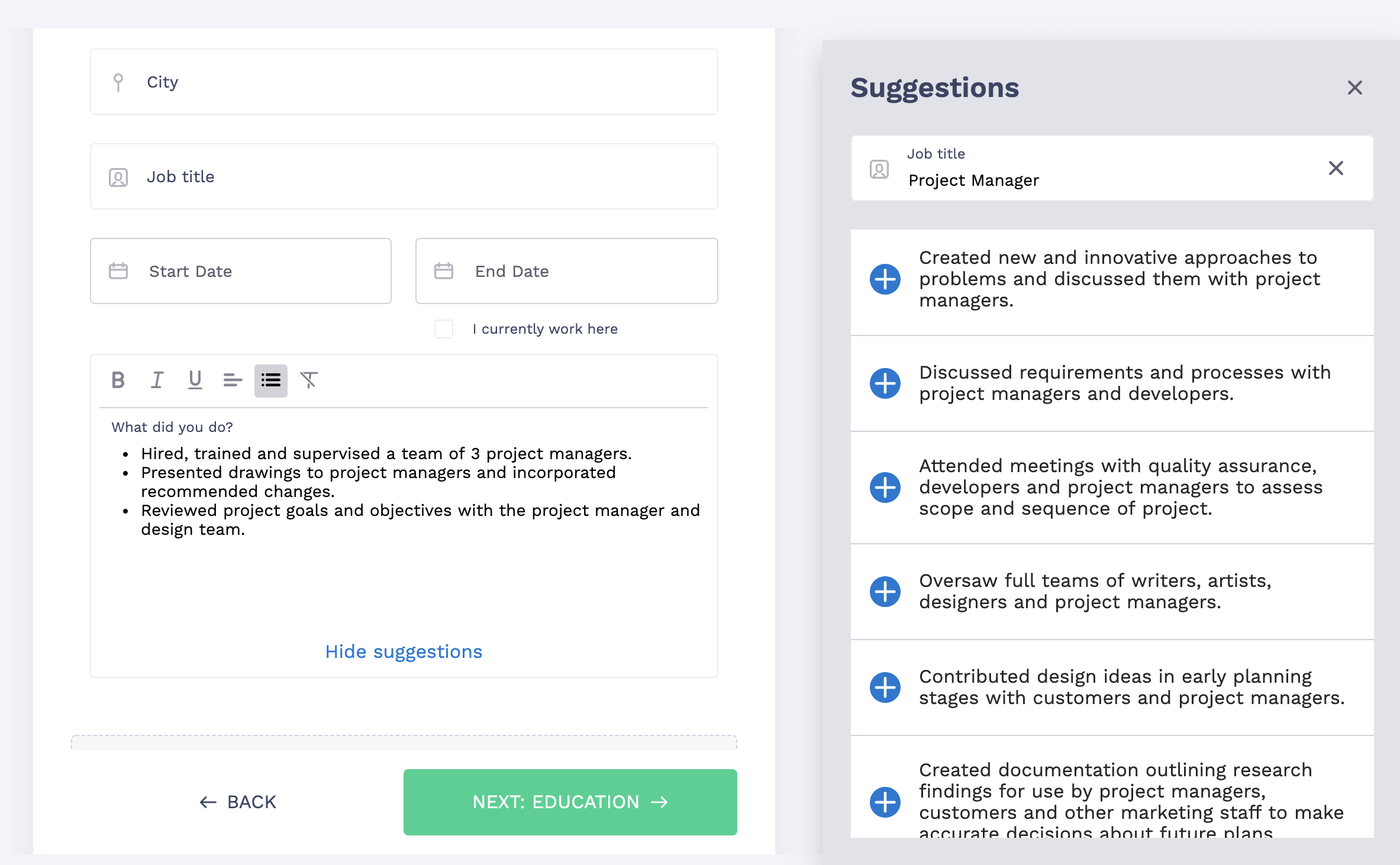 Entry-Level Front-End Developer CV Job Description [Sample]
There you have it.
But those are the exact same applicant.
You can do it, too. Just:
Find your front-end developer CV skills in the job posting.
Prove those CV keywords in your bullet points.
Share both hard and soft skills.
Here's a list of skills for a front-end dev CV just for reference:
Front-End Developer CV Skills
| | |
| --- | --- |
| Hard Skills | Soft Skills |
| HTML, CSS, JavaScript | Interpersonal Skills |
| jQuery | Teamwork |
| AngularJS, Bootstrap | Communication |
| Version Control | Problem Solving |
| Responsive Design | Efficiency |
| Photoshop | Work Ethic |
| Illustrator | Self Motivation |
| XHTML | Creativity |
| Mobile First Design | Good Attitude |
| Agile | Attention to Detail |
Expert Tip: There are so many front-end developer skills that some applicants get nervous. You don't have to list them all. Remember: the job ad is your source code.
4. Turn Boring Education to a Reason to Hire You
Will they judge you by your school or GPA?
Nope.
But the education section of your CV is vital.
That's especially true in a front-end developer CV with no experience.
Here's the key:
Put developer achievements in it.
Front-End Developer Education—Example
Pow.
If the job description mentioned prototyping, JavaScript, and JQuery, you're in.
Expert Hint: If you graduated a long time ago, you can drop the bullets from your front-end developer CV's education section. Focus on work accomplishments.
5. Add a Portfolio to Your Front-End Developer CV
What's the most important part of your front-end developer CV?
Your portfolio.
Surprised?
Don't get me wrong. Employers care about experience and education.
But they really want to know what you've done.
So—
Put your portfolio link in your contact info. But you can put it in a special section, too.
You can also add your StackOverflow and GitHub profiles.
Need to fill more space? Add one or two of "other" sections:
These front-end developer CV examples show how:
Front-End Web Developer CV—Extra Sections
See that?
That first front-end developer CV example could be Max Stoiber.
Expert Hint: Write a cover letter. You'll create a better UX for your CV for front-end developer jobs. In it, give a little evidence you fit the job's requirements.
Double your impact with a matching CV and cover letter combo. Use our cover letter builder and make your application documents pop out.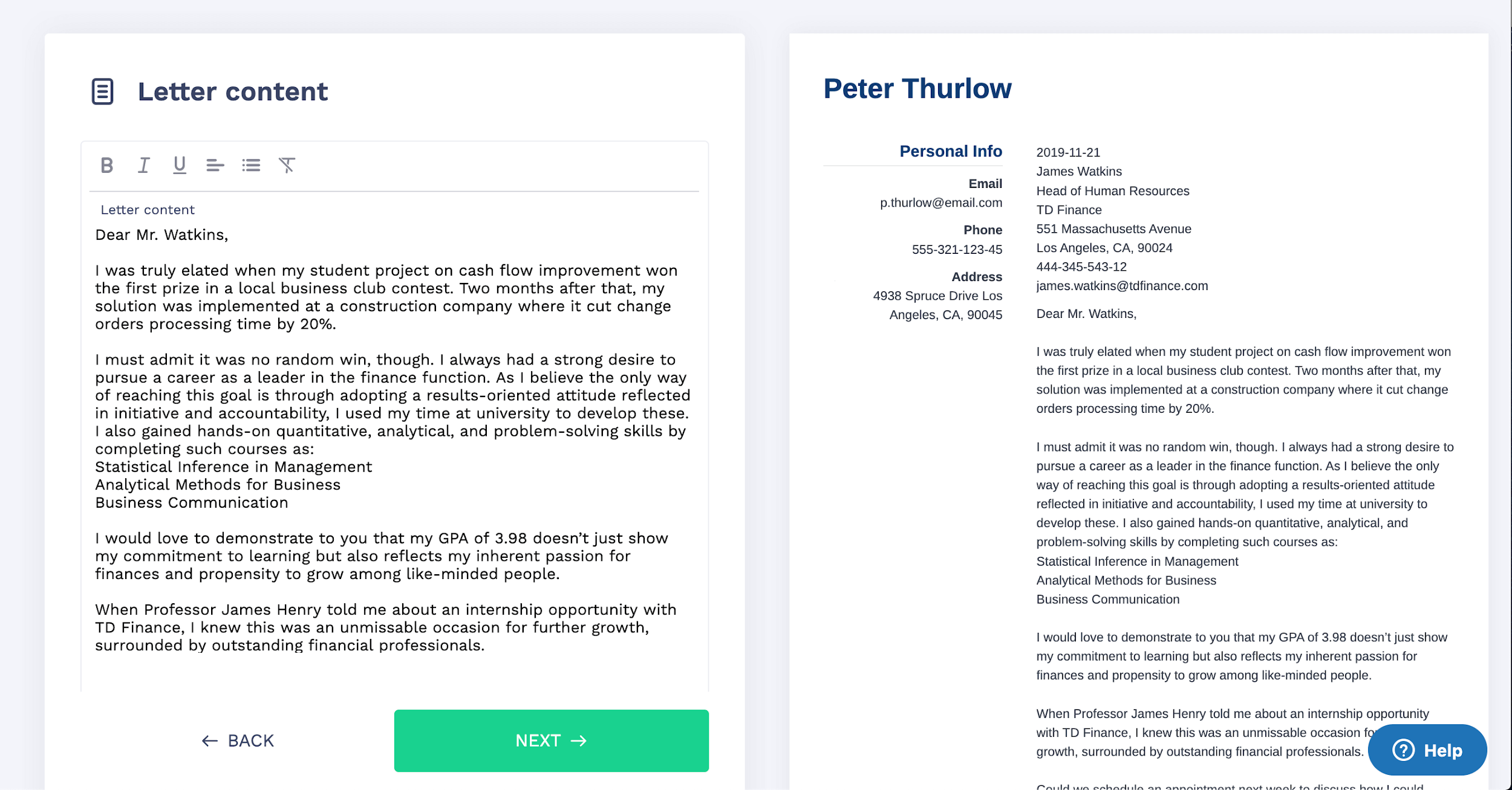 Key Points
For a front-end developer CV that parses well:
Got questions on how to write great CVs for front-end developer jobs? Not sure how to show front-end developer on a CV? Leave a comment. We'll be happy to reply!