.NET Developer CV—Sample and 25+ Writing Tips
You are agile, a master of UX and coding. Make your .NET developer CV as intuitive and effective to use as your apps.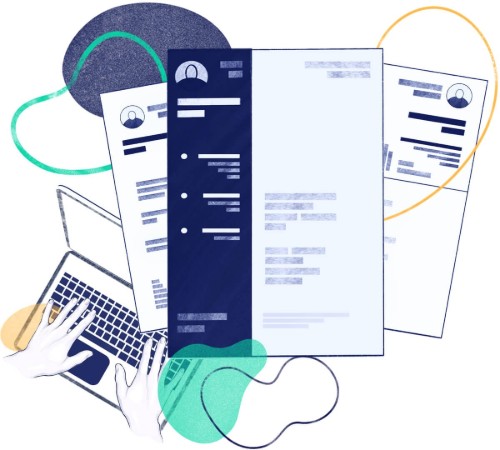 Developing a perfect API may be easy for you.
You live in a world governed by logical, agreed, and known rules.
The job market is not logical, the rules and criteria are often not known, and little bugs can completely disable the chances of your .NET CV.
Your CV is your API. This is how you communicate with your employer. Don't get 404'd.
As you understand yourself, the API must be flawless, or it doesn't matter how good your application is.
In this guide:
A .NET developer CV sample that gets interviews.
Tips for listing your education, certifications, and skills.
Expert hints on how to turn your NET developer responsibilities into achievements that will wow the recruiter.
Here's a .NET Developer CV sample that's .NET Core, not Visual Studio 2002.
Save hours of work and get a CV like this. Pick a template, fill it in. Quick and easy. Choose from 21 CV templates and download your CV now.
What users say about ResumeLab:
I had an interview yesterday and the first thing they said on the phone was: "Wow! I love your CV."
Patrick

I love the variety of templates. Good job guys, keep up the good work!
Dylan

My previous CV was really weak and I used to spend hours adjusting it in Word. Now, I can introduce any changes within minutes. Absolutely wonderful!
George
Considering other paths? See our dedicated CV guides:
Haven't found what you're looking for? Check all our CV Samples.
.NET Developer CV Sample You Can Copy and Use
Doreen J. Terry
.NET Developer
Personal Info
2711 Collins Avenue
Westerville, OH 43081
614-821-7264
doreen@terry.com
linkedin.com/dterry
Summary:
Problem-solving Full Stack .NET developer with 9+ years of commercial experience in using ASP.NET Core 3.1, ASP.NET MVC 3-5, C#, Visual Basic, F# and C++ to complete desktop and mobile tools for a range of business clients from HR, AI, SaaS, Fitness, and IoT industries. Completed over 130 web projects, 25 web apps, 18 mobile and desktop apps to 100% schedule and budget, and 97% desired functionality. Eager to apply proven software development skills at Monolith Softscapes.
Experience
.NET Developer
wareHouse
2011–present
Developed 130 web projects using ASP.NET, HTML and JavaScript.
Developed 43+ web, mobile and desktop apps using ASP.NET Core 3.1, ASP.NET MVC 3-5, C#, Visual Basic, F#, and C++.
Worked for a range of business clients from HR, AI, SaaS, Fitness, and IoT industries on projects worth £40m total.
Completed all projects to 100% schedule and budget, and 97% desired functionality.
Introduced remote testing and updating with Docker scripts.
Involved in all phases of project life cycles, from inception to analysis and patching.
Experienced in using Agile methodologies, JIRA, Firebase, Docker Cloud, Browser Stack, AWS, Redash.
Maintaining Coding Standard practises, high quality .NET code, and high quality normalisation techniques with SQL and T-SQL.
Education
BS in Software Engineering
Purdue University
Graduated: 2011
Certifications
Microsoft Certified Solutions Developer: App Builder
CSE Data Management and Analytics
Oracle Database Administrator Certified Professional
Key Skills
SP.NET Core 3.1, ASP.NET MVC 3-5, C#, Visual Basic, F#, and C++
JIRA, Firebase, Docker Cloud, Browser Stack, AWS, Redash
Docker Scripting
SQL and T-SQL
Agile Workflow
Dependability
Effective Communication
Time Management
Let's start optimising your own .NET Developer CV:
1. Defrag Your .NET Developer CV Format
It is one thing to have the best code behind the scenes, and another to have intuitive UX. You can write good code in Notepad. That is not the case with a .NET CV. Follow these simple rules to make sure everything presents properly on all devices.
When it comes to the CV look, here's how to get it right:
.NET Developer CV Format
You've got the configuration down, Hello World!
2. Compile a .NET Developer CV Summary or Objective
If you only have 7.4 seconds of attention on your .NET developer CV, what do you do? Simple, write a CV profile. With the amount of pre-requisite experience and technologies you are going to list, it is best to opt for a career summary.
It is best to do this once you have completed the other sections of your .NET developer CV, and know what you want to compile into your 7.4 second kernel file.
.NET Developer CV Summary
What if it is one of your first .NET developer jobs and you're writing an entry-level CV?
To apply for this sort of job, you're still going to have private projects and achievements from school and university to talk about. You can also give some space to your certifications, which you should definitely look into to beef up your CV.
You can set out your ambitions in a career objective. By having relevant projects, certifications, and education, you will be able to justify your suitability for the position and plug-and-play like an RJ45.
Get your .NET developer CV objective right:
Start with one power adjective that is relevant to a .NET developer, like meticulous.
Refer to your education, certification, and known frameworks.
Relate to something the employer is trying to achieve by hiring you.
.NET Developer CV Objective
Even though your degree should be enough, in theory, the bottom line is that as a fresh-out-of-school candidate, your .NET developer CV objective needs to offer more than to say you're basically qualified to do the job.
Expert Hint: A good LinkedIn profile can go a very long way. If someone goes to that extent to find out more about you, make sure you reward them with something interesting, so they reward you with that job. Check out our LinkedIn career advice.
3. Write a Glowing .NET Developer Job Description
ASP.NET, Core, MVC, C#, there's a lot you have done and can do. When writing the job descriptions on your .NET developer CV, remember that you are not necessarily aiming to be the most broad and diverse developer possible.
You are trying to be the best candidate possible. Of course, do not discount technologies you know just because the job posting didn't ask for them, but tailor your CV and focus on the ones they did ask for, backing it up with metrics and statistics.
Chances are, they are using ATS CV software that will scour your CV for these keywords.
Check out this job description from one of our .NET developer CV examples:
.NET Developer Job Description
The bad example is a copy-and-paste job of keywords and broad statements. Be precise. If you have a long list of technologies and stacks that are not relevant to the requirements, list them in your CV skills section.
You can also fill this section with soft skills if you are writing a CV with no experience.
.NET Developer Skills for CV
Soft Skills
Collaboration
Critical Thinking
Interpersonal Skills
Decision Making
Detail Oriented
Dependability
Communication
Problem Solving
Perceptiveness
Self Motivated
Hard Skills
ASP.NET
ASP.NET Core
Visual Basic
F#
C++
C#
MVC
LINQ
Entity
SQL
HTML
CSS
Bootstrap
JavaScript
JQuery
Web API
ANGULAR
Indexing
Reporting
Oracle
Cyber Security
Agile methodologies
JIRA
Firebase
Docker Cloud
Browser Stack
AWS
Redash
As reported by NC State University, the demand for .NET developers has been skyrocketing since 2011. This is good news for your profession, but it also means your CV has to be top notch. Read on for more great CV tips.
The ResumeLab builder is more than looks. Get specific content to boost your chances of getting the job. Add job descriptions, bullet points, and skills. Easy. Improve your CV in our CV builder now.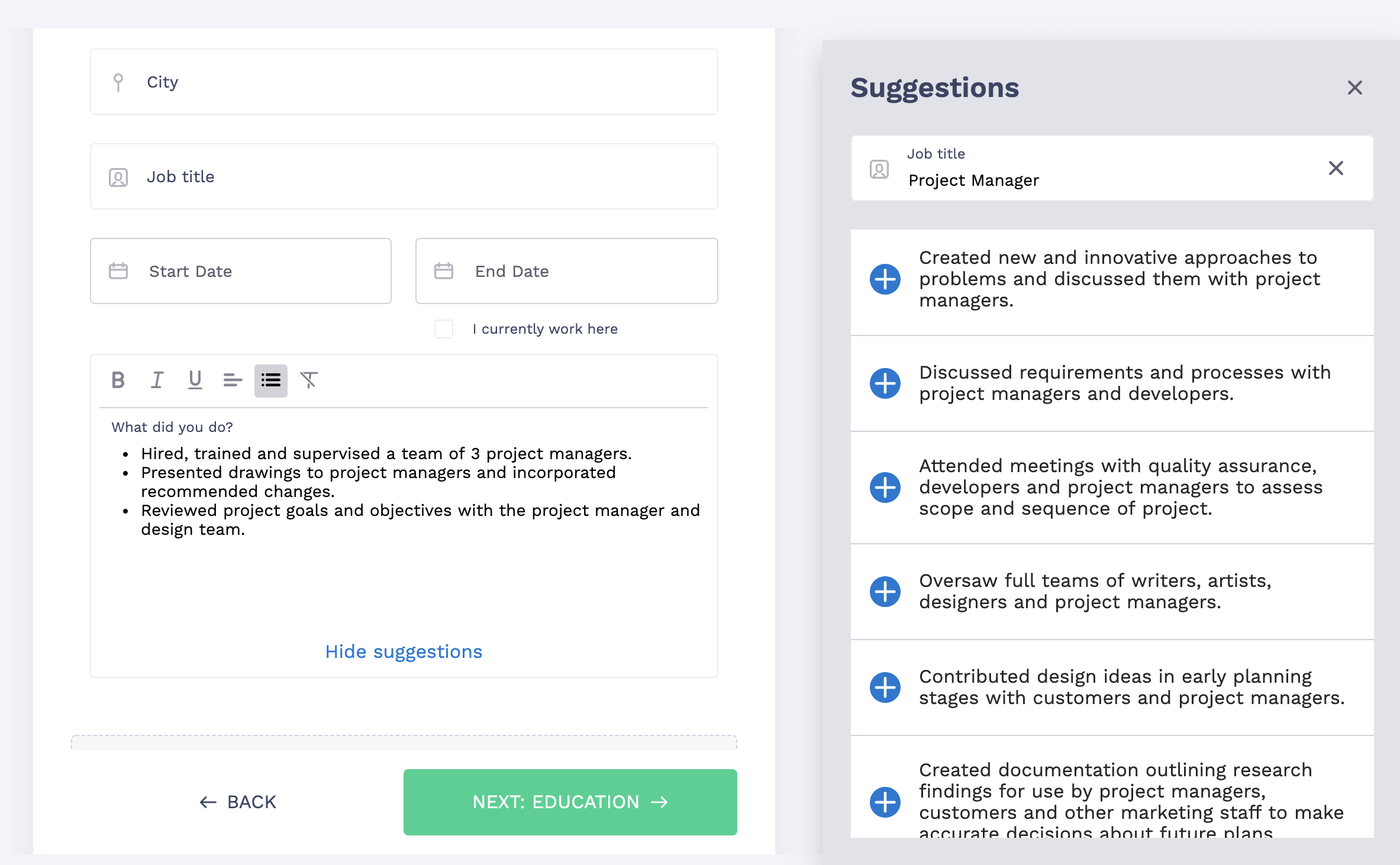 Nail it all with a splash of colour, choose a clean font, highlight your skills in just a few clicks. You're the perfect candidate and we'll prove it. Use the ResumeLab builder now.
4. Debug Your Education Section
Of course, real-world experience is what makes a valuable developer. The more experience you accrue on your Dotnet Developer CV, the briefer you can make the education section. After a couple years, only list your school, degree name, graduation date, and the GPA, if it's good.
If this is one of your first jobs, compensate for your lack of experience with relevant coursework or achievements sections. List the modules and grades that most fit what's going to be required of you in the new position.
This is how to list education on your CV:
.NET Developer CV Sample—Education
Expert Hint: Certifications are a sure-fire way to up the chances of your .NET developer CV getting queried back. Database certifications crop up more often as requirements in job offers, and Oracle and IBM certifications are very significant. Make sure you check out our guide to putting certifications on a CV once you have them.
5. Ship .NET Developer CV With Added Sections
MCSA. MCSE. MCSD. You've got something, I'm sure. Your list of certificationsshould round off your .NET developer CV. If you have a little bit of bandwidth remaining, feel free to slot in some more bonus CV sections. Remember to keep it relevant to the position you're applying to.
Choose from these added sections:
Awards
Additional Activities
Foreign Languages
Skills—if you haven't included them as part of your other sections
Just see how different these two .NET developer CV examples are:
.NET CV Example—Extra Sections
Last but not least, your .NET developer CV should come complete with a well-written cover letter. Not having one can cause your CV to be dismissed. Simple as that.
That should complete your final version of your .NET developer CV, ready for release! With an API like this, you will be sure to get an interview.
Expert Hint: Once you have listed all your skills and stacks, it is worthwhile to demonstrate that you can use them. If someone can vet you before the interview, once you're actually there, you stand a greater chance. For this reason, consider adding your best projects to a GitHub profile and include it in your CV.
Double your impact with a matching CV and cover letter combo. Use our cover letter builder and make your application documents pop out.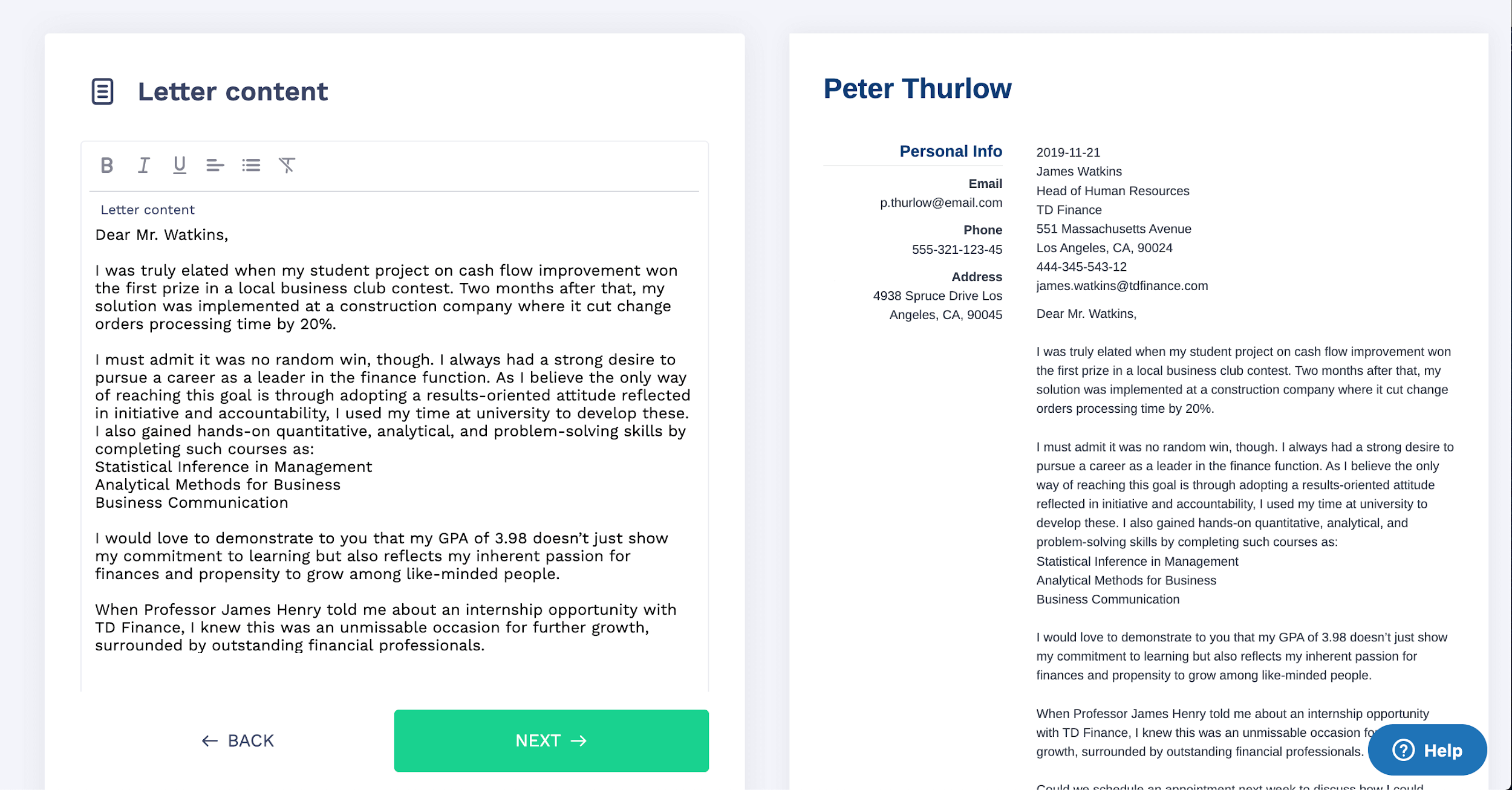 Want to try a different look? There's 18 more. A single click will give your document a total makeover. Pick a cover letter template here.
Key Points
When typing up your .NET developer CV:
Format your CV properly—margins, fonts, 1 page, reverse chronological.
Inject your .NET developer job description with achievements and numbers regarding your performance.
Add your certifications, skills and other bonus sections to round off.
Write a .NET developer cover letter.
Got questions on how to write a great CV for .NET developer jobs? Did we help you get your .NET developer CV right? Leave a comment. We'll be happy to reply.