IT CV—Sample + 25 Templates & Expert Tips
An IT CV sample and technical CV template. Get more interviews with excellent CVs for IT and technical jobs, with examples and expert tips.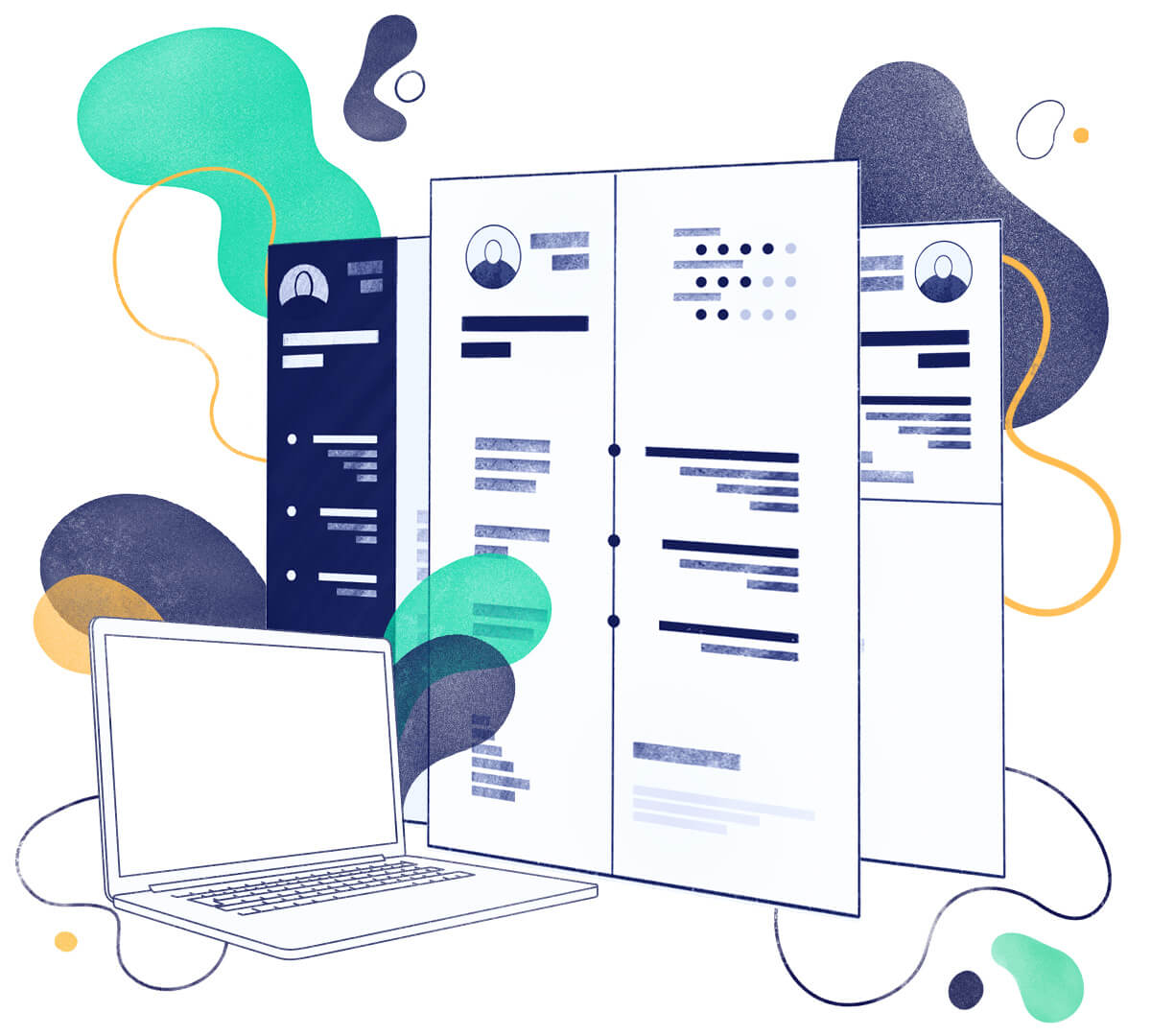 What makes this IT CV example tick?
It's adaptive.
It doesn't just show tech experience and education.
It makes your case with accomplishments that plug into the job.
Do it right, and you'll stand out like the IBM Summit in a room of TRS 80s.
This guide will show you:
A technical CV example better than most.
How to write an IT CV that gets more interviews.
The way to write a failsafe tech CV job description.
How to choose information technology CV accomplishments that draw the eye.
Save hours of work and get a CV like this. Pick a template, fill it in. Quick and easy. Choose from 21 CV templates and download your CV now.
What users say about ResumeLab:
I had an interview yesterday and the first thing they said on the phone was: "Wow! I love your CV."
Patrick

I love the variety of templates. Good job guys, keep up the good work!
Dylan

My previous CV was really weak and I used to spend hours adjusting it in Word. Now, I can introduce any changes within minutes. Absolutely wonderful!
George
Looking for CVs for tech jobs like software engineer or computer science? See these guides:
Haven't found what you're looking for? Check all our CV examples for over 200 jobs.
IT CV Template
Alec Andras
IT Specialist
Personal Info
Phone: 218-544-3609
Email: alecpandras@gmail.com
linkedin.com/in/alecpandras
Alecpandras.com
Summary
Efficient IT professional with 6+ years of experience and proven skills in hardware installation and maintenance. Seeking to raise tech effectiveness at Sheckley Medical. At Alehandru Inc., upgraded 150+ employees to Windows 10, 10% under budget with 100% HIPAA compliance.
Experience
System Administrator
Alehandru Medical
2016–2019
Handled all tech planning for large healthcare business. Managed hardware and software installation and directed upgrades and maintenance.
Used expert problem-solving skills to fix network issues 15% faster than previous admin. Trained assistants in "5-Whys" problem-solving technique.
Led successful facility-wide Windows 10 transition. Upgraded 150+ employees to the new system, 10% under budget and with 100% HIPAA compliance.
Initiated risk management plan to assess and harden IT security. Implemented password vaults and principle of least privilege. Slashed security risk 48%.
Tech Support Agent
ArcFile Web
2015–2016
Furnished IT Help Desk phone support to customers of a busy web hosting business. Provided customer service, server support, and troubleshooting.
Consistently scored 18% better than average in post-call customer surveys.
Slashed complaints-resolution times by building pivot tables to triage problems.
Trained 15 other tech support staff on new document management system.
Helped instal new monitoring system that raised client satisfaction 20%.
Freelance IT Specialist
Various
2014–2015
Installed new order-processing system in local flower shop.
Developed an eCommerce woodcrafts site.
Contributed to an open-source SaaS site on Github
Built a home control system for lights and heat with Raspberry Pi.
Education
BS in IT, Hamline University
2010–2014
Pursued a passion for system maintenance coursework.
Excelled in hardware and software installation classes.
Vice president, student coding club.
Certifications
CompTIA A+ Certification
MS Server Certification
Languages
Java, C#, C, PHP, MySQL, Ruby
HTML5, CSS3, Javascript, JQuery
Additional Activities
Member, CompTIA Association.
My IT Podcast, "Where IT Isn't At" has 1,200 subscribers.
My article, "5 Ways to Boost Security" was cited by TechCrunch.
See my IT portfolio online at alecpandras.com.
Hard Skills: Hardware Installation, Software Installation, Security, System Maintenance, Programming
Soft Skills: Leadership, Teamwork, Problem Solving, Critical Thinking, Time Management, Customer Service
This guide is packed with information technology CV tips to get you hired fast.
Now here's how to make an IT skills CV:
1. Start with the Best IT CV Format
Don't bypass this:
Your CV format is crucial.
It's got to show you know a firewall from a flash drive.
So—
Here's how to format your CV:
Pick a visually appealing CV template, a free Google Docs CV template or a free MS Word CV Template.
Choose the reverse-chronological CV format. It shows your shiniest tech achievements first.
Front-load the best CV fonts in 10–14pt. Use 1-inch margins, big headings, and white space for easy reading.
Write a one-page IT CV unless you're more experienced than Richard Stallman.
Start with a CV header. Include name, phone, and email, but no street address or photo.
Add a technical CV objective, then experience, and education.
Instal CV extra sections like certifications, programming languages, and additional activities for added oomph.
Expert Hint: Save your CV as a PDF unless the job offer says they're incompatible. Information technology CV PDFs won't fragment when you send them. Plus they're machine-readable.
2. Write an Alpha-Level IT CV Objective
Let's get you hired.
Most technical CVs are almost backups of each other.
Employers flip through them and zone out.
So—
Start with a CV summary that wakes them up.
Use:
One adjective (efficient, hard-working, creative)
Job title (IT Specialist, Network Administrator)
Years of experience (3+, 6+)
How you'll help (raise IT effectiveness)
Best 2–3 achievements (upgraded 150+ employees to Windows 10, finished projects 10% under budget)
Check out these IT and technical CV examples:
Information Technology CV Objective—Example
Ouch.
The second of those IT CV examples is voodoo.
The first brims with achievements that prove your computer science skills.
What if You've Got No Experience?
How to write an entry-level CV with no experience?
With accomplishments.
Get them from:
Freelance projects found on WorkMarket or FieldNation.
Github and other open source projects you've helped with.
Personal IT projects.
Technical duties from non-IT jobs.
This entry-level technical CV example nails it:
Entry-Level IT CV with No Experience—Example
Perfect.
That's miles better than, "I'm still looking for my first IT jobs." Even with no experience, you can have an A+ technology skills CV like that.
Shouldn't you list your goals in a CV objective? Nope, you'll get more interviews if you show how you'll help the company instead.
Expert Hint: Write your tech CV summary or IT CV summary last. That'll give you plenty of components to choose from and you won't get stuck.
3. Write a Lossless Job Description for IT CVs
This is central:
You need just a few achievements in a technical CV.
But—
The best IT skills CVs pick them carefully.
To choose yours perfectly:
Dig through the job offer.
Highlight the IT skills and duties in it.
Stuff your CV with matching tech accomplishments.
See these IT CV examples:
Technical Job Description—Example
Job ad wants these information technology CV skills: (1) problem-solving (2) upgrading (3) risk management.
Boring.
The last of those tech CV examples is 404. The first is in the Linus Torvalds zone.
Those achievements give it bandwidth.
And—
The % and other numbers prove your technical skills are Phoenix-ONE-sized.
Entry-Level Technical CV Example—No Experience
Writing a technology CV with no experience? Don't fret.
Your entry-level technical CV can still connect.
Accessorise it with achievements like this entry-level IT CV example:
Freelance IT Specialist
Various
2014–2015
Installed new order-processing system in local flower shop.
Developed an eCommerce woodcrafts site.
Contributed to an open-source SaaS site on Github
Built a home control system for lights and heat with Raspberry Pi.
IT CV Skills
Here's a skills CV list.
But—
Don't copy-paste it to your IT CV.
To hiring managers, that's lipstick on a pig.
Just cache the skills shown in the job offer.
IT CV Skills/Technical Skills for CVs

| | | |
| --- | --- | --- |
| Soft Skills | Hard Skills | Programming Languages |
| Teamwork | Social Media Experience | Javascript |
| Communication | Big Data Analysis | Java |
| Leadership | Programming | C++ |
| Time Management | Project Management | PHP |
| Problem Solving | Computer Skills | MySQL |
| Detail Oriented | Technical Writing | PHP |
| Decision Making | Troubleshooting | Ruby |
| Critical Thinking | Debugging | JQuery |
| Self Motivation | Network Security | CSS |
| Customer Service | Network Architecture | HTML5 |
Expert Hint: Machine learning, design thinking, and machine learning are among the best tech CV skills. That's according to a study of 50 tech hiring managers.
The ResumeLab builder is more than looks. Get specific content to boost your chances of getting the job. Add job descriptions, bullet points, and skills. Easy. Improve your CV in our CV builder now.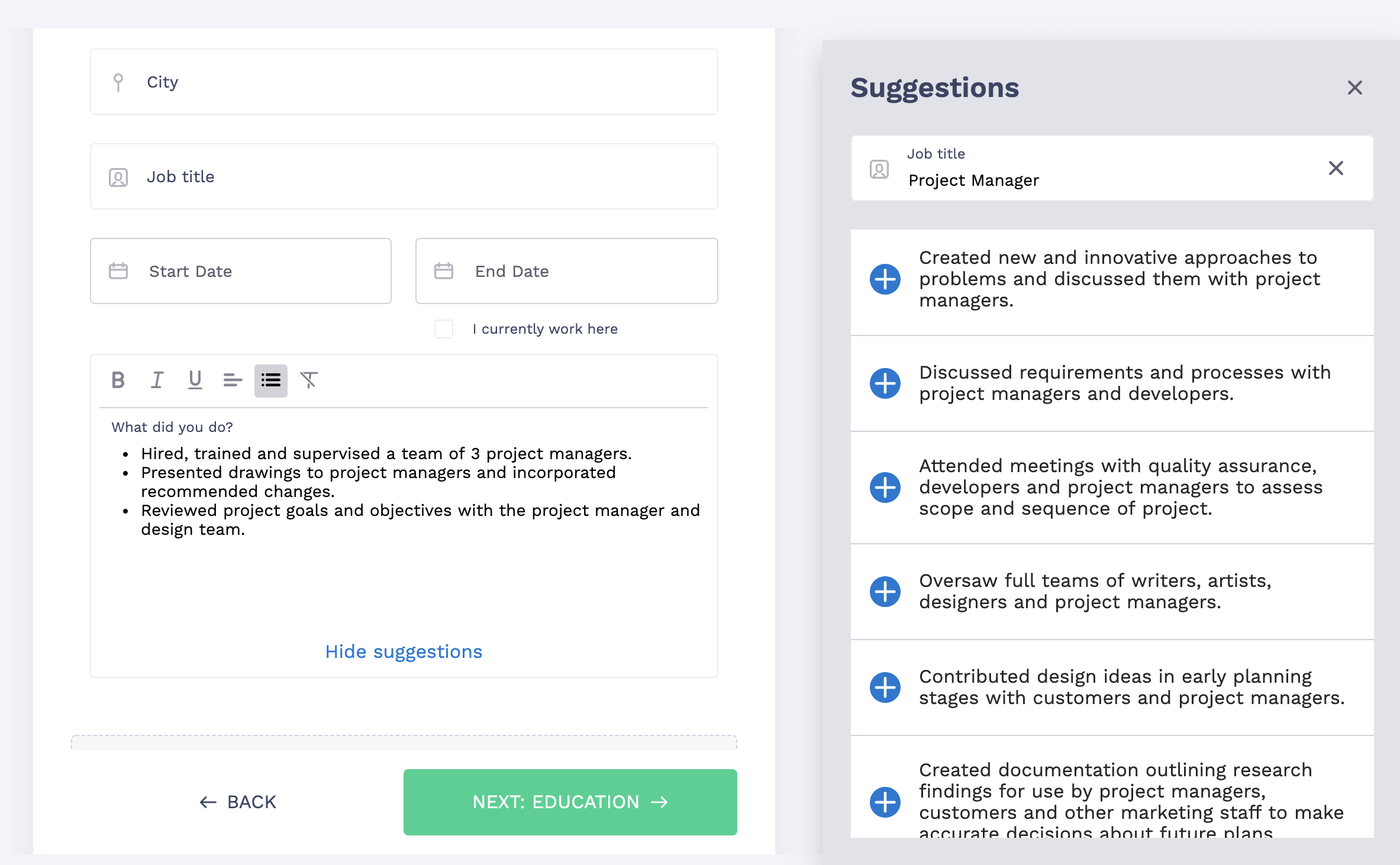 Nail it all with a splash of colour, choose a clean font, highlight your skills in just a few clicks. You're the perfect candidate and we'll prove it. Use the ResumeLab builder now.
4. Turn Boring Education to a Reason to Hire You
Here's a patch:
The best technical CVs pack their education section with accomplishments.
The worst just say, "I graduated. Here's my GPA."
Look at these IT CV example:
Education on IT Specialist CV—Sample
See that?
This IT CV sample is plug-and-play.
It shows your technical CV skills weren't configured last night.
Expert Hint: Is your tech CV experience still in boxes? Divide your education into positions and projects. Then put accomplishments in each.
5. Overclock Your IT CV with Bonus Sections
It's job-getting time.
To prove you're Rasmus-Lerdorf-level—
List technical CV extras such as certifications, conferences and languages.
They'll make your CV for IT jobs stand out like Sheldon Cooper in a Denny's.
These Information Technology CV examples show how:
Magnetic.
Why do those first technical CV samples work?
They show robust information technology CV skills.
Expert Hint: Send a cover letter with your technology CV. With it, say how you'll help reach company goals. The hiring manager will read your IT CV like it contains the source code for reality.
Double your impact with a matching CV and cover letter combo. Use our cover letter builder and make your application documents pop out.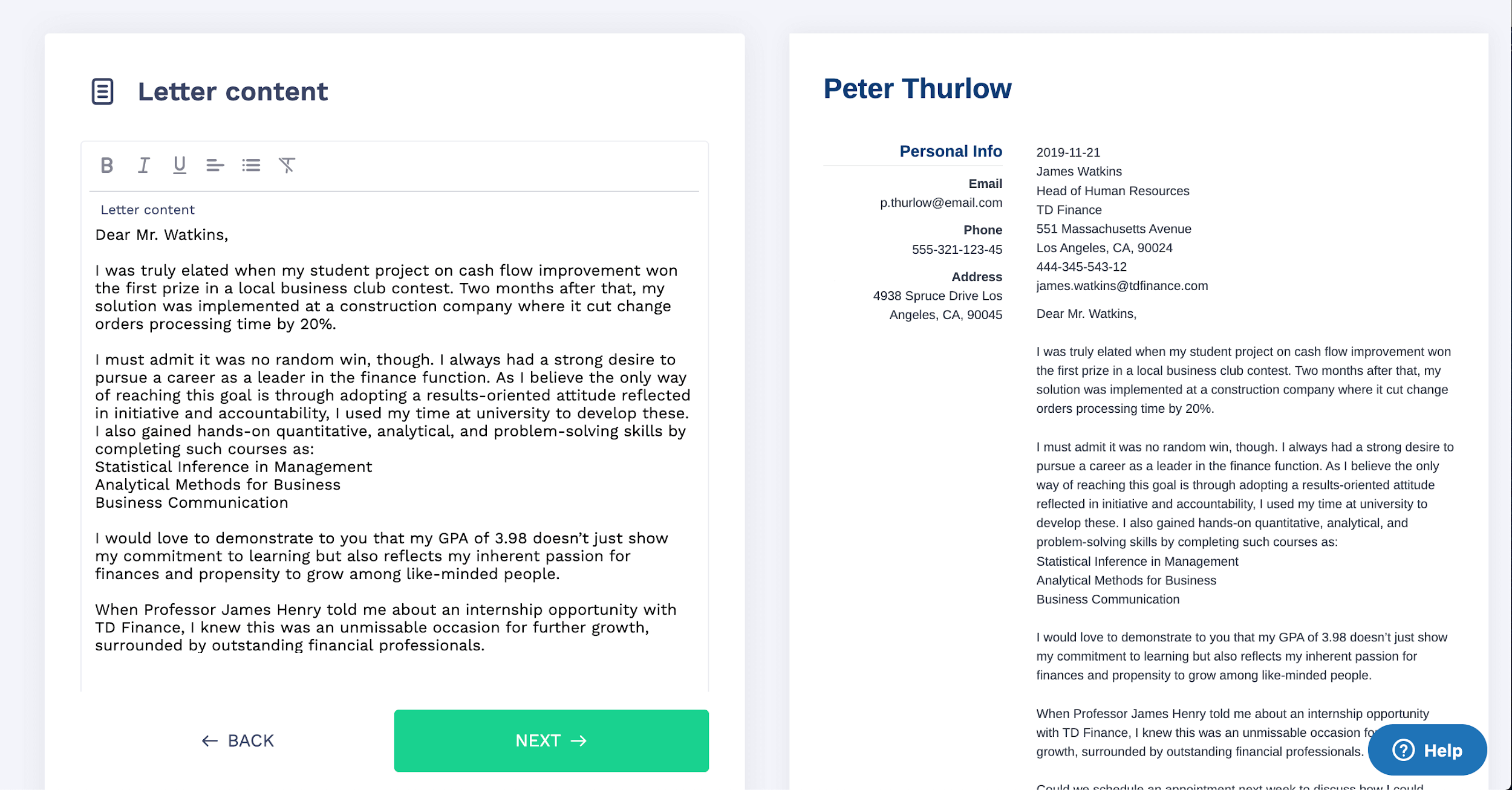 Want to try a different look? There's 18 more. A single click will give your document a total makeover. Pick a cover letter template here.
Key Points
For an authenticated IT CV:
Start with the technical CV template at the top. It flips all the right switches.
Put achievements in your tech CV that link you to the job like a DNS request.
Use numbers to give scale to your IT CV accomplishments. List dollars saved, percents, and hours conserved.
Send a technical cover letter. Connect it to the job with your best 2–3 achievements.
Got questions on how to write a good information technology CV? Not sure how to put IT on a CV? Leave a comment. We'll be happy to reply.