Here's a quick rundown of how to start a resume.
Why is knowing how to begin a resume so forehead-sweating tough?
Because it's so important.
It's your dream job. It's your ticket to a better life.
You can't botch it.
That's why you fill your trash can with false-starts. It's why you pulled out half your hair.
Take heart.
You're just starting in the wrong place. Let's make it easy.
In this guide:
A step-by-step process for how to start a resume for a job.
How to begin a resume so you get it done fast.
How to start writing a resume in the middle so there's zero stress.
How to start off a resume so employers notice you.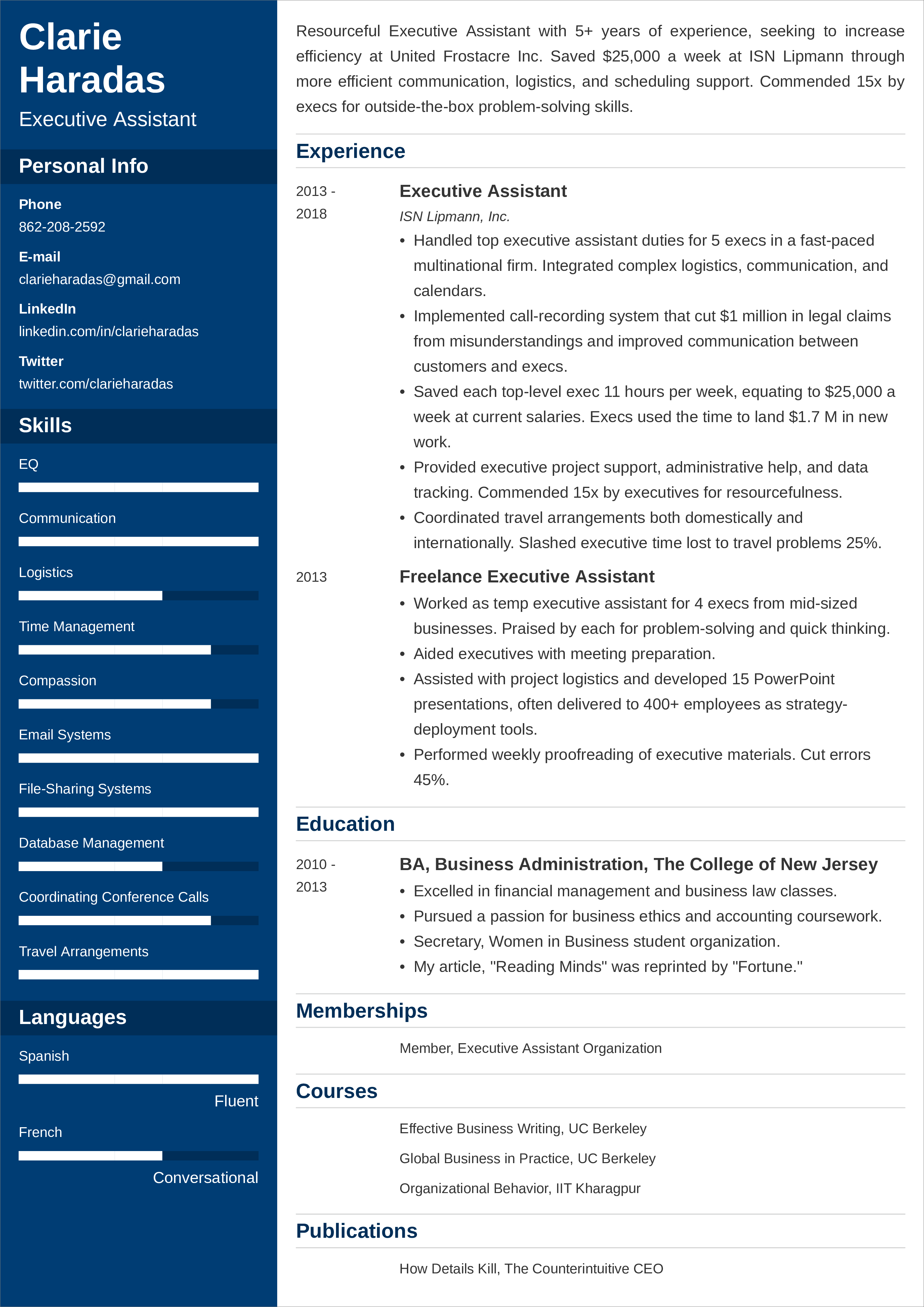 Create a job-winning resume with little effort. Hack your way through ATS software with our 18 beautiful templates—give our builder a try!

Create my resume now
Want to know the quickest way to start off a resume? Use templates. See these to start and finish lightning-fast: Resume Examples for All Professions
And if you're looking for a guide that will explain all the intricacies of writing a resume, try: Resume 101—How to Write a Resume [Templates and 25+ Examples]
Now here's how to start a resume that works:
1. Copy-Paste the Online Job Ad
How to begin a resume?
Like an archer, you need a target.
Your target is the online job description.
Why?
You can't scattershot a resume. Shotgun-blasting the same resume at every job gets silence. Crickets. The internet black hole.
So—
To start a resume right, copy-paste the online job ad. It has:
Resume keywords you'll salt through your bullet points.
The right skills to list in your resume work experience section.
Education requirements for your resume education section.
Other information that puts you above the throng.
The crux?
Write a customized resume. See how to start a resume that fits the job in this guide: Targeted Resume: How to Personalize & Tailor Your Resume for a Job
2. Choose the Right Resume Format
What should a resume look like?
Before you start writing your resume, pick a format.
Why?
The wrong format makes recruiters think too much.
That'll make them move on.
Choose from three resume formats:
Want more info on resume formats? See our guide: Resume Format & Layout: 20+ Best Templates & Samples (MS Word)
Expert Hint: Know why most resumes get trashed? Typos! When you start your resume, plan to have a friend proofread it so you can zap the spelling errors.
3. Start with Your Resume Experience Section
Start your resume with experience.
Why?
Because it's the most important part.
It's the resume section that will get you hired—or ignored.
Are You Experienced?
List your last job first.
Add city & state, dates, and a bullet-list of achievements to impress the hiring team.
Let's say the job ad wants skills in front-end development, HTML5, collaboration, training, prototyping.
Front-End Developer Job Description for Resume [Sample]
See that?
You used the skills in the ad, plus results you earned.
Do You Lack Experience?
If you lack experience in the job you're applying for, list relevant accomplishments from "unrelated" jobs.
If you've got zero experience, start your resume with the education section.
Want to see how to start a resume work experience section? See this guide: Resume Job Descriptions for the Work Experience Section: 20 Samples
4. Write Your Education Section Next
Employers care about your schooling.
But not the way you think.
Go back to the job ad. What education requirements does it list? Put those in your resume.
Include:
School Name
Degree
Attendance Dates
Add bullet points with classes you excelled in, honors, and projects. Include your GPA if it's high or recent.
Those extras could be the one detail that makes employers notice you.
Want to know how to start a resume education section? See our guide: How to List Education on Resume [25+ Examples & Expert Hints]
Expert Hint: Does your resume need every qualification in the job ad? Not according to a survey of 2,000 hiring managers. Meeting 3 out of 5 "must haves" is often plenty.
5. Finish Your Resume with "Other" Sections
Let's make the hiring team say, "Wow!"
Do it with a couple added sections in your resume.
Skills Section
Your skills section will be short and sweet. Don't kitchen-sink it with every skill in the book. Here's how to start a resume skills section: Best Skills to Put on a Resume: Guide and 50+ Examples
Bonus Sections
What else should you list in your resume? That depends on your achievements. You could list volunteer work, interests, certifications, foreign languages, or other sections.
Want to browse the best bonus sections for your resume? See our guide: What to Put on a Resume: Sections to Include for the Best Resume
6. Add a Resume Heading Statement When You're Done
You're almost there.
But you need to make employers want to read your resume.
Your heading statement is your welcome mat. Your elevator speech. It's the trailer for your job-search movie.
It's a short paragraph that sums up the best bits of your resume.
No Experience?
Write a resume objective. It puts the focus on transferable skills from unrelated jobs—or even just from school.
Want to see how to begin a resume objective? Check this guide: How to Write the Best Resume Objective Statement (15+ Examples)
Are You Experienced?
Make it a resume summary. You'll zero in on your best few moments from related jobs.
Need to know how to start a resume summary? See this guide: Resume Summary—20+ Examples for Every Career & Writing Guide
Expert Hint: Start your resume before you write it, by creating a professional email address. 35% of hiring managers say an unprofessional address is a mistake.
7. Write a Cover Letter to Boost Your Odds of Getting Hired
Does anyone write cover letters anymore?
Only if they want the job.
Most recruiters won't read them.
But almost half won't read your resume without one.
Your goal? To make them pay attention to your resume.
Want to see how to start a resume cover letter? Check out this guide: How To Write a Cover Letter in 10 Minutes (10+ Examples)
Key Points
Here's how to start a resume:
Start with the job posting. It's the blueprint for your resume.
Choose the perfect format. For most people, that's the reverse-chronological resume format. It puts your last job first.
Write your experience section first. Show the big achievements that would look good in the new job.
Add your education section, then some bonus sections. Write your resume heading statement last.
Got questions about how to start a resume so it doesn't take a year? Need more advice on how to begin a resume? Shoot us a note in the comments. We'll be happy to reply!