Call Centre CV Sample—25+ Examples and Writing Tips
A call centre CV template employers fall for. Build your call centre agent CV fast, with expert tips and right and wrong examples.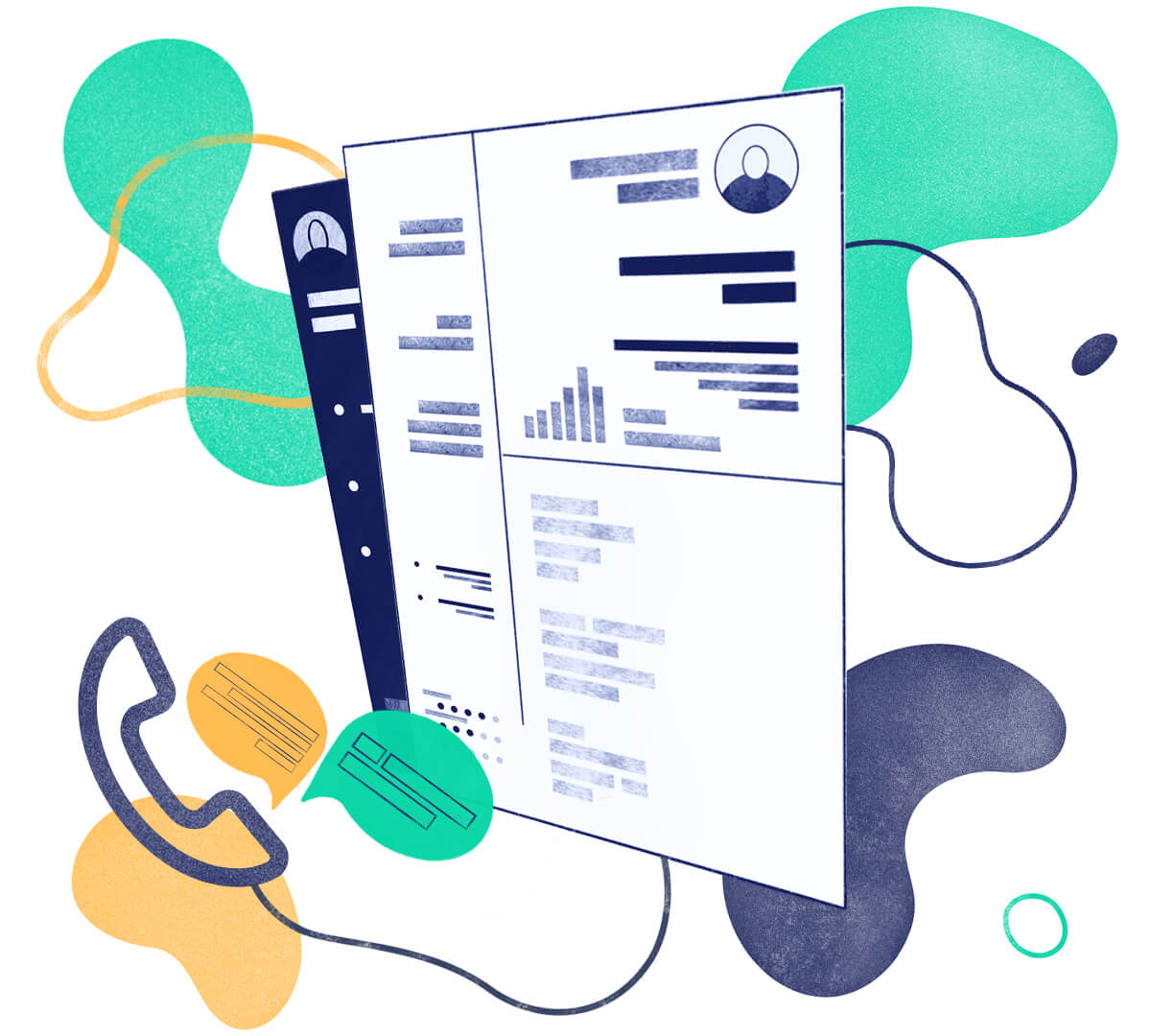 Almost nobody writes a good call centre CV.
But it's not hard.
A bad one attracts jobs that suck your soul out through your headphones.
A good one stands out like a Sennheiser in a pile of Philips.
The difference?
Prove you know FCR from IVR, and that Wrap Time isn't "lunch."
This guide will show you:
A call centre CV sample better than most.
How to ace your call centre job description on a CV.
How to write a call centre agent CV that gets the interview.
Why picking the right few achievements is the #1 key to get hired.
Save hours of work and get a CV like this. Pick a template, fill it in. Quick and easy. Choose from 21 CV templates and download your CV now.
What users say about ResumeLab:
I had an interview yesterday and the first thing they said on the phone was: "Wow! I love your CV."
Patrick

I love the variety of templates. Good job guys, keep up the good work!
Dylan

My previous CV was really weak and I used to spend hours adjusting it in Word. Now, I can introduce any changes within minutes. Absolutely wonderful!
George
Need help with a different kind of CV? Explore our other guides:
Haven't found what you're looking for? Check all our CV Samples.
Call Centre CV Example
Claude Sizani
Call Centre Agent (Inbound & Outbound)
Phone: 318-264-4838
Email: claude.sizani@gmail.com
LinkedIn: linkedin.com/in/claudesizani
Twitter: twitter.com/claudesizani
Summary
Cheerful call centre agent with 7+ years of experience. Seeking to use high-level telesales and customer support skills to deliver sales excellence at Verizon. Awarded Gold-Star status at ABC Call Centre for spurring a team of 10 to 25% more sales and 50% more dials over previous year.
Experience
Call Centre Agent & Peer Mentor
Contact ABC Call Centre
2012–2017
Quickly promoted to mentor 10-member team while providing exemplary telemarketing outreach. Dialled minimum 5 hours per day.
Awarded Gold-Star status for consistently setting at least 4 appointments per day. Recognised by manager as "most efficient worker I've ever met."
Used coaching skills to help improve team performance by 25% over previous year, with 50% more dials and 25% more sales.
Telesales figures higher than any other call centre agent in team of 100+ for 90% of months. Maintained highest sales average for 5 years straight.
Call Centre Representative, Outbound
Attainable Health & Wellness, Inc.
2010–2012
Maintained 120% of call targets through advanced outbound collections skills to handle account queues from 50–100 accounts per day.
Resolved account delinquencies 20% faster than company average while maintaining better-than-average company loyalty scores.
Commended by management 5 times for efficiency and positive attitude. Received quarterly bonus in 100% of quarters for high satisfaction scores.
Customer Service and Phone Experience
Various
2009–2012
Took 20 inbound calls per day as waiter at Ruby Tuesday. Received 3 customer service awards for high customer ratings of 95%+.
Resolved customer complaints at Taylor-Gibbs Landscaping. Received two letters of thanks for courtesy and dedication to customer care.
Temp call centre agent, FastCollect Universal Inc. Handled 10 outbound calls per hour, with a 15% above-average success rate.
Education

John Moore Senior High
2005–2009
Straight A average in English, demonstrating good communication skills.
Voted into school yearbook team for cheerful attitude.
Excelled in typing classes, demonstrating good data entry skills.
Granted student mentoring position for solid listening skills.
Courses
Working With Tough Customers—ICMI—2017
Service and Sales—ICMI—2014
Publications
Article on telesales appeared in Productivity x 1000 Blog
Additional Activities
Take weekly CrossFit classes as self-care.
Regular listener, Stories from the Sales Floor podcast.
Hard Skills: Inbound & Outbound Call Handling, Customer Support, Telesales, Complaint Resolution, Transaction Processing
Soft Skills: Customer Service, Patience, Communication
Fluent In: Spanish
Now, here's how to write a call centre CV:
1. Use the Right Call Centre CV Format
CV format is key.
It proves you pay attention to detail.
Do it right, or get tossed out.
Use the reverse-chronological CV format to answer the manager's questions in the order they were received.
Use the best CV fonts, 10–14pt, 1-inch margins, big headings, lots of white space.
Write a one-page CV. No more, no less.
Start with a CV header. Name, phone number, email address. No snail mail or photo.
After the header, add a call centre CV objective, then work experience, then education.
Add CV extras like skills, additional activities, and hobbies to make the hiring manager sit up.
Expert Hint: Use a CV PDF unless the job description says not to. They're best because 1) Machines can read them and 2) Their formatting stays locked.
2. Start with a Call Centre CV Objective That Turns Heads
Where to start?
Put your CV objective up top.
Make it a mini sales pitch with:
1. An adjective (Cheerful, Efficient, Energetic)
2. Job title (Call Centre Pro)
3. Years of experience (2+)
4. How you'll help (provide high-level support)
5. Flashiest achievements (10% more dials than average)
These two call centre CV examples can slash your EWT.
Call Centre CV—Objective
See the difference? That first call centre agent CV sample is FCR. The measured wins make the manager say, I should read this.
Call Centre CV with No Experience
Well—you've got achievements. Put them in your call centre CV objective.
Don't even have achievements? Do a day or two of call centre temp work. Even that works on entry-level call centre CVs.
CV summary vs objective—what's the difference? An objective used to show a job goal. These days, you have to show how you can help instead.
Expert Hint: Write your CV objective for call centre jobs last. That way it's like a trailer for your job search movie. You'll have lots to pick from, and summarising will be easy.
3. Write the Perfect Call Centre Agent Job Description
Want a secret?
Most applicants can't write a good job description.
That makes it easy to stand out.
Ready?
1. Read the job ad.
2. Highlight the call centre CV skills and duties.
3. In your CV bullets, show you've drilled those to the wall.
Let these call centre CV examples take you off hold.
Call Centre Job Description—Example
Job ad wants these skills: (1) leadership (2) efficiency (3) coaching.
Why will #1 light up the board? The accomplishments and numbers fit what the company is seeking.
Call Centre CV Job Description Example—No Experience
Took 20 inbound calls per day as waiter at Ruby Tuesday. Received 3 customer service awards for high customer ratings of 95%+.
Resolved customer complaints at Taylor-Gibbs Landscaping. Received two letters of thanks for courtesy and dedication.
Temp call centre agent, FastCollect Universal Inc. Handled 10 outbound calls per hour, with a 15% above-average success rate.
Even if you've never had a call job, you can make a call centre CV sample like that.
Call Centre CV Skills List
Huge tip:
Don't copy-paste generic CV skills.
Managers see through that faster than Your call is important to us.
Here are the most popular for reference:
Call Centre CV Skills

| | |
| --- | --- |
| Soft Skills | Hard Skills |
| Customer Service | MS Office |
| Patience | CRM Software |
| Communication | Learning Product Knowledge |
| Speed | Helpdesk/Talkdesk |
| Compassion | Computer Skills |
| Listening | Phone Skills |
| Positive Attitude | 10-Key Typing |
| Adaptability | Fast Typing |
| Organisation | Salesforce |
| Stress Management | RingCentral |
Expert Hint: Mix soft skills and hard skills. Need more hard skills for a call centre jobs CV? Try a 1-hour Lynda class.
The ResumeLab builder is more than looks. Get specific content to boost your chances of getting the job. Add job descriptions, bullet points, and skills. Easy. Improve your CV in our CV builder now.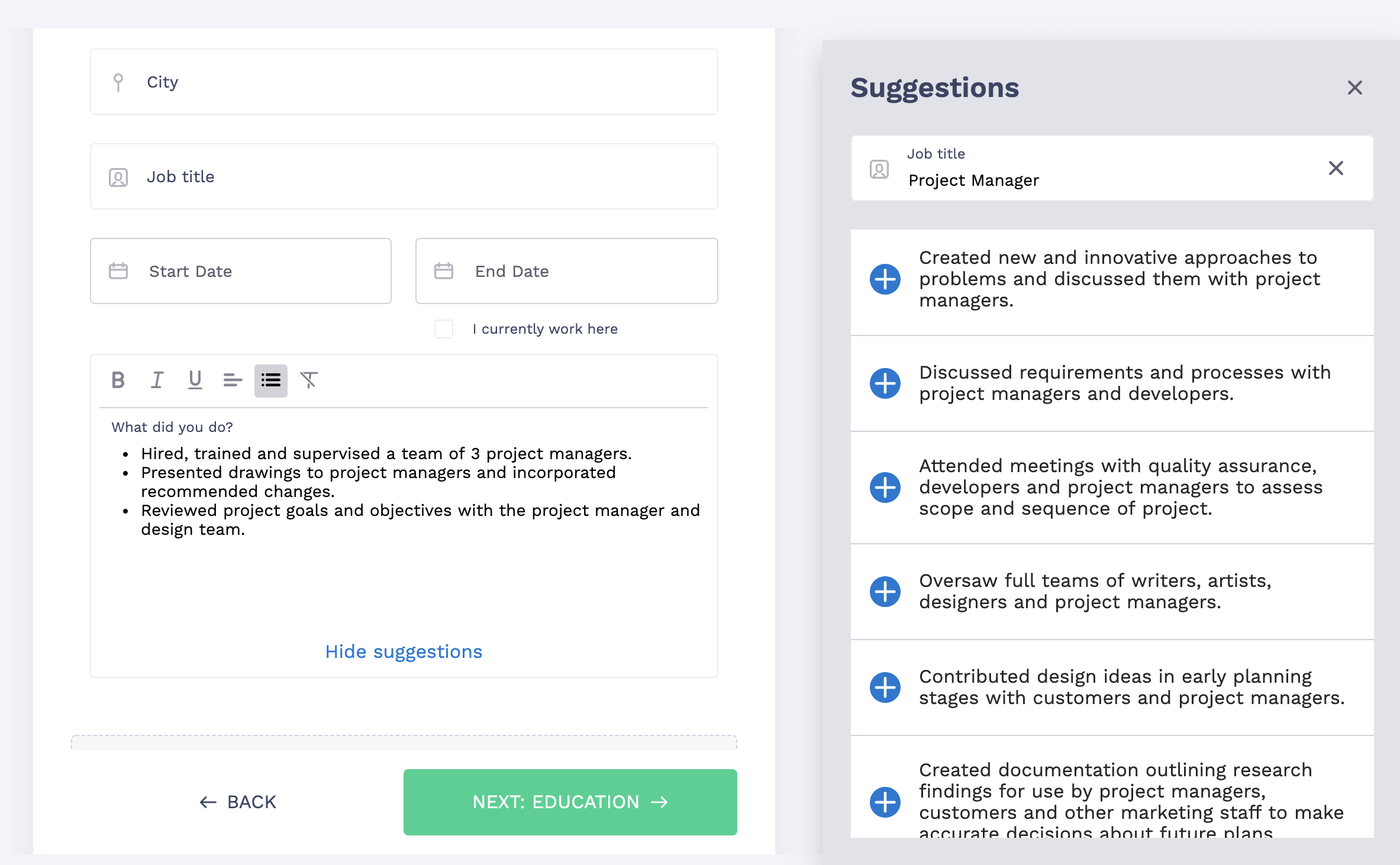 Nail it all with a splash of colour, choose a clean font, highlight your skills in just a few clicks. You're the perfect candidate and we'll prove it. Use the ResumeLab builder now.
4. Turn Boring Education Into a Reason to Hire You
Education doesn't matter.
Not on call centre agent CVs.
But—
Make yours matter and you'll smoke the competition.
These call centre CVs examples show how:
Education on Call Centre CV—Example
That first call centre agent sample has the right bullets. They show the manager you had this dialled back in school.
Expert Hint: Don't have work experience for a CV for call centres? Show tonnes of CV education wins. Groups, projects, teams, and titles can crank up a quiet CV.
5. Light Up Your Call Centre CV With Extras
Corporate accounts payable, Nina speaking, just a moment.
What do most call centre CVs have in common?
They're all the same.
Make yours different, and the call centre manager will call you at 3 am.
So—add CV extras that show you're not just begging.
These two call centre CV examples can help:
Additional Sections on Call Centre CV—Examples
Huge difference.
Those first call centre CV samples stand out like a quarterly bonus. They prove the manager can rely on you.
Expert Hint: To knock it out of the park, add a cover letter to your CV for call centre jobs. You'll multiply your chance of getting hired.
Double your impact with a matching CV and cover letter combo. Use our cover letter builder and make your application documents pop out.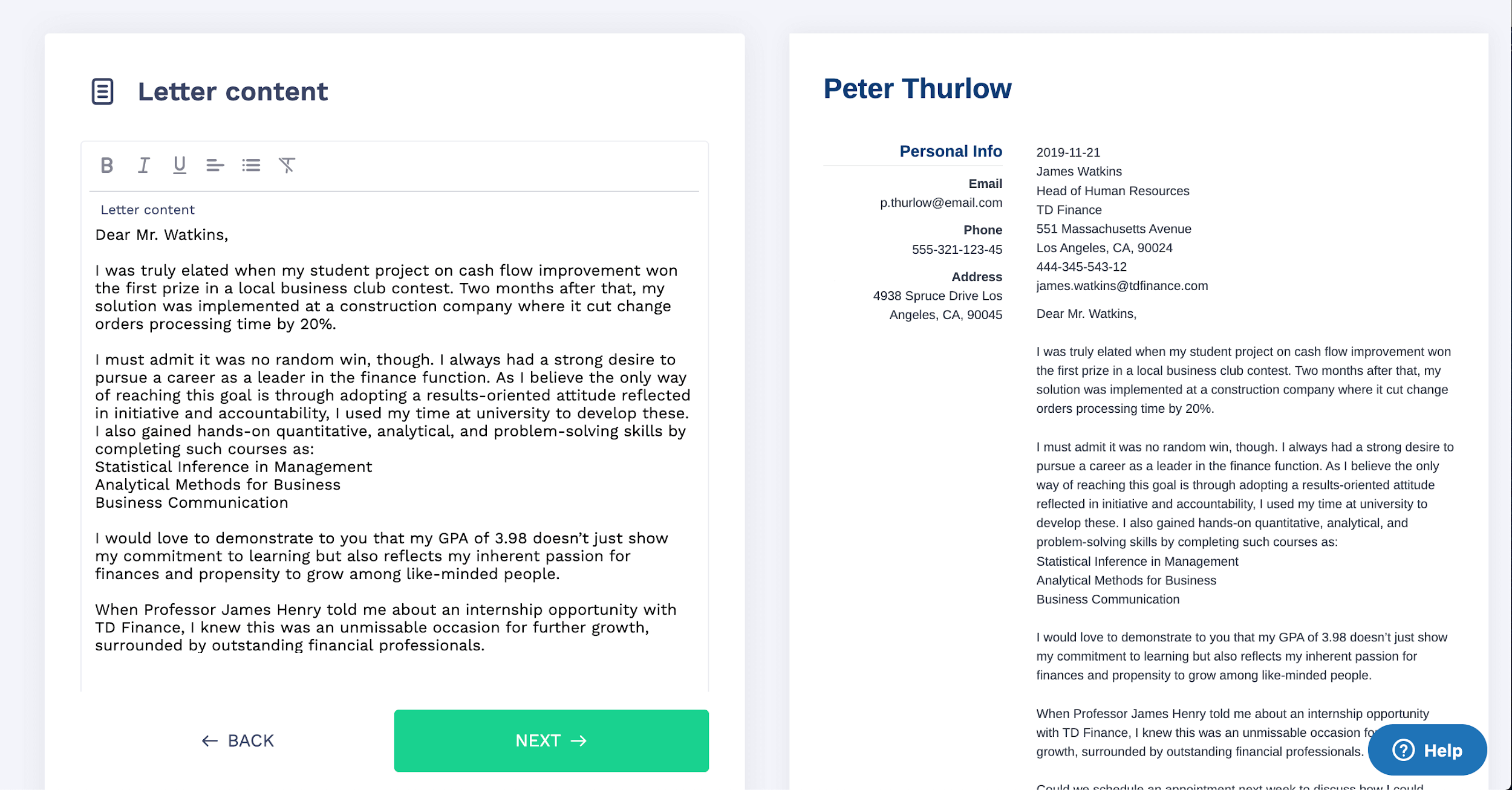 Want to try a different look? There's 18 more. A single click will give your document a total makeover. Pick a cover letter template here.
Key Points
For a great call centre CV:
Use the perfect call centre CV template up top. It's got everything you need to own the interview.
Tailor your call centre agent CV like an outbound call centre script. Every bullet point you list should fit the job ad.
Don't waste space. Even the education in a CV for call centre jobs should show achievement.
Add juicy extras like hobbies and classes, but—make sure they fit the job offer.
Write a call centre cover letter. If you are an inbound call centre specialist, this customer service representative cover letter is a good place to start.
Got questions on how to write a great CV for a call centre agent? Not sure how to show call centre on a CV? Leave a comment. We're happy to reply.