Public Relations CV Example: 25+ Samples and Writing Tips
A public relations CV example that lands interviews. Make your PR CV quickly. Learn from samples and expert tips. See good vs. bad examples.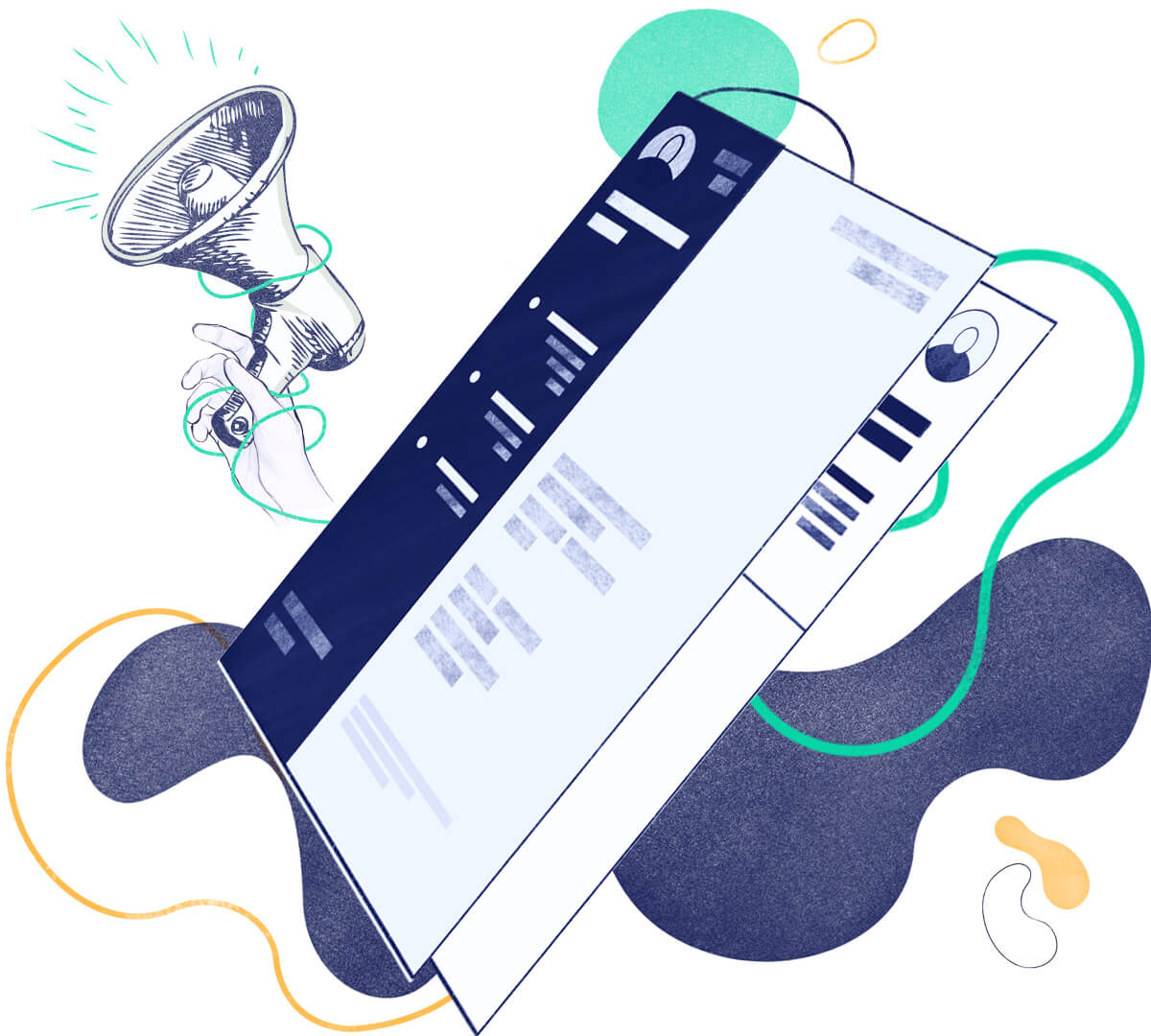 Listen—
It's not enough for your public relations CV to earn the recruiter's trust.
It must persuade them that hiring you is the only right course of action.
How to do that?
Do some good PR, and craft a compelling narrative.
It all starts with making a CV to remember.
This guide will show you:
Best public relations CV examples that get jobs.
How to ace your public relations job description on a CV.
How to write CVs for public relations that get the interview.
Expert tips and samples to boost your chances of landing public relations jobs.
Save hours of work and get a CV like this. Pick a template, fill it in. Quick and easy. Choose from 21 CV templates and download your CV now.
What users say about ResumeLab:
I had an interview yesterday and the first thing they said on the phone was: "Wow! I love your CV."
Patrick

I love the variety of templates. Good job guys, keep up the good work!
Dylan

My previous CV was really weak and I used to spend hours adjusting it in Word. Now, I can introduce any changes within minutes. Absolutely wonderful!
George
Targetting other positions? Check out our guides:
Haven't found what you're looking for? Check all our CV Examples.
Public Relations CV—Sample
Sophie Arquette
Public Relations Specialist
Phone: +1-299-456-7888
Email: sophie.arquette@gmail.com
LinkedIn: linkedin.com/in/sophiearquette
Twitter: twitter.com/sarquette
Summary
Motivated and solution-oriented public relations specialist with 2+ years of experience. Eager to join Ralph Lauren to assist in shaping the brand's strong image and developing the PR strategy. In previous roles secured editorial product placements in 20+ high-fashion magazines.
Experience
2016–2018
Bottega Veneta
Public Relations Specialist
Managed sample requests for editorial opportunities in the US.
Developed key relationships with national and regional womenswear and menswear contacts.
Acted as brand representative at seasonal press days to interact with key attending editors.
Prepared and distributed press releases.
Liaised with corporate communications team for events and product launches.
Oversaw seasonal freelancer support for sample requests, day to day sample trafficking and reporting.
Key achievements:
Secured editorial product placements in 20+ print and online fashion magazines, including Vogue, Harper's Bazaar, Elle, L'Officiel, and W.
Organised 10+ seasonal collection walkthroughs with design, marketing, advertising, and editorial teams.
2016.06-2016.10
Balenciaga
Public Relations Intern
Assisted with domestic and international sample trafficking.
Participated in media research projects.
Supported event preparation and execution.
Maintained showrooms.
Monitored credits and features in print and online media.
Education
2016
USC Annenberg School for Communication and Journalism, LA
Bachelor of Arts, Public Relations
GPA: 3.9
Relevant coursework:
Effective Writing for Strategic Public Relations
Social, Legal, and Ethical Foundations of Public Relations
Business and Economic Foundations of Public Relations
Associations
Public Relations Society of America (PRSA)—Member
Toastmasters International—Accredited Speaker
Interests
Fashion photography
Modernist painting
Key Skills
Oral and written communication
Time management
Media outreach
Media relations
Brand management
CMS platforms
Social media marketing
Languages
French (Bilingual)
Italian (Advanced)
1. Choose the Best Public Relations CV Format
On average, a recruiter spends 7 seconds scanning a public relations CV.
In other words—
Someone's glimpse will play a vital role in your future career.
With so much at stake, your PR CV format must deliver. At a glance.
Choose the reverse-chronological CV format. It gives prominence to the experience and key achievements on your PR CV.
Use simple and readable CV fonts. The range between 10 and 14pt is the best. Write simple headings. Avoid clutter and use white space to your advantage.
Stick to a single page CV unless you have the experience of Meredith O'Sullivan
Start your public relations CV with an objective or summary. Add the experience and education sections below.
Create a separate key skills section.Mention your membership in professional associations. Add a section on interests and knowledge of foreign languages.
Expert Hint: It's best to export your media or fashion PR CV to a PDF file. It will remain readable to the ATS, and its formatting will stay untouched.
2. Start with a Public Relations CV Objective That Turns Heads
How to start your PR CV?
With a message that sticks.
Use this formula to make a "sticky" PR CV objective or CV summary:
1. An adjective
2. Job title
3. Years of experience
4. What you can offer and how it will help
5. Your biggest achievement
Let's put the formula into practise.
CV Summary Example for Public Relations
The most striking difference between the two examples above?
The bad example is entirely about what the candidate wants, not what they can offer. The good one, on the other hand, is like a perfect lift pitch.
What If You've Got No Experience?
An entry-level CV for public relations must also start with a bang.
If your professional experience is limited, start with a public relations CV objective, rather than a summary.
A PR CV objective concentrates much more on your achievements than experience.
Fresh graduates can bring up their education, and internship.
Entry-Level Public Relations CV—Objective
Remember:
PR professionals, of all people, mustn't mess their intros up.
Expert Hint: Revisit your public relations CV objective or summary once you've reached the end. Or even write it last. Go through your CV and cherry pick the bits you'd really like to highlight.
3. Write the Perfect Public Relations CV Skills and Job Description Sections
The bad news:
Not even the craftiest intro has the power to salvage a lacklustre story.
If your public relations CV job description underdelivers, this will be the end of the journey.
But—
You know that choice of words can work wonders.
So, craft the best job description for your PR CV.
This is what you need to do:
1. Read the job posting closely.
2. Fish out the public relations specialist duties and skills the employer desires.
3. Describe your public relations experience using phrases from the ad.
Public Relations Specialist Job Description for CV—Example
This is how it works:
All PR CVs will be scanned by the ATS (Applicant Tracking System) before a hiring manager lays their eyes on any of them.
The first step it is toget past this stage.
Here's the secret:
ATSs look for keywords for a public relations CV.
All these CV words appear in the job posting. In the example above, the highlighted sections are based on PR CV keywords from a job ad.
This is exactly why the choice of words matters so much.
In essence, the good and bad examples communicate the same thing. But the bad example will leave both the ATS and the recruiter unimpressed.
Speaking of which—
How to impress the recruiter?
Use action verbs, such as managed, developed, prepared, liaised, or oversaw. They communicate much more than the vague responsible for formula.
Quantify your PR duties by adding numbers and percentages.
Contrary to popular belief, PR is measurable. In fact, the entire industry is moving towards data-driven PR. So, demonstrate you're a forward thinker, and come up with numbers where you can.
Single out one or two key achievements and put them in a separate subsection on your public relations CV.
Public Relations CV Examples—Key Achievements
Key achievements:
Secured editorial product placements in 20+ print and online fashion magazines, including Vogue, Harper's Bazaar, Elle, L'Officiel, and W.
Organised 10+ seasonal collection walkthroughs with design, marketing, advertising, and editorial teams.
And—
Don't forget to put the right public relations skills on your CV.
What public relations skills to put on CV?
You will find most of the time the desired PR CV skills in the job posting.
If you have them, put them on your CV. And use the list below as a source of inspiration.
Public Relations CV—Skills
Public Relations Skills
Written and oral communication
Media outreach/relations
Copywriting (websites, blogs, press releases, etc.)
Drafting pitches
Editing
Presentation skills
Public speaking (incl. speech writing)
Crisis management
Brand management
Online research skills
Social Media Skills
Digital marketing
Social media analytics
Social media press releases
Engagement marketing
Influencing
CMS platforms
Facebook
LinkedIn
Google+
Twitter
Soft Skills
Networking
Negotiating
Multi-tasking
Time management
Problem-solving
Adaptability
Collaboration
Organisation
Interpersonal skills
Leadership
Expert Hint: ATSs are not super-smart, so don't paraphrase too much. And don't put too many things on your CV. Only list the skills you're really good at. You'll avoid falling victim to the presenter's paradox.
The ResumeLab builder is more than looks. Get specific content to boost your chances of getting the job. Add job descriptions, bullet points, and skills. Easy. Improve your CV in our CV builder now.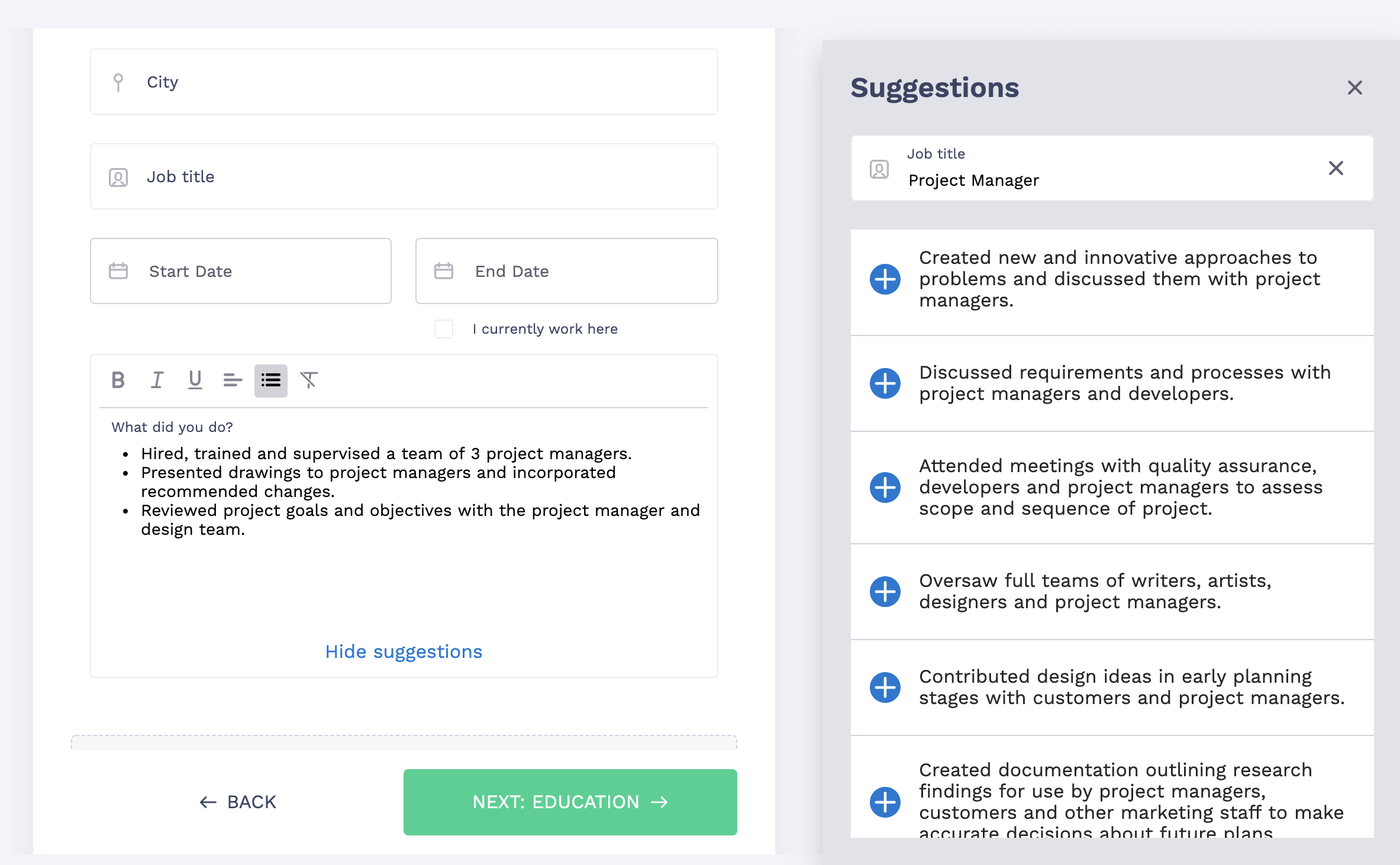 Nail it all with a splash of colour, choose a clean font, highlight your skills in just a few clicks. You're the perfect candidate and we'll prove it. Use the ResumeLab builder now.
4. Turn Boring Education Into a Reason to Hire You
Education matters.
Especially when your experience isn't exactly that of Ivy Lee's.
Make the most of your CV education section, and—
Let the recruiter know about the coursework you took. Add info on your extracurricular activities, and don't forget to show off your GPA if it's north of 3.5.
Simple as that.
Entry-Level Public Relations CV Sample—Education
Expert Hint: If you're a seasoned pro you don't have to list more than the school name, graduation date, and degree on your public relations CV.
5. Light Up Your Public Relations CV With These Extra Sections
What do the best PR campaigns and PR CVs have in common?
A personal connexion.
So—
Show your best side by adding information on your interests on your CV, knowledge of foreign languages, and membership in professional associations.
Marketing and Public Relations CV Sample—Associations
Public Relations Society of America (PRSA)—Member
Toastmasters International—Accredited Speaker
Fashion PR CV Sample—Interests
Fashion photography
Modernist painting
Public Relations Manager CV Sample—Languages
French (Bilingual)
Italian (Advanced)
Expert Hint: You can easily double your chances of landing an interview by writing a cover letter. More than 50% of the recruiters expect your job application to include one.
Double your impact with a matching CV and cover letter combo. Use our cover letter builder and make your application documents pop out.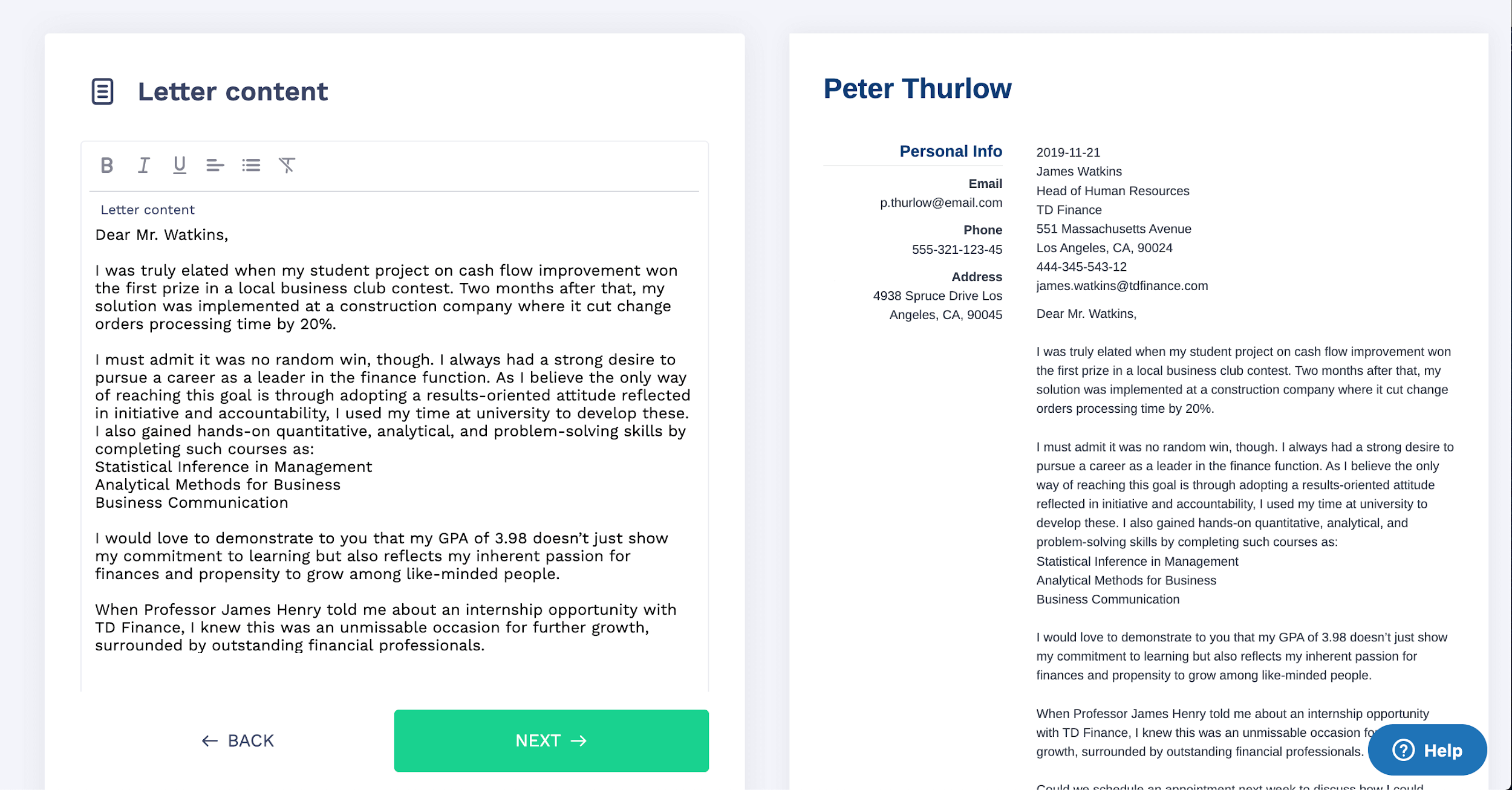 Want to try a different look? There's 18 more. A single click will give your document a total makeover. Pick a cover letter template here.
Key Points
To write the best public relations CV:
Choose the best PR CV template. An entry-level public relations CV experience section doesn't need as much room as a public relations director CV.
Make your public relations CV look great. Use white space to your advantage. Avoid clutter by only focusing on relevant experience.
Answer a specific job offer. Remember your marketing job description and skills must target a specific job ad.
Make the most of your education. Especially when preparing a marketing intern CV or an entry-level marketing CV.
Pepper it with extras. Prove you're a well-rounded candidate. List your certifications, interests, and membership in professional associations.
Questions on how to write the best public relations CV? Want to share advice on how to prepare a CV for public relations jobs (fashion PR CV or marketing and public relations CV)? We'd love to hear from you. Leave your comment below.